Wondering how to easily write marketing content? Looking for a step-by-step model?
In this article, you'll discover how to create written content that helps businesses.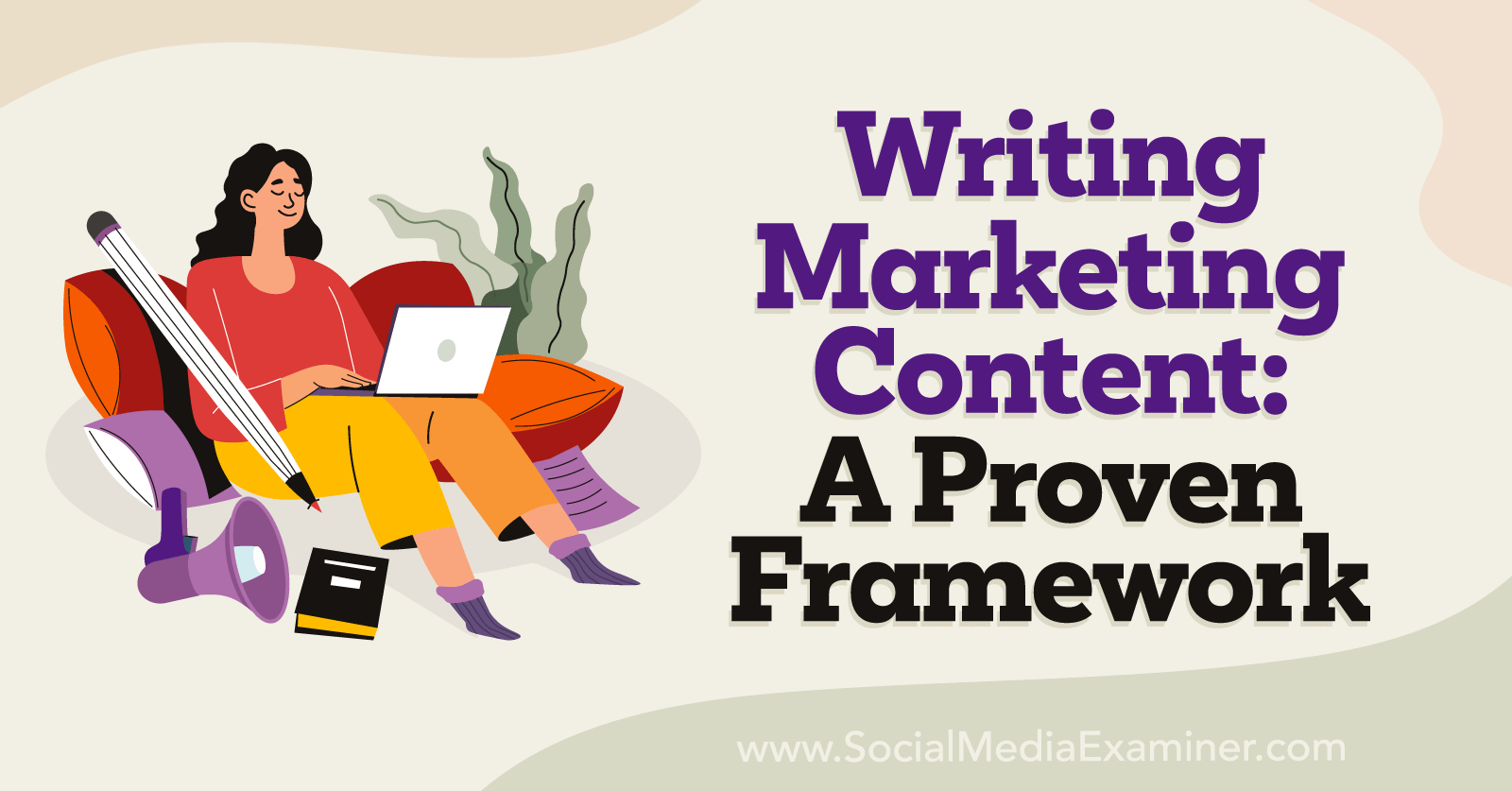 Writing Matters to Marketing
Everybody writes. Even if you don't think of yourself as a writer, you probably write a lot more than you think.
It's true that audio and video dominate the conversation in content marketing efforts right now. Podcasts and short-form video content are getting a lot of attention from brands, marketers, and consumers. But that doesn't mean that writing is becoming irrelevant to your content marketing strategy.
First of all, written marketing content is still a powerful way to reach consumers in your target audience—from email marketing to social media posts and long-form articles (like this one!).
And secondly, even if you mostly work in another medium, writing is still an important part of your process.
If you make videos, you'll need to plan your ideas, script the video content and write captions for social media. If you have a podcast, you'll need to brainstorm ideas, prepare guests for the interview, and write copy to attract new listeners. Not to mention all the writing we do from day to day as we communicate with colleagues, our marketing team, make to-do lists, and plan content strategies.
Writing is foundational to marketing, whatever kind of content you work on. All marketers are writers.
But not all marketers are confident, creative, or original writers.
That's often because we feel nervous about writing. We put it off until the last second, agonize over every sentence, get stuck repeating the same clichés as everyone else, and end up publishing something we don't feel good about.
There's a better way to create written content. It's a method that makes writing easier, more approachable, and more fun. It puts the reader at the heart of your work and empowers you to publish with confidence.
It's called the Writing GPS Framework. Just like the GPS in your car, it's going to steer you through your next piece of written content—finding shortcuts, avoiding the crowds, and making your journey much more pleasant.
The Writing GPS Framework
The Writing GPS Framework is designed to take you from an initial idea to a complete piece of content. You'll need to supply your own content ideas, but as soon as you know what you want to write about, you can apply the GPS.
The framework solves two of the most common problems with writing marketing content. When marketers say that they hate writing, they usually mean one or both of these two things:
They feel insecure about their grammar and spelling
They don't know how to create high quality content that lives up to their ideas.
The GPS Framework guides you through written content creation so you can feel proud of your writing. It also includes an editing stage that will give you confidence about your grammar and spelling, too.
We're going to work through all three stages of the framework:
G is for Go.
P is for Push.
S is for Shine.
Ready? Let's go!
#1: G Is for Go
Take a deep breath and relax. You're not going to do any writing just yet.
The secret to good writing is that you don't actually spend that much time writing. Instead, if you put in the time researching and planning, you'll find that you can write quickly and easily.
So before you set pen to paper (or keyboard to screen), work through these four planning stages.
Identify Your Goal
Every individual piece of content should have one individual goal. That could be to get new email subscribers, make sales, get video views… any kind of conversion.
It's very important that you only have one goal per piece of content. If you have more than one, your writing—and your readers—will be confused.
Take that goal and write it at the top of the page. It should be at the top of your mind all the way through this process.
Ask, "So What?"
What's the biggest cause of boring corporate content? The wrong perspective.
Boring content happens when we create content for ourselves—for the brand or the board of directors—instead of for the customer.
So your next step is to take the goal of this piece of content and reframe it from the customer's perspective. What's the benefit for them? Why should they convert in the way you want them to?
One way to figure this out is to ask yourself, "So what?" Let's say you're a business coach and your goal is to get more email subscribers. Put yourself in the customer's shoes and ask "So what?"
So what? So customers can get regular newsletters from my brand.
So what? So they can read up-to-date, expert business advice.
So what? So they'll feel knowledgeable and confident.
So what? So they can grow their business.
The copy below clearly speaks to what the customer will gain be taking this course.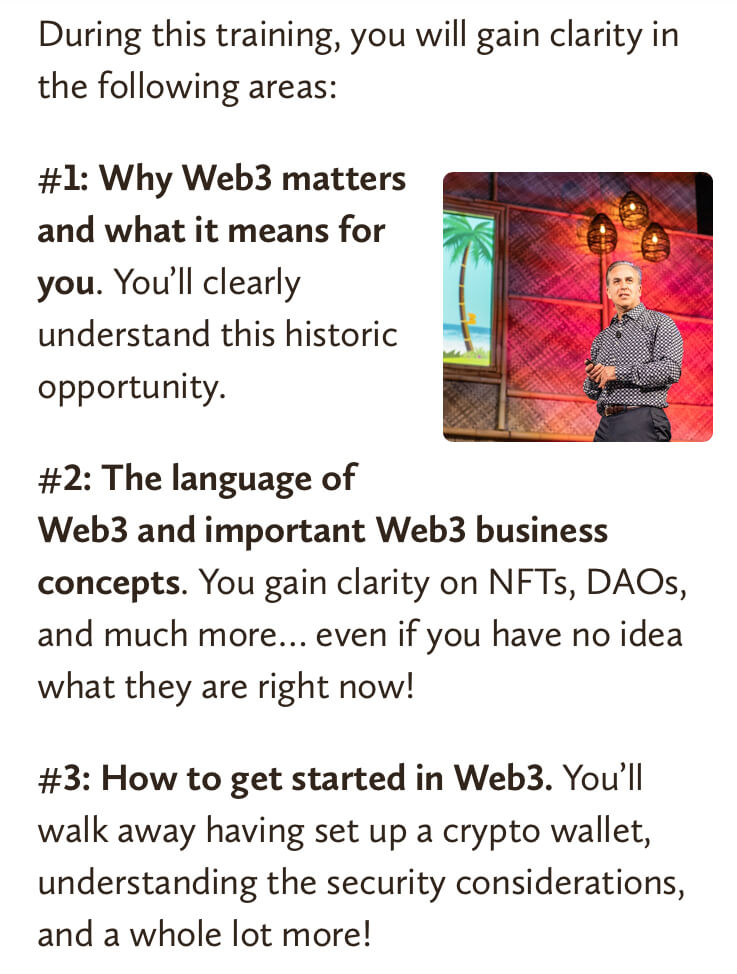 Most often, you'll need to ask "So what?" repeatedly before you get to the heart of what your prospective customers want and need. It's worth spending the time to really get into their mindset.
Add Data
Now it's time to add some evidence. You know what you want and you know what your customers want. Hopefully, those two things match up! But you need to add some external validation so customers feel they can trust your message.
Here are some examples of data you could use:
Statistics, facts, and figures.
Quotes from industry experts.
Reviews and testimonials from other customers.
Collecting this data now will help you organize your writing later on. And it ensures that your persuasiveness and focus on the customer are baked into the content before you've even written a word.
Organize Your Ideas
Finally, think about the format your writing will take.
Is it an internal message, like an email or a memo? If it's going to be published, is it a long-form article, a quick post, a listicle, or an interview? If it's supplementing other content such as social media posts, how many characters do you have to work with?
Just like your goals, customer needs, and data, you should think about formats before you start writing. That's because it's much harder to edit text into a specific format once you've already written it. You'll find it much easier to write if you already have a plan.
#2: P Is for Push
You're finally ready to write! There are two phases of the Push: writing and rewriting.
Write a First Draft
Start by writing something terrible. A messy, incoherent, rubbish, useless first draft. The whole purpose of a first draft is to be bad.
So the pressure is off! Don't worry about what you're writing and whether it's any good. Just fill the page. Some people just write bullet points for their first draft. Others like to write as if they were speaking out loud, or even record themselves speaking and then transcribe the tape as a first draft.
The only thing that matters is to get the idea out of your head and into the physical world. It doesn't have to be good… yet.
Rewrite Your Content for One Person
Rewriting is when you take that horrible first draft and turn it into usable content.
The first step? Walk away. Literally get up and walk away from your desk. Give the first draft some time. Ideally, leave it overnight!
When you come back with fresh eyes, you'll be amazed. Yes, you'll probably notice a lot of mistakes and things to fix. But you'll also find some good ideas in there. Remember, we put in all that time on the Go phase so the Push phase would be easy.
Now you're going to keep only the good parts and rewrite the first draft. Most importantly, you're going to rewrite it for just one person.
The copy below clearly identifies who it's meant for.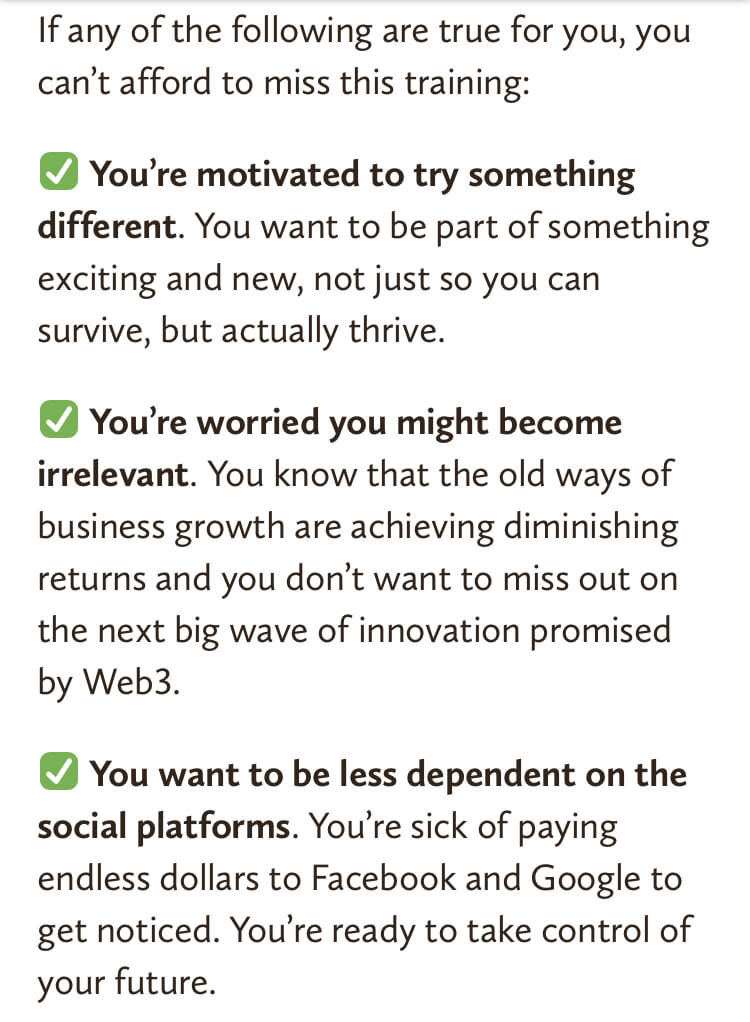 That might be a buyer persona, a customer you've met, or someone you know socially. You want to have a specific person in mind so you're speaking directly to them. Your writing will instantly sound more natural, focused, friendly, and accessible.
As you spend more time writing, you'll also get to know your own voice: what readers hear in their minds when they read your content. This is your personality on the page and it should be unique to you.
There are a few things you can do to develop your own voice:
Notice what recurs in your written content. Think about your sentence length, vocabulary, preferred punctuation, descriptive style… What makes your writing sound different from other people's?
Identify some writers you admire and think about what makes their style unique, too. What exactly is it that you enjoy in their work?
Test new styles and ideas over time, especially techniques from the writers you admire. Some of them will be a good fit, some won't, and some will take on your own unique spin.
When your specific voice speaks to a specific reader, that's when really great writing happens.
#3: S Is for Shine
Finally, it's time to polish and publish your writing. This is the fun part! You've done all of the hard work. Now it's time to let other people in.
When it comes to writing, we're all perfectionists. Our writing feels personal, like a part of ourselves, so it's hard to send it out into the world. But always remember: "published is better than perfect." If you try to create a perfect piece of writing, you'll never publish anything.
Take your writing through three stages of editing: AI, editor, and out loud.
Take Advantage of AI Editing Tools
An AI editor will scan through your content and check it for grammar, spelling, and clarity. Think of it as spellcheck on steroids.
Some of the most popular apps for editing written content are Grammarly or Hemingway. These smart tools are very effective at finding spelling and grammar errors so you don't need to feel self-conscious about your writing.
Tools like Hemingway can help you to edit your writing for impact and accuracy.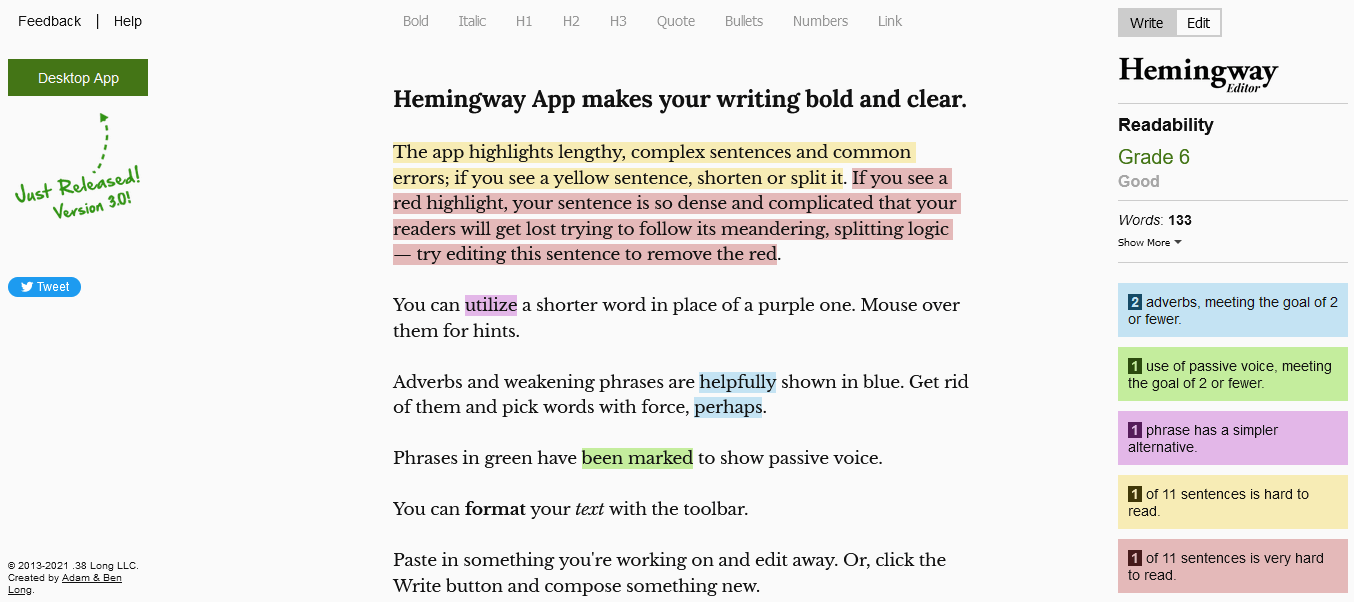 Use a Human Editor
AI editors are good but they're still not quite as good as human editors. You need a fresh pair of eyes on your work!
Aim to work with an editor who knows your voice, niche, and content well. That way, they'll understand what you're trying to write and they'll help you get closer to your goals.
You can work with professional editors or ask a colleague or friend to read through your work. Just be clear that their role is to represent the target audience, not to be another content writer.
An editor should look for anything unclear, boring, or off-putting to your readers. If they tell you that a joke hasn't landed, listen to them.
Read Your Content Out Loud
The final step in the Shine phase is one you can do by yourself. It's very simple: read your work out loud.
Hearing your content out loud gives you a whole new perspective on your writing. You'll instantly spot where the text is confusing or veers off track. You should also pay attention to the rhythm and flow of the writing. Does it keep moving forward or have slow sections? Is there enough momentum to carry the reader all the way through the content?
If you can't access an AI editor or find a human editor, you should still do this one step. Reading your work out loud is one of the best editing tools you have.
Conclusion
Everybody writes—and with a framework like this, everybody can write well. With the right planning, attitude, and editing in your toolkit, you can produce powerful and effective written content for marketing.
Other Notes From This Episode
Where to subscribe: Apple Podcast | Google Podcasts | Spotify | RSS
✋🏽 If you enjoyed this episode of the Social Media Marketing podcast, please head over to Apple Podcasts, leave a rating, write a review, and subscribe.
---
Stay Up-to-Date: Get New Marketing Articles Delivered to You!
Don't miss out on upcoming social media marketing insights and strategies! Sign up to receive notifications when we publish new articles on Social Media Examiner. Our expertly crafted content will help you stay ahead of the curve and drive results for your business. Click the link below to sign up now and receive our annual report!