Looking for creative ways to use Instagram Stories during a launch? Wish you did more with Stories?
To explore how to use Instagram Stories during a launch, I interview Alex Beadon on the Social Media Marketing Podcast.
Alex is an Instagram Stories expert who specializes in helping people use Instagram for business. Her course is Project Storyline and her podcast is On Purpose With Alex Beadon.
Alex explains how she used Instagram Stories to launch Project Storyline, and shares steps and tips you can use during your own launch or promotional sequence.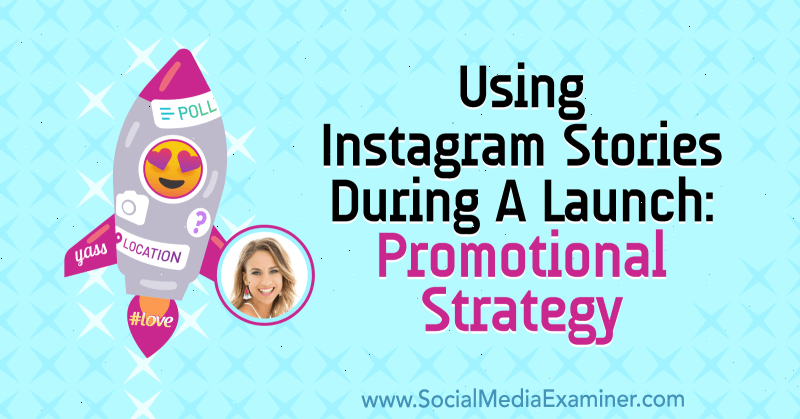 Why Stories Should Matter to Marketers
A lot of people use Instagram but not everybody is using Instagram Stories. So why should marketers go all-in on Stories?
Stories are reminiscent of blogging 10 or 11 years ago. Everybody was blogging pretty frequently, often once a day. Through writing, they were sharing stories of their lives and what was going on. That was a really big movement that led to lots of exciting things. Vlogging on YouTube was similar, only done on video.
Stories are similar except that you have to show up very regularly. Now, you're not just showing up with your words, you're often showing up with your face and your voice so it's even more intimate. Stories are instant so it's like being right on the other side of the phone. Also, it allows people to have that private conversation with you. With blogging, people would reply in the comments; that was the big thing back then. Now, with stories, people's replies are sent straight to your DMs so you're entering into an immediate private conversation with warm leads. That's amazing.
Right now, 500 million people are using Instagram Stories daily. Stories allow you to forge great long-term relationships with your audience. They're a more intimate way to connect, like being on a FaceTime call. This can also help warm up your audience so when you have something to launch, they're much more likely to support you and buy from you.
Because stories disappear after 24 hours, people have to watch your stories every day if they want to keep up with you. Those people who watch and check in every day are your super-fans. That means that whenever you enter a launch period, you'll have a built-in audience of people who are interested and enthusiastic about what you have to offer. A lot of Alex's super-fans have already bought her Project Storyline course, but whenever she goes to sell it again, they're still there in the comments cheering her on and encouraging others to buy it as well.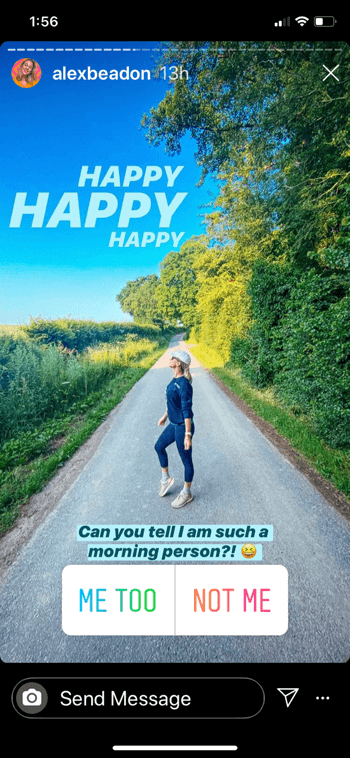 Why So Many of Us Struggle With Stories
When Alex first started making stories, she was actually on Snapchat. People would ask, "Why would you make stories? They disappear in a day. It's a total and utter waste of time." The results were completely the opposite! Alex learned that she was nurturing a much more intimate relationship with people.
Yes, it's kind of annoying because you created a piece of content and then it's gone. However, consider this: You can always save it as a highlight if you really want people to come back to it. There's beauty in the fact that people can only watch it within that 24-hour period. It's special because they can go and watch it, or it's gone.
The Conference You've Been Waiting For
As a small business marketer, you can probably only pick one or two events to attend each year. Get an unbeatable conference experience and expert training at Social Media Marketing World in sunny San Diego, California—from your friends at Social Media Examiner.
🔥 As a valued reader, you can save $750 if you act now! Sale Ends Tuesday! 🔥
CLICK HERE TO LEARN MORE
One of the big reasons people don't create stories is they think it has to involve a lot of time and effort. You don't need to spend hours on story content. Alex mainly uses stories to take her audience behind the scenes with her. Sometimes, she just shows up to tell a quick story. It doesn't need to take a lot of time; 20 minutes a day should be plenty.
Alex says the real problem people usually have with creating stories is that they feel self-conscious. They don't know what to say and they're really worried about how they're going to come across. That's part of why it ends up taking so much time in the beginning. But like anything, there's only one way to get comfortable making content: Do it again and again and again.
It's like working out. The first time you start going to the gym, the movements feel awkward and off. People feel similarly uncomfortable when they first start making stories. When you just randomly start showing up on video and talking into a camera, it's going to feel awkward. That's part of it. Push through that early awkwardness, and know that if you really don't want to show your face on any particular day, you don't have to. You can take a video or photo and put text on top of it. There are options and mixing them up is actually a good thing.
Instagram knows whose stories are being watched and receiving the most attention. It's very similar to the feed algorithm and it shows those stories first. Once you start creating content that people are watching, those people are likely going to see you again and again if they enjoy what you put out there. It's a great way to create those super-fans.
How to Support a Launch With Instagram Stories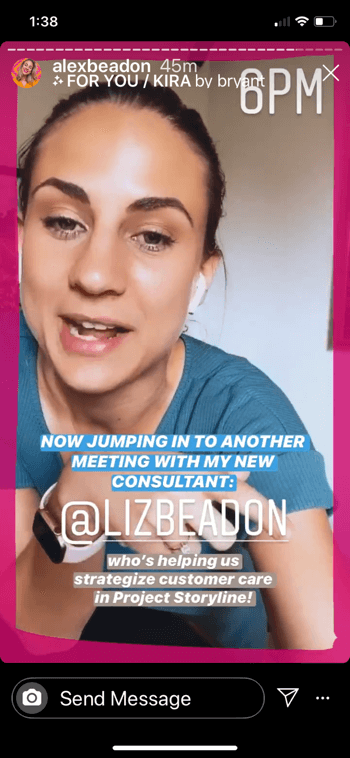 Crowdsource Feedback to Create Anticipation
You can use Instagram Stories in a launch similar to how you'd use an email marketing campaign or a Facebook ads campaign. Start by adding value, and slowly but surely plant the seeds and build anticipation.
When Alex first launched her Project Storyline program, she used her anticipation period to constantly talk about why Instagram Stories matter. She imagined any objections and planned ways to overcome them before her audience even really knew she was introducing something. Then she let her audience know she was creating the program.
At that point, Alex was presenting knowledge gaps so people were wondering, "Huh, what is this thing that she's creating? I wonder what the different modules are going to be? I wonder what the graphics are going to look like?"
She asked them for feedback on what they'd like her to include in it. That way, they felt they were becoming part of the process and had a sense of ownership of the creation of the program. Alex even used Instagram Stories to help name the program. She paid a copywriter to come up with 10 different names, narrowed it down to her top three, and then asked her audience to vote for which name they preferred.
By building anticipation and making them feel a sense of ownership toward the outcome, you're creating a sense of mystery in their minds. When you finally launch your product, the first thing your audience wants to do is run to see what all of the details are.
Alex is really organized with her launches so everything is very strategic. She normally starts planting these seeds of anticipation about 90 days out but timing can vary. The important thing is to build that sense of anticipation and get your audience ready for what's to come.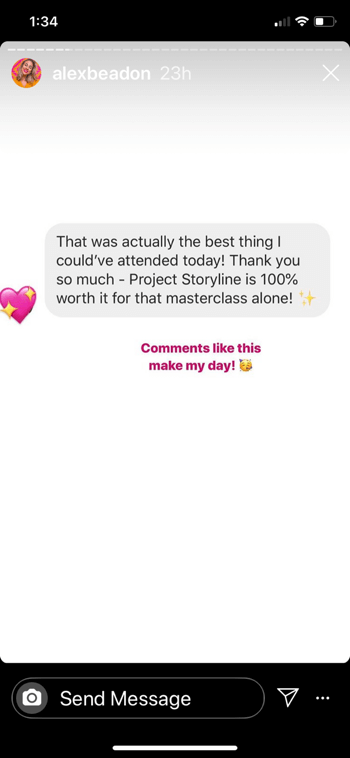 Share Testimonials to Supply Social Proof
We all know the power of a good testimonial but people often forget to share testimonials on Instagram Stories. Once you go into that launch mode—possibly even before you come out with your product—testimonials are going to be social proof to people that whatever's coming is really good and they're going to want to check it out. Actively sharing testimonials, even if your cart is closed, is super-powerful.
Whenever Alex gets a testimonial, she makes a nice little graphic and posts it on Instagram. As you collect testimonials throughout the year, you can collect them all into a highlight. Even if you're posting testimonials four times a month, you can still grab those four different stories and put them all into one highlight so people can see them whenever they're ready.
Another great tip for testimonials is to go live with previous clients. Alex recommends asking them directly, "What did you like about this? What was your favorite part? What was surprising to you about this? If you could speak to yourself when you were making this decision, what would you say?" That can really make an impact on getting people off of the fence.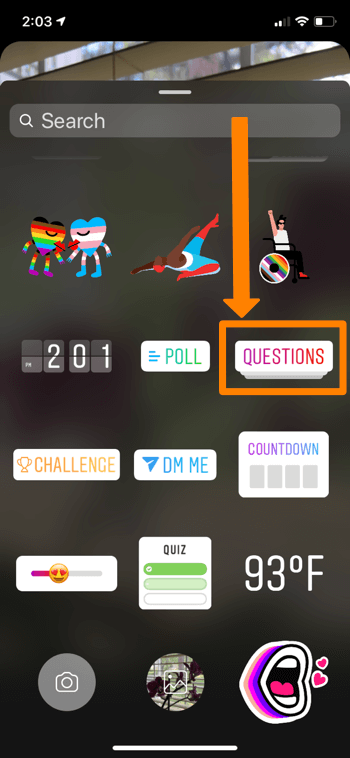 Research Objections via the Questions Sticker and Live Q&As
There's a question sticker on Instagram Stories that you can use to ask your audience what's keeping them on the fence or preventing them from buying. Then you can take those questions and repost them to your stories with the genuine answers.
You can also use those questions as a sticker on a live stream. When you go live on Instagram, if you've asked a question in the last 24 hours, it takes all of the answers on that question sticker and allows you to bring it up on the screen while you're going live. (If you've asked more than one question via the question sticker over the past 24 hours, the live stream will only pull up answers from the most recent one.)
On a live stream, this looks exactly like the question sticker with answers on Stories, and it pops up in the same way as when you repost it to your story. It's another form of social proof: It shows that there are people interested in this product. Additionally, it helps you realize what types of objections other people have, which gives you an opportunity to answer those objections in advance for others who may share them.
Physically, it's like a juggling act so you need to have a plan. Alex uses a tripod that holds her phone while she goes live because she moves around. If you don't, it can be annoying for the people watching. She sets it up with a ring light and her phone on the tripod, and she's close enough to tap the phone screen. There's a little Q at the bottom when you go live on Instagram. You can tap that Q and it brings up all of the different questions that people have asked you. Then you can go in and manually choose, and it will bring that question up on the screen.
Alex has set up a little sound notification on her laptop every time someone signs up for her course. While she's going live on her phone answering questions, her laptop is nearby making that sound every time there's a sale. So she then announces on the live stream, "Oh, someone new just joined. Welcome to Project Storyline!" That adds even more social proof by showing her audience that other people are joining. This makes them want to see for themselves what it's like on the inside. It's like the phones ringing in the background during a fundraising program on TV.
During a launch, Alex shows up live as often as she possibly can—sometimes a few times per day. People respond well to live video. Instagram has also just released the ability to repurpose live streams as IGTV videos, as opposed to the previous 24-hour replay window. Unfortunately, when Instagram reposts a live video as an IGTV video, those question stickers disappear. You can, however, put a link in your video description. IGTV is the only place on Instagram, other than your bio, that allows you to post a direct outside link, so that's a great advantage.
Attention Agency Owners, Brand Marketers, and Consultants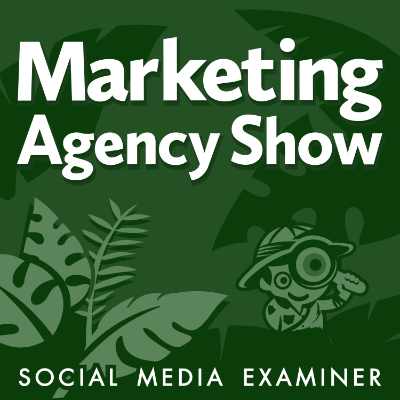 Introducing the Marketing Agency Show–our newest podcast designed to explore the struggles of agency marketers.

Join show host and agency owner, Brooke Sellas, as she interviews agency marketers and digs deep into their biggest challenges. Explore topics like navigating rough economic times, leveraging AI, service diversification, client acquisition, and much more.

Just pull up your favorite podcast app, search for Marketing Agency Show and start listening. Or click the button below for more information.
CLICK HERE FOR THE DETAILS
Warm Up Leads With a DM Challenge
Right before a launch, Alex likes to build up excitement and try to get as much attention as possible. She always opens the cart on a Friday. On the Monday before, she opens the cart and hosts a 5-day challenge from that Monday through Friday with a pop-up Facebook group where thousands of small businesses from all over the world join in. It's a fun, free challenge and it acts as a great lead generator. For 2 weeks before the challenge, Alex runs Facebook ads and basically screams about it from the rooftops organically to get as many people to sign up for the challenge as possible.
Alex's challenge is called, "Double Down on Your DMs."
The real benefit of Instagram Stories is ending up in direct-message conversations with your warmest clients. People who sign up for the challenge get access to five prompts, one per day, telling them what to post to their stories to increase those DMs. Demonstrating her method by example, Alex shows them the power of her Instagram story prompts over those 5 days. By the time they get to the end of that free challenge—which consists entirely of daily prompts telling them what to post on their stories—they've experienced a major transformation. When she opens the cart to Project Storyline, they're waiting with their credit card to jump right in.
Prompt Conversions With DM Conversations
Any open-cart period tends to have a lot of people buying at the beginning, a lot of people buying at the end, and a slump in the middle where momentum fades. At this point, Alex prompts people on Instagram Stories to message her and tell her why they haven't joined yet.
She'll say, "Hey guys, so we've already welcomed 500 people into Project Storyline, but I know that there are so many of you watching this who haven't yet taken that leap of faith and joined. I just want to know—why not? What's holding you back? It's totally fine if it's not a good fit for you. But it would really help me to just have that conversation so I can better know how to serve you. Just DM me right now and tell me why you're on the fence. What's holding you back?"
Without fail, many people who answer Alex's message turn into customers. Often, their concerns are very small things that aren't even problems.
With Project Storyline, for instance, someone answers that they're not joining because they like to plan out their week and batch content for their stories so they don't want a new prompt every day. But Project Storyline has an archive of prompts. So even though you get a new prompt every day, you also have access to all of the previous prompts. This allows you to sit down on Monday and batch all of your story content for the next week if you'd like.
By opening that conversation, Alex starts to understand the little things that are holding people back that really shouldn't be. It helps her market the program better by answering those objections directly.
These objections can also help you modify your sales page. If you see the same objections coming up over and over again, you might add a section with frequently asked questions. You could even modify the way you describe your product to begin with so it answers the objection within the sales copy. But you can't find out what's holding people back unless you ask.
You can also screenshot those conversations in your DMs and repost them to your stories. Make sure to hide the person's name, profile picture, and any personal information. But there's value in reposting these conversations because no matter how much our audience loves us, most people are not going to DM us. If there's one person direct-messaging that they want to batch their prompts for the rest of the week, then there are probably 20 more people who are having the same problem and just not messaging.
By reposting those conversations, you can answer these objections in a more public setting. It also acts as social proof that other people are in the same boat. At the end of that batching/prompting example, they'll say, "Oh, I didn't know that there was a prompt archive. That makes it really easy to batch my Instagram stories. I'm going to go join now." That conversation is worth even more because it shows people that others share their concerns and they then get off the fence and join Project Storyline.
Before the internet, we would walk into a shop and talk to a human being to get advice and important information before making a significant purchase. People nowadays are used to not talking to human beings when they buy stuff on Amazon. When they're buying something educational, complex, or expensive, though, they still want to talk to somebody.
Instagram Feed Posts + Instagram Stories
Alex likes to keep her feed as a place where people can see every sales message that she wants them to receive over her launch period. Especially during that mid-launch slump in sales, she has a webinar to get people's attention again. If you're having a big event, such as a webinar, include that in the feed and share it to your stories so people who are looking for information or trying to figure out what's going on always know they can find out by just visiting your feed. Stories are more for showing up consistently, really trying to drive home the fact that people should join.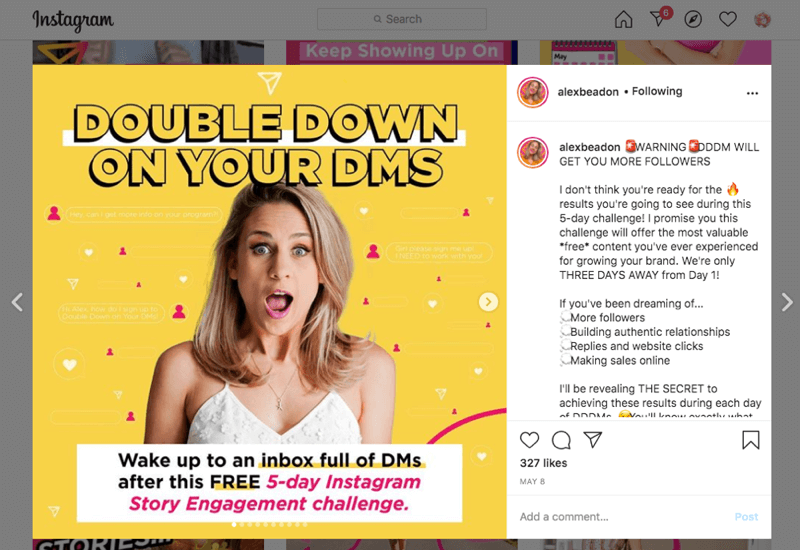 When sharing the feed post to the story, understand that not everyone has this option. When you see the Instagram feed post, select it so you see the square tile. Next, select the paper airplane icon at the bottom left-hand side of the image and it will come up with a bunch of options. If you have the option at the very top, it will say, "Add to story." Then you can add it to your story and you're good to go. If you don't see that option, then unfortunately, you're going to have to screenshot it and share that. It's definitely not as exciting.
The great thing about sharing the feed post to your story is that once it goes to your story, if you tap on the image itself, it kind of toggles between two views. The first view is just the photo with your username underneath. The second view adds a little white border and you can see part of the caption. It's a little bit more inviting. Alex usually toggles it to the one that looks like it's actually taking a snippet from the caption and then she puts a little arrow that says "new post." She might add a little blurb about why they should go and check it out.
Also, it's clickable. From your stories, you can click on it and then read the rest of the caption. Most people don't know you can do that but you can tell them to. Alex uses a little GIF. If you tap on the stickers in your stories and search through GIFs, you can search "tap here" and options open that say, "tap here." Just drag and drop it onto the image itself and that will prompt people to go and check it out.
When Alex is launching, she often posts more than 20 stories a day. On her most recent launch, she tried toning it down. She decided to post less and post only the essentials. She found that it actually works best for her to post throughout the day very regularly so she shows up in people's feeds and they're reminded of what's going on. She recommends showing up in your stories a lot during the launch and showing up on the feed maybe once every day or two.
Expand Your Reach and Celebrate Conversions
You need to create a story-worthy thank-you page. Once someone buys from you online, they get sent to a thank-you page. Make sure your thank-you page is visually appealing. Then actively ask customers to repost it and celebrate their new purchase on their own story. Include your username so they can tag you.
Use this strategically to make sure the person's friends will see this post on their stories. They may want to go and check you out. Put something in it that's exciting. Alex has her thank-you page set up so when someone lands on the page, a confetti animation pops out. You can also have a thank-you video there.
Stu McLaren has a thank-you video for his Tribe program where he says, "Hey, you just joined Tribe. Thank you so much." Then everyone in the background of his office turns to face the camera and throws confetti and balloons to congratulate and welcome the new member. Try to have fun with it and do it in a way that's representative of your brand. It's a really important touchpoint that can be used if it's something that people feel is worthy of sharing on their story. Encourage them to do so. You can even incentivize it by offering a free giveaway to a random user who shared the page to their stories.
Make sure to publicly celebrate your customers as they start joining, too. This is really important for two reasons. Of course you want your new clients to feel special and appreciated. And it acts as a really good source of social proof that visually cues your entire audience that people are actually buying your product.
For every 50 members who join Project Storyline, Alex screenshots that person's Instagram account and reposts it to her stories with GIFs of confetti and the message, "Congratulations, Person X! You are our 50th new member of Project Storyline!" They then repost it to their own stories, which introduces Project Storyline to their entire audience. Often, they also reply and express how excited they are to have joined. Alex then screenshots that response and reposts it onto her stories for further social proof.
She also writes down the name of every person who joins Project Storyline on a sticky note and puts it on the wall behind her. As the launch goes deeper and deeper, that sticky-note design gets bigger and bigger. It doubles as a visual cue to everyone who's on the fence that people are joining every single day. It screams, "If you haven't joined yet, you're missing out. What's going on? What's holding you back?"
It's also a fun way for Alex to show people that she appreciates each client who signs up. When Alex used to only sell 50 Project Storylines, she welcomed each person individually. She filmed herself writing each name down and putting it on the wall. The idea is to find a way to recognize and welcome each person. It makes people feel special.
Key Takeaways From This Episode:
What do you think? What are your thoughts on using Instagram Stories more strategically? Please share your comments below.
3 Days of World-Class Training—Zero Travel!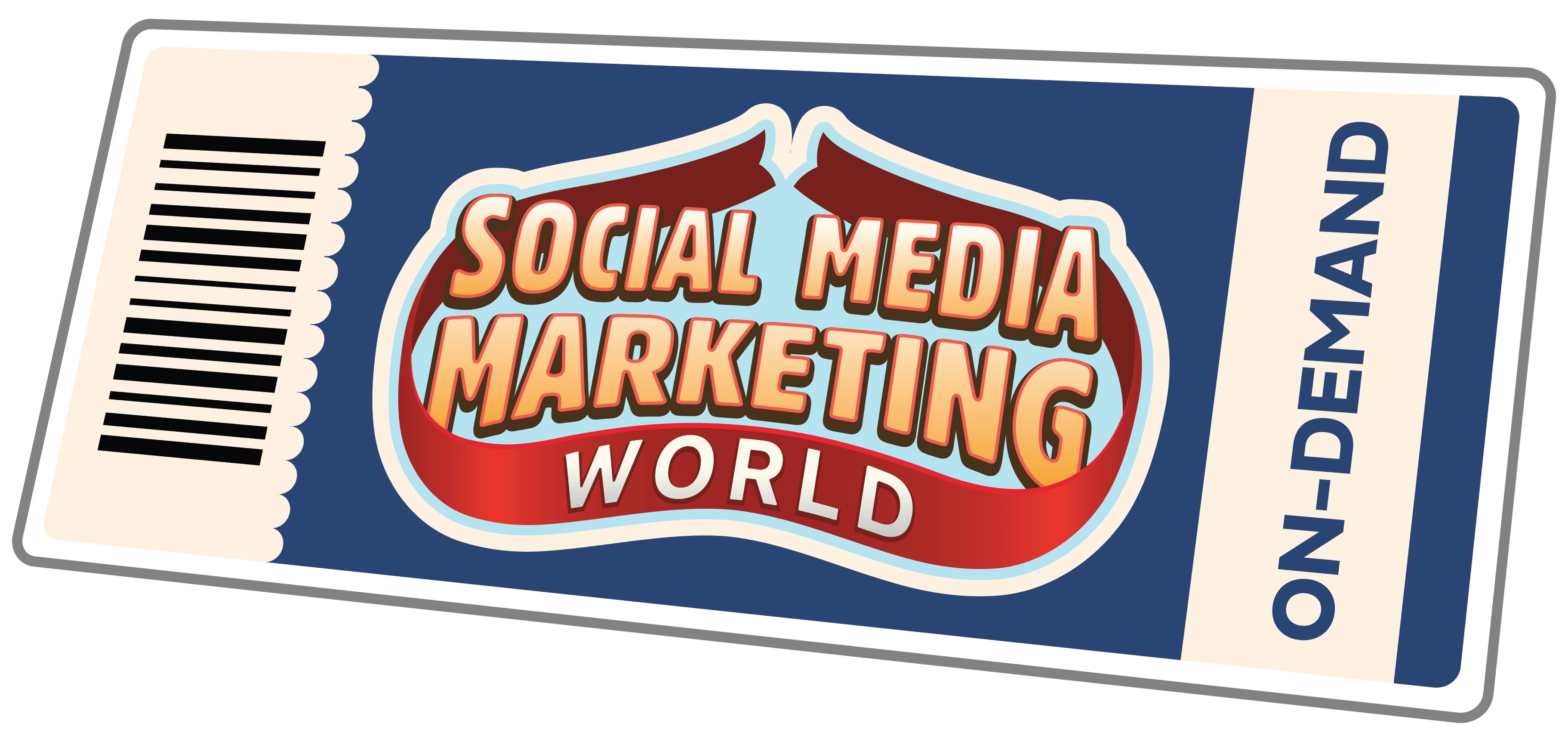 Travel to Social Media Marketing World off the table? Get all of the great content at a fraction of the price with an On-Demand ticket.

That's full access to recordings of every keynote, workshop, and session—the ones people travel thousands of miles to see. Don't wait. Get your On-Demand ticket and enjoy actionable content that you can watch anytime, anywhere.
GET YOUR ON-DEMAND TICKET NOW