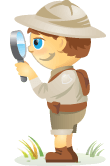 Welcome to this week's edition of the Social Media Marketing Talk Show, a news show for marketers who want to stay on the leading edge of social media.
On this week's Social Media Marketing Talk Show with Erik Fisher and Kim Reynolds, we explore Twitter expanding their character count to 280 with Madalyn Sklar, Snapchat's upcoming redesign and algorithm with Carlos Gil, Facebook Messenger updates and other breaking social media marketing news of the week!
Watch the Social Media Marketing Talk Show
If you're new to the show, click on the green "Watch replay" button below and sign in or register to watch our latest episode from Friday, November 10, 2017. You can also listen to the show as an audio podcast, found on iTunes/Apple Podcast, Android, Google Play, Stitcher, and RSS.

For this week's top stories, you'll find timestamps below that allow you to fast-forward in the replay above.
Twitter Officially Expands to 280-Character Count: In September, Twitter began testing an expanded 280-character limit for select languages such as English, Spanish, Portuguese, and French. This week, Twitter officially rolled out this change to all languages "where cramming was an issue." This includes all languages except Japanese, Korean, and Chinese, which will continue to have 140 characters. (3:39)
We're expanding the character limit! We want it to be easier and faster for everyone to express themselves.

More characters. More expression. More of what's happening.https://t.co/wBpYdy1K40

— Twitter (@Twitter) November 7, 2017
Twitter Updates Interface With New Progress Indicator for Character Counts: Along with the official expansion to a 280-character limit for most languages, Twitter also replaced the old character counter with a circle icon that changes colors as you type and visually indicates how close your tweet is getting to the new limit. (15:26)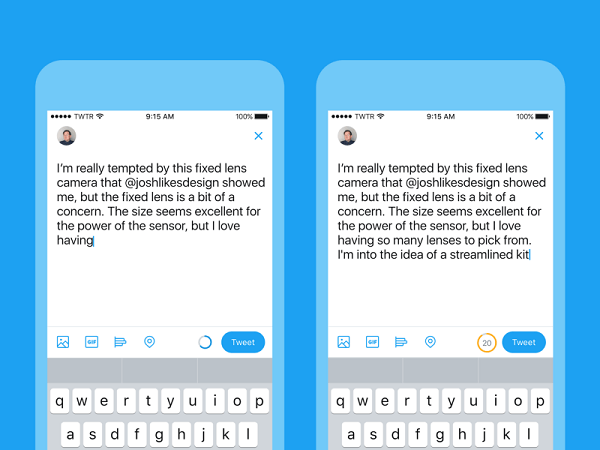 Twitter Launches Self-Serve Advertising Subscription Tool: Twitter officially launched a public beta version of Promote Mode, a new self-serve advertising subscription. Once enabled through the mobile app, Promote Mode will automatically amplify your tweets and profile "to reach your best audience and grow your followers" for $99 per month. This tool is currently only available in the U.S. and UK. (16:34)
Twitter's $99 monthly subscription ad program launches into public beta https://t.co/5kV9rbP57M by @sarahintampa

— TechCrunch (@TechCrunch) November 8, 2017
Facebook Messenger Makes Sponsored Messages Available to More Businesses: Facebook announced that "in the coming months," all advertisers will be able to send relevant promotions directly to customers who have previously communicated with the brand in Messenger. Facebook also shared that sponsored messages will be added to a brand's Messages objective, making these types of ads simpler and easier to create. (26:34 and 43:20)
Snap Inc. Reports Nearly $40 Million Loss on Spectacles: The Verge reports that Snap Inc. lost nearly $40 million on unsold Spectacles, the camera-equipped sunglasses sold online and in pop-up vending machines around the world. According to the company, this loss is "primarily related to excess inventory reserves and inventory purchase commitment cancellation charges." (29:10)
Snap lost nearly $40 million on unsold Spectacles https://t.co/8gq8Y3JZsd pic.twitter.com/wXLqURG8c6

— The Verge (@verge) November 7, 2017
Snapchat Prepares for Upcoming App Redesign and Algorithmic Stories Feed: In remarks made during its Q3 2017 Earnings call this week, Snap Inc. announced two significant changes coming to Snapchat. The company shared that it's working on an upcoming redesign that will have a more user-friendly interface and a larger focus on content. It's also exploring new ways to surface content "in a personalized and more relevant way while still maintaining the exploratory nature of [its] service," which suggests possible plans for rolling out an algorithmically sorted stories feed in the future. (29:59)
Spiegel plans to save Snap with redesign to an algorithmic stories feed https://t.co/UebTBtJZfb

— TechCrunch (@TechCrunch) November 8, 2017
Snapchat Proposes More Distribution and Monetization Opportunities for Top Creators: Snap Inc. has "made significant progress" in empowering users to generate content for friends and providing premium content from publishers, but it admits it has neglected the creator community that develops and distributes public stories for the broader Snapchat audience. Following announcements about an upcoming app redesign and a new algorithmic story feed, Snap Inc. shared plans to "build more distribution and monetization opportunities for these creators" and make more professional tools for creating premium content available in the coming year. (35:45)
Snap says it's going to start paying top creators; regrets neglecting its creator community https://t.co/QLN1lmGJfY via @verge pic.twitter.com/qhIQWRbgRA

— Michelle Manafy (@michellemanafy) November 8, 2017
Facebook Messenger Experiments With Live Chat Plugin for Business Websites: Facebook introduced a new customer service chat plugin that allows third-party website visitors to engage with the business or brand using the Messenger platform. TechCrunch reports that "not only does the ability to use Messenger mean the business is making itself available within an application that now reaches some 1.2 billion monthly users and growing, the Messenger platform also supports features like payments, bots that understand natural language, and rich media, among other things." Facebook's new customer chat plugin will be widely available on desktop and mobile devices but is currently being tested in a closed beta. (45:00)
Facebook introduces a Messenger plugin for business websites https://t.co/PpNJfqiTjC by @sarahintampa

— TechCrunch (@TechCrunch) November 7, 2017
Facebook Rolls Out News Feed Ads With Direct Links to Messenger Experiences: With the new Messenger Platform 1.3, businesses and developers can now promote their Messenger experiences with news feed ads that directly open Messenger conversations. According to Facebook, this new ad format "combines the powerful audience targeting and selection capabilities of ads on News Feed" with "the identity and canonical nature of Messenger conversations" and is available to all Facebook advertisers. (47:52)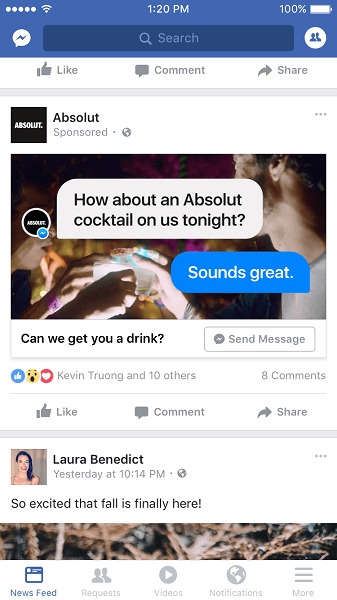 Facebook Messenger Adds Two New Currencies for Peer-to-Peer Payment Options: Facebook and PayPal recently partnered to enable peer-to-peer payments in the U.S. This week, Facebook announced that this capability will be expanded to all users in the UK and France "over the coming weeks." Users in these two countries can now seamlessly exchange British Pounds or Euros with friends "without leaving a conversation" in Messenger. (49:24)
Facebook Developing Possible Breaking News Tag for Publisher Posts: Facebook confirmed plans to test a new Breaking News tag that publishers will be able to attach to their posts but it didn't share any further details. It's speculated that "adding a tag like that to a post could temporarily push stories higher into users' feeds, generate some sort of alert or notification, or at least help them stand out visually." This feature was first spotted by Matt Navarra.
NEW: Facebook working on a 'Breaking News' tag for news publishers Pages? pic.twitter.com/XnjwSzEVn3

— Matt Navarra ⭐️ (@MattNavarra) November 3, 2017
Facebook Possibly Testing New Red Envelope Feature for Sending Money to Family and Friends: Facebook appears to be taking steps to appeal to users in and connected to China with a new "red envelope" feature for gifting cash to friends and family. This is a popular practice during holidays like Chinese New Year. When asked to confirm this possible new feature, Facebook simply stated that it's "always testing new product experiences but there's nothing specific to talk about at this time." While Facebook already offers peer-to-peer payments through the Messenger platform, this update will be the first of its kind on the flagship Facebook site and could usher in supported payments for Marketplace and other sections of Facebook within the site. This feature was first spotted by Matt Navarra.
NEW: Facebook is testing a 'Red Envelope' feature to send cash gifts to friends pic.twitter.com/GsADKlKjqH

— Matt Navarra ⭐️ (@MattNavarra) November 3, 2017
Facebook Adds New Monetization Tab for Instant Articles: Facebook now allows Instant Article publishers currently using the Audience Network to push recirculation ads to "easily turn these ads on or off" in the new Monetization tab. The Monetization tab can be found in the Instant Articles section of Publishing Tools within the Facebook Audience Network.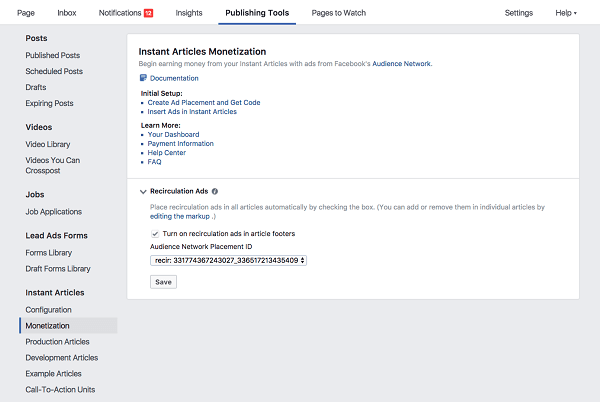 Instagram Allows Users to Upload Older Photos and Videos to Stories: Instagram now allows any photos and videos taken beyond 24 hours ago to be uploaded to Instagram Stories. Instagram previously limited the Stories feature to "glimpses" into a user's day, but this update offers more flexibility and creative choices.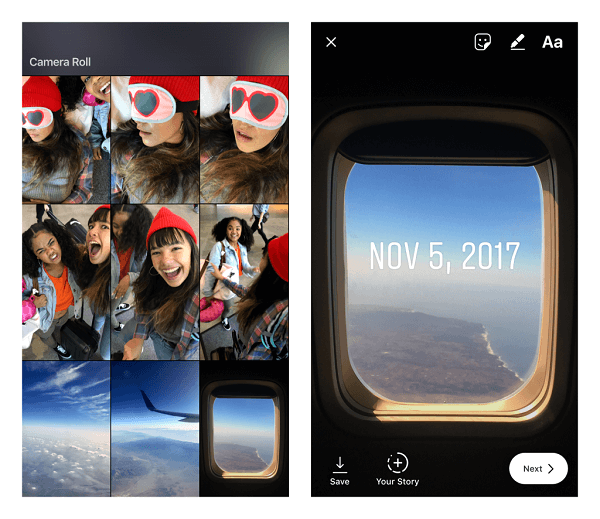 Instagram notes that when an image or clip that's older than 24 hours is used in a story, it will automatically include a date sticker to "add context for when it was taken." However, the company advises that as with any sticker, you can easily "rotate, resize or remove the date sticker from your story before you share."
Instagram Pushes New Format for Sponsored Posts to More Influencers: Instagram expanded its branded content tool to more celebrities and influencers. The tool helps users better identify sponsored posts, creates a standardized format that clearly indicates that a post is a "paid partnership" from an advertiser or sponsor, and provides data about a post's performance. It will also notify accounts when it detects that they've shared branded content without using this tool and give them the option to "tag a business" in their post.
Instagram pushes more influencers to adopt its new format for sponsored posts https://t.co/fS6dUYfByQ by @anthonyha

— TechCrunch (@TechCrunch) November 7, 2017
Instagram Test Ability to View Bookmarked Posts on the Web: Instagram introduced saved posts on its platform almost a year ago and now select users can view those "Pinterest-like" bookmarked posts in their web browsers. Instagram confirmed that it's currently only testing this new feature and it hasn't officially rolled out to everyone. Users can check their Instagram profile on the web for a new Saved tab to find out if they have it.
Instagram now lets some users view bookmarked posts on the web https://t.co/Dek7xYgL14 pic.twitter.com/1D6ytxBK6m

— The Verge (@verge) November 7, 2017
Facebook Introduces Campaign Budget Optimization: Facebook gives businesses "an easier way to manage their ad budgets and ensure optimal results" with the new campaign budget optimization tool. With campaign budget optimization, advertisers can set one central campaign budget to optimize across ad sets by distributing budget to the top-performing ad sets in real time and set a daily or lifetime campaign budget for each ad set. Campaign budget optimization is rolling out to all advertisers "in the coming months."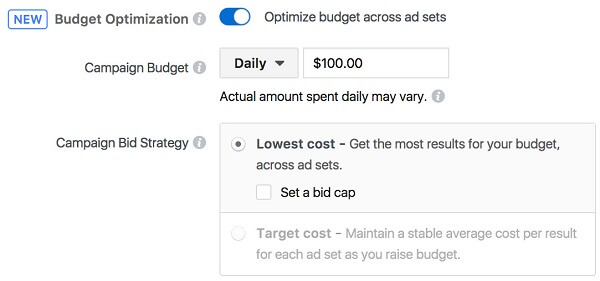 Facebook Adds Housing Rentals to Marketplace: Facebook announced it's partnering with sources like Apartment List and Zumper and working directly with brokers, agents, and other property managers to pull in "hundreds of thousands" of housing rentals into Marketplace. Searchers will be able to filter housing listings by a number of options such as location, price, rental type, number of bedrooms, and much more, and view 360-degree photos of properties when available.
Facebook expands its Marketplace section with housing rentals https://t.co/RsxQJff0N1 by @sarahintampa

— TechCrunch (@TechCrunch) November 9, 2017
Facebook Reveals New Data and Metrics for Boosted Posts: Facebook appears to have rolled out new data and metrics for boosted posts. These include boost summary data, which shows how many people were reached, and a new relevancy score that indicates whether a boosted post is getting positive feedback and how much it costing to run relative to "most ads on Facebook."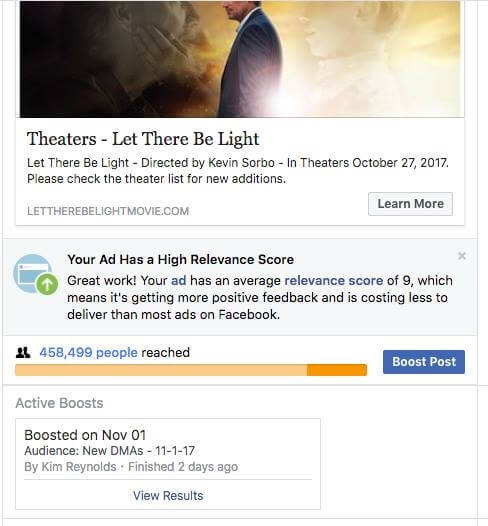 LinkedIn Introduces Resume-Building Tool Integrated With Microsoft Word: Microsoft is "bringing the power of LinkedIn into Microsoft Word" with the launch of a new resume-building feature called Resume Assistant. Users will be able to craft a compelling resume directly within Microsoft Word with insights and job-specific details directly from LinkedIn. Once a user selects their desired role and industry, Resume Assistant will pull LinkedIn insights from millions of member profiles as examples of how other professionals in that role describe their work and present their skills. Resume Assistant also suggests relevant LinkedIn Learning courses that could "strengthen your chances of getting hired" and creates a shortcut to LinkedIn's Open Candidates feature, which connects job hunters with recruiters.
Resume Assistant will be rolling out to Microsoft Insiders starting this week on Windows and will be generally available to Office 365 subscribers "in the coming months."
LinkedIn Debuts Sales Navigator Lite for Gmail: LinkedIn released a free version of Sales Navigator for Gmail that gives users insights about their email contacts from their LinkedIn profiles. It also highlights mutual connections and provides greater context about the person you're trying to reach. The LinkedIn Sales Navigator plugin is currently available from the Google Chrome Web Store.
Want to catch our next show live? Click here to subscribe or add our show to your calendar.