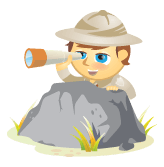 Social media is a big subject. If you're looking for some reliable places to go for the best tips and social media tactics, look no further!
Our second-annual contest generated more than 300 nominations. Our panel of social media experts carefully reviewed the nominees and finalists, analyzing the quality of their content, the frequency of posts and reader involvement (among other things).
The following are the winners of Social Media Examiner's Top 10 Social Media Blogs for 2011.
If you're looking to master all that social media has to offer, these rich blogs need to be at the top of your reading list.
Congratulations to the winners. Be sure to check out these amazing blogs!
Share the love: Feel free to post the above list on your blog (just reference this post).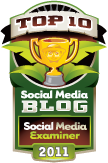 The badge of distinction: If you're a winner, you can post the image you see here on your blog and please link back to this page.
A special thanks to our judges! Thanks to David Armano (Edelman), Debbie Weil (author, The Corporate Blogging Book) and Rick Calvert (CEO, BlogWorld) for their participation.
Do you frequent any of these blogs? What do you think? Share your comments in the box below.