Wondering how to become the top-of-mind provider in your industry? Looking for a plan to develop extreme influence via social media?
In this article, you'll discover a three-step process for building a strong personal brand that gets you noticed by the right audience.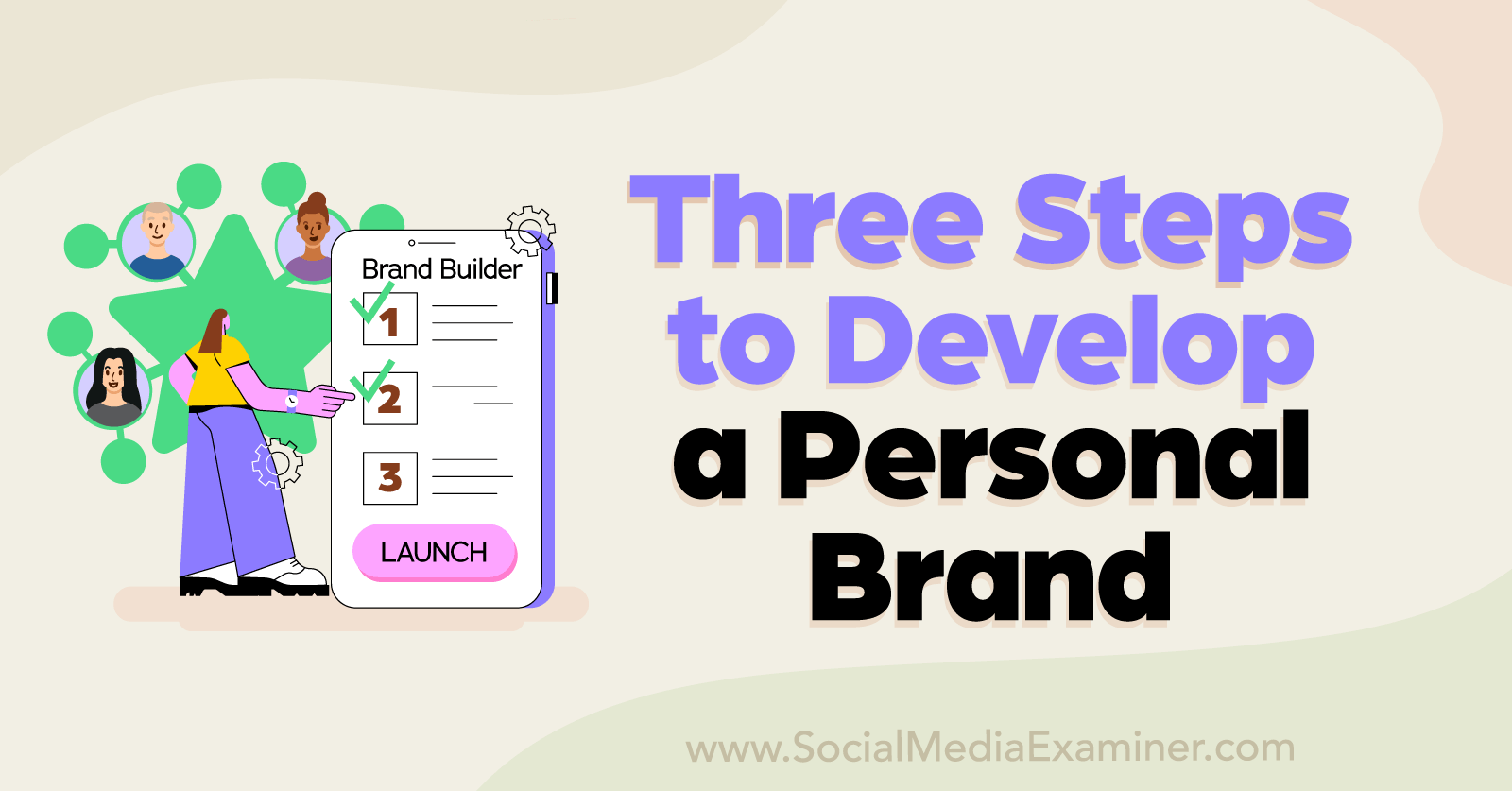 What Makes Personal Branding Important?
Here's how important personal brands are: Even if you aren't actively trying to build one, you already have a personal brand. Personal branding is inescapable online.
You're probably managing your brand more actively than you realize. Setting up a LinkedIn page? That's part of your own personal brand. Updated your Twitter bio? That's part of your personal brand.
The only way to avoid personal branding is to be completely offline. Even then, your lack of social media presence is a statement in itself. Most importantly, you'll be at a serious business disadvantage compared to the people who are online, purposeful, and posting.
Taking control of your personal brand comes with a long list of benefits including:
More conversions and sales
Creating connections faster and with more people
Being able to monetize your experience and expertise
As we mentioned above, these benefits are available to companies, as well as individuals. The trick is to humanize the company brand by giving it an individual face or by creating the "feel" of a personal brand.
There are three common ways to do this:
Leaders. Make the founder or CEO of the company into the personality that symbolizes the brand. If you're a founder or entrepreneur, this is a great choice. You can use your personal story to sell the brand.
The financial education platform Her First $100K is built around the story and personal brand of its founder, Tori Dunlap.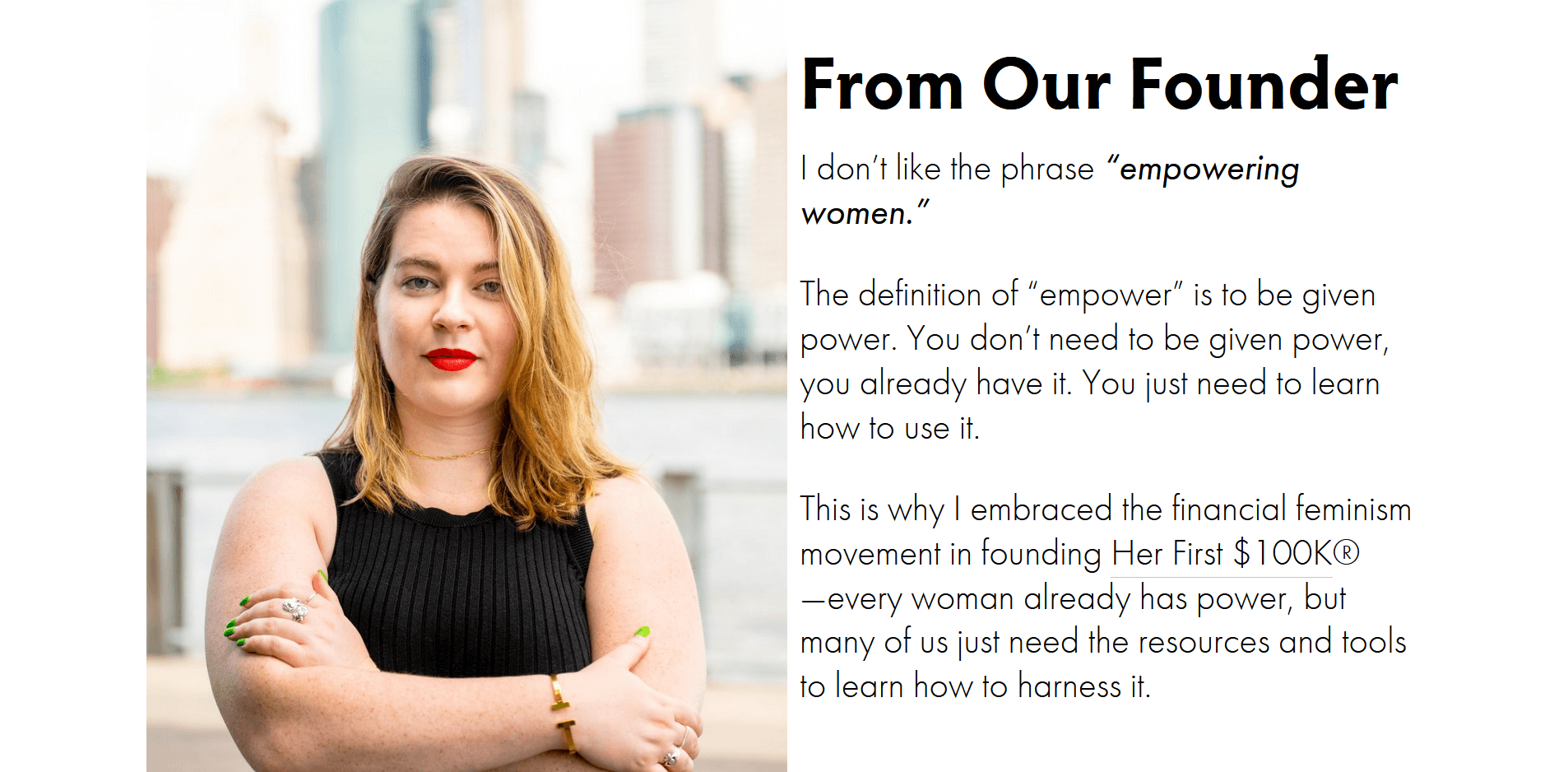 Customers. Companies can borrow the personal brands of their customers by sharing reviews, testimonials, case studies, and feedback. This is a kind of distributed personal brand. The company doesn't have an individual face but creates the impression of personality based on the customers it chooses to profile.
Insiders. The insiders you choose to represent your company might be employees, contractors, or even suppliers who become brand advocates. Their stories, experiences, and purpose can become a part of your brand messaging and image.
Fast-food chain McDonald's has long offered educational opportunities for its workers. Now, it shares those workers' stories as part of a branding content strategy.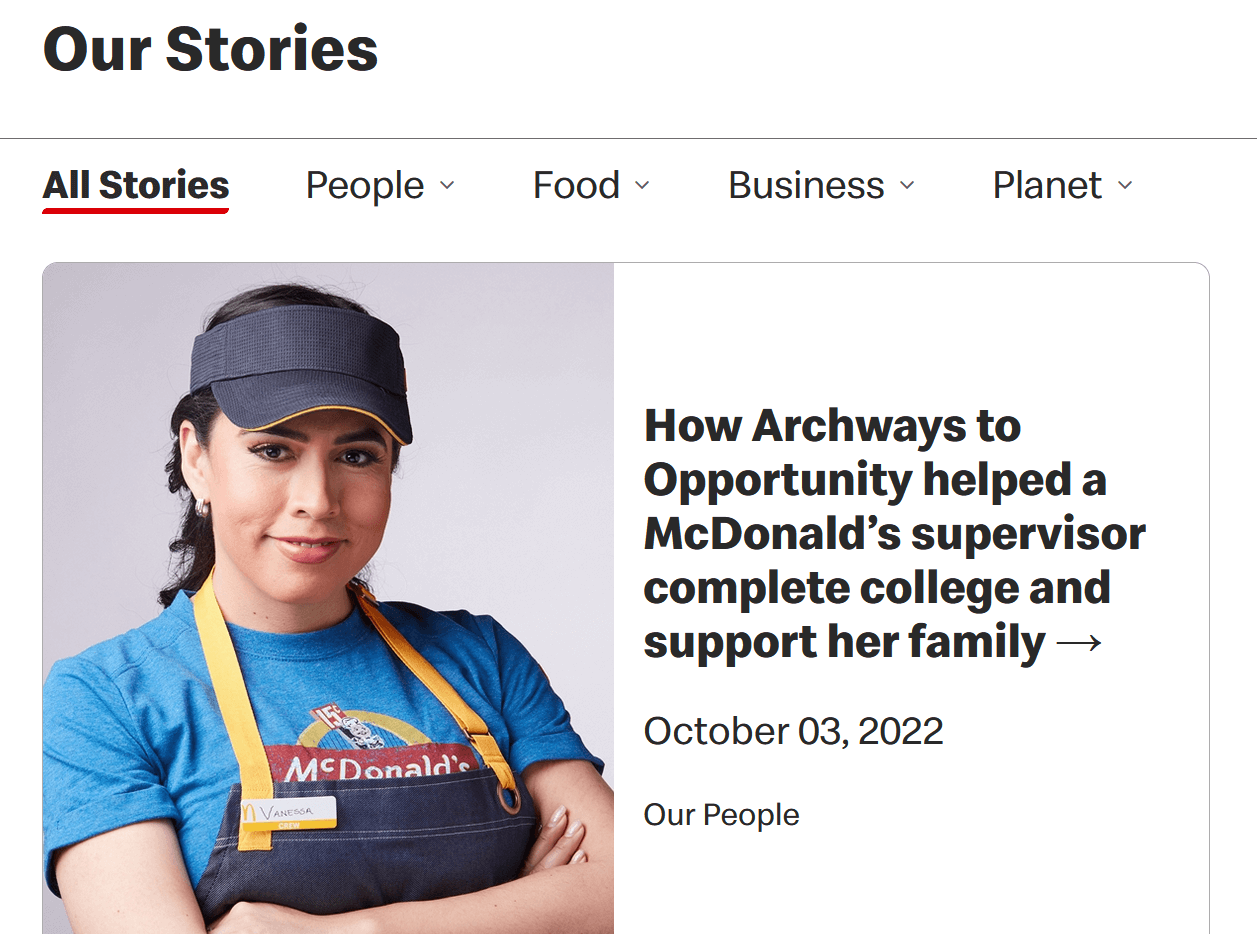 Whether you're working alone or you want to create a personal brand for a larger business, you'll still need to go through the same process of developing your personal brand online.
The 3-Step Branding Process
There are three essential steps to set up your personal brand:
Positioning. Define your personal brand and its place in the market.
Build something to demonstrate your brand. Set up your online presence and create content that expresses your personal brand.
Promote your brand. Choose the social media platforms that will help you grow and monetize most effectively.
For now, we're going to take these steps in order. But don't forget that your personal brand will always be a work in progress. There will always be space to refine your positioning, create better content, and discover new promotional channels.
#1: Position Your Brand
Let's start with the most basic element: defining and positioning your brand.
Or as the great Dolly Parton says… "Find out who you are and do it on purpose."
If that sounds like a challenging existential question, don't panic. We're going to use a simple formula to figure out exactly what your personal brand should be.
Your personal brand =
Something you love you do + Something that other people need and will pay for
This formula should help you to describe your brand in one simple sentence.
If you're not sure what to put in that formula yet, you can go deeper and ask yourself some more reflective questions. Start with the first half of the formula, "Something you love to do." Ask yourself:
What activities or work do you find consistently satisfying?
What are you really good at?
What do you want out of life?
If you won the lottery today, what would you do tomorrow?
You might come up with multiple answers. For example, perhaps you're really good at accounting but it's not satisfying. You love roasting coffee beans but you're not an expert yet.
Which business should you choose? The coffee beans. If you truly love something, then you can acquire expertise. But if you don't love something and you place it at the heart of your personal brand, you'll burn out fast.
Once you know what you want to do (and again, there may be multiple answers), you need to find out whether it's something that people need. They have to need it enough to pay for it and keep you in business.
This is your cue to do some market research. It doesn't have to be expensive or sophisticated. Just start by talking to the people around you! Tell them your business idea, and ask them whether they'd be willing to pay for it. How much would they pay? How much is too much?
Just one word of warning: it's often a good idea to leave your nearest and dearest out of these informal focus groups. Look for people who will be definitely, brutally honest with you!
#2: Build Something to Show Your Brand
Now you know who you are and who you're marketing to.
How do you share that with everyone else? The answer is content.
Content is how we demonstrate authority, build trust, and stay in touch with online audiences. You're going to use content to build and expand your personal brand on social media accounts.
Remember that the focus here is on your personal brand. Your content must be consistent with your brand. It needs to be genuine, consistent, and manageable so you can produce it without burning out.
Here are the absolute basics to include in your personal branding content strategy.
Photography
The internet is a visual medium. You can't have a website or social media without using images, especially when you're trying to promote a brand that centers on a real human being! You'll need some well-produced, professional shots that tell your story.
On her website, fertility author Dr. Lora Shahine uses photography that shows her as both a medical expert and an approachable speaker.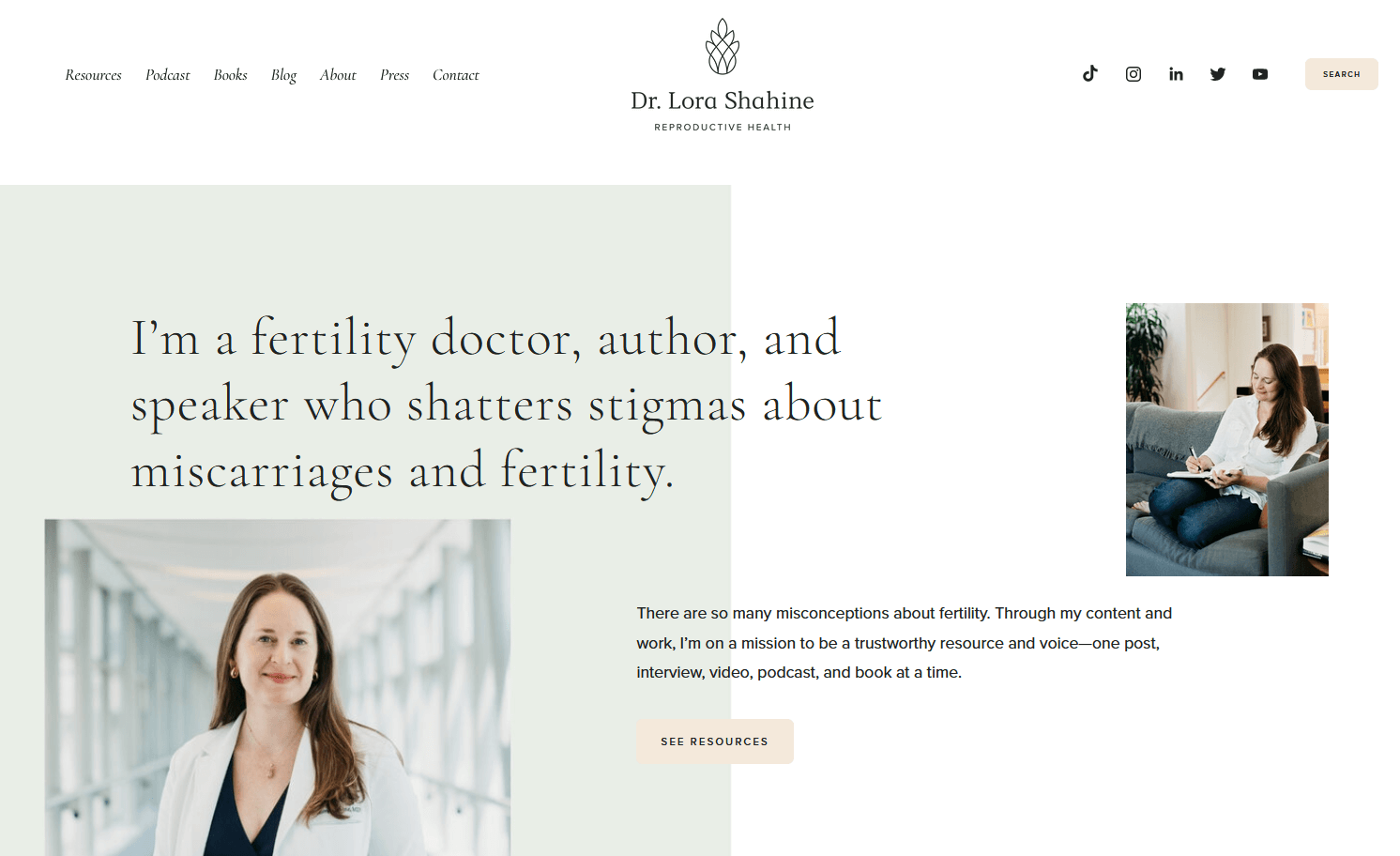 For example, remember our coffee-roasting business from the last section? A headshot of you in a suit and tie, sitting in an office chair, won't cut it. Take photographs in a café, sorting coffee beans, or even out visiting your growers!
Brand Identity
Your brand identity is more than just a logo. We're talking letterhead, email signatures, digital image files, physical versions of your logo to use in photoshoots, brand colors, typography, and web design! Every visual element of your brand has to be consistent with the personality that you're projecting and the niche you want to fill.
Website and Social Media
Photography and brand identity will both contribute to your personal brand online. But when you set up your website, you'll also need to think about copywriting, navigation, and the user's experience. Similarly, for social media, you'll need to script your bio, plan how you share links, and get into a regular posting schedule and style.
Motivational speaker Simon T. Bailey uses a website design, including layout, font, colors, photography, and copy, that all echo his unique, positive style.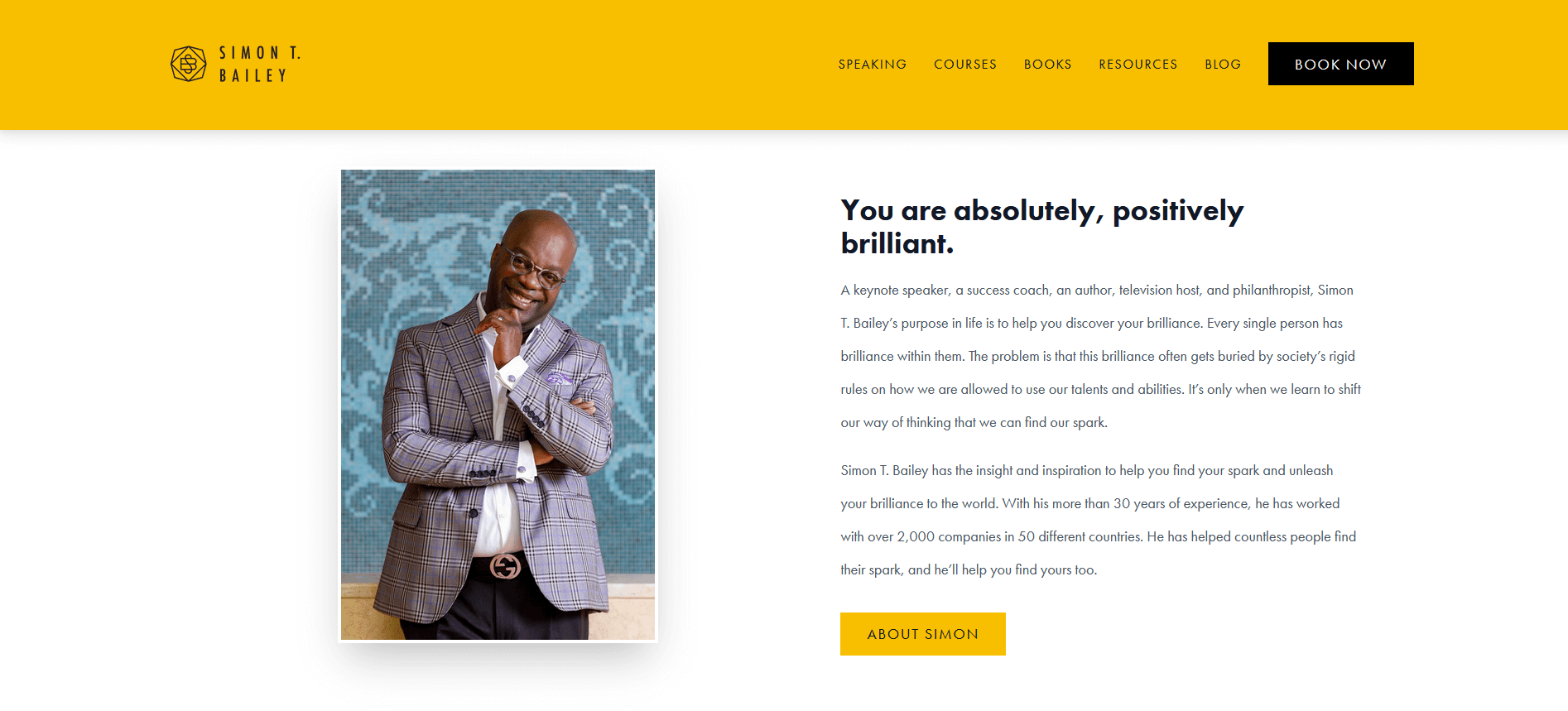 That might sound like a lot of work but it's an extremely valuable exercise. Creating a website or social media profile forces you to think about your personal brand in an organized, audience-first way. It also helps you create content faster in the future.
#3: Promote Your Brand
Now it's time for the third step: actively promoting your brand.
First, you defined what your personal brand meant. Then you created content and an online presence that support that personal brand. But you still need an audience… and that's where promotion comes in.
The most effective promotion channel for any successful personal brand is social media. It's easy to access, is often free, and gives you a high level of control over how you promote your brand. However, that doesn't mean that you need to be on every platform out there. But how do you choose which one(s)?
To find the right promotion strategy for your personal brand, start with the three Ps: parameters, priorities, and platforms.
Parameters
There are two key parameters to consider: the time you have to spend and your goals for promoting your personal brand.
How many hours per week can you dedicate to posting, commenting, exploring, and connecting with new followers? Remember that on most platforms, you'll need to post at least once a week. If you can't dedicate enough time to commenting and other interactions, you'll lose out on half the impact of social media. It's important to find a level of commitment that's both sustainable and effective for you.
Next, is it easy to achieve your goals on the platform you've chosen? Each social network is different. They have different ways to post content and interact with followers, and different rules about how you can share links or direct people outside the social network. Does your chosen channel offer the type of engagement and follower interaction you need?
Priorities
There are also two categories of priorities: what you want and what your target audience wants.
Start by thinking about which social media you actually, personally enjoy. After all, we're still talking about your personal brand. It's easier to be genuine, consistent, and engaging when you enjoy the platform.
After that, you can start thinking about what your audience likes to consume within that social media platform. Do they prefer short-form or long-form content? Are they more engaged by videos or by text? What are their priorities for being entertained and informed?
A great way to generate content topics is to screenshot or make a note every time someone asks a question on one of your social media channels. When they ask a direct question, your followers are telling you what they need; they're explicitly outlining their priorities. That's an opportunity for you to respond and demonstrate the value of your personal brand.
Platforms
It's actually better to be great at just one platform than to post half-heartedly on 10 different social networks. In many cases, you can grow your brand faster by starting strong on one platform and then expanding when you feel ready.
The ideal is to have a strong presence on around three different social networks. Try to choose a mix; for example, one channel for long-form posts and two that prioritize images or short-form video.
It's a good idea to have at least one channel of long-form content, whether that's a podcast or a video channel or an in-depth blog. Not only does this kind of content show off your expertise but you can also recut and repurpose it into multiple pieces of short-form content.
Other Notes From This Episode
Where to subscribe: Apple Podcasts | Google Podcasts | Spotify | YouTube Music | YouTube | Amazon Music | RSS
✋🏽 If you enjoyed this episode of the Social Media Marketing podcast, please head over to Apple Podcasts, leave a rating, write a review, and subscribe.
---
Stay Up-to-Date: Get New Marketing Articles Delivered to You!
Don't miss out on upcoming social media marketing insights and strategies! Sign up to receive notifications when we publish new articles on Social Media Examiner. Our expertly crafted content will help you stay ahead of the curve and drive results for your business. Click the link below to sign up now and receive our annual report!