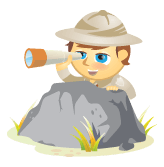 Back in October of 2009 we launched SocialMediaExaminer.com.  The response was immediate and it was big (I'll share some of the back story in the video below).
We relied 100% on social media tactics to drive traffic to this site.
In less than 5 months, Social Media Examiner was declared the #1 small business blog in the world by Technorati, added more than 13,000 email subscribers, brought nearly 100,000 people a month to the site and is ranked as one of the top 4200 websites in all of America by Alexa.
We didn't advertise, didn't rely on the press and almost none of our traffic is coming from search engines.  Nearly overnight, this site has become a top destination for businesses.
This all took place via social media.  We simply leveraged the power of sites like Twitter, Facebook and LinkedIn to deliver the kind of results that would've cost us a fortune in the past.  We didn't spend a dime on marketing, just our time.
Watch the above video to hear more of the story…
Only a few weeks ago we launched a Facebook Fan Page and already more than 2000 people are actively participating.
Here's a very common sentiment we hear nearly daily.
"Have I told you lately that I love you? No, seriously. I found your site a couple of months ago and signed up for email. Now with all the info I subscribe to I know that 100% of the time yours will always be a great informative read…..so thanks!" Jo McDonald Hooker

Clearly we're doing something right!
How Does Social Media Examiner Make Money?
One of the big struggles most publishers face is actually making money.  Maintaining a site like ours is a big team effort for a LOT of people.
We toyed with the idea of running display advertisements.  However, it quickly became clear there's very little money in advertising (we might reconsider down the road).
Put Google Analytics to Work for Your Business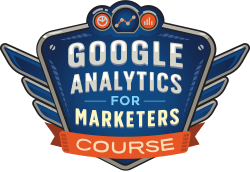 Ever thought, "there's got to be a better way" when it comes to tracking your marketing activities? Are you forced to make decisions based on limited data? With the right training, you can use Google Analytics to measure all of your marketing efforts with certainty. You'll stop the leaks in your ad spending, justify your marketing spend, gain the confidence you need to make better marketing decisions, and know what's working at every step of the customer journey. Let the world's leading analytics pro show you the way. Check out our new Google Analytics for Marketers course from your friends at Social Media Examiner.
LEARN MORE - SALE ENDS NOVEMBER 27TH!
Since our inception, a "lot" of folks have asked for recommendations to better their social media learning.  The common questions were, "What courses can I take?," "How do I really master this important form of marketing?" and so on.
So the team here at Social Media Examiner decided to put together a conference just for you.  And it's called Social Media Success Summit 2010.
So the answer to the question, "How do we make money?" is large online events.
What Is Social Media Success Summit 2010?
Social Media Success Summit 2010 is an event designed to to empower you to build social media marketing plans, track your social media results and learn from other successful businesses.  You'll also discover how to use Facebook, Twitter, LinkedIn, YouTube, Foursquare and Groupon to attract high-caliber customers and grow your business during this economic slump.
Twenty-four of the world's leading social media superstars will be summit instructors.
Join Guy Kawasaki (author, Art of the Start), Chris Brogan (author, Social Media 101), Darren Rowse (author, ProBlogger), Mari Smith (author, Facebook Marketing), experts from Best Buy, Home Depot, Whole Foods, Foursquare and Groupon; Steve Rubel (Edelman), Ann Handley (MarketingProfs), Brian Clark (Copyblogger), Greg Jarboe (author, YouTube and Video Marketing), Kim Dushinski (author, Mobile Marketing Handbook), Jason Falls (Social Media Explorer), Jay Baer (Convince & Convert),  Ramon De Leon (Chicago Domino's Pizza) and yours truly—just to mention a few.  Together this team of "who's who" in social media will help you succeed using practical tactics.
This is the world's biggest online event designed to empower marketers and small business owners to master social media marketing.
And the great news is it's a live online conference you can attend from your home or office.  Click here for a free sample class.
I hope you'll consider attending! And thanks for supporting Social Media Examiner.
What do you think about our story? Do you have any questions about the summit? Please comment below…