Need more qualified leads?
Could your future customers be among the marketers who read our newsletter?
If so, keep reading…
An introduction to the newsletter
Social Media Examiner content arrives in the inbox of more than 400,000 marketers every Monday, Wednesday, and Friday.
Each newsletter contains links to our original articles, videos, shows, and news updates.
We've been delivering original content since 2009.
The audience—marketers and entrepreneurs—discover how to successfully employ marketing strategies, learn new tactics, and gain actionable tips to improve their marketing.
Here's what a few loyal readers have to say:
"Excellent content. Your style is very approachable and is always very focused," said Fred Aebli.
"I LOVE your content! Keep up the great work," said Rita Perea.
"There's value in everything you offer. I've found your information to be the best out there to keep me informed," said Jennifer Irwin.
Why sponsor Social Media Examiner's email newsletter?
#1: Leads: Need to fill your lead pipeline?
Have you got a valuable resource, video, or lead magnet—and you just need more qualified prospects?
We can help!
Imagine what could happen when your message is delivered straight to the inbox of marketers awaiting the quality content produced by Social Media Examiner.
There's a reason why businesses like Salesforce, Tailwind, ManyChat and IBM have worked with us for years. Our newsletter has delivered millions of dollars in revenue to our sponsors.
#2: Exposure: Get exposure to the largest marketing audience in the social media industry.
If you want exposure to people looking for advice and resources to improve their marketing, there's no bigger audience. Three days a week, hundreds of thousands of marketers look forward to our content arriving in their inbox.
Unlike other marketing newsletters, everything we publish is original. Your message is delivered alongside the content our audience loves.
Continuous exposure to this audience will help your brand become top of mind for influential marketers all around the world.
#3: Affiliation: Affiliate your brand with Social Media Examiner.
Social Media Examiner is a trusted media brand for millions of marketers and entrepreneurs around the world. If your audience is among the large demographic that Social Media Examiner attracts, being a regular sponsor of our email newsletter is a smart marketing investment.
Who reads the newsletter and what are their interests?
Marketers and entrepreneurs from around the world open and read our email newsletter. The majority work for a small business (with less than 100 people) in a marketing role, targeting business-to-consumer (60%) and business-to-business (40%) audiences.
Here are the topics readers are most interested in:*
✅ Marketing on Instagram, YouTube, Facebook, LinkedIn, TikTok, and Twitter
✅ Content marketing
✅ Email marketing
✅ Search engine optimization
✅ Creating videos (short and long-form)
✅ Analytics
✅ Community development
✅ Copywriting
✅ Visual design
* The above data is based on a study we recently conducted.
How many people read the newsletter?
About the list
Our newsletter is grown organically with no paid acquisition. We accomplish this with free offers to site visitors, like our annual Social Media Marketing Industry Report.
We automatically remove subscribers who have been inactive for more than 90 days.
We have a very high reputation with all the major email providers and our sender score average is 98 (out of 100). We also test every broadcast for inbox deliverability. This means our sends will not get stuck in spam or promo folders.
In addition, we add 5,000 to 10,000 new subscribers to our list every month from readers who find us via Google and other channels. This means there are always new people coming into our list.
As of November 2022, the Social Media Examiner newsletter is emailed to over 400,000 marketers.
About the content
Inside each email newsletter we provide a short and creative headline linking to our content.
As of October 2022, each week we publish four original articles, three videos, three podcasts, and one live show. Our Monday newsletter promotes our articles, our Wednesday newsletter is dedicated to industry news, and our Friday newsletter promotes our video, podcast, and live show.
Below is an example of what the newsletter looks like with a Gold ad on top and a Resource ad underneath: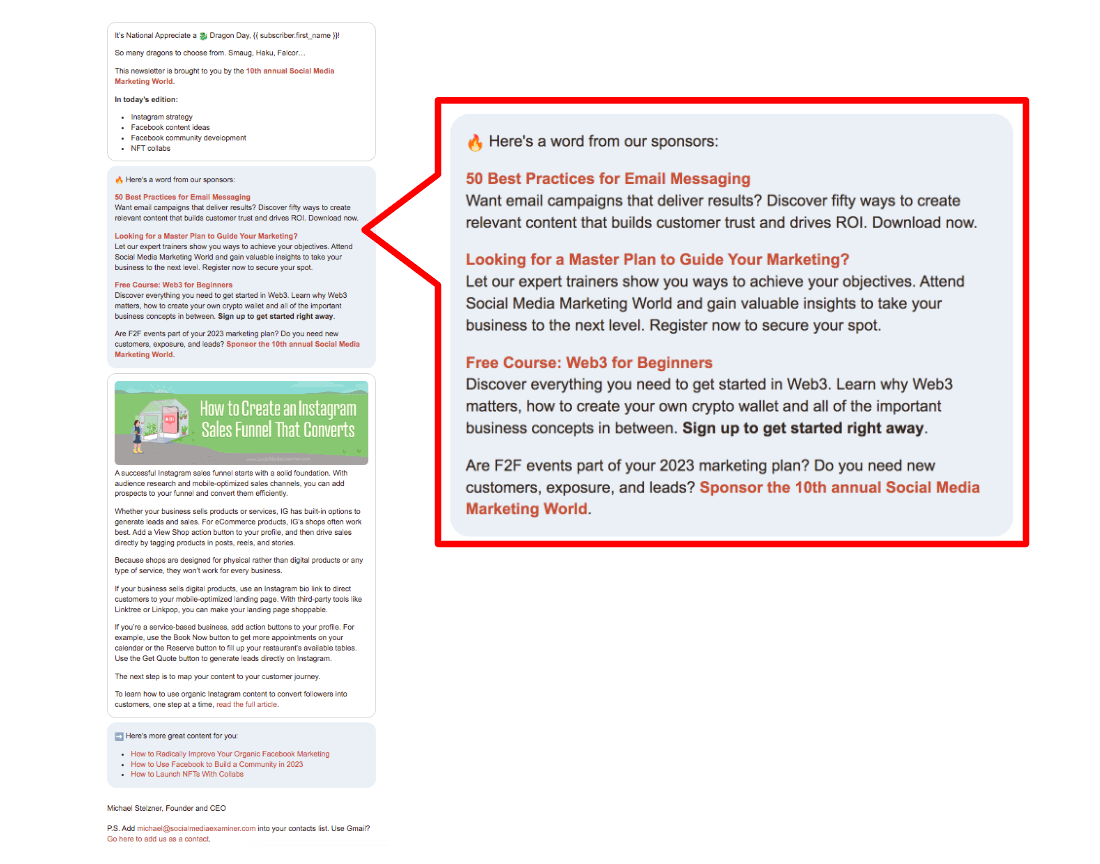 Not a subscriber? Sign up here.
Are you ready to get your product in front of our audience?
Isn't it time you explore this opportunity to be a permanent fixture in one of Social Media Examiner's most valuable media properties?
YES! I'M READY FOR MORE EXPOSURE