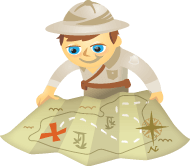 Do you wonder how to go about exercising good social etiquette and managing your social networking communities, all at the same time?
Social media community management has expanded into a growing field and there's a lot to think about.
In this post, I'll cover 26 tips, an A-Z guide, on ways to manage your company's presence.
#1: Answer Questions
With more and more of your customers participating on social networking platforms, businesses need to be doing much more than posting their own updates. Companies must also be willing to answer questions.
A recent survey organized by InSites Consulting found that eight out of ten American companies answer client questions and complaints via social media. The survey shows that US companies are very successful in answering questions via social media: "83 percent of companies indicate they always deal with questions or complaints sent to them via social media. Still, only 54 percent of the companies in this survey also talk to and actively participate in online conversations with consumers."
What about your business? Are you answering or avoiding questions?
#2: Bring People to Your Website Through Social Media
Sometimes with all the talk about social media, businesses may briefly forget one of their original goals for initiating a social strategy—namely, bringing customers and prospects to your company website.
Silvia Pencak writes, "If you are a small business owner, social media will be greatly beneficial in attracting customers to your website… Very few consumers make a purchase the first time they view a website. The initial visit may be enough to capture their attention, but you also need to gain their trust and convince them that your product is a better buy than that of your competitor."
Silvia offers two recommendations: 1) keep your customers informed by updating your information regularly and 2) communicate with your customers. "If a consumer posts a comment or question on your page, be sure to answer back as quickly as possible. Not only will this show them that you can provide them with excellent customer service, but speaking to them directly will also help to gain their trust, showing them that there is a person behind the business."
#3: Cultivate Stories on How Customers Use Your Products and Services
You've followed the advice on monitoring your social media activity. You see that a customer tweeted about your product or posted a photo on Pinterest. They like you! They really do! Well, that's all really exciting. And maybe you've even retweeted the message for the world to see. But why stop there? Why not be more of a brand storyteller and share those experiences further?
Karen Lyon, vice president of brand marketing at IdeaPaint, says her company not only retweets and reposts blogs and social mentions from customers, staff members also share customers' photos of their products that they've culled from social media sites to use as success stories. "We are much more interested in talking about who our customers are and how they use the product than we are about just talking about ourselves."
How can you use social mentions to tell your success stories?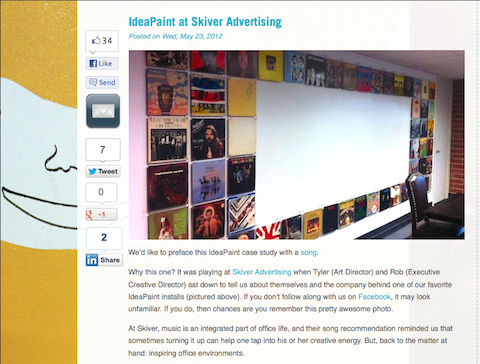 #4: Divide and Conquer
Depending on the type of products and services your business provides, you may actually benefit from maintaining more than one Facebook page or Twitter profile.
Wakefly points out the benefits of social media segmentation in their whitepaper with a discussion about candy manufacturer Mars.
The Conference You've Been Waiting For
As a small business marketer, you can probably only pick one or two events to attend each year. Get an unbeatable conference experience and expert training at Social Media Marketing World in sunny San Diego, California—from your friends at Social Media Examiner.
🔥 As a valued reader, you can save $650 on an All-Access ticket if you act now! Sale Ends Tuesday! 🔥
CLICK HERE TO LEARN MORE
"Mars manufactures the candy brands M&Ms, Snickers, Dove and Mars… all of the brands are positioned together on the same corporate website, creating branding that is confusing because the subpages are each dedicated to a single brand. Consequently, the overall message is also confusing because the Mars corporate brand overrides all the others.
"The good news is that M&Ms, Snickers, Dove, and Mars can each have a page on Facebook and Twitter that is completely independent of the others with its
own branding as well.
"Web 2.0 has created a marketplace that is highly segmented and marketers are well advised to take this into account. As a result, B2B companies have an opportunity to optimize their online marketing strategies by not only creating a page for the umbrella brand, but also by creating individualized social networking pages for each of the products and services that they offer."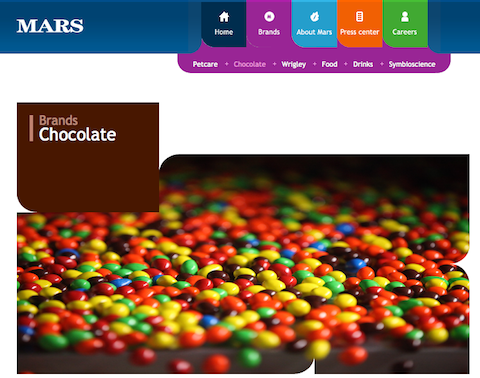 #5: Elicit Responses
We've all probably heard it said a zillion times that engagement is key to social media community management. But the question we may find ourselves struggling with day in and day out is: What will be most effective? Conversen sums it up very nicely with this advice: "A social campaign should ask questions that cause consumers to stop, reflect and respond."
When you look back at the questions you've posed in articles, tweets, or Facebook updates, which were the ones that generated not only the most responses in numbers, but also qualitatively, the most reflective and insightful answers? Can you do that again tomorrow? And the day after that?
#6: Fans and Followers, Really?
Someone may have once told you that having more fans and followers should be one of your key goals for managing your online communities. After all, numbers matter, don't they?
Jay Baer hit the nail on the head when he wrote, "Your customers don't innately want to follow your company on Twitter or friend you on Facebook, or read your blog, or watch your videos. There are mountains of great content online unencumbered by a corporate dynamic. Thus, embracing your company and its content is not a high priority."
Jay says it's about rationale. Companies that can create compelling reasons for their customers to connect with them will succeed on the social web. And those that don't emphasize helpfulness and relevancy will fail.
How can your company be more helpful and more relevant? What can you say that will give your customers good reasons to connect with you?
#7: Generate Your Content Strategy Over Time
Let's say your team sat down three months ago and created your content strategy to take you through the rest of 2012. And your analytics and demographic reports from recent weeks all look good. End of story? Not so fast. Your community may be moving and reacting to something that happened yesterday or better yet, tomorrow.
As Rich Brooks writes, "A keyword analysis and social media demographics will only take you so far. You'll need to evolve your content strategy over time, based on what's going on in your industry, with your audience and in the world around you."
Revisit your content strategy frequently and be flexible about what and when you post.
#8: Honesty is Still One of the Best Policies
Deborah Ng writes, "Your community members invest a lot of time in your brand. You owe it to them to treat them as equals and to be honest with them."
Deborah offers three best practices for being transparent with your community:
If you're not sure how to respond to something or don't know whether you're even allowed to address it, discuss it with your team and your superiors first.
Address criticism and rumor head on without sweeping them under the rug.
Respond to questions and inquiries honestly. At times, you may have to reveal information that hasn't been released to the rest of the world in order to rectify a situation.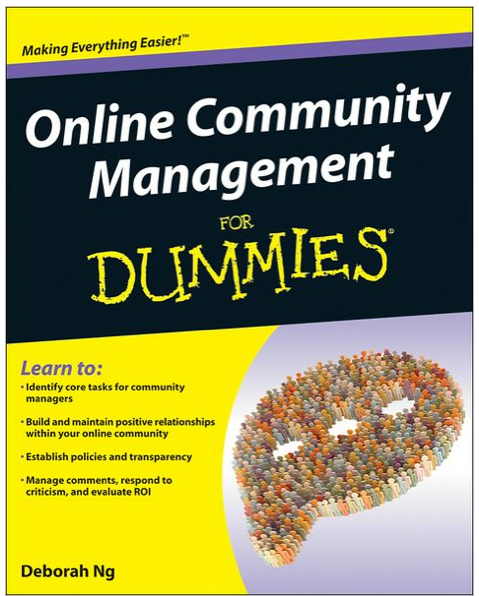 #9: Ingenuity is Memorable
In Phil Mershon's article about creative social media marketing case studies, he shows how seven companies have used their ingenuity to create memorable community experiences.
The eight key lessons we can learn from these businesses are:
Take advantage of photos and videos.
Showcase your customers.
Enable social sharing on all of your content.
Google+ will impact search results.
YouTube is far more advanced than you may realize.
Optimize your content for mobile readers.
Give people a reason to engage.
Think about starting a LinkedIn group for your industry or niche.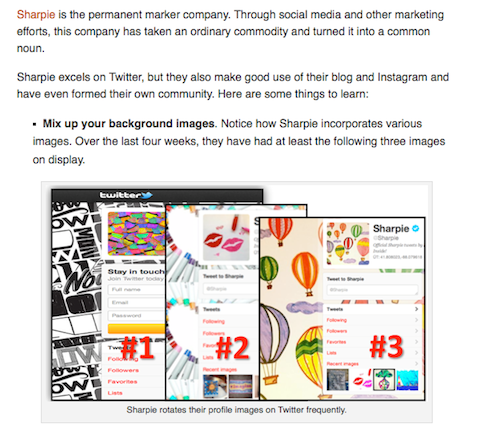 #10: Joke in Good Taste
Jason Miller offers tips for using humor in your social media activities. As he says, "Humor can be a great way to get people's attention." But humor can also be a little tricky.
Jason writes, "The target market must always be considered. Running tests and focus groups to gather feedback is always a great idea. Try to use an online survey to test your attempt at humor against an internal audience before you send it out. Comedy is subjective, so don't expect to please everyone."
#11: Kick-Start with Good Content
Getting started on a new platform? Still testing the waters to see whether it's the right place for your business to be?
One suggestion that many seasoned social media marketers will tell you is to come out of the gate with loads of good content before you start promoting your new presence.
Let's say your blog is shiny and new. Wait until you have a respectable number of good-quality posts (e.g., 3-5 thoroughly researched and well-written articles) before spreading the word. Take some time to generate momentum.
#12: Leverage Your Networks
Community managers need to know what's happening on all of their networks. Even if you're not the Twitter manager, for example, you should have a good idea of the conversations, tweets and hashtags taking place that involve your company and industry. At this point, social platforms work hand-in-hand with one another.
Conversations flow freely from one network to another and in order to be effective, social community managers need to be able to leverage their networks and bounce off one another.
#13: Marketing Isn't a Bad Word
Community managers often have to work extra-hard to avoid marketing faux pas—being perceived as using social networking platforms exclusively for business marketing purposes. But let's call a spade a spade. When social media marketing is done right, it's not a bad word nor out of line. Ultimately, it's how businesses need to communicate in the 2010s.
When Jeff Bullas was asked, "What should be the ultimate goal of social media participation for businesses? Is it to create awareness, drive traffic to your website, sell product, branding, or something entirely different?"
He answered, "Businesses have different goals they want from each element of marketing. It's no different for social media, as it is just another marketing tool and medium. Marketing fundamentals still apply. For some, brand awareness is paramount. For others, it's increased sales.
Attention Agency Owners, Brand Marketers, and Consultants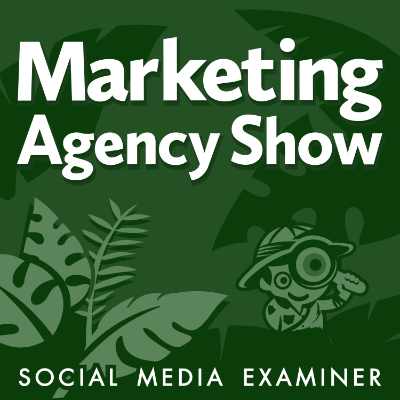 Introducing the Marketing Agency Show–our newest podcast designed to explore the struggles of agency marketers.

Join show host and agency owner, Brooke Sellas, as she interviews agency marketers and digs deep into their biggest challenges. Explore topics like navigating rough economic times, leveraging AI, service diversification, client acquisition, and much more.

Just pull up your favorite podcast app, search for Marketing Agency Show and start listening. Or click the button below for more information.
CLICK HERE FOR THE DETAILS
"Any marketing strategy and the resulting tactics should keep in mind the two key fundamentals: 1) the target audience and 2) the goals. Social media is not a magic bullet and should be used where appropriate just like television, radio or email marketing."
Remember your target audience and goals, and you'll be fine!
#14: Never Say Never
Some days the proliferation of social media feels as if it happened overnight. One day many businesses were claiming social media wasn't the right strategy for them.
In a few short years, businesses of all shapes and sizes have active presences on multiple platforms. Twitter, Facebook, LinkedIn, YouTube, Pinterest, etc., went from not making sense to being commonplace destinations. Who knows what will come down the pike next? With that in mind, it'll serve you best to stay open, flexible and go with the flow.
#15: Originality vs. Saying What Everyone Else Says
Vicki Flaugher writes, "A great content marketing strategy is key for social media success. You've probably seen people sharing others' content, sometimes via RSS feeds, Paper.ly pages, retweets/shares, or by direct linking. Those are great strategies to provide useful content to your audience. They can be an adequate stop-gap measure while you build your own content, but it's very very important in social media to provide original content."
Vicki recognizes that not everyone feels that they have the time or expertise to create original content and offers these suggestions:
Review a product, book, movie, event, research study or website.
Interview an influencer.
Create a video from a PowerPoint presentation.
Be quotable by learning to say meaningful things in short blurbs.
Don't make it harder than it is (e.g., keep blog posts to single ideas, 150-300 words, keep your videos 30 seconds to 3 minutes tops, keep your interview to 15 minutes). Just start. You'll get better as you go and you'll be original.
#16: Power to the People—Write On!
OK, so maybe this isn't what John Lennon meant when he wrote the lyrics to the song, "Power to the People."
As a social community manager, you walk a fine line—being in charge of the content that your business posts and maintaining a number of presences, responding to and cleaning up inappropriate comments all the while, working your hardest to listen and respond to your community.
At the end of the day, after you've handled all of the necessary responsibilities, the company still needs to continue to develop content on an ongoing basis.
Pamela Vaughan provides tips for stellar social media community management and offers this sound advice regarding content: "Share remarkable, targeted content based on needs/interests of individual communities.
"Without remarkable content, your brand will have nothing valuable to share, and your community members will either dwindle, flock elsewhere, or not even bother to participate in the first place.
"This content should not only be remarkable, but it should also be easily shareable so your community members can expand its reach by sharing it with connections in their networks."
#17: Qualified and Experienced Decisions
Marc Meyer points out that social media has matured. He writes, "Yes there are still lots of nuances to be learned and still lots of totally unqualified people screwing things up, but that's in every industry, right?
"The difference between five years ago when I first started and now is that there are more and more qualified people out there who are able to make educated and qualified and experienced decisions on what to do with social media initiatives. And the results speak for themselves."
Are the most qualified and experienced people involved in the day-to-day operations of your social networking communities? If not, how can you get them involved?
#18: Respect Cultures
Several months ago, National Public Radio (NPR) gave its journalists new ethics guidelines that included social media policies.
Jeff Sonderman wrote about his impressions of the policies and how they can serve as a blueprint for other news organizations.
As community managers, there's a valuable takeaway message for all of us in this passage from NPR's social media policy:
"To get the most out of social media we need to understand those (social media) communities. So we respect their cultures and treat those we encounter online with the same courtesy and understanding as anyone we deal with in the offline world. We do not impose ourselves on such sites. We are guests and behave as such."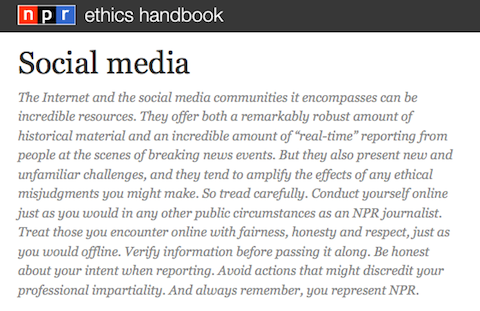 #19: Shout-Out and Give Thanks
Lightspan Digital has provided an insightful social media cheat sheet with loads of important daily social media workouts, including this one for Twitter:
"Give thanks—If someone retweets one of your tweets don't forget to give thanks. Example: thanks for the shout-out @manamical :)"
Check out their cheat sheet for more great advice.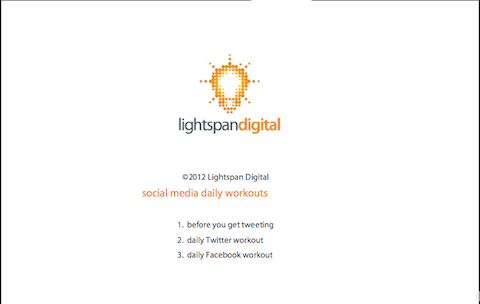 #20: Things You Should Know About Your Audience
Pam Moore writes that many businesses have the problem of using social media tools without first doing their homework to understand their potential audience.
She says, "You must plan before you act in social media if you want to have a positive return on your investment. Random acts of marketing (RAMs) and social media (RASMs) will get you nothing but in the red come month-end!"
Pam suggests eight things you should know about your audience to create content that inspires:
Who is your audience?
What are their pain points?
What does your product or service do to minimize or mitigate their pain?
How can your product or service inspire and help them personally and professionally?
How is your product or service positioned?
What is your zoom factor? (We'll discuss more in #26.)
What is your competition up to? (We'll explore further in #24.)
What's your audience up to, both online and offline?
#21: Update Frequently
We touched upon this point briefly in #2 about the need to update and create new content frequently.
If you ask ten people about what the right frequency of updates would be, you'll likely receive ten different answers. What works for one business may simply not work for another due to a number of considerations such as staffing, type of products/services and a host of other reasons.
Bottom line here is that we all need to find what works best for us to keep the content fresh and the conversations going.
Ask yourself: What does your schedule consist of? Is it working? If not, what could you be doing differently? Have you looked at the frequency of updates your competitors are making?
#22: Verify Information
As social community managers, we often share information that others have published and pass it along to our readers.
It's important to be careful and discriminating about the information we share; after all, it's our reputation too that's at stake. You'll want to verify social media content.
Patrick Meier offers tips for how to do this by checking out the:
Bio on Twitter
Number of tweets
Number of followers
Number following
Retweets
Location
Timing
Social authentication
Media authentication
Engage the source and ask for the source of the report
Patrick states too that speed is often vital and trying to filter and triangulate (looking for multiple reports from unconnected sources) can be helpful.
#23: Wonder Out Loud
In the preceding tip, we talked about the necessity of verifying information. But at times, social media lends itself to wondering out loud. Speculating. Making educated guesses. Asking questions. Harnessing opinions. And, yes, as Dragnet Detective Joe Friday might have said, "Just the facts, ma'am. Nothing but the facts."
There is a time and a place for making conversation, just as long as you don't misrepresent it as fact!
#24: E(x)amine How Your Audience Engages With Your Competition
Pam Moore suggests that you can learn much more about your audience by understanding how they engage with and react to your competition.
She poses these questions:
How is your audience engaging with your competition?
What is your competition doing that you aren't?
What type of response are they receiving online and offline from your target audiences? Is it different than how your audience is engaging with you?
Does your competition have a consistent tone, message and brand? If not, how can you enhance yours to zoom faster?
Is your competition engaging in a way their audience expects them to? Casual when they're expecting professional or opposite?
Why are they doing such things differently? Do they have a competitive differentiator because of this or do you have the leg-up? Remember, different isn't always better. You may be on the right track.
What are the weaknesses in how your competition is engaging and leveraging social media that you can use to your advantage?
#25: You vs. Your Customers
Steve Caputo says, "Sometimes we overlook the fact that brands and companies have a totally different perception of the role of social media—and how it can help their business—from that of their customers."
He refers to the infographic of a survey conducted by the IBM Institute for Business Value that shows the top reasons consumers interact with companies via social sites vs. why businesses think consumers follow them.
Consumers interact for:
Discounts
Purchases
Reviews and product rankings
General information
Exclusive information
Learn about new products
Customer service
Event participation
To feel connected
Submit ideas for new products/services
To be part of a community
Steve whittles the message down to what he calls the "golden rule": "The secret to marketing with social media is to always provide value."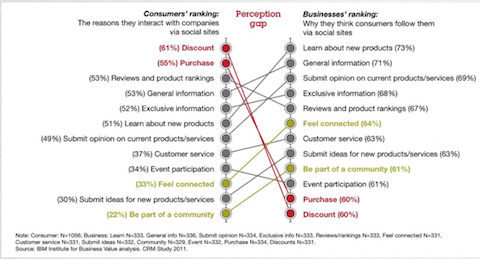 #26: Zoom Agents Lead the Way
We touched on this tip in my last article about integrating social media activities, but it's worth repeating here.
The social zoom agent, as described by Pam Moore, is "someone who takes on the responsibility for the success of becoming a social business. They will own the success of the engagement, content, approach, strategy and integration."
As a community manager, you may be the sole zoom agent or one of many for your business. In any event, you'll need to care deeply about your social communities.
Ideally you will feel invigorated and inspired and will have a sense of pride about the value of your work and what you're able to contribute. Community management is a relatively new field and it's an accomplishment to be in this role. Go on and lead the way!
What do you think? Leave your questions and comments in the box below.
3 Days of World-Class Training—Zero Travel!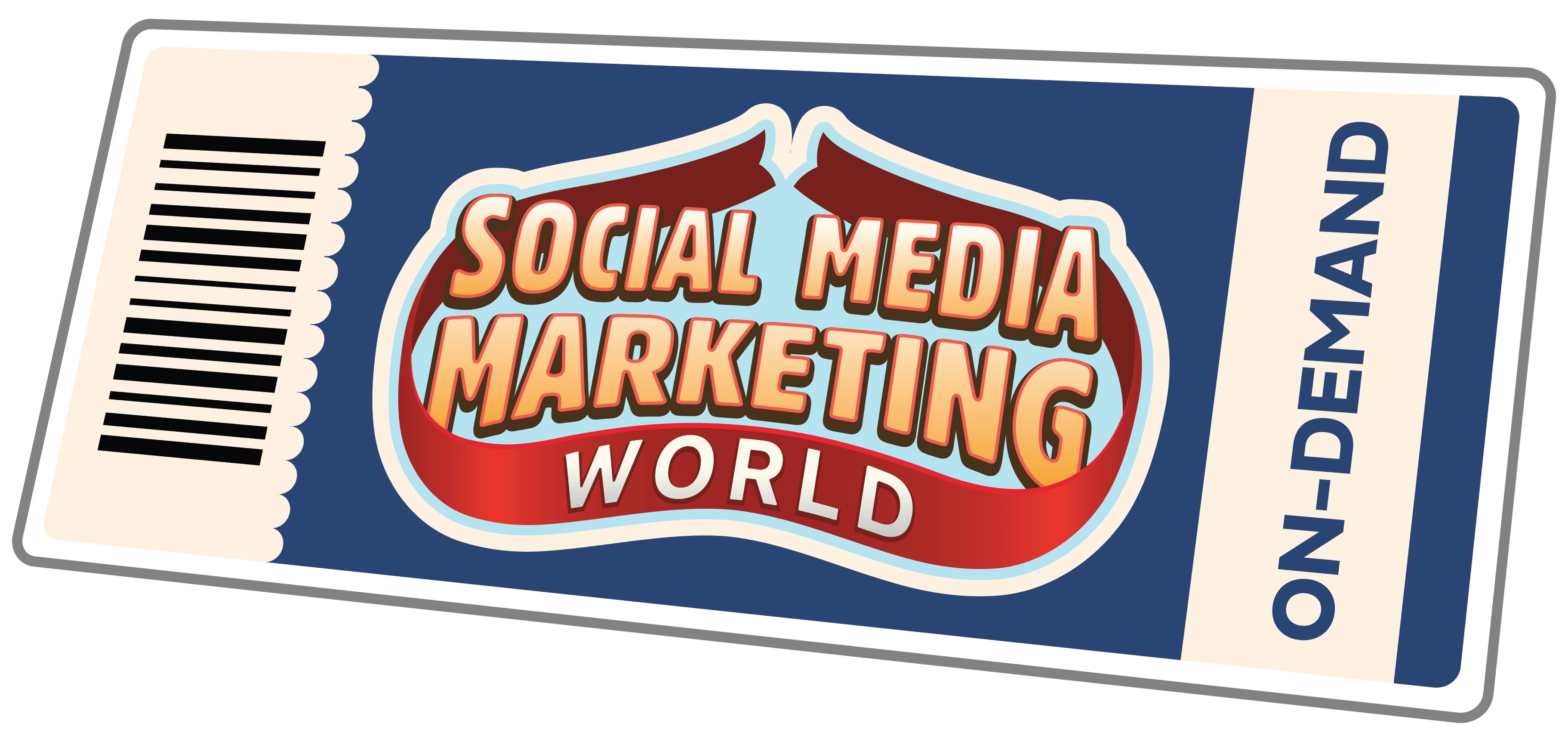 Travel to Social Media Marketing World off the table? Get all of the great content at a fraction of the price with an On-Demand ticket.

That's full access to recordings of every keynote, workshop, and session—the ones people travel thousands of miles to see. Don't wait. Get your On-Demand ticket and enjoy actionable content that you can watch anytime, anywhere.
GET YOUR ON-DEMAND TICKET NOW