Want your content to rank higher in search? Looking for a proven strategy to follow?
In this article, you'll discover how to improve your Google search rank.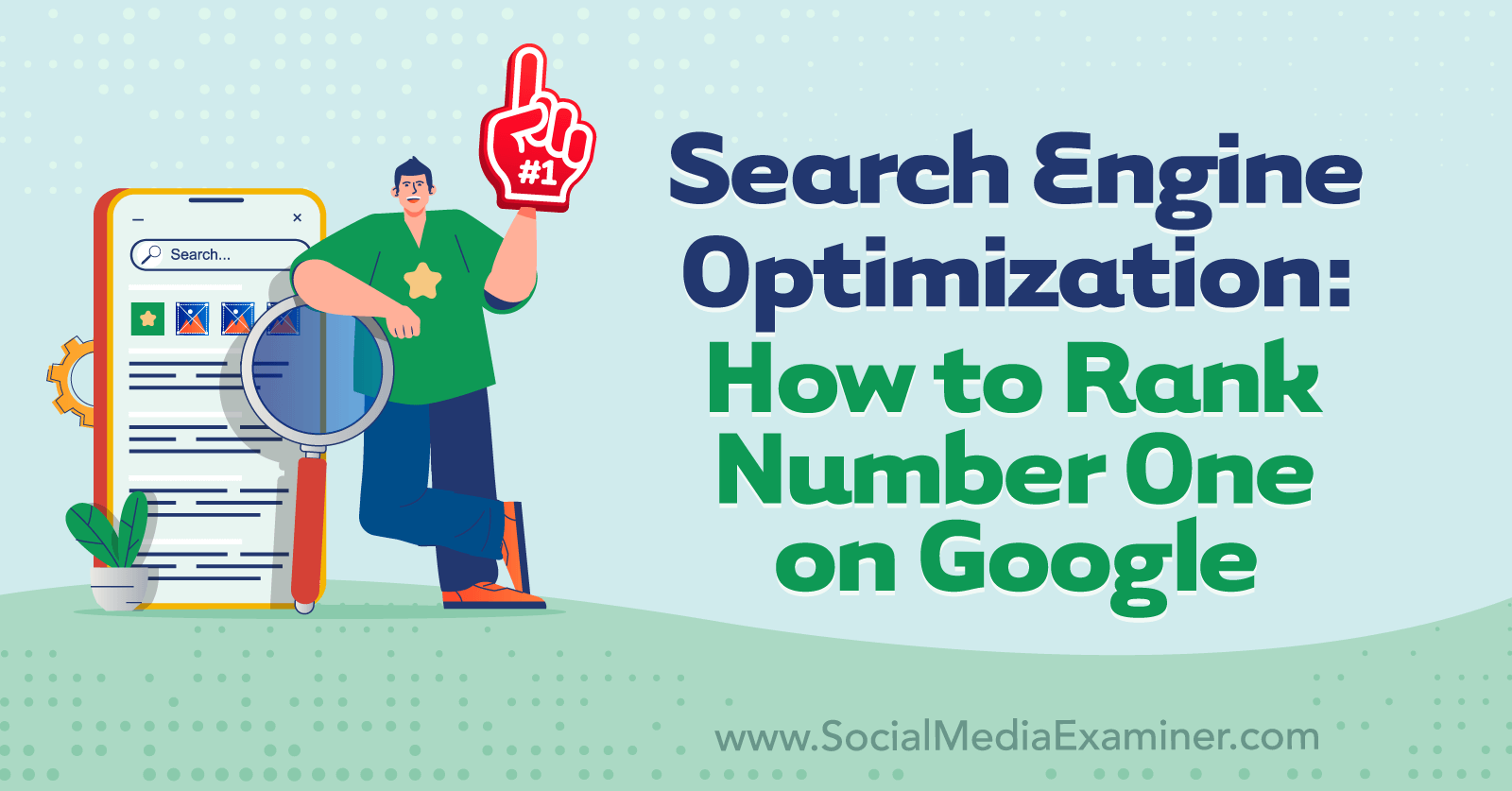 Why Do Social Marketers Need SEO?
Instagram, Facebook, TikTok, Twitter, YouTube, and Pinterest all have their own in-platform search tools. If you're a social marketer, you already know how to make your content discoverable inside social networks with hashtags, keywords, and different post types.
But you still need to be aware of the wider internet. There are several reasons why search engine optimization (SEO) is crucial for all kinds of marketers.
Organic web traffic. The big challenge of social media is to convert followers into customers. And it's increasingly difficult to move people from social platforms onto your website. That's where SEO comes in. It's a vital source of organic traffic to keep your website numbers high.
Length of impact. How long does a new post on Instagram get likes and comments? Most social posts will peak in impact in the first 24 hours. But when you create content that's optimized for search, it has a much longer shelf life.
Search intent. Social media discovery mainly happens through ads and algorithms. It's a mysterious process based on what the social networks think people want. But search is different. People type exactly what they're looking for into Google. Whenever someone visits your site from a search results page, they're almost automatically a hot lead.
Data and feedback. It can be difficult to get the insights you need from social network analytics. And even if you track clicks from your social profiles to your website, you still can't be sure of the user's intent. Search traffic can be a valuable source of insights that you can apply across all of your marketing channels.
Sounds pretty useful, right?
But the main barrier to SEO is knowledge. For many marketers, SEO sounds technical, arcane, and maybe even boring.
In this guide, we're going to demystify the secrets of search engines. You can improve your eCommerce search rankings in just four easy steps!
How to Rank in Search Results
The SEO strategy we're going to use is called the 180 Playbook, inspired by the SEO agency 180 Marketing. It's a simple, linear process to improve your search rankings in as little as 3 months.
There are four steps to follow:
Technical SEO optimization
Content optimization
Page optimization
Link building
#1: Evaluate Your Technical SEO
Yes, we're going to start with the technical stuff. But don't panic! Most of the tools listed here are free and easy to set up.
Load Speed
First of all, check how fast your pages load. Google has confirmed that they use load speed as a factor in ranking websites so it really matters.
Here are a few key points to look at:
How fast do pages take to load? Are some pages slower than others? The easiest way to check this is to visit your own website in an Incognito tab.
Are you using a content distribution network (CDN)? A CDN can help load your content faster for users in different locations around the world.
Just like CDNs can store content locally to speed up load times, caching can make things faster by storing website details in your viewers' browsers. Your caching settings need to be correct and up to date to improve loading speeds.
If your website is built with WordPress, you can use a caching plugin such as W3 Total Cache. This takes care of your caching settings and even compresses files so your page can load faster.
Use a tool like GTmetrix if you make any changes to improve load speed. It doesn't just test your page load speeds; you can also test your changes in real time to see if they make a difference.

If you're not sure where to start, you can use Google's own PageSpeed Insights to get some recommendations. Be cautious, though: Google is a tough grader and very few websites ever get a high score from them. Try implementing the changes they suggest but don't worry if you still can't get a perfect grade.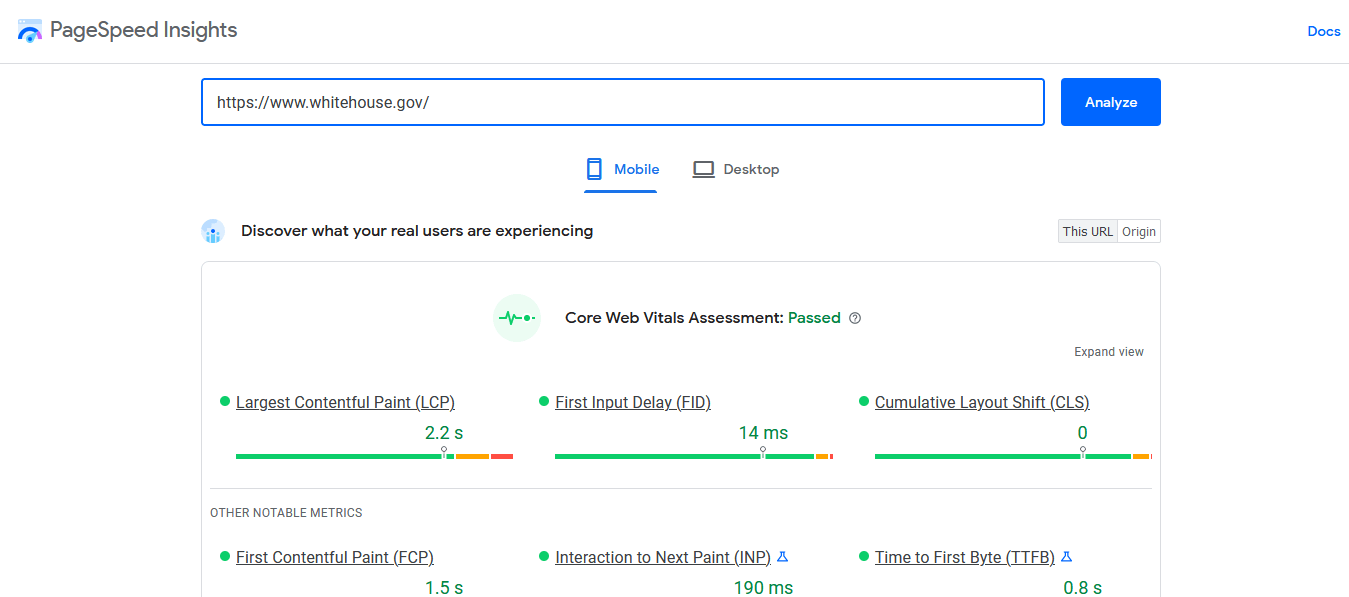 Duplicate Content
Once you're happy with the page speed, check whether the website has any duplicate content. That means:
No pages that have the same, or very similar, content as other pages.
No pages that have more than one URL. For example, if you have a product page with different filters, all of the results should appear on one page instead of creating a new URL every time the user changes their filters.
Back in the early days of the internet, you could boost your rankings by creating lots and lots of website pages with very similar content. Vary the title slightly, throw in lots of keywords, and boom—you've got Google's attention.
That doesn't work anymore, and it'll be penalized even more in the future. Make sure you delete any obvious duplicates and focus on producing quality content.
#2: Optimize Your Content
There are three elements to creating SEO content. You need high-quality content, the right keywords, and a clear page structure.
Let's start with keyword research. How do you decide what topics to cover?
Keyword Research
There are many keyword tools out there, with both free and paid options. Google has some built-in tools. Also there are sites like Ubersuggest, which can help you refine your search to find even more specific keywords.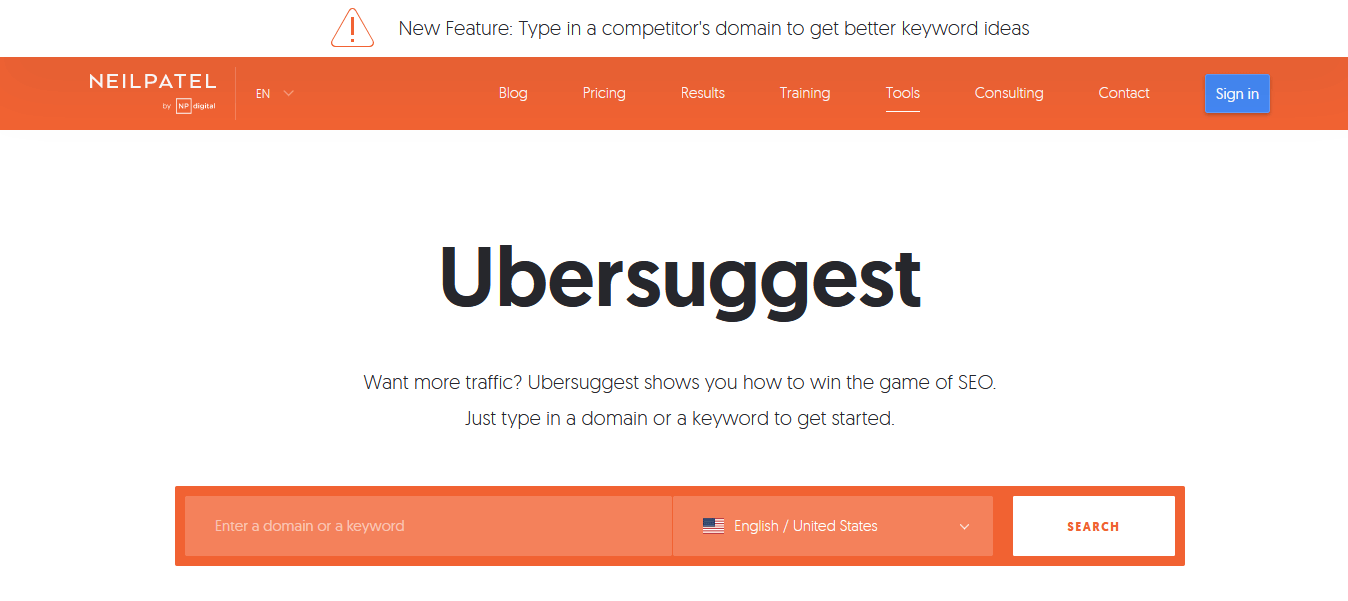 Ahrefs and Semrush are also popular and widely used. As well as discovering keywords, they can also show related keywords and even tell you which terms your competitors are ranking for. The free version of Ahrefs is called Webmaster Tools, which includes a quick audit, an overview of your backlinks (we'll get to those later), and which keywords you're currently ranking for.
When you're looking for keywords, ask yourself:
What are your target customers actively searching for? Remember, you want to reach those people specifically, not just anyone on the internet.
What's the relative search volume of each keyword? In other words, how many people are using each keyword?
Is this keyword relevant to your eCommerce store, getting high search volumes, and linked to purchase intent?
When you find a keyword that's popular and relevant, type it into Google and see what kinds of pages are already ranking for that keyword. This gives you some idea of the content you want to create. For example, if you test a keyword and most of the results are videos, then you need to create video content. If another keyword brings up a ton of listicles, then start writing listicles.
Trying to rank for keywords is tough. If you have very good competitors, then it'll always be tough. But you can save yourself some trouble by not going after the hardest, most competitive keywords. Instead, focus on longtail phrases (think searches for full sentences, instead of single words) and niche keywords. The more specific the keyword, the less competition there'll be.
Content Creation
Once you have a list of keywords and phrases to work with, you can start creating content. Make different content for different pages. You don't want to confuse the search engines (or your customers!) by stuffing five different keywords into a single page.
Every single piece of content should solve the search intent of its keyword. For example, if someone searches "how to care for vintage suede shoes," you need to explain exactly how to care for vintage suede shoes. If you don't answer their question or solve their problem, then they'll bounce to another website—and your rankings will slip.
Don't be tempted to hide the solution further down the page, hidden by paragraphs of backstory and keyword stuffing. That's frustrating for users and can confuse search algorithms. It's OK for someone to find the answer to their question and move on quickly; that won't damage your rankings. But if they get bored, lost, or impatient, then they'll switch to your competitor's site instead and your rankings will suffer.
Page Structure
If you really want to rank #1 on Google, then you need to think about page structure as well as content.
That means dividing the page up with headings and subheadings. Break long walls of text into shorter paragraphs for readability. Add images, videos, diagrams, or pull quotes to make it more engaging.
All of this will encourage visitors to stay on the page… and send out helpful signals to the search engine algorithms.
#3: Page Optimization
When we talk about page optimization, we're focusing on something called metadata.
Think about visiting an art gallery. You see the picture hanging on the wall: that's the main content of your page. And you also see a little placard that tells you about the title of the work, the artist, the materials, the date, and so on. That's the metadata: the information about your page and its content.
This is the information that Google uses to understand your content and display it in search results. There are two main elements: title tags and meta descriptions. You also need to know about rich snippets and featured snippets.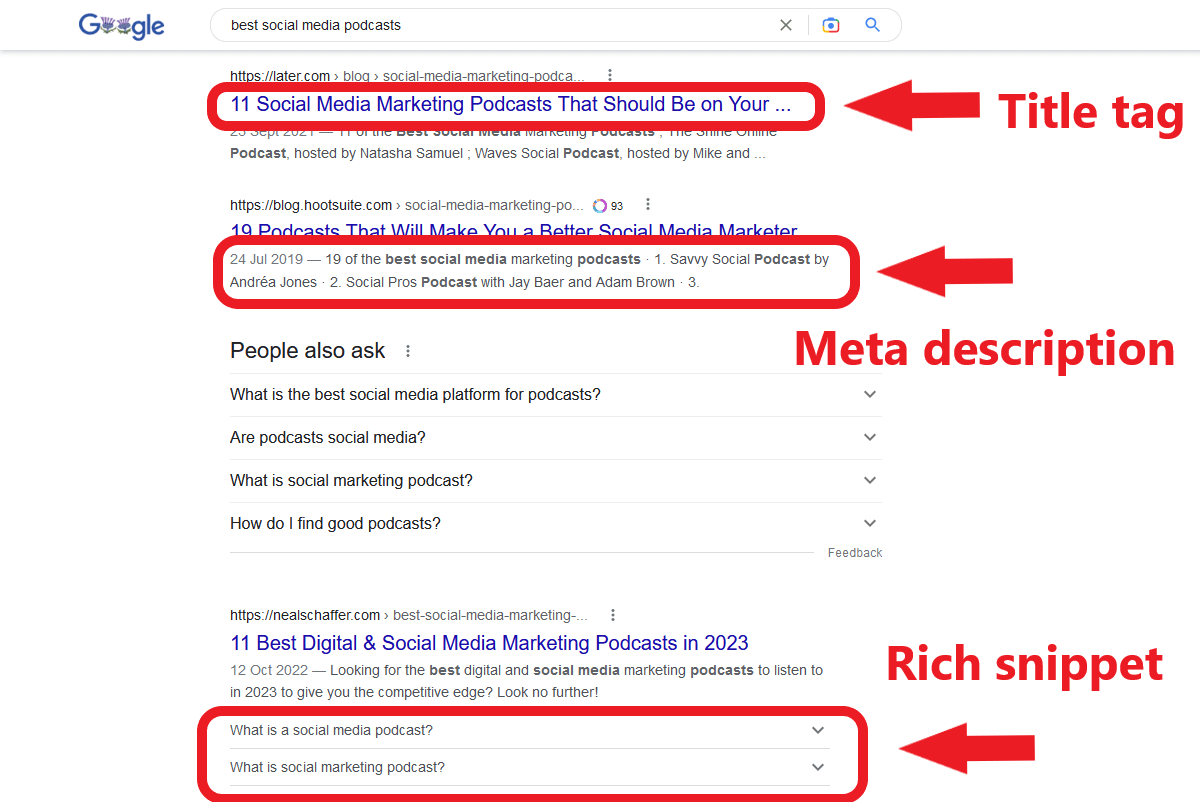 Title Tags
The title tag is the official "name" of a page on your website. It can be the same as the title you write on your content but it might be different.
To improve your search rankings, make sure the full keyword or phrase is at the start of the title tag. Try not to use more than a maximum of two keywords in a title tag or it will start to look spammy.
Your title tag should tempt people to click when they see it in search results. That means for content, it should be engaging and enticing; for eCommerce product pages, it should be specific and detailed.
For example, content pages often have a title tag that starts with a keyword, followed by a colon, and then a compelling phrase that makes people click. (Scroll back up and check out what this page is called!) A product page for a fashion brand will usually have a title tag that states the product type, brand name, and maybe a second keyword.
Meta Descriptions
The meta description is the short paragraph of text that appears below a title tag in search results.
Meta descriptions don't directly affect your ranking. Google doesn't scan them for keywords but they still have an important role to play. They have a major impact on click-through rates because they're your chance to convince users to click.
It's worth investing some time and effort in writing your meta descriptions. Make them sound valuable, engaging, and relevant to the title tag.
Rich Snippets
Rich snippets aren't exactly metadata, but they are part of search results—so they're worth considering if you want to rank #1 on Google.
A rich snippet is an extra piece of content that's taken from your page and displayed in the search results for users' convenience. For example, Google might take some details or images from a product page and list them directly in search results.
You can't control how Google creates rich snippets. But you can use a plugin such as Yoast SEO. This tool checks that your content is structured, marked up, and full of the right keywords to attract the algorithm's attention. Even if other sites rank higher than you, you might gain an advantage by having a rich snippet where they don't.
Featured Snippet
A featured snippet is the next level above a rich snippet. Instead of displaying extra information among the search results, Google might display it above all of the results so users don't have to click through to websites at all.
This is especially important for content pages. However, once again, you can't control the algorithm. Trying to get a featured snippet is more of an art than a science.
There are a couple of tactics you can try, however. If you want a piece of content to be picked for a featured snippet, you can…
Write key questions as subheadings, then answer the questions in short paragraphs.
Use bullet-pointed lists to make information as concise as possible.
Keep answers brief and simple. Save any nuance or complicated details for further down the page.
These tactics sometimes work but there are no guarantees!
#4: Link Building
The final step in your SEO strategy is link building.
Backlinks, or the number of pages from other websites that link to your site, are one of the top three factors that Google uses to decide search rankings. You want to have lots of backlinks from external, reputable sites. Any links that you make within your site or out to other websites won't make a difference.
There are two ways that backlinks can help you: your overall website ranking and your ranking for specific pages.
For example, individual product pages on Amazon usually have very few backlinks. But because there are so many links to the website overall, it has very high authority in search rankings.
And at the opposite end of the spectrum, your website might not be very well-known yet. But you can still rank high in search results if you can get enough backlinks to specific pages.
Here are a few ways to start getting backlinks:

Reach out to bloggers who are relevant to your offer and audience. Perhaps they could review or mention your business in a post.
Offer to guest post on other websites that have high domain authority. Usually, you'll be able to include a backlink to your website in your author bio.
Sign up to Help A Reporter Out. This is a free service where you create a profile that states your areas of expertise. If a journalist needs a source or a quote for a relevant story, they can contact you and hopefully include a backlink in their article.
Consider creating a university scholarship sponsored by your business. (It can be small.) Promote it to universities and financial websites. Even if they're not relevant to your business, their websites have high domain authority and you'll collect lots of backlinks.
Backlinks have been abused as a strategy in the past. Don't be tempted to go down the path of creating poor-quality content, posting links in comments on articles, or working with irrelevant blogs and websites.
Instead, when they're used properly, backlinking can be a very effective tactic. Try to build relationships with reputable writers and websites. Support them with valuable content ideas and opportunities. This approach might be less scalable but it'll have more impact over time.
Have you tried any of these strategies to rank #1 on Google? What worked for you?
Other Notes From This Episode
Where to subscribe: Apple Podcasts | Google Podcasts | Spotify | YouTube Music | YouTube | Amazon Music | RSS
✋🏽 If you enjoyed this episode of the Social Media Marketing podcast, please head over to Apple Podcasts, leave a rating, write a review, and subscribe.
---
Stay Up-to-Date: Get New Marketing Articles Delivered to You!
Don't miss out on upcoming social media marketing insights and strategies! Sign up to receive notifications when we publish new articles on Social Media Examiner. Our expertly crafted content will help you stay ahead of the curve and drive results for your business. Click the link below to sign up now and receive our annual report!