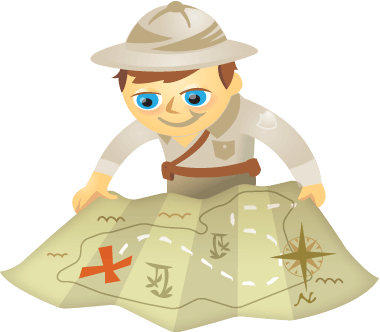 Do you want to save time by scheduling your Facebook posts?
Do you know how to edit a post once it's scheduled?
Scheduling your posts works well when you can't be online 24 hours a day, but what happens when you need to make a change?
In this article you'll discover how to schedule and edit your Facebook posts (using Facebook) to save you time.
#1: Schedule Posts
Facebook's scheduling feature can be a lifesaver when you have basic updates to share over a period of time or if you'll be out of the office. Instead of tediously going into Facebook every day (possibly a few times every day), you can type in your update, customize a few settings, hit Schedule and you're done!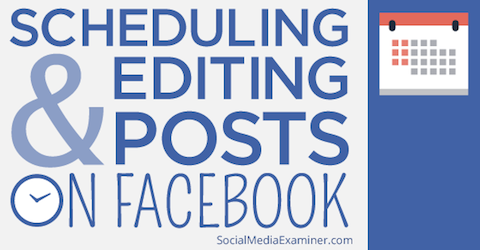 When you schedule posts, you can choose the date and time of day to publish, your target audience and a location–and it's easy too.
On your Facebook page, type your update and include a link, image or video as needed–the associated image shows up under your status update. To customize that image, you have two options: you can choose an image from the link source or you can upload your own image.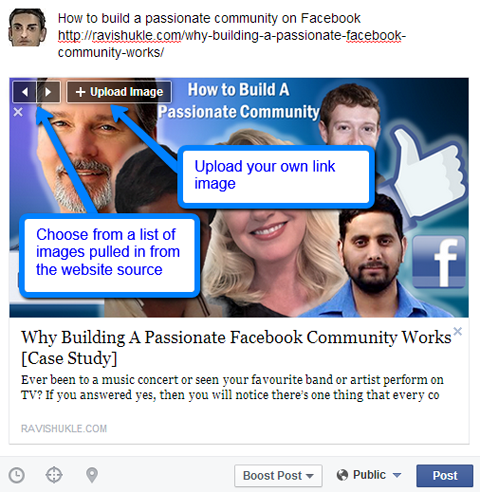 If you want to use an image generated from the linked site, use the arrows in the top left corner to browse and choose the one you like. Or, if you'd rather upload your own image, click +Upload. When uploading your own image, make sure it's 1200 x 627 pixels for best results.
When you have the image set, you can customize the title and description by clicking on either and typing new text.
Get Everything You Need to Become A Better Marketer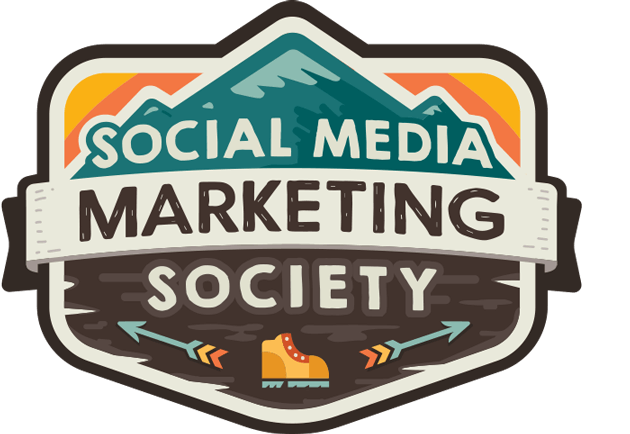 Looking for a one-stop-shop for marketing greatness? Try the Social Media Marketing Society to boost results and become a better marketer through deep-dive training and an always-on community of marketers. The path to better marketing begins in the Society.
START YOUR TRIAL TODAY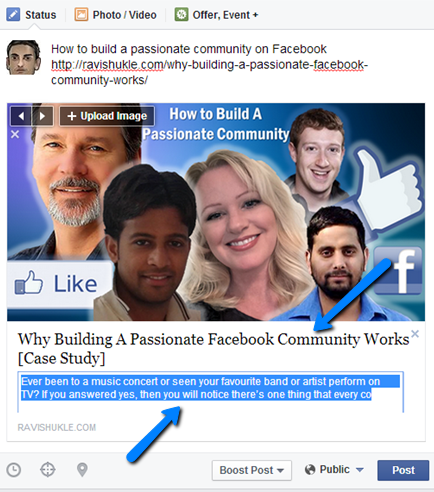 Here's a useful tip: If you're using a link in your main update, be sure to delete the URL from the status box once you choose the image. It looks cleaner and users can click the preview image to get to your article.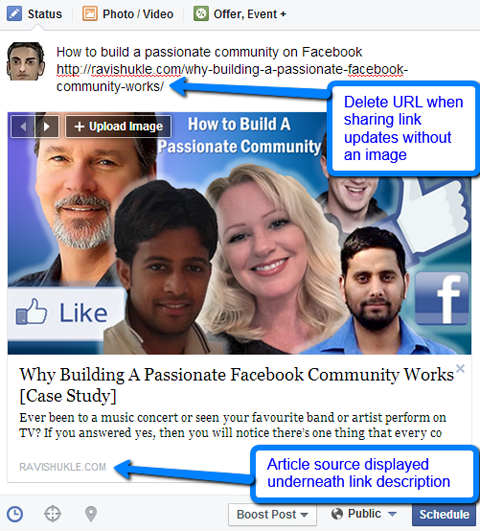 It's important to note that once you schedule an update with a link or image, you can't edit the image (more about that in #2). You have to delete the whole update and start from scratch. (It's not a big deal, but something to be aware of.)
To select a time to publish your post, click the clock icon and choose a date and time.
To add targeting to your update, click the target icon and choose from the various options. In the top right you'll see a display letting you know how many people your post will target based on the options you chose.

To add a location to your post, click the map pointer icon and type in your desired location. The location will be visible next to your Facebook update.
#2: Edit Scheduled Posts
What if you make a mistake on a scheduled post? It's OK. We all do it. You can still edit your posts after you've scheduled them.
Put Google Analytics to Work for Your Business (Online Training)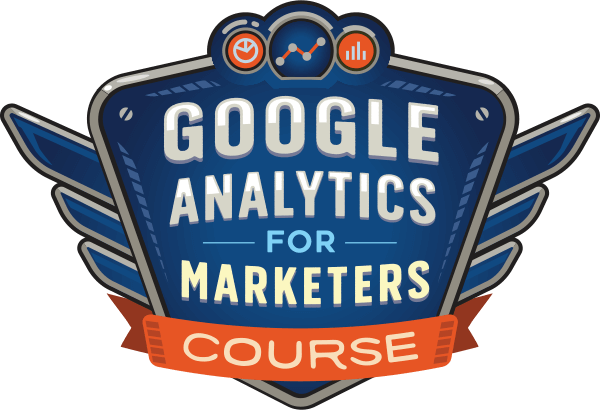 Ever thought, "there's got to be a better way" when it comes to tracking your marketing activities? Are you forced to make decisions based on limited data? With the right training, you can use Google Analytics to measure all of your marketing efforts with certainty.
You'll stop the leaks in your ad spending, justify your marketing spend, gain the confidence you need to make better marketing decisions, and know what's working at every step of the customer journey. Let the world's leading analytics pro show you the way. Check out our new Google Analytics for Marketers course from your friends at Social Media Examiner.
CLICK TO LEARN MORE: ANALYTICS TRAINING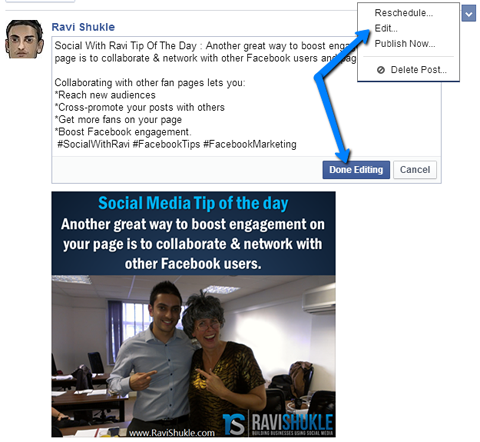 However, you can only edit the main text of the update (not an image or link). If you want to change a link or an image and its description, you have to delete the scheduled post, redo it and schedule again.
To edit the main update text of your post after it's been scheduled, visit your activity log and find the post you want to edit. Hover your curser over the post to reveal an arrow in the top right corner and click the arrow. Choose Edit from the menu, edit your post as necessary and click Done Editing. Your post will still publish at the assigned time.
#3: Reschedule Posts
What if you want to change the date or time of a scheduled post? No problem. Go back to your activity log, find the post you want to reschedule and click the arrow. Choose Reschedule from the menu.
You'll see a pop-up box where you can change the date and time of your post. Click Reschedule and you're done. The post will publish at the new date and time.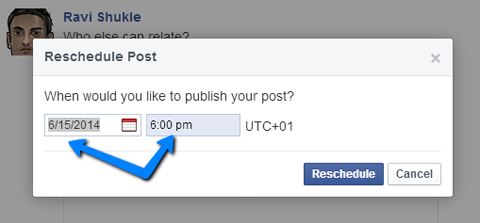 Social media changes quickly, which means you have to adapt quickly too. If you've scheduled a post for later in the week and then find out you need to post it sooner to keep up with a change or trend, Facebook lets you do that.
To publish your post right away—you guessed it—you need to visit your activity log and find the post in question. Find your post, click the arrow and choose Publish Now. Facebook pushes your post live immediately.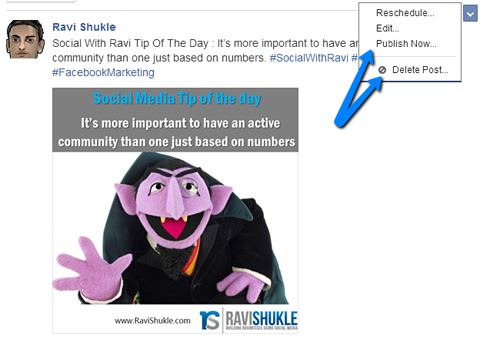 If you decide you no longer need a scheduled post, you can delete it using the same method as above but select the Delete Post option.
#4: Share Scheduled Posts
It makes sense to share your update to your other social media channels or even via email. Good news! Facebook allows you to find the unique URL for each of your scheduled posts so you can share them with just a few clicks.
To find the unique URL for a scheduled post, go to your activity log and find the Facebook post you want to share. Click the timestamp to open the post, then copy the page URL.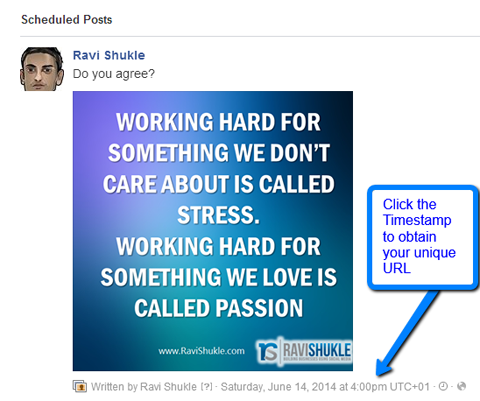 There is one thing you need to remember: Users can only see scheduled posts after the update is live on Facebook. The only people who can view the post before the scheduled time are page admins.
For example, if your post goes live at 7:00pm and you share the link before then, your users will see a message telling them the post isn't available.
To get around that issue, you can use tools like HootSuite, Buffer, AgoraPulse or PostPlanner to schedule shares across your other social profiles at the right time.
Over to You
Scheduling your Facebook updates saves you quite a bit of time. If your content calendar has updates already written, you can set them up to post and not have to worry about writing them every day.
Of course, it's important to remember that to get steady engagement on your updates, you still need to plan and research the content that resonates with your fans and monitor your page so you can reply to comments.
What do you think? Are you using the Facebook Scheduled Posts option? How many days in advance do you plan your content? Tell me in the comments below.