Want to do more with live video but need a better plan? Do you want to cultivate a more loyal following?
In this article, you'll discover how to build better relationships with live video. Plus, you'll discover how to increase engagement during your streams.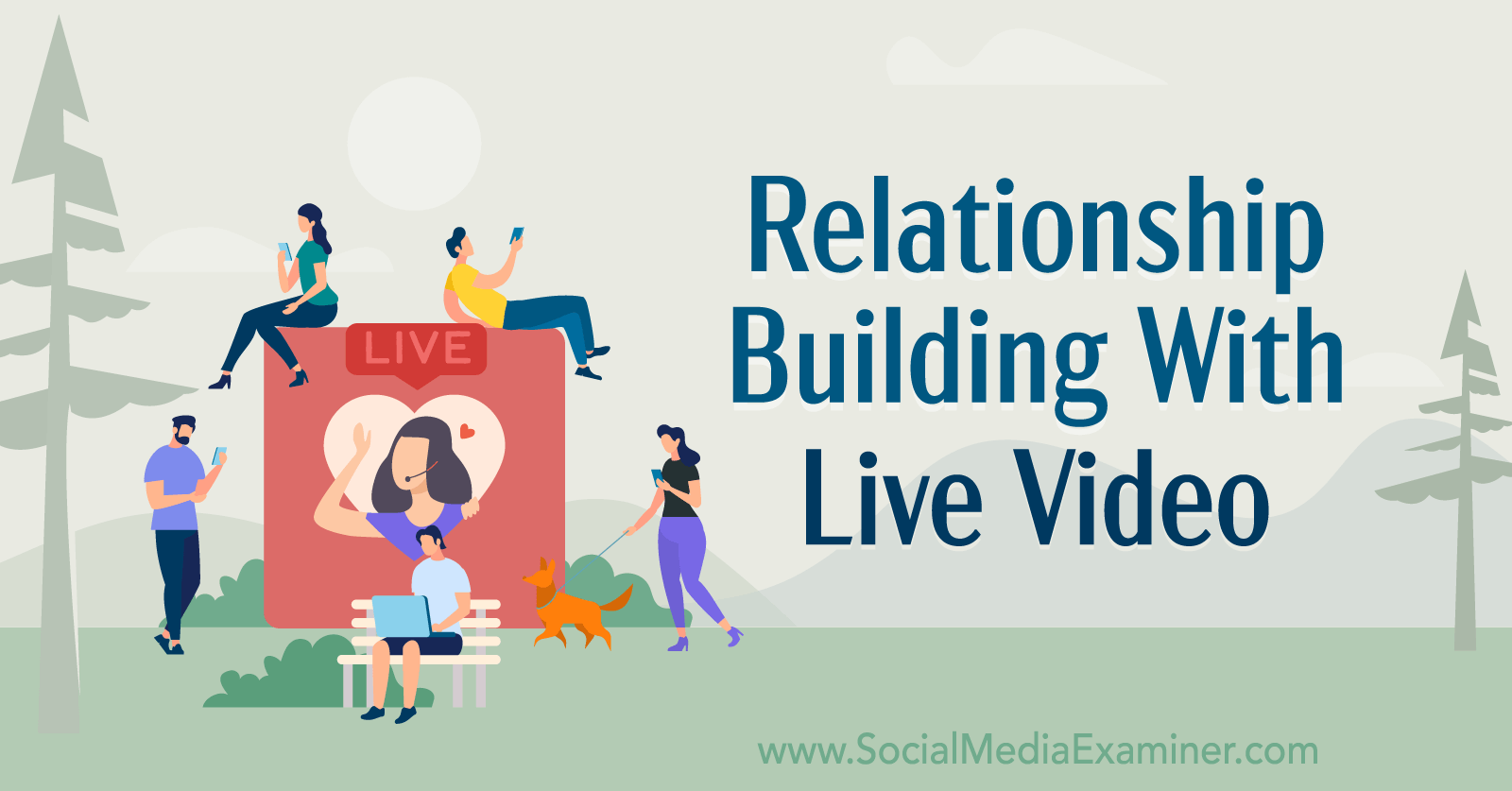 Why Live Video Is an Important Tool for Marketers
Today, every platform offers livestreaming so it's no longer difficult to leverage live video as part of your content strategy. Wherever you're setting up your online presence, if they offer a live video option, you can use it to build a relationship with your audience.
One of the biggest advantages of going live on video is that it cuts through everything. It brings your conversation to the forefront and hosts it in real time. You're no longer putting content out and then waiting to see if it resonates with your audience. You get feedback right away. And you can have a real conversation in the moment.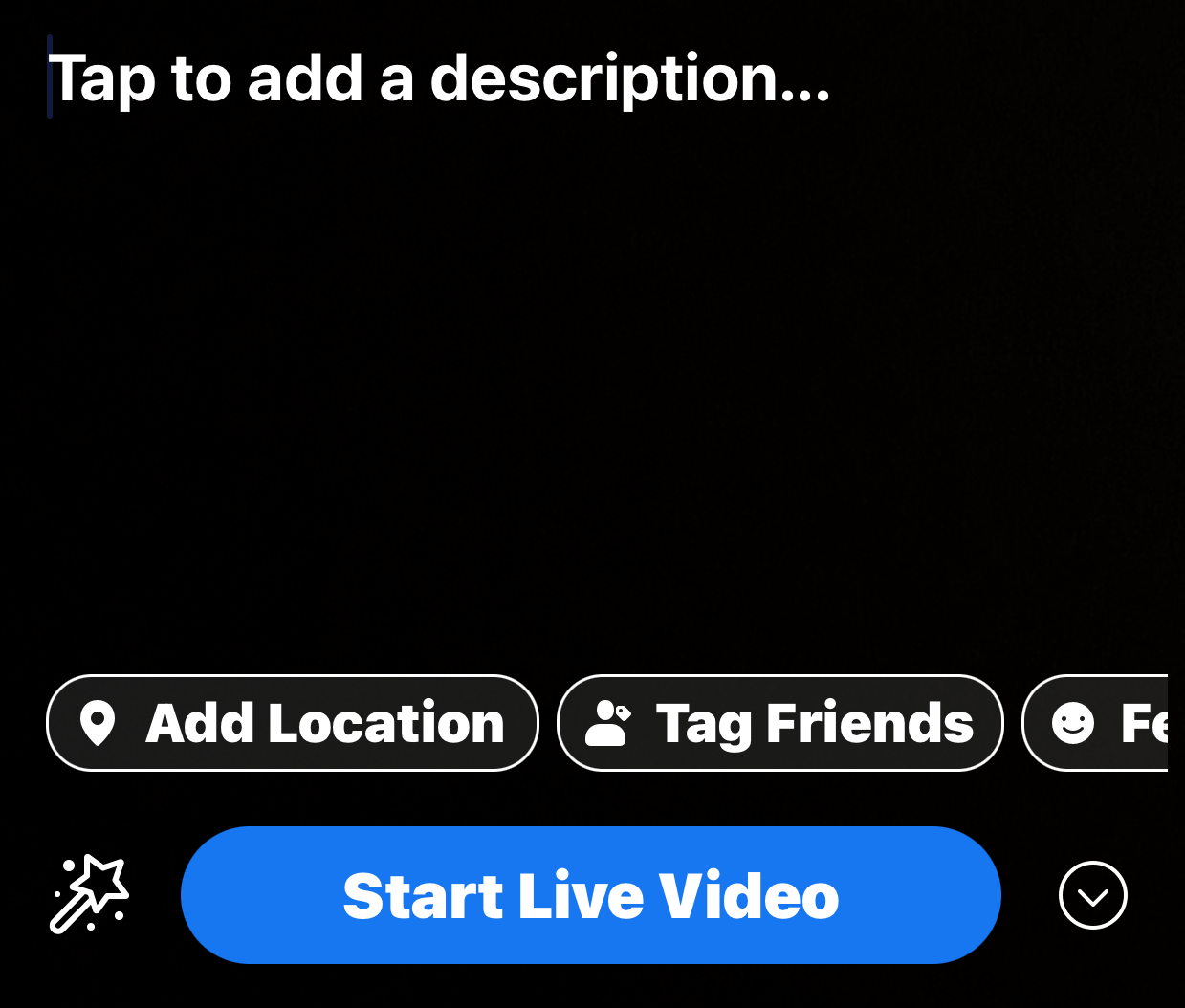 This real-time interaction helps you get to know your audience quicker and deeper. As people come back to your live videos over and over, you get to learn their names, their specific struggles, their wins, and what they're working on right now. Many business owners covet this information but have a hard time finding ways to collect it.
The goldmine of live video is when you reach the point when the audience starts talking to each other. People like to hang out where their friends are. If they know their friends are hanging out on your livestream, they're that much more likely to show up themselves.
This is when you know your audience is becoming a community. They're talking to each other, showing up for each other, tagging each other, and responding to comments, in addition to talking to you as the brand.
Here's how your business can start building community with live video.
#1: Develop Content Ideas for Your Live Video
One of the best things about adding live video to your business' marketing strategy is that you don't have to come up with a separate content strategy to support it. Just about anything you share on social media, in your conversations, whenever someone is asking you a question, or even just something you geek out about and ramble off a master class about can be delivered through a live video.
So you don't have to worry about trying to come up with new content ideas; rather you're just trying to look at the content you're already creating and finding a way to deliver it live.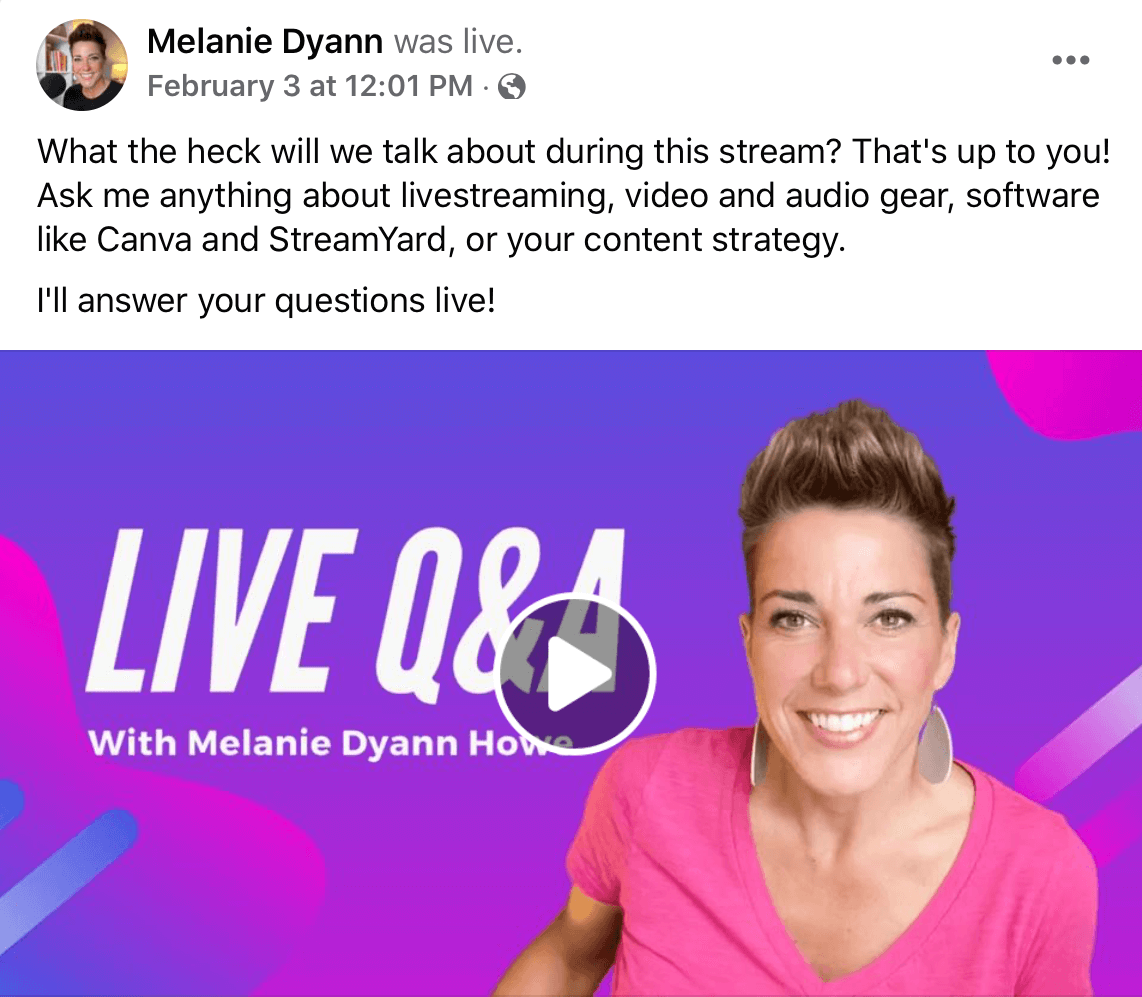 There are plenty of ways marketers can build better relationships with their audiences while using live video. First, structuring your live video shows so that they always follow a similar format will help your audience know what to expect.
Marketers and brands can leverage three very specific formats of livestreaming that work very well for relationship building.
Educational Content and Q&As
Most brands and businesses can benefit from going live specifically to educate their audience. This can be done with demonstrations on how to use a product, how to maintain or protect the product, or even how one aspect of a particular product works. For example, if you're selling jewelry, you may go live to show how to clean certain pieces or the best ways to store those pieces. If you're selling a vacuum cleaner, you can go live to talk about how easy it is to clean or service the vacuum.
This strategy also works for service providers. If you offer social media management, you can go live to discuss how to set up social media accounts or how to link those accounts.
The benefits of educational content during your livestream are twofold.
Number one, it helps provide value to your audience and teaches them how to use or do the thing that they need to learn about. This helps demonstrate your authority and gives them a reason to keep coming back and building their trust in you.
Number two, this content encourages your audience members who aren't quite there yet. Someone who's barely become aware of your product might have their fears alleviated because they saw how easy it was to use and maintain that product during your livestream.
Essentially, besides livestreaming to sell your products, your livestream can also help train new clients and customers. You can use live videos as an opportunity to educate your audience and turn them into better customers.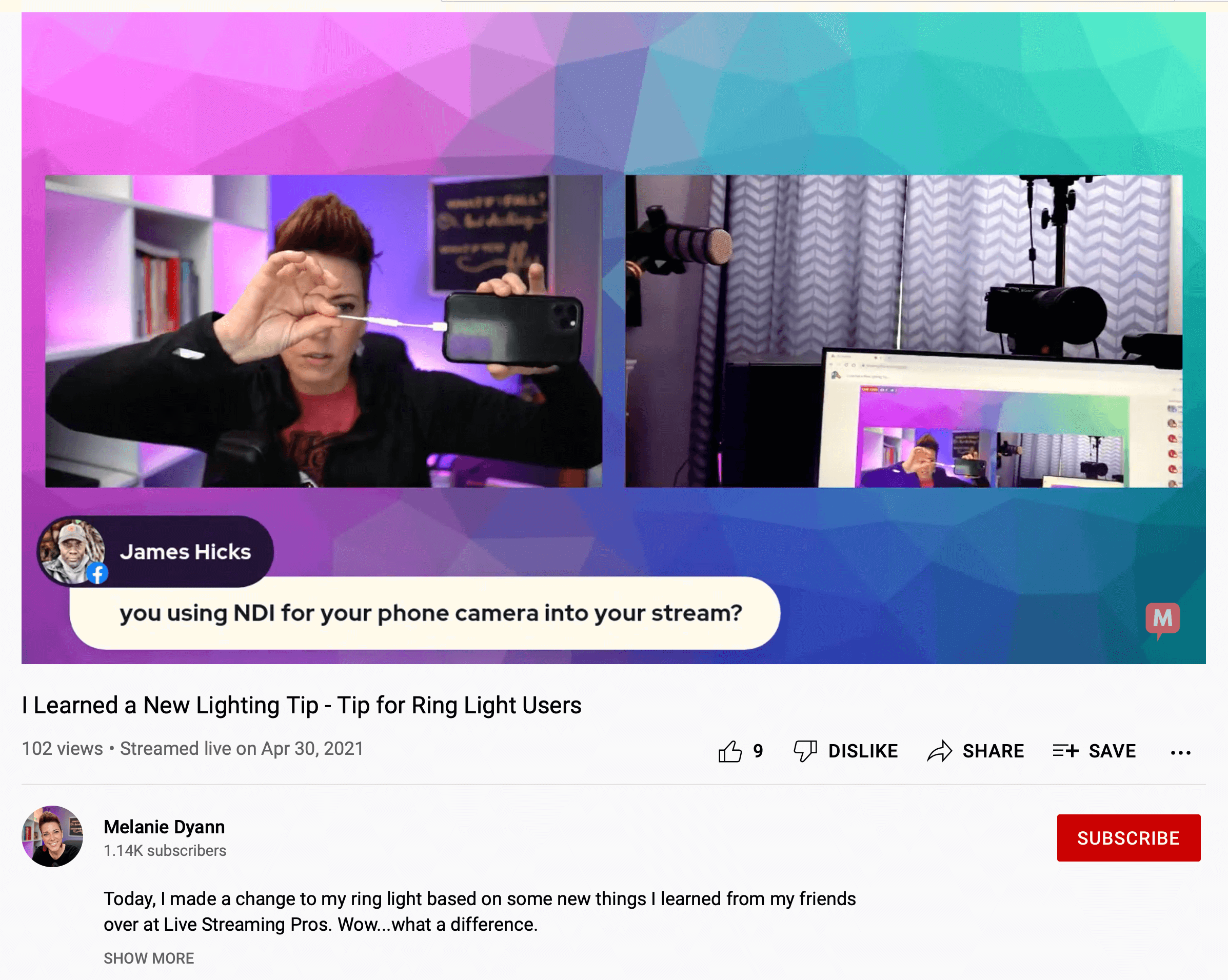 Behind-the-Scenes Content
People love to see behind the scenes of their favorite brands. They want to know where the magic happens, how the things are made, or where the inspiration came from. If you run a restaurant, people love to find out where the food came from. If you're a coach, people love to know what tools you use to bring them content every day.
Behind-the-scenes content pulls back the curtain and allows the audience to see deeper. And in this day and age, when consumers base their buying decisions on how much they think they know about a company or brand, giving them that deeper look and transparency can mean the difference between them stopping to hear what you have to say or scrolling right past your live video.
Featured Guests
Bringing guests into your livestream is another great way to add value to your audience, deepen the relationship with your audience, and even build further community. Your guests may include industry experts, related people of interest, or customers who've used and love your products or services.
In fact, many times, happy customers are the biggest advocates for your brand. If you were able to pull them in as guests into your livestream, they can relate to your customers in a way that other experts may not be able to because they're coming from a similar place.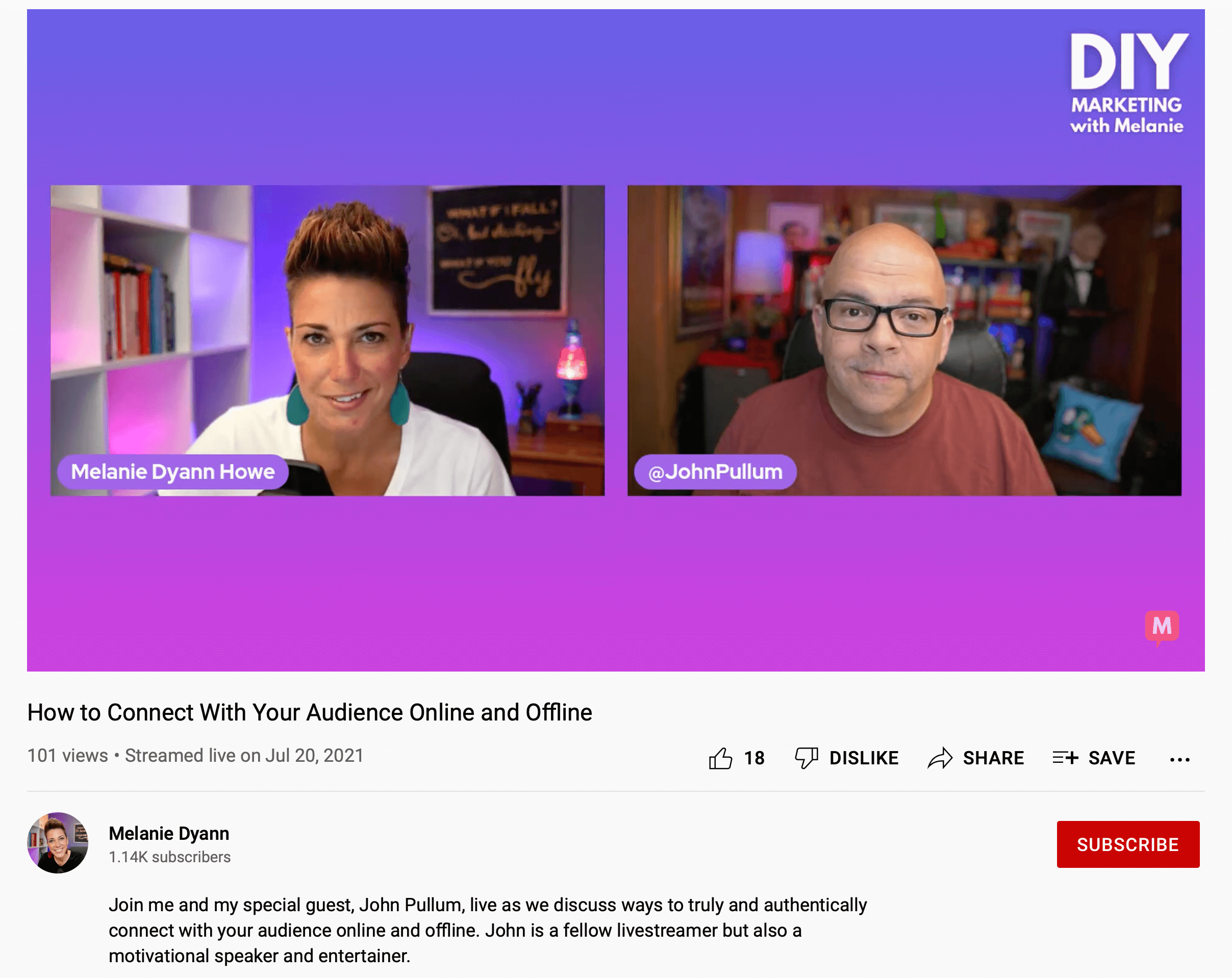 #2: Decide Who Will Go Live for Your Business
Because we're talking about using live video to create and build a relationship between you and your audience, just about anyone representing your brand would make a good candidate for your on-camera live video content. At least, anyone who can help form that relationship.
For example, it may be beneficial to do livestreams with your customer service agents tasked with nurturing customer relationships either before or during sales. Or your email handler, office manager, or really anyone within your brand with a public-facing role.
You can think about it like a restaurant: When people walk in and sit down, as much as they love the attention when the owner of the restaurant approaches them and greets them, they also really love it when the chef comes out to talk to them. They want to connect with the person they're trusting to cook their food. It forms a deeper relationship with the brand as a whole to be able to connect with each contact point along the way.
These relationships can also benefit the overall brand. For example, car dealerships have a bit of a stigma for pushy salespeople. Whenever you drive up to a car dealership, you expect that at any second, one of their sales associates is going to approach you and start trying to talk to you about the car you may or may not be buying. The relationship, at that point, feels slightly aggressive and one-sided.
However, imagine if the dealership utilized live video, particularly if their sales associate helped execute their live video strategy. Now when we drive up to that dealership, there's already a bit of a connection there. We can ask for the salesperson who showed us how to change a tire. We can ask for the salesperson who showed us what to ask for when it comes to looking for your next car.
Even though the customers haven't truly met any of the salespeople in person yet, the relationship was formed prior to visiting that dealership through the live video. And in many cases, that relationship through live video may have even led to the customer choosing that dealership in the first place.
And you don't have to stay with the salespeople. You can also go further behind the scenes to show who's actually changing the tire, who works under the hood, so to speak, when the car is at the dealership being serviced, or the finance people who handle the loan applications. When people are able to form a relationship with each of these points of contact, they feel a deeper relationship with the brand itself as a whole.
As far as choosing personalities to appear in the livestream, really anyone can learn to be great in online video. Everyone has their strengths and can bring their own personality into the live video in a way that supports the brand they represent. It goes without saying, though, that some people feel more naturally comfortable in front of a camera than others. Some people are able to talk without long, awkward pauses or filler words while others are more animated.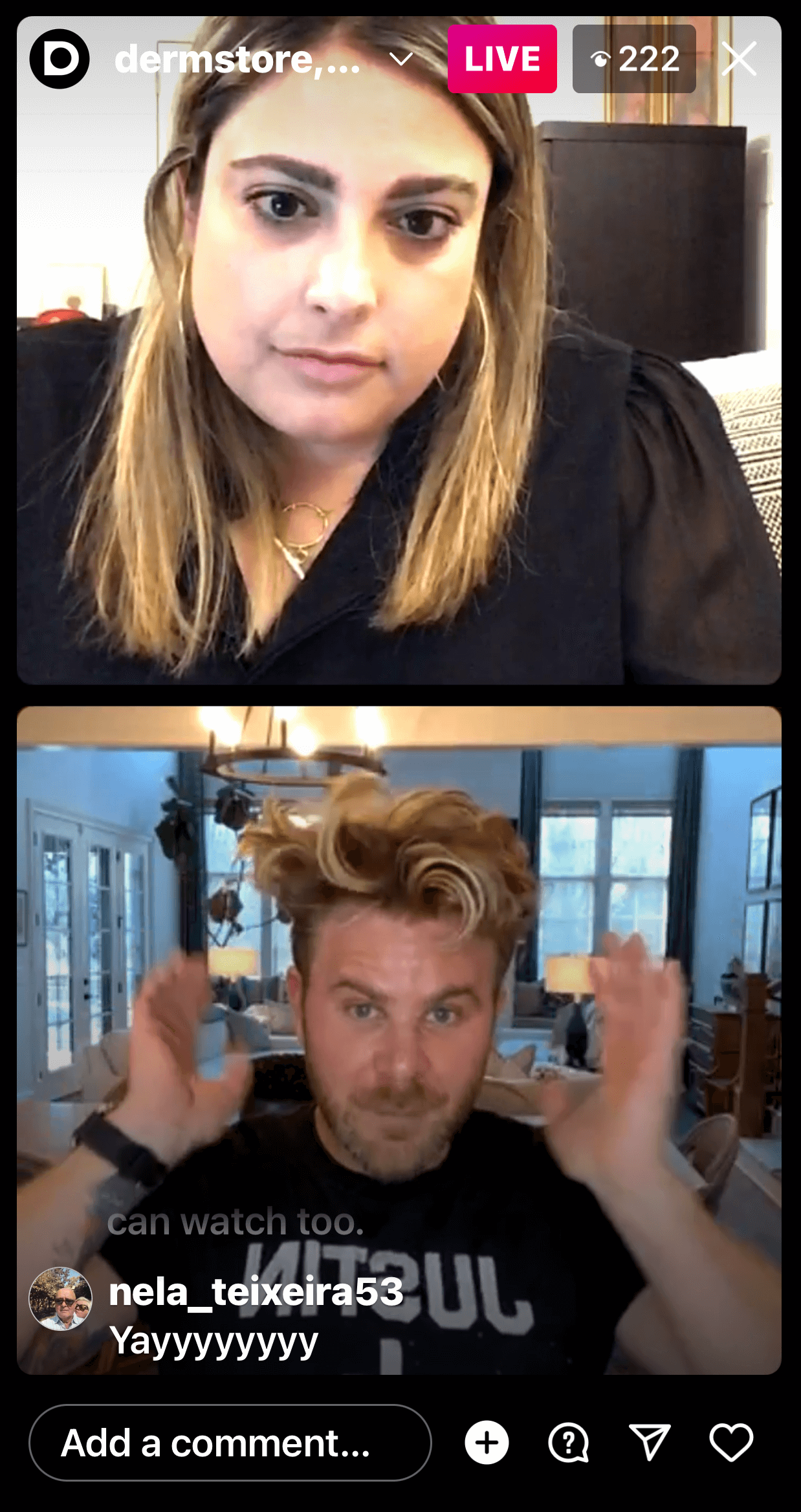 Therefore, it may benefit you to start with those people who already seem more naturally inclined toward public speaking. That's not to say that less-animated speakers or nervous talkers wouldn't make great livestreams, but by showcasing people on your live videos, you give them an idea of what you're looking for.
Often, people will shy away from doing something until they can see an example of it. Then once they see that example, they realize it's not as difficult as they thought it was, it seems a bit easier, and their confidence grows a bit.
This is true when it comes to choosing guests for your livestream as well. Starting with the more natural public speakers who don't shy away from the camera and establishing how easy it is to go live with you will help draw out the shyer guests who might not otherwise agree to appear with you. But seeing how easy it is allows their confidence to grow.
#3: Build Engagement While You're Livestreaming
One of the first things you'll want to remember as you start going live on social media is that if you're new to appearing live, then it stands to reason that your audience is new to watching you go live. And as such, your audience may not know the best way to engage with or support you. So don't be afraid to tell your audience to comment to let you know that they're with you.
You can be creative as you do this. For example, as you're presenting your topic, you can ask your audience a simple question and ask them to leave their answer in the comments.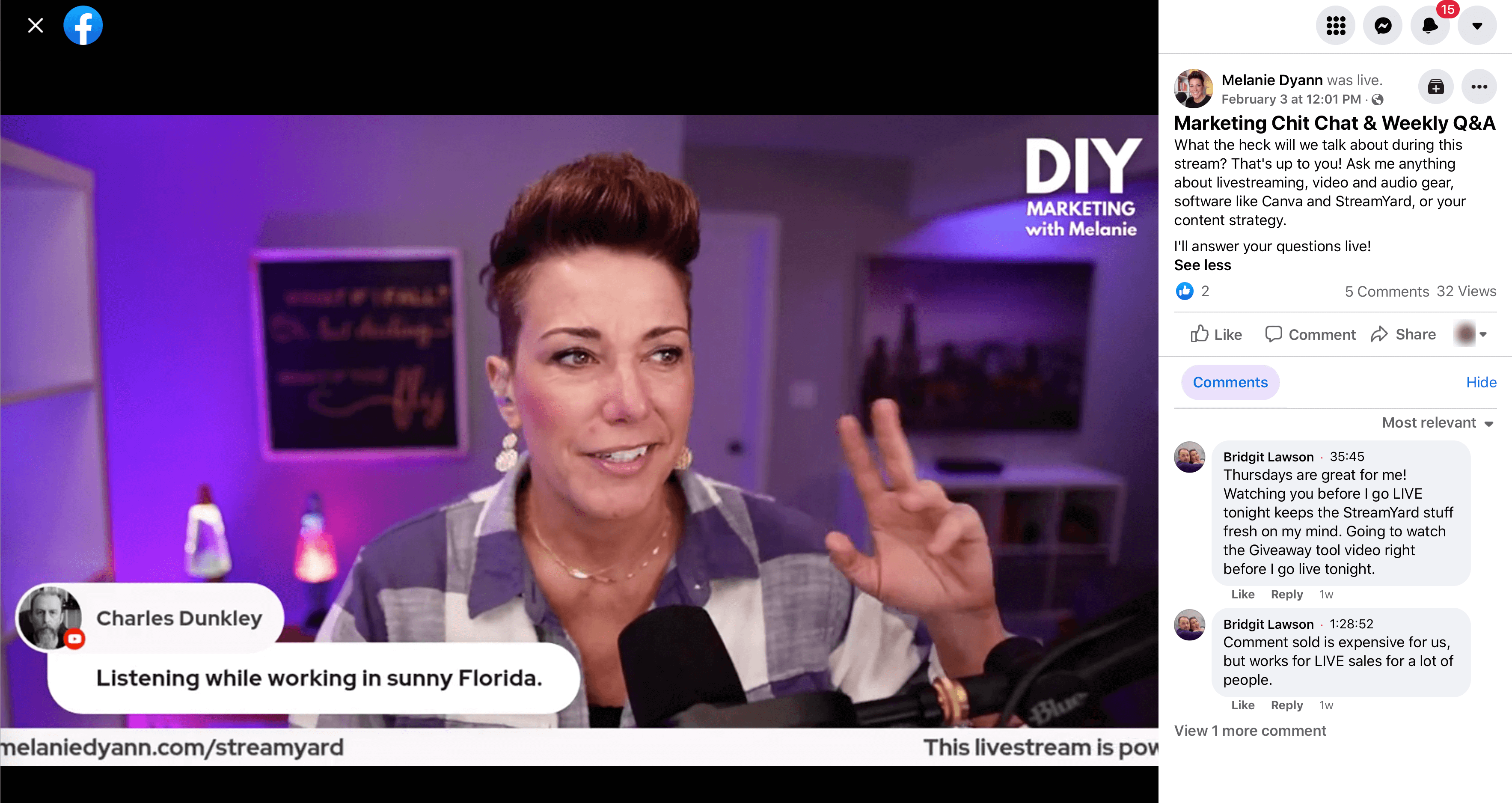 Another way to foster engagement with live video is to reward the engagement you receive. While you don't want to interrupt the core of your content, pausing momentarily to say hello to the people who are commenting, reading their comments, or even pulling their comments up onto the screen if you're using a streaming app for your live video can increase the engagement you receive.
For the people whose comments you call out, they're much more likely to continue commenting. For other people in the audience, when they see someone else's comment appear on-screen or they see you rewarding a comment with personal attention, they're much more likely to add their own comment to the mix.
Other Notes From This Episode
Where to subscribe: Apple Podcasts | Google Podcasts | Spotify | YouTube Music | YouTube | Amazon Music | RSS
✋🏽 If you enjoyed this episode of the Social Media Marketing podcast, please head over to Apple Podcasts, leave a rating, write a review, and subscribe.
---
Stay Up-to-Date: Get New Marketing Articles Delivered to You!
Don't miss out on upcoming social media marketing insights and strategies! Sign up to receive notifications when we publish new articles on Social Media Examiner. Our expertly crafted content will help you stay ahead of the curve and drive results for your business. Click the link below to sign up now and receive our annual report!