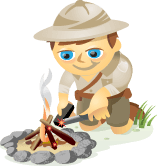 Have you figured out how to engage on-the-go prospects and customers?
Is more of your audience interacting with your business from their mobile phones?
If you want to enhance your mobile marketing, then keep reading.
I'll show you three awesome tools that make mobile marketing easier.
Why Mobile?
Mobile is no longer something you can afford to ignore.
As customers' adoption of mobile grows, you need to find ways to leverage mobile marketing tools to optimize their experience, no matter what device they're on.
Whether you've already been experimenting with mobile marketing or are just getting started, the right tools help increase leads, engagement and sales.
In this article, I highlight three tools that offer easy ways to mobilize your social media marketing strategy.
#1: Send SMS (Text) and Video Messaging With Mogreet Express
One of the most powerful mobile marketing channels available today is SMS or short message service, which is also known as text message marketing.
SMS is a permission-based messaging tool that lets customers receive messages from you after they text a keyword or sign up using a web form.
SMS may not sound sexy, but it's highly effective. Studies have indicated that 97% of mobile subscribers read an SMS (text) message within 15 minutes of receiving it. 84% respond within 1 hour.
Many top retailers actively use SMS to send out sales or product updates, special coupons or other important announcements. Coca-Cola focuses 70% of their mobile marketing budget on SMS/Text messaging.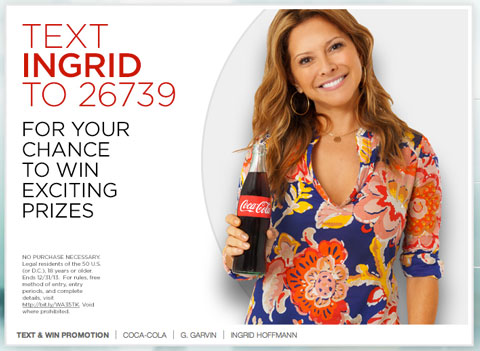 So what does this have to do with social media?
Conversations with your customers shouldn't end on Facebook, Twitter or any other social platform you currently use.
Get Your FREE Course: Web3 for Beginners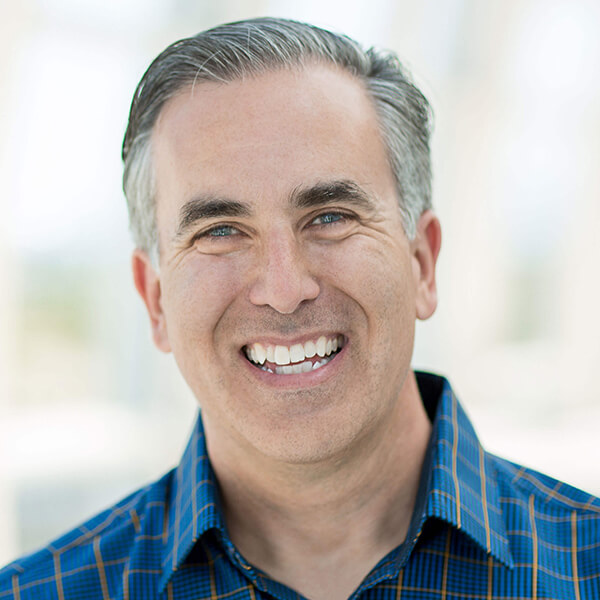 Curious about Web3, but don't know where to start or who to trust?

Introducing Web3 for Beginners, a course taught by Michael Stelzner, the founder of Social Media Examiner.

Learn the basics of Web3 and apply it to your business with this FREE comprehensive course.
CLICK HERE TO GET FREE ACCESS
Mogreet Express lets you quickly create SMS (text) or video messaging campaigns to incorporate into social media and build a database of customers who want to receive your information and offers.
First, you create a keyword to title your campaign, and then Mogreet Express pairs your keyword with a shared short code. Make your keyword short and easy to remember.
After you've decided on a keyword, you're guided through the process to set up the response customers receive when they opt in.

Now you're ready to promote your campaign on Facebook and Twitter. The easiest way to do this is by using language such as:
"Become a Mobile VIP. Just text YOURKEYWORDHERE to 12345" (this would be the short code that Mogreet Express provides to you).
Lane Bryant incorporates their call to action on a Facebook tab to connect with them. Their keyword is LBGB and their short code is 23705.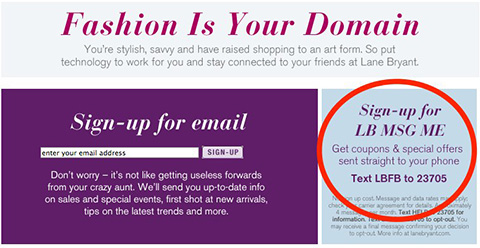 Once you've promoted your new SMS (text) campaign and customers begin to opt in, message them with valuable offers. This helps you stay top of mind, drive increased traffic (both physical and web) and create a new way to drive sales.
Set up a message to send to your customers in four steps:
Pick a send date and time. Use a marketing calendar and in just minutes, you can schedule messages for the next few months .
Choose your message type. MMS (video or picture) or SMS (just text). Adding short videos to your messages makes your communications personal and engaging.
Identify yourself in the message. Use your name, your business name or your brand, but clearly show who is sending the message.
Create your message copy. If you choose SMS, you only have 160 characters.

Mogreet's dashboard makes setting up campaigns easy.
You should include opt-out language in every message and Mogreet does this for you so you comply with the best practices of the Mobile Marketing Association. The opt-out looks something like this:
No more than X msgs/mo. Reply HELP for help, STOP to cancel. Msg&DataRatesMayApply.

Looking for something to make your life easier?

Discover the tools we recommend to drive engagement, save you time, and boost sales across your entire marketing funnel or business.

Whether you need help planning content, organizing social posts, or developing your strategy, you'll find something for every situation.

FIND YOUR NEXT FAVORITE TOOL
Overall, Mogreet Express is a very easy-to-use SMS/MMS marketing tool for any small business owner. Incorporate your mobile call to action throughout your social media and you extend conversations with your customers beyond Facebook or Twitter. It's a great place to start when adding mobile marketing to your social media strategy.
#2: Run Mobile-Friendly Facebook Contents With Heyo
Heyo makes it easy to build a contest on mobile that integrates seamlessly with Facebook. Not to mention it looks beautiful with the easy-to-use tools Heyo provides.
Nathan Latka, founder of Heyo, shared that Lilly Pulitzer worked with Heyo to mobilize their "Want It To Win It" tab right on Facebook because they didn't want to miss out on all the traffic received from mobile Facebook users.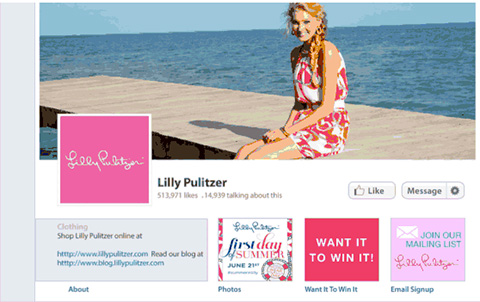 To make sure mobile users receive the best user experience, Heyo's smart URL automatically reroutes mobile users to the right location. If users are on a desktop, they're sent to the native Facebook tab. If they're on a mobile device, they receive the mobile contest application.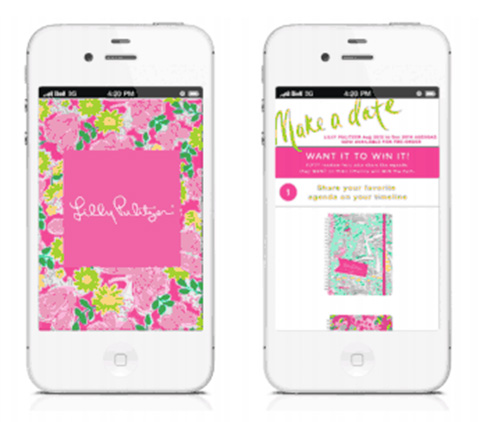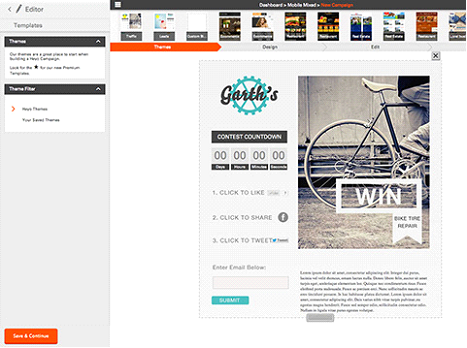 Heyo is the easiest way to create engaging campaigns that are social and mobile. Check out this tool if you want to drive traffic, leads and sales with a Facebook contest.
#3: Measure the ROI of Mobile Marketing With LogMyCalls
Did you know that people who search the Internet for food using their phone or tablet have nearly a 90% conversation rate? Or that 64% of searchers with smartphones convert within one hour of their mobile search activity?
One of the top converting metrics is a phone call. With such high odds of a mobile searcher clicking to call your business, tracking and measuring calls are vital.
LogMyCalls gives you a full suite of tracking features to track every call generated by your mobile advertising and measure the return on your investment.
Here's how you get set up and start measuring which campaigns are performing the best in 4 steps.
Step 1: Select your numbers. Use your current phone number and convert it into a tracked number or choose new numbers and have calls to those phone numbers routed to your business or call center.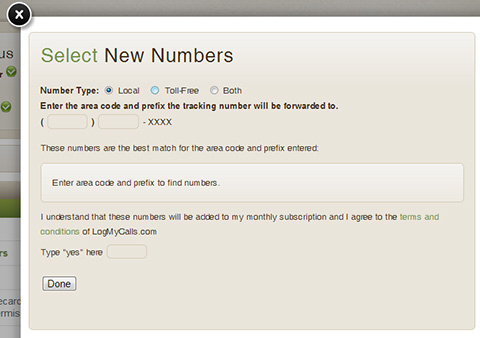 Step 2: Name your route. This is where you associate the number with a specific marketing tactic. In this case, Facebook PPC.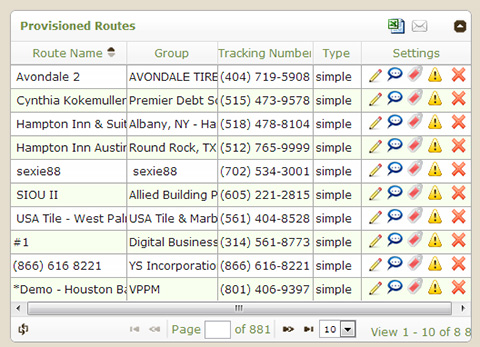 Step 3: Set up your DNI. When someone clicks through from a Facebook PPC ad, a unique phone number is dynamically generated on your landing page. This allows LogMyCalls to track which online marketing efforts produced the phone call. This is done via a provided snippet of JavaScript.
Step 4: Track mobile calls generated from Facebook ads. This is your first and most basic report indicating call volume, date, time, etc.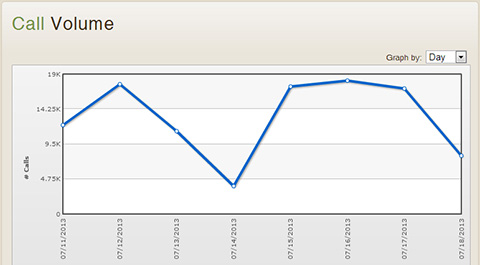 That's it. When your customer is mobile and calls your tracking number from a Facebook ad, a billboard or any other mobile advertising unit, you easily identify which media outlets perform best and which convert leads to sales.
LogMyCalls makes it easy for you to understand how many leads and sales are generated from people who call via a mobile phone.
Your Turn
These tools help you reach your mobile customers no matter what device they're on. There are more tools out there and as you use them, you need to make sure your website is mobile-friendly as these tactics ultimately drive people there.
What do you think? Have you tried any of these tools before? What other tools have you used? I would love to hear your thoughts about what works and what doesn't. Please share your favorites in the comments box below.
Get Your FREE Course: Web3 for Beginners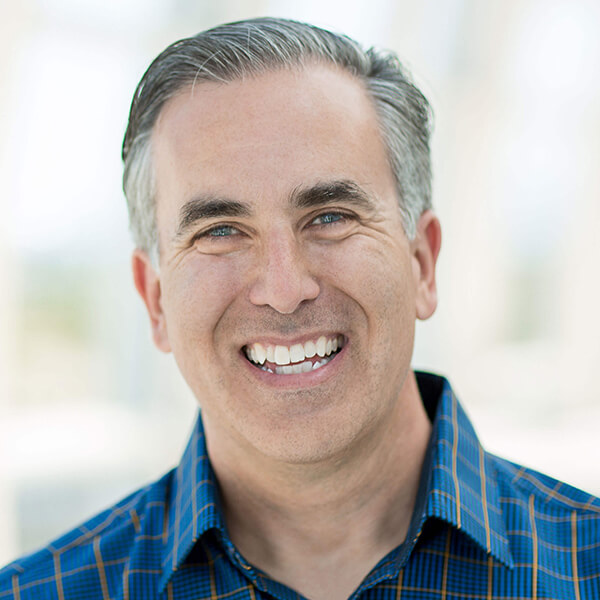 Curious about Web3, but don't know where to start or who to trust?

Introducing Web3 for Beginners, a course taught by Michael Stelzner, the founder of Social Media Examiner.

Learn the basics of Web3 and apply it to your business with this FREE comprehensive course.
CLICK HERE TO GET FREE ACCESS