Trying to grow a following on Instagram? Could chasing new followers be negatively impacting your connection to current followers?
In this article, you'll discover a strategy for growing and sustaining an engaged and responsive community on Instagram.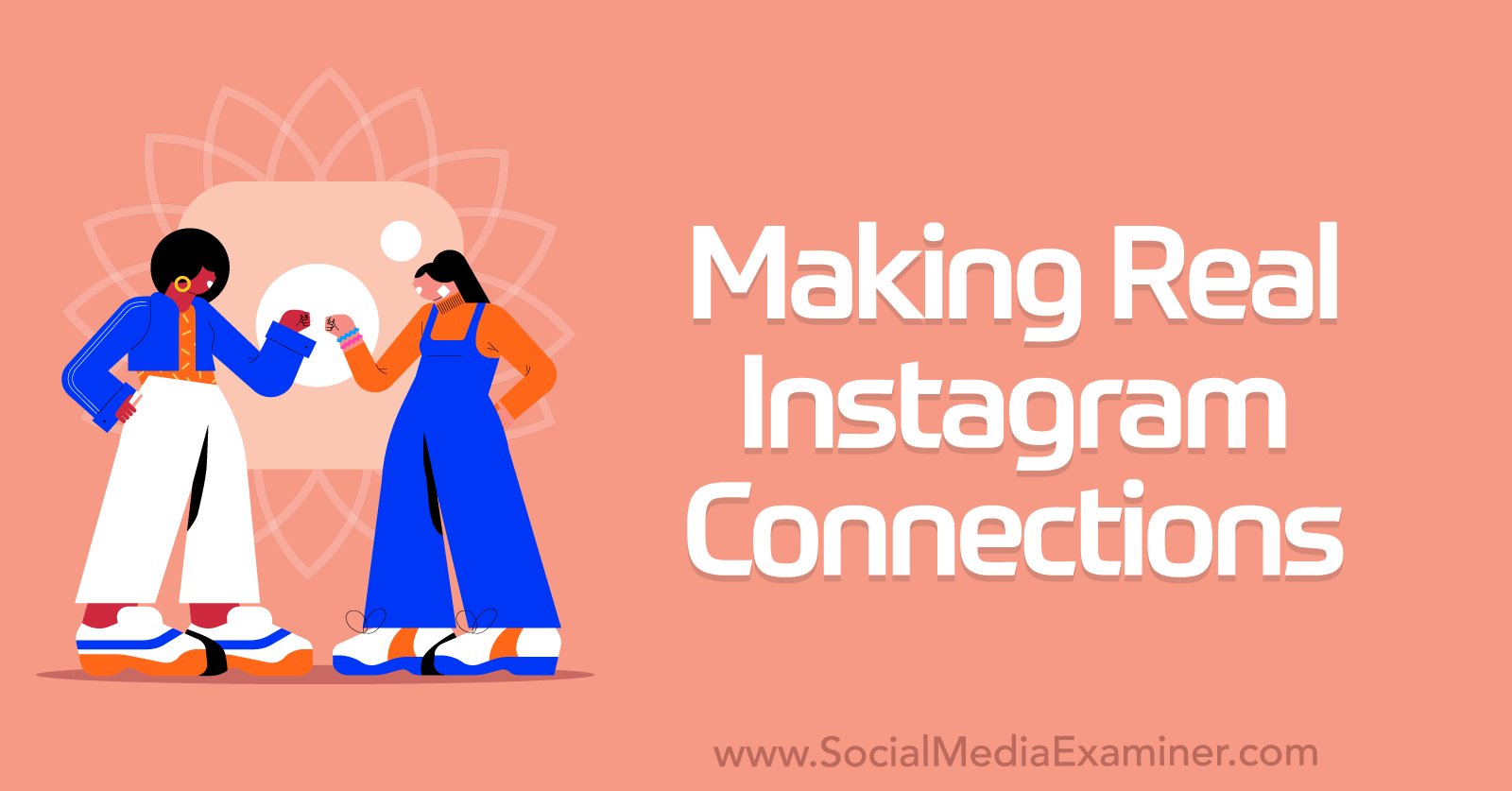 What's Wrong With Most Instagram Strategies?
To understand the challenges of marketing on Instagram today, let's go back in social media history.
One of the first social networks where people began to share creative work and build communities was MySpace. But MySpace looked different from the social networks we have now. There was no separation between business accounts and personal accounts; every profile on the platform could "friend" others. It was a simple network where everyone had the same potential to share content.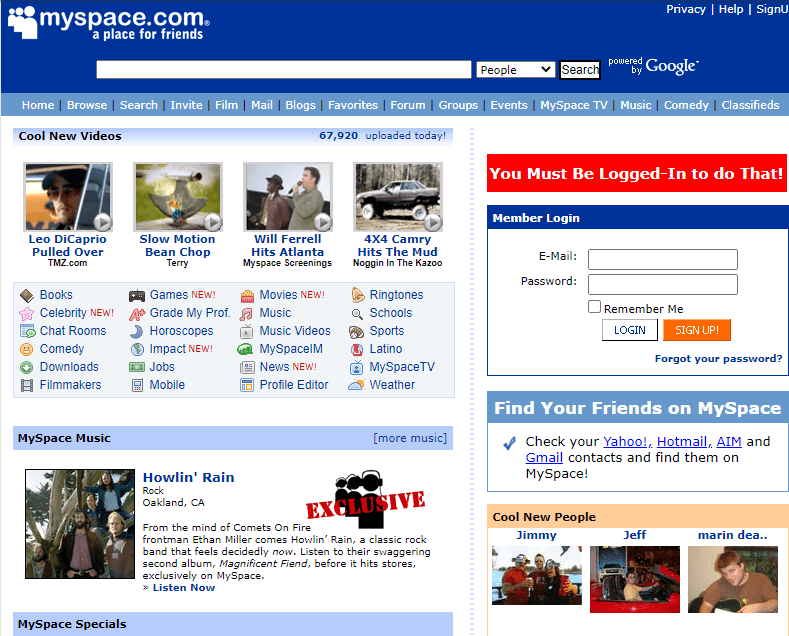 Now things have changed. In 2022, social networks use algorithms to pick viral content and accounts. This has its good points—it's easier than ever to find entertaining or educational content.
However, it also has traps for creators or marketers who lose sight of their goals. It's easy to get obsessed with hacking the algorithm or growing fast, and lose sight of the "social" part of social media. That's how we ended up with problems like bots and inactive audiences.
But here's the good news: it doesn't have to be that way. You can still use social networks like Instagram to make genuine connections and even friendships with your target audience.
With an authentic content strategy, you'll put individual relationships back at the heart of your social media marketing. You'll use content, comments, direct messages (DMs), and strategic follows to build an audience that actually cares about your brand.
#1: How to Create an Authentic Content Strategy on Instagram
There are two key elements in an authentic Instagram content strategy:
Communication
Metrics
First, communication—because it's the only way to build genuine connections with people. You want to communicate and start real conversations, instead of just broadcasting content at people without expecting a response.
Second, metrics and analytics to help you stay on track. Metrics will help you understand whether you're speaking to the right people, in the right format, with the right tone, and achieving the results you want. There's no such thing as a "finished" content strategy. You'll always be reviewing and refining your efforts based on the metrics that you get back.
Instagram Strategy: Communication
Every piece of content on Instagram is an opportunity to communicate.
That means it's not just entertaining, informative, or educational for your followers. It also encourages them to respond in some way.
That response could take the form of comments, DMs, conversions, or even professional connections. Different pieces of content can be tailored for different kinds of responses, depending on your goals.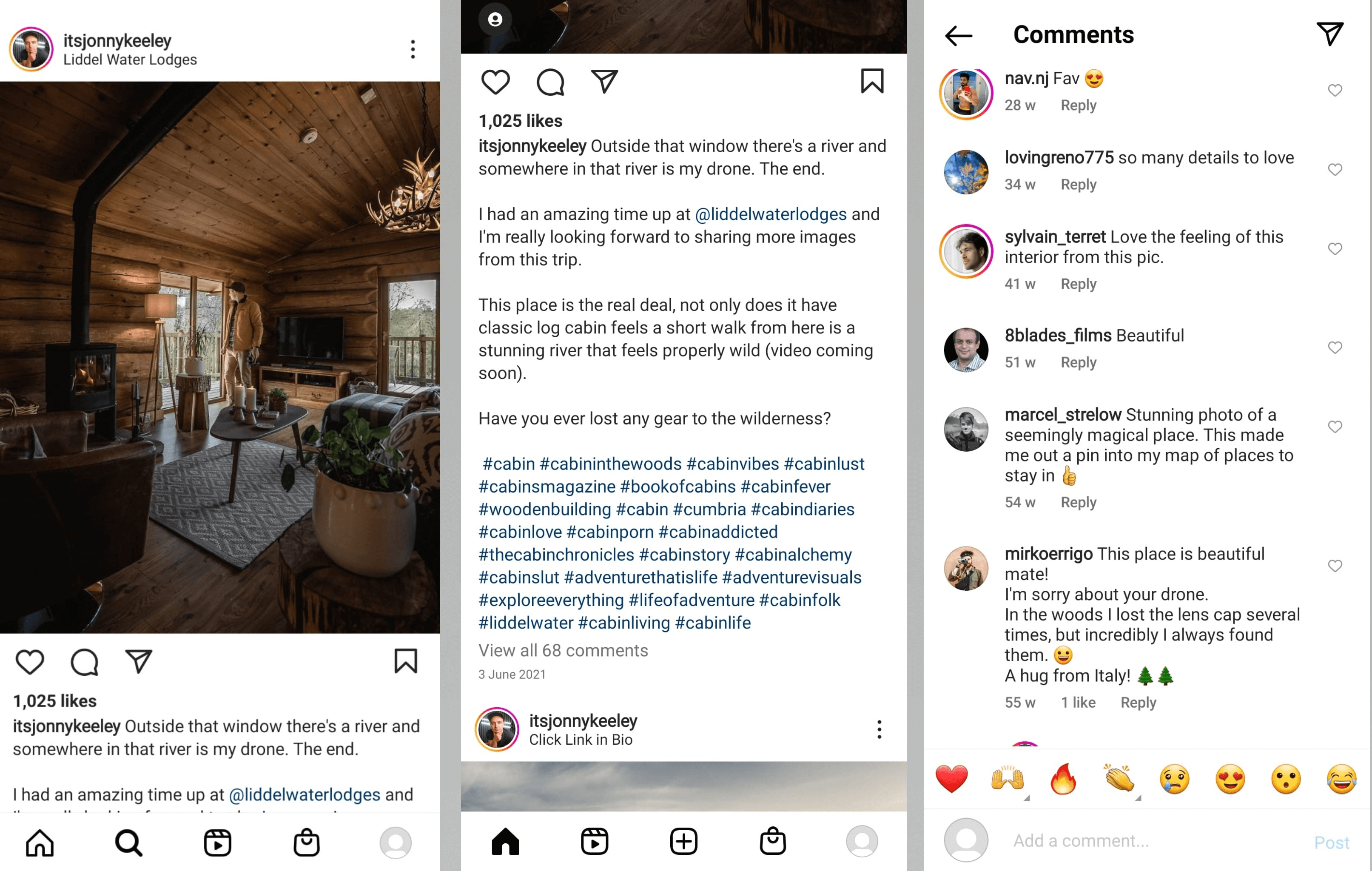 There are three very easy ways to get more responses to your posts:
Ask questions. Sounds obvious, right? But scroll through your Instagram feed and you'll be surprised how few posts actually ask for a response. Ask your followers for their opinions, experiences, advice, or questions of their own.
Post in the right place. To maximize the response to your content, you need to show your posts to the right people. Use different content formats, styles, and hashtags to target different sections of your audience. For example, you might use reels to reach younger Instagram users.
Adopt a listening mindset. Be genuinely curious about what your audience thinks and feels. Encourage people to be honest with you and share any questions or curiosities they have about your content.
Finally, as well as choosing the right communication style and knowing what your objectives are, you need to understand your own position on Instagram.
Are you an established, expert influencer who can share information with authority?
Or are you a scrappy beginner who can share the story of your journey toward success?
Are you ready to lead a community or industry on Instagram, or do you need to spend some time learning from others and testing new ideas?
Your level of experience and confidence will affect how you communicate with people on Instagram. Remember, this is all about authentic content so you shouldn't try to be someone you're not. Wherever you're starting from, represent yourself honestly and your followers will respond.
Instagram Strategy: Metrics
There are lots of different ways for people to respond to your content but you should have a specific response in mind. That will make it easier for you to measure the impact of your content.
For example, let's say you post a reel and get 100 comments, 10 DMs, and 1 link click. Was the post a success or a failure? You won't know unless you know which type of response you wanted.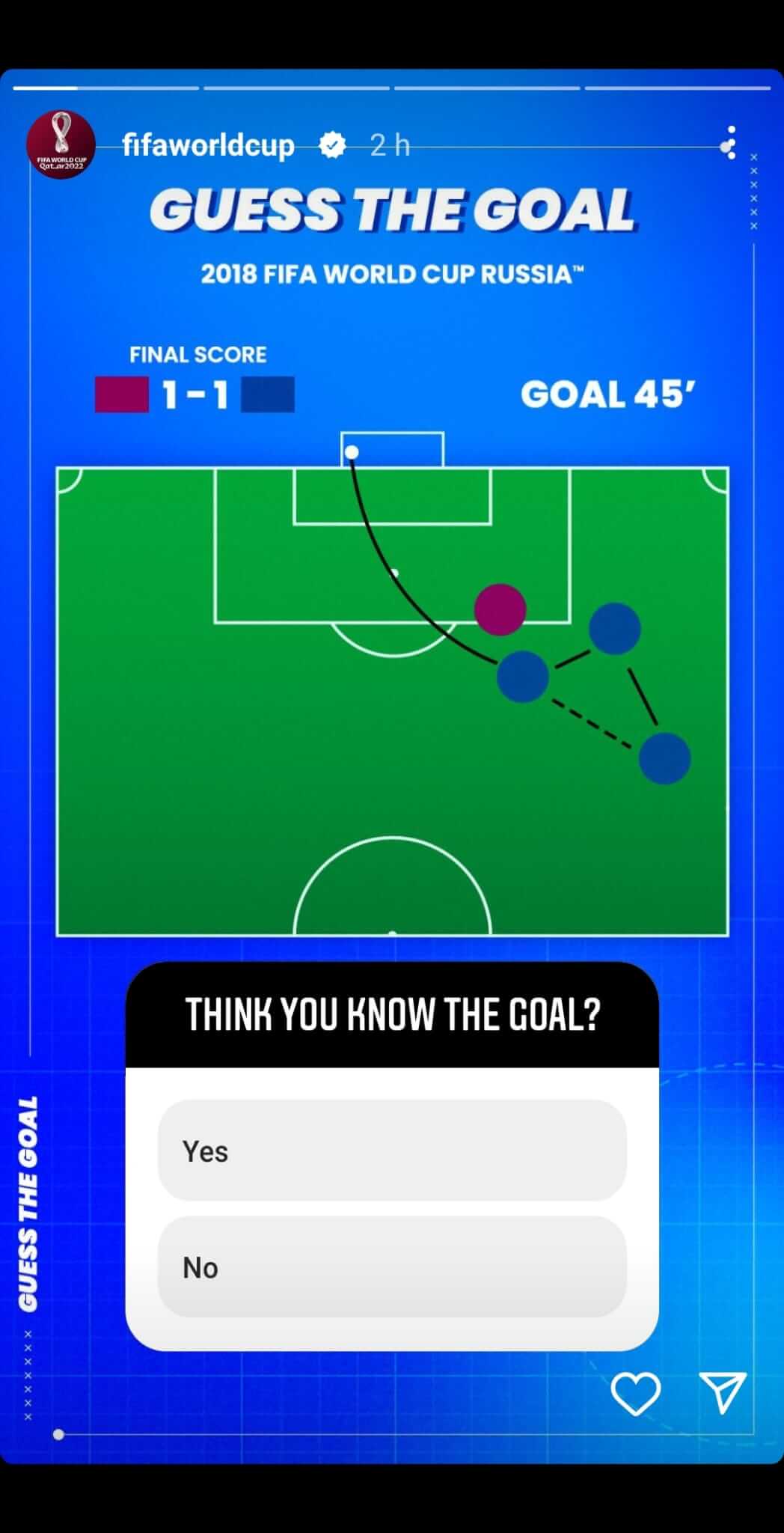 So when you create content, as well as identifying a specific business objective, you should think about how you'll measure its impact. It's always nice to get more impressions, followers, or a high engagement rate. But you should also have one specific metric in mind—such as clicks or comments—that shows you whether you achieved your specific objectives.
Just a quick word about followers. We're all guilty of chasing follows sometimes. But when you're building an authentic community on Instagram, the most important statistic isn't how many followers you have. It's how many active, engaged followers you have. If only Instagram had an analytics section for "active followers"!
#2: Supporting Your Content With Comments and DMs
Creating an authentic content strategy on Instagram isn't limited to feed posts, stories, and reels. Comments and DMs are also part of your toolkit; in fact, they're some of the most important tools you have.
Comments are the public forum on all your posts. They're a great place to start conversations on specific topics and get your community talking to each other.
You can also use comments as a source of inspiration for content; for example, answering questions that pop up a lot in your posts or riffing on an opinion or experience shared by another user.
DMs have a different impact than comments because they're always private. They have no "vanity effect." Whatever you say in a DM, the other person knows that it's genuine because you're not performing for anyone else.
DMs are also different because they're part of an ongoing conversation. If someone comments on multiple separate posts, it will be hard for you to spot all of those responses and keep a discussion going across the posts. But when someone DMs you, they can DM in response to multiple different posts over time, and you'll still see the whole conversation in one place.
That makes DMs the gold standard for building relationships with individual followers.
How to Use Comments and DMs Effectively
Want to improve the conversations you have in comments and DMs instantly?
The simplest, most effective change you can make is to use people's first names. It might sound corny but it shows that you're really paying attention to them. It upgrades the conversation quickly.
You should also use comments and DMs to ask follow-up questions and encourage people to elaborate on their first response. This isn't about increasing the number of comments as an algorithm signal; it's about deepening the conversation you're having with each person.
Once your Instagram profile starts growing, it can be harder to keep up with all of the comments and DMs. But you still want the benefits of genuine relationships with individual followers.
One way to get around this is to host Instagram Q&As or livestreams where you can run through a lot of comments or DM questions in one session. Be sure to shout out or tag all of the users who you're responding to. They'll feel seen and heard, and you've got some powerful, multipurpose content that builds connections.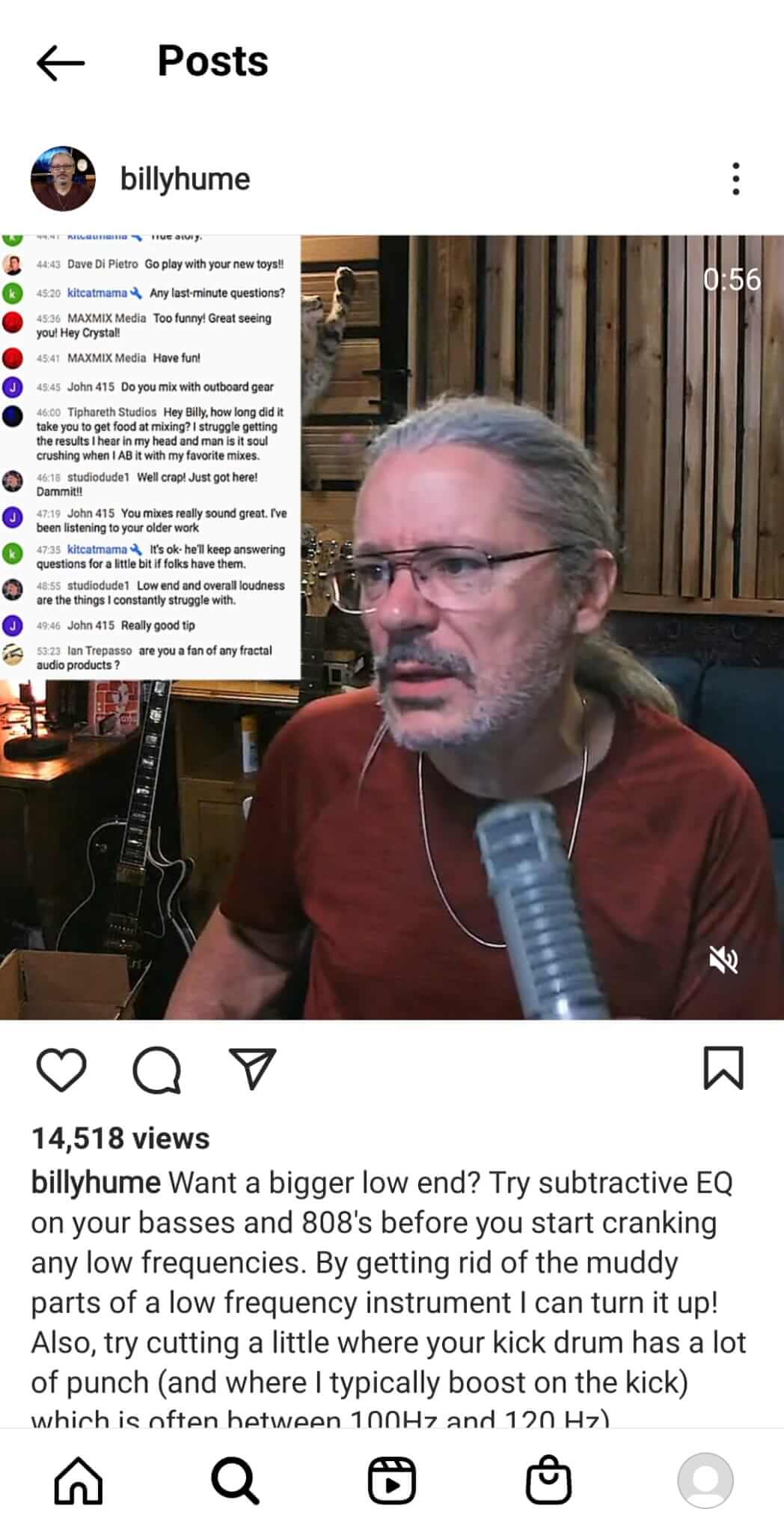 #3: Finding the Right Followers
How big of an audience do you really need on Instagram?
Some creators such as musicians need a huge audience. They depend on a massive base of fans to stream their music and attend concerts.
But for other creators and professions, the minimum effective audience is quite a bit smaller. For example, a personal trainer might only need a few hundred active local followers to build a thriving small business.
Find Super-Connectors on Instagram
If you target the right Instagram users, you might be able to build your brand with an even smaller audience. This is the power of super-connectors.
Super-connectors are people who already have a huge network and actively nurture it. So we're not just talking about accounts with tens of thousands of followers. We're talking about people who regularly talk to their followers, learn about them, and can spot opportunities to connect them.
When you design an authentic Instagram content strategy, you're trying to become a super-connector yourself. But you can also speed up your growth by linking with other super-connectors. If the right person recommends your account to the right follower at the right time, your business could blow up overnight!
How to Make Connections on Instagram
So how do you find this kind of quality audience—or better yet, super-connectors?
Start by being a follower yourself. Look for profiles that are active on the same topics you care about.
One way to do this is through hashtags. Hashtags are less useful than in the past for surfacing content but they're still great for finding relevant accounts.
Search for a hashtag that's relevant to your work, then tap the Recent tab. Here you'll see the latest posts, and in many cases, the people who shared them may be online at that very moment. So start following, liking, and commenting on the content that speaks most to you.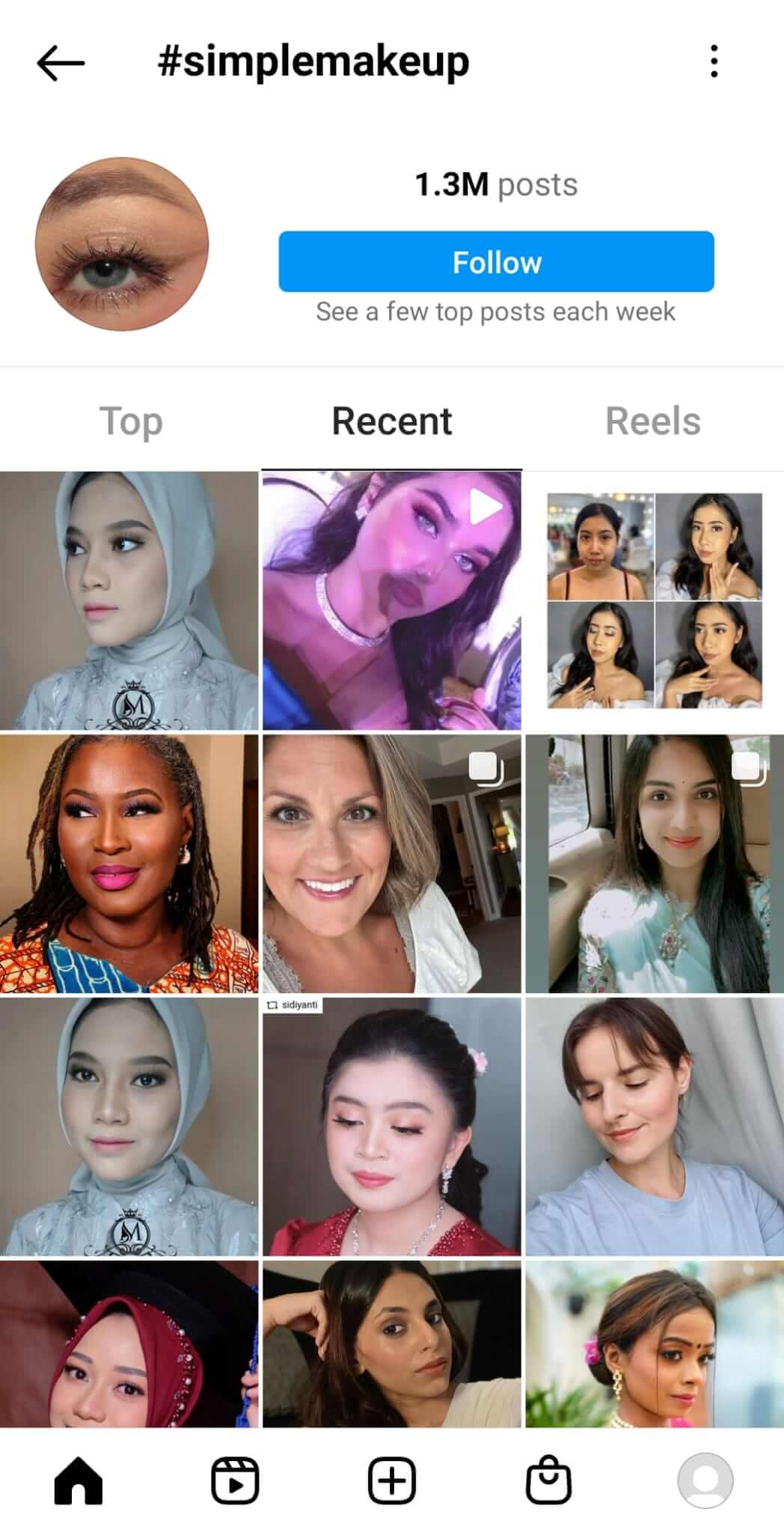 Remember that you're trying to make genuine connections here, so don't just spam every post in the Recent tab. Ask yourself whether you're commenting because you have something to say or just for the sake of saying something.
If you can't think of an interesting comment to leave on a post, then it's probably not the right post to connect with!
#4: The Most Common Mistakes Creators Make on Instagram
A lot of the ideas behind an authentic Instagram strategy are common sense. This is just good, old-fashioned networking: find the right people, share valuable conversations with them, and keep the discussion going.
However, plenty of people still make mistakes with their Instagram strategy. Here are some of the most common mistakes that may stop you from building genuine connections:
Chasing new followers at the expense of your community. Imagine if you went to a gig but the band refused to start playing until the venue was overflowing with people. You'd be pretty unimpressed. Start by creating content and having conversations with the followers you already have. Chances are, other users will be more interested in your community if they see that you're already engaging with people.
Getting impatient with your metrics. It takes time to build an active, dedicated community. Not every post is going to be a viral hit. But you should never fall into the trap of buying followers, likes, or engagement to speed things up. It will only hold you back in the long run. If you're impatient with your progress, test new ideas instead.
Being a perfectionist with your content. Yes, we often say that quality is better than quantity, especially when it comes to followers. But when you're just kicking off your content strategy, quantity is actually a good thing. Posting frequently gives you lots of data about what connects with your audience… and what doesn't. If you're obsessing over tiny details instead of just posting, then you're holding yourself back.
Losing sight of your purpose. Remember that every piece of content should have a purpose. Every piece of content should tell a story about your brand. If your posts aren't connecting with people, check in with yourself and ask whether you're really creating content that matches your business goals.
If you avoid these pitfalls, you'll be well on your way to creating an active, dedicated audience that loves your brand and spreads the word about it.
Other Notes From This Episode
Where to subscribe: Apple Podcasts | Google Podcasts | Spotify | YouTube Music | YouTube | Amazon Music | RSS
✋🏽 If you enjoyed this episode of the Social Media Marketing podcast, please head over to Apple Podcasts, leave a rating, write a review, and subscribe.
---
Stay Up-to-Date: Get New Marketing Articles Delivered to You!
Don't miss out on upcoming social media marketing insights and strategies! Sign up to receive notifications when we publish new articles on Social Media Examiner. Our expertly crafted content will help you stay ahead of the curve and drive results for your business. Click the link below to sign up now and receive our annual report!