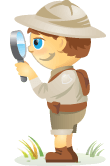 Welcome to our weekly edition of what's hot in social media news. To help you stay up-to-date with social media, here are some of the news items that caught our attention.
What's New This Week?
Facebook Adds Subscribe Feature to Personal Profiles: You can now allow people to subscribe to your updates on your Facebook personal profile (think Twitter follow).  This gives your friends control over what they see from you.  People who are not your friends can also subscribe (subscribers only see things you share publicly). When people subscribe, they can filter the types of updates they want to follow.

Facebook's Smart Lists Help You Manage Your Friends:  The new Smart Lists make it easier to manage your Friends lists. These Smart Lists are created and updated automatically based on the profile information your friends have in common with you, such as your work, school, family and city. And you can also add or remove friends manually to make the lists even more accurate.

Facebook Lets You Manage Close Friends And Acquaintances: In addition to the Smart List feature mentioned above, you all have two new lists: Close Friends and Acquaintances. When you add people to your new Close Friends list their updates appear more frequently in your news stream.  And only major updates from people in your Acquaintance list will show up in your news stream.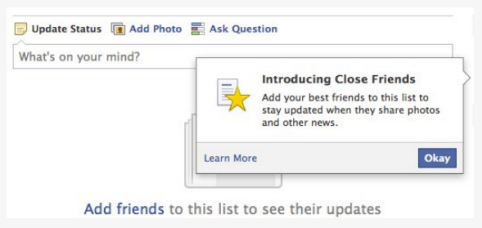 Facebook Reveals Who Shares Your Updates:  There's now a "View all shares" link for Facebook updates on Facebook Pages.   This link is visible on all Facebook pages for anyone to see who shares updates.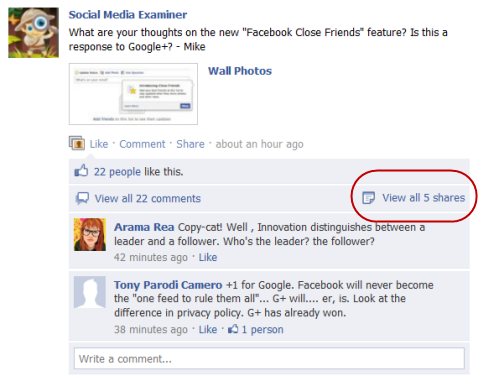 Google Rolls Out +Snippets on Google Maps: Google launches +Snippets for users and publishers, making it easy to visit a web page and then share it on Google+. +Snippets is now available with Google Maps and will roll out on other Google products soon. With +Snippets, Google+ users can easily share directions or places (for example) with fellow travelers.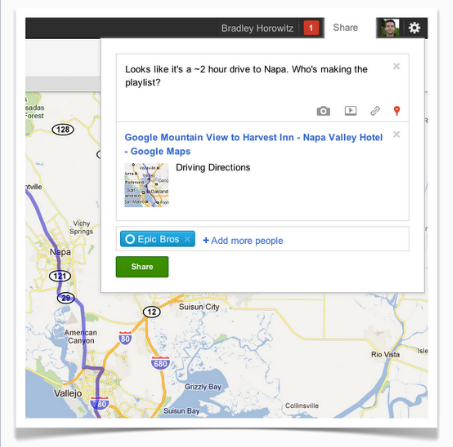 Google +Snippets Add Social Sharing Options for Publishers: With the new Google +Snippets feature mentioned above, you can add extra +Snippet code to the Google +1 button code on your websites so that when readers +1 your page, an update will also be published in their feed.
Social Media Marketing Workshops (Online Training)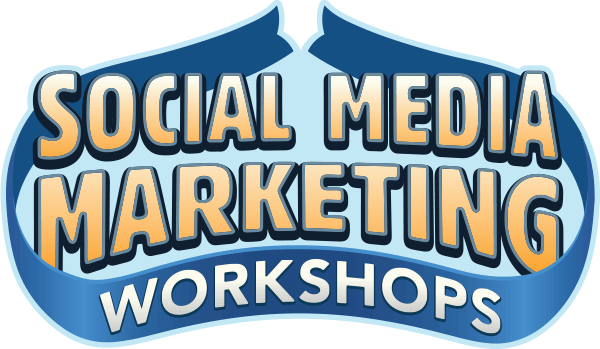 Want to improve your paid and organic marketing on Instagram, Facebook, YouTube, or LinkedIn—and secure your future? Get ready to be coached by 14 of the world's best social marketing pros in the most comprehensive social marketing training we've ever offered. You'll receive step-by-step live instruction so you can increase your reach, create amazing engagement, and sell more with social media. Become the marketing hero for your company and clients as you implement strategies that get proven results. This is a live online training event from your friends at Social Media Examiner.
LEARN MORE - SALE ENDS JANUARY 27TH!

Posterous Introduces Spaces: Posterous takes private sharing to a new level.  Posterous Spaces has intuitive privacy controls which allow you to "share the right stuff with the right people in the way that suits you best."   You can choose your own theme for each list of friends and you can have a different custom web address for each list of friends. Check it out below.
.
YouTube Adds Editing Feature: You can now "edit your uploaded videos right on YouTube and maintain the same video IDs. This means you keep your view count and comments, and all existing links to your video will continue to work. No re-uploading necessary."
Twitter Introduces Web Analytics: The new Twitter Web Analytics tool helps website owners understand how much traffic they receive from Twitter and the effectiveness of Twitter integrations on their sites.  "The Twitter Web Analytics panel shows how content is shared across Twitter, how much traffic Twitter refers and how much engagement a site generates with the integrated tweet button."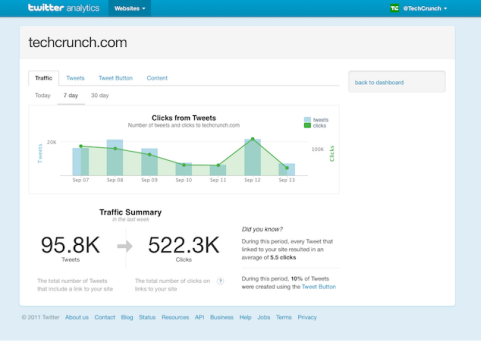 Twitter Has 100 Million Voices: Fives years after its beginning, Twitter reaches this important milestone!
Tumblr Has Over 10 Billion Posts: Congratulations to Tumblr on reaching this big milestone!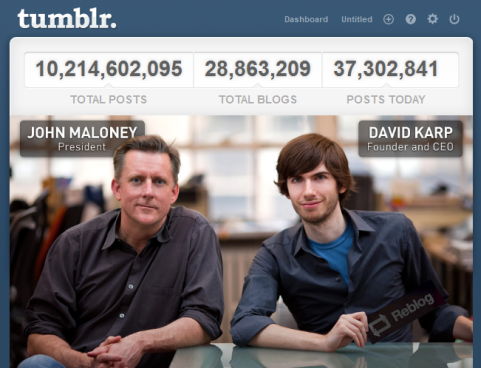 Here's a social media tool worth noting:
SocialSoft: a new drag & drop Facebook fan page–building tool currently in beta. The builder supports multiple widgets and has over 200 ready-made template designs including custom design integration.
https://www.youtube.com/watch?v=oY8xT_kPdcc
And don't miss this:
Social Media Examiner presents Facebook Success Summit 2011! (online conference starts in October)
Watch this video from Mike Stelzner (founder of Social Media Examiner).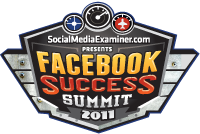 Join 19 Facebook marketing experts at the web's largest Facebook marketing conference. This is a special online conference designed to help you master Facebook marketing (brought to you by Social Media Examiner). Join Guy Kawasaki; Mari Smith; Dave Kerpen; Paul Dunay; Jesse Stay; Robert Scoble; Michael Stelzner; experts from Intuit, PETCO, Applebee's and Intel; Jay Baer; Chris Treadaway; Amy Porterfield and Andrea Vahl—just to name a few. Go here to learn more.
What social media news caught your interest this week? Please share your comments below.