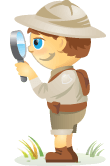 Welcome to this week's edition of the Social Media Marketing Talk Show, a news show for marketers who want to stay on the leading edge of social media.
On this week's Social Media Marketing Talk Show with Michael Stelzner, we explore LinkedIn Audience Network with Viveka von Rosen, the Facebook Instant Articles and AMP WordPress Plugin with Leslie Samuel, Facebook Stories on the desktop, and other breaking social media marketing news of the week!
Watch the Social Media Marketing Talk Show
If you're new to the show, click on the green "Watch replay" button below and sign in or register to watch our latest episode from Friday, September 8, 2017. You can also listen to the show as an audio podcast, found on iTunes/Apple Podcast, Android, Google Play, Stitcher, and RSS.
For this week's top stories, you'll find timestamps below that allow you to fast-forward in the replay above.
LinkedIn Officially Launches New LinkedIn Audience Network: LinkedIn announced the new LinkedIn Audience Network, "a native advertising network that enables you to reach even more professionals with your ads by placing your Sponsored Content on high-quality, third-party publishers across mobile and desktop." LinkedIn assures marketers that it has "taken measures to ensure brand safety within [its] recently launched LinkedIn Audience Network" such as vetting partner publishers to verify that they meet its advertising guidelines and regularly monitoring campaign activity on the network. LinkedIn also promises to give advertisers control over where their ads appear within the network.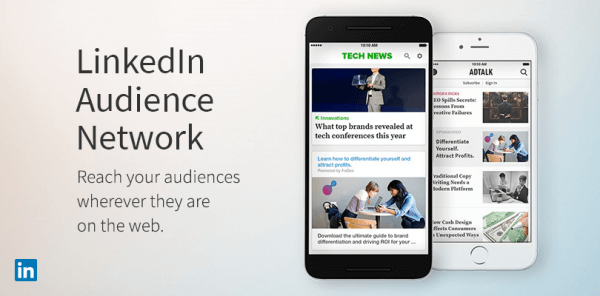 As part of LinkedIn's rollout of its new native ad network LinkedIn Audience Network, the company will place advertisers' sponsored posts into ad inventory found within several third-party publishers and apps. Adweek reports that this list includes Microsoft properties like MSN and Outlook.com. This means that Outlook users may begin seeing ads in their inboxes labeled as sponsored content from LinkedIn. (8:19)
Facebook Updates WordPress Plugin for Instant Articles: Facebook updated the WordPress plugin for WordPress.com VIP for enterprise clients and publishers using a self-hosted version of WordPress. This update introduces "a fast and seamless way" to adapt web content for the Instant Articles format, streamlines initial setup, and provides visual parity between Instant Articles and AMP. (24:00)
Facebook Continues to Expand Stories to the New Desktop UI: In early August, Facebook began testing Stories on the new user interface for the desktop. At the time, this feature was still considered experimental but Facebook noted that "a wider rollout is expected soon." Facebook is continuing to expand a new desktop UI that prominently features Facebook Stories at the top right-hand corner of the site. Facebook hasn't yet announced when this new interface will be more broadly available to all users. (34:40)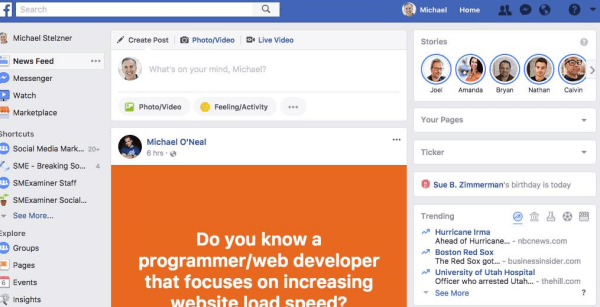 Instagram Tests Ability to Push Stories to Both Facebook and Instagram: Instagram is testing the option to share photos and videos created with Instagram's in-app camera to Facebook Stories and Instagram Stories simultaneously. With the ability to post a story on multiple platforms at once, Facebook is making it easier "to share any moment with the people who matter to you" and providing much-needed exposure for Facebook stories. The Verge reports that Facebook's attempt to integrate a Stories feature into its core app "just isn't clicking with users" and doesn't seem to be popular. (38:45)
🚨 ALERT 🚨
Instagram is testing option to share your 'Story' directly to Facebook

h/t @mruiandre pic.twitter.com/VTqI92dNJe

— Matt Navarra ⭐️ (@MattNavarra) September 6, 2017
Facebook Features a Pop-Up Alert for Videos on Desktop: Facebook appears to be testing a pop-up alert for videos on the desktop. The alert shows up in the lower-left corner of the screen and plays the live video without sound as the user continues to scroll through the news feed.
The Conference You've Been Waiting For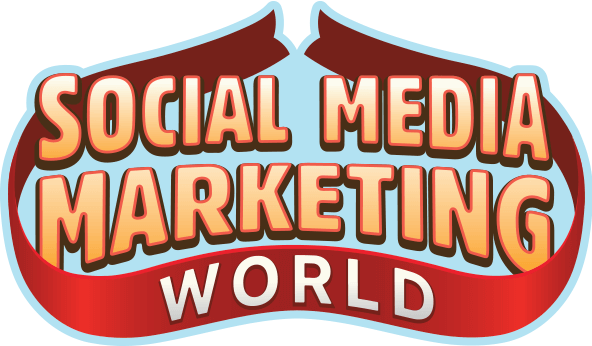 As a small business marketer, you can probably only pick one or two events to attend each year. Get back into the game with an unbeatable conference experience and expert training at Social Media Marketing World in sunny San Diego, California—from your friends at Social Media Examiner.
🔥🔥 As a valued reader, you can save $630 if you act now! Sale Ends Friday!
CLICK HERE TO LEARN MORE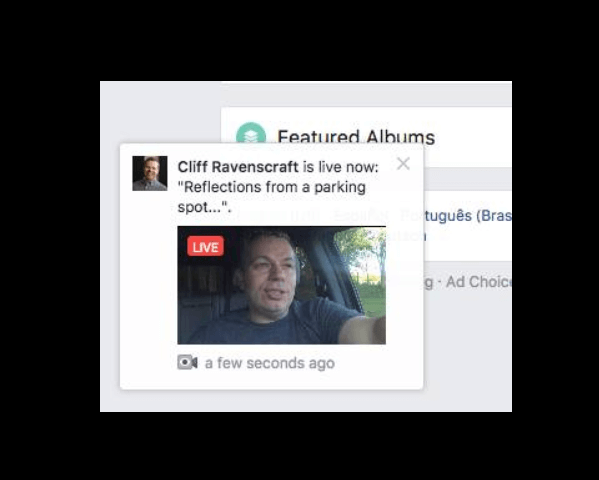 Facebook Adds Floating Call-to-Action Button on Posts: Facebook appears to be testing floating call-to-action buttons that are found at the bottom of the news feed as you scroll.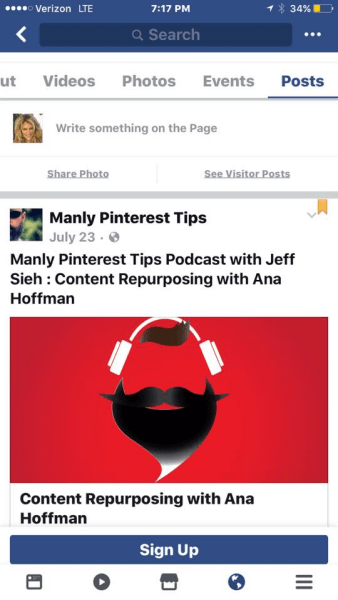 Facebook Allows Users to Directly Post to Groups From the News Feed: It appears that Facebook now allows users to post directly to groups from the news feed.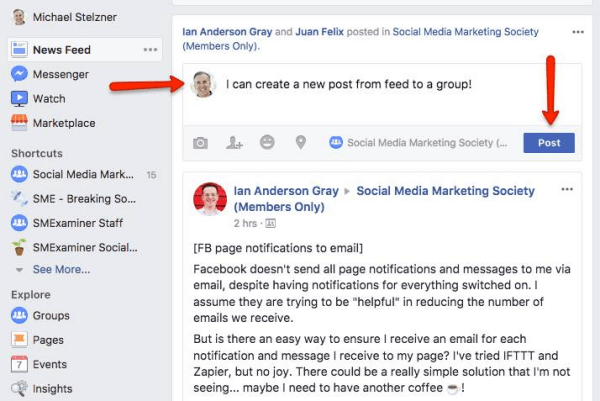 Facebook Tests Colorful Backgrounds for Comments: The Next Web reports that a new colored comments feature is being tested with "a small fraction of [Facebook] users." This new feature allows users to post comments with colorful backgrounds and gradients that are similar to colorful variations now available for text-only posts and appears to be strictly limited to mobile for the time being.
NEW: Facebook is testing coloured comments… This is going to look a mess!

h/t @absoluut pic.twitter.com/boqKTeG0JN

— Matt Navarra ⭐️ (@MattNavarra) September 6, 2017
Google Adds New Features to Google Data Studio: Google rolled out several new features to the Google Data Studio including a new Data Studio Community Connectors developer program, which allows users to visualize data from any source. Google also added embeddable Data Studio reports for websites and apps, new data controls to simplify reporting, and more.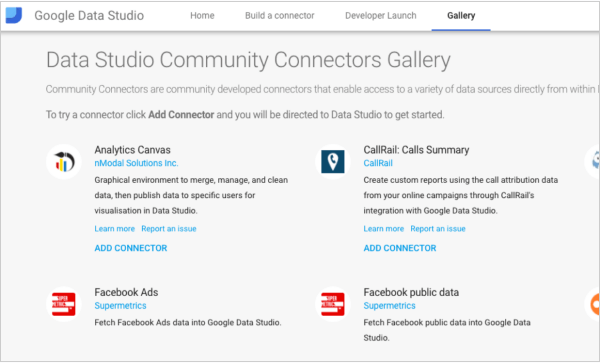 Facebook Introduces Rounded Page Profile Photos: In an announcement found at the top of page profiles, Facebook notified admins that the shape of the page profile photo is changing from square to circular in the news feed and on the page timeline. This change initially began rolling out throughout the month of August and is expected to "lead to more conversations with the people you want to reach." Facebook has been testing this recent design update and reports that it has "seen some encouraging results and feedback."
Get Expert Social Media Marketing Training from the Pros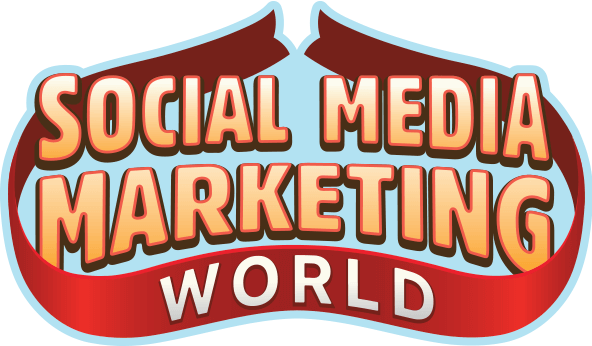 Want to get ahead of the competition and learn how to diversify your social marketing strategy?
Learn from the industry's most trusted experts, rub elbows with other smart marketers, and take your marketing to the next level during this 3-day event in sunny San Diego, California.
CLICK TO LEARN MORE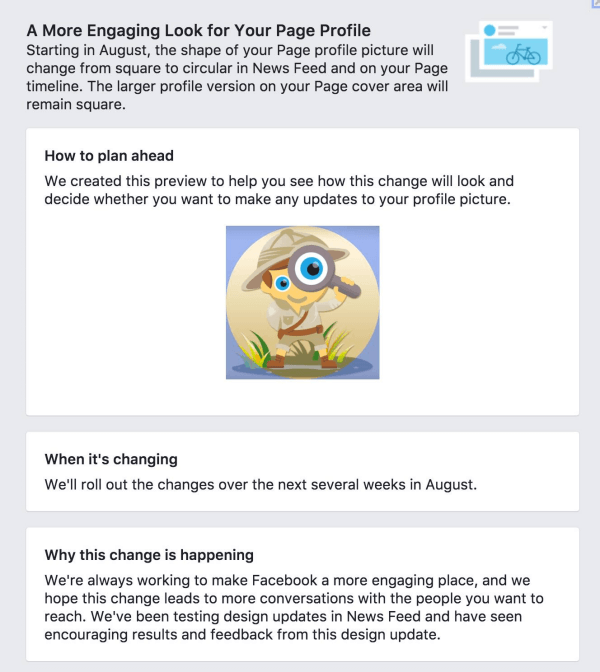 Google Rolls Out Dashboard to Manage Business Listings in Search: Google introduced a new "simple, easy-to-access business dashboard" found right in Google search. With this new tool, business owners can complete and enhance their listing in search, share photos and posts related to their business, and see how many views they're getting.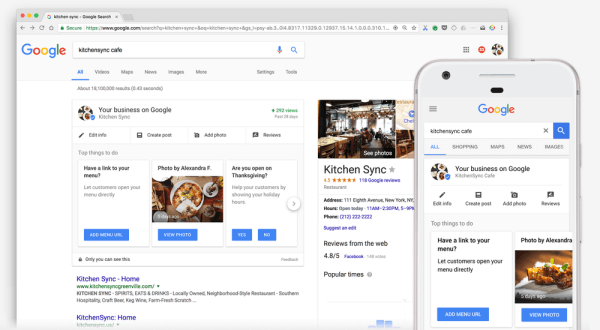 Facebook AI Researchers Train Bots to Mimic Human Emotion: In a newly published paper, Facebook's AI researchers detail their efforts to train a bot to mimic the subtle patterns of human facial expressions, or "micro expressions," using a series of YouTube videos of people having Skype conversations where each participant's face was clearly visible. Mashable suggests that this early research may "one day have implications for Facebook's efforts to improve avatars in VR" or help further the development of Facebook Spaces.

Facebook Offers Hundreds of Millions of Dollars for Music Rights: Bloomberg reports that "Facebook Inc. is offering major record labels and music publishers hundreds of millions of dollars so the users of its social network can legally include songs in videos they upload." Under current law, copyright holders are responsible for asking Facebook to take down videos with infringing material. Although Facebook has promised to develop and build a system that properly identifies and tags music that infringes copyrights, the setup process is expected to take too long and both sides are eager to find a quicker solution for this growing concern.
Facebook offers hundreds of millions of dollars for music rights https://t.co/3oTvDByCrf pic.twitter.com/dydwujDqhm

— Bloomberg (@business) September 6, 2017
Facebook Officially Rolls Out Watch to All U.S. Users: TechCrunch reports that Facebook has officially opened the new Watch tab to everyone in the U.S. after a limited rollout a month ago and a further expansion to more users last week. The report confirms that the new Watch tab is now available across Facebook's native mobile apps, desktop site, and TV apps.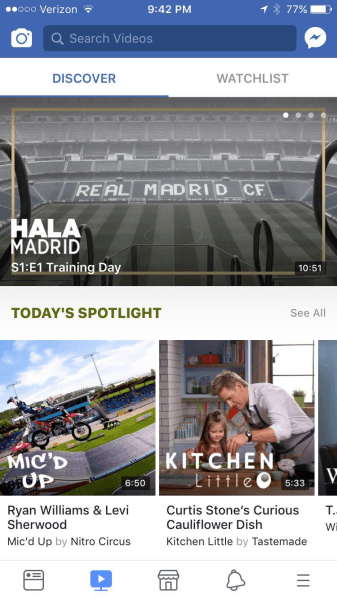 YouTube Adds New Live Video Features: YouTube launched several improvements to the live video experience on the platform. These updates include real-time interaction with ultra-low latency, which makes it possible to answer fan questions and get viewer input during your live broadcast "faster than ever before." YouTube is also rolling out new chat moderation tools and the ability to more easily stream what's on your screen directly to the main YouTube app on an iPhone or iPad.
WhatsApp Announces Free Tools for Businesses: WhatsApp announced plans to build and test new business apps to help small companies using WhatsApp to communicate with customers. It will also roll out an enterprise solution for bigger companies such as airlines, ecommerce sites, and banks operating at a large scale with a global base of customers.
WhatsApp announces free Business app, will charge big enterprises https://t.co/JE9aPkISpA by… by #TechCrunch via @c0nvey

— Yuriy (@vikoff_dev) September 6, 2017
Snapchat Expands On-Demand Geofilter Creation on Mobile to Europe: Snapchat users in the UK, France, the Netherlands, Denmark, Sweden, Norway, and Finland will now be able to create on-demand geofilters from their mobile devices through Snapchat Creative Studio. Snapchat rolled out this feature to the U.S. this past June. The Next Web reports that the on-demand geofilters will start at £5.99 (€6.99 in Europe, and in Denmark and Norway, 49kr and 65kr respectively) and can cover an area as small as a house (1800 square meters), or as large as 100 soccer pitches (450,000 square meters). Buyers can also choose to make them last for just a couple of hours or for a few days.
Snapchat users in Europe can now buy on-demand geofilters from their phones https://t.co/DG7BqmNPoT pic.twitter.com/EUusKzLSgP

— TNW (@TheNextWeb) September 6, 2017
Twitter Brings Night Mode to the Desktop: Twitter announced it's officially rolling out Night Mode for its desktop site. This new feature initially debuted on the Twitter apps for Android and iOS and was being tested on the desktop site earlier this month. Night Mode on twitter.com appears to be widely available to all users now.
You can now enable night mode on https://t.co/fuPJa3nVky! 🌙 Also available on Twitter for iOS and Android. https://t.co/9AjOwcv3Zn

— Twitter Support (@TwitterSupport) September 6, 2017
Twitch Introduces Twitch Extensions: Twitch announced a suite of tools called Twitch Extensions that will allow streamers to customize their channel pages with interactive features including polls, leaderboards, schedules, overlays, virtual pets, and more. Twitch Extensions are now live for streamers and developers on the Twitch dashboard under the Extensions Manager or through the developer site.
IBM and MIT Launch $240M Watson Artificial Intelligence Lab: IBM and the Massachusetts Institute of Technology (MIT) have partnered to establish an MIT-IBM Watson AI Lab in Cambridge "that will pursue research in artificial intelligence (AI) with a focus on healthcare and cybersecurity, as well as on commercialising AI technologies born out of the lab."
Amazon Designs Alexa Experiences Specifically Targeted to Minors: Amazon launched the first Alexa skills specifically aimed at children younger than age 13 in the U.S. These new skills will go live with a new Verified Parental Consent feature to operate within the terms and guidelines of child data protections such as the Children's Online Privacy Protection Act (COPPA) and the FTC.
Amazon adds parental consent to Alexa skills aimed at children, launches first legal kids' skills https://t.co/1f5C0A1lbI by @sarahintampa

— TechCrunch (@TechCrunch) August 31, 2017
Alibaba Debuts Facial Recognition Payments in China: TechCrunch reports that Alibaba is debuting facial recognition technology to facilitate digital payments and testing it at KFC fast-food restaurants in China.
Alibaba debuts 'smile to pay' facial recognition payments at KFC in China https://t.co/Cb6n0n6Prh by @jonrussell

— TechCrunch (@TechCrunch) September 4, 2017
Want to catch our next show live? Click here to subscribe or add our show to your calendar.
Curious about Web3?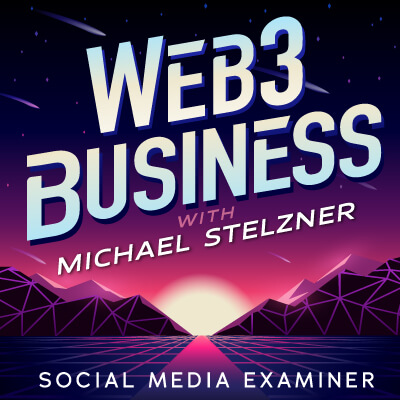 Follow the Web3 Business podcast to find out how Web3 will affect your business in the near future.

Every Friday, host Michael Stelzner interviews leading industry experts about what works right now in Web3 and what to expect in the future, so you can prepare your business for the shift, even if you're a total newbie.
FOLLOW THE SHOW