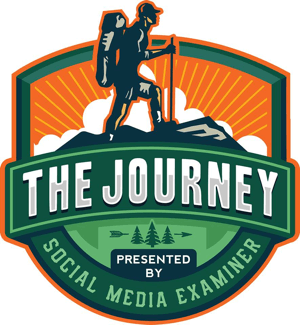 Ever have a moment where it becomes crystal clear that something needs to change? Then watch the Journey, Social Media Examiner's episodic video documentary that shows you what really happens inside a growing business.
Watch the Journey
In episode 10, Michael Stelzner (founder of Social Media Examiner) realizes lots of things he's doing must stop. Follow along as he redoubles his efforts into marketing and finds new ideas.
The show opens with Mike sharing that sales aren't growing the way they should.
He's concerned that The Journey and Project Genesis have pulled him too far away from the marketing department. There are only so many hours in a day and the projects he and other staff are spending their time on are called into question.
The first change affects marketing specialist Mitch Dong, and Mike pulls the entire marketing department (Jennifer Ballard, Kim Reynolds, and Saidah Murphy) together in the conference room to share two key decisions.
First, Project Genesis is put on hold indefinitely. Second, the publication schedule of The Journey will be slowed down so that Mitch can devote more time to marketing projects. The team is immediately supportive and excited about moving forward.
Mike explains that change has begun with him, but more change is needed from the department.
Next, Mike shares how a study he read about on Harvard Business Review offers insights on how to better deliver content to people based on the mental state they're in at certain times of the day.
He gathers the marketing team into his office for a call with Managing Editor Lisa Jenkins to discuss the impact on Social Media Examiner's use of email marketing. Based on the data presented, delivery times of both the editorial and marketing emails will be adjusted.
Then, to further empower the marketing team, he walks Jennifer and Saidah through a number of analysis techniques so they can quickly find out whether or not something is working – on their own.
Later, Mike shares with Jennifer and Kim that he's just finished a podcast interview with Natasha Takahashi. The topic? How to drive organic traffic to you blog using a bot.
Mike acknowledges that most people are focused on using a bot to set up a funnel and sell, but he's excited about the prospect of using a Messenger bot to consistently deliver educational content to readers for free.
Kim immediately embraces the idea because she sees retargeting possibilities and Jennifer recognizes a way to bypass the company's ongoing email deliverability issues.
Finally, Mike is on the road and headed toward the San Diego Convention Center to meet with Director of Events Phil Mershon and his team. There's a slight mishap along the way but soon enough he's onsite with other Social Media Examiner staff to do a walkthrough.
Placement planning is well underway for registration, traffic flow, stages, expo areas, and more. The event is taking up more space than ever and everything is taking shape.
The show closes with Mike talking with Jennifer and Kim – alluding to a big mistake. What went down?
Do you think Michael made the right decision by refocusing his efforts toward marketing? Tell us what you think in the comments below.
Key Mentions:
Don't miss an episode! Subscribe to The Journey on YouTube.