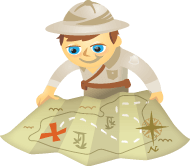 Want a quick and easy way for people to find you on Instagram? Have you heard about Instagram Nametags?
In this article, you'll discover how to find and customize your Instagram nametag so people can quickly follow your Instagram account.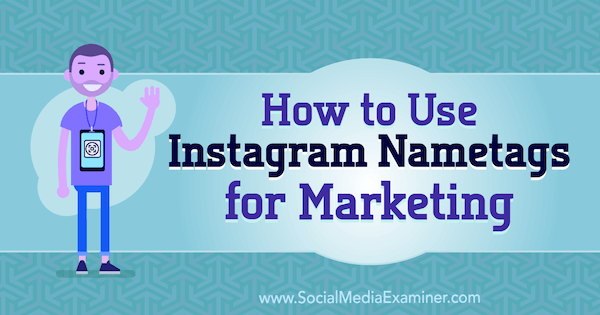 What Are Instagram Nametags?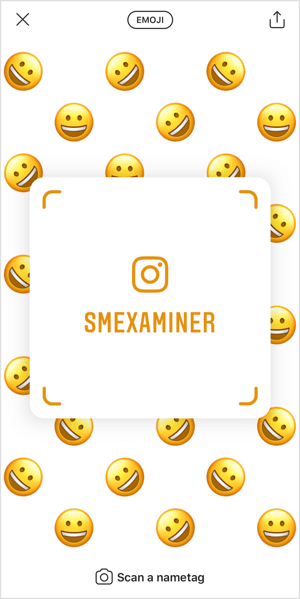 Nametags on Instagram are very similar to Snapchat's snapcodes and Facebook Messenger codes. They're designed to be scanned quickly, and easily take people to your profile or allow them to follow you.
If you've tried to grow your Instagram audience by telling people your Instagram username, you've likely encountered situations where this becomes an arduous process. The biggest challenge is getting people to spell your name correctly in the search bar on Instagram. If you have underscores, dots, abbreviations, or anything out of the ordinary in your username, the challenge is only magnified.
Nametags are an easy solution to this. They allow users to quickly scan your code without having to add or type any information, and immediately have the option to view your profile or follow you.
In addition, having your nametag available or on display can be a not-so-subtle trigger to encourage someone to follow you, without you having to specifically ask them to do so. It's a less pressured interaction with your customers or audience.
Here's how to get started using Instagram nametags.
#1: Scan an Instagram Nametag
You can scan a nametag two ways. The first way is to go to your Instagram profile, tap on the three-line button in the top-right corner, and choose the Nametag tab. Then tap Scan a Nametag at the bottom of the screen.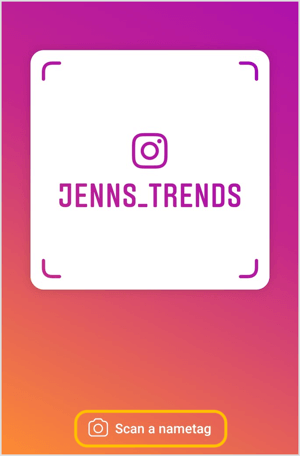 The second way is to open your Instagram Stories camera, and tap and hold the screen when you're ready to scan a nametag. This is a significantly faster way to access the scan camera.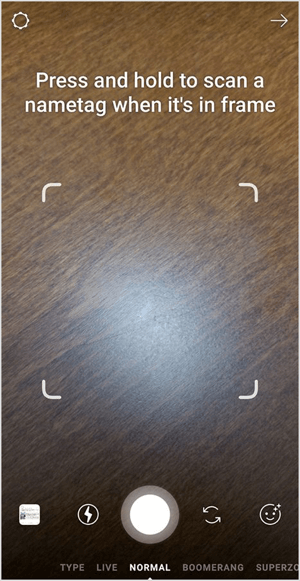 Once you've scanned a nametag, you see a screen that allows you to visit that account's profile. If you're not already following that account, a large button is also available to follow that account. If you're already following the account, the pop-up will let you know this is the case.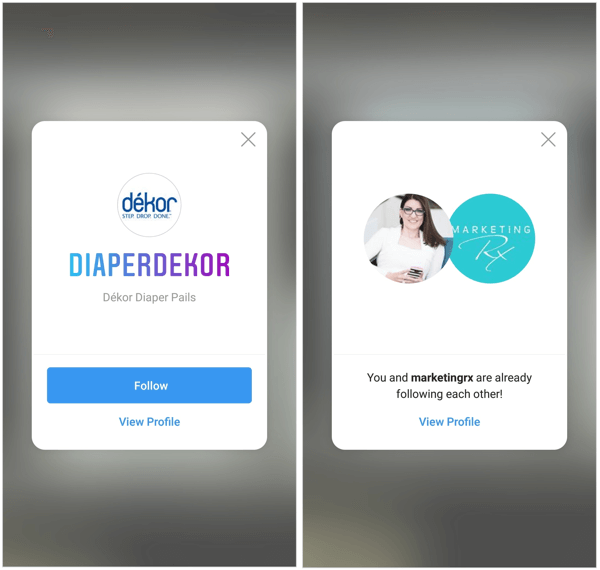 There is one small challenge if you see someone's scannable nametag on Instagram or elsewhere: you can't easily "scan" it while viewing it on your phone. The camera that allows you to scan nametags has to be open, and you can't open that camera when you're on another social media platform or elsewhere on your mobile device.
The solution is to take a screenshot of the nametag when you come across it. Then go into your Instagram account to access the Stories camera or the nametag camera.
If you open your Stories camera, go to the photo or gallery option in the bottom-left corner and tap on the image you just took of the nametag. This will pull the nametag into the camera and automatically scan it for the connection.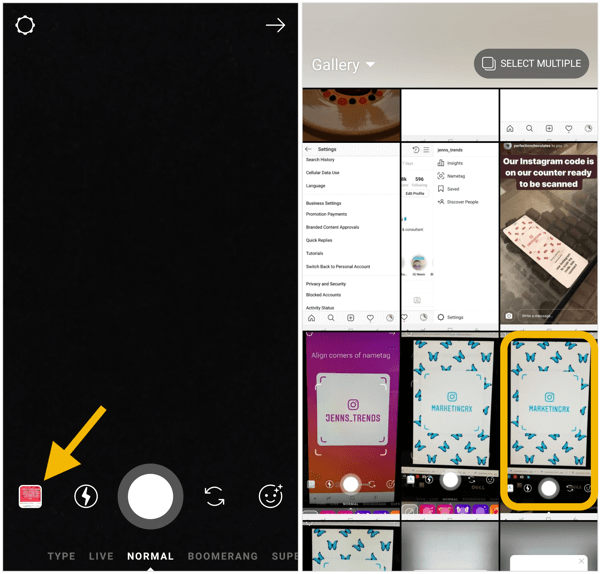 If you open the Nametag camera via your profile settings, tap the gallery button in the top-right corner of the screen to open your camera roll. Select the screenshot of the nametag you want to scan and the scan process will automatically happen.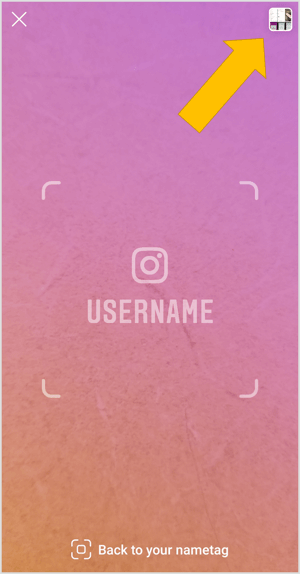 #2: Find and Customize Your Instagram Nametag
All users have access to the Nametags feature on Instagram. You automatically have a nametag set up for your account, but you can customize it.
To access your nametag, go to your Instagram profile settings tab (the three-line button in the top-right corner of your profile). From the list of options, select Nametag.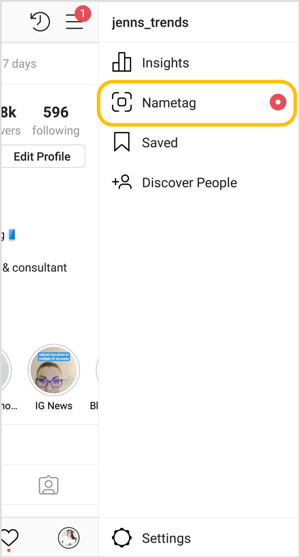 There are three options for the background of your nametag—Color, Emoji, or Selfie—all of which are editable for your own preference or branding. To navigate among the three options, tap on the type of background option you want to customize at the top of the screen.
Then tap on the screen background to change the color, open the emoji keyboard (to select any emoji), or change the selfie effects.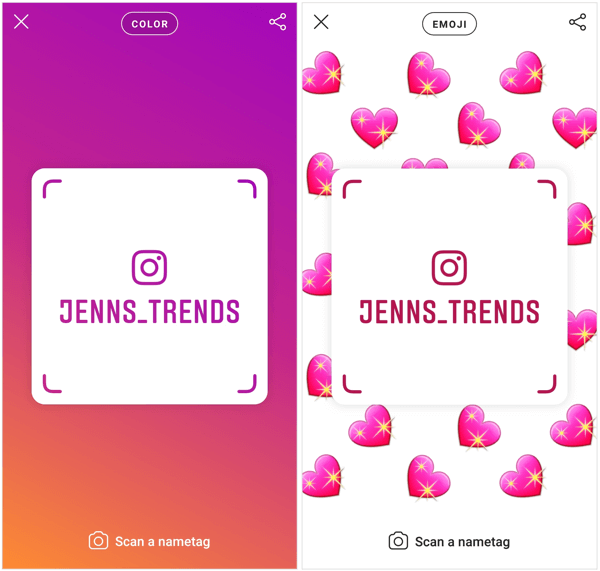 Once you have a background you like, simply tap the "X" to close the window. Your changes are saved automatically.
Tip: Be creative and selective with your background options. If you're choosing from the color gradient backgrounds, select one that aligns with your brand colors. If you're opting for an emoji background, choose an emoji that's relevant to your brand. For example, if you're a photographer, select the camera emoji. If you're a florist, choose a flower emoji.
#3: Share Your Instagram Nametag
You can distribute your Instagram nametag a variety of ways, limited only by your creativity. Here are some ways other brands are sharing their nametags.
Display Your Nametag Prominently in Your Store
Chocolate Johnny runs Perfection Chocolates in Australia and the @perfectionchocolates Instagram account. He has been a big fan of snapcodes and is now including Instagram nametags in his store. A simple card placement throughout the store and on the display cases makes it easy for customers to follow him.
In these situations, customers are already in his store, talking to him or the other employees, and enjoying the products. They're highly likely to want to follow him on Instagram, given the relationship building that's already happening in the store.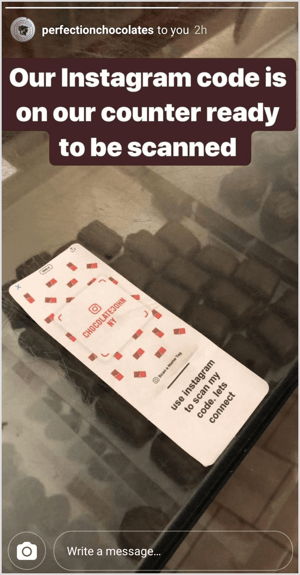 Share Your Nametag at Events
You can also display your nametag at trade shows and expos. Many times, you're promoting your business to potential customers at these events. Providing them with an opportunity to connect with you on Instagram before they leave can increase the chances of conversions and sales after the event has ended. And it's not a business card that gets lost in the bottom of a bag or ends up in the trash when they get home.
Emily at Lone Mountain Farms recently did this for an expo she attended. She printed out cards with her nametag for @lonemountainfarms, customized with a fun farmer emoji, to place around the booth and make connecting easy.
Francesca at @francescavitali.paperjewelry put out her nametags around her booth to make it easy for people to connect with her Instagram account without having to spell out her account name every time or risk people not being able to find her account due to spelling.
If you regularly attend business conferences or networking events, save your Instagram nametag image as your phone's lock screen photo. This way, when you're at an event and want to connect with someone, simply open your phone to the lock screen image and it's ready to be scanned. Again, this makes it easy to connect with fellow attendees in a unique way that's not just another business card.
Many conferences have video boards that play a loop of content created around a hashtag. You could post your nametag to Instagram and/or Twitter using the event hashtag and get your nametag to appear on the video screen for all of the other attendees to see.
Likewise, if you coordinate these conferences or events, have your brand's nametag as a static image on the video board throughout the event to encourage attendees to follow your account.
If you're hosting an event where you're providing desserts or treats, consider having custom, edible decorations designed with your nametag, making for delicious and functional advertising!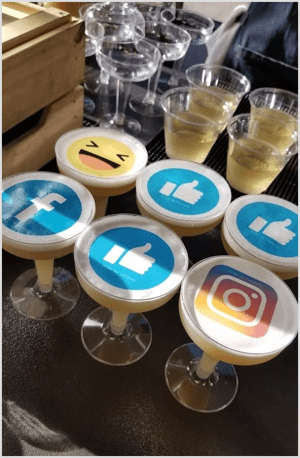 Cross-Promote Your Nametag on Your Social Channels and Blog
Promote your nametag on other social media platforms to capitalize on the audiences you have on those other platforms. Amy Boyle shared the nametag for her @amyboylephoto Instagram account on Twitter and asked her audience there to follow her over on Instagram.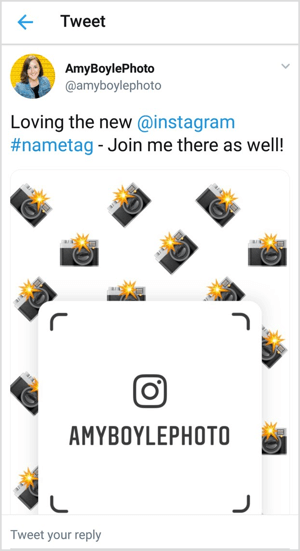 Amanda Robinson with @shewakeboards uses a Facebook Messenger bot to regularly interact with her audience. She's adding her Instagram nametag to her bot to cross-promote and drive more followers to her Instagram account.
Mike Allton at the Social Media Hat has an exit pop-up enabled on his website to encourage site visitors to follow him on Instagram. People on his site are already invested in his content and blog posts, all of which get shared and announced on his Instagram account, so it's a logical fit to follow him on Instagram and find out about new blog posts.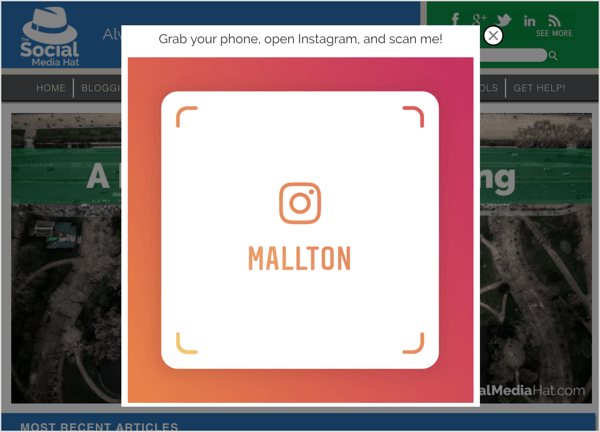 As someone who regularly speaks at conferences and teaches webinars, I plan to include my nametag in slide decks in my presentations. It will make it easier for audience attendees to follow my Instagram account and connect with me after the session is complete.
Conclusion
Instagram nametags are a quick and easy way to let others connect with you. While the end goal on Instagram should never be solely about follower counts, this feature will help you add followers more easily and make connecting with new people more efficient.
What do you think? Are you excited to try out the Nametags feature? Or are you already using nametags for your business? Please share your thoughts or tips in the comments below.