Could influencers bring you more business? Wondering how to incorporate influencers into your marketing strategy?
In this article, you'll discover how your business can benefit from influencers and find tools to help you partner with the right influencers.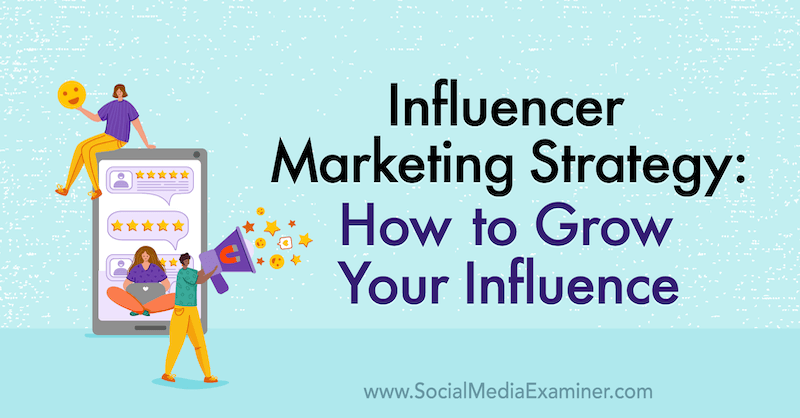 Why Businesses Should Consider Influence Marketing
When the mainstream media talks about influencers, they tend to paint them in a negative light. They think of influencers as the people who take selfies and share photos of their food and extravagant lifestyles to gain followers on social media.
There's a documentary on HBO called Fake Famous where Nick Bilton, the former New York Times technology writer and current contributor to Vanity Fair, did an experiment with three people who wanted to be famous. He bought them followers to see what would happen. One of the three actually stuck with it and started getting brand deals because she had so many followers, which were all paid for.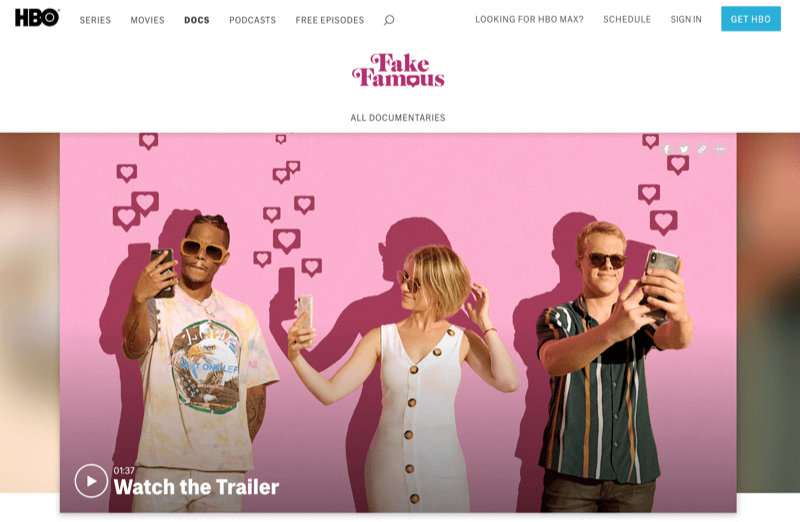 So this kind of focus on one little sliver of the influence marketing world paints it in a negative light. Just the word influencer—and the term influencer marketing—makes businesses think that influencers are superficial people on YouTube and Instagram who aren't going to help them.
To counteract this view, Jason proposes pulling back and taking the R off of the word "influencer" to reframe how we think of it. When you call it "influence marketing," it puts the focus on the action you're trying to accomplish, which is to influence a group of people.
So the question for businesses becomes, "How can I influence this specific audience?" That could be advertising, public relations, traditional media, new media, Instagram, YouTube, political lobbying, community relations, people online, people offline, and so on. All of a sudden, you're looking at driving influence through whatever means will accomplish the goal with the audience you're trying to reach.
There's a huge gap that continues to grow between where people get their information—especially about products and services—and where they used to get their information. According to the 2019 Edelman Trust Barometer, 74% of people surveyed said they don't look at advertisements but 63% said they trust influencers for product recommendations.
You'll find an entire world of influential content creators on Instagram, YouTube, Twitter, and LinkedIn who have cultivated audiences that love, respect, and trust them for their opinions on certain things, particularly products and services within their area of expertise. When these content creators recommend a product or service, their audience takes action.
With online influencers, businesses have an effective and efficient way to get to audiences, especially very niche audiences. You can weed out a large number of people who aren't going to care about your products and services and get to a smaller group who'll care and who trust that influencer for their opinions.
Think of an influential person online who reviews tech products and gadgets. If that person recommends a product their audience hasn't tried personally, their audience might go out and buy that specific model and brand because they trust the influencer's opinion.
#1: Find the Right Kind of Influencer for Your Campaign
An influencer is anyone who can persuade an audience to take action. For example, two people having a conversation about a product in front of you in line at the grocery store may influence your decision, depending on their tone of voice, their body language, and what they look like.
Likewise, someone who has a website and podcast with hundreds of thousands of readers and listeners who trust them for the expertise they provide has influence over that audience.
Beyond the online influencer are celebrities, who are a little different. An online influencer achieves their influence and credibility by intentionally creating content on social media. Celebrities are famous for their skill or notoriety in some other venue. If they have a lot of followers online, they have online influence but that's because of something else, not because of the content they created online.
Now let's look at two different examples of successful influence marketing campaigns.
The first example illustrates how a single influencer with a modest audience can have an impact on a business. When UBS, the financial services company, was looking at opportunities to get the word out about their annuity products, they found Martin Bamford, who worked in finance and hosted a podcast.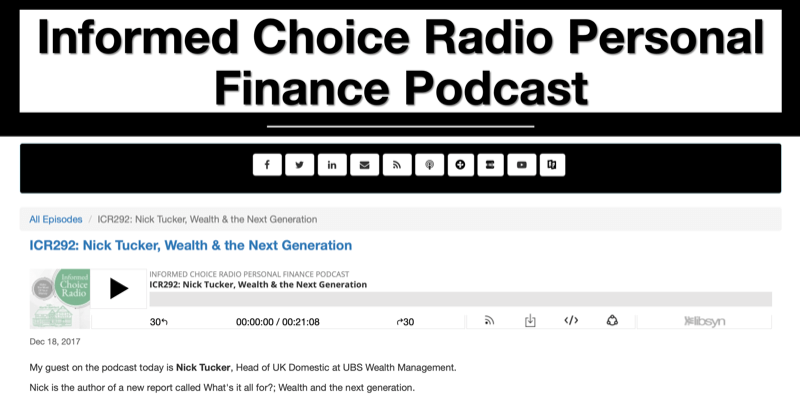 He didn't have a lot of followers on social media but his podcast was getting a few thousand downloads a month. UBS found his audience very appealing because they were interested in financial content for personal financial management.
UBS pitched Martin on hosting one of their executives on his podcast. After that podcast appearance, UBS tracked a 4X increase in leads to their website asking questions about annuities. That was the effect of a single podcast with influence over a hyper-targeted audience interested in that particular type of personal financial product.
The next example illustrates how influence marketing (as opposed to influencer marketing) can come to life. It's the launch of a campaign called We Are Proof for the University of Kentucky HealthCare. Part of the kickoff campaign was a 2-minute brand film that debuted on Facebook. The challenge was how to get maximum organic exposure for the film.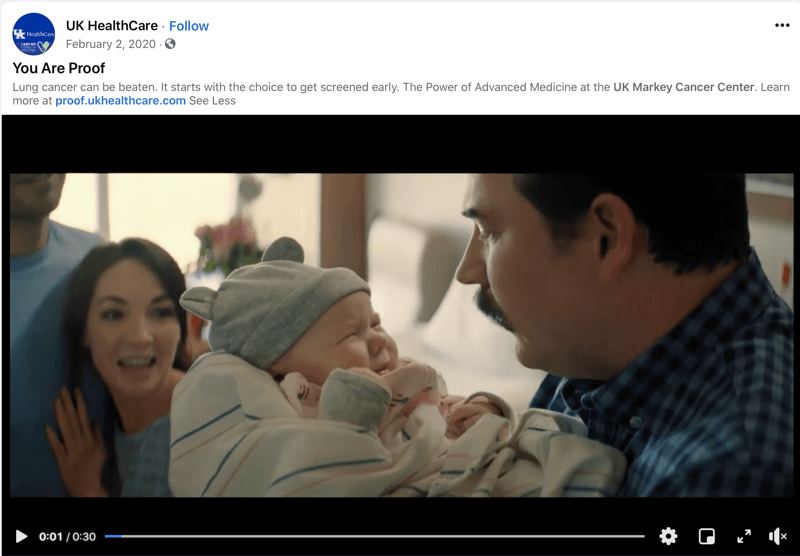 One facet of the strategy was to use online influencers to boost organic reach. But because the geographic footprint was central Kentucky, someone with 150,000 Instagram followers—even if that person happened to be from Lexington, Kentucky—wasn't necessarily going to help the cause. Instead, they opted to go with 43 local influencers who had some degree of an online audience (local shopping influencers, food influencers, and the like).
They also looked at people who had influence over the community offline. This included the mayor, the president of the Urban League, a popular local dentist, and the music director at the local Presbyterian church.
Then to add a layer of influence marketing onto that strategy, they previewed the film the day before release to 10,000 University of Kentucky HealthCare employees and asked for their help in getting the word out.
The strategy was to get all three audiences of people—employees, online influencers, and influential people offline—to like, comment, and share the film and tell their UK HealthCare story to send the right signals to the Facebook algorithm.
Within 24 hours, the video received 40,000 views, and after 30 days, it had more than 800,000. By asking people to share their story, they were also able to capture enough content to develop a micro-site off of the UK HealthCare site for other people to tell their story about their dealings with the brand.
If you're interested in partnering with influencers for your campaigns, start by asking yourself the question, "Who am I trying to influence?"
You need to know your audience intimately. Where do they get their information? Where do they spend time online? Where do they spend time offline? Who influences them?
Find out how your audience learns about products and makes purchase decisions. Maybe a local community group impacts them or a group of online content creators. The answer depends on the topic, your vertical, and your geographic footprint.
Once you understand your audience well enough to know where they get their information and what influences them, you can start to look for influencers who are a potential fit.
#2: Use Online Tools to Find and Connect With Influencers
To find online influencers, there are database tools and solutions that let you search for relevant keywords and get a list of influencers, along with insights that will help you evaluate them. It's just a matter of finding one that fits your budget and needs.
IZEA has an influencer discovery tool that runs $149/month, which makes it more accessible for smaller businesses. They also offer more expensive managed services where you provide a creative brief and they do the work for you.
Upfluence is an influencer marketing platform with a higher price point (contact them for a quote). They also offer a handy free browser plugin that will analyze the performance of an Instagram influencer's profile. Go to the person's profile and click the fly-out tab on the right side of the screen to learn details about their audience and engagement. Note that you're limited to a certain number of profiles per day.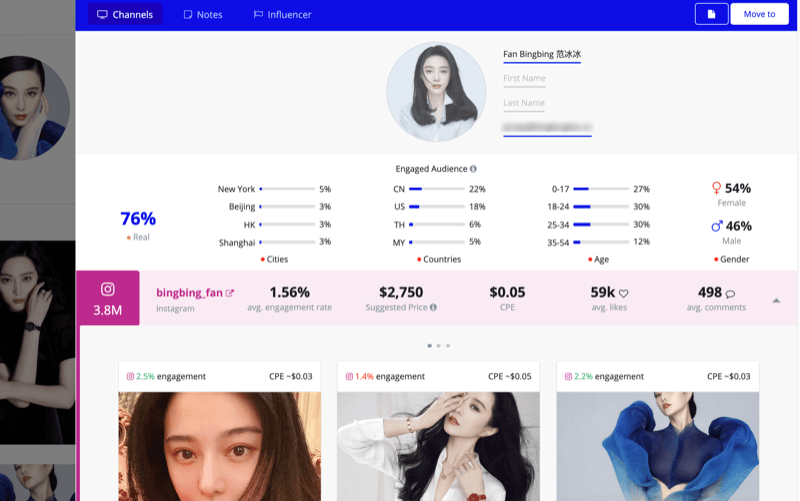 Dovetale offers an extensive database that helps you identify influencers. It runs around $300-$400 per month (contact them for a quote).
When you use software to find online influencers, be aware that the lists they generate are high-level recommendations. You still have to read the influencer's content and assess whether they can actually move your audience to take action. Just because they have a lot of followers doesn't mean they're going to convert a lot of customers.
Look at their sponsored content with other clients. Is it genuine? Motivational? Will it cause people to take action? Or are they just doing it to make sure their mortgage gets paid?
You have to assess and prioritize the influential people you identify from these tools so you can make an informed decision.
Hire a Consultant or Agency
If you're not sure where to start and need help finding influencers, another option is to reach out to a consultant or agency. They'll start with a strategic approach to understanding your audience and knowing what triggers will persuade them to do something. Additionally, they'll help you develop the collateral and creative and manage the outreach and measurement along the way.
If you find a consultant or agency you're interested in working with, ask them about the influence marketing campaigns they've run. What were the goals and results? Also find out how they identify the right influential people to partner with. If they say, "We just wanted to do brand awareness so we found these people with a lot of followers online and paid them to post content with our client's product," and that's as far as they go, look for someone else.
#3: Propose a Partnership With an Influencer
The smaller the influencer's audience, the more likely they are to reach out to you and ask to partner with your brand. Because they're trying to build their business as an online content creator/influencer, they're going to solicit that kind of business.
As they get a little bit bigger, they might stop doing the outreach themselves and wait for brands to come to them.
Then when they get to a certain point (generally 150,000+ followers on any given social network), management firms will approach them to handle the business end of things so they can just create. Brands that want to partner with them will be doing the outreach because they covet the size of their audience.
Whether you're approached by an influencer or you approach an influencer for a potential partnership, you need to know that the money you're going to invest will bring some success.
It's important to know your goals, the metrics you care about, and what you want to do. The influencer then needs to demonstrate to you that they can move the needle. Ask them to provide some proof points from previous similar engagements. You need to have confidence that your results are going to be worth the money.
There are plenty of people who are trying to be influential but don't really have the engagement level to persuade their audience to actually take action. So when you look at their previous engagements with brands and the things they've done with their audiences, you can see which ones drive action and which ones just post and hope.
#4: Measure Your Influencer Marketing Results
As with any type of marketing, you have to plan to measure your influence marketing performance. When you're starting to build your strategy, define your goals and determine how you're going to capture information that tells you that you're getting close to accomplishing that goal or making progress along that continuum.
Your goal might be to drive foot traffic, generate sales, get leads, raise awareness, or change your reputation. How are you going to measure that? Start by establishing a benchmark. What are your sales now? What's your reputation now? How many leads are you getting now?
This is especially important for branding, awareness, and reputation goals. You'll want to do surveys, Net Promoter Scores, and maybe some social listening to see how many people are talking about you now. That way, when you measure it again down the line, you'll be able to compare the number of people talking about you to know if it's working.
There are lots of key performance indicators (KPIs) out there. If you're measuring branding and awareness, for instance, your key performance indicators are your reach, impressions, video views, maybe the engagement numbers on social posts, and so forth.
But there will also be one performance indicator that you care about above all others. If it's a branding and awareness play, it would be how many more people are aware of your business at the end than at the beginning. You might measure that by surveys, social listening, and other methods.
The rest of the KPIs indicate whether you're doing well or what your progress is toward that goal. Ultimately, the number of comments you drive doesn't matter if more people aren't aware of who you are.
Other Notes From This Episode
What do you think? Have you considered using influencers in your marketing strategy? Share your thoughts in the comments below.