Want to get your product in front of TikTok's growing audience? Wondering how to partner with influential creators on TikTok?
In this article, you'll discover tips and tools to set up and analyze a TikTok influencer marketing campaign.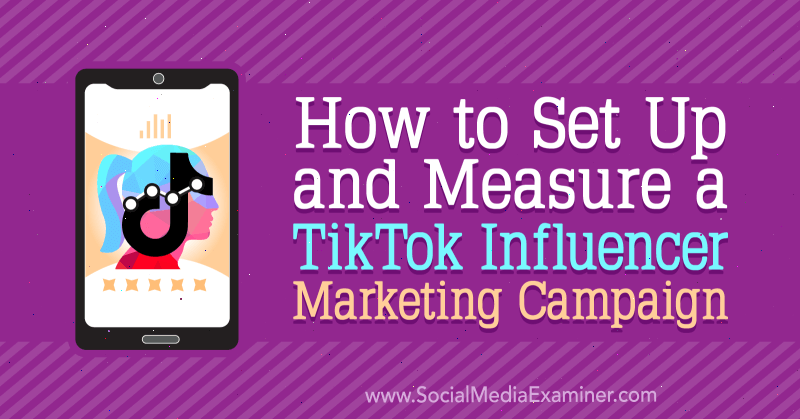 How TikTok Influencer Campaigns Work
While still in its infancy, TikTok has become ripe for businesses interested in partnering with influencers. With tools like the TikTok Creator Marketplace, you can easily source suitable influencer partnerships to promote sponsored content.
Although content on TikTok has the potential to reach millions of users, the dynamic of building a successful influencer campaign requires a higher level of strategic planning in comparison to platforms like Instagram or Facebook.
When partnering with an influencer on Instagram, a content strategy could often include publishing photos of a product, some additional stories, or perhaps a video of a creator using the product.
On TikTok, however, the objective of a sponsored partnership is to partner with one influencer, then drive more engagement from the community of creators as a whole. TikTok influencer posts will often promote a product while also encouraging the rest of the community to join in the experience.
To visualize this, when retail stores closed in early 2020, Levi's turned to TikTok as a way to drive traffic to their eCommerce site. By partnering with popular creators, they successfully promoted their new line of customized denim products. As a result of this creator collaboration, the brand doubled their website traffic to these product pages.
When the audience of an influencer actively participates in a promoted challenge, they too become a part of the influencer campaign, promoting this content to their own audiences. No other platform has the framework to create viral engagement like TikTok does.
Now we'll look at how to set up a TikTok influencer campaign.
#1: Choose a TikTok Influencer Campaign Type
Before your business begins sourcing TikTok influencer partnerships, it's important to understand the different TikTok campaigns you can create through these collaborations.
TikTok Challenges
Some of the most popular videos across TikTok are user-generated challenges. TikTok challenges are a fast way to gain viral traction as millions of users actively participate by recreating an original video.
When an influencer creates a branded challenge, it should include a dedicated hashtag, allowing users to label and follow each submission. TikTok displays a list of trending hashtags on the Discover page so these challenges are organically promoted within the community.
The Conference You've Been Waiting For
As a small business marketer, you can probably only pick one or two events to attend each year. Get an unbeatable conference experience and expert training at Social Media Marketing World in sunny San Diego, California—from your friends at Social Media Examiner.
🔥 As a valued reader, you can save $750 if you act now! Sale Ends Tuesday! 🔥
CLICK HERE TO LEARN MORE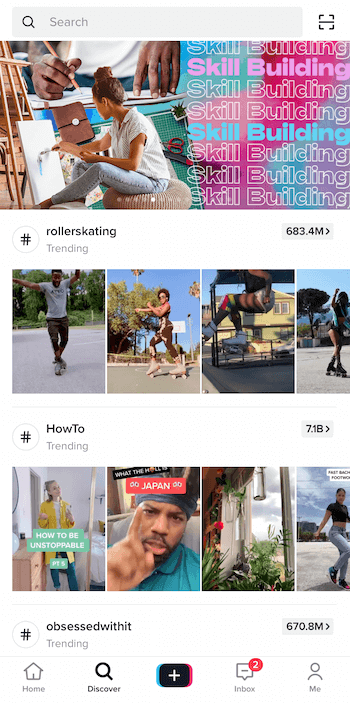 Dances
Similar to hashtag challenges, dance routines are structured to be recreated by each user. These types of posts are powered by a consistent theme song with a catchy hook or rhythm.
Duets
Duets encourage any TikTok user to directly collaborate with an existing post by creating a side-by-side video with an original piece of content. You can think of these like reaction videos on YouTube, only they can be used in all sorts of creative ways.
Like all influencer marketing campaigns, it's important to work closely with creators to develop a content strategy that's consistent with their existing profile. When a TikTok influencer's content resonates with their audience, the post will often result in higher engagement rates.
#2: Use TikTok's Creator Marketplace to Identify Possible Influencer Partners
Once you've developed an initial content strategy for your branded TikTok influencer campaign, it's time to start searching for suitable influencers to partner with.
With TikTok's Creator Marketplace now available in early access, you can seamlessly search for and collaborate with suitable influencers for your business. If you're interested in sourcing influencers for a campaign, you can request access to the platform.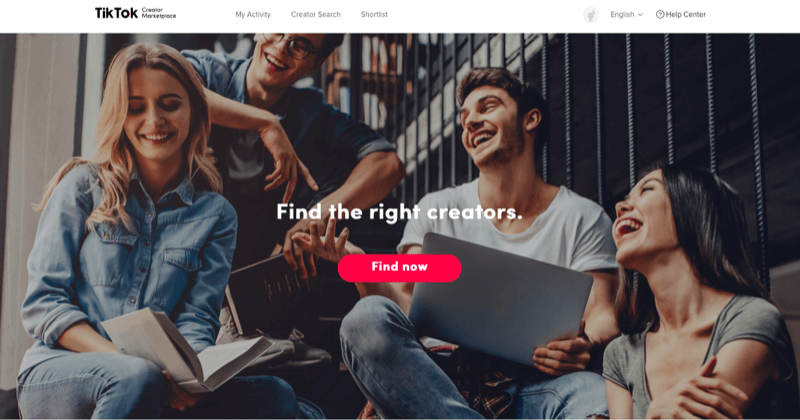 Once you're granted access to the marketplace, it's time to begin searching through the catalog of potential TikTok creators. Using the available search filters, you can uncover data about a creator's profile and the demographics of their audience.
When starting your search, there are myriad filters to help you find the most suitable creator for your needs.
Creator Data
These filters will help you refine your search based on the creator's profile.
Country: This is the country in which the influencer is based.
Topic: This is the category of content that a creator publishes. Because TikTok's platform is capable of identifying the context and objects within a video, it allows the Creator Marketplace to accurately segment creators into content categories.
Reach: The reach measurement is a representation of a creator's total follower count. Remember that unlike existing social platforms, the true potential reach of a creator's content is often far beyond their own audience. If a piece of content is featured on the For You page, the content can quickly be distributed to an audience of millions.
Average Views: This is a useful metric to understand a historical benchmark of a creator's previous content. Because follower count is often not the best representation of a creator's potential reach, this data point can help forecast the future performance of a piece of content.

Audience Data
Selecting a TikTok influencer whose audience is best aligned to your target users can yield the highest performance results throughout an influencer campaign.
You can use these filters to refine your creator search based on available audience data.
Country or region: Filter your search based on where the majority of a creator's audience is based. Although a creator might live in the U.S., their audience could be based in the UK. So if your business is only interested in targeting users in the U.S., this creator wouldn't be suitable.
Gender and age: These filters allow you to refine your search based on the average demographics of the creator's audience. This is important for ensuring your brand reaches the users who are most likely to engage with your sponsored product.
Pro Tip: You can add a filter to this gender search field to customize what percentage of an audience is a specific gender. This would be useful if you'd like to partner with a creator whose audience is greater than 50% female, for instance.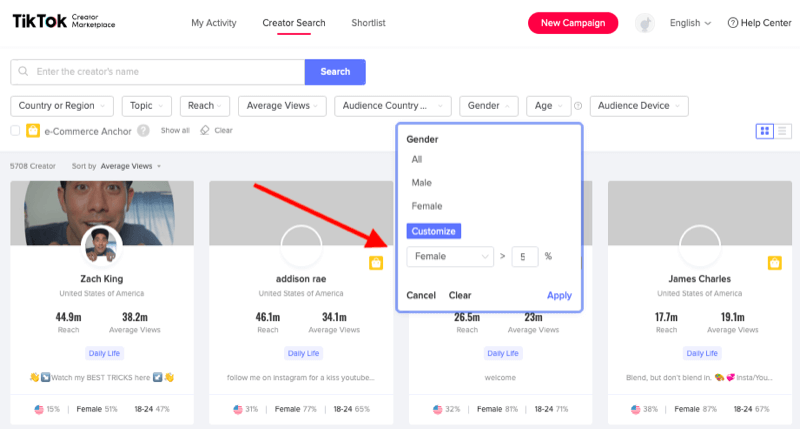 Devices: This filter allows you to search by audiences that use a specific operating system (Android or iOS). This would be helpful if you're promoting an ad for app downloads or even a podcast. Again, you can add minimum and maximum filters to this search criterion.
eCommerce anchor: As TikTok continues to introduce eCommerce features for sponsored content, this filter allows you to identify which creators have access to these shoppable features. These features will be essential for eCommerce brands looking to drive product purchases through their influencer partnerships.

#3: Evaluate Individual TikTok Influencers in the Creator Marketplace
Once you've created an initial search using the available filters, the marketplace will display a list of creators who meet your selected criteria.
At first glance, each creator tile will display a view of their top-line metrics, including their country, reach, average views, and audience breakdown by gender.

When you click through to an individual creator's profile, you'll see a full dashboard of their core metrics, allowing you to glean more insights from their profile performance data. It's important to note that these metrics are an average of the creator's last 30 videos.
This data includes:
Total views
Likes
Comments
Shares
Average engagement rate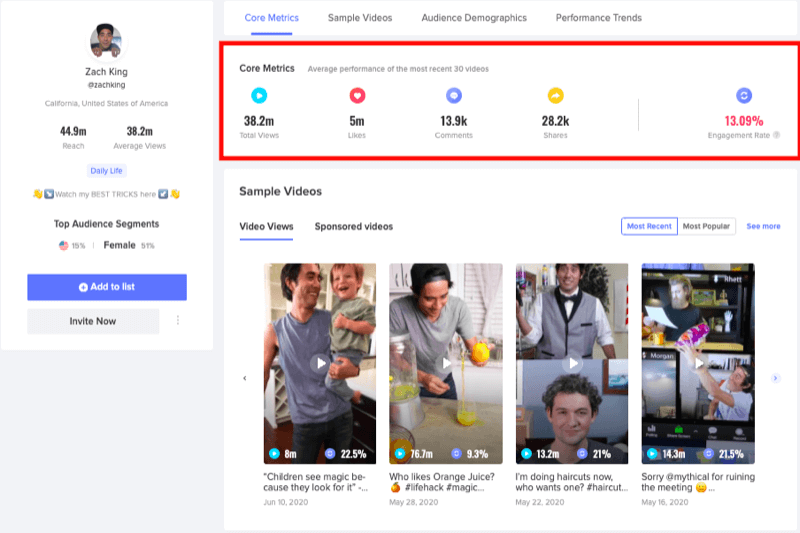 Below these core metrics, the creator's profile displays a grid of sample videos from their most recent uploads. You can filter these videos to display any previous sponsored videos the creator has published. As a business, this allows you to review the quality of those sponsored videos.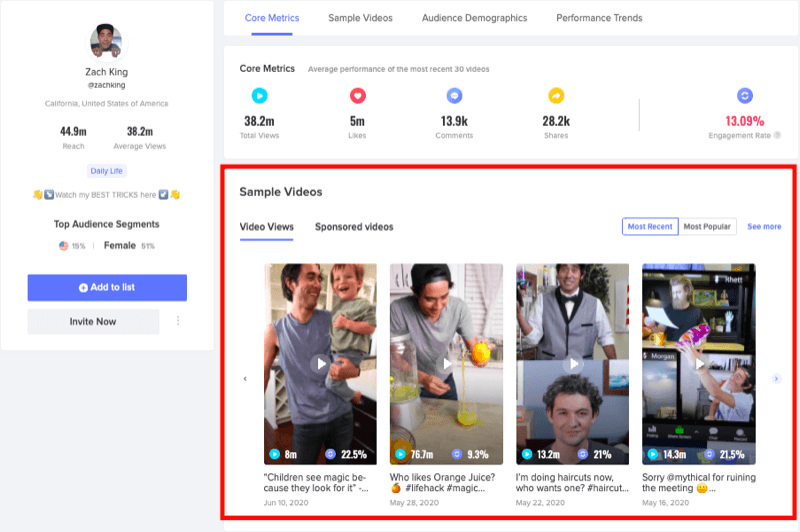 Attention Agency Owners, Brand Marketers, and Consultants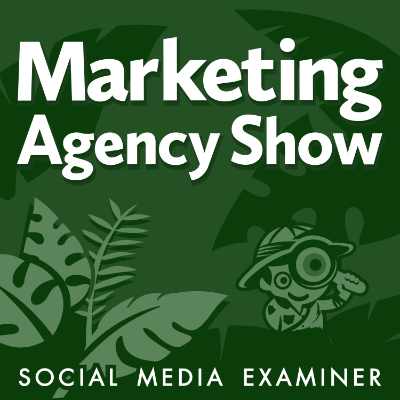 Introducing the Marketing Agency Show–our newest podcast designed to explore the struggles of agency marketers.

Join show host and agency owner, Brooke Sellas, as she interviews agency marketers and digs deep into their biggest challenges. Explore topics like navigating rough economic times, leveraging AI, service diversification, client acquisition, and much more.

Just pull up your favorite podcast app, search for Marketing Agency Show and start listening. Or click the button below for more information.
CLICK HERE FOR THE DETAILS
Below this list of videos, you can see a full breakdown of the creator's audience insights. This data is displayed through a series of engaging visualizations, making it easy to uncover meaningful insights.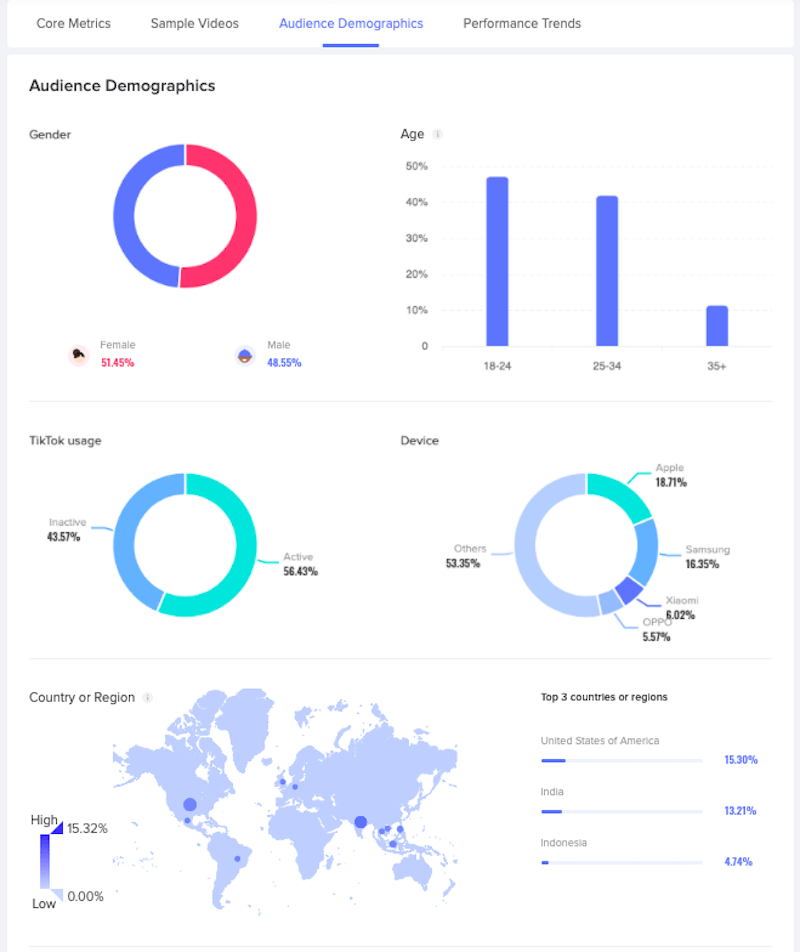 One of the core data points that I strongly recommend analyzing is the measurement of an audience's usage. The usage metric identifies what total percentage of a creator's audience is currently active on the platform. If a creator has a reach of 1 million followers, but the usage of their audience is only 55% active, the potential reach is in fact 550,000.
As a business, it's obviously in your best interest to find influencers with the lowest level of inactive users, allowing your promoted content to reach as many people as possible. This metric also influences the cost of creators throughout any paid partnerships.

Another key visualization is the breakdown of the creator's audience by geographic location. The Creator Marketplace provides two visualizations on each profile—one for a country-level breakdown and another for the top-performing states.
This data can be useful in determining which cities you'd like to target. To illustrate, if your brand owns brick-and-mortar stores in California, Texas, and Florida, it'd be essential to partner with creators who have the largest distribution of their audience across those states.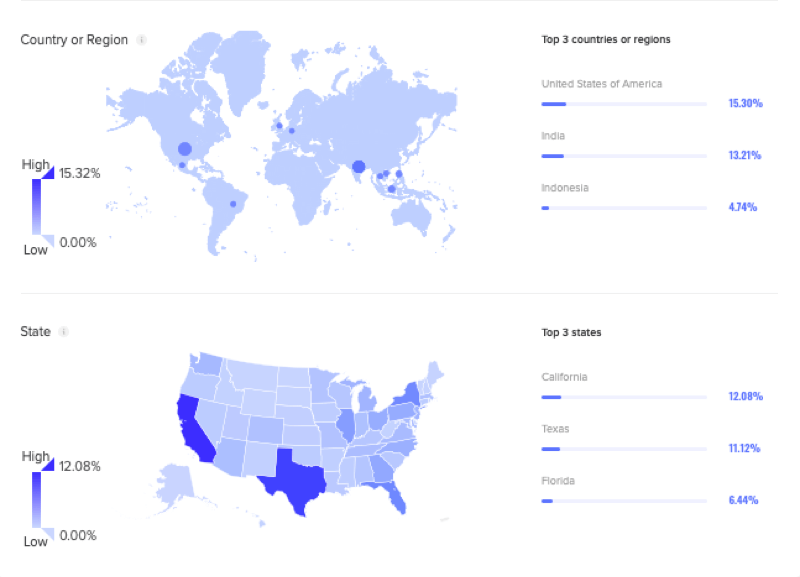 The last key data point I recommend analyzing is the historical view, displaying performance trends across the creator's profile. This data will visualize a graph of the creator's follower count, video views, and engagement rate on a day-by-day timeline.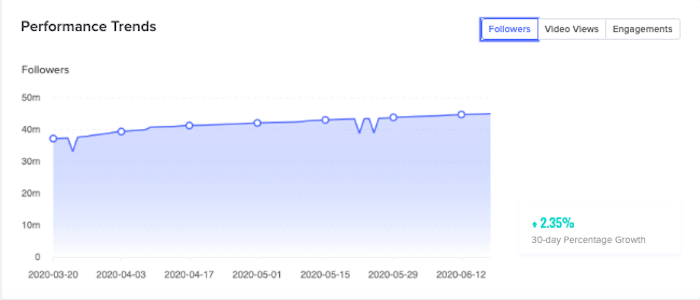 Viewing this data will help you identify creators who have consistently grown their audience over time. Because newly established creators can amass large audiences after publishing a handful of TikTok videos, this data identifies those who have shown long-term engagement.
When a creator has an established profile over a longer period, an audience is more likely to trust them as a thought leader. From a brand perspective, partnering with established creators can result in higher engagement rates because their audience will be more receptive to their sponsored content.
Once you've discovered the perfect influencer for your campaign, you can add that person to a custom shortlist so you can bookmark their profiles for later use.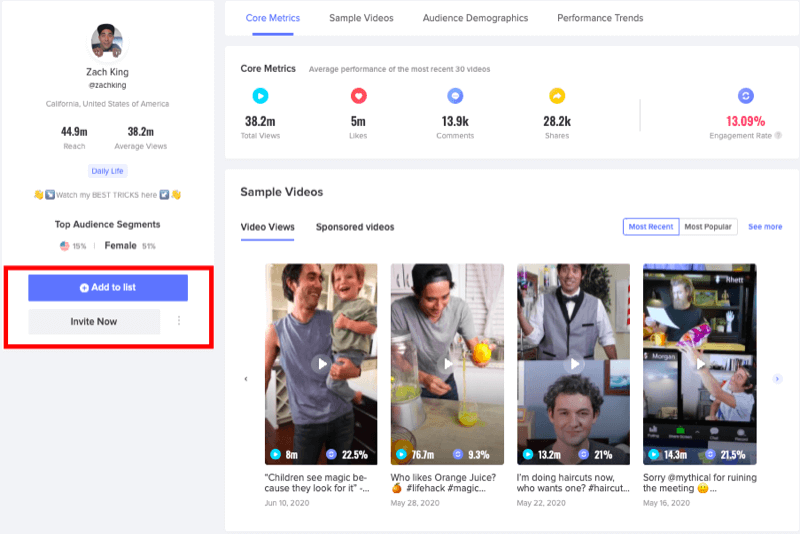 Note: The Creator Marketplace is still in its infancy, so as of this writing, it features some of the most renowned creators across the platform. Because these influencers are often the most popular accounts, some businesses with a smaller budget might have difficulty finding a partnership. If your business is interested in partnering with micro-influencers, the Creator Marketplace may not be the best solution.
#4: Set Up and Run Your TikTok Influencer Campaign With Your Chosen Influencer Partners
Once you've discovered an influencer you'd like to collaborate with, you can create a shortlist and bookmark their profile within this group.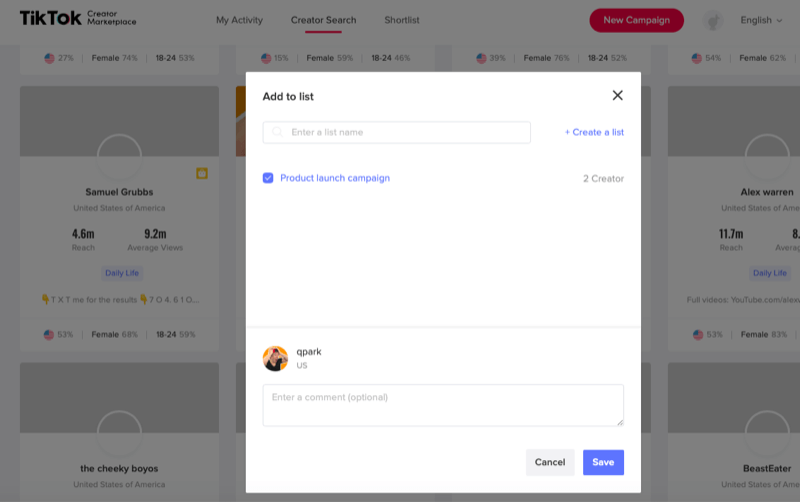 Next, click the New Campaign button to set up the campaign framework itself.
From here, you're required to add the details about your brand and an outline of the campaign including the campaign objective, dates, and a custom message to send to creators. You can even add a custom file to showcase the full campaign summary.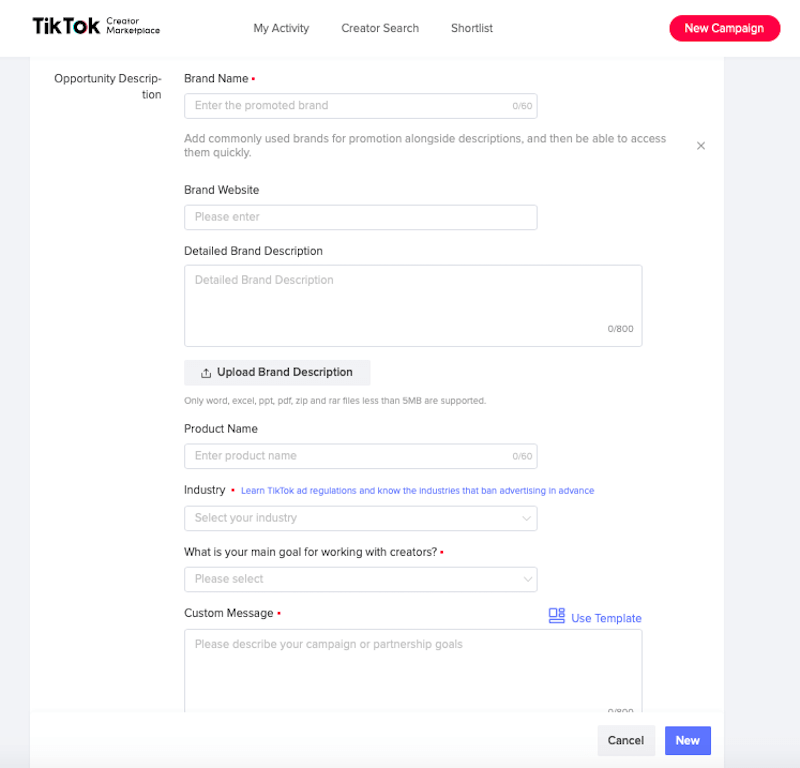 Pro Tip: When outlining a custom message for your campaign outreach, you can use one of TikTok's templates to streamline the onboarding process.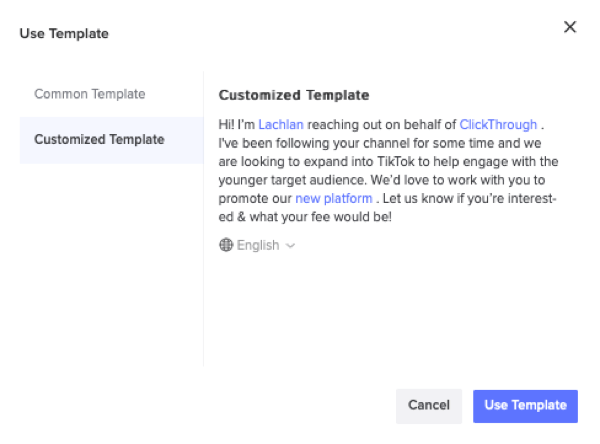 After building the framework of your campaign, select influencers from your saved lists on the right-hand section of the page.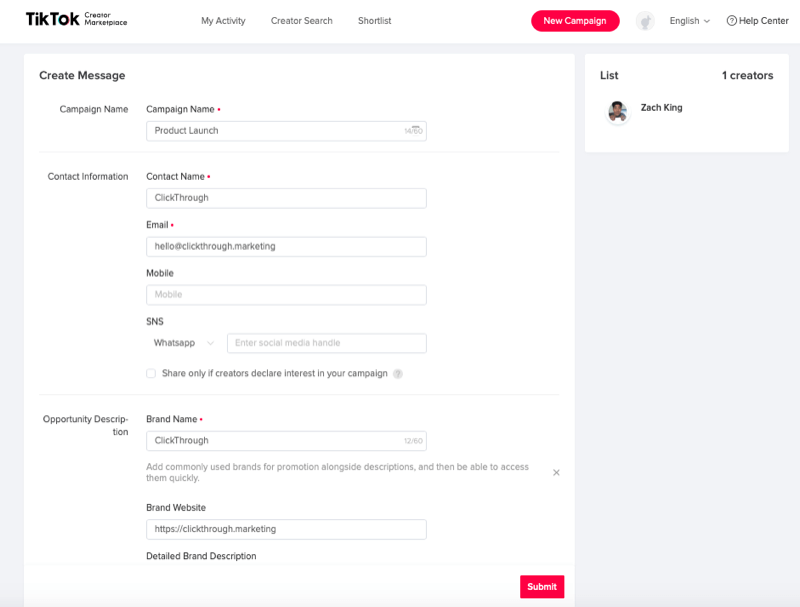 Once you've finalized the details of your campaign and added a complete list of the creators you'd like to partner with, you can submit your campaign. At this point, the shortlisted creators will receive your campaign invite and can choose whether to accept the partnership.
#5: Measure the Performance of Your TikTok Influencer Campaign
If you've discovered a smaller-sized TikTok influencer you'd like to partner with, but they're not yet featured in the Creator Marketplace, it can be difficult to glean any insights about the performance of their account.
As influencer marketing becomes more data-driven, understanding the metrics of an influencer's account will help determine the success of your overall campaign. A third-party tool like Pentos will help you track and measure the performance of any TikTok profile, as well as individual videos, hashtags, and songs.
As a social media marketer, I use Pentos not only to measure the performance of my clients' TikTok content but also monitor the content published by their competitors.
A Pentos pro account starts at €29/month but you can sign up for a 14-day free trial to start monitoring potential influencers right away.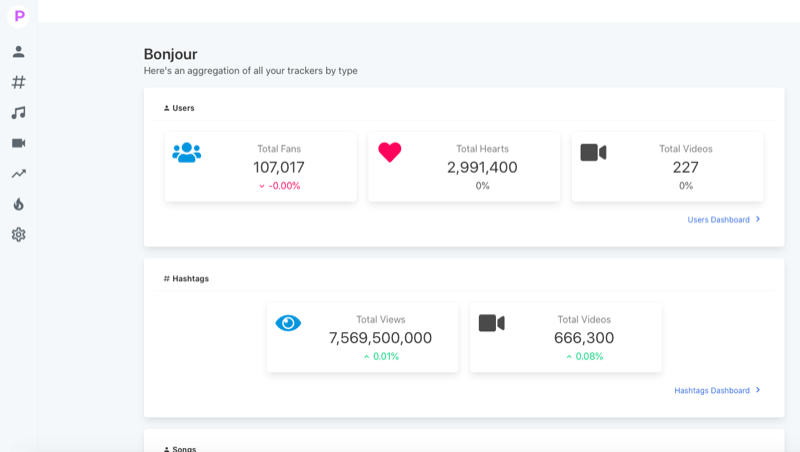 Measure the Performance of Influencer Profiles
Although TikTok's Creator Marketplace is an effective platform for discovering influencers, it still has room for improvement when it comes to the post-campaign performance data it reports. Without direct access to a creator's profile analytics, businesses are restricted to the few insights available under the Reporting tab.
After launching a campaign, I rely on Pentos to aggregate insights from a creator's profile, their videos, and any related music or hashtags associated with the campaign.
After adding any TikTok handle into your Pentos dashboard, you can start recording data on core account metrics, including:
Total followers and new followers
Total account likes and new likes
Total number of video views and new views
Total of accounts the creator follows
Total number of videos published and videos published within the past 7 days

It's also possible to view a breakdown of each account to uncover more useful data, including their:
Average engagement rate
Average comments per post
Average likes
Total comments across their posts
Total shares
Most frequently used hashtags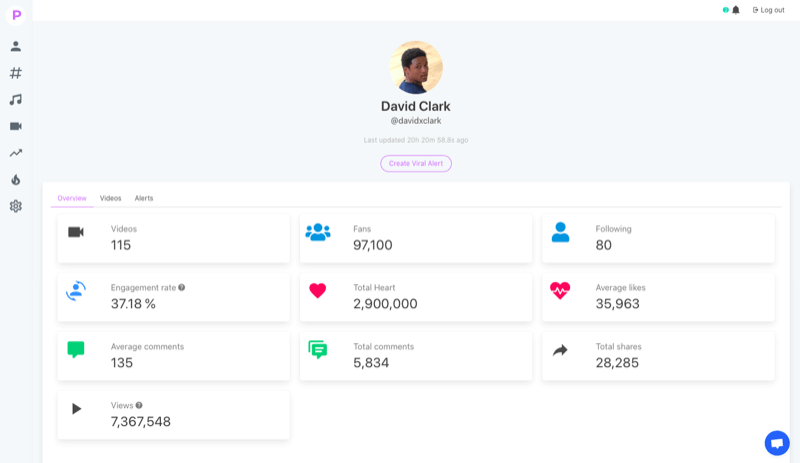 As TikTok's Creator Marketplace only displays core metrics over the most recent 30-day period, I've found Pentos to be more effective at benchmarking averages for metrics across creator accounts.
Measure the Performance of TikTok Influencer Content
Another key benefit of Pentos is its ability to measure data from individual videos. This is perfect for identifying the performance of your sponsored piece of content. By submitting the URL of any TikTok video, you can review all of the same core metrics listed above.

Pentos will even visualize this data in a historical graph, allowing you to identify key dates when a video went viral or started to lose momentum.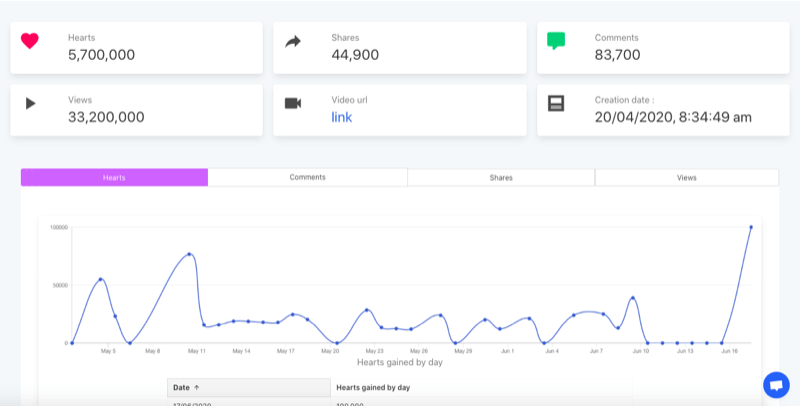 Whenever I stumble across a competitor's TikTok influencer post, I'll always add the URL to my Pentos dashboard. By monitoring these videos, I can start to benchmark any common performance trends. This data becomes helpful when I create a new influencer campaign. At this point, I can analyze what previous videos have performed well and then try to replicate a similar strategy.
Monitor Your Sponsored Hashtag
With hashtag challenges being one of the most powerful ways to gain viral engagement across TikTok, businesses are beginning to partner with influencers to kickstart viral challenges of their own.
Traditionally, it's been difficult to measure the impact of a TikTok influencer's post on an overall hashtag. Because the measurement of success for a hashtag doesn't rely on just one video, it's important to understand how well the whole campaign performed as a result.
The hashtag analytics tool within Pentos empowers you to monitor any sponsored hashtags you follow or create.

Once again, you can dive into each individual hashtag and review the performance data as a timeline series. This will allow you to identify the tangible impact your sponsored influencer posts had on your overall TikTok campaign.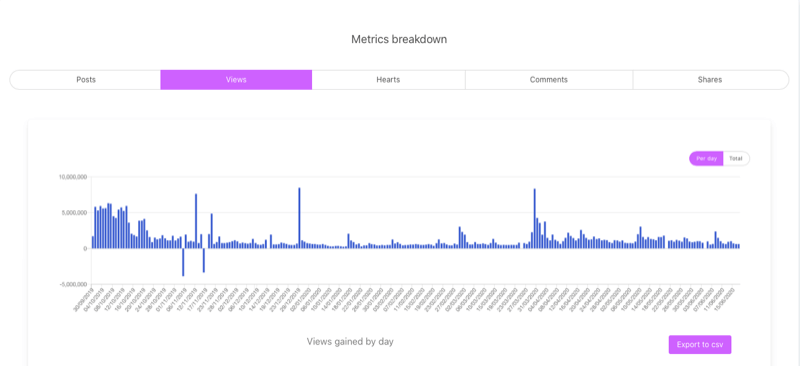 In the past, this data has helped me maintain the overall performance of an influencer campaign, allowing me to identify when additional resources should be allocated.
When I start to see a decline in the performance of a hashtag, I know to start collaborating with another influencer to reboot engagement. This ability to remain agile throughout your TikTok influencer campaign will help you outperform your competitors.
Pro Tip: Pentos lets you export any data into a CSV file. This feature is useful when reporting the performance of an influencer campaign to a client. Whether you're using Data Studio or manual pivot tables, you can easily import this data to create your own branded visualizations.

Conclusion
With the average TikTok engagement rate surpassing Instagram, brands are beginning to prioritize the platform as a valuable tool for building their own audience. Some of the world's most popular brands like Chipotle, Calvin Klein, and Levi's are using TikTok in creative ways to drive viral engagement. While brands are finding success in publishing native content to the platform, they've also found value in partnering with popular creators to leverage their audiences.
There's no denying that TikTok is here to stay, so if your brand is working with influencers, it's more important than ever to start diversifying your strategy to include TikTok. With unprecedented reach, TikTok can be a powerful way not only to drive engagement for your business but also to convert users into customers through its new eCommerce features.
Using both of the tools mentioned in this article, you can easily start sourcing suitable influencers for your brand and then properly attribute the performance of these campaigns.
Like all influencer marketing campaigns, it's essential to build meaningful relationships with creators and include them throughout the campaign process. No one understands the nuances of their audience more than the creators themselves.
What do you think? Have you started working with TikTok influencers? What strategies and tools have worked well for you? Share your thoughts in the comments below.
More articles on TikTok marketing:
3 Days of World-Class Training—Zero Travel!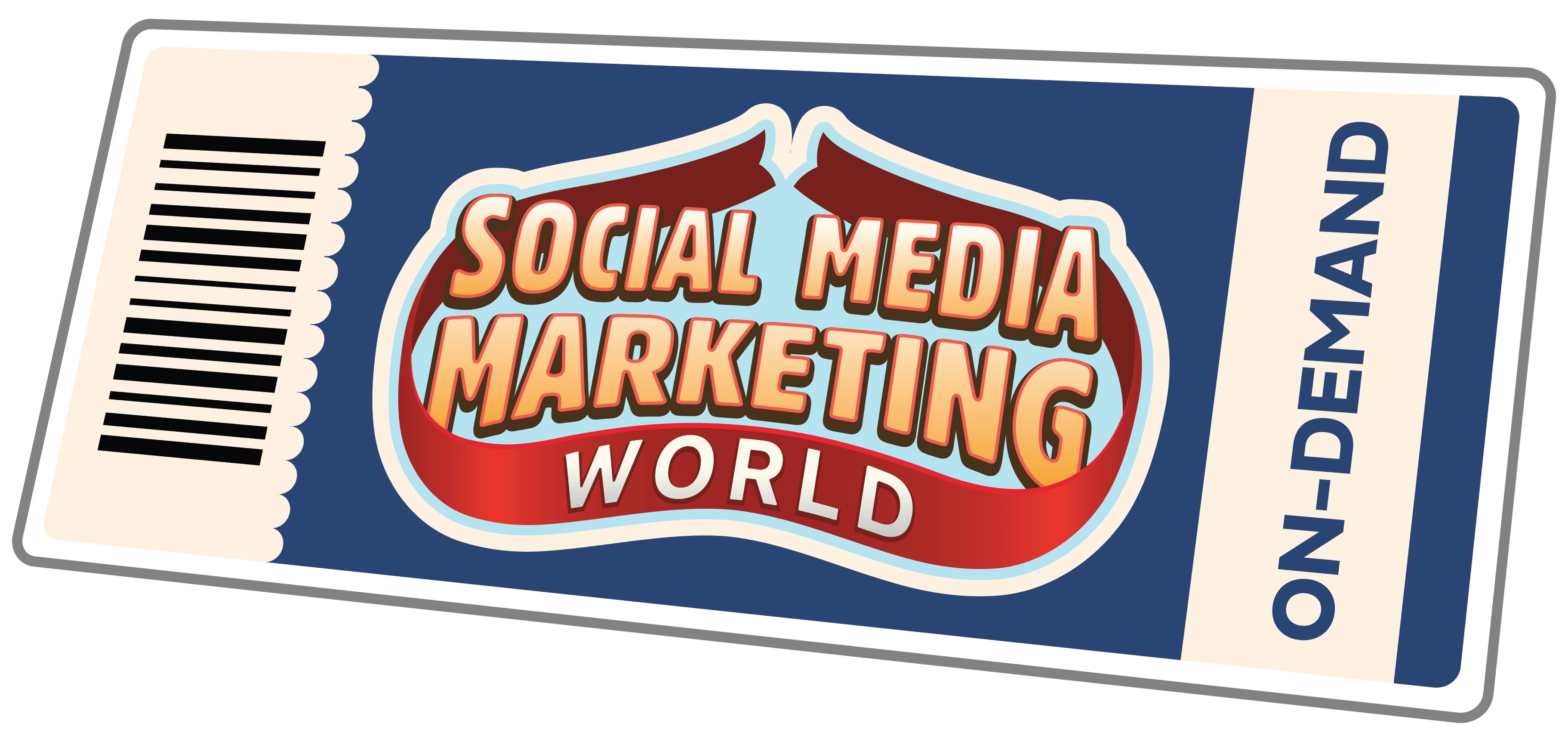 Travel to Social Media Marketing World off the table? Get all of the great content at a fraction of the price with an On-Demand ticket.

That's full access to recordings of every keynote, workshop, and session—the ones people travel thousands of miles to see. Don't wait. Get your On-Demand ticket and enjoy actionable content that you can watch anytime, anywhere.
GET YOUR ON-DEMAND TICKET NOW