Wondering how to sell your products or services on Instagram? Need a better strategy?
In this article, you'll discover a three-step method to improve your sales.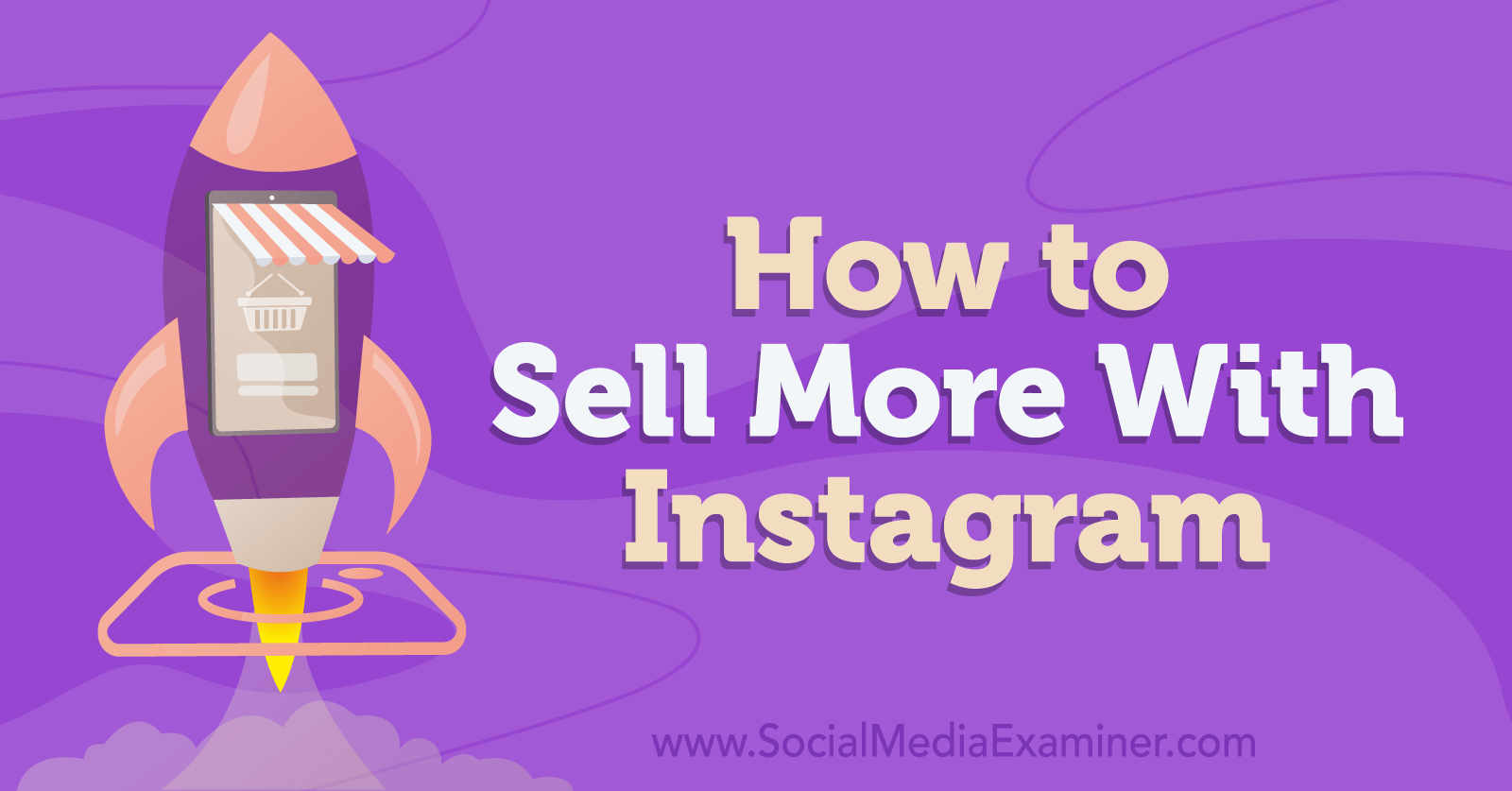 How Selling on Instagram Has Changed
For years, entrepreneurs on Instagram obsessed over how many followers they had.
And there were good reasons for that. Remember the days when you needed 10,000 followers to qualify to use swipe-up links in your stories?
But Instagram has changed and your sales strategies need to change, too. These days, anyone can post stories with swipe-up links. Anyone can access an Instagram business account or creator account. Almost anyone can set up an online store to sell products via an Instagram Shop.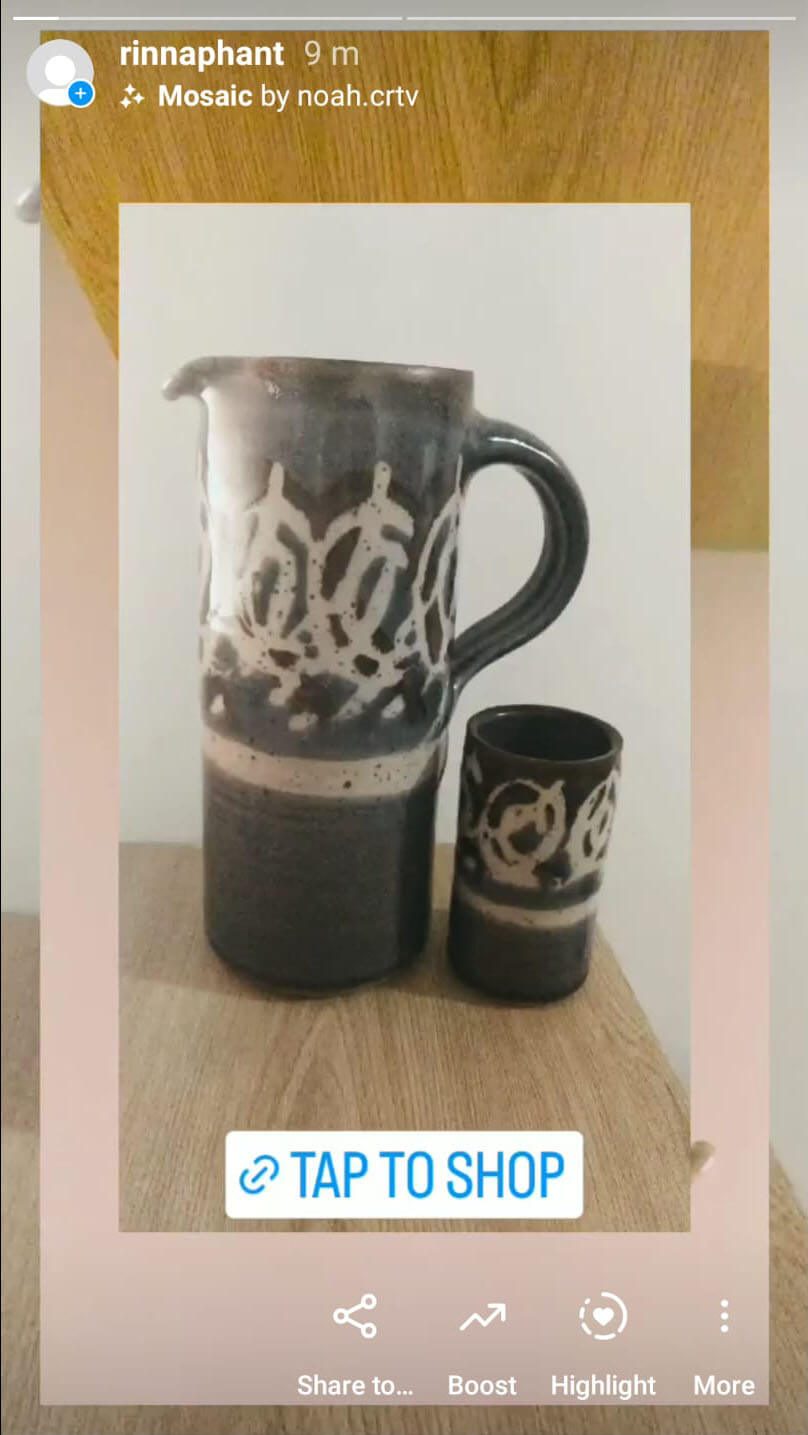 It's no longer about the follower count on your Instagram account; it's about how well you engage with your audience. When you build strong relationships with your most valuable followers, then the sales and conversions follow on.
When entrepreneurs struggle to sell on Instagram, it's usually because they've failed to notice how the platform has changed. Here are the three most common mistakes that sellers make:
Only posting promotional content. If you only ever go for the hard sell, then the Instagram algorithm will downgrade your content, forcing you to pay for Instagram ads. Instead, you can reach a larger audience by posting a mix of educational, social, and promotional content for the Instagram feed.
Sending spam DMs without any personalization. Instagram users have gotten used to changes on the platform, too. These days, they expect personalized messaging and valuable offers. If you can't supply those things, stay out of the DMs.
Never asking for the sale. Some entrepreneurs overcorrect. Instead of promoting too much on Instagram, they never promote at all.
In the next section, we'll discuss a strategy that helps you avoid these mistakes. You'll learn how to ask for the sale while sounding like a real human being, and without getting too commercial.
The secret? Making the right offer, at the right time, to the right person. Here's how to use your Instagram business account to successfully attract and convert people on Instagram shopping.
How to Sell on Instagram Through Instagram Stories
For this strategy, we're going to focus on one specific post format on Instagram: Stories.
Why Stories? Because it's the best medium for building personal, informative connections with your followers.
An Instagram post can reach your followers but they're static and often contain less visual information than stories. Reels are great for reach but they're a better strategy for finding new followers than nurturing the audience you already have.
Stories are the happy medium: entertaining, at the top of the feed, packed with information, and targeted to your followers.
With this strategy, you'll be posting three types of stories:
Stories that identify leads and seed your offers.
Stories that guide leads toward a sale.
Exclusive launches to grow your sales.
But first, a word of caution. This strategy won't convert every single member of your audience into a paying client. It's not supposed to!
Instead, it will help you identify the highest-value followers in your audience. The trick is to sell to people who already want to buy. So, although we'll only look at a small portion of your audience, you can expect them to convert at a very high rate.
#1: How to Sell on Instagram: Identify Leads and Seed Your Offer
The first step in your new Instagram sales strategy is to identify your most valuable customers. Who's really interested in your offer? What content speaks to them?
At this stage, you don't really need to sell at all. You can talk about your products, services, courses, or offers without including any call to action.
For example, one way to "seed" your offers without asking for a sale is to simply ask whether people are interested in a product.
Start by creating a story with a poll that asks your audience if they're interested. Ideally, you'll phrase this as an offer to solve a problem or share something unique. Remember that you're trying to think about what your customers want, not what you want.
Set the poll answers to something like "Yes, more information please!" and "No, thank you."
Next, you can use Instagram's analytics to see who responded to the poll and what they said. Don't worry about anyone who tapped "No, thank you." They've taken themselves out of your pool of leads.
You're going to focus on the people who answered yes. There are two ways to keep track of this audience:
If you follow all of those people, you can add them to your close friends list on Instagram.
Alternatively, you can create collections. Visit each person's profile and go to any of their posts. Tap and hold the bookmark symbol on the post, then add them to a collection for this marketing campaign. Instagram will keep all of those posts in one place so you can look through and remind yourself of the usernames whenever you need to.
The goal here is to create a miniature database within Instagram of all of the people who are interested in a specific product, service, course, or offer. Instagram offers many tools to interact with people so we're going to concentrate on using those in-platform features. We're not going to export contacts or aggressively ask people for more personal information.
Once you have your mini-database of Instagram leads, you'll be able to nurture that audience with targeted content and interactions. Start by replying to their stories, liking their posts, or opening a conversation in the DMs. Over time, the Instagram algorithm will show them more of your content because you're showing evidence of an active relationship.
You can build a similar database by using other interactive stickers on your stories, too. Try sliding polls, quizzes, or questions for a live Q&A. Anyone who responds positively is a hot lead.
You want to keep sourcing more leads like this all the time, creating different collections and databases for specific products and offers. Post this type of interactive content regularly and frequently. Once you have the leads in hand, you can nurture them more gradually as we'll see in the next step.
#2: How to Sell on Instagram: Guide Leads Toward a Sale
Let's say you've collected a list of leads who are interested in one specific offer from your business. Now it's time to guide them toward a sale.
We're still going to focus on using Instagram Stories. Remember, stories are a powerful way to share lots of information with your followers while keeping it fun! They also enable you to target specific interest groups. For example, you can post this lead nurturing content to your close friends only. Alternatively, you can temporarily add all of the members of a collection to your close friends list while you focus on selling the product that interested them.
For this stage of lead nurturing, your stories should follow a simple formula:
The hook. Start with a slide that announces what you're talking about. Once again, you can use a poll or a quiz to set up the topic.
Education and expertise. Next, share three to five slides that explain the problem you're going to solve for your followers, and how you'll tackle it. Tell a story and don't be afraid to get personal. You can record sound, type text, or both for this stage—but remember that many people prefer to watch stories with the sound off.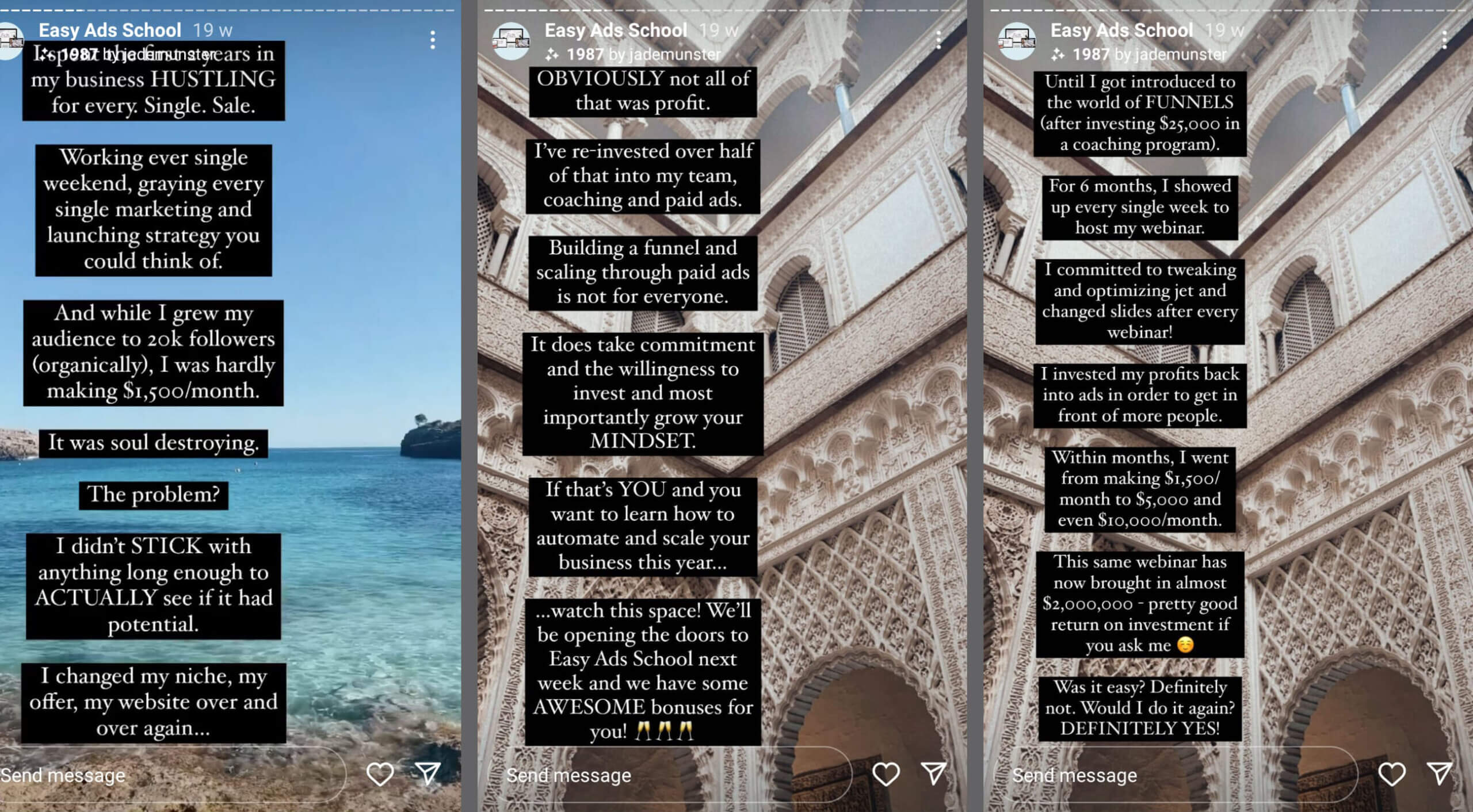 The call to action. It's finally time to sell! But don't worry—you're still going to sell your way. Think of this slide as an invitation, not an ad. Invite your followers to tap a link to shop, sign up, or get more information.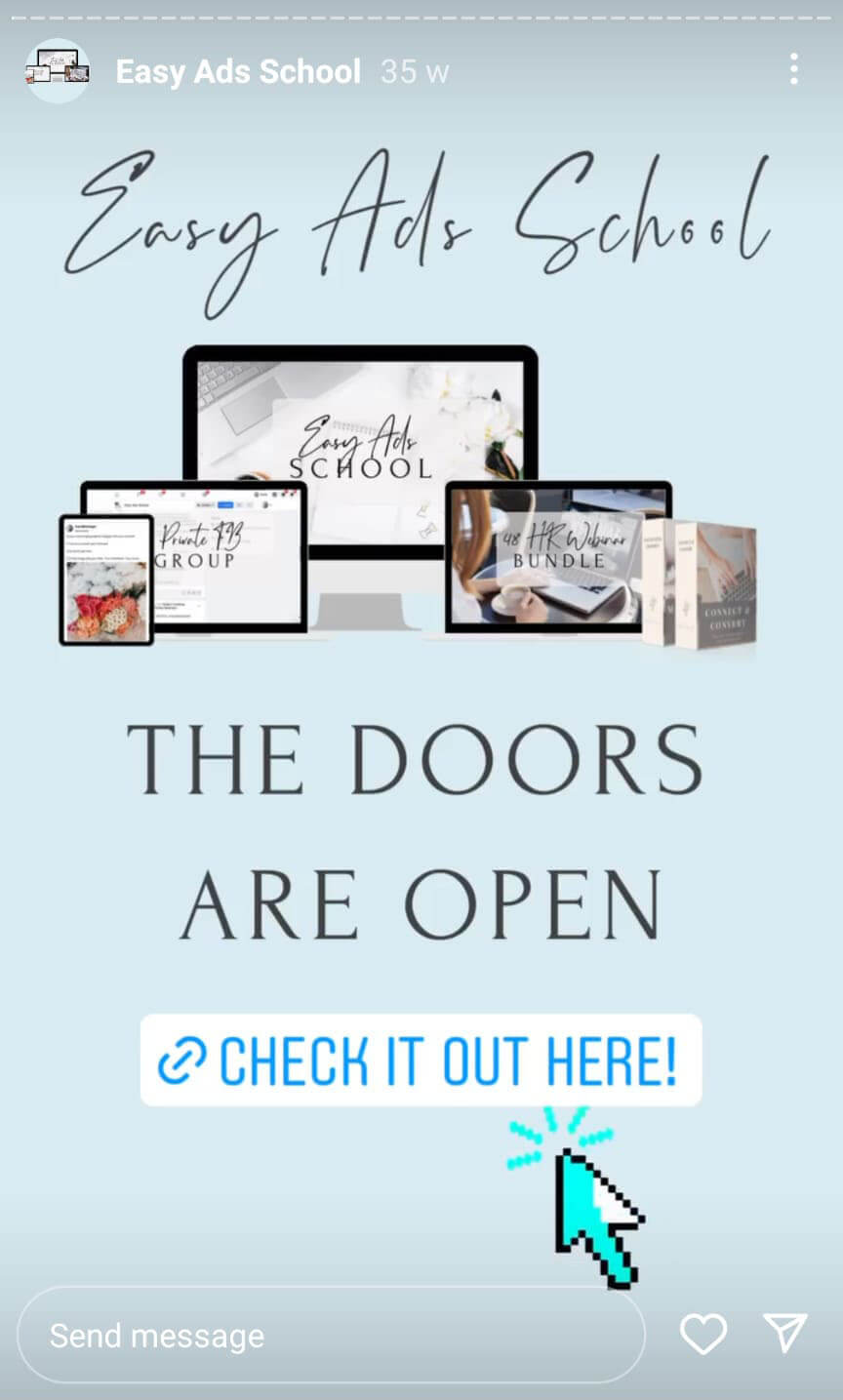 Social proof. Finally, round off the sequence with testimonials, quotes, and screenshots from other contented clients.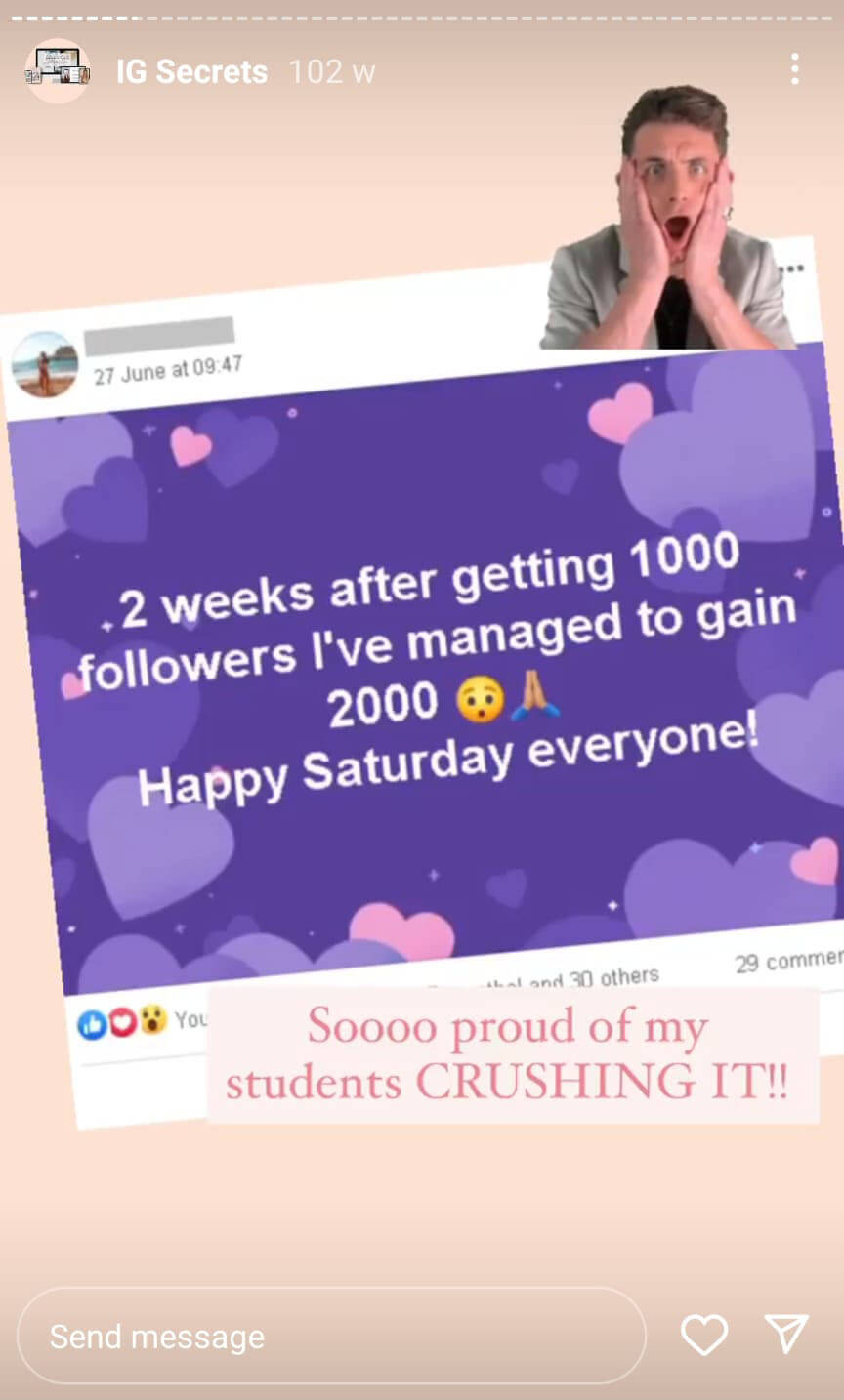 Social proof is one of the most powerful tools you have so you want to collect and use it as much as possible. Start building a "praise album" where you screenshot every positive mention, post, DM, or any other messages you receive. Store all of that social proof to use and reuse over time. And always remember to tag clients when you share their success stories!
This simple formula of hook, education, call to action, and social proof is immensely effective.
Even better: once you've posted this sequence the first time, you can save all of those stories as a highlight on your Instagram profile and use them as evergreen sales content. Believe it or not, new followers really will look through those highlights so you can keep making sales with no effort at all!
To maximize the effect, make sure you include the conversion link on every single story. Yes, your call to action is only one slide but you never know when people will finally make that purchase decision. So it's a good idea to always have the link within reach.
Don't forget that you can customize link text in Instagram now so you don't have to sound salesy. Change the link text to your customer's point of view; for example, "I want to go viral!" or "I want to learn more!"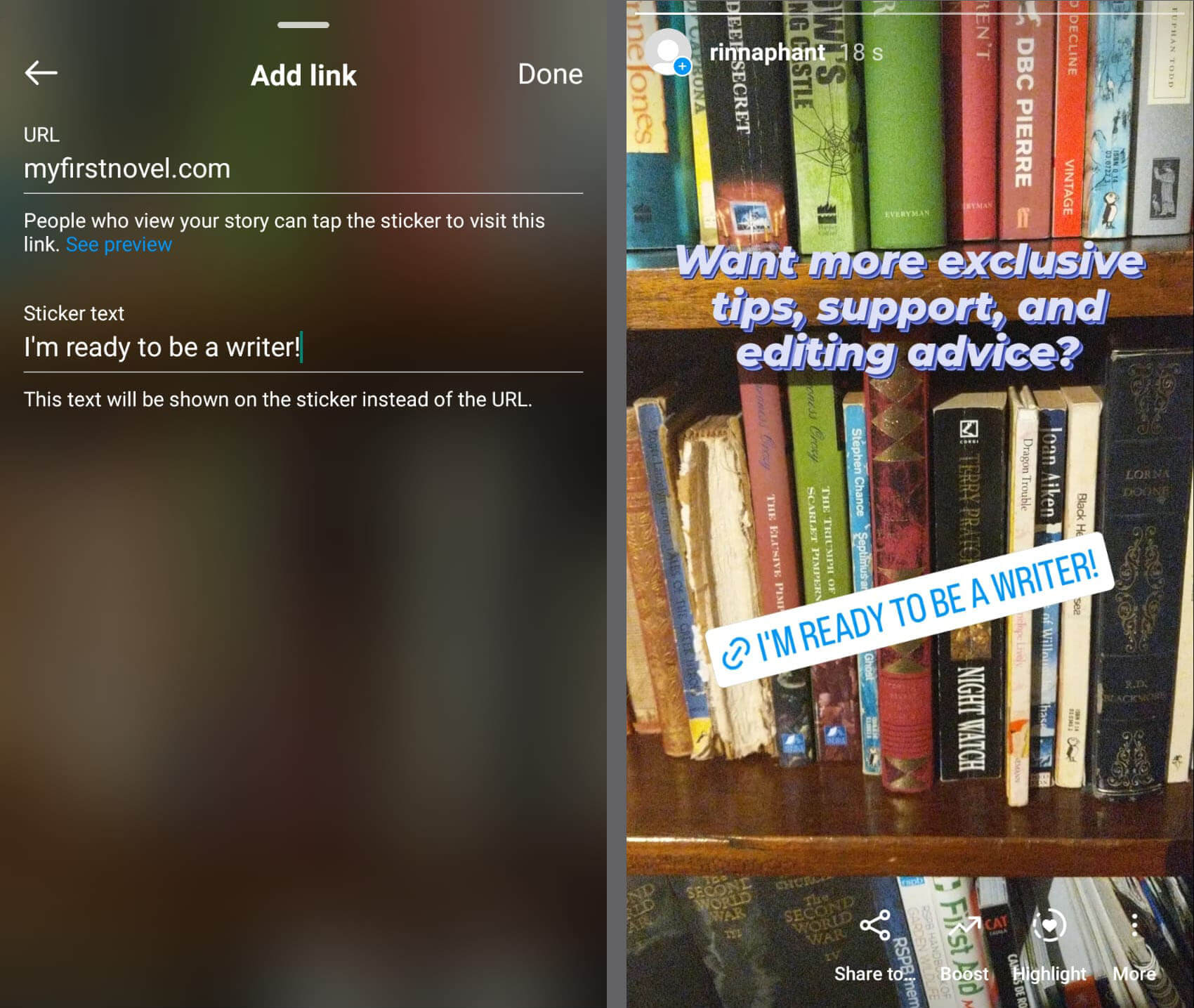 As always with this strategy, the goal is to sound friendly, expert, helpful, and human. You're not trying to be pushy.
That's why you're not going to post this kind of lead nurturing content every day or even every week. A good rule of thumb is to spend 3 weeks collecting new leads, then 1 week focused on encouraging sales. That means 75% of the time, you're not selling, you're just building relationships.
#3: How to Sell on Instagram: Grow Your Sales With Exclusive Launches
The final step in your Instagram sales strategy is a bonus.
You've already learned how to build databases of dedicated followers and nurture them toward a sale.
This final step is an extra tactic to supercharge your sales, using stories and your close friends list. (Remember, you can always temporarily add members of a collection to your close friends list and apply the tactic to any specific product or offer.)
Here's the game plan: for 24 to 72 hours, you promote a very specific offer heavily through your stories. The stories are completely exclusive to your close friends and the offer is extra-tempting. Think limited-time discounts, free gifts, or early access to a new product. This is also a fun, low-risk way to soft-launch new product ideas.
Your stories this time will be different from your regular lead-nurturing story sequences. You don't need to spend so much time showcasing expertise or educating your audience. Instead, for this very brief period, you're going to sell hard. That means calls to action, lots of social proof, and very frequent posts.
To maximize the effect, you can trial the secret launch before it goes live. For example, starting the week before, you could post a series of countdown stories. Tell people to react to the story or DM with a keyword so they can be added to your close friends list in time. Create a sense of scarcity and urgency!
At the same time, you should give people the chance to opt out if they're not interested in the offer at all. For example, you could say, "DM me if you're not interested in hearing more about this amazing opportunity and I'll remove you from my list." The option is there, but rest assured, not many people will take it!
Yes, this tactic is intense. But the whole point is to run the launch only for a short time and use the tactic only occasionally. That way, it keeps all of its impact.
Get Ready to Start Selling on Instagram
By now, you should have some ideas of how you want to nurture leads, target them for specific products and offers, and encourage people toward making a purchase.
The strategy we've shared in this post is manual. You won't be able to automate all of this (although you can always create and share some content in advance). There's a good reason for that.
Building your Instagram sales by hand takes time and effort but it creates an exceptionally loyal and high-value audience. Instead of reaching as many people as possible with a blunt sales message, it focuses on building genuine human connections over time without any third-party tools.
You can execute this entire strategy from your phone. It's low-tech, non-pushy, and creates real trust between you and your audience. It's a route to success on your terms.
Other Notes From This Episode
Where to subscribe: Apple Podcasts | Google Podcasts | Spotify | YouTube Music | YouTube | Amazon Music | RSS
✋🏽 If you enjoyed this episode of the Social Media Marketing podcast, please head over to Apple Podcasts, leave a rating, write a review, and subscribe.
---
Stay Up-to-Date: Get New Marketing Articles Delivered to You!
Don't miss out on upcoming social media marketing insights and strategies! Sign up to receive notifications when we publish new articles on Social Media Examiner. Our expertly crafted content will help you stay ahead of the curve and drive results for your business. Click the link below to sign up now and receive our annual report!