Want a highly engaged LinkedIn following? Looking for tips to spur engagement?
In this article, you'll discover how to cultivate a following on LinkedIn.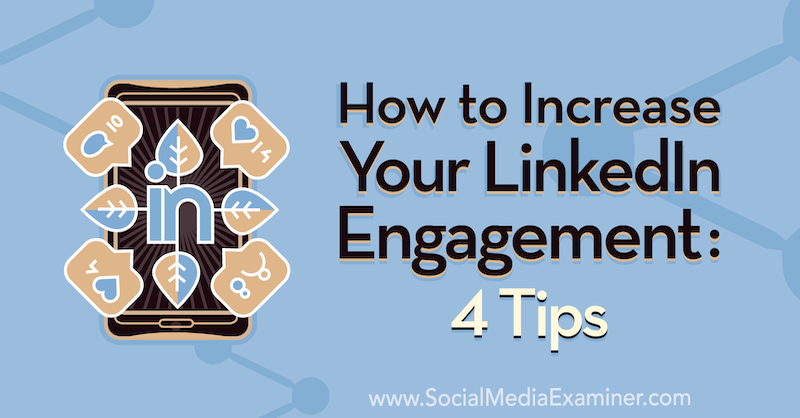 #1: Prepare Key LinkedIn Profile Components to Make a Good First Impression
People see your LinkedIn headline when you share a post, comment on someone else's post, or send an invitation to connect. It's prime real estate on your LinkedIn profile that's worth putting some thought into.
If you want to gain followers on LinkedIn, make sure your headline stands out and shows that you're an expert—and in what. People aren't looking to follow a jack-of-all-trades on LinkedIn. They want to follow experts in the particular area that they're interested in. If you wanted to learn about AI, for instance, you would follow a couple of AI experts, not a general technology expert or tech enthusiast.
Make sure your headline shows your expertise and knowledge in a clear, specific area. Ask yourself, "What one topic or field do I want to share content and gain followers for?" Remember, if you try to appeal to everyone, you'll appeal to no one.
Imagine you're a software project manager who wants to share content and gain followers on the topic of management/leadership. Here's a headline you might use:
Project Manager at Microsoft | Organizational Leadership | Training
If you don't want to include your company name in your headline, you don't need to. Here's a slight variation of the formula above:
Data Science Project Manager | Leadership & Training | Cross-Functional Management
You can also speak directly to your audience and write your headline about how you'll help them. Here's an example:
Confidence Coach | I Help Professionals Build Confidence and Public Speaking Skills in Just 30 Minutes a Day
The headline above not only shows exactly what you do but also includes a specific keyword: "public speaking." Keywords will help you get found and noticed when journalists, bloggers, and other content creators search for experts to feature or interview.
Finally, if you have a website that you want people to find, you can include it in your headline, too (along with some social proof to build more trust/authority). Here's an sample headline:
Health & Nutrition Expert | 15,000+ monthly readers | website.com
Your headline will vary depending on your topic and the type of content you'll be sharing but the formulas above are a good place to start. If in doubt, search for other experts on LinkedIn and see what they're using. There are thousands of great LinkedIn profiles you can take inspiration from—just don't plagiarize!
Along with your headline, make sure you have a professional-looking headshot because this is another part of your profile people will see immediately (even before clicking on you).

Having no LinkedIn profile image is a big red flag because practically every active user has an image. Leaving the gray default image will decrease trust and raise suspicion that you're not a real person. And having a bad image can send the wrong message and make you look unprofessional or untrustworthy. Like with your headline above, browse other LinkedIn profiles to see what looks good.
#2: Develop 4 Post Types for the LinkedIn Feed
Once you've prepared your LinkedIn profile to make a good first impression, you need to decide what to post. Here are four specific types of content you can share for higher engagement on LinkedIn.
Tell a Story
Stories typically capture attention in the feed more effectively than plain facts or tips. Telling stories will get your LinkedIn posts read and shared more, and help readers better understand the advice you're sharing.
Here are a few ideas for stories you can tell:
Share a personal before-and-after story discussing how you used to struggle with something related to your topic or niche and how you overcame it.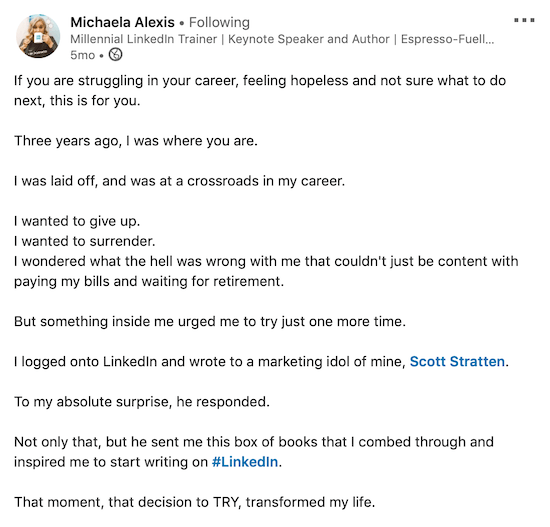 Tell a success story about a student, client, or reader you've helped, following a similar before-and-after format.
Discuss a question a reader sent you and explain how you responded. Instead of just replying to the reader individually via email or LinkedIn message, you turn the main lesson into a public LinkedIn post to help hundreds of others! This is a great way to repurpose content and save time in your content creation.
Facilitate an Unbiased Debate
Another effective type of LinkedIn post is asking an unbiased question to gather opinions. In this case, you serve as the facilitator. To visualize this, if you're a nutrition coach, you might ask a question like this to prompt engagement:
Question: Which meal of the day is the toughest for sticking to a healthy diet and why?
Or you could make a statement and ask your audience for their opinion about it:
Most of my students tell me that dinner is the most difficult meal for sticking to their diet. Do you agree? Why or why not?
Dispel a Myth
Another LinkedIn post approach is to bust a common myth related to your area of expertise. I have a background working as a job recruiter so I use that knowledge to bust myths about the job search process. I recently posted on LinkedIn about how it's a myth that you need to send a cover letter with every job application. Then I went into further detail about when a cover letter is and isn't needed.
People replied and thanked me for saving them time and told me they'd been told the opposite in the past. One person said that this was a huge weight off their shoulders. That's how to get people to remember your name and view you as an expert. If you can give people an "Aha!" moment, they'll remember it.
So think about what insider knowledge or experience you have and then try to come up with a list of common beliefs that are false and holding people back in your industry. Busting myths will give your audience value and help position you as an expert at the same time so it's a win-win for growing your social following.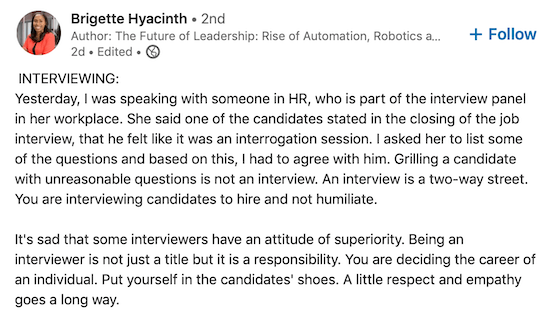 Share Positive Encouragement
Posts with positive sentiment tend to do well on LinkedIn. If you're struggling to come up with content to post each week, share something positive or encouraging. Show empathy for what your audience is going through and give them a morale boost. This can be just as powerful as sharing practical, how-to knowledge—and sometimes more!
I recently shared a post about how job-seekers shouldn't be afraid to take a day off if they're feeling burned out. Posts with positive encouragement like this help break up the pattern of informational posts (so people don't get bored with your content). Also, showing that you've struggled with the same things as your audience makes you more relatable.
Incorporating storytelling in this type of post will make it more engaging. Remember, sharing a story is more interesting and memorable than simply stating a fact like "Everyone gets burned out sometimes."
#3: Format and Optimize LinkedIn Posts to Produce More Clicks and Engagement
Unlike other popular social networks, text posts tend to outperform image posts and video on LinkedIn. You should still test and use both but the majority of my posts this past year have been text-based, not image- or video-based.
When you share a URL to a blog post or article, consider removing the preview image to keep the LinkedIn post entirely text-based, with just a plain link within the text of the post. LinkedIn provides an "X" button to remove the preview image. You'll find it in the top-right corner of the image (circled in red below):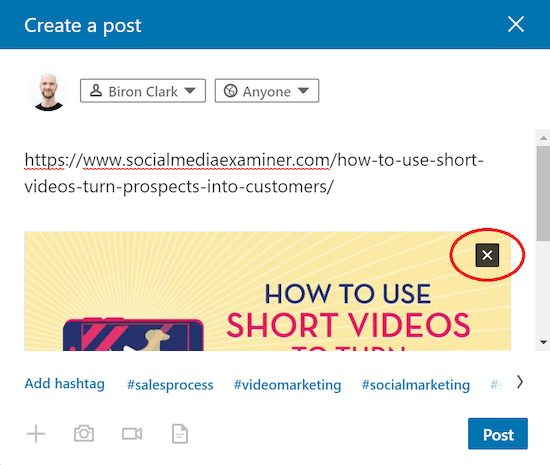 Be sure to test post formatting because every audience and niche is different. You could share an article with the preview image or with just text describing why people should click and read.
Here's another formatting trick: If the purpose of your post is to get clicks to an article, include the link multiple times in your post (midway through and then at the end, for instance), not just once. This is a copywriting tactic primarily used in email marketing to improve your click-through rate and it works well on LinkedIn and other social networks, too.
Make sure your text posts are well-spaced, too. Use only 1–2 sentences per paragraph. Incorporate emojis, symbols, bullets, and other styling to break up the post and keep your audience's attention. I start many of my posts with an emoji like ✅ or ⚠️.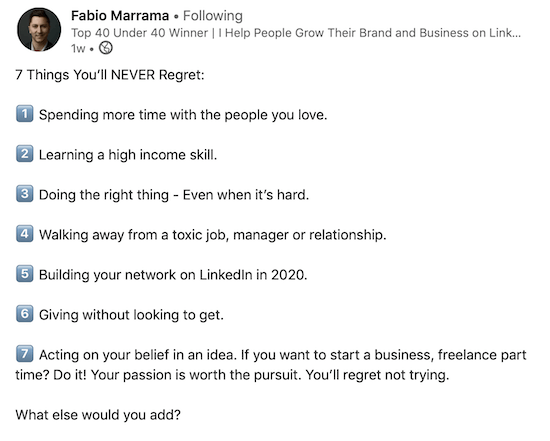 Pro Tip: Choose emojis with colors that aren't part of LinkedIn's interface so your posts will grab more attention at first glance. LinkedIn's dashboard is mostly dark gray, white, and blue, so try to select emojis that are green, yellow, or red.
Include a Call to Action for Better Engagement and Organic Reach on LinkedIn
No matter what you're posting, there's one trick that will almost always get you more engagement and reach: ending your posts with a question or call to action (CTA).
Ask people to respond with what they think, whether they agree or not, and so forth. This tactic will help you get more responses so your post creates a more dynamic discussion, which will get the LinkedIn algorithm to recommend it in more people's news feeds. Plus, whenever someone comments on your post, the post gets shown to some of their connections, too.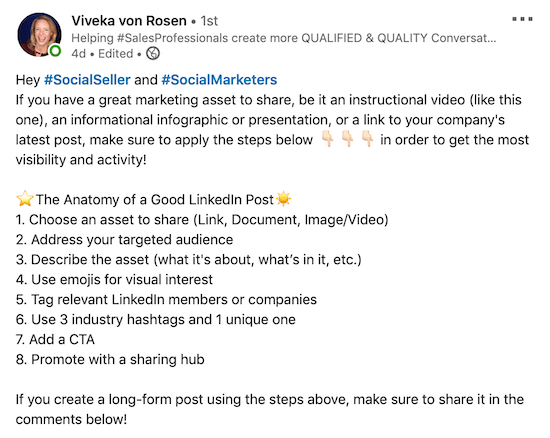 Here are some CTA phrases you can add to the end of your LinkedIn posts:
"Leave a comment below and let me know what you think."
"What do you think? Do you agree or not?"
"Do you agree with this?"
"Do you agree? Leave a comment below and let me know."
#4: Prioritize Replying to Comments on Your LinkedIn Posts to Build on Initial Post Interactions
After you post content on LinkedIn, don't just forget it and move on. You'll get more engagement and organic reach if you come back and reply to comments a couple of hours later. When you do this, people who previously commented on the post will be notified about your response and they'll be more likely to return and continue engaging.
Don't do this right away, though. Wait at least a couple of hours and then reply to a few comments. After 12–24 hours, return and do it again.
If you're starting out, this waiting period is essential because you might not have many comments to reply to overall. If you reply to everything in the first 2 hours, you'll have nothing to keep the post going later.
When you do reply to someone, you can ask them a question, clarify your point (if they had a question or concern), and things like that. You could also thank people for leaving positive comments. If someone says, "Great post," reply by saying, "I'm glad this was helpful. Thanks so much!"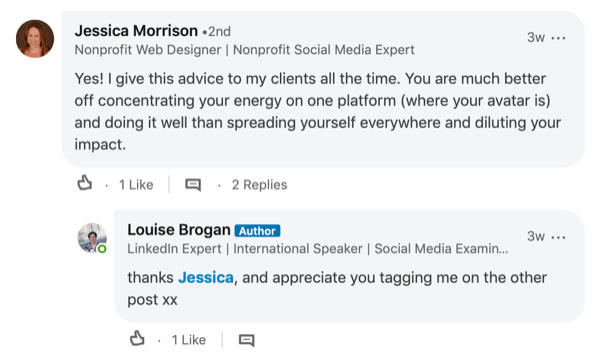 You can also tag people in your comment (by typing the @ symbol before their name) when you reply to make sure they get notified and see your response.
Conclusion
The tactics above work best once you already have an audience and some traction on LinkedIn. But what if you're starting out with practically no followers? Or what if you're posting but not getting the engagement you had hoped for? In that case, there are some other tactics you can use to jump-start your account.
One way to get your account growing faster is to connect with people directly. Direct connections will become followers by default so your posts will get more views as you gain more connections.
To start, you can connect with everyone who comments or engages with your posts. Do the same for those who comment/engage with posts from other experts in your niche. You can also search LinkedIn for relevant groups to join, participate in discussions there, and connect with everyone you talk to or engage with.
For best results, send a customized message when inviting someone to connect. You might say something like, "Hi Ted, I really liked your comment about project management strategies and I wanted to connect here if you're open to it. Cheers!" Or if you're connecting with someone after commenting on their post, you could say, "Hi Susan, I commented on your post about leadership. I really enjoyed it and I wanted to connect here, too, if you're open to it."
If you pick a well-defined niche, optimize your LinkedIn profile to demonstrate authority and trust, and share the types of content discussed in this article, you'll grow your following, boost your engagement, and generate more leads for your business on LinkedIn. If you stay consistent, this can lead to steady growth in followers and business leads, as well as news/media interviews, podcast interviews, and more.
What do you think? Will you try any of these four LinkedIn post types? What types of posts get the most engagement for you on LinkedIn? Share your thoughts in the comments below.
More articles on LinkedIn marketing: