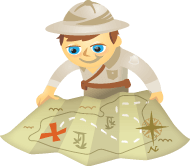 Want to grow your followers without advertising?
Is Twitter working for you?
Investing in organic growth on Twitter takes time, consistency and commitment. But the rewards are more credibility and social proof.
In this article you'll find simple steps to organically grow your Twitter followers.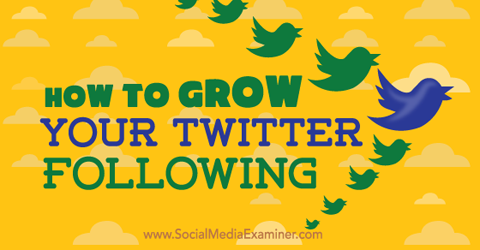 Listen to this article:
Where to subscribe: Apple Podcast | Google Podcasts | Spotify | RSS
#1: Use IFTTT to Curate Twitter Lists Automatically
When you add people to a Twitter list, it signals to them that their tweets are valuable enough to be put in a specific category. People on your lists are likely to reciprocate by following your account.
While adding users to a Twitter list manually takes time, it's getting easier to automate the process thanks to new technology.
Go to the IFTTT website and create an account or login, then connect your Twitter account.
Next, create a recipe that tells your Twitter account that when a new tweet is posted with a hashtag you determine, it should add that user to a new list you create. That's it.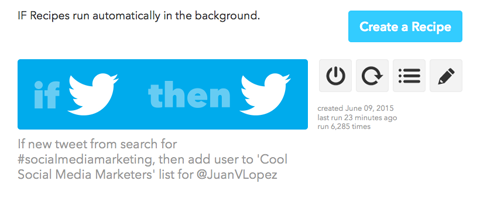 Now, whenever people tweet with the hashtag in your recipe, they will be automatically added to your list.
Some people will follow you immediately. Send out a tweet to thank them. Connect with the others on your list with a tweet, saying that you added them to your list because you find their content valuable.
One more thing: when you're using the automatic method, make sure you follow all of the people you add to your lists.
#2: Stay On-Topic and On-Trend
Twitter users want to view content they're interested in, not the stuff you think is interesting. Do some research to find which topics related to your field are also popular on Twitter.
To find out what's trending, sign into Twitter on your desktop. You'll see the trending hashtags and topics appear on the left-hand side of your page.
The Conference You've Been Waiting For
As a small business marketer, you can probably only pick one or two events to attend each year. Get back into the game with an unbeatable conference experience and expert training at Social Media Marketing World in sunny San Diego, California—from your friends at Social Media Examiner.
🔥🔥 As a valued reader, you can save $400 if you act now! Sale Ends Friday!
CLICK HERE TO LEARN MORE

If appropriate, find ways to contribute to the conversation by tweeting with a trending hashtag. For example, find ways your product or service relates to a holiday.
Now, I'm not saying you should tweet out your latest blog post and include a trending hashtag that is completely unrelated just to get more views. This is a pretty spammy approach.
The goal is not to abandon your brand and jump on whatever shines brightest. It's to take advantage of any widespread trends, news and happenings that are related to your business. Ideally, find something subtle, funny and relatable. When the conversation changes, go with the flow.
Jump on the right trends and you'll increase the visibility of your tweets and ultimately gain followers.
#3: Respond to Tweets From Large Accounts
It's also good practice to reply to tweets posted by accounts with hundreds of thousands or millions of followers.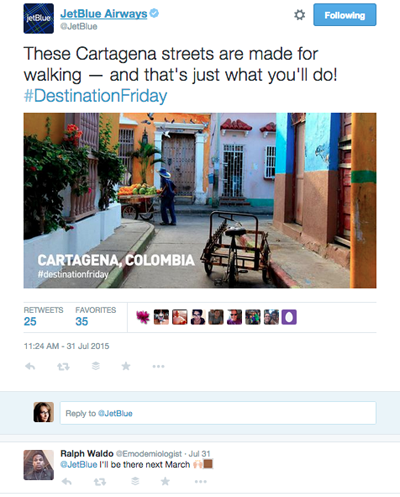 Responding to a giant in your industry is a prime opportunity to engage with bigger crowds. Once you respond, your tweet is attached to their tweet and everyone else can see it.
#4: Thank People Who Engage With You
This should be the golden rule of Twitter: Engage with people when they engage with you.
When people add you to a Twitter list, thank them. When users favorite a tweet you're mentioned in, thank them. When people follow you, thank them. When people retweet you, thank them.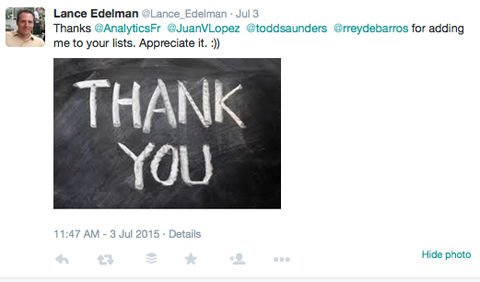 This goes beyond gratitude. Thank and engage with people every single time they engage with you, whether they ask a question, offer a suggestion, mention you at an event, etc.
Not only will this help you keep new followers, it also prompts them to share your stuff even more with their network, thereby increasing your visibility.
People like people who notice them and respond to them. Getting in this habit is a surefire way to organically build an engaged Twitter community.
#5: Tweet Those You Quote
Whether you write a blog post that includes a Twitter user or use a tool like Storify to compile a bunch of tweets, remember to @mention those you include.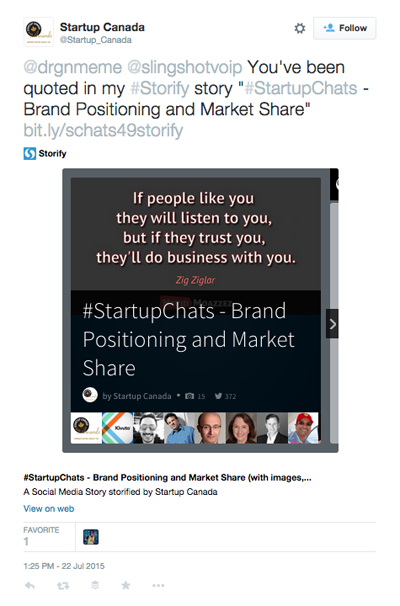 People like to see their names published. Tweet directly to them and tell them about it, since they'll want to read what you said. They will also likely reply, retweet and follow you back.
When you mention and link to users with hundreds of thousands of Twitter followers, they may retweet and respond. This increases your visibility to their audience and could add numbers to your following.
#6: Embed Tweets Into Blog Posts
A great method to increase the visibility of your tweets is to embed them into your blog posts.
For example, write a blog post titled, "6 Mistakes Every Beginning Social Media User Makes." Then, embed some of your own tweets, as well as tweets from other experts, to beef up the content.
To embed a tweet into your blog, simply click the three little dots below the tweet
 on your Twitter desktop version. Then hit Embed Tweet to get the code.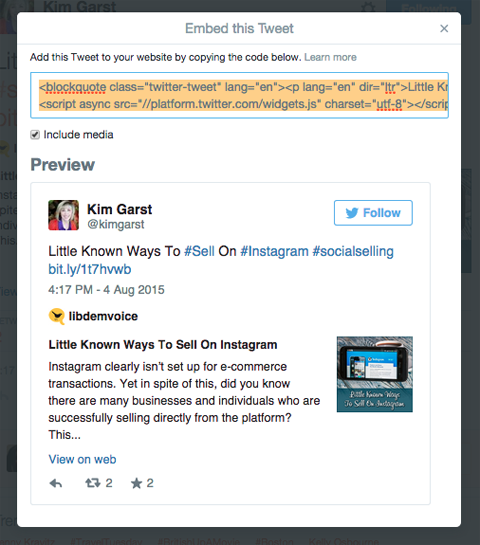 This shows your readers some of your tweets, and gives them examples of what they'll get if they follow you.
#7: Install Twitter Buttons, Widgets and Apps
Visitors to your website will often look for different ways to follow you on social networks, so make sure your website is ready with follow buttons and widgets in prominent places.
If you sell products, give away free downloads or have an email subscribe option on your website, include follow buttons on your thank-you pages.

It's also a good idea to get a Twitter app for your Facebook fan page to show your fans your tweets.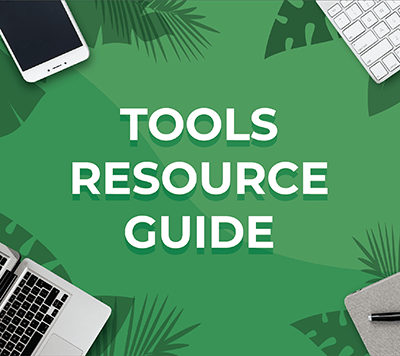 Looking for something to make your life easier?
Discover the tools we recommend to drive engagement, save you time, and boost sales across your entire marketing funnel or business.
Whether you need help planning content, organizing social posts, or developing your strategy, you'll find something for every situation.
FIND YOUR NEXT FAVORITE TOOL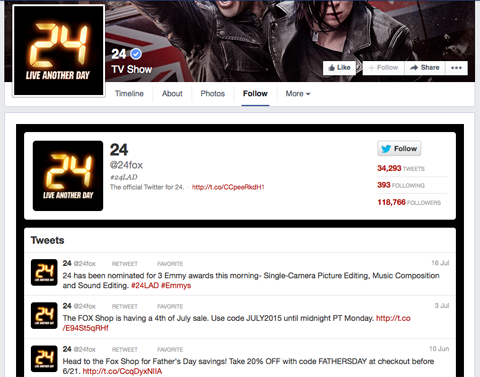 This is a sleek cross-promotion method that gives fans a taste of your tweets and encourages them to follow you.
#8: Host a Follower Giveaway
Give away an item or product you offer to your followers. Simply tell them to follow your account and retweet your giveaway to enter.
Giveaways help bring new followers on board, as well as increase the activity and engagement you have on your account.
#9: Tweet Consistently
Increase your Twitter activity. When your visibility increases, so do your followers.
If you tweet 3 times per day, 3 times per week, jump to 5 times per day, every day of the week. If you're at 10 tweets per day, go to 20.
The idea is to be seen by more eyes throughout the day and the week, increasing your chances of getting noticed and followed. Remember, it's better to be over-seen than under-seen.
That said, according to Internet Live Stats, on average there are more than 9,500 tweets posted every second. It's so easy to get lost in the noise and only outstanding content can cut through it.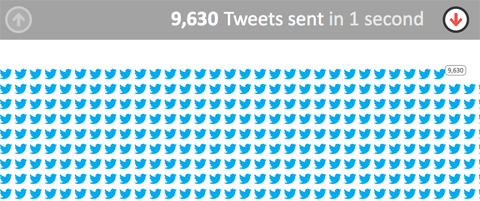 Be mindful to make sure you deliver quality content every single time you tweet.
#10: Include Hashtags in Tweets
When you use hashtags (keywords or phrases related to a specific topic or niche), more people who are interested in the same things as you will see your tweets.
Remember, don't overdo your Twitter hashtags. Add just a few per tweet, so you don't look like you're spamming.
If you're attending a big event with an official hashtag, use it.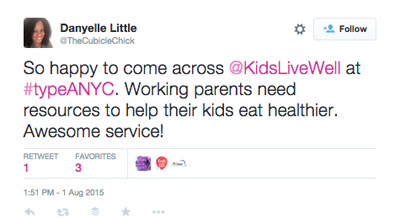 Live-tweet events and be the most insightful, active and valuable hashtag event user. It's sure to get you noticed and followed.
Remember to also connect with, follow, mention and reply to fellow attendees at events. This adds value, increases engagement and keeps the conversation going even after the event is over.
#11: Participate in Twitter Chats
A Twitter chat is a live event that focuses on one subject and is moderated by an individual or brand. People in the chat use a single hashtag and respond to the questions or comments coming from the moderator and/or interviewee.
The reason to get involved in Twitter chats is the same as for many of the other tips in this article: It increases your visibility and gives you the opportunity to share your expertise with new people. (After a while you may want to even host a Twitter chat.)
Interact with other chat attendees and gain more organic followers along the way.
#12: Share Other People's Content
To develop relationships and start the cycle of reciprocity on Twitter, share other people's content. Find blogs that involve your niche and broadcast their posts to your Twitter followers.
Make sure to include the author's Twitter handle, as well as the blog's Twitter account. The author will get a notification you shared the post and is liable to reply, retweet and maybe even follow you.
A good way to find content to share is to create a Feedly account. Search for topics that deal with your brand and pull content from Feedly to post.
#13: Ask Questions
One of the best ways to create engagement on any social media platform is to ask a question.
You could ask something like, "What's the first social media network you check every day?" or "What do you guys think is the next big thing on social media?" and see what kind of response comes in.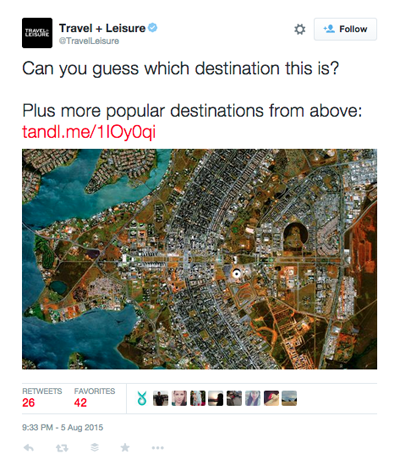 Questions get people talking because everyone loves to share their opinions. It's an excellent way to start a big online conversation.
Remember to engage with and follow the people who respond to your questions.
#14: Promote Your Twitter Handle
People who are connected in one place likely want to follow you on others. Instead of posting to your followers on LinkedIn, Google+, YouTube, Instagram and Pinterest that you are tweeting and they should follow you, here are some ideas for sharing your Twitter handle:
Post invitations to follow you on other social networks. For example, "I'm going to be at #ACERTAINEVENT tonight. Follow me on Twitter @TWITTERHANDLE for live tweetin', behind-the-scenes moments and great content!"
Embed your Twitter handle on graphics and videos or the footer of your presentations, and then share them on your other social networks.
Add your Twitter handle to your business card. Most people prefer online communication nowadays rather than a call or email, so your Twitter handle is a great contact method.
Include your Twitter handle in your email signature.
#15: Have Fun
Sure, we like all of our content to be in alignment with our brand, but people love to retweet fun material, whether it's interesting facts or statistics, cute videos, adorable pictures, tips or jokes. A lot of times, you just need to give yourself and your fans a break.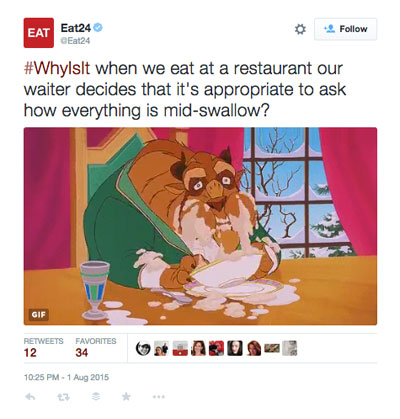 Brighten up your followers' feeds with a Twitter "coffee break," instead of the usual articles, links or niche-based content you post.
Final Thoughts
The trick to organically increasing your Twitter followers is simply to keep engaging and reciprocating. If you commit to being social and keep at it, your followers will eventually increase. Just keep trying new things and be consistent.
What do you think? How have you grown your Twitter following? What tactics have had the most success? Please share your thoughts and tips in the comments below!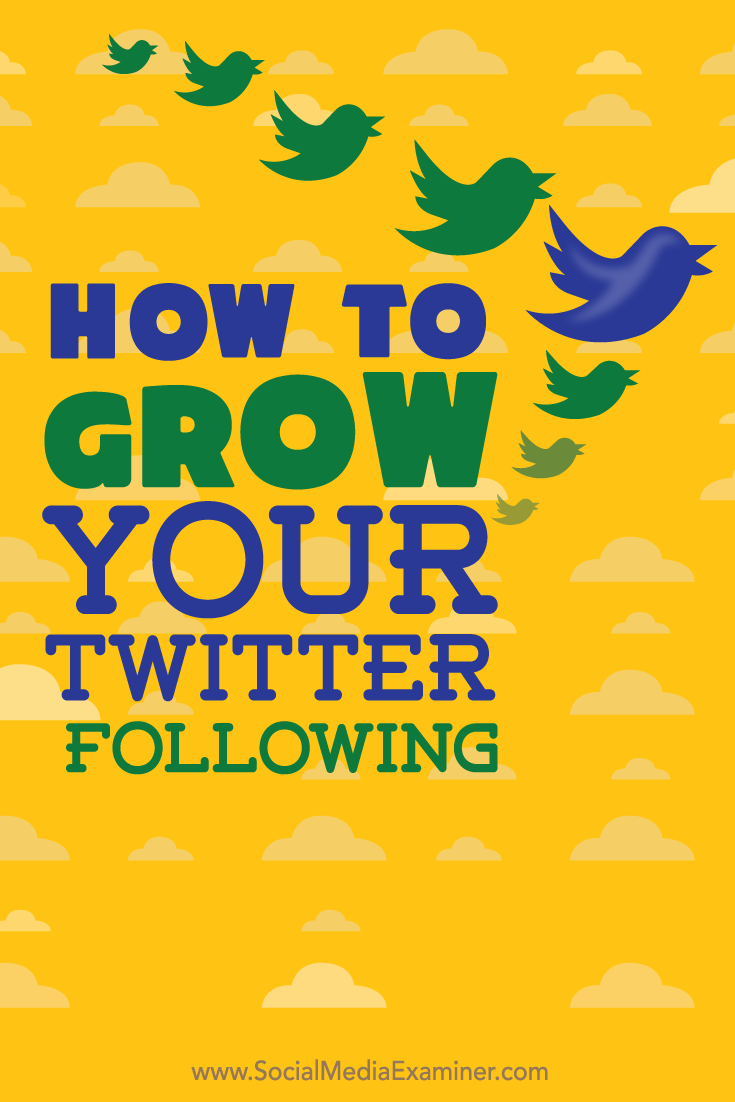 Get Your FREE Course: Web3 for Beginners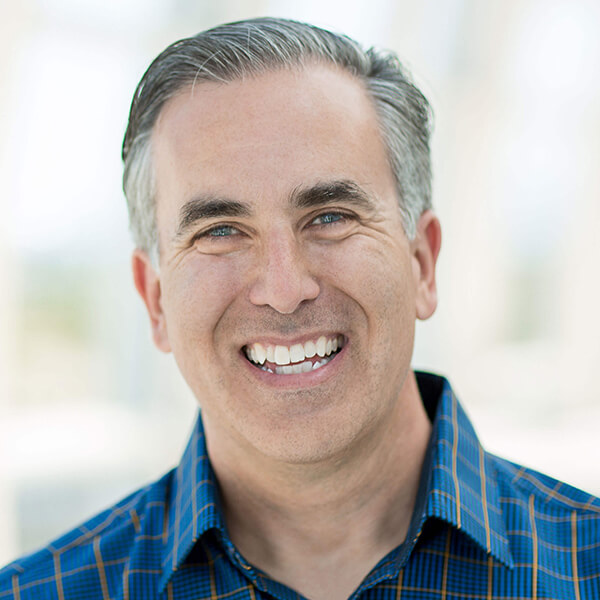 Curious about Web3, but don't know where to start or who to trust?

Introducing Web3 for Beginners, a course taught by Michael Stelzner, the founder of Social Media Examiner.

Learn the basics of Web3 and apply it to your business with this FREE comprehensive course.
CLICK HERE TO GET FREE ACCESS