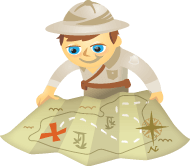 Do you want to generate more leads?
Have you considered using social media quizzes to connect with prospects?
Quizzes are a great way to engage your audience, gather feedback and build your email list.
In this article you'll discover how to create social media quizzes that generate leads.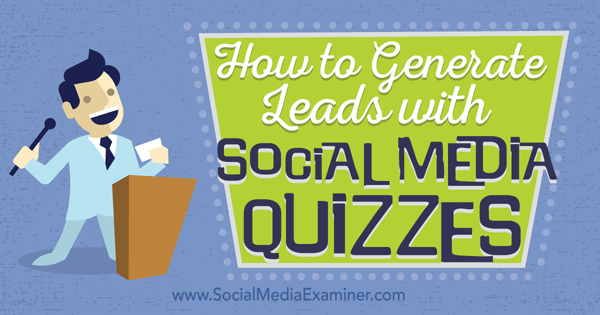 Listen to this article:
Where to subscribe: Apple Podcast | Google Podcasts | Spotify | RSS
#1: Establish a Goal
A successful quiz needs a clear objective. What do you hope to accomplish? What do you want participants to do? Some goals might be to:
grow your email marketing list
introduce your brand to people
drive traffic to your blog
inform your target audience about an event you're hosting
It's important to start with the end in mind for what you want to achieve. To create a mission statement, fill in the blanks below:
My mission is to get potential customers to ______________. Specifically, I want my social media quiz to help gather/obtain/increase _______________.
If you're trying to achieve multiple goals at once, narrow it down to the one or two most important goals.
#2: Pinpoint Audience Needs
Now write down the needs of your target audience. Next to the items on that list, note how your business, blog or event helps to alleviate those needs.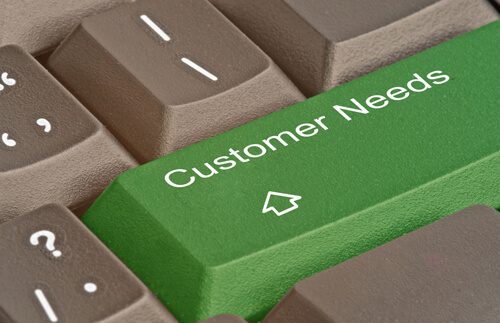 This step allows you to craft a social media quiz topic and questions that will tap into the emotions, needs and feelings of your audience. It will also make people more inclined to share their details and preferences with you.
It's all about creating value and an expectation that any information your audience will receive from you will be designed with them in mind.
#3: Create the Quiz
To build your quiz, use a service like ShortStack or Interact, but make sure the service will integrate with your email service provider. This will allow you to use the quiz to collect new email subscribers and grow your audience.
Remember that a successful social media quiz needs to be interactive and fun. Also, make it about your audience. People love to learn more about themselves and have their wants and needs validated.
Topic and Headline
Get Your FREE Course: Web3 for Beginners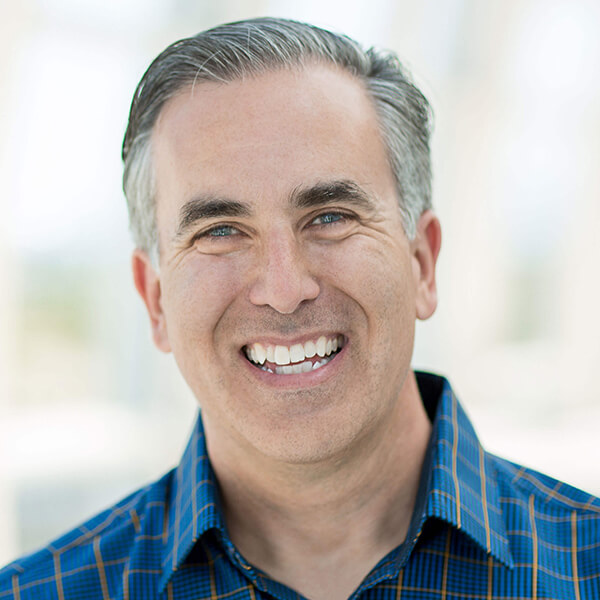 Curious about Web3, but don't know where to start or who to trust?

Introducing Web3 for Beginners, a course taught by Michael Stelzner, the founder of Social Media Examiner.

Learn the basics of Web3 and apply it to your business with this FREE comprehensive course.
CLICK HERE TO GET FREE ACCESS
Choose a topic that will appeal to the quiz-taker's interests, emotions and feelings you wrote down in Step 2. Have fun and make the headline about your audience (for example, "What Napoleon Dynamite character are you?").
Here's a catchy headline used with a marketing quiz.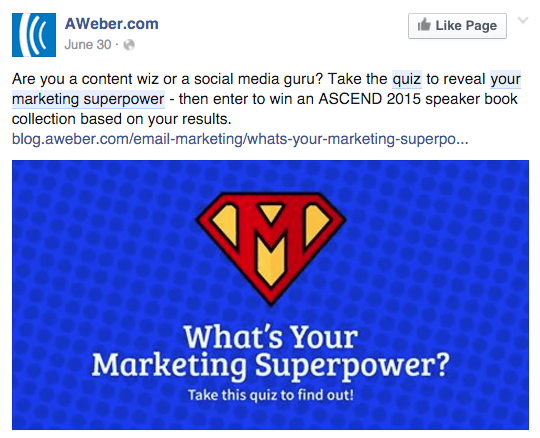 Questions and Answers
Once you have a topic and creative headline, start formulating some fun, engaging questions and answers. Here are a few tips to keep in mind:
Keep the questions and answers short. And don't exceed more than 6 answers per question. The quiz should take no more than 2 minutes to complete, so 5 to 10 questions is a good rule of thumb.
Use impactful images. They'll help draw attention to your quiz and keep participants engaged.
Make the quiz simple so it's easy to complete and be sure the results are easy to share. This will expand the reach of your quiz and increase the potential that it will go viral.
Stay away from salesy quizzes.
The questions and answers in most quizzes won't provide many actionable insights. Instead, the goal is strictly to make the quiz enjoyable for the target audience and attract potential leads at the end. However, your questions and answers should be related to your business, but done in an engaging way.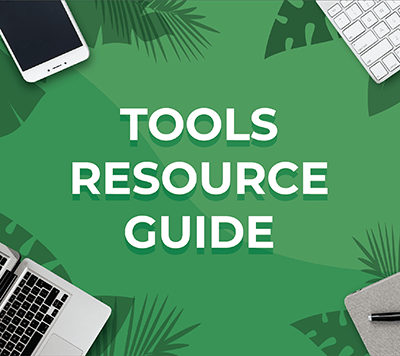 Looking for something to make your life easier?
Discover the tools we recommend to drive engagement, save you time, and boost sales across your entire marketing funnel or business.
Whether you need help planning content, organizing social posts, or developing your strategy, you'll find something for every situation.
FIND YOUR NEXT FAVORITE TOOL
For example, Aaron Brothers used this creative question in their "What Color Are You?" quiz. The quiz goal was to build their special offers email list by encouraging people to discover what color they connect with best. The questions are fun and have a natural tie-in to the company's picture frame products.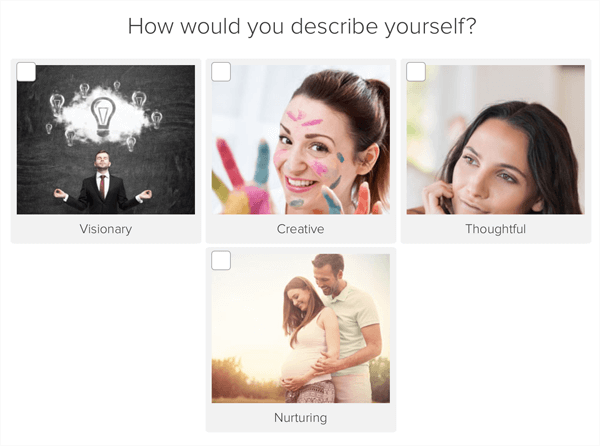 Quiz Results
At the end of the quiz, don't reveal the results right away. Instead, offer people an incentive to sign up for your email list, but make it easy for them to skip to the results if they don't want to give it to you.
For example, offer a free ebook, white paper, report or case study they can download after they complete your quiz.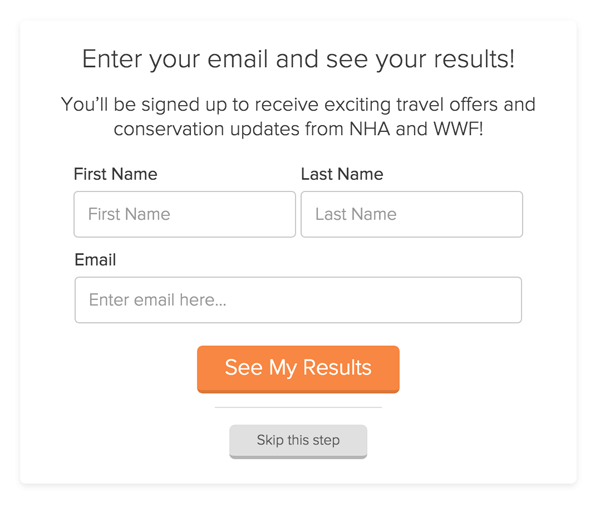 This Girl Scouts of Orange County quiz result uses an attention-grabbing image and headline, and a cleverly written description. It makes the quiz-taker feel good about taking the quiz and highlights the organization's website where people can learn more about Girl Scout cookies.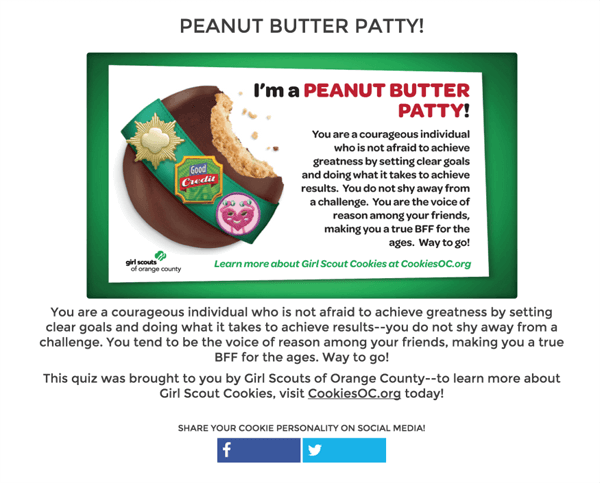 #4: Share the Quiz
After you've created your quiz, post it to your blog, website, Twitter, Facebook, Instagram, LinkedIn, etc. If you've ventured into the world of live video, alert your Periscope and Meerkat followers about it, too.
Aaron Brothers linked to this quiz on their Facebook page.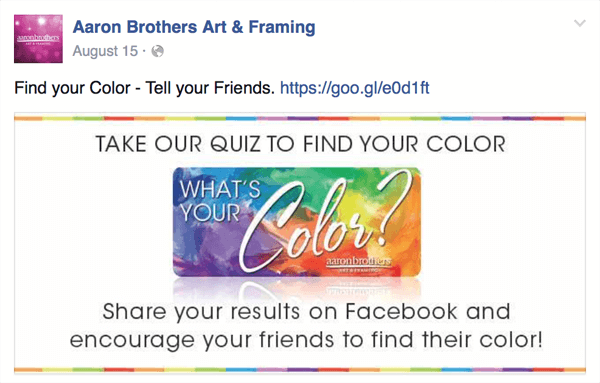 In the following Facebook post, Red Lobster promoted their Endless Shrimp Flavor quiz to their fans, and received high levels of engagement. Red Lobster used impactful, high-quality photos to promote the quiz.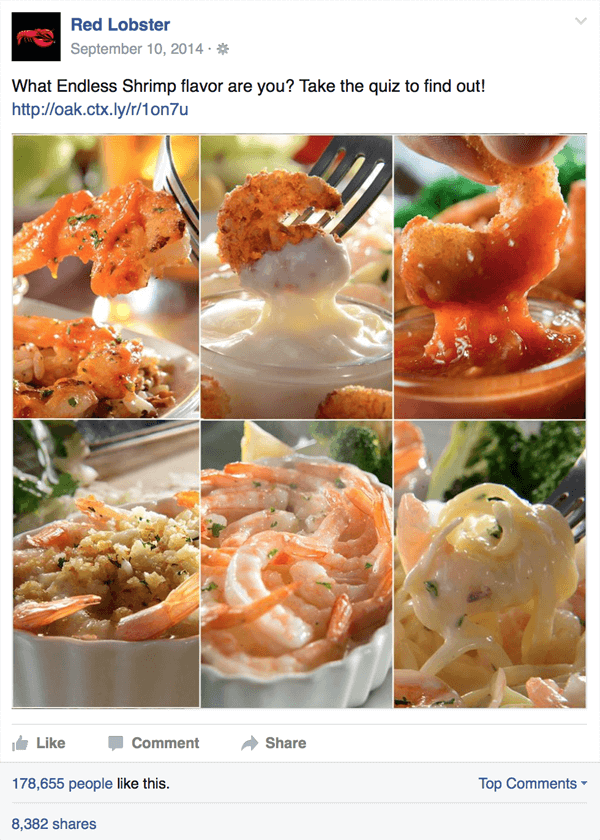 Notice that Red Lobster didn't share the quiz as a link. Instead, they used a photo collage and then included a link in the status update above it.
#5: Evaluate the Results
When evaluating the results of your quiz, pay attention to your completion percentage and lead conversion rate. These are key indicators for an effective quiz.

While your quiz completion percentage will vary based on your industry, shoot for an 80% completion average. If the completion percentage is lower than you'd like, it may mean that your quiz isn't providing enough value or people are losing interest before they get to the end.
Look at the length of your quiz. Is it too long? Is the content valuable and entertaining?
Look for an average of 5% for your lead conversion rate. If your lead conversion rate isn't where you think it should be, consider making your incentive more appealing. When your social media quiz is done right, your email marketing list will grow.
You can also gain valuable audience insights through the quiz results. If you asked quiz-takers to share their biggest marketing challenge, you'll know what type of content they need to overcome that challenge.
Or if you asked them which app they're most likely to use on their mobile phone, you'll have insight into where they're most likely to engage with your brand.
Over to You
Did you know that quizzes are one of the most popular forms of content on social media? Nine out of ten stories shared on Facebook are quizzes.
Follow the steps above to create your own social media quiz and start collecting leads today.
What do you think? Have you used quizzes in your social media marketing? What were the results? Please share your thoughts in the comments below.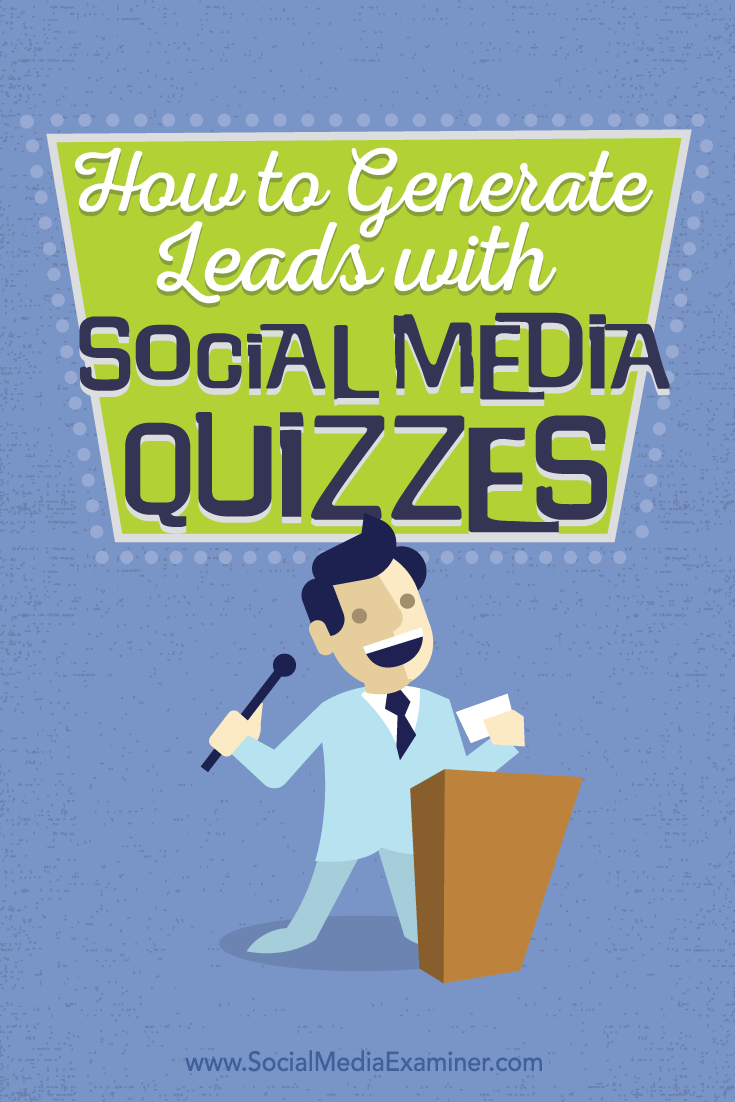 Get Your FREE Course: Web3 for Beginners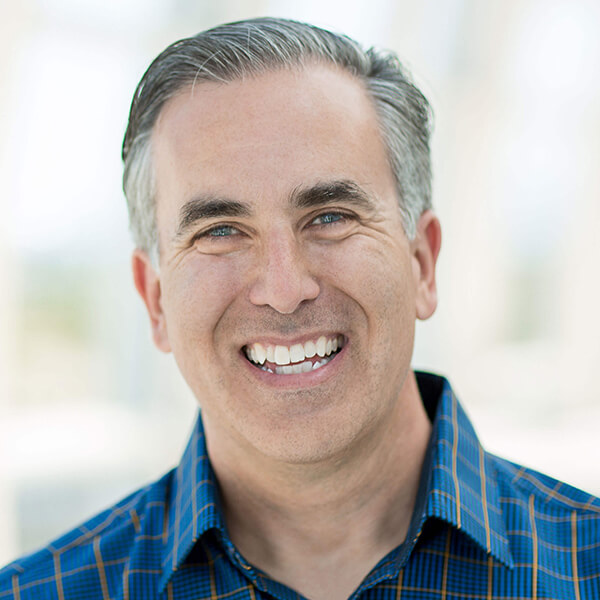 Curious about Web3, but don't know where to start or who to trust?

Introducing Web3 for Beginners, a course taught by Michael Stelzner, the founder of Social Media Examiner.

Learn the basics of Web3 and apply it to your business with this FREE comprehensive course.
CLICK HERE TO GET FREE ACCESS