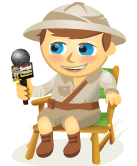 In this video I interview Alex Kinsella, product manager for BlackBerry App World. Alex talks about Webworks, a new development platform that makes it easy to build BlackBerry apps, and what this means for consumers.
You'll also hear about the trends in mobile marketing and how this impacts businesses today.
Be sure to check out the takeaways below after you watch the video.
Here are some of the things you'll learn in this video:
The apps available for BlackBerry today
How the new the app platform means more apps for a better consumer experience
What social media applications are available on BlackBerry
How businesses can take location-based social apps to the next level
The next step in the evolution of mobile apps
How the corporate world is moving to meet the consumer world
Connect with Alex on Twitter @alexkinsella, check out BlackBerry and if you're a developer you can go here.
How do you think businesses are embracing mobile apps? Please leave your comments below.