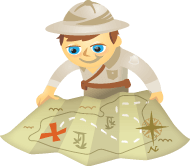 Are you using Facebook ads to drive traffic to your website?
Did you know that when people share your website content on Facebook, you can turn that shared content into a Facebook ad?
You can do that with Domain Sponsored Stories.
Domain Sponsored Stories are inexpensive and easy to run, and you don't need a Facebook Page to start a campaign.
In this blog post, you'll learn what Domain Sponsored Stories are and how you can create your own today.
What Are Domain Sponsored Stories?
A domain is a website that you control.
A Sponsored Story is a Facebook ad that promotes the action performed by a Page or user's friend, follower or fan.
A Domain Sponsored Story, then, is a Facebook ad that will promote a Facebook user's interaction with a website that is under your control.
What Do Domain Sponsored Stories Look Like?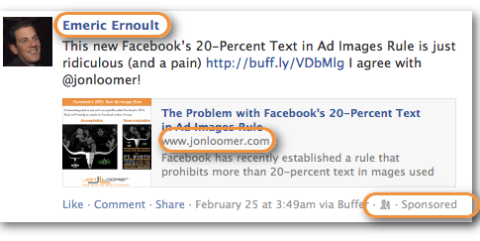 As you can see, the only difference between this Domain Sponsored Story and a typical post is the "Sponsored" tag at the end.
Why Create a Domain Sponsored Story?
Domain Sponsored Stories are low-maintenance ad units and you can run them in the background to constantly drive traffic to your website. Here are a few reasons to use them:
Increase the reach of your blog posts.
Increase traffic to product Pages and impact revenues.
Reach users who missed content the first time. Hopefully you understand why you should promote your Page content to reach fans who may have missed it the first time. Only half of your fans are on Facebook every day and even then, they're active during a small window. The same holds true for users catching their friends' content. Promote a user's interaction with your website and more of their connections are likely to see it.
Privacy Clarification
Advertising through Domain Sponsored Stories does not override your privacy settings.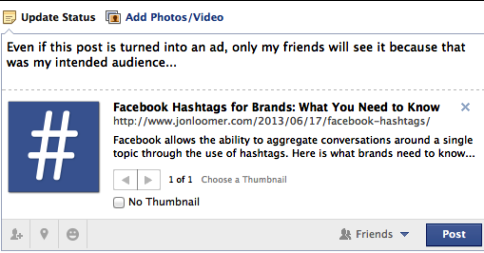 The Limitations of Domain Sponsored Stories
Someone may share a post using an unflattering comment. You may spend money to help promote that post because you cannot choose which share to promote or not promote.
If you have a low-traffic website that gets very few shares, Facebook has little share activity to turn into ads. Whether you reach your daily budget or not is partially dependent upon the volume of daily share activity from your website. You need users who are already sharing your website content.
Domain Sponsored Story ads do not lead to increased Page likes. Depending on what's shared, they may not lead to sales or conversions. They only lead to increased website traffic.
You'll need to determine whether the benefits of Domain Sponsored Stories outweigh the limitations. As someone who owns a website that turns traffic into revenue, I find them extremely useful.
Results of Domain Sponsored Stories
Back in November, Brendan Irvine-Broque shared how PageLever used a Domain Sponsored Story to get nearly a 10% CTR. That means that one of every 10 users who saw the ad clicked on it. That's insane!
Get Expert Social Media Marketing Training from the Pros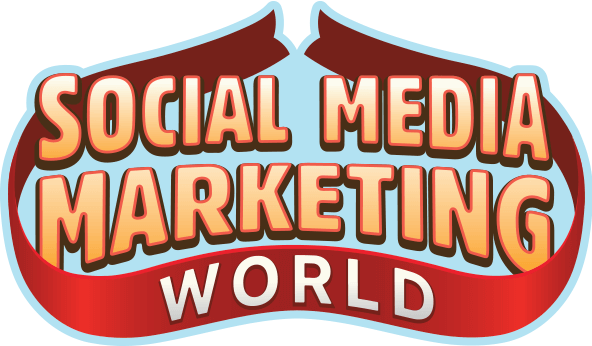 Want to get ahead of the competition and learn how to diversify your social marketing strategy?
Learn from the industry's most trusted experts, rub elbows with other smart marketers, and take your marketing to the next level during this 3-day event in sunny San Diego, California.
CLICK TO LEARN MORE
How did it work?
The Conference You've Been Waiting For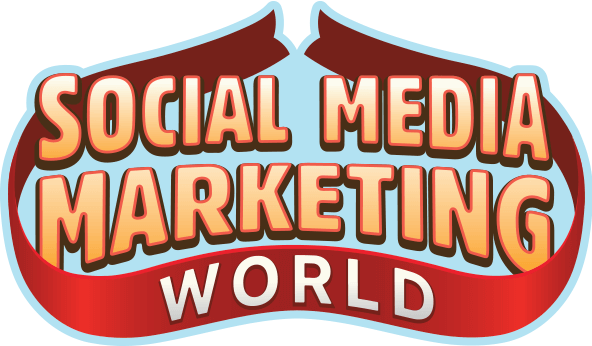 As a small business marketer, you can probably only pick one or two events to attend each year. Get back into the game with an unbeatable conference experience and expert training at Social Media Marketing World in sunny San Diego, California—from your friends at Social Media Examiner.
🔥🔥 As a valued reader, you can save $660 if you act now! Sale Ends Tuesday!
CLICK HERE TO LEARN MORE
PageLever started a Domain Sponsored Story campaign.
They wrote a controversial blog post called Fact Check: Why Mark Cuban is wrong about Facebook.
Sean Parker, who had 540,000 followers at the time, shared that blog post on Facebook.
Parker's share was turned into a Domain Sponsored Story ad that surfaced to his friends and followers.
The trick, of course, is to get an influencer like Sean Parker to share your content. That's not always possible, but when it happens, the share can make your promotion infinitely more effective.
Create Your Own Domain Sponsored Story
#1: Claim Your Domain
From your Insights Dashboard, click the green Insights for your Website button at the top right.

That will bring up a pop-up that looks like this: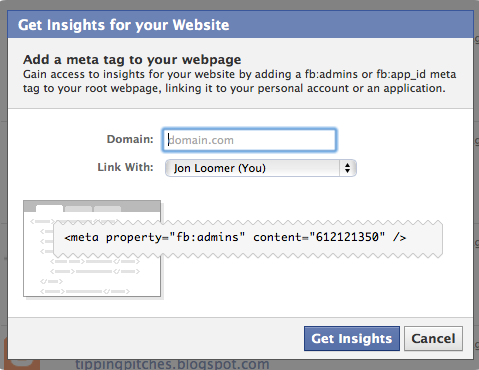 Enter your website's domain (no www) and link it with either your personal profile or your Facebook Page. If you are the only person who will need to access any Facebook Insights associated with your website, choose yourself. Otherwise, you can select a Page so that all admins of that Page have access.
#2: Add the Meta Tag to Your Site
In the step above, you were presented with a meta tag. Copy and paste it between the < HEAD > tags of the template of your site. This way, the meta tag will appear on every Page shared from your domain.
How you do this will depend on the CMS you use. I use Genesis Framework, and I can edit this area within Theme Settings or Simple Hooks. The All In One Webmaster plugin also provides a field for this.
Only shares from Pages containing this meta tag will qualify for Domain Sponsored Stories.
From your Insights Dashboard, your domain will now accumulate stats. Here's an example.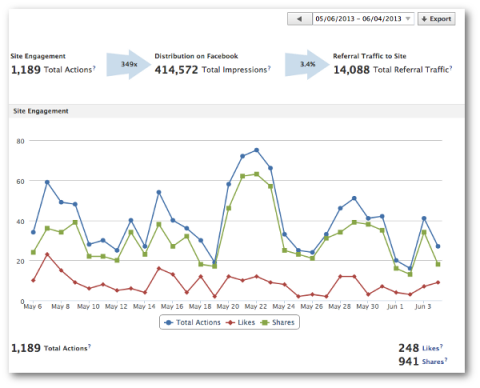 If you don't see any stats a day later and you know there have been shares to Facebook from your site, re-do steps 1 and 2.
#3: Create Your Domain Sponsored Story
To create a Domain Sponsored Story, you should use Power Editor, a browser plugin. It offers numerous advantages over the self-serve ad tool.
When you create an ad, do the following:
Select Sponsored Story as the ad type.
Click About people sharing links to your domain.
Select your domain in the destination.

Set up a Domain Sponsored Story in Power Editor.
Complete your ad and upload as you normally would (again, read the Power Editor tutorial if you need more help here). Monitor your results within the ad manager during the coming days.
Your Turn
Domain Sponsored Stories offer an inexpensive and low-maintenance option for increasing your website traffic from Facebook. The stories can be optimized and focused to promote specific content based on where you paste the meta tag in your website.
What do you think? Do Domain Sponsored Stories seem worthwhile to you? Have you tried them? What results are you seeing? Let me know in the comments below!
Curious about NFTs, DAOs, and Web3?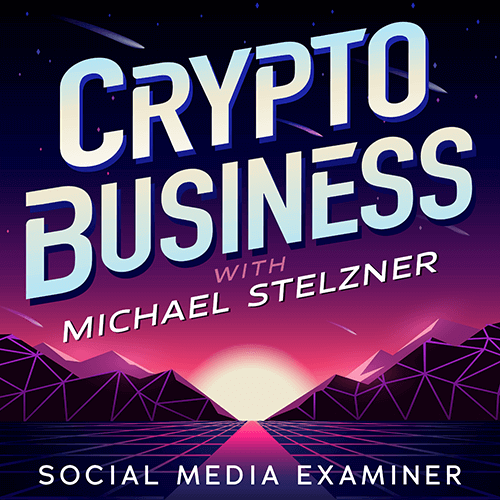 Follow the Crypto Business podcast to find out how NFTs, social tokens, DAOs (and so much more) will affect your business in the near future.

Every Friday, host Michael Stelzner interviews leading industry experts about what works right now in Web3 and what to expect in the future, so you can prepare your business for the shift, even if you're a total newbie.
FOLLOW THE SHOW