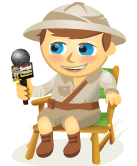 In this video I interview Michael Hyatt, chairman of Thomas Nelson Publishers and author of the hot new book called Platform: Get Noticed in a Noisy World.
Michael shares how to grow your own platform. You'll also discover insights behind his success and how to accelerate your business growth.
Be sure to check out the takeaways below after you watch the video.
Here are some of the things you'll learn in this video:
Why it's a great time to build your platform.
How businesses can control their platform and what that means to you.
How you should reframe your thinking.
Why you should create wow content and exceed readers' expectations.
How to get more great ideas.
The benefits you gain when you give away your best content.
What to do to attract more new readers.
How to accelerate your growth and reach your inflection point.
The key to long-term blogging success.
Why podcasting can be a more intimate form of communication.
Connect with Michael on Twitter @michaelhyatt, on Facebook and check out Michael's blog focused on intentional leadership.
What do you think? Do you give your best content away? What tips do you have to share about your experiences with building a platform? Please leave them below.