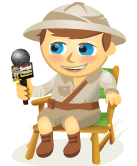 In this video I interview Scott McIlnay, commander in the US Navy and Director of Emerging Media Integration. Scott shares how the US Navy uses social media at the enterprise level.
You'll hear how they grew their Facebook page rapidly to over 70,000 fans. And Scott also highlights how the US Navy uses each of their social media platforms for a different purpose. Be sure to check out the other takeaways below.

You'll also hear how:
Social media is a relatively new initiative for the US Navy at a departmental level.
But they used what they had learned from previous decentralized social media activities to integrate social media on a larger scale.
You need to have a social media presence up now. Sooner rather than later.
Here are the other places where you can find the US Navy
What does this inspire for you?  Please leave your comments below.