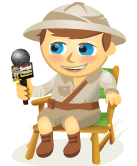 In this video I interview C.C. Chapman, co-author of Content Rules.
C.C. explains why content marketing is important for businesses and the role it plays in building trusted relationships. He also shares how businesses can create stories to connect with customers.
Be sure to check out the takeaways below after you watch the video.
Here are some of the things you'll learn in this video:
How to stand out above the stream of content online
Discover C.C.'s favorite case study of successful content marketing
How you can build relationships with your customers through the content you publish
Why it's important for businesses to tell stories
How guidelines can help you create a successful content strategy
How great content can impact your business
How to tell stories with your content
How the real-time trend will impact stories and content marketing
Why filters are needed to find the good content
Connect with C.C. on Twitter @cc_chapman, on Facebook and check out C.C.'s blog.
Do you use strategic content marketing for your business? If so, what tips do you have to share? Please leave them below.