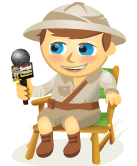 Welcome to Social Media Examiner TV with your host Mari Smith. In this episode, Mari examines Facebook Questions and reveals if it's a game changer for businesses.
Plus, she looks at the Wibiya social toolbar and how it can create social buzz for your business.  Then Mari shares insights into three social CRM tools and how they can have a big impact on your business networking.
Share your feedback, see the show notes and discover how you can be part of a future show below!
Can You Get More Visibility With Facebook Questions?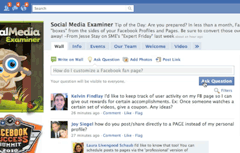 You may be familiar with LinkedIn Answers and benefit from it already.  Now Facebook has joined the party.  You can ask and answer any questions using Facebook Questions (rollout may not have hit all users yet).  Facebook has integrated the Questions feature right into the publisher.
Now when you go to write on the wall, you have to literally click "Write on wall," whether it's a profile, group event or Fan page.  Right next to that, it says "Ask Question."
However, there are clear downsides to using Facebook Questions.  For example, if a fan on your Facebook page clicks on "Ask Question," and proceeds to enter a question, he or she will actually be taken away from your Fan page and over to the Facebook Question section, moving the person away from your own Fan page.  Watch the video to find out if Mari thinks Facebook Questions is a game changer for businesses and her concerns about the new feature.
Wibiya Social Toolbar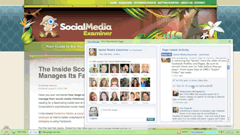 The Wibiya social toolbar is a social media enhancement that adds a little bar across the bottom of your website or blog. You can see it in action on this very page below.
The reason why you want to have Wibiya on your site is because the visitors coming to your site can interact, do all of their social media chit-chatting and posting without leaving your site. The Wibiya social toolbar integrates fully with all of the different social network sites, like Facebook, Twitter, Google Buzz and YouTube.
When people click on the Twitter or Facebook link on the bottom of the toolbar on your site, they can actually see your updates, interact, reply to you and see the whole stream of all of the tweets about that page or post. Watch the Wibiya social toolbar in action in the video and to discover how it might benefit your site.
Social CRM: The Secret to Building a Strong Network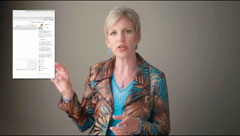 Mari introduces three social customer relationship management (CRM) applications that add social media insight to your email inbox. These tools pull information from all kinds of social profiles like Twitter, Facebook and LinkedIn, right into each of your email contacts.
Thus, you have expanded information about each of your contacts that can help you build better relationships.  The three tools Mari reviews are Rapportive, Gist and Xobni.
Check out these social CRM tools, add one to your inbox and see if it works for you. Watch the video to hear which tool is Mari's favorite and how they differ.
If you've enjoyed this episode of Social Media Examiner TV, make sure to tweet about it (use hashtag #SMEtv), share it on Facebook or even embed this episode on your blog.
We want to hear from you! Do you use Facebook Questions, Wibiya or social CRM applications? If so, what has been your experience?  Leave us a comment below. Also let us know what you'd like to see in future episodes.