Want to launch a new podcast or video series? Wondering how Social Media Examiner does it?
In this article, you'll discover how Social Media Examiner conceived and launched a new show in 9 weeks.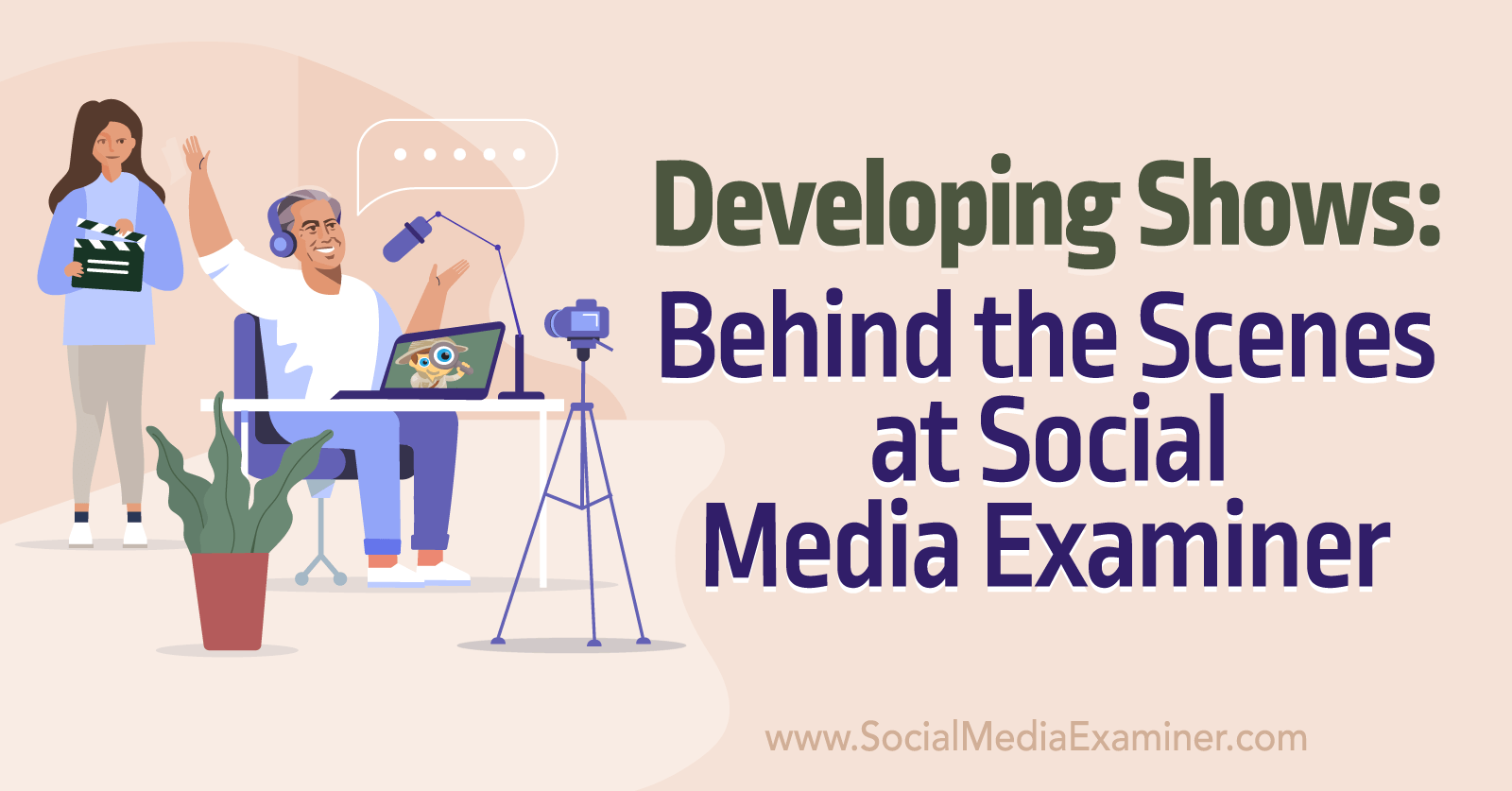 Why Does Social Media Examiner Produce Shows?
We started making podcasts back in 2012. Since then, the Social Media Marketing Podcast has aired over 500 episodes and become one of the top marketing podcasts in the world. And we've added several new shows, too.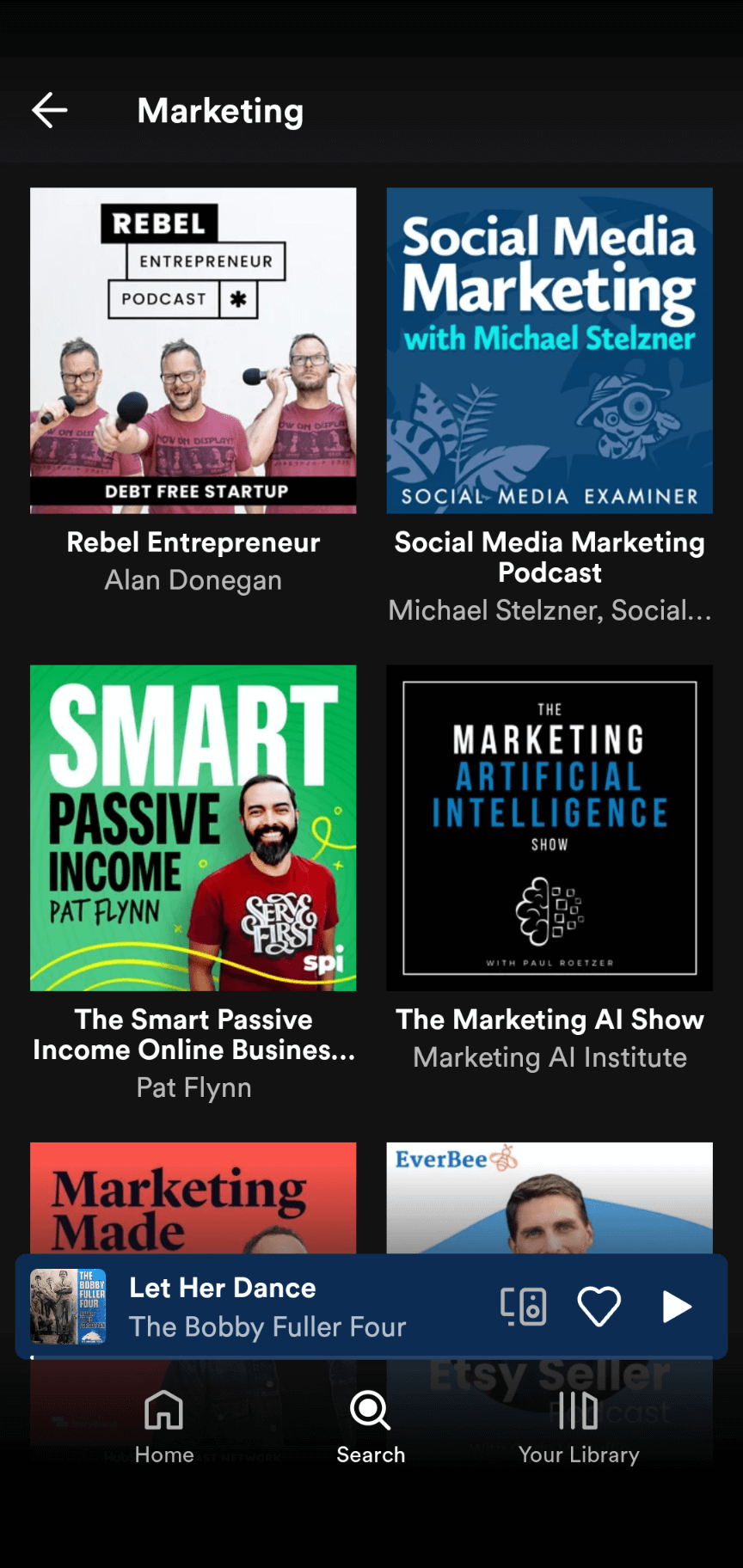 What's it all for?
We believe in long-form, linear media. It gives us the space to learn, explore, and explain topics in real depth. Linear content—where you have to read or listen to the entire piece to get its full value—makes it easier for us to engage listeners.
That approach applies to everything we create: articles, videos, podcasts, workshops, and more.
Short-form content is having a moment in social media. Sometimes, it seems like 15-second vertical video is all that anyone can talk about.
But we know that there will always be an audience for expert and engaging content. That's why we're investing in long-form, linear podcasts. They're timeless media.
Developing Shows: Social Media Examiner Thinks Beyond the Podcast
What do you picture when you hear the word "podcast"?
You're probably imagining someone sitting behind a mic in a studio somewhere. Maybe you think of your favorite activity to do while you're listening—jogging, folding laundry, packing deliveries. Maybe this article has made you suddenly wonder where your AirPods are.
We all have different learning styles, habits, needs, schedules, and responsibilities. Some people prefer not to read because of learning difficulties such as dyslexia. (Fun fact: Mike Stelzner, the host of the Social Media Marketing Podcast, has dyslexia.) Some people like to listen to a podcast while they get other tasks done. Some people just learn better when they listen.
If you're one of those people, then welcome—the audio recordings are for you!
But not everyone likes to listen. Some people prefer to read or watch their media. Social Media Examiner has more than 400,000 subscribers and we're pretty sure that statistically at least a few of those people will be visual learners.
That's why our podcasts actually appear in multiple formats. We record every show on video so we can share it on our YouTube channel.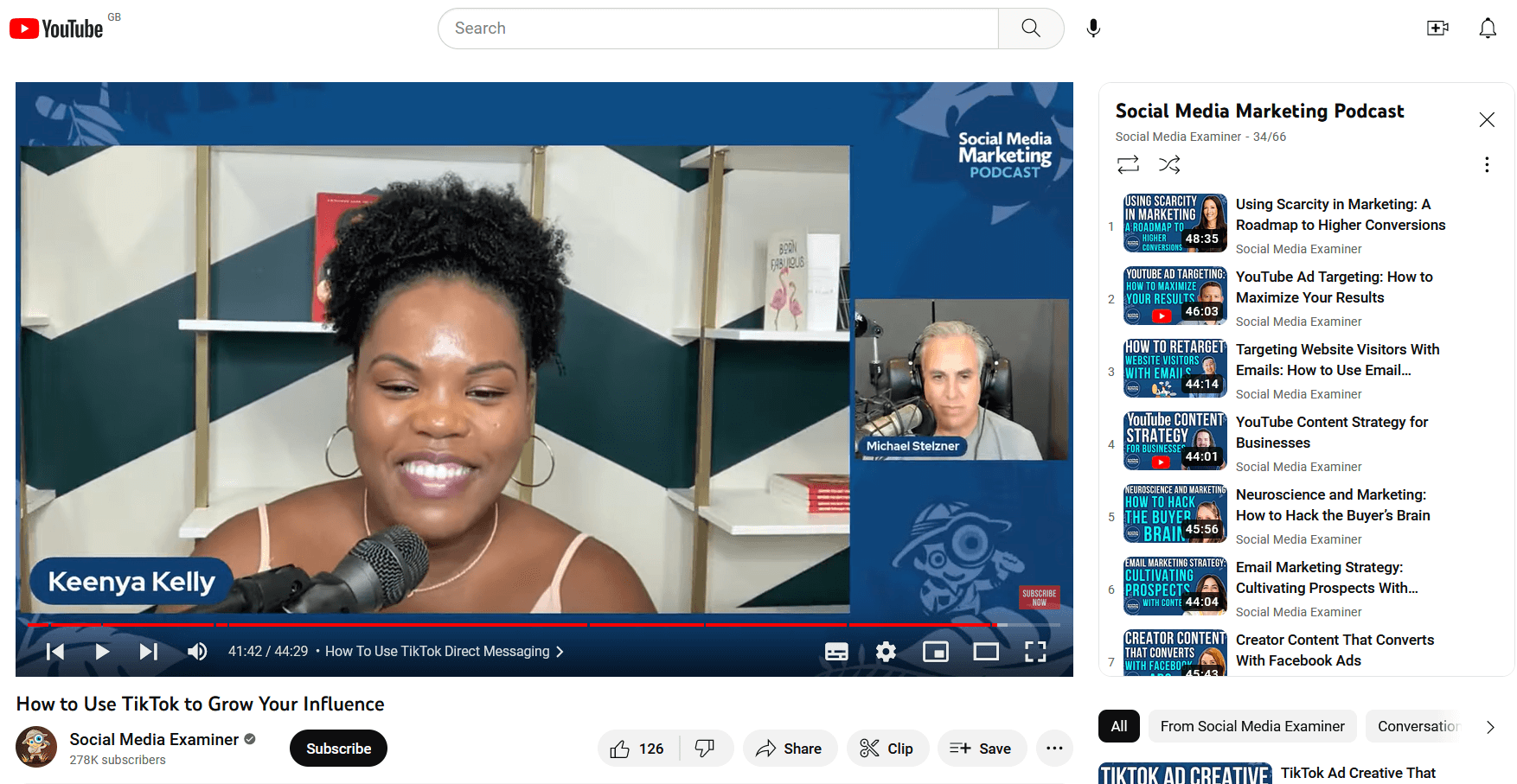 We also write up our podcast episodes as articles. And we don't just mean making transcripts. Each show is carefully planned and structured so it can be converted into a readable, long-form article by a dedicated writer. (Oh, hi there, readers!)
What does that mean for the show? Well, it gains an audience that's several orders of magnitude bigger than you might realize. Once you add up listeners, viewers, and readers, you get a very healthy total.
If you've ever wondered why we don't often cover breaking news on the Social Media Marketing Podcast, it's partly because of this multimedia approach. It takes a big team to coordinate recordings, video clips, writing, editing, and production. The original podcast session is just the start. It takes up to a month for it to blossom into all of the different formats and channels we use.
#1: How Social Media Examiner Produces Successful Shows
Thirteen years is a long time in podcasting. We've said a lot of words and learned a lot, too.
So what's the secret sauce at Social Media Examiner? Here's our method: we invest a huge amount of time, effort, and attention to detail in choosing our podcast guests.
We scout for potential guests on all of our social media channels, through word of mouth, and at Social Media Examiner events.
Each potential guest gets "vetted." We look into their expertise, experience, and fresh ideas that our listeners want to hear.
We invite guests on, but it's not recording time yet!
Each guest has a pre-call with the podcast host. We use this time to structure the final interview, align their expertise with the audience, and iron out any tech issues. If we get this right, then guests feel confident and comfortable, and we maximize the value of the recording for guests and listeners.
Finally, the podcast itself is recorded.
The recording and video are edited to share on YouTube and podcast platforms. We send audio files to our writers as a jumping-off point for new articles, too.
At the end of the pre-call and the podcast recording, Mike Stelzner always likes to ask one extra question: Is there anything you wanted to ask me?
The answers to those questions aren't recorded. But they are some of the most valuable discussions that ever happen at Social Media Examiner. "I don't need everyone to say yes," explains Mike. "But in the end, hopefully I've given them something valuable."
This is where the real magic happens: coming up with future collaborations, building professional relationships, sharing wisdom, and sparking business ideas. Our guests become friends, and that's good for the podcast, business, and industry of social media marketing.
Over time, as the podcast grows and we meet more guests, we find that more people want to come on the show. We've also been able to recruit from our pool of guests for Social Media Marketing World speakers. We don't use speaker applications; we always recruit from the marketing experts we already know. We know their ideas are good, the audience loves them, and they'll feel comfortable on the SMMW stage.
#2: How Social Media Examiner Distributes Its Shows
We share podcasts on an ever-increasing number of platforms: YouTube, Spotify, Apple, Google, Amazon…
But that's just where the content is hosted. How do we actually get it in front of new listeners?
We have a tried-and-true method for distributing podcasts.
We trawl through the recording to find key quotes and insights.
Using that information, we create social media assets—including short clips—so guests can promote their appearance on their own channels.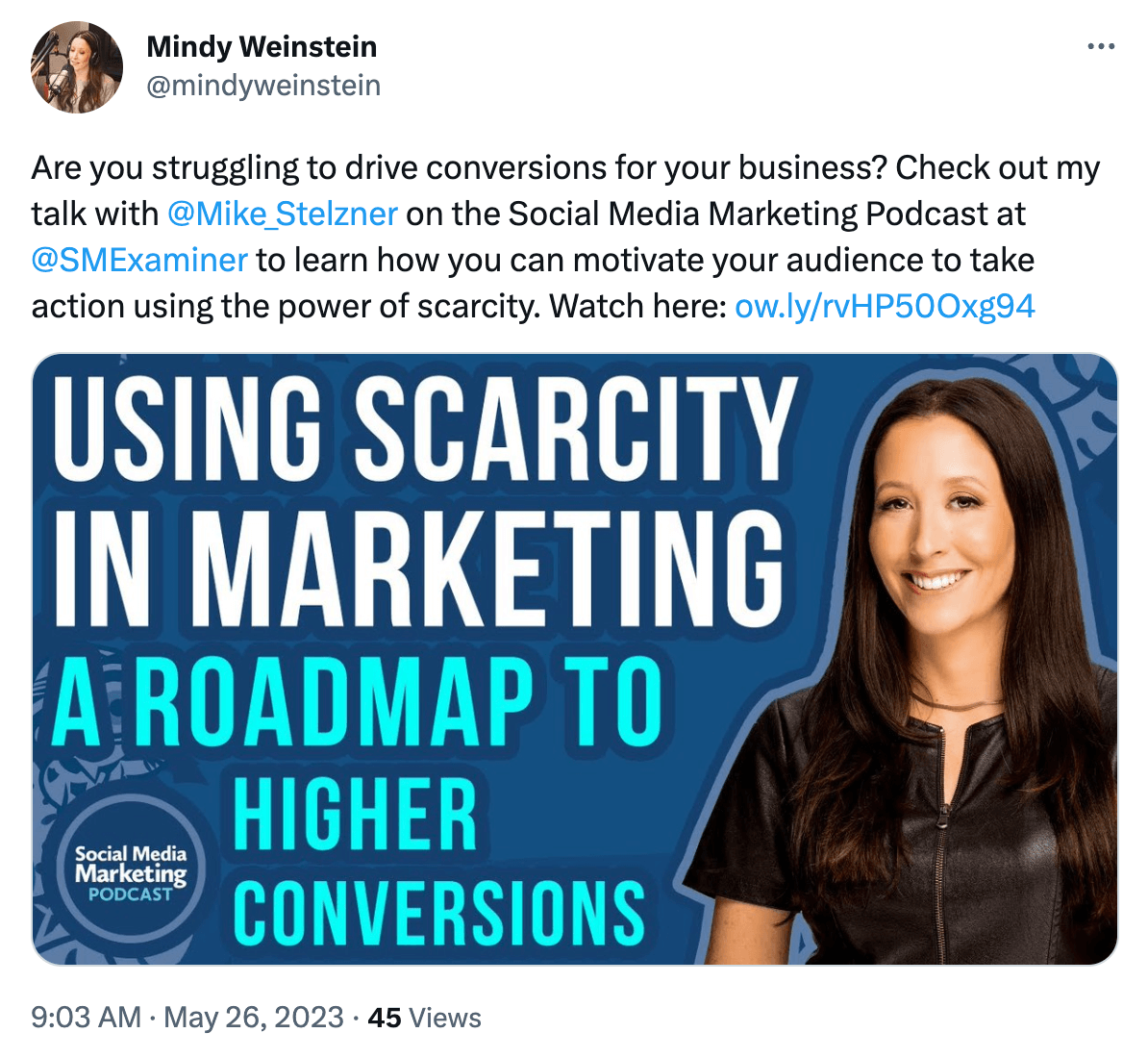 We always add closed captions to video clips so they're accessible to the widest possible audience.
Next, we promote the episode in the Social Media Examiner newsletter. On Mondays, we share the article version; on Friday, we share the podcast recording.
This distribution strategy helps us cover as many channels as possible. We reach new followers via our guests, maximize the audience by creating accessible content, and use our own channels to reach existing followers.
#3: How Social Media Examiner Tracks Show Performance
We've been saying it for years. Every piece of content and every social media post needs to be tracked. If you don't check your analytics, how do you know what's working and what's not? Establishing and monitoring key metrics are essential to making a successful podcast.
Fortunately, podcast hosting platforms have pretty good analytics. Both Apple and Spotify podcasts provide detailed reports, including how we retain listeners over the course of the episode.
We use that data to spot where the "flow" of the show is strong and where it might need a little work. Then we can feed the information back when we're prepping for future episodes.
YouTube is also a useful data source. Recently, the video-sharing platform added a new feature. You can now create a playlist specifically to group podcast episodes. Then you can collect analytics, not just from individual videos, but about the podcast as a whole. This means that you can run a podcast on your main YouTube account without having to set up a separate channel for the episodes.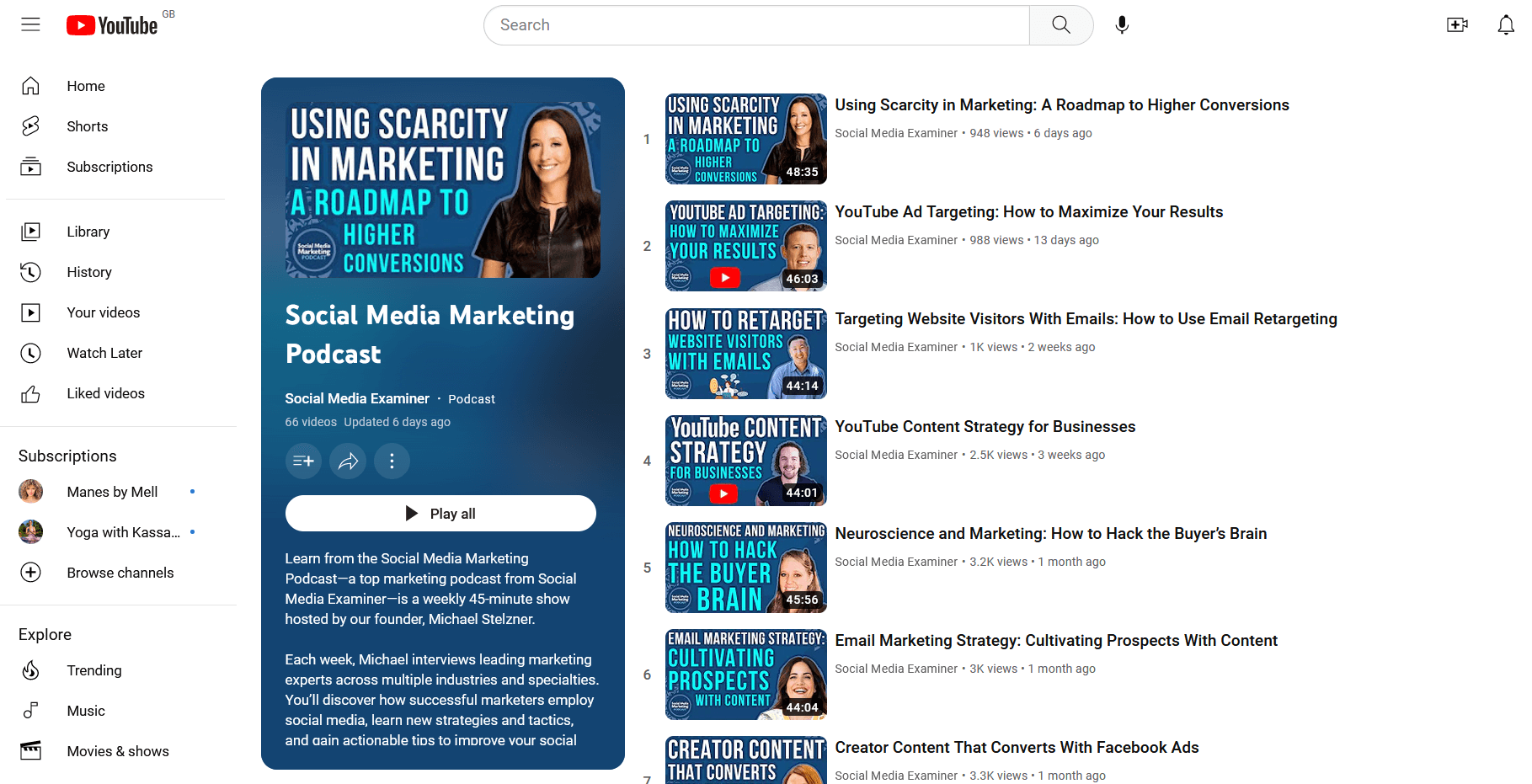 The only downside to YouTube is that you can't yet subscribe to these podcast playlists. Users have to subscribe to the entire channel; they can't sift out the podcast episodes alone. That means our YouTube audience is more sensitive to the algorithm than on other podcasting platforms. All of the usual YouTube tactics like SEO and thumbnail design are still important.
#4: How Social Media Examiner Develop Shows for Every Audience
It didn't take long before we realized that we were going to need more shows. The Social Media Marketing Podcast had a strong niche and audience but it couldn't cover everything that we wanted to talk about.
That's why we added more podcasts to the Social Media Examiner stable. And guess what? We're still adding new shows in 2023!
Social Media Marketing Podcast
Social Media Marketing Podcast is made for a global audience of creators, entrepreneurs, and most of all, marketers. Every 45-minute episode is an educational deep dive into the art and science of marketing on social media.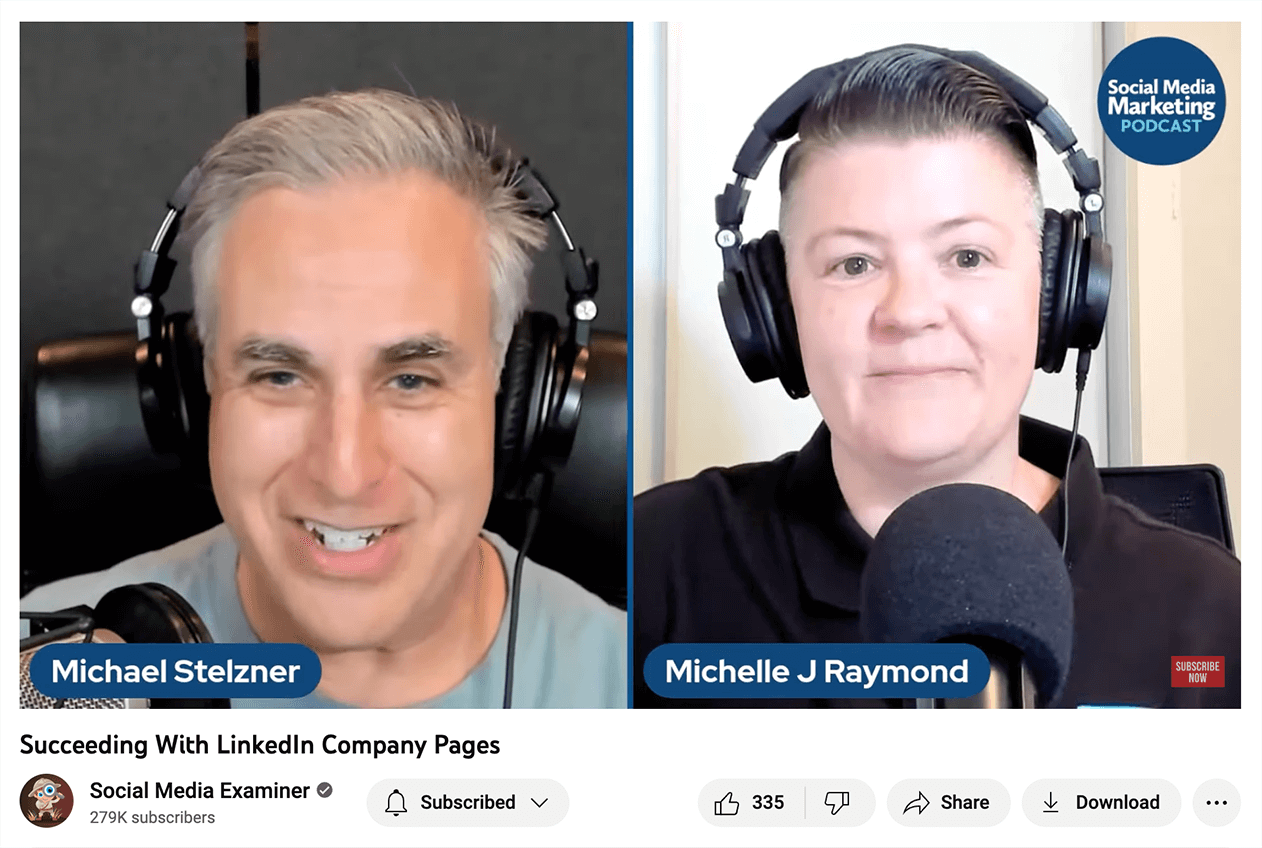 We've recorded close to 600 episodes of the show so far. Although we release episodes weekly, we've heard of people downloading tranches of episodes and using them as daily training material. Just in case you were looking for some inspiration…
Social Media Marketing Talk Show
Social Media Marketing Talk Show is the only live production in our stable of podcasts. It's also the longest-running weekly talk show about social media on the internet!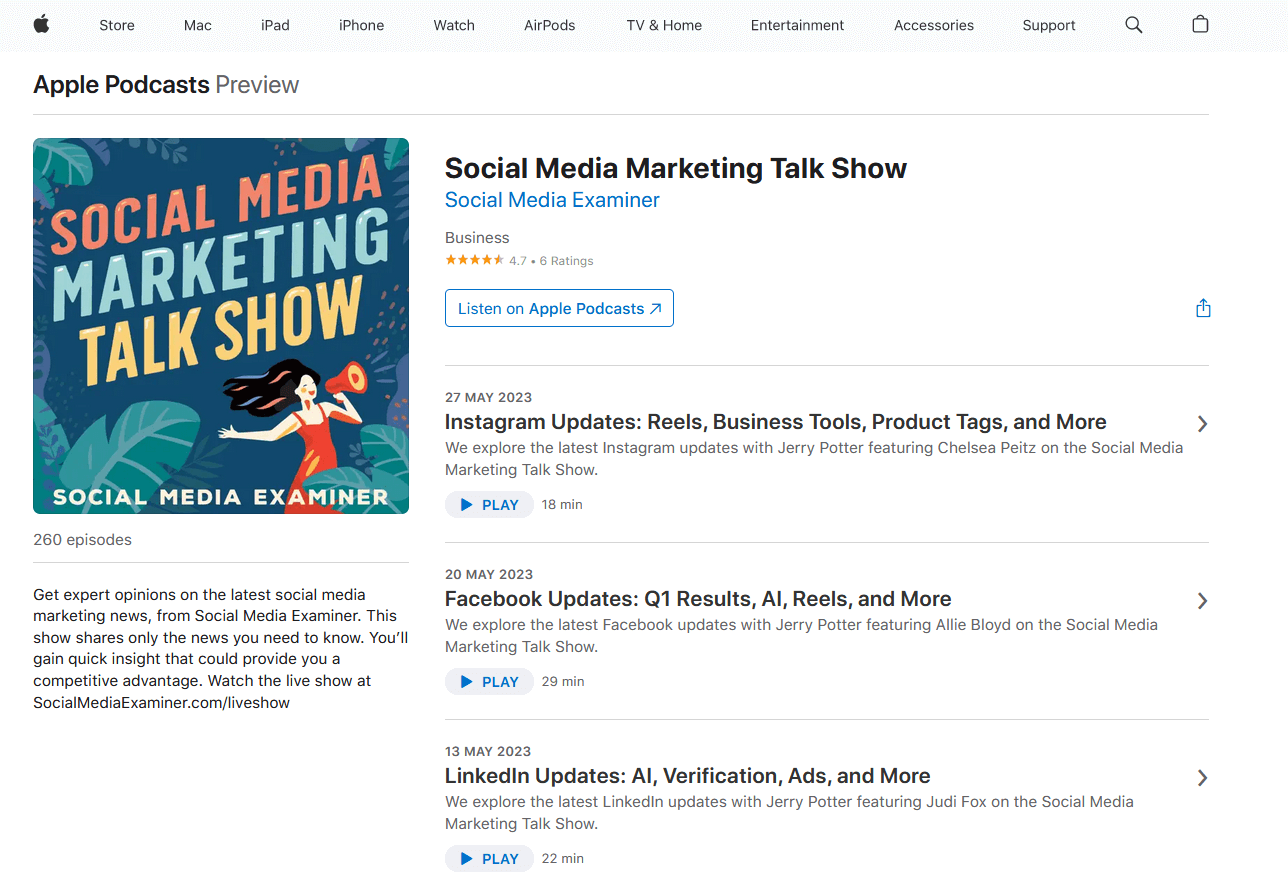 The talk show is designed for marketers who need to be at the cutting edge of social media. Host Jerry Potter broadcasts live for up to 20 minutes every Friday. Each week, we cover breaking news updates on a different social media platform. There are so many social networks to cover in 2023 that there's always plenty of news by the time we get back around the circuit.
Web3 Business Podcast
What's the next frontier for digital marketing?
No, it's not AI.
It's decentralization. On Web3 Business Podcast, we talk blockchain, NFTs, metaverse, and decentralized business models. If any of that sounded like gibberish, you need to become a listener before you get left behind.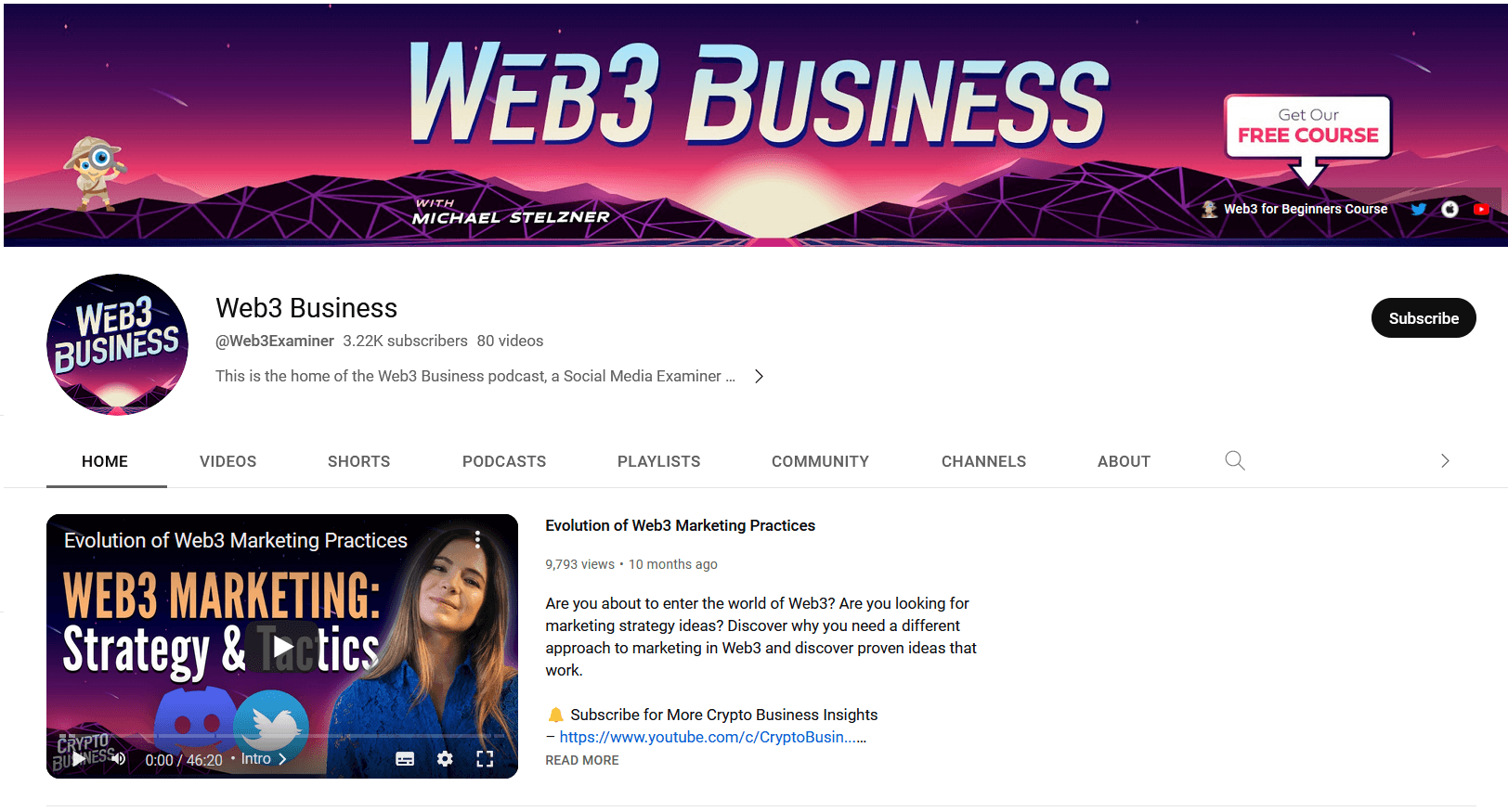 Every week, Mike Stelzner talks to a Web3 project founder to find out what they've learned about community, business, and monetization in this brave new world. Each 45-minute deep dive also appears as a written article.
NEW: Marketing Agency Show
This year, the Social Media Marketing World conference celebrated its 10th anniversary (11th, if you count the pandemic years).
We noticed a trend at the event. The same marketers who we've been talking to for a decade have grown in their careers. They've built businesses from the ground up and many are now running their own agencies.
But there's no podcast for agency owners and marketers. Or at least, there wasn't until we made one, and we created it in true Social Media Examiner style.
Mike Stelzner used ChatGPT-4 to whip up a job description for his ideal host for the podcast. Then we shared it with our community of podcast guests and contributors. Especially, we shared it in the Facebook group where we first saw people looking for agency-focused, educational content, and with Social Media Marketing World speakers. That's how we found the perfect host.
From May 31, Brooke Sellas will be hosting Social Media Examiner's newest podcast: the Marketing Agency Show. She'll be talking about how agencies work, how to produce your best work, and how to handle tricky topics such as downsizing your workforce. We'll cover all of the questions you've ever had about agency marketing but didn't know who to ask.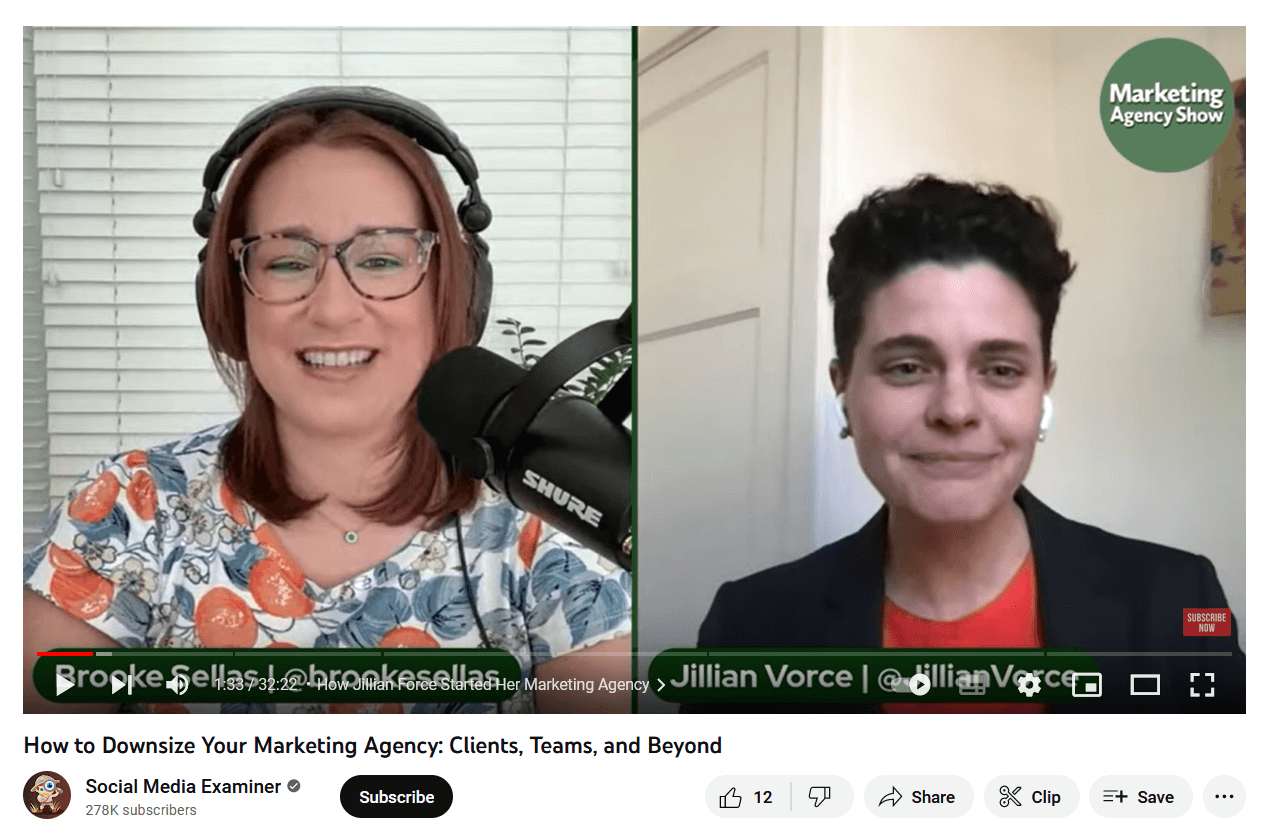 For now, we're just broadcasting audio and video for the podcast, but watch this space to see if we launch any other media.
If you're an agency owner or marketer, we'd love to hear from you about the Marketing Agency Show. What do you want to learn? Are there any topics or questions you think we need to cover? Get in touch!
Other Notes From This Episode
Where to subscribe: Apple Podcasts | Google Podcasts | Spotify | YouTube Music | YouTube | Amazon Music | RSS
✋🏽 If you enjoyed this episode of the Social Media Marketing podcast, please head over to Apple Podcasts, leave a rating, write a review, and subscribe.
---
Stay Up-to-Date: Get New Marketing Articles Delivered to You!
Don't miss out on upcoming social media marketing insights and strategies! Sign up to receive notifications when we publish new articles on Social Media Examiner. Our expertly crafted content will help you stay ahead of the curve and drive results for your business. Click the link below to sign up now and receive our annual report!