Do you want more sales from your website? Wondering how to test different elements to improve your conversion results?
In this article, you'll learn how to optimize your website or landing pages for conversions with conversion rate optimization.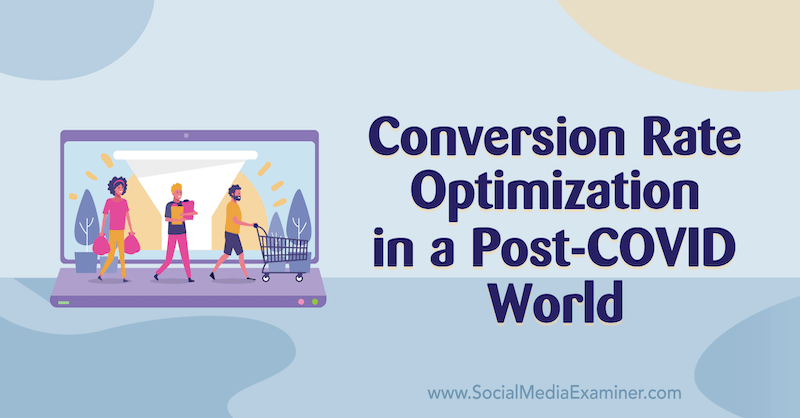 Why Conversion Rate Optimization Is so Important
You know how important search engine optimization is to driving traffic to your website, and content marketing and social media are to engaging with your audience and driving traffic to your website. But once you have the traffic, conversion rate optimization, or CRO, kicks in to ensure as many of those visitors take action as possible.
CRO is a process of learning what your audience needs to see to take action on your website. It's about challenging the status quo—trying new things and pushing the envelope.
A lot of times, what you'll learn from A/B testing goes in the face of conventional wisdom or user-experience best practices. You may be surprised what elements on your sales and landing pages are hurting your conversion rates, and only through testing will you be able to identify what they are.
Unlearn What You Think You Know
Most companies look at increasing their profits by increasing their prices or rates. But sometimes, lowering the price can also affect profits, particularly if the costs to acquire those customers go down because your conversion rate went up.
And that's not the only way in which traditional marketing logic might be proven wrong with testing. Some businesses will find that keeping the price off of a sales page would have a higher conversion rate, whereas other businesses might find that their audience needs to see that price up front. Sometimes, removing the image gallery can increase conversions, while other times, the image gallery itself can prove more effective if it's placed closer to the top of the page.
With an increased conversion rate, you can increase your revenue without having to increase the flow of traffic to your site. If your sales page is running at a conversion rate of about 30% and you optimize pieces to increase that conversion rate to 40%, your revenue will increase.
How COVID Has Changed Prospective Customers' Behavior
More people are shopping online for goods and services than ever before, bringing more traffic to websites. The COVID pandemic helped accelerate this change.
Interestingly, the sudden increase in online traffic at the beginning of the pandemic came with a sense of scarcity that consumers are now primed for. A lot of businesses that were still pivoting to online systems at that time were finding themselves running out of stock and having a hard time meeting the demands of their new customers.
This meant that the businesses testing for managed expectations and messaging regarding their backorder statuses were able to convert at much higher rates than businesses that tried to downplay delays. For example, one store experienced a backlog of orders, so they planted an immediate, in-your-face pop-up on their site explaining the delays. This tactic drove up conversions by 30%.
Now fast-forward to the reopening of the economy in 2021. While businesses are finding ways to address their inventory problems, they're facing a new complication—vying for the attention of the online shopper. With more stores online, winning that traffic has become more expensive so it's crucial for you to stand out from the competition.
This is where your value proposition comes in—anything that tells the visitor what they want or need to know to make the decision to take the next step with you. When we think of value propositions, we tend to think of questions like, "Why should a customer shop with us?", "What's unique about our product or service that they can't get elsewhere?", or "What guarantees do we offer to address visitors' anxiety about our services?"
You can test for value proposition. For example, an eCommerce business that sells clothing ran one of these tests on their product pages. They discovered that when they moved the product details—the selling points—above the Add to Cart button, their conversion rate almost doubled.
CRO plays an important role for digital marketers because the higher your conversion rate, the less money it costs to win each lead or customer. Here's how to get started A/B testing key pages of your website.
#1: Make a List of the Elements on Your Product or Landing Page
Unlike search engine optimization, where what works for one business has a solid chance of working for your business based on a standard set of best practices, CRO relies on your ideal customer. This means that simply copying the strategy that worked for someone else may not work for you, especially if your audience is after something different.
The best place to start optimizing the conversion rate of your product or landing page is to take stock of the elements already on that page. Make a list of every section except the sales section (which includes your form, price, add to cart, etc.). That's the only section you can't remove so you won't test it.
The other sections on your page might be an image gallery, six icons that describe how you're the best in class (an A+ rating with the Better Business Bureau, for example), three paragraphs of content that describe your product, reviews, and a group of related products you're trying to sell. Whatever is on your page, add it to your list.
Pro Tip: Repeat this process for every landing page, opt-in page, and sales page you want to optimize. Remember, what works on one page may not necessarily work on the other page if the people visiting those two pages are after two different things. So you'll want to run separate tests on each page, rather than taking one page's results and trying to duplicate the elements.
#2: Create Variations of Your Content in Google Optimize

Once you've finished creating your list, go to an A/B tester like Google Optimize and create variations by removing one piece of content per variation to test against.
With Google Optimize, you don't need any development or design skills to do this kind of testing. You literally click on an element and click Remove. For the example above, you could remove the image gallery in variation one, remove the value proposition icons in variation two, remove the paragraph in variation three, and so on.
#3: Choose How Many Elements to Test at Once
If you have a site with a lot of traffic, you can test several variations of your page at the same time. But if your website doesn't get a lot of traffic yet, you want to run a test against only two variations, one control and one with a single change. This allows you to make sure you're acquiring enough data to support your test results. With high-traffic sites, it's easier to run multiple variations at a time.
Each variation should have one value proposition changed or removed to test against the other variations. This will help you prove the efficacy of each variable and its effect on overall conversion rate.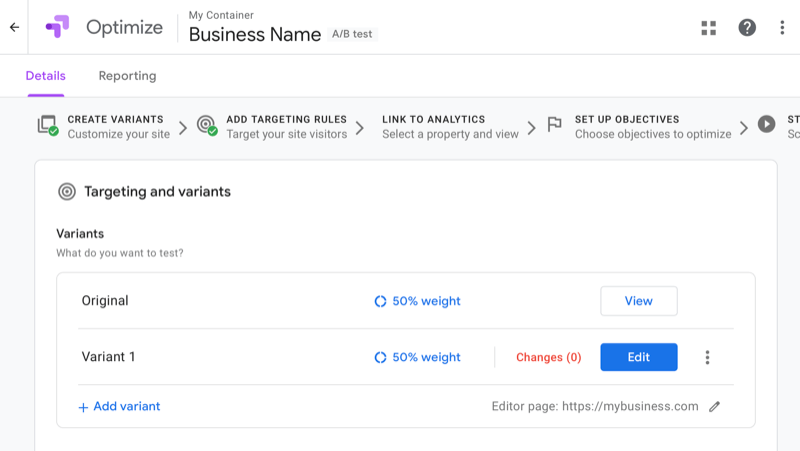 Most importantly, test every element on your page. Don't just pick a couple of elements to test. Remember, it all comes down to what your customers are looking for and their mindset when they're on your site. You may be surprised by what turns out to be hurting your conversion rates.
#4: Decide When to End the Test
Of course, one of the fears about running a test on CRO is that the under-optimized version isn't generating as much revenue as the optimized version. So how long should you wait before shutting down the test, knowing that you could be losing money as long as the test is running?
The answer is that it depends on the test, the amount of traffic your site has received, and the metrics being used by the A/B tester. If your site has decent traffic and a variation has been consistently lower for 2-3 days, it's probably safe to shut that variation down.
If you have a test that fails, it might be easy to tell yourself, "Now I know better than to do that again." But the learning doesn't stop there. Every test teaches you something new about your audience.
For example, if you decide to test removing the price from your sales page, and you see the conversion rate plummet, then you know your audience needs to see the price on the page. But that doesn't mean they need to see it in the same spot. It may mean that moving the price higher up on the page or making it more prominent could increase conversions.
Never Stop Testing
Because your audience is never going to stop evolving, your testing can never really stop. As you gain new prospects, new visitors find your website, and your brand continues to grow, you need to continue testing to ensure your content is still converting at a maximum rate.
This is especially important as more businesses intensify focus on their online presence and the Internet continues to fill up with content. The cost to convert a visitor into a lead, prospect, or customer is going to continue to climb.
Other Notes From This Episode