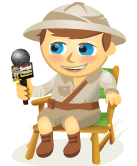 In this video I interview Joe Pulizzi, author of Get Content, Get Customers.  Joe is an expert in the world of content.
Listen to Joe explain why you must have a content marketing strategy before you have a social media strategy. Joe connects the dots between content and social media.  Be sure to check out the takeaways below.
Here's what you'll pick up in this video for your content marketing strategy:
How to take your sales hat off and put on the publishing hat on
Why you need something interesting to say to say
Download the Content Playbook (it's free) to find 42 different content tactics you can use
What you need to do first before you write your report
How to add social tools in your content strategy
Why you need to know where your customers are hanging out online
How to get the most bang on your buck for your content marketing strategy
What content works best on social media
What's changing today with regards to content marketing
Learn more about Joe Pulizzi on his webiste. And check out Junta42 which brings together content experts and businesses to build great content strategies.
Do you use content as part of your social media marketing? How is it working? If not, what is holding you back? Please leave your comments in the box below.