Are you thinking of starting a Web3-based business? Looking for a proven model to follow?
In this article, you'll discover how to build a Web3-focused business.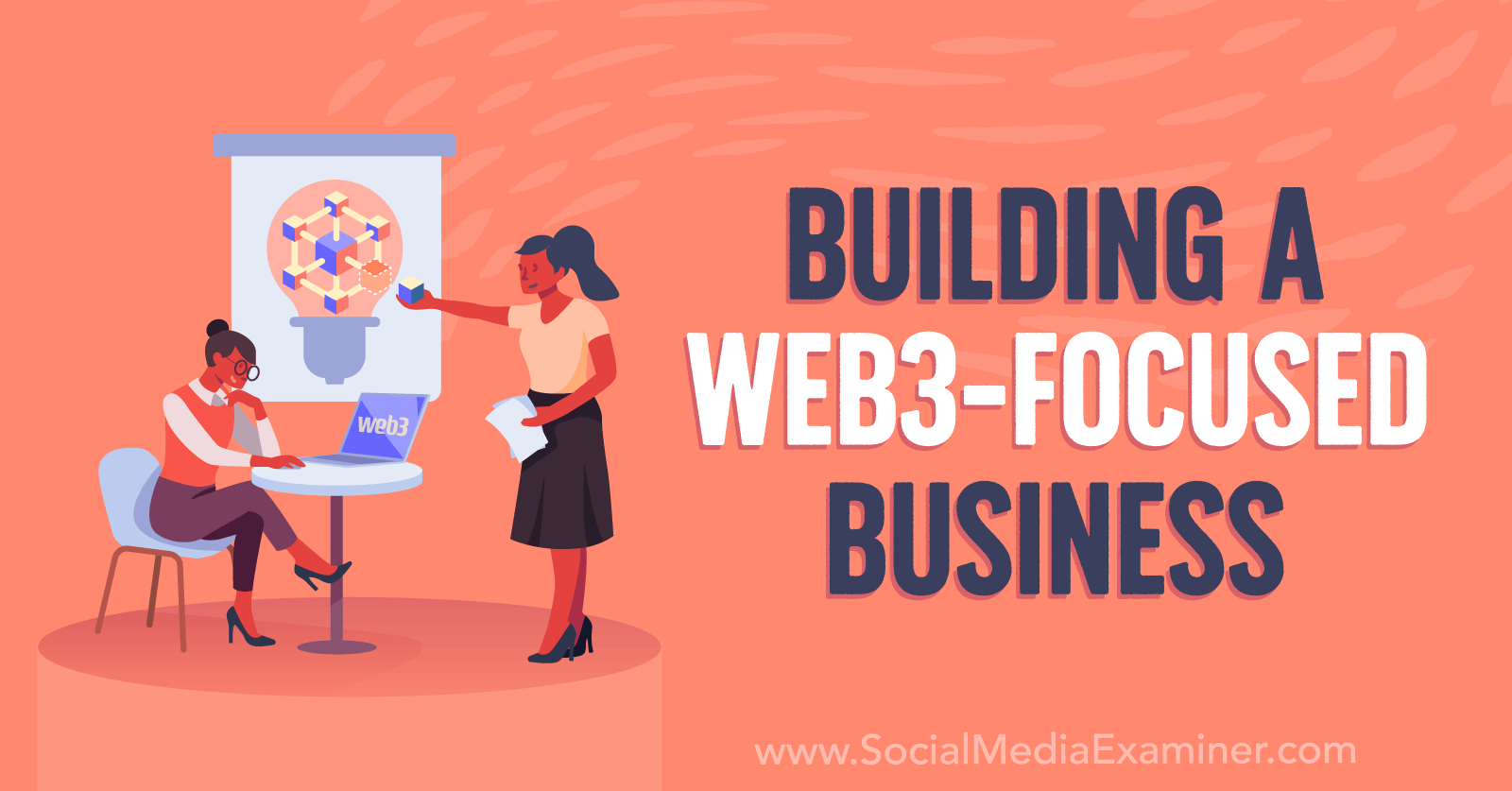 The Opportunity for Entrepreneurs in Web3
Because the Web3 space is nascent, its not overly crowded and that means there is a lot of room and potential for someone to emerge as a thought leader.
There are also green fields of opportunity for a business to emerge as a leading marketing service provider in Web3—something that's become quite difficult in Web2 because the market is saturated.
For example, there are over 10,000 companies in the Web2 marketing technology space that offer products ranging from productivity tools to measurement solutions and more. To start a new business, you would develop your product and then work to convince people to move from their existing service provider over to you.
In Web3 however, there are only around one hundred teams trying to build what will become the Web3 marketing technology space. There's plenty of room to create a long-lasting business to dominate the marketplace in the same way that OpenSea has.
Web3 Business Growth Marketing Strategy: A Community-First Model
A business grows by acquiring customers.
While both Web2 and Web3 companies are grappling with rising customer acquisition costs, unfamiliar and sometimes inelegant onboarding flows increase those costs further for Web3 businesses.
In response, Web3 growth marketing is evolving to community-first driven strategies that focus on retention, brand loyalty, and differentiation.
Think of a community-first strategy like an SEO strategy. You invest a lot upfront by helping your community members achieve their own goals, then reap benefits of the brand network you've built at a later point in time because you've become a trusted source.
What does the process look like?
First, build your community— a small group of people who really care about the product or project, want to see it succeed, and want to share it with their friends.
Then, figure out how your brand can facilitate meaningful group experiences between your customers with alternative value propositions that drive brand loyalty.
A Chinese travel company uses WeChat to accomplish this. When a customer books a trip, they are asked if they want to be added to a group chat with other travelers who are traveling to the same area. The company adds value by staffing the group with a rep who answers any questions, but the deeper value is delivered when the travelers begin to speak with each other about weather conditions, dining options, and sites to see. With very little effort, the travel company has facilitated an experience that travelers will remember.
Ads and other forms of paid digital media are used in the later stages of the marketing strategy to fuel product sales, only after your brand has achieved a certain level of social standing and social proof.
Why does this work?
First, when you create a community before you create a company, you create space for authentic brand-building and storytelling.
Second, gathering a group of people together before you try to sell them a product lets you create a deeper relationship with them.
How to Find Your First Web3 Community Members
When you're ready to begin drawing a community together, Web2 channels can help.
Start with Twitter, for example. Summarize long-form content you're reading into short-form content via threads and tag the author. This will bring you to their attention and may result in them sharing your threads – increasing your reach and exposure to more people. As you connect with people, nurture those relationships in the DMs.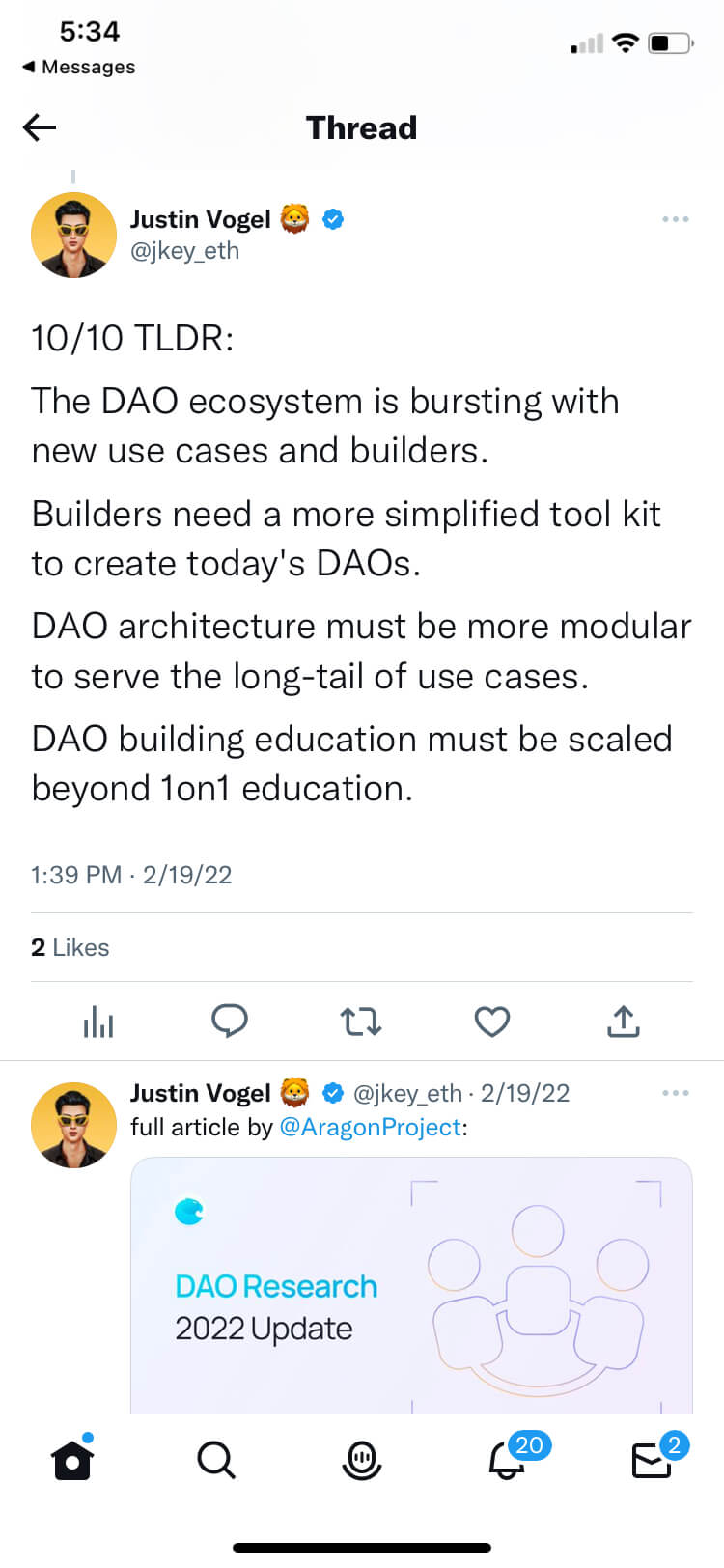 Justin Vogel of Safary Club used these tactics to grow his Twitter followers from 0 to 1000 in just three months.
Similar tactics can be used on Facebook, Instagram, or LinkedIn.
When Justin posted on LinkedIn that he was starting the first Web3 growth community and explained a little of what that would entail, approximately 150 people responded with interest.
As you find the right people, you can invite them to join your community on Discord, Telegram, Signal, or even in a Facebook Group.
How to Develop Your Web3 Community
It's one thing to amass a following on a social platform, but it's another thing to truly develop community.
As you move forward, remember: your community is not an acquisition channel.
It's a place where you and your community members get to know each other personally. Your role is to facilitate exchanges and experiences between your members.
Safary Club does this very deliberately.
First, every new member has an onboarding call with the founders. After that call, the new member is matched with another new member who will be joining at the same time.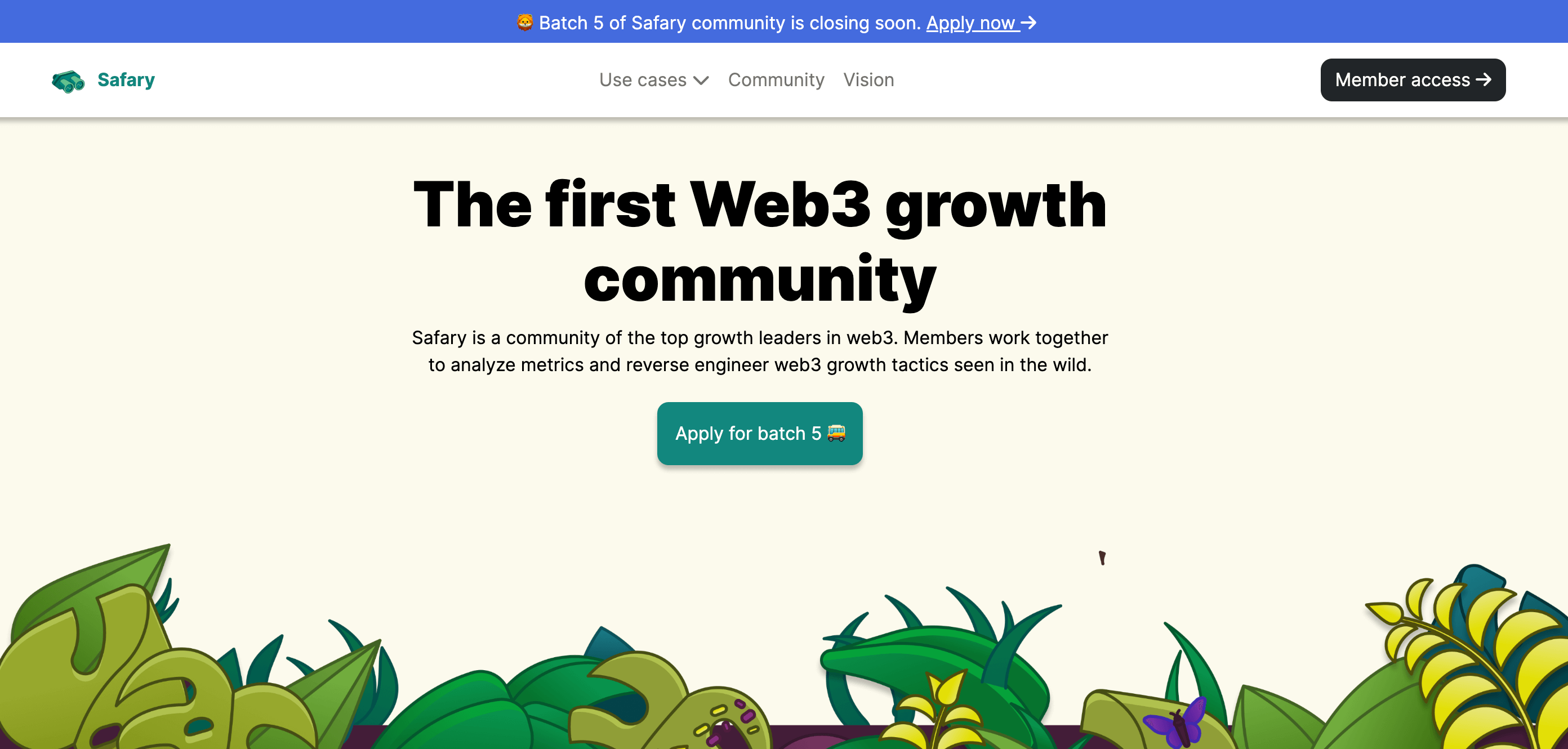 Members immediately have someone to connect with and get to know. As the new members meet and get to know more and more people, true community is developed and interconnectivity is supported.
The members live in different places around the world and the communications are digital in nature but the relationships are genuine. Which makes every member want to bring their personal friends into the community.
Safary Club further supports community relationships by hosting a welcome call on Discord for every batch of new members. During the calls, the primary goal is to get as many people as possible to come 'on stage' and share a little bit about their journey and what they're working on. This is another avenue for natural connections to form between members who share similar backgrounds, niche interests, etc.
Finally, the club hosts a weekly call that spotlights Web3 growth leaders from different verticals, each chosen from inside the community. They talk about their growth strategies and challenges, and everyone learns from each other.
Web3 Growth & Scaling
Safary Club started as a group of 40 people from around the world who were trying to answer questions about what growth strategies, monetization models, and tech stacks businesses will use to grow in the future. Along the way, they became deeply obsessed with community-building and thinking about what the future of growth looks like in Web3 and beyond.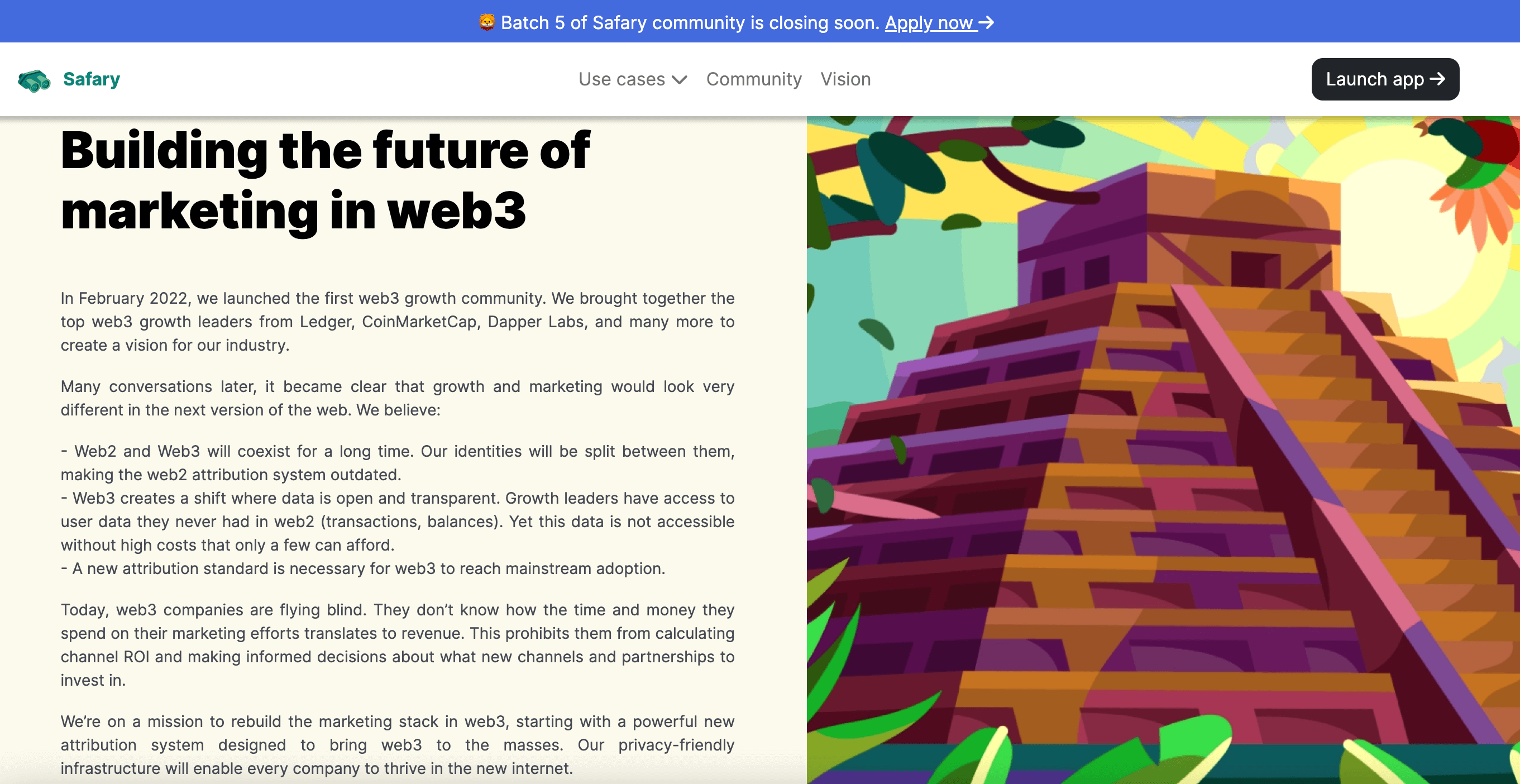 They use an application process to vet and assess potential member, and gating to protect the integrity of the community. To date, almost 2,500 people have applied and the group has accepted 300 of the top Web3 growth leaders from 200 different Web3 companies.
Through the community's efforts, an attribution system for Web3 called Safary has been developed and is slowly onboarding users.

As your own community grows, be mindful of quality over quantity and the power of connections. A B2B business only needs hundreds of high-quality connections and relationships to scale. If you can build 500 relationships with people from 500 companies, that could be more impactful than a 25-person sales team.
Other Notes From This Episode
Where to subscribe: Apple Podcast | Google Podcasts | Spotify | Amazon Music | RSS
✋🏽 If you enjoyed this episode of the Web3 Business Podcast, please head over to Apple Podcasts, leave a rating, write a review, and subscribe.
Disclaimer: The information provided on this website is provided solely for educational purposes and does not constitute any advice, including but not limited to, investment advice, trading advice or financial advice, and you should not treat any of the website's content as such. Social Media Examiner recommends that you independently research any information contained on this Website and that you speak with an investment professional before making any decision to purchase, trade, hold or sell cryptocurrency. Nothing herein should be treated as a recommendation to buy, sell or hold cryptocurrency. Social Media Examiner cannot guarantee the accuracy of any information listed on the website and is not responsible for any missing or wrong information. All information is provided as is and should be used at your own risk. Social Media Examiner disclaims all responsibility and liability for your use of any information found on the website.