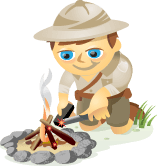 Are you part of a team that collaborates on content?
Want tools to make the collaboration process more efficient?
Whether you're working on blog post or creating social media updates, the more people involved, the richer the results can be. Using collaboration tools makes the process smooth and seamless.
In this article I'll share eight collaboration tools to improve your productivity.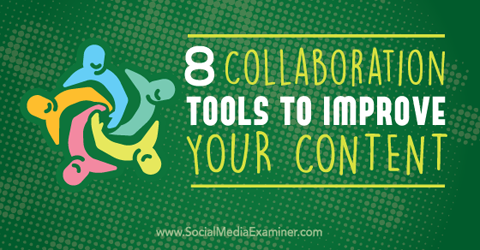 Listen to this article:
Where to subscribe: Apple Podcast | Google Podcasts | Spotify | RSS
#1: Map Out Content Using MindMeister
MindMeister is an effective brain-mapping tool that allows you to visually break down complex concepts and show how each idea flows into another. It's perhaps the fastest, easiest way to get a point across effectively.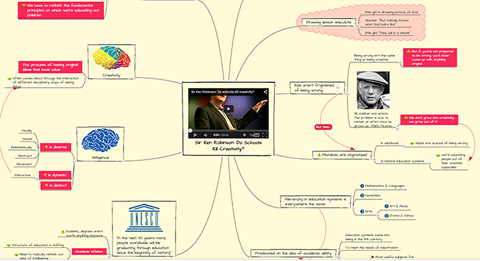 MindMeister is browser-based and available on mobile apps. There are a variety of templates and numerous additional features for brainstorming, project plans and more. Map out your content strategy with your team, no matter where they're located.
Price: Free plan gives you access to three maps. Note: MindMeister collaboration features are included in the free plan. There are multiple premium plan options, starting at $36 for 6 months with a 30-day free trial.
#2: Brainstorm in Real Time With Scribblar
Scribblar is an educational tool that can also be used for collaborative brainstorming sessions.
Primarily an educational tool, Scribblar is a favorite among students and teachers for its ability to create multiple "rooms" that allow you to collaborate in real time. Plus, you can text and audio chat during the process.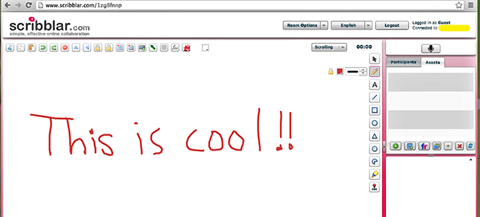 While there is an obvious academic tone, Scribblar is a great tool for creative people who excel when they let their ideas flow in a free-form conversation. When working on your content plan, eliminate endless emails and conference calls. Just jump onto Scribblar and work on the same dashboard together.
Price: A very limited free plan (2 users, 1 room) and a variety of premium plans that start at $9 a month are available.
Note: Chatwoo can be a good free alternative. It's online chat room software which is completely free. You can use it to collaborate with your team (on a private corporate site) or with your site visitors.
#3: Compile Research on Cyfe
Cyfe is a multi-purpose research and productivity dashboard that lets you collect data, create to-do lists, archive search results and more. It helps you monitor social media mentions and activity too.
Get Everything You Need to Become A Better Marketer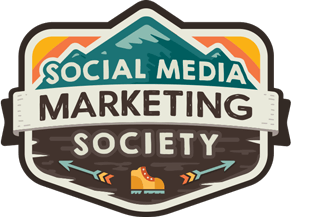 Looking for a one-stop-shop for marketing greatness? Try the Social Media Marketing Society to boost results and become a better marketer through deep-dive training and an always-on community of marketers. The path to better marketing begins in the Society.
START YOUR TRIAL TODAY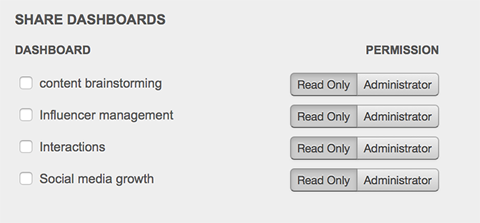 For companies that need a bit more oomph in their collaborative tools, Cyfe provides a long feature list to help users work together in the cloud.
Price: There's a free plan with the option to upgrade to premium ($19 per month; $14 a month if paid annually).
#4: Plan Editorial on GatherContent
Specifically designed for collaborating, GatherContent is every social media manager's and blog editor's dream.
It allows you to create an effective project or editorial calendar that has everything in the same place, and is organized through the same dashboard. This ultra-organized information keeps everyone on the team on the same page.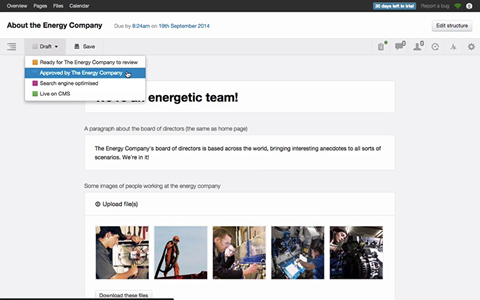 GatherContent is easy to use and minimizes the task of managing workflow, no matter how many people you invite to be a part of the process. Never cross wires or miss deadlines again.
Price: $79 per month with a 30-day free trial. Note: Check out CoSchedule as another option.
#5: Manage Projects on Trello
If you need a simple way to set tasks for everyone on your team, Trello is probably the best project management tool for this purpose.
Put Google Analytics to Work for Your Business (Online Training)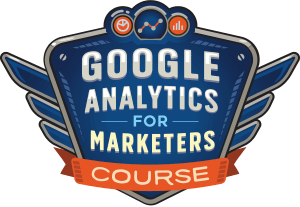 Ever thought, "there's got to be a better way" when it comes to tracking your marketing activities? Are you forced to make decisions based on limited data? With the right training, you can use Google Analytics to measure all of your marketing efforts with certainty.
You'll stop the leaks in your ad spending, justify your marketing spend, gain the confidence you need to make better marketing decisions, and know what's working at every step of the customer journey. Let the world's leading analytics pro show you the way. Check out our new Google Analytics for Marketers course from your friends at Social Media Examiner.
CLICK TO LEARN MORE: ANALYTICS TRAINING
Once you have a plan, create boards and then pin cards with tasks to each one. Then, write either checklists or standard text instructions for what each task entails, and assign those cards to different team members.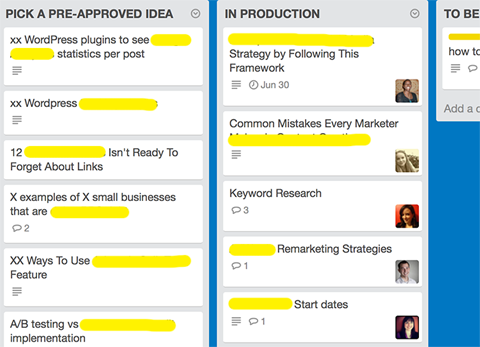 When the work is done, attach documents to the completed card if you like and list it as complete. Also, @tag team members to quickly get their attention and connect with them.
Price: Free.
Note: Also check out Wrike for easy project management.
I also use both in combination with the Dropbox account because my work usually entails huge files (I collaborate on video and infographics files)
#6: Provide Feedback via DivvyHQ
DivvyHQ creates an all-inclusive dashboard with every tool you need to keep your team on track. That includes limitless calendars, all types of media formats, social publishing and the ability to park ideas for future meetings. You can also edit, make comments and keep track of all changes.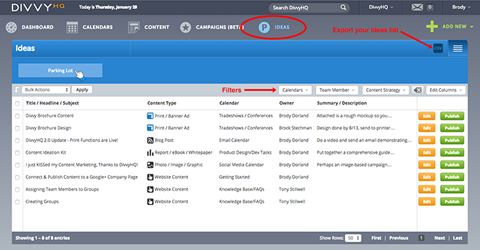 Manage your workflow, plan out your marketing and promotional efforts and simplify your everyday work progress for the entire team with DivvyHQ.
Price: There is a 14-day free trial, and then three premium plans starting at $25 per user per month.
#7: Share Documents Using Google Drive
Google Drive gives users the ability to create spreadsheets, documents, maps, drawings, slideshows and more, through both onboard and connected apps from their extension database.
You and a limitless number of people can create folders that have any and all documents you need for your marketing, content and social media plan.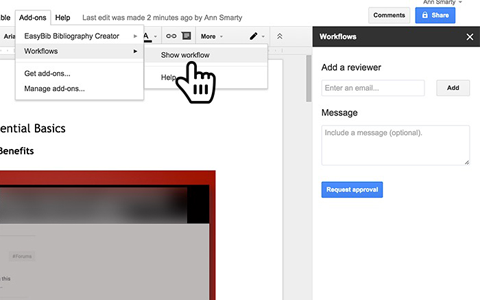 Use expansive sharing parameters or share items one on one. Once you create and share your materials, collaborate at will. (Users can be allowed to edit or just view the documents.)
Assign different colors for each team member collaborating on a document. Also, post comments for others to let them know if they need to review, edit, mark as "done" or respond.
Price: Free.
#8: Review Drafts on Medium
To test out content collaboration, try Medium. This platform allows people to share a draft with anyone and then approve or disapprove the changes. All the approved editors are added to the piece in the "Thanks" section.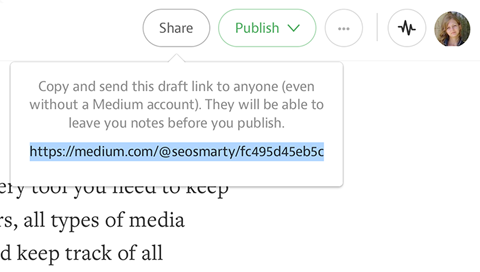 Use Medium if you want others to review your drafts prior to publishing or to test out potential bloggers for your team. Have them share drafts with you for an easy submission process.
Price: Free.
Conclusion
People from all over the world can participate on efficient teams, thanks to the variety of collaboration tools and platforms available. Expand your group and collaborate to take your content marketing to the next level.
Brainstorming is a wonderful way to improve your content. But that's not the only benefit to working with a team. Your ideas are more developed, and your material can be reviewed and edited by others. Plus, you get feedback. All result in stronger content for your company, whether it's for a business blog, social media or a marketing plan.
What do you think? What collaboration tools do you use? Do you have experience with any of the tools mentioned? Please share your thoughts and recommendations in the comments.