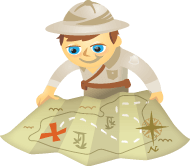 Do you need to connect with other businesses on Facebook?
Wondering how other brands make Facebook work for them?
In this article, you'll discover how top B2Bs use Facebook to reach and create relationships with business prospects.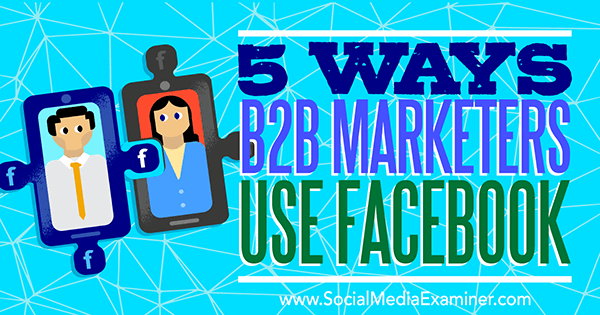 #1: Support Expert Positioning With Visuals
Facebook is largely a visual social network. In fact, posts with images get 2.3 times more engagement than those without.
If you want the admins of other businesses on Facebook to stop scrolling and engage with your Facebook posts, use high-quality imagery combined with a bold font and one key message to support your expert status.
Business consultancy company Accenture uses images frequently on their Facebook page to grab attention in the news feed. In this status update, they share company news and take advantage of third-party affirmation.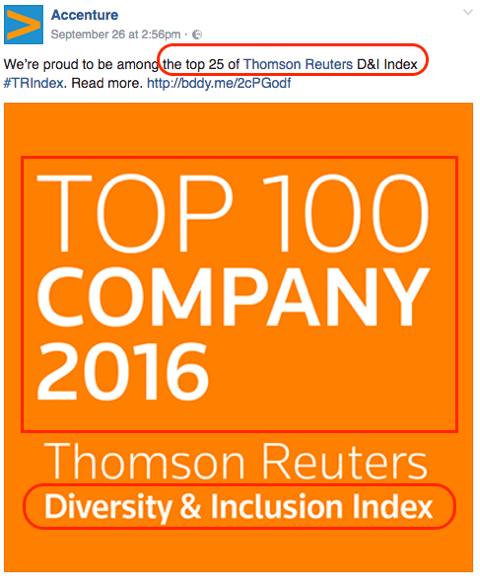 In the Facebook post below, Accenture offers expert insight into why performance management tactics need to improve in the business setting and how to achieve this goal. By leveraging visual storytelling in the status update, Accenture communicates three key points of distinction from other B2B brands:
We're experts in our field and we're giving you access to insights from our managing director.
We have industry knowledge that we're willing to share with you.
At no point in this status update, in the image, or in the blog link description are we trying to sell to you.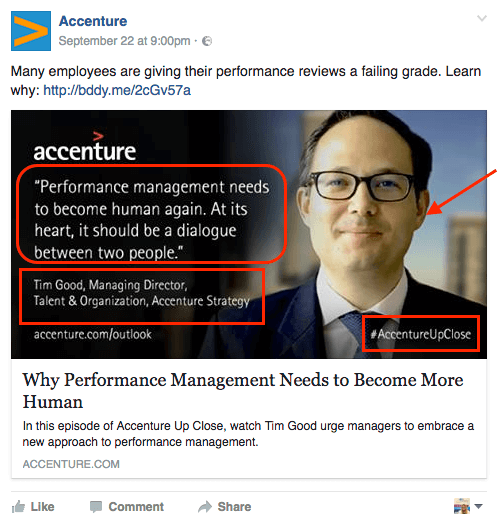 #2: Capitalize on Interest With a Regular Facebook Live Show
The introduction of Facebook Live has given businesses remarkable access to a potential audience of 1.65 billion people worldwide. Additionally, Facebook reports that users watch live videos three times longer than they watch pre-recorded videos.
Facebook Live is a gift that B2B brands should be exploiting for greater trust, engagement, and reach. While many brands may use Facebook Live on an ad-hoc basis, real success with Live comes from having a scheduled show. Set a day and time for broadcasts so your fans know when they can see you live.
Software giant SAP Store took advantage of Facebook Live to host a week-long series of daily shows fronted by social media influencer and live-streaming expert Brian Fanzo.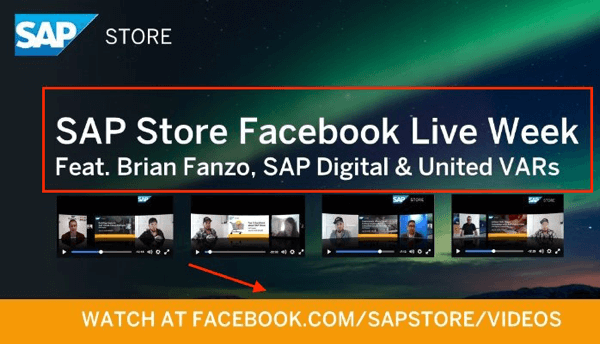 Similar to a television programming schedule, they created a list of show themes to run from Monday to Friday, at the same time each day.
Brian Fanzo took over the SAP Store Facebook page and hosted the half-hour programs in an interview-style show, during which he let fans participate by asking questions and commenting. Plus, the SAP Store Facebook Live Week broadcasts gave the brand coveted prominence in news feeds.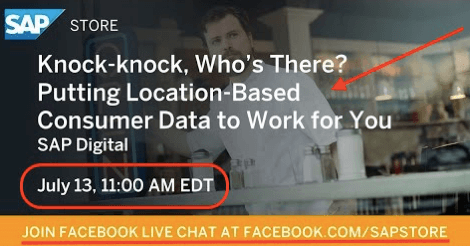 #3: Generate Warm Prospect Audiences With Facebook Ads
The customer data Facebook has on its over 1 billion active daily users provides marketers with an unrivaled opportunity to use ads to speak directly to those interested in a product or service. Any B2B serious about social media marketing will use this tactic not only to drive sales, but also to collect leads and build an audience of warm prospects.
To create your own warm audiences with Facebook ads, install the Facebook tracking pixel on your website. The pixel will automatically add anyone you send to your website from Facebook to a custom audience you can then retarget with Facebook ads.
Next, create a Facebook ad to offer premium content your prospects will value. Whether you offer a how-to guide, live webinar, ebook, blog post, white paper, or cheat sheet, be sure to host the content on your website. Create a lead-generating landing page that requires people to sign up for and download your premium content.
When choosing your Facebook ad objective, it's best to select Send People to Your Website, but you can also opt for Increase Conversions on Your Website and Collect Leads for Your Business.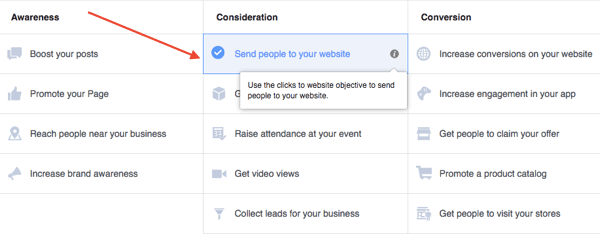 As you drive more traffic to your website, you'll build a custom audience of people who'll know who you are when you target them with a second ad. The result? They'll be more likely to click on your ad and take action.
Facebook advertising is hugely powerful; however, to be successful with ads, you need to be strategic and collect warm leads.
#4: Bolster Engagement and Reach With Select Instant Articles
Facebook's Instant Articles feature allows publishers to promote content within the app while enjoying faster loading speeds. In fact, instant articles load 10 times faster than standard mobile web articles.
Other benefits are that readers are 70% less likely to abandon instant articles, and people share them an average of 30% more often than mobile web articles, amplifying the reach of your stories in the news feed.
After you've been approved for and configure your instant articles, these tips will help your B2B company get the exposure, engagement, and brand awareness you want to build:
Use keyword research to help you create instant articles that will speak to your B2B prospects.
Brand your articles with the customized style guide provided by Facebook.
Produce interactive content by using videos and high-resolution images and embedding audio clips.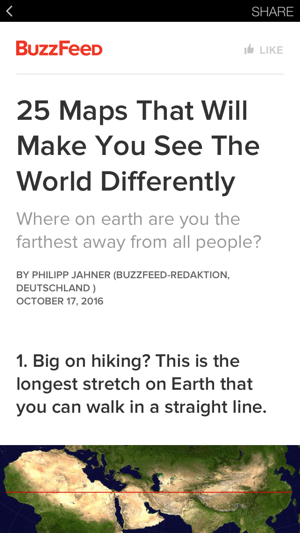 #5: Build on Visibility and Engagement With Native Video
Did you know that Facebook has an average of 8 billion video views per day? Or that native videos published directly onto your Facebook page generate significantly greater reach than a standard text, image, or link-based status update? In fact, compared to photo posts, branded video content has a 148% greater organic reach.
If you want to connect and engage with other brands and businesses on Facebook, try increasing the frequency of native video in your Facebook marketing strategy.
To see how the top B2B brands are using native video, I examined the Facebook pages of Microsoft Windows, FedEx, and HSBC, and discovered that an average of one in five posts is native video. I also noted that native video posts exceeded the engagement of other post types and sparked more comments.
HSBC and Corporate Social Responsibility
In this video, UK bank HSBC interviews Olympic gold medal winner Chris Hoy as part of their sponsorship of British cycling.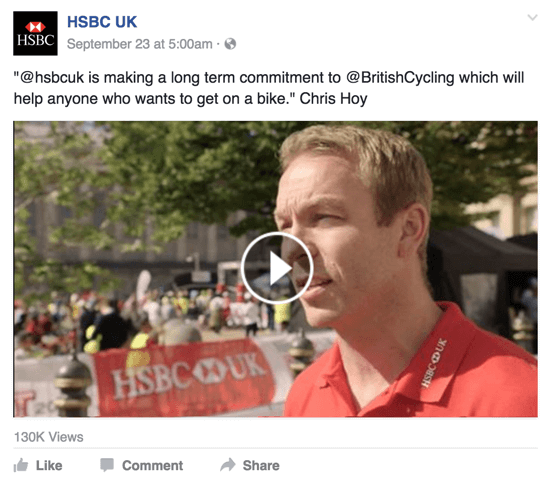 FedEx and Travel Tips
In this video, an employee of logistics company FedEx shares insights into Memphis, Tennessee.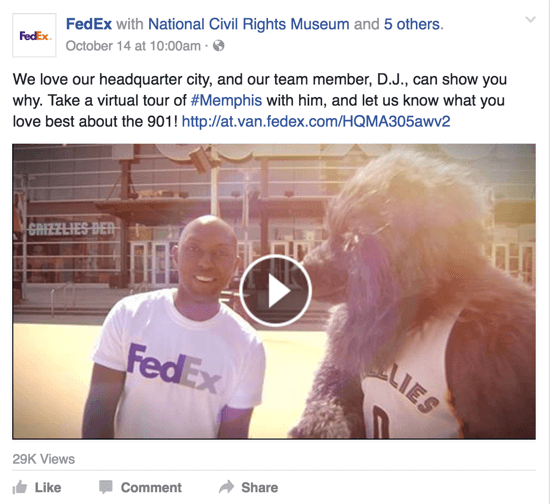 Microsoft
Being able to answer customer questions in a video is a great way to generate engagement and gain trust for your product or service. In this video, Microsoft shares the reasons why their customers should upgrade to Windows 10.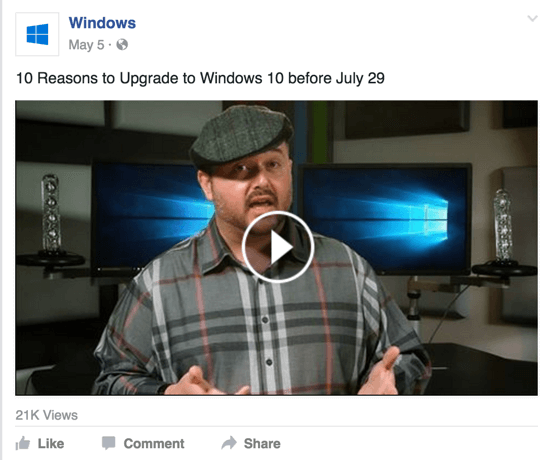 While the native video content from these brands varies from business news to corporate social responsibility, educational marketing, and product/service examples, most of the videos feature people. Keep that in mind as you create your own native videos.
Conclusion
Successfully marketing your B2B on Facebook means you have to produce content for your customers, not simply promote your own brand. Stay in that mindset as you try the tactics above and you'll be on your way to winning B2B business on Facebook.
What do you think? Will you start marketing your B2B business differently after reading this article? Which tip will you try first? I'd love to hear your feedback and any positive experiences you've had.