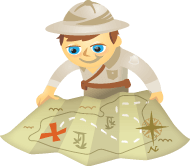 Do you want to create an online community?
Have you considered a Facebook group?
Facebook groups can support your community-building and marketing efforts in a number of ways.
In this article you'll find three ways to use Facebook groups for business.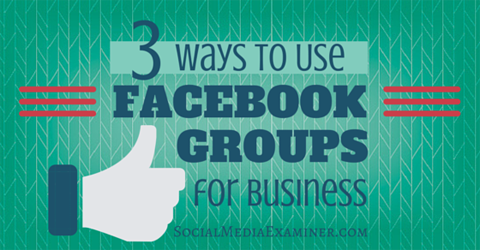 Listen to this article:
Where to subscribe: Apple Podcasts | Google Podcasts | Spotify | YouTube Music | YouTube | Amazon Music | RSS
#1: Create a Community Around an Event
She Takes on the World introduced Facebook groups to their business last year. The company runs a community for female entrepreneurs called the Conquer Club, which is a paid membership program hosted on a membership website.
In fall 2014, the company was gearing up to launch the Conquer Summit, a free 9-week business training series featuring weekly video interviews. To build a community around the event, She Takes on the World created a Facebook group for everyone who registered for the free training.
The Conquer Summit group on Facebook has over 6,700 members. During (and following) the summit, it provided a space for community members to interact with Natalie MacNeil, host of the summit and CEO of She Takes on the World. Members also networked with one another, making connections, discussing content from the summit and more.

"One of the things we really noticed during the Conquer Summit was that in a lot of cases, it was easier to communicate with people via our Facebook group than it was by email," explains MacNeil. "We found that having the group in place during the event helped create a more personal connection with our clients and provided an added level of support."
The Conquer Summit group has also created strong connections, with members around the world meeting in person. "We've been surprised at how many members have met up. It's been cool to see those people meeting for the first time because of the power of our community," said MacNeil.
#2: Launch a Group for a Program, Product or Service
When graphic designer Marie Poulin set up a Facebook group for the beta round of her Digital Strategy School, she had no idea what to expect. She quickly realized how much extra value that group added for her and her students.
"The Facebook group has been a tremendous success, more so than I ever could have expected. I've had members tell me that they are cancelling memberships with other groups because they are getting so much value [from ours]," said Poulin.
During the beta round of her program, Poulin was able to get real-time feedback from participants on what they needed, what they liked and what they didn't like. The feedback enabled her to improve and adapt her Digital Strategy School before launching the next round.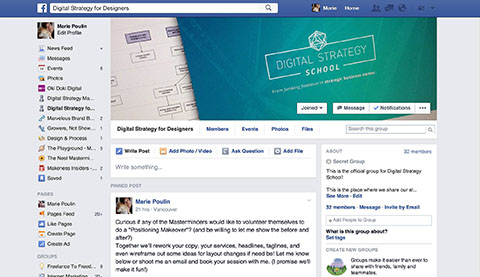 The group is designed to be a safe space for members (who are mostly graphic designers) to discuss all things related to their working process, handling client situations and getting feedback on whatever they need. It's a place where members can have honest conversations about the industry.
That personal touch and relationship with participants has helped Poulin establish herself as a leader in training for creative people running digital businesses.
Within the group, members have created strong relationships with one another by answering questions, sharing resources and brainstorming ideas. "Being a service-based professional can be scary, and no one wants to admit they're struggling with a client or even a creative process. Within the group, they can bring that to the table and get the help they need. I'm not sure we'd have that level of trust or support without a Facebook group in place."
#3: Build a Networking Group
If you're having a hard time finding groups that are a good fit for your needs, don't be afraid to create your own. Two years ago, Jules Taggart and Sandy Sidhu couldn't find a group that best served their needs as female entrepreneurs, so they created a low-cost networking group called Thrive Hive.

The group offers networking and learning opportunities for women who are building both traditional and online businesses. Taggart explains, "We noticed that in so many groups we were lost in the shuffle, as they were just too big or didn't offer a lot of value. There was so much pitching and promotion, and no true discussion."
Thrive Hive's online networking has also evolved into offline networking as well, with three in-person retreats and members meeting up all over the world.
Over to You
Facebook groups are a great opportunity to grow your business. The total number of people using Facebook groups is increasing steadily. In October 2014, Facebook reported that 700 million people use Facebook groups every month, an increase of 200 million from the previous January.
What do you think? How are you using Facebook groups in your business? What wins or challenges have you experienced? Share your thoughts in the comments below.