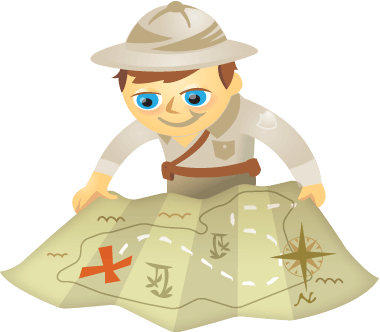 Are you looking for new ways to network?
Have you considered using Facebook groups to build your business?
Facebook groups offer a proven way to form lasting, productive connections that generate leads.
In this article you'll discover how to create stronger relationships with customers by networking in Facebook groups.
#1: Join the Right Groups
With millions of active groups on Facebook, there truly is a group for every interest. If you're looking for networking, you can track down groups within your industry to connect with your peers and prospective customers.
With so many groups to choose from, you'll need to start with some research to find groups that fit your needs. Start by asking your colleagues and customers what groups they're active in.
Facebook also offers a "suggested groups" feature that you can find on your top navigation bar when you view Groups from your profile.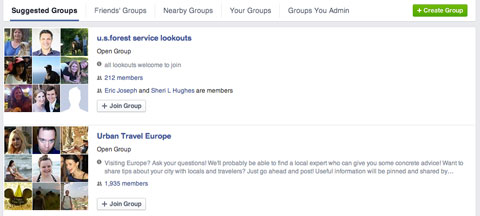 You can also use graph search to locate groups using the string "groups of people who like TOPIC or PAGE NAME."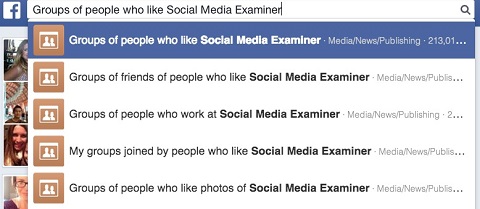 Once you find groups, read their descriptions and see if the group is open to new members. You can then request to join the group by clicking on Join in the top right corner of the group's page.
Get Everything You Need to Become A Better Marketer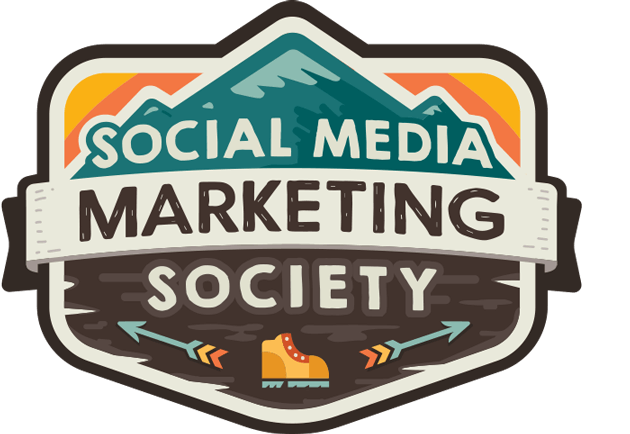 Looking for a one-stop-shop for marketing greatness? Try the Social Media Marketing Society to boost results and become a better marketer through deep-dive training and an always-on community of marketers. The path to better marketing begins in the Society.
START YOUR TRIAL TODAY
#2: Be Genuine and Helpful
To build a solid reputation and real relationships, your goal should not be to sell or promote, but to be helpful. Focus on being of service by asking and answering questions and engaging with other group members.
These activities result in relationships and connections that turn into sales, referrals and partnerships for your business.
#3: Support Your Facebook Presence
Being active in Facebook groups offers a way to help drive people to your Facebook page.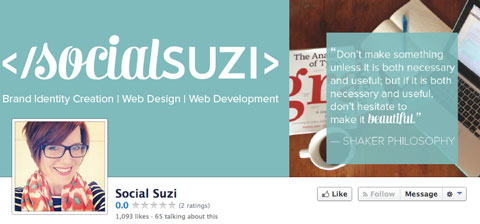 Web designer and developer Suzi Istvan has built her business page from 60 to close to over 900 likes in under 10 months purely through sharing in groups.
She attributes half of her 2013 revenue to relationships formed in Facebook groups.
#4: Keep in Touch
Business happens in real time and using a group with customers or other interested individuals gives you a convenient way to keep members informed about products and services and share information.
If you have a question or need clarification, groups let you ask actual customers for input in a casual way.
#5: Convert Prospects Into Buyers
Business coach Rebecca Tracey has created a thriving Facebook group called Uncaged Lifers that she funnels all of her prospective clients into.

When people join her email list, they are encouraged to join the group. Tracey explains, "My goal was to create community, but my Facebook group has quickly become the number-one source of new clients in my business."
#6: Provide Customer Support
For online businesses or newer business owners who don't have a 24/7 customer support network in place, an active Facebook group gives customers a place to connect, collaborate and share.
Build a group to facilitate connections among your customers and encourage brand ambassadors to engage on your behalf.
Put Google Analytics to Work for Your Business (Online Training)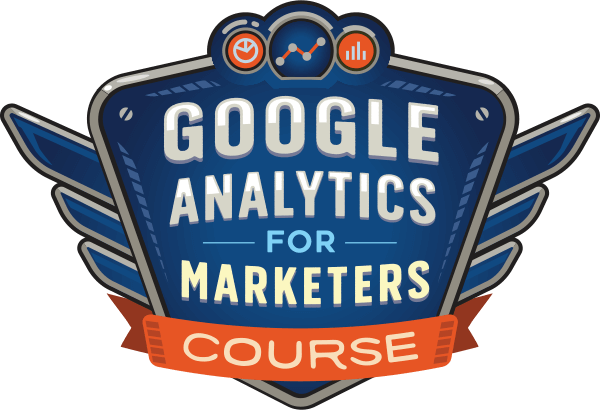 Ever thought, "there's got to be a better way" when it comes to tracking your marketing activities? Are you forced to make decisions based on limited data? With the right training, you can use Google Analytics to measure all of your marketing efforts with certainty.
You'll stop the leaks in your ad spending, justify your marketing spend, gain the confidence you need to make better marketing decisions, and know what's working at every step of the customer journey. Let the world's leading analytics pro show you the way. Check out our new Google Analytics for Marketers course from your friends at Social Media Examiner.
CLICK TO LEARN MORE: ANALYTICS TRAINING
#7: Promote an Online Event
As prospective customers are likely already active on Facebook, creating an online event for your group is a solid way to generate activity and interest in your business.
The event should be time-limited and offer content or perks your attendees won't get anywhere else.
Amber McCue from business strategy firm NiceOps used online events based around Facebook groups extensively in 2013. Her last week-long event had over 600 participants and included 5 videos per day on business planning for 2014.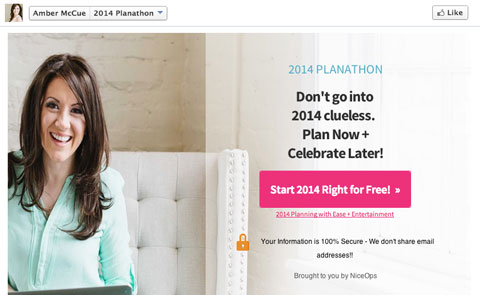 McCue's Plan-a-Thon event focused on selling a 2014 business planner and generating interest for an upcoming self-study program with solid results. She cautions that "results may not be immediate, but I do see a clear relationship among my online events, increased sales and growth of my email list."
How to Set Up Your Own Group
To get started, go to your Groups page and click on the Create Group button. You will then see a pop-up screen that lets you name your group, add members and set privacy for your group.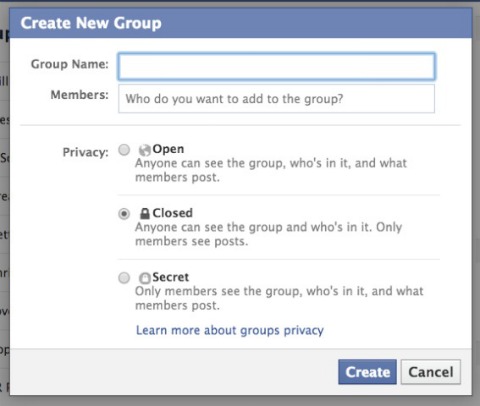 Simply name the group to get started. To proceed, you need to add at least one person to the group, then you choose the privacy setting for your group.
There are three privacy options:

For business groups, Closed is a good option as you can control who joins, but your group can still be found in search.
Facebook will then prompt you to select an icon for the group.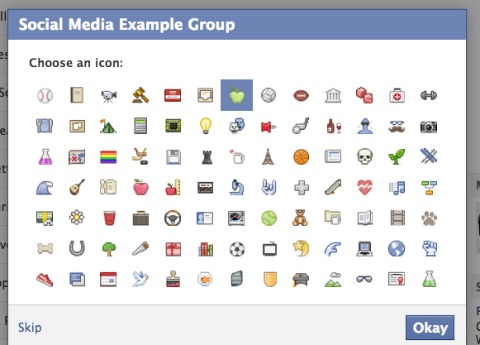 When your group is set up, manage settings by clicking on the gear on the right-hand side under the header. You will see a drop-down menu with Edit Group Settings as an option.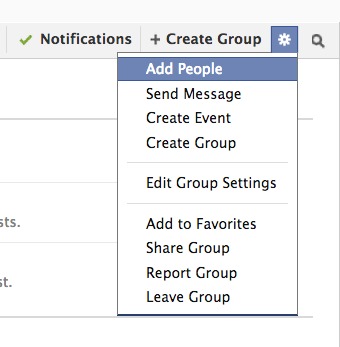 On this page, you'll be able to determine membership settings and add a description. If you go to Set Up Group Address, you can easily customize the URL for your group.
Select the address for the group, which will be [email protected] and then press OK. That gives you a custom URL for your group:

Finally, you can set up tags for your group, posting permissions and post approval if required.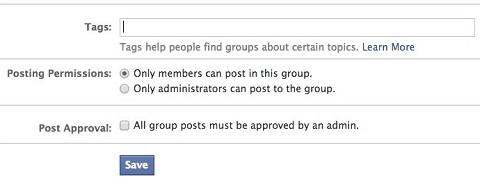 Now that your group is set up, you can add people to the group automatically if you're friends with them on Facebook, or you can use the URL for the group to invite people to join.
In Closing
Facebook groups offer an easy, highly effective way to connect with prospects and customers within your industry. By meeting people on a social platform they're already using, you're able to create high levels of engagement.
The beauty of groups is that they require very little time and you can participate when it's convenient for you.
How are you using groups in your business? Do you rely on them for networking? Do you have a customer community? Comment below and let me know.