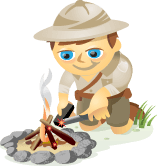 Are you looking for powerful tools to manage your social media efforts?
How do you keep up with blog post comments, responses to LinkedIn status updates and Twitter interactions?
Social relationship management is about managing these relationships. And you need the right tools to help.
In this article, I'll show you 3 new social media tools to help manage your online relationships and grow your presence on social media platforms.
#1: Engagio—Manage All of Your Online Conversations in One Place
Engagio is an inbox for conversations on the web. It tracks your conversations, your friends' conversations and you can even track any conversations you're interested in through the search feature!
With Engagio, you have the functionality to manage, support and encourage conversations.
Features
It's very easy to set up and free to use. Here are some of the top features:
Because your conversations happen in many places, you need a tool to support many platforms. Engagio integrates with a broad range of platforms and currently supports Disqus, Facebook, Twitter, Google+, YouTube, AngelList, WordPress Hosted, Stack Exchange, The Hacker News, Tumblr, Foursquare, LinkedIn, StockTwits and Google Contacts.

Engagio tracks conversations from a broad range of networks.
You can track and respond to conversations that you initiated.
You can follow people to track conversations. Engagio allows you to follow conversations from other Engagio users or from friends you communicate with online. For example, you may identify influential people and track where they engage online and what they say.
The Engagio dashboard shows a summary of the interactions you have with your connections. This highlights whom you are talking to and whom you may not be talking to enough.

The Engagio dashboard shows a summary of interactions with your contacts.
You can send an internal message to other Engagio users. This helps continue the conversation privately.
You can initiate conversations in your social networks and send status updates to your social networks.
You can respond to conversations that start in one of the supported platforms. For example, if you comment on a blog, you can be notified of responses through Engagio and respond directly within Engagio. This response on Engagio will be updated on the blog.
You can search for conversations on topics using keywords and keep track of them via email alerts so you can decide when to start engaging in the conversations.

Search for conversations that you may want to engage in.
The Engagio mobile app (currently in beta) allows you to continue these conversations while on the move.
Setup
It's very straightforward to set up your Engagio account. Register an account by connecting to your social network of choice and then select the networks/commenting systems you want to connect with.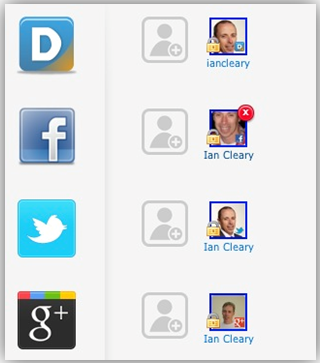 When you log into Engagio, it displays an inbox that contains the responses you receive from conversations initiated across the networks that you configured in your Engagio account.
Here's a summary of some conversations. It displays the people involved in these conversations and the original topic of the conversation.

All you have to do is click on an item in this list to view the full conversation it refers to.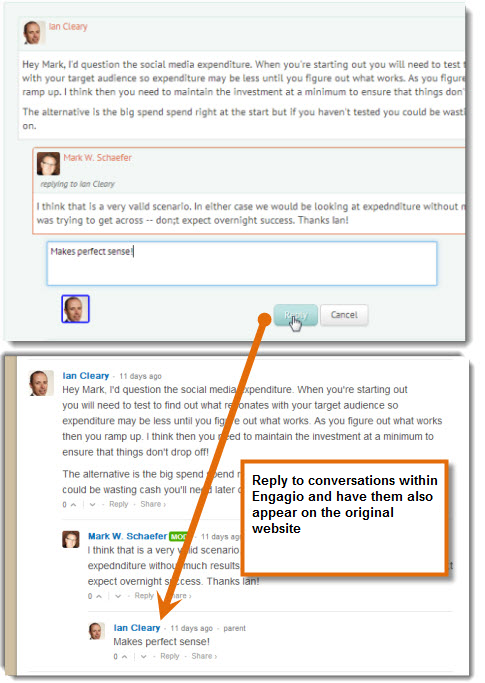 In this example, the original conversation was initiated through a comment on a blog. The subsequent response from the blog then showed up in Engagio. Even though the final comment was made from within Engagio, the response also appeared in the conversation thread on the blog.
3 Days of World-Class Training—Zero Travel!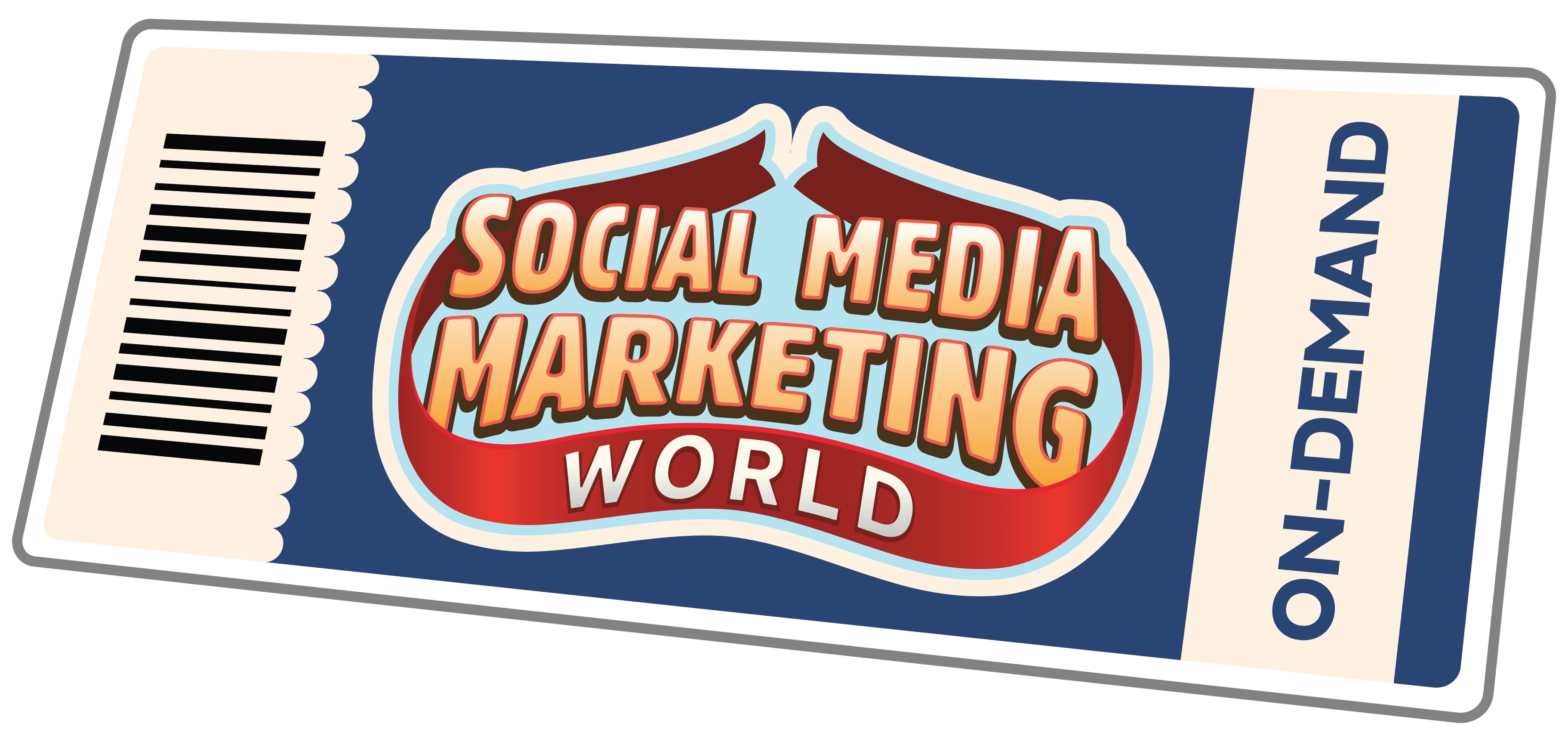 Travel to Social Media Marketing World off the table? Get all of the great content at a fraction of the price with an On-Demand ticket.

That's full access to recordings of every keynote, workshop, and session—the ones people travel thousands of miles to see. Don't wait. Get your On-Demand ticket and enjoy actionable content that you can watch anytime, anywhere.
GET YOUR ON-DEMAND TICKET NOW
It's very easy to lose track of conversations. While some blogs and websites provide email notifications when someone responds to your comment, a lot of them don't.
Engagio simplifies the management of these conversations by enabling you to monitor, track and respond to all of your conversations within the same interface. Why monitor numerous websites when you can just monitor one?
Benefits
There are several reasons to use Engagio.
You're able to track your comments/interactions in one central place. This makes it easier to manage your social conversations and encourages more interaction.
The dashboard shows your engagements in a leaderboard style, which helps you assess if your level of engagement with key people needs to be improved. This is great for building relationships online.
You're able to track conversations from key people you follow. This enables you to see what others are interested in and also gives you the opportunity to join conversations.
Summary
Social media is great for building relationships, but with so many interactions it's hard to keep track.
Engagio provides functionality to monitor, track and respond to conversations from a variety of platforms in one central place.
It is free to use, so try it out!
#2: AgoraPulse—Better Market Your Business on Facebook
To get the maximum benefit from Facebook, it's important to use a management tool that provides functionality to improve engagement, grow fans and help develop business for your company.
AgoraPulse helps you to manage and grow your Facebook presence and has a broad range of functionality.
Features
First of all, you'll be happy to note that you can operate all of the essential features on AgoraPulse without any technical skill. Here are some of the key features:
Facebook Page Management. You can update content on your page, schedule updates and target updates based on groups of countries or languages.
Facebook Applications. You'll get 14 applications to help you grow your fans including applications for a competition, quiz, top fans, document application and many more.
Lead Management and Customer Relationship Management. AgoraPulse builds up a profile of your fans based on interactions on your Facebook Page and participation through the applications. For example, when you run a competition, you can collect additional information related to your products or services that can be used for targeting specific offers to these fans.
Analytics. There's a detailed analytics module that gives you an overview to see how your Pages and posts are performing.
Setup
You can sign up for AgoraPulse using your Facebook account and then choose the Facebook Page you want to manage. You can try it for free for 28 days before deciding to buy.
Once you select your Page, you are shown the dashboard that contains an overview of your Page's performance.
From this dashboard, you can see which posts are effective, what's not working, when it's the best time to interact and much more.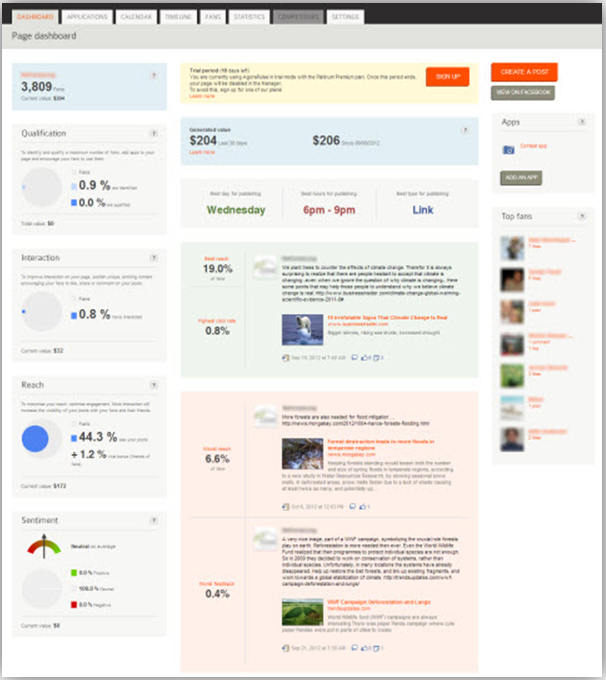 You can also choose to focus on other areas via the additional menu options. These options include: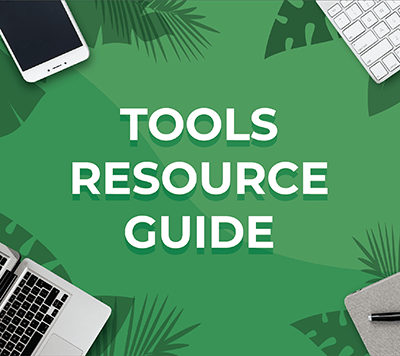 Looking for something to make your life easier?
Discover the tools we recommend to drive engagement, save you time, and boost sales across your entire marketing funnel or business.
Whether you need help planning content, organizing social posts, or developing your strategy, you'll find something for every situation.
FIND YOUR NEXT FAVORITE TOOL
Applications. You can add new applications to your Facebook Page or view details on the performance of existing applications.
Calendar. This gives you a visual display of posts made or scheduled on your Page.
Timeline. There's a view of the posts made with details of comments, likes and a gauge on sentiment (e.g., positive or negative). You can also schedule updates to be posted at the optimum time to get the best engagement.
Fans. This gives you a graphic display of the top users who have posted content or interacted on your Page. When you identify your most loyal fans, you can build a closer relationship with them. Your loyal supporters will be the people to turn to when you want to get the word out about a new product or service.

AgoraPulse shows you the interactions from fans.
Statistics (premium feature). AgoraPulse gives you detailed analytics and stats on your Facebook Page, such as who is getting your content and how your fans engaged with each post. This helps you identify what's working, and more importantly, what's not.

See how your individual posts are performing.
Competitors (only available with the diamond premium account). This gives you a grid comparing your Facebook Page against your competitors' for fans, engagement, posting, etc.

Comparison of competitors in your niche.
Settings. You'll have additional settings for your Page. For example, you can set a return on investment measurement for fans to monitor the value you are getting from your fans.
Benefits
AgoraPulse has a variety of features to impress most Facebook Page owners.
There are many configuration options to set up the applications for great flexibility and control.
The ability to collect additional information about your fans and build a profile of your fans is valuable.

Capture additional personal details with applications to gain insights into your fans.
AgoraPulse provides an extensive suite of applications, page management and analytics in one platform. This saves you a lot of time and ensures that you can see all activity in one place.
The applications support frictionless sharing through Facebook Open Graph. This means that participants entering a competition you set up with AgoraPulse can share information related to the competition automatically. This results in many more shares.
You'll get useful information on analytics and engagement on your Page. For example, there's a calendar showing what you posted over the past month, what fans are engaging with and how your Page is performing.
There are currently 14 applications to choose from. A broad range of Facebook applications reduces the chances of your fans getting bored with similar content.
You can moderate user posts and create actions based on the content. For example, you can flag a user post or assign it to a team member to respond.

Moderation allows you to set a flag to take action.
Summary
AgoraPulse provides effective management of your Facebook Page that results in a more active and engaged fan base. You'll have significant management functionality for your Facebook Page.
By using a management tool such as AgoraPulse, you have the tools required to manage your Page effectively and get maximum performance from it.
#3: Pingraphy—Manage Your Pins on Pinterest
Pinterest is an increasingly popular site where people identify images on the web and share them on Pinterest. When they select an image, they "pin" it and this image then gets pinned onto a virtual board that displays the pinned images.
There are some useful tools available to help grow your presence on Pinterest.
Pingraphy is a tool that allows you to schedule pins on Pinterest.
When you browse the web, you may come across various images that you want to pin and you may find several images you like on one page.
Pingraphy identifies all images on a page and allows you to select which images you want to share and when you want to share them.
Features
Pingraphy is a relatively simple but effective tool with a core set of features. Here are the main ones:
You can select all images on a page and make them available for pinning.
You have the ability to pin a group of images at the same time or at later scheduled date.
There's photo editing software so you can modify pictures before uploading them.
Pingraphy provides analytics to track repins, likes, clicks and reach for every item shared.
Setup
To use Pingraphy, you'll need to have a Pinterest account. When you have a Pinterest account, go to Pingraphy.
You now need to connect your Pinterest account with Pingraphy by entering your Pinterest login details.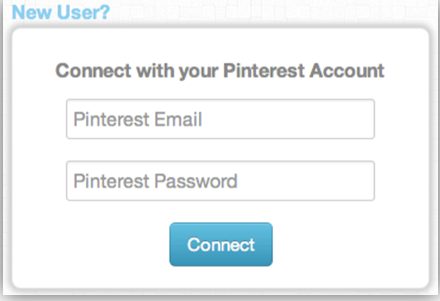 Once registered, the next step is to add the Pingraphy bookmarklet to your browser's toolbar so that you can pin things instantly.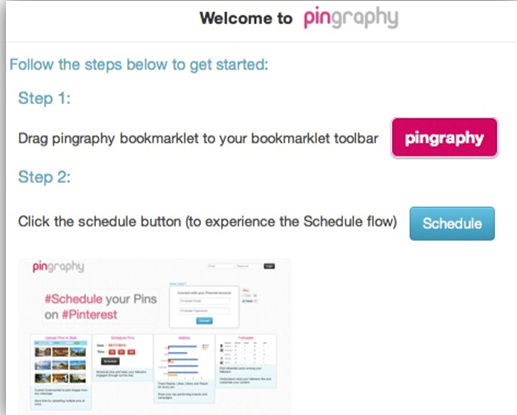 Simply click on the Pingraphy button and drag it to your browser's toolbar.
In Pinterest, you create boards that are like virtual pinboards. When you find images that are relevant to a board, you pin them to the board.
For example, if you are a wedding organizer and you have a "Stunning Dresses" board, you could go to a wedding designer's website. And when you see something you like, all you need to do is click on the Pingraphy button in your browser.
Pingraphy recognizes the images on the page and lets you create pins with the ones you like.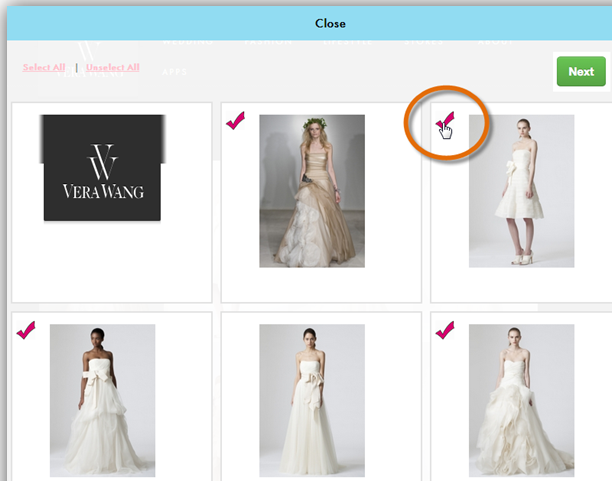 By default, all images are selected. Simply deselect any images you do not want to pin by clicking on the check mark in the top left of the image.
Next you need to enter a brief description of each image. The URL field allows you to enter the web address for the image you want to share on Pinterest. This generally goes back to the source where the image was found.
Finally, you can decide whether you want to schedule pins for later or upload them now.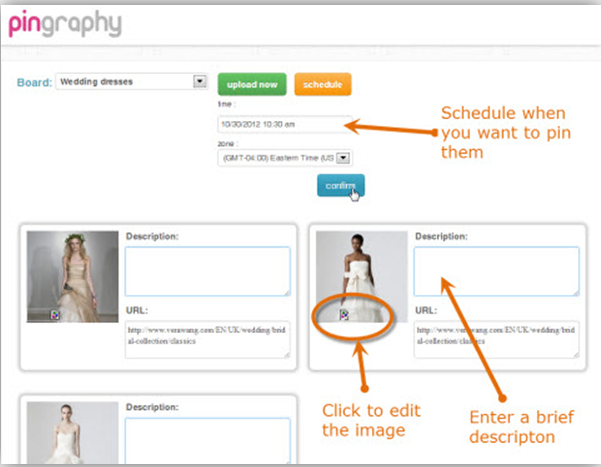 At the time of writing this article, you can delete a scheduled pin from the dashboard, but you cannot change the scheduled date and time. So when pinning multiple images, make sure you want them all uploaded at the same time. The ability to choose a different date and time for each image is due to be implemented soon.
You also have the option to edit the images to enhance or improve how they look. Click the bottom left-hand part of the picture. You can then modify the image by applying an effect, cropping it, rotating it and much more.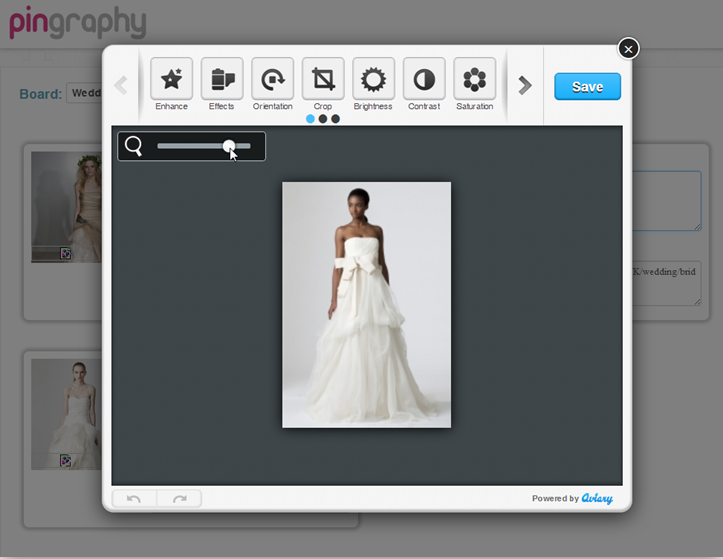 When you upload images, you can track statistics on the items pinned such as the amount of repins (other people pinning items already pinned), likes and comments.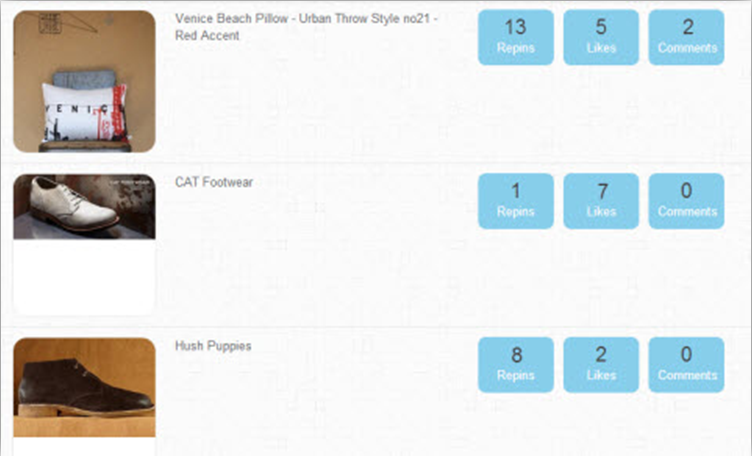 Benefits
You can schedule pins to deliver them at the most appropriate times for your audience.
You can save time when you upload more than one pin at a time.
You can easily pin items on a page that may not already have the functionality to pin.
Pingraphy analytics is useful to track which pins work or don't work.
Summary
Pinterest is growing in importance. Tools such as Pingraphy help you manage content sharing on Pinterest. This also saves you valuable time and provides you with useful analytics.
Final Thoughts
Management tools are becoming increasingly important as social media continues to grow.
By implementing the right tools, you can become more efficient and effective with your social media efforts.
What do you think? Have you used any of these tools or will you try them? Please share your thoughts and comments in the box below.
Get Your FREE Course: Web3 for Beginners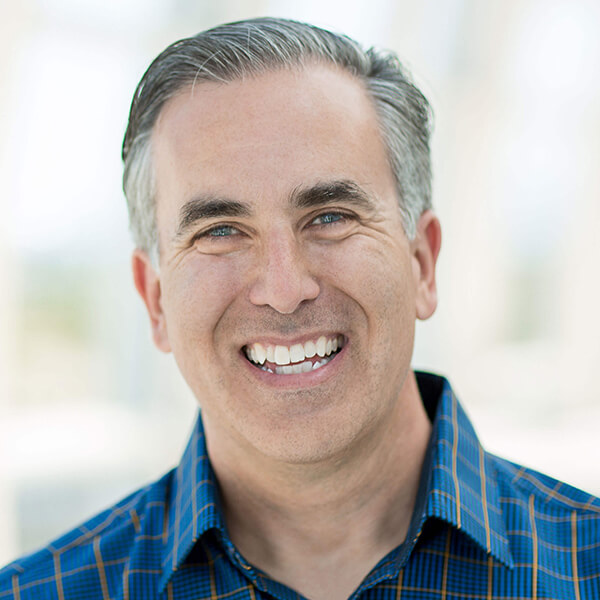 Curious about Web3, but don't know where to start or who to trust?

Introducing Web3 for Beginners, a course taught by Michael Stelzner, the founder of Social Media Examiner.

Learn the basics of Web3 and apply it to your business with this FREE comprehensive course.
CLICK HERE TO GET FREE ACCESS