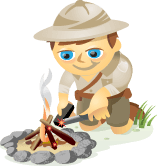 Do you want to accelerate your marketing know-how?
Looking for free advice to grow your business?
Podcasts are the highest-leverage, lowest-cost educational medium available today. Top experts share their wisdom week after week.
In this article, you'll discover 20 must-listen podcasts for busy marketers and business owners.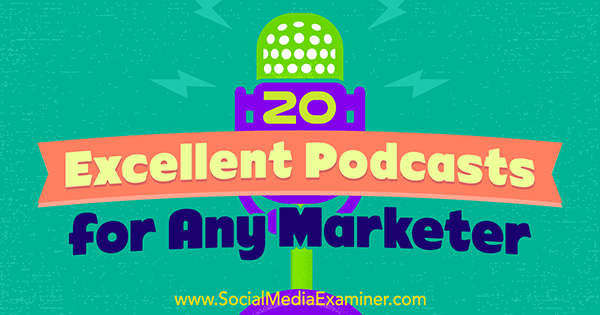 #1: StartUp Podcast
The StartUp Podcast explores what it's really like to start a business. What makes it unique are the production values and sharp storytelling. Alex Blumberg (who formerly worked with Ira Glass on This American Life) has brought his honed storytelling abilities to this podcast. And what a story it is!

The show is in Season 4 as of this writing, and while the narrative novelty may have worn off (many shows mimic the format now), StartUp's value has only increased. Alex lets us hear what's really happening inside his fledgling startup, Gimlet Media. And we get to hear the real conversations, including the embarrassing ones.
#2: The Chase Jarvis Live Show
Chase Jarvis is an enigma. He's one of the most influential photographers of the past decade, but that's only the tip of the iceberg. And we're talking about a big iceberg. Chase founded a company called CreativeLive. As if he wasn't busy enough, he also hosts this fantastic podcast.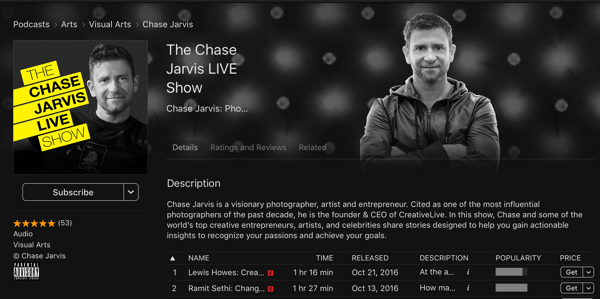 Chase is an excellent interviewer and gets his guests to share some remarkably candid stories. Ramit Sethi, Gabby Bernstein, Sir Mixalot, Seth Godin, Brené Brown, and Mark Cuban are some of his most recent guests.
#3: Learning With Leslie
Many podcasts purport to teach you how to build a business around your blog, but very few are worth your time. One exception is Leslie Samuel's Learning With Leslie podcast. It's at the top of the list of podcasts that are just fun, educational, and optimistic.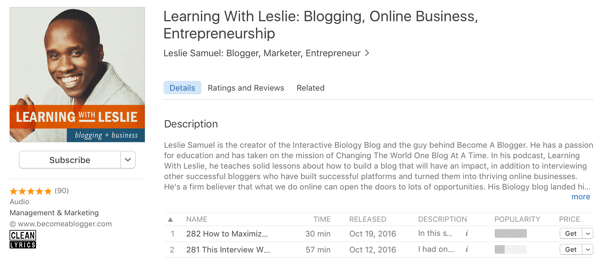 Leslie's background as a university instructor uniquely qualifies him as a teacher. His bubbly, optimistic, and encouraging personality make him the kind of instructor you wish you'd had in college. He teaches tested methods for building a blog that will not only bring income and influence, but also produce impact.
#4: Late Night Internet Marketing
Is it possible to build an online business while still excelling at your day job? The answer is absolutely "yes." But the task isn't easy. You need someone you can trust to guide you through this complex process.
That person is Mark Mason, and in his Late Night Internet Marketing podcast, he generously shares his own hard-won experience. Mark has built a successful Internet business while holding down a respectable day job (at Texas Instruments, no less). He has a unique ability to make the complex seem simple.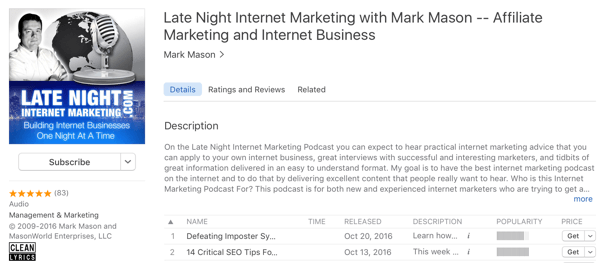 There are many shows that talk up the game of "side hustle," but none that I know where the podcast producer still works a high-level corporate day job. Mark teaches you how to build a side business through his own personal example.
The Conference You've Been Waiting For
As a small business marketer, you can probably only pick one or two events to attend each year. Get an unbeatable conference experience and expert training at Social Media Marketing World in sunny San Diego, California—from your friends at Social Media Examiner.
🔥 As a valued reader, you can save $830 if you act now! Sale Ends Friday! 🔥
CLICK HERE TO LEARN MORE
Most importantly, he shows you how to work the side hustle with integrity. You don't hide it from your boss, but encourage an open and honest relationship that gives you freedom to pursue your dream. Such integrity also gives you the ability to sleep at night with a clear conscience.
#5: The Cliff Ravenscraft Show
Cliff Ravenscraft is best known as the "Podcast Answer Man." Over the years, he has hosted more than 30 different podcasts and produced over 3,500 podcast episodes. He still serves as a podcast coach and consultant, and his client roster reads like a who's who of the podcast world.
Over the last year or so, Cliff has focused more on the "x-factor." This has attracted a huge audience to his podcast, many of whom had no interest in building a podcast of their own.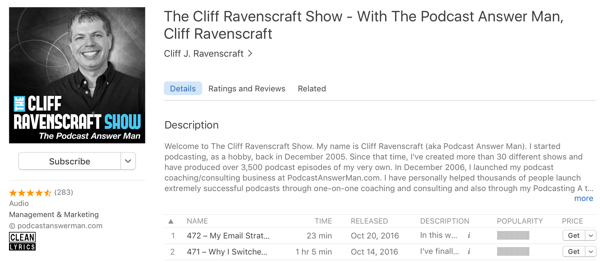 Yes, he can and does answer your podcast questions. But the core of this show is about personal transformation. He shows how to take your podcast, your message, your business, and even your personal life to the next level. I'm not sure Cliff would describe himself as a motivational speaker, but I would. And I mean that in the best sense.
#6: The Social Media Marketing Podcast
If you're not using social media as a marketing channel, you're out of step with the times. The real question is not whether you should be present on social media; it's whether you want to be part of the discussion about you and your company that's already taking place.
When used properly, social media marketing is the leading edge of business growth. While there are many who purport to teach you how to do that, Michael Stelzner's Social Media Marketing podcast is literally the one source I trust for my information. Now you can dispense with having to scour dozens of podcasts and websites, and simply enjoy vetted, data-driven, distilled marketing wisdom.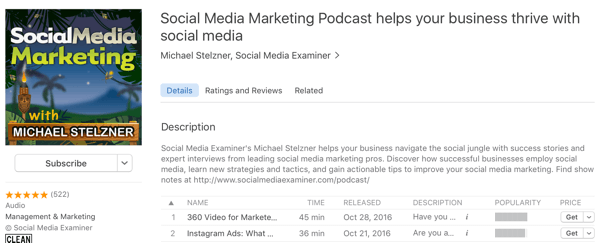 (For the record: I'm not recommending the Social Media Marketing podcast because I'm writing this post for Social Media Examiner. I'm writing this recommendation because of my trust in the Social Media Marketing podcast.)
#7: The Smart Passive Income Podcast
Wouldn't it be nice if someone was willing to be the crash test dummy of online marketing and business? Someone who was willing to try all of the crazy, risky stuff, figure out what works, and then hand you the results on a silver platter? It turns out there is such a person, and his name is Pat Flynn.
Often imitated but never duplicated, Pat helps you discover how to create passive income streams on the Smart Passive Income podcast. He shows you how it's possible to work hard today so you can live the life of your dreams tomorrow.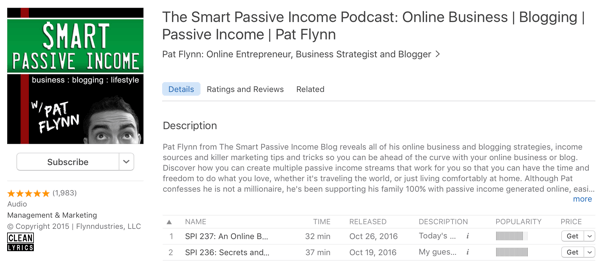 Pat is refreshingly honest, fun to listen to, and dedicated to treating you and your time with respect. This is flat-out one of the best podcasts on the Internet. If all that wasn't enough, Pat publicly publishes his income reports every month. He shows you the truth about what's happening behind the scenes of his own business.
#8: This Is Your Life
Michael Hyatt is a "virtual mentor" to hundreds of thousands of people. And at the core of that mentoring relationship is his weekly This Is Your Life podcast. If there's anyone who can show you how to build a personal platform business, it has to be the guy who literally wrote the book (Platform: How to Get Noticed in a Noisy World).

Michael is the consummate Renaissance man for Internet business. His stated mission is to "help you win at work, and succeed in life." To do this, he covers a range of topics including productivity, publishing, leadership, and writing. His co-host Michelle Cushatt offers a refreshing female perspective and intelligent commentary.
#9: Online Marketing Made Easy
Amy Porterfield is a fountain of best practices, pragmatic success principles, infectious optimism, and unstoppable enthusiasm. While large-scale strategies for online business can be intimidating, her Online Marketing Made Easy podcast breaks these down into bite-sized lessons.
Amy has helped many people achieve big results in relatively short periods of time. One listen to her podcast and you'll be hooked.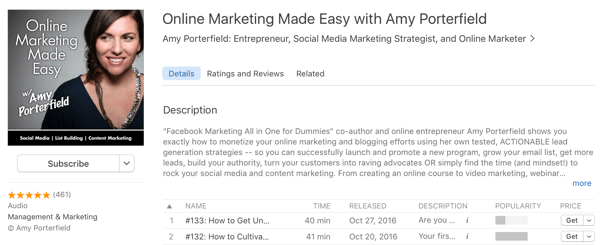 #10: PNR: This Old Marketing Podcast
This Old Marketing is about content marketing. So where does the name come from, especially for something so fresh and new? Joe Pulizzi and Robert Rose are the hosts (and the "P" & "R" in the title) of this podcast. They say that even though most people think content marketing is new, it's actually one of the oldest forms of marketing in existence.
Every show is 60 minutes or less. Pulizzi and Rose cover three or four top stories in the content marketing world every week and share their opinions on each story. They also have a short segment called Rants and Raves, in which they alternately rant about some content marketing gaffe, or rave when they see someone doing something epic.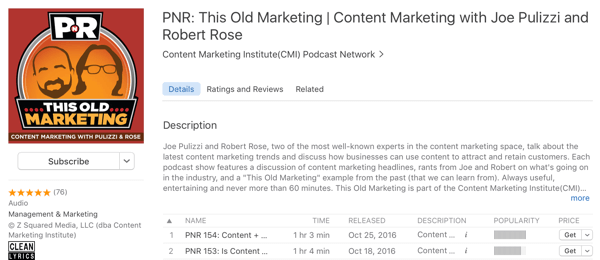 Finally, there's the This Old Marketing Example of the Week, where Joe and Robert really shine. They pull an example from their archives and point out the lessons we can learn from the great content marketing campaigns of the past.
#11: How I Built This
How I Built This is the podcast for people who are interested in studying the hyper-successful (the legends and icons) and are looking for pivotal beliefs, core strategies, and the nitty-gritty stories of how they built their successful companies.
Attention Agency Owners, Brand Marketers, and Consultants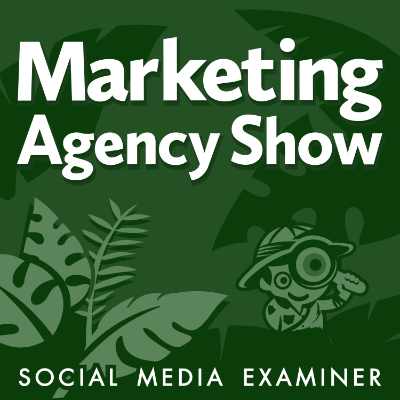 Introducing the Marketing Agency Show–our newest podcast designed to explore the struggles of agency marketers.

Join show host and agency owner, Brooke Sellas, as she interviews agency marketers and digs deep into their biggest challenges. Explore topics like navigating rough economic times, leveraging AI, service diversification, client acquisition, and much more.

Just pull up your favorite podcast app, search for Marketing Agency Show and start listening. Or click the button below for more information.
CLICK HERE FOR THE DETAILS
Host Guy Raz is one of the best interviewers working today. Somehow, he's able to get raw, unfiltered startup stories from the likes of Airbnb founder Joe Gebbia, Clif Bar creator Gary Erickson, and even Kevin Systrom and Mike Krieger, the guys who launched a little photo-sharing app called Instagram.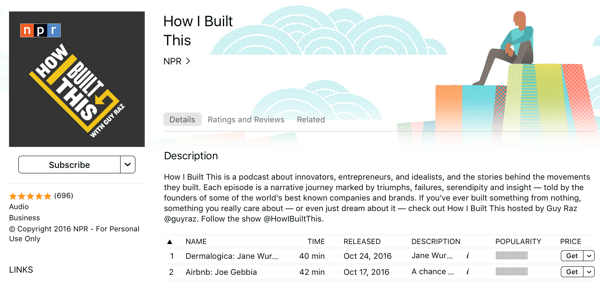 On How I Built This, Guy gets the real inside stories of how great companies are born. Quite often, the stories aren't pretty but they're always inspiring.
#12: The Fizzle Show
The Fizzle Show is unique in this list, in that it's the only true ensemble cast show. Usually funny, often hilarious, and always instructive, this is one of the most bare-knuckled, honest podcasts about what it takes to start and run an independent business.
They tell the truth, even the uncomfortable truth, with uncompromising integrity. Sometimes the language crosses a barrier that you may not be comfortable with, but these guys are so lovable the occasional profanity is easy to forgive.

#13: Youpreneur FM
Chris Ducker has a fresh perspective on what it means to be an entrepreneur in the 21st century. After working himself nearly to death, Chris reinvented his life and his business. He discovered a new philosophy of business in the process. He believes this is the age of the "youpreneur," where you define the shape and scope of your business.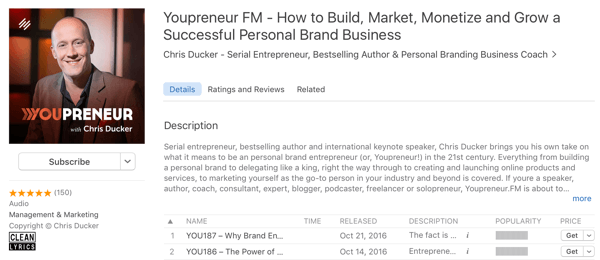 On his Youpreneur FM podcast, Chris covers a wide spectrum of topics relevant to all youpreneurs, including building a personal brand, delegating like royalty, creating and launching online products and services, and marketing yourself as an industry expert.
This is a must-listen-to show for speakers, coaches, consultants, authors, podcasters, bloggers… and anyone who wants to spread his or her ideas.
#14: The Tim Ferriss Show
Tim Ferriss is the original self-experimenter. He's also the bestselling author of several books and is perhaps best known for The 4-Hour Workweek, which has been translated into 40+ languages. Tim's unique, unapologetic style has earned him an audience of millions. The New York Times calls him "a cross between Jack Welch and a Buddhist monk."

In each episode, Tim interviews world-class performers from eclectic areas (investing, sports, business, entertainment, chess, art, etc.). He's relentless in his mission to dig out the habits, beliefs, best practices, and tactics these experts use to achieve extraordinary success. The shows are often long (sometimes more than 2 hours) and the content is often not safe for work (or young ears).
#15: 48 Days to the Work You Love
Dan Miller is the definitive expert and mentor when it comes to career transition and small business startups. Dan has helped hundreds of thousands of people find the work they love in 48 days or less.

His show is filled with practical advice, fascinating Q&As with listeners, and a down-to-earth, no-hype look at the subject of starting a new business or excelling in the business where you already work!
#16: EntreLeadership
Dave Ramsey started the EntreLeadership Podcast as a companion to his bestselling book and training programs by the same name. It features discussions on leadership and business from some of the best business minds in the world, including Mark Cuban, Seth Godin, Jim Collins, Simon Sinek, and others.

Listening to this show, hosted by the talented Ken Coleman, you'll learn how to build stronger teams and bigger profits for any business.
#17: Building a Story Brand With Donald Miller
You know how awkward it is when you're at a cocktail party and someone asks, "So, what do you do?" If you're like most entrepreneurs, you either give the asker a blank stare, or worse, you ramble, hoping to hit on a string of words that will explain your business to another human. Donald Miller, on the Building a Story Brand podcast, will help you solve that problem once and for all.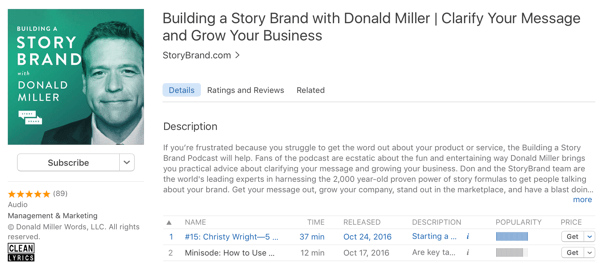 His company, StoryBrand, has helped over a thousand businesses, non-profits, and personal brands clarify their message. As a result, they create better websites, superior email marketing campaigns, and incredibly effective marketing materials.
Donald's books have collectively spent over a year on the New York Times bestsellers list. StoryBrand draws on his deep knowledge of story structure.
#18: The Portfolio Life
Jeff Goins is the author of four bestselling books. He absolutely refuses to believe in the myth of the starving artist. He believes everyone has a creative gift worth sharing with the world.
If you've ever dreamed of making a living from your writing, you'll love The Portfolio Life. Jeff and his guests show how creative professionals can make a good living, what it really takes to become a published author, and how to follow your passion without burning yourself out.

#19: Build Your Tribe
Chalene Johnson is a motivational speaker, New York Times bestselling author, and fitness celebrity. She has built and sold several multimillion-dollar fitness and lifestyle companies. And now she's the CEO of a business and lifestyle coaching company where she teaches her personal and business development philosophies to people across the globe.
Her podcast Build Your Tribe includes fresh takes on tired topics, bringing new life and ideas to relationships, business management, and life balance. Chalene's passion for helping others live bigger, more fulfilling lives is engaging and infectious.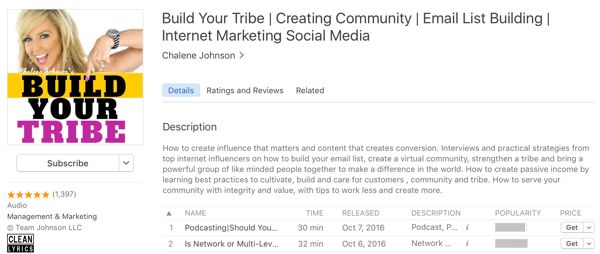 #20: The School of Greatness
Lewis Howes is a man with diverse interests, and they all fit nicely under the canopy of The School of Greatness. The stated goal of the podcast is "to share inspiring stories from the most brilliant business minds, world class athletes and influential celebrities on the planet; to help you find out what makes great people great."

Lewis is the man for that mission. He's an author, champion of the lifestyle entrepreneur concept, a former pro athlete, and a world-record holder. His charm and charisma make him a gifted interviewer, and he's been able to attract guests like Maria Sharapova, Jonathan Fields, Ryan Holiday, and many others.
How Much Time Does All of This Listening Take?
If you're wondering how you could possibly find time to listen to podcasts, the fact is that it doesn't take much time. Here's how you could spend 12 hours a week on average listening to podcasts:
Listen at double speed. Most podcast players allow you to listen at up to three times the original speed. Some shows I listen to at 3X, others at 2X, and some people already speak so fast that I can only listen to them at 1X (original speed). My average listening speed comes in at about 2X.
Keep in mind that some shows are short. While Tim Ferriss often crosses the 2-hour mark, other shows come in at 15-20 minutes. If the average length of all of the shows you subscribe to is about 45 minutes at 1X, listening at an average speed of 2X to these 20 shows would take you about 7.5 hours each week. If you listen to podcasts every day, that comes out to only about 1 hour a day!
Don't listen to every show every week. While you might try to listen to every show, some weeks even your favorite shows may be covering topics or interviewing guests you're just not that interested in. In that case, there are some episodes you might skip altogether.
Conclusion
So many podcasts, especially in the Business & Marketing Education category, are junk. They're often poorly produced, unreliable, and worst of all, just veiled attempts to get your money. The 20 podcasts in this article, though, are worth your investment of time and mental bandwidth.
When choosing these "can't miss" podcasts, I had a specific set of criteria in mind. To make the list, each podcast had to:
Focus on online business and marketing.
Offer high-value, needle-moving advice that can boost business results.
Have high-quality sound and production value.
Be entertaining and informative.
Regularly publish new episodes.
Not be a sales pitch in disguise.
Listening to podcasts that fulfill these criteria is one of the most productive ways to grow your business. The best part is you can listen while doing something else, like washing the dishes, mowing the lawn, working out, or driving to work. By doing this, you turn what's ordinarily dead time into productive time.
Allow me to suggest you also check out the podcast I publish each week, The Ray Edwards Show. The show is dedicated to helping you start, run, and grow your online business. A lot of people say they like it; maybe you will, too!
What do you think? What must-listen podcasts are on your playlist? Please share your suggestions in the comments below.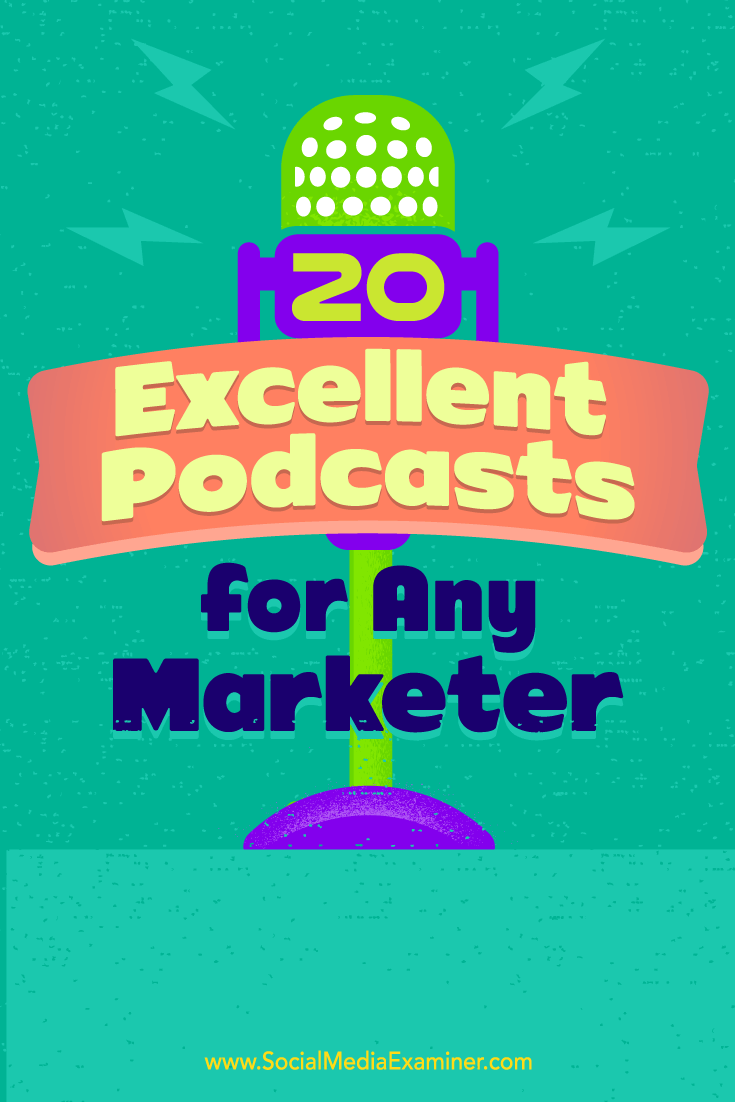 3 Days of World-Class Training—Zero Travel!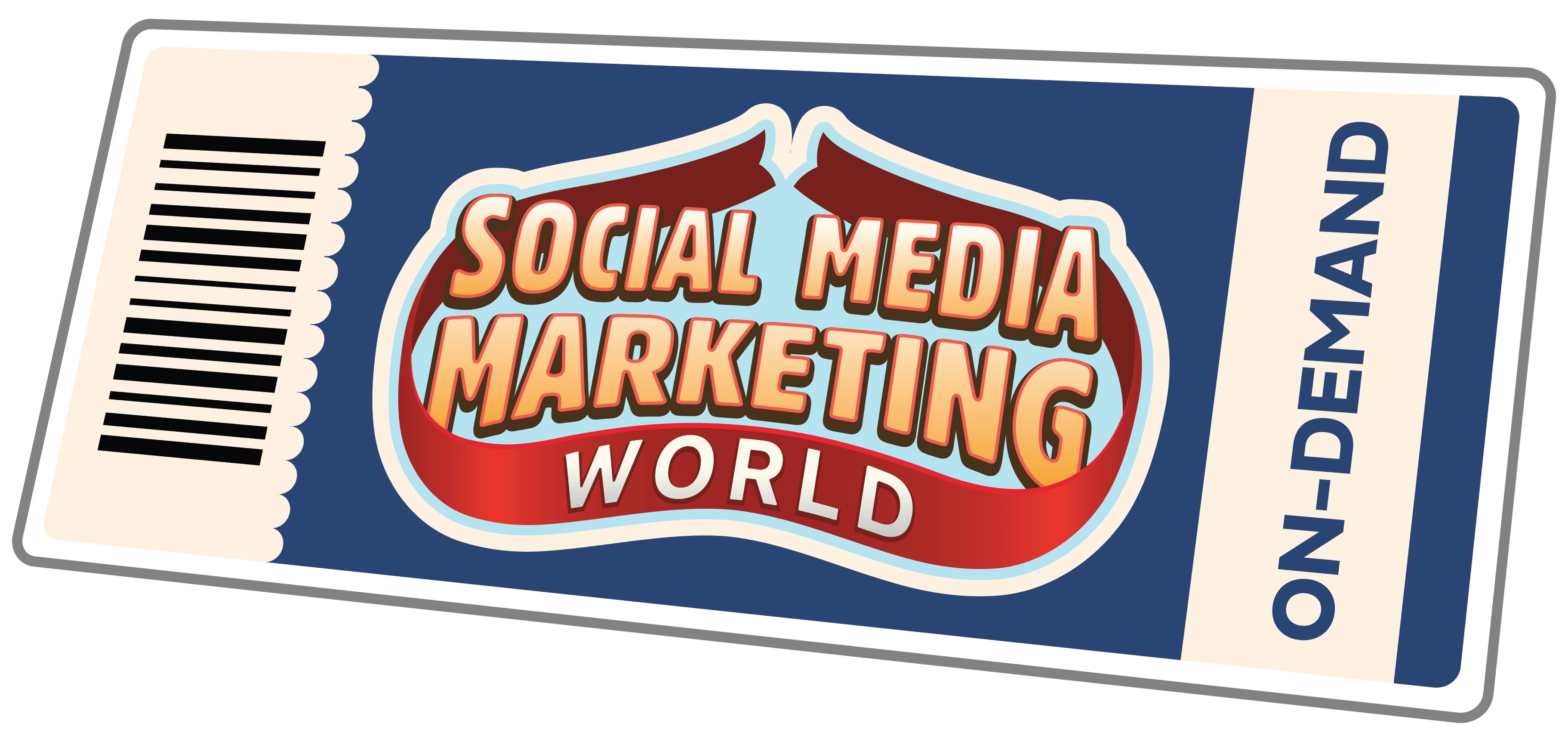 Travel to Social Media Marketing World off the table? Get all of the great content at a fraction of the price with an On-Demand ticket.

That's full access to recordings of every keynote, workshop, and session—the ones people travel thousands of miles to see. Don't wait. Get your On-Demand ticket and enjoy actionable content that you can watch anytime, anywhere.
GET YOUR ON-DEMAND TICKET NOW