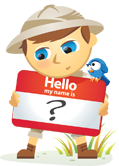 When you're a new parent, you have a name all picked out for your little bundle of joy, right?
But we never got around to giving our mascot a name. And his first birthday is just around the corner! And that's where you come in…
Would you help us name our mascot? We affectionately call him "the little dude" around the Social Media Examiner offices. We want to make this fun, so we've got some great prizes we'll give away to the readers who come up with the best names. See below for details.
The Dude's Wild Ride
It's hard to believe that Social Media Examiner is not yet even a year old! With the help of outstanding writers and a brilliant reader base (yep, that's you!), we've achieved a lot.
When Alexa ranks you as one of the top 1700 websites in the United States, that's pretty shocking for a newborn site. But that didn't come without a lot of work.
Here are some interesting factoids you may not have known about us:
50 experts contributed more than 230,000 words of original content to our site
11,000+ comments bless our posts
16,000+ people interact with us on Facebook
37,000+ readers get our updates in their email boxes each day
192,000 unique people read our content last month
Here's one more… The original idea for our mascot came from our designer Greg Grigoriou's young son who poses for the unique illustrations you'll find on our site.
Social Media Marketing Society (Ongoing Online Training)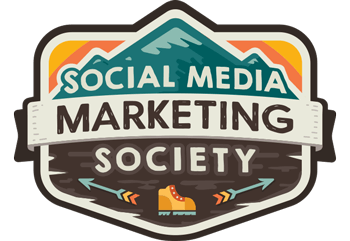 Want to confidently secure your future? Is your mission to bring in more revenue, attract better leads, or increase exposure for your company or clients? The Society Media Marketing Society is the ultimate resource for marketers—a place where you can discover new marketing ideas, improve your results, get support, and become indispensable. Join thousands of your peers and receive ongoing training, support from pros, and access to a community of supportive marketers who understand your struggle.
JOIN NOW - SALE ENDS MARCH 9TH!
With our first year behind us, we at Social Media Examiner will continue on our mission to guide you through the ever-changing social media jungle. Hang on, as change seems to be the mantra of the social media world.
Help Name Our Mascot and Win!
Let's give this little guy a name. Will you help?
In the comments box below, please suggest a name for our mascot. We'll pick the five names we like the most. Then we'll open the finalists up to our readers for a final vote to pick the name of our mascot! The winner will be the name with the most votes.
The prizes: To make this fun, we're giving away five tickets to Facebook Success Summit 2010 to the top five finalists (a $597 value). The one grand prize winner will get a free pass to all of our summits for a year! (How cool is that?)
The little details:
The deadline to enter is Thursday, September 30, 2010 and finalists will be announced shortly thereafter.
The selection of the top five finalists is subjective and final.
If you already have a ticket to our summit, no worries. If you win, we'll either refund you or you can give your spare ticket to someone you really like.
No purchase is necessary to win.
Enter your suggested name for our mascot in the comments box below. And please accept our sincere thanks for making Social Media Examiner a huge success!