Want to discover what the future of business could look like? Wondering what leaders in the world of Web3 think?
In this article, 25 Web3 business experts share their predictions to help you plan for the future.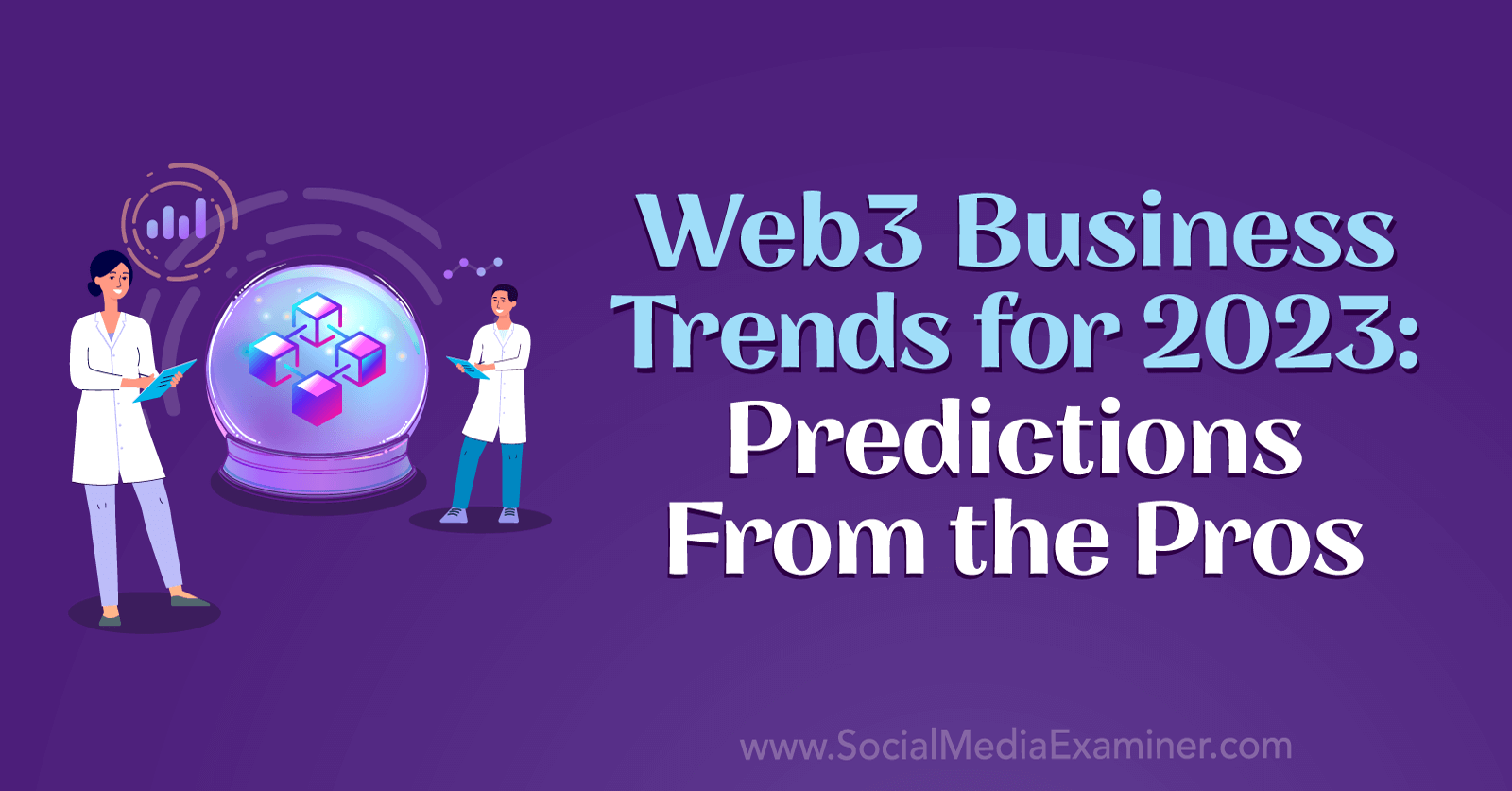 #1: AI Bolsters Web3 Asset and World-Building
AI took over plenty of conversations around here in the last days of 2022, but what got me the most hyped was thinking about all of the ways it will affect NFTs. So for my top pick from Web3 business trends for 2023, is NFTs and AI.
Using AI, creators will expand their art into storytelling. We'll see graphic novels, short films, and even social mini-games featuring today's popular projects. For social mini-games, imagine your favorite NFT morphing after achieving the next level or interacting with other collectors.
AI will not only help design the games but will also populate them with the necessary assets, created in the artist's own style. World-building that would have taken months or even years will now be done in a fraction of that time.
Anjali Young is co-founder of Collab.Land and chief community officer of Abridged.
#2: AI and Blockchain Tech Enable Business Innovation
The name of the game has always been access, and 2023 will be littered with new kinds of content and opportunities, I believe, driven by AI, cloud computing, and blockchain.
One of the most exciting developments in this space is the integration of AI into Web3 tech. By leveraging machine learning and natural language processing, AI-powered chatbots and virtual assistants will make it easier for businesses to communicate with customers. AI-powered recommendation engines will help users discover new content, products, and businesses that users were afraid or unaware of how to create before.
Imagine using a chatbot to trade stocks or write code for you. Most engineers are already trying this.
Cloud computing is also something I'm watching right now. By enabling businesses and individuals to access and use computing resources over the internet, cloud computing allows you to scale quickly and broadly.
Web3 will grow by adding digital computing nodes internally, in client-facing positions, as intermediaries, and as mass user-owned nodes that can make decisions for all sides. Imagine having your own mini-computers powering programs to make Amazon purchases for you while you sleep, and utilizing that data to run drop-shipping or drive a metaverse asset-purchasing business.
Finally, while cryptocurrency is busy being a hormonal teenager, blockchain is here to stay. Enabling secure, decentralized exchanges of value that are both trackable and immutable, blockchain has the potential to transform the way we think about online transactions. It will create new opportunities for businesses and individuals alike. At the most basic level, imagine never losing data again—macro or micro.
The dreamers who learn how to combine all of these technologies will go further and faster than others. Dream hard, friends. The sky is no longer the limit. Your imagination is, because the tools we have created for ourselves can do the often-confusing, time-consuming, or heavy-lifting processes for you.
Phillip 'Fury' Wainwright is a metaverse strategist and architect, lead technician at Mobile Motion Mocap, and founder of Change FT.
The Conference You've Been Waiting For
As a small business marketer, you can probably only pick one or two events to attend each year. Get an unbeatable conference experience and expert training at Social Media Marketing World in sunny San Diego, California—from your friends at Social Media Examiner.
🔥 As a valued reader, you can save $800 if you act now! Sale Ends Tuesday! 🔥
CLICK HERE TO LEARN MORE
#3: Creating NFTs Becomes Easy and Nearly Free
In 2023, someone will develop an open-source solution that will make it very easy to create and launch NFT projects. The barriers that stop people from launching NFTs will be fully eliminated. It will be the "WordPress" moment for the world of Web3. No smart contract developers. No expensive consultants. No headaches. No hassles. It will simply work and be fully interoperable with open standards.
In the same way that WordPress ushered in millions of publishers and allowed anyone to publish anything, this tech innovation will unlock mass innovation. It will have an open architecture, much like WordPress, that will allow third-party tools to add features and functionality to NFT collections.
When this happens, we'll see creators and entrepreneurs open up thousands of new use cases for NFTs. This innovation will be free to the world and form the foundation for the future of Web3. I have no clue who's developing this technology but it is desperately needed and I am confident it is coming—very soon.
Michael Stelzner is founder and CEO of Social Media Examiner, host of the Web3 Business Podcast, and author of the books Writing White Papers and Launch.
#4: Brands Use Blockchain Tech to Enhance the Consumer Experience
In 2023, we can anticipate a growing trend of using NFTs for purposes other than art. We've seen the potential of NFTs to provide "utility," or perks, to their holders over the last year.
This year, we'll see an increasing number of brands use blockchain technology to create NFTs that provide a variety of benefits such as membership perks, event access, tokenized ownership of physical assets, and more.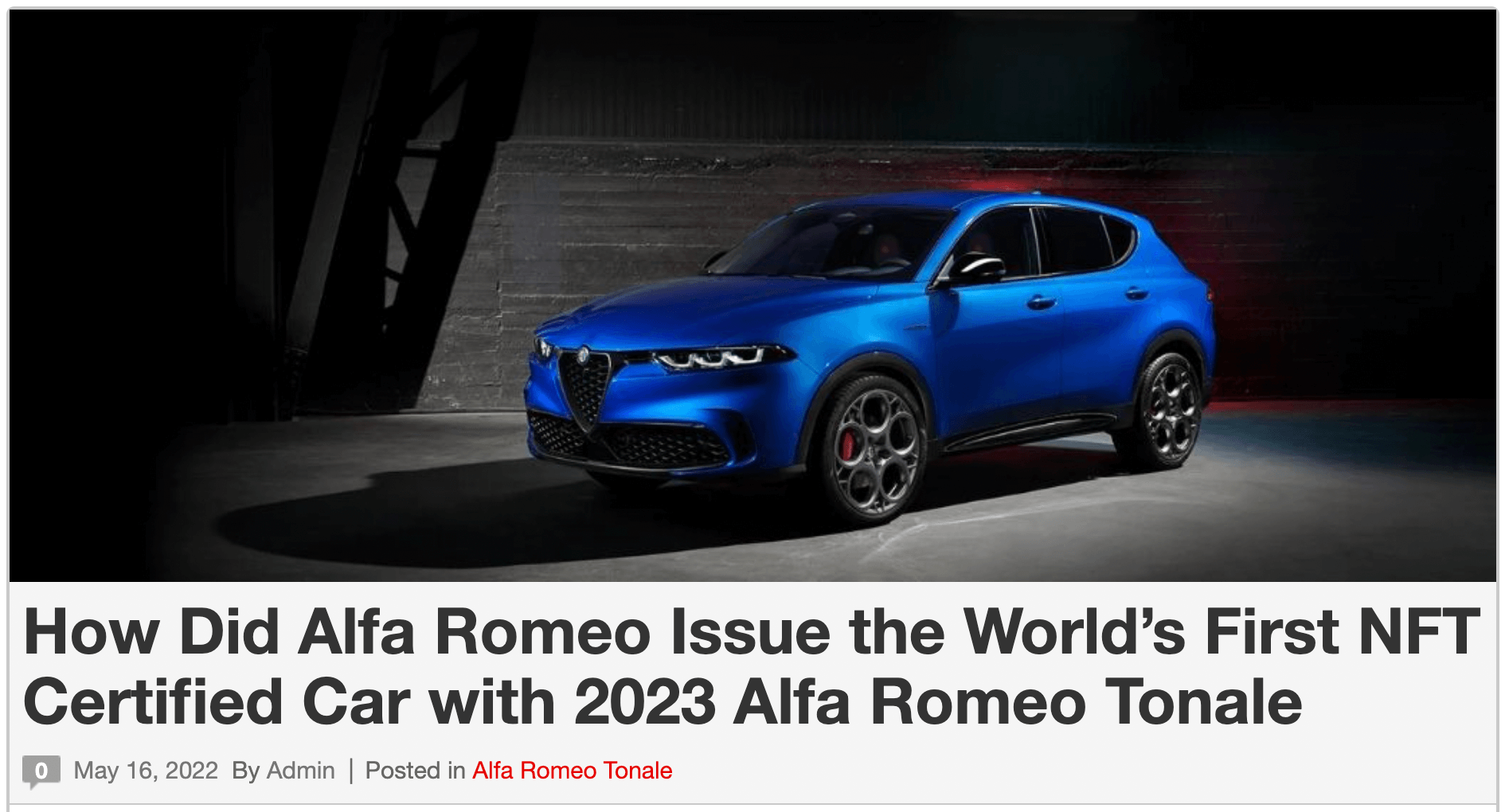 For example, in 2022, Alfa Romeo introduced the Tonale, a new SUV model that comes with its own NFT that records details about the car's life cycle and servicing, demonstrating the capability of utility NFTs.
Gianina Skarlett AKA Gigi is a software engineer and the founder and CEO of Crypto Tech Women.
#5: Social Networks Move Toward Decentralized Governance
Keywords for Web3 in 2023 will be transition and bifurcation, which are really two sides of the same coin.
Transition, as founders and investors attempt to place tech into an evolving landscape of changing economic contexts (e.g., a re-re-correcting Fed policy), large-scale tech stocks as volatile risk-on assets, and an ongoing search for new business models supporting content and media not beholden to black-boxed aggregators (e.g., FAANG).
Bifurcation, as founders and investors increasingly separate traditional generalist tech from emerging decentralized tech and their corresponding business models (i.e., subscription and advertising versus co-creation, co-ownership, and distributed computation and 'work'). Founders and investors will increasingly specialize in one or the other or use both for a counterbalanced (i.e., barbell) approach.
For general and trad tech, funding will remain tight at reduced valuations but likely start loosening into the latter half of the year, corresponding to anticipated Fed action. For decentralized tech, timing is everything. Crypto winter and epic blowups are real and make for great headlines and easy dunking, but historically that's precisely the point to double down. At least, that's been our direct experience as both repeat-exited founders and investors in traditional and decentralized start-ups across a few cycles.
There are two ways to beat a market: get in early on something big or bet against it. If you're going to bet on Web3 in 2023, here are three Web3 business trends to keep a close eye on:
Bifurcation within distributed finance models with increased regulation for centralized actors (and a corresponding interagency struggle for control) and an emerging priority of decentralized (aka, self-custody) systems and protocols.
On-chain proof of physical geographic coverage and physical work, with tech integrating computational processing and business models specifically within energy, telecommunication, and real estate-based infrastructure (cf. DePIN).
Social networks with decentralized governance and decision-making (cough, Twitter, cough) integrating payments with the underlying protocol, where those protocols support distributed social graphs that empower users to migrate their social networks across social platforms.
Josh Rosenthal is a professional historian, the founder of the 6ixth Event venture fund, and lecturer at MIT and Harvard.
#6: Affinity and Loyalty Will Lead Tokenized Community Development
I think 2021 was the year of value extraction; 2022 was a year of value neutrality—some new value was created but much was also destroyed; and 2023 is a year of real value creation.
What does this look like to me? It's not about being able to flip JPEGs for millions of dollars but rather about meaningful communities being launched. Some of what this will look like:
A big musician will roll out a blockchain-based fan club with amazing perks for their die-hard fans: tokenized communities built on affinity, not speculation.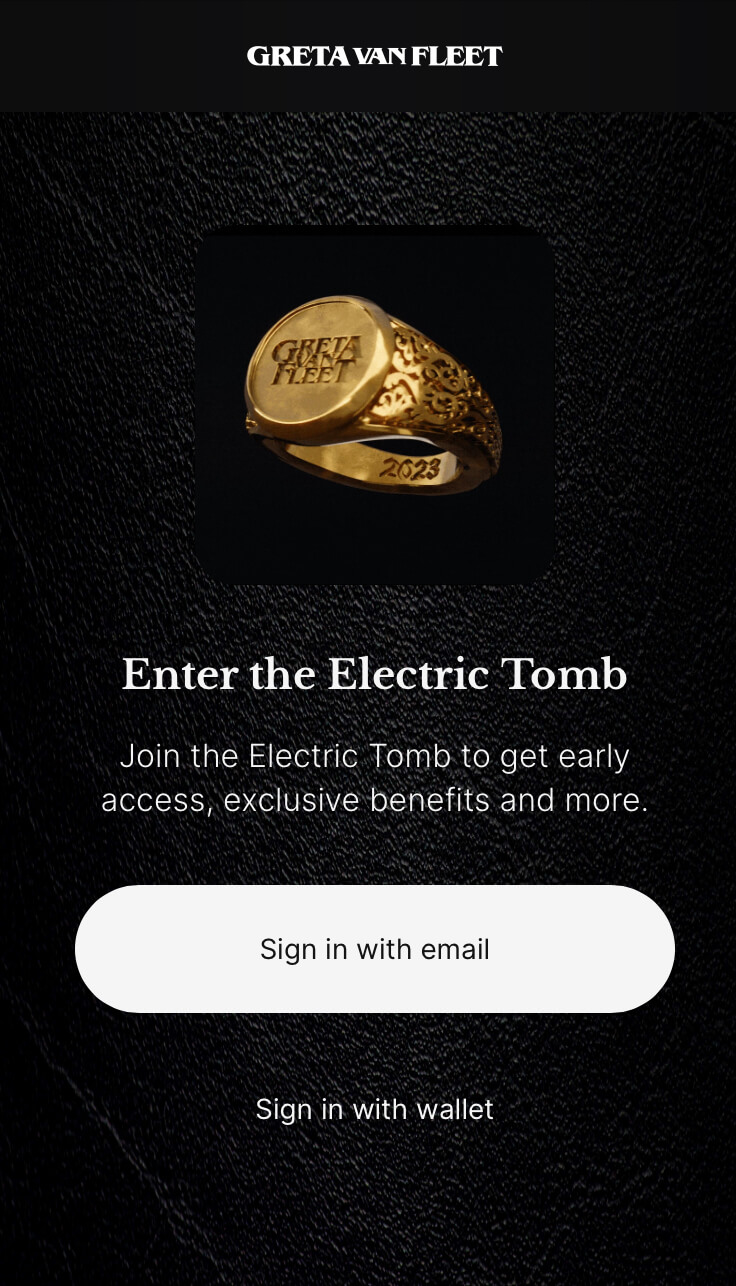 On the backs of Starbucks, another major fast casual brand like Dunkin or Chipotle will make a big move with loyalty. Possibly several big brands broadly will follow suit.
Brands and creators will collaborate through airdrops. For example. Mariah Carey drops a new single to holders of World of Women or Outdoor Voices airdrops Nike wearable holders a coupon to their new store.
If you're hoping that degenerate volume trading is coming back, you're going to be disappointed. BUT if you're excited for a more tokenized future for marketing, I think 2023 is going to be a good year.
Carly Reilly founder and CEO of Overpriced Media and host of the Overpriced JPEGs podcast.
#7: Big Brands and Big Tech Lead More Consumers Into Web3 Adoption
While 2022 was a rough year for crypto, I believe it was a great year for Web3. The technology continued to improve and experimentation from big tech and big brands continued. In 2023, I believe that adoption will pick up heavily; however, rather than that being led by speculation and retail-driven NFT projects, I believe it's big tech and big brands that will lead the charge this year.
Big tech companies like Meta and Reddit are set to explode in Web3 in 2023. Reddit is already leading the way with almost 5 million new users minting their NFTs in 2022. I think this number will continue to climb and will go above 20 million unique users by the end of the year. Additionally, Instagram is already enabling the minting and purchasing of NFTs from posts inside its application, albeit with only a select few creators to date. The first tests have been extremely successful so far and I think this gets opened to the masses this year, resulting in millions creating new wallets and learning about NFTs. Amazon, Google, and Snapchat will no doubt follow suit here.
On the big-brand side of things, many of the biggest brands in the world have been experimenting with NFTs over the last 2 years in small amounts. I believe that in 2023, big brands will be done experimenting with fewer than 10K NFT collections and will start driving very large numbers in terms of launching NFTs and creating unique experiences for their audiences. Adidas led the pack with a 40K NFT collection last year and I think we'll see multiple 100K+ NFT collections in 2023.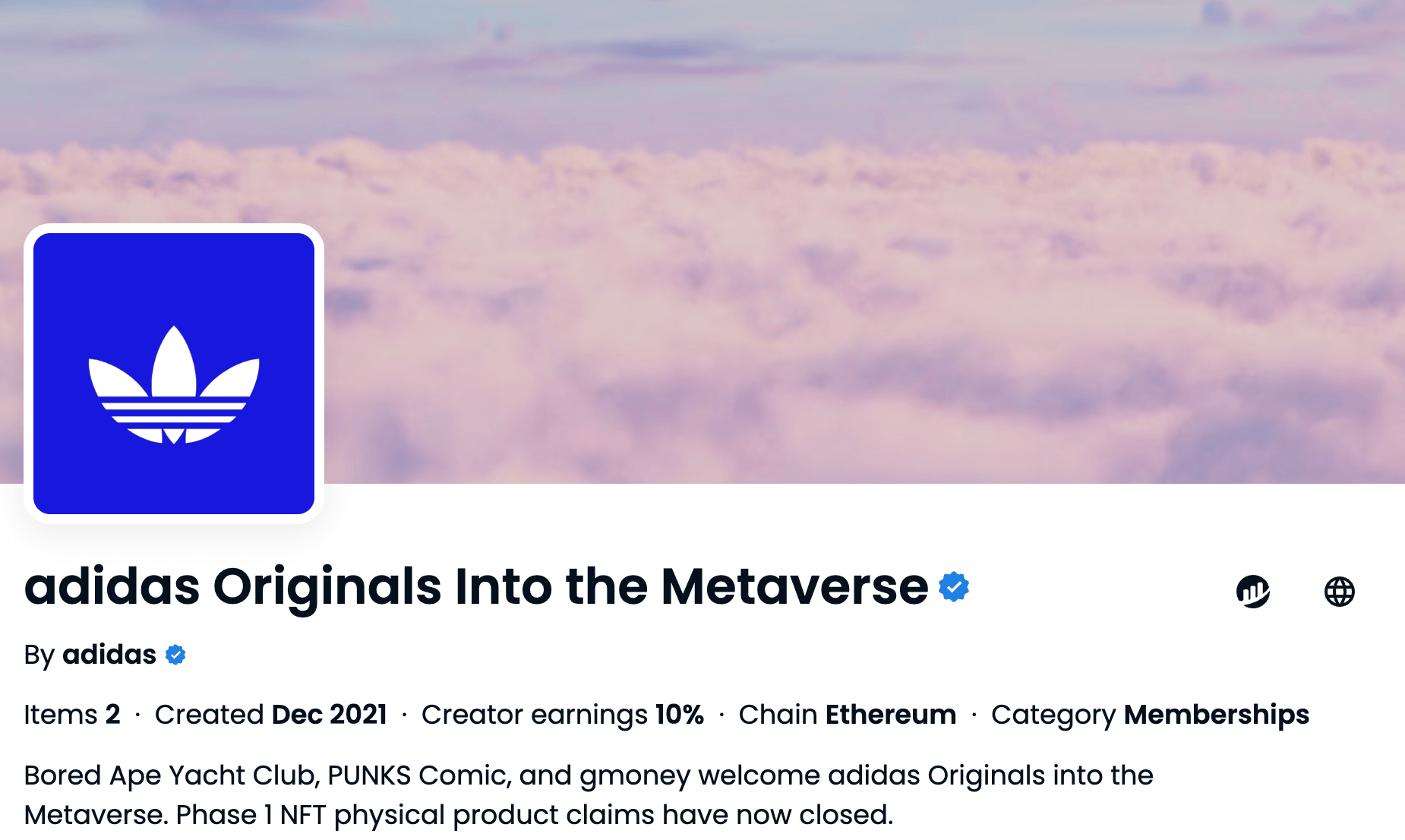 I expect NFTs will mature—less about PFP collections and more about experiences and rewards. On that note, Starbucks is probably going to lead the way with their new NFT loyalty rewards program, likely also onboarding millions. I think we'll see many of the top brands launch similar programs this year, too.
Web3 tech isn't ready for mainstream adoption just yet, and I don't think we'll get there by the end of the year, either. However, I think big brands and big tech will drive NFT and Web3 adoption significantly this year, regardless of the tech, by creating unique and valuable experiences for their fans. I'm also in the camp that the macro-environment is changing in our favor so I think we'll see a comeback year for crypto, too ;).
Good things ahead for the space!
Kyle Reidhead is co-founder of Impact Digital Marketing and Web3 Academy. He co-hosts the Web3 Academy podcast.
#8: Utility Is Integral to Future Token Program Survival
The big Web3 push over the next year will be brands with easy answers to "What does it do?"
Every token program will do something. It'll allow access to an event, entrance into a membership site, ticket to an exclusive club, or reward for loyal customers. "Utility NFTs" will be all the rage.
So while PFP NFTs on OpenSea will continue to do quite well, we'll start to see much fewer of those and many more non-PFP NFTs that just need to do something to add value to the customer relationship.
Joe Pulizzi is founder of The Tilt, host of the Content Inc Podcast, co-host of This Old Marketing podcast, and author of Content Inc.
#9: Blockchain Tech Informs Hyper-Personalized TV Ads
In 2023, we'll see a trend in community-gated streaming services. To watch your favorite shows, you'll be asked to join their community and the content within that community will be curated more specifically to that audience. We'll also see streaming services get more specific when it comes to user interaction.
A prediction (although perhaps not this year) will be user-curated ads on television. Based on previous purchases and demographics, you won't be watching the same ad during your Sunday night football game that your neighbor will be. The blockchain will be able to streamline this process and make it more accurate.
Overall this year, you'll see a lot more mainstream companies moving to the blockchain, although they'll use less "Web3 jargon" in describing this process to the market.
Heather Parady is a Web3 community-building strategist.
#10: NFT Functionality Deepens
The biggest trend we will see in 2023 is definitely utility NFTs, and I don't mean merch or staking. I mean real utility like tokenization in gaming and DeFi crossover functionality.
NFTs and the blockchain will do what TVs did to board games by bringing them to life and giving them an immersive experience unlike anything we've experienced before.
Matthew Ng is founder of Warrp, Racer Club Labs, and ToastPunk.
#11: 'NFT' Is Replaced With Utilitarian Descriptors
I think we'll see a trend away from using the term NFT (the name of the technology) and move toward a word that describes what the item is to the holder; for example, digital collectible, or even digital shirt, digital house, digital car, and so on.
In reality, we don't say things like my deed or contract to describe our homes or cars. We just say the thing that we own and imply ownership by saying my house or my car. The average person doesn't care how ownership was achieved, they just care to know that they own the thing that they think they own.
As digital ownership grows, we'll begin to describe the item and not the technology or contract that it sits on top of.
Lindsey McInerney is a digital futurist and co-founder and CEO of Sixth Wall.
#12: NFT Sales Funnels Will Reflect Complicated Web2 Counterparts
In 2021, Web3 was all about community. In 2022, the conversation changed to focusing on utility.
In 2023, the "utility" conversation will normalize and expand to include decentralized governance, tokenized communities, and proof of attendance protocol (POAP) variations thereof, the integration of NFTs in existing social media platforms (e.g., Reddit's introduction of 3M wallets), and the further emergence of paid and tokenized whitelist communities.
The NFT marketing toolbelt will also grow to include text and email follow-ups, and a deeper integration of complicated funnels that will initiate in Twitter Spaces, during which projects will promote whitelists and NFTs.
Attention Agency Owners, Brand Marketers, and Consultants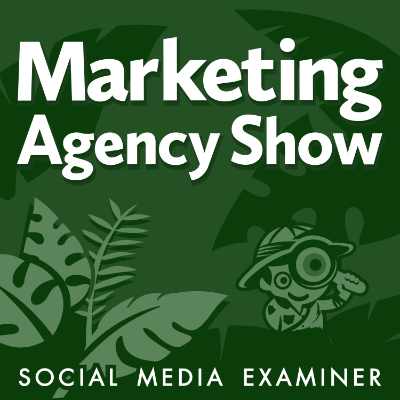 Introducing the Marketing Agency Show–our newest podcast designed to explore the struggles of agency marketers.

Join show host and agency owner, Brooke Sellas, as she interviews agency marketers and digs deep into their biggest challenges. Explore topics like navigating rough economic times, leveraging AI, service diversification, client acquisition, and much more.

Just pull up your favorite podcast app, search for Marketing Agency Show and start listening. Or click the button below for more information.
CLICK HERE FOR THE DETAILS
Additionally, NFT projects will begin to incentivize NFT buyers to purchase more tokens by offering discounts and installment payment options.
Arvin Khamseh is an NFT marketing expert.
#13: Web3 Social Struggles to Scale
Leading Web3 social protocols Lens and Farcaster will come out of closed beta in an effort to drive adoption.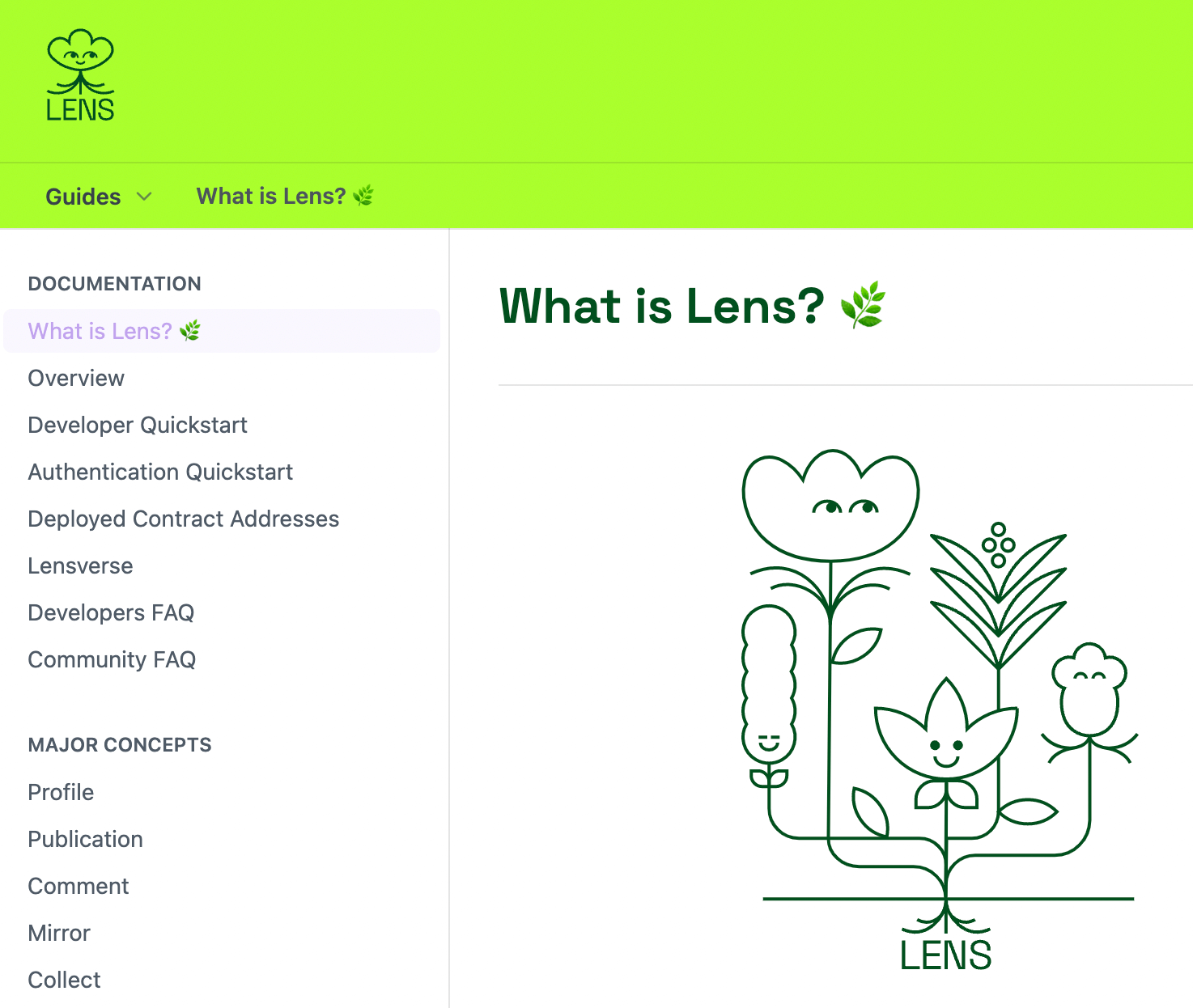 Both will struggle to scale beyond hardcore Web3 users.
Jeff Kauffman is the founder of Parachute and Sky Club. His latest venture is Jump News.
#14: Fashion Pairs More Physical Goods With Digital Assets
In 2023, we'll see fashion and Web3 get even closer, despite the current market, but with a focus on community, loyalty, and co-creation.
We'll see more connected fashion collections that help merge physical fashion and virtual fashion through the use of NFT collections that connect the physical product to a digital collectible or virtual twin. I'm personally launching three connected fashion collections myself this year in partnership with brands and other Web3 fashion innovators.
We'll see a lot more of these types of collections hit the runway and eventually make it into bespoke retail experiences.
Cathy Hackl is a metaverse growth strategist, host of the Metaverse Marketing podcast, and author of Navigating the Metaverse.
#15: More Brands Tokenize Physical Goods
One trend in the NFT space that I believe we'll see by the end of 2023 is the tokenization of physical goods and brand collaborations. NFTs are digital assets that are unique and cannot be replaced, and they have the potential to revolutionize the way physical goods are bought and sold.
In recent years, we've seen a growing trend of physical goods being tokenized such as collectible trading cards, sneakers, and even luxury cars. This allows for the ownership and transfer of these goods to be tracked and verified on the blockchain, providing greater transparency and security for buyers and sellers.
Furthermore, we'll see more brand collaborations in the space as well. As the NFT market grows and more people become aware of the potential of tokenizing physical goods, more companies will start to explore the possibilities of NFTs. This will lead to brand collaborations, where companies will partner with each other to create unique and exclusive NFTs such as limited-edition merchandise or exclusive in-game items.
An example of this is StockX's introduction of Vault NFTs, which provide unparalleled access and utility for customers by connecting coveted physical products with readily tradable digital tokens that track ownership of the physical product. This new feature allows faster, cheaper, and more efficient trading experiences for customers.
As a result of tokenizing physical goods, we'll see the emergence of new marketplaces, platforms, and services focused on the buying, selling, and trading of NFTs, creating new opportunities for creators, sellers, buyers, and investors.
Carlos Gil is an NFT advisor and best-selling author.
#16: Membership Leads NFT Utility
In 2021 and 2022, we saw the explosion of NFTs as "investments" where people buy them because they expect to make a profit. The bubble popped pretty spectacularly in 2022 but NFTs are a lot more useful than speculation.
We're starting to see brands realize how NFTs can be membership cards. Starbucks' Odyssey program is leading the charge, and Reddit's avatars are trailblazing. It turns out that they're also coming at a time when Web3 needs a new business model, especially regarding its "media," social, or legacy, as ad revenues have been shrinking.
Julien Genestoux is founder and CEO of Unlock Inc., creator of the Unlock Protocol and Unlock DAO.
#17: "Choose Your Utility" Leads Web3 Personalization
Although the last year of Web3 might feel like 5 years, I believe the Web3 business trends in 2022 will continue into 2023, focusing less on short-term returns and more on defined long-term value. With that being said, artificial intelligence will impact every aspect of Web3, from art to creativity to copy.
The byproduct of the focus on long-term value and AI, I believe, will drive the trend of personalization across every aspect of Web3. We've seen this in the metaverse with Ready Player Me avatars but this will bleed into NFTs in many ways.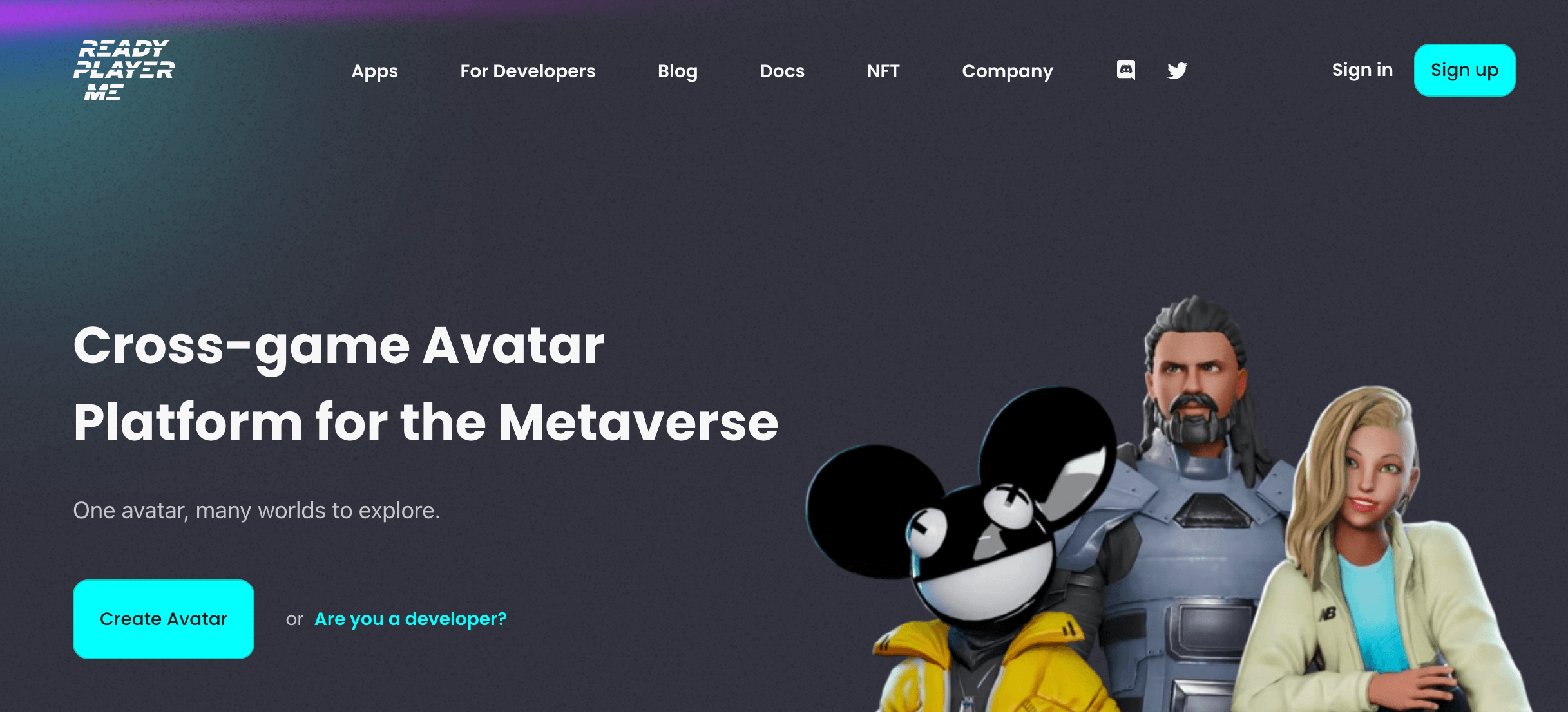 We will initially see projects increase long-term value by offering a 'choose your utility' experience for holders, going beyond just a game, tokenomics, or metaverse. Personalization will happen by leveraging AI to create dynamic PFPs and more customization of the art, while also allowing holders to rename their NFTs on the blockchain and creating a marketplace to exchange properties with other holders.
I believe this combination of long-term value and personalization will also be the catalyst for brands to reboot their previously failed NFT drops of 2022, while allowing campaign marketing to influence their NFT strategy.
Brian Fanzo is a digital futurist, an AI artist, and host of the NFT 365 podcast. His latest NFT collection is called Shades of ADHD.
#18: Web3 Spawns Infrastructure to Build Decentralized Social Platforms
In 2023, I think we're going to see a lot of innovation and building in Web3 social.
As we continue to navigate Web3, people will need to adapt if they want to reach their desired audiences.
We're going to see businesses building the underlying protocols and foundations for all different types of social platforms that allow for portability and some kind of attestation. As we continue evolving, companies and influencers will be unwilling to build a marketing presence on platforms that don't offer portable audiences.
I think that will open the door for all kinds of different types of Web3 social startups to flourish and compete.
Amanda Cassatt is founder and CEO of Serotonin.
#19: Gaming Industry Leads Web3 Onboarding
I think everything is going to quiet down significantly, which isn't the worst thing. Slowing, or altogether removing the inertia of hype means only the strongest ideas/companies will survive.
The clearest trend I see coming is a quiet adoption of Web3 by the existing gaming industry.
By quiet, I mean that Web3 will take a backseat to gameplay and earning mechanisms will no longer be the core pitch to gamers.
Right now, most Web3 games are trying to win players over with a pitch, "Play this game! You can earn money!" (And people can see right through it).
Web3 needs to be a function of the gameplay experience (e.g., a way to store in-game digital collectibles), not its purpose.
My bet is gaming companies will come around to this in 2023 and update their core pitch to, "Play this game! It's super fun! Oh, and if you want, you can trade the in-game items you collect on the secondary market."
It's not like these companies don't have the runway! Web3 companies raised $7.1B in 2022 and 62% of it went into the gaming category.
Chevy Cassar is head of marketing for Web3 Daily.
#20: Web3 Digital Identity Use Grows
Digital identity is the gateway to the metaverse. Web3 digital identities will start to be as ubiquitous as email, giving people an identity across Web3 that they own and control. Easy names instead of wallets will be ubiquitous onboarding points.
Web2 companies bifurcate. They will divide into those who are boldly in and those who are scared. We've seen bold moves in Web3 like Starbucks, Nike, Prada, and IKEA.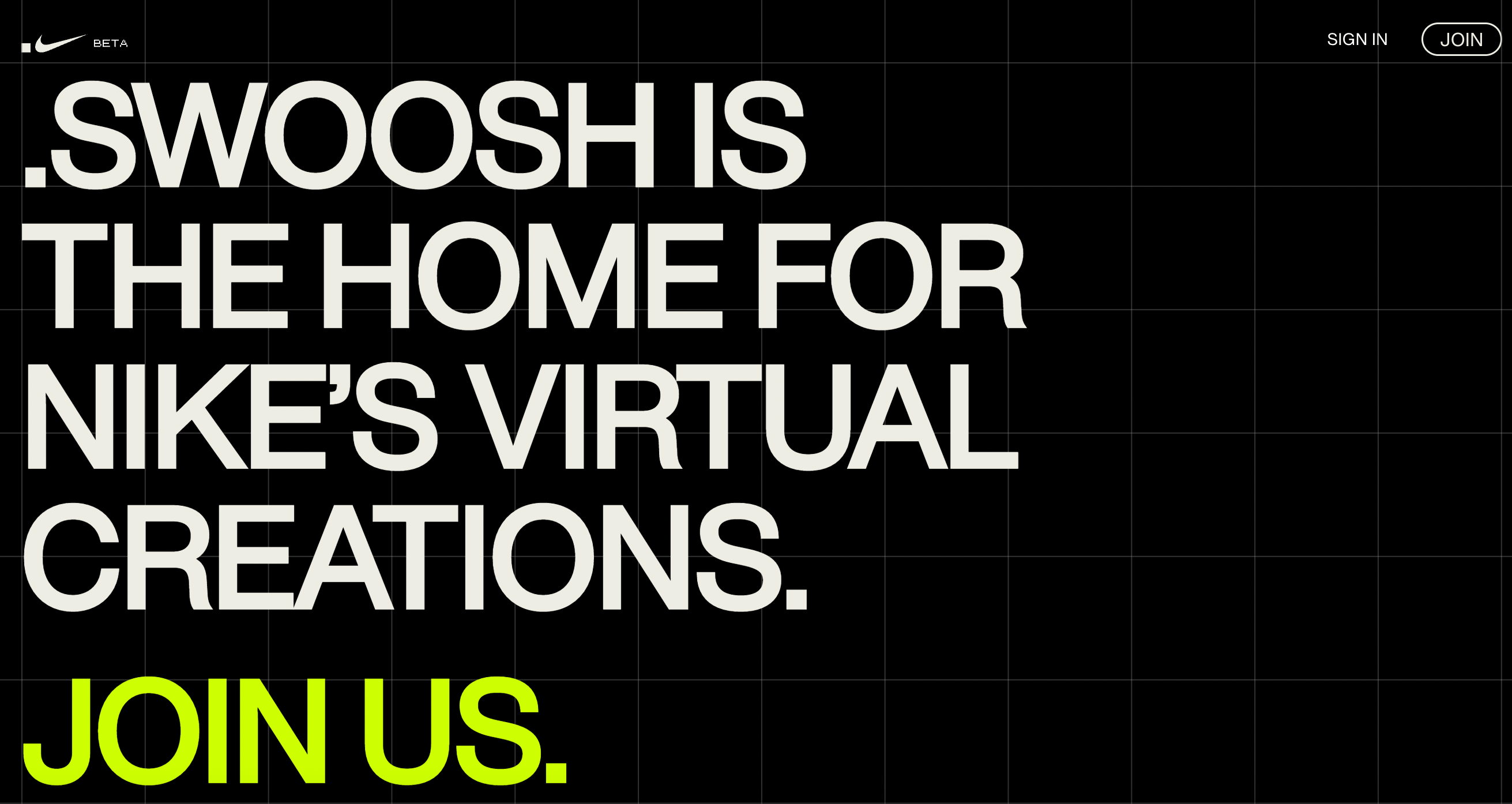 In Web3, you are either in or you're out, and I believe forward-looking people will be drawn to the companies that can fully articulate their plans and vision for building in Web3.
Sandy Carter is a futurist, author of Extreme Innovation, and senior vice president at Unstoppable Domains.
#21: Web3 Interoperability Becomes Commonplace
The NFT space is constantly evolving, and 2023 is shaping up to be an exciting year for innovation and advancement despite any negativity, price decline, and naysayers.
One trend I see gaining traction, and one we hope to work on at Women and Weapons, is creators giving their communities tools to make their NFT pieces and art more interoperable and capable of coming to life. People want to do more with their digital tokens than have them represent them on Twitter.
Often, crisis breeds imaginative solutions and products. The possibilities are endless, and I can't wait to see what creative minds come up with in 2023. One thing is for sure, in my opinion, the trend of rampant speculation and gambling will come to a close. In its place will be communities and artists providing real value in exchange for their NFTs.
Sara Baumann is the artist and founder of Women and Weapons. She's also the co-host of the Good Humans podcast.
#22: Businesses Embrace Soulbound and Dynamic Tokens
I think one of the Web3 business trends that we'll see increasingly in 2023 will be the use of soulbound tokens— non-transferable tokens that represent a person's identity, and dynamic NFTs— NFTs that can change some of their properties based on external conditions.
More projects are realizing that tradable NFTs aren't suitable for every type of business and there are only so many collectibles you can have. Moreover, there are many exciting new ways to create dynamic tokens that can be upgraded to reward holders' engagement.
We are likely to see a surge in these types of tokens in 2023.
Somi Arian is founder of InPeak, author of Career Fear and How to Beat It, and host of the Somi Arian Podcast.
#23: Web3 UX Improves
2023 might just be the year of user experience (UX) for Web3. It's no secret one of our biggest barriers so far has been the steep learning curve needed to participate in our ecosystem. But recently, I've started seeing platforms explore new and interesting ways to abstract the complex cryptography away from their core experience, without sacrificing the pillars of the decentralized web.

Stuff like the Lens Protocol Dispatcher (that auto-signs transactions within the platform on your behalf) and Uniswap's Permit2 (that offers universal and configurable token approvals) will unlock a lot of the expedited and intuitive flows that were previously reserved for custodial and centralized platforms.
Alejandro Arango AKA Kairon is a writer and marketer who specializes in Web3 and DAOs.
#24: NFT Utility Matures
This year, we'll be seeing more NFTs with utilities—the ability to unlock tangible benefits for their owners.
The times when profile picture (PFP) projects with NFTs didn't have much utility (e.g., Bored Apes' utility was letting you write on a virtual toilet wall) are over.
The NFT projects launching this year will be facing higher expectations from their communities and need to have a mature and sustainable approach. As a result, I hope to see more creative solutions and exciting projects in 2023.
Ani Alexander is a blockchain marketer, NFT artist, and host of the NFT Rebels Podcast.
#25: NFT Nomenclature Reflects Utility
Just as we migrated in the 2000s from "mp3s" to "music," in 2023 and beyond, the term "NFT" will splinter into multiple, divergent labels. While it's possible that the all-encompassing term "digital collectibles" could be the ideal suitor to simplify language, the reality is that NFTs themselves are too stratified along different categories of use cases to all be housed under one roof. More importantly, if ownership is standardized in the future, then the term "NFT" itself will almost certainly rarely be uttered.
Most quickly recognizable, the more use cases in different industries, the more diversified the nomenclature. While digital retailers like DressX tout "digital fashion" as what they're selling and "wearables" becomes the common term in the broader fashion industry for a specific type of digital good, social news sites like Reddit brand NFTs as "collectible avatars." What's more, unique terms may sprout from novelty and necessity. For example, Starbucks' Odyssey platform rewards fans with "Journey Stamps." Although these items are powered by blockchain technology, the coffee juggernaut sidesteps that realm of lingo completely.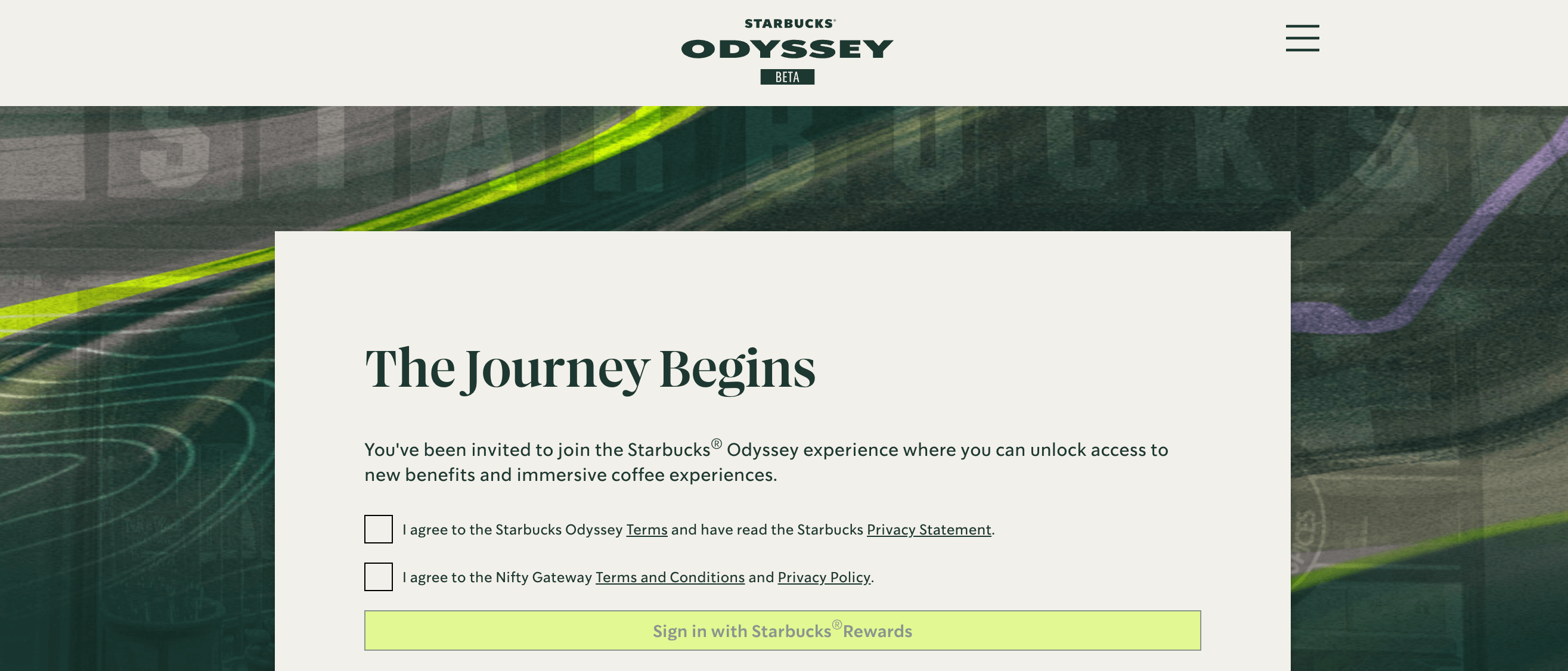 In the short run, the diversity of utilization will produce different terms in Web3. However, in the long run, the normalization of digital ownership will erase or shorten these terms.
Language is an ever-evolving organism, and when things become the norm, we simplify it. According to Pew Research, in 2011, 35% of Americans owned smartphones. Today, that number is 85%, and on a typical day, you probably refer to it as simply your "phone." The same phenomenon is occurring with "smart TVs," and most "smart" devices will eventually follow suit. Descriptors are trimmed to become ubiquitous labels. In the case of NFTs, it's likely that all digital assets bound by ownership will simply retain their original labels, with a tacit implication of being verifiably owned. Digital art will remain digital art, skins in video games will remain skins, and avatars will be avatars.
Aaron Ahmadi is co-founder of Probably Nothing and Probably A Label.
Disclaimer: The information provided on this website is provided solely for educational purposes and does not constitute any advice, including but not limited to, investment advice, trading advice or financial advice, and you should not treat any of the website's content as such. Social Media Examiner recommends that you independently research any information contained on this Website and that you speak with an investment professional before making any decision to purchase, trade, hold or sell cryptocurrency. Nothing herein should be treated as a recommendation to buy, sell or hold cryptocurrency. Social Media Examiner cannot guarantee the accuracy of any information listed on the website and is not responsible for any missing or wrong information. All information is provided as is and should be used at your own risk. Social Media Examiner disclaims all responsibility and liability for your use of any information found on the website.
3 Days of World-Class Training—Zero Travel!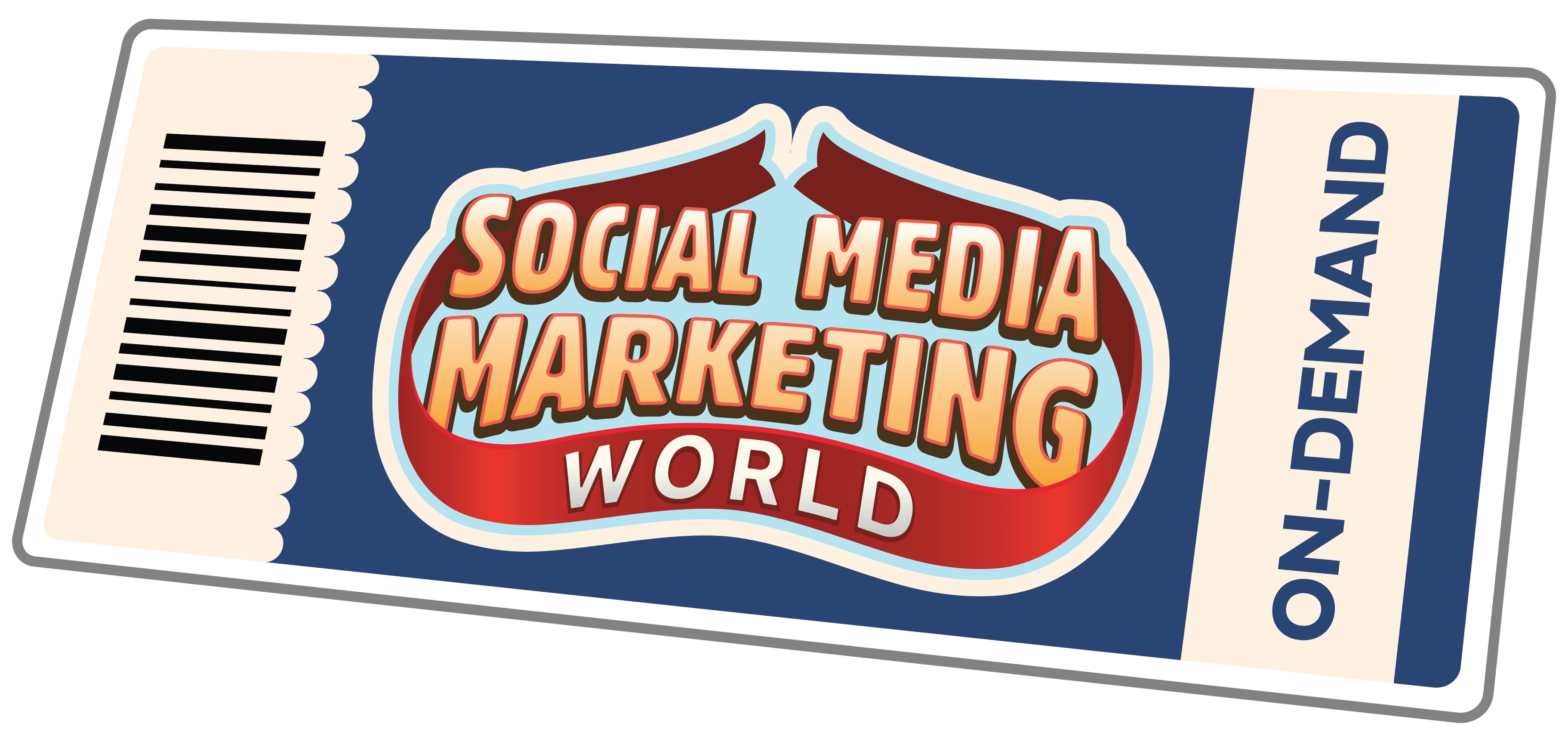 Travel to Social Media Marketing World off the table? Get all of the great content at a fraction of the price with an On-Demand ticket.

That's full access to recordings of every keynote, workshop, and session—the ones people travel thousands of miles to see. Don't wait. Get your On-Demand ticket and enjoy actionable content that you can watch anytime, anywhere.
GET YOUR ON-DEMAND TICKET NOW