Looking for a new way to monetize your written content? Wondering what revenue models Web3 makes possible for writers?
In this article, you'll discover how Mirror.xyz is changing the world of publishing.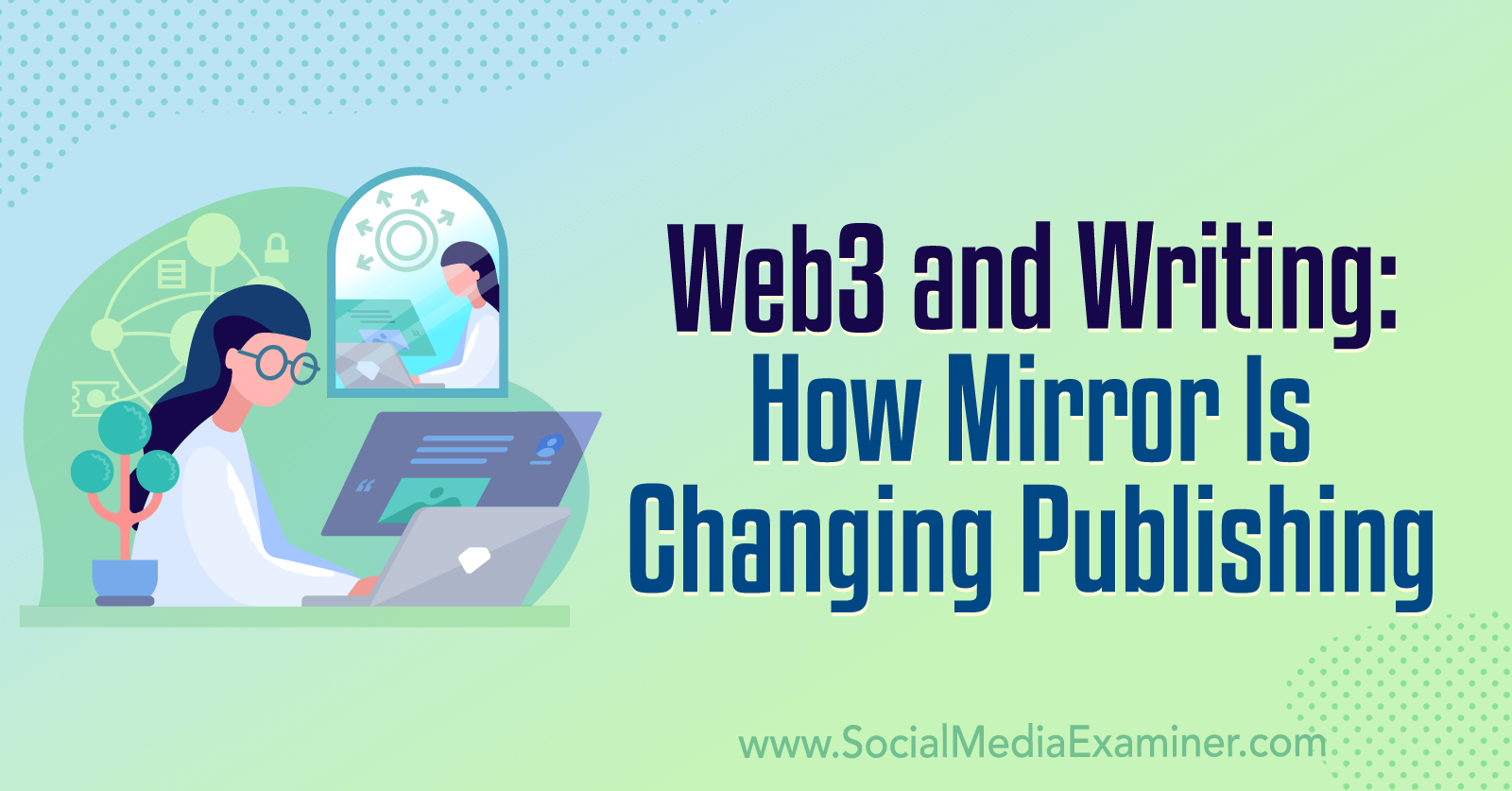 Web3 Is More Than Crypto and NFTs Are More Than Images
If you think Web3 is only about crypto or that tokens must involve images, think again.
In 2021, Alejandro Arango (aka Kairon) realized two things.
First, Web3 technologies and platforms such as END, Uniswap, and One Inc, provide the infrastructure that can actually help a business grow without any inclusion of the speculative aspects of crypto.
Second, digital products were quickly becoming equally as valuable as physical goods.
He then joined the JUMP DAO and began using his experience in content marketing to discuss how Web3 technologies such as DAOs, tokens, NFTs, and other Web3 technologies could fuel new marketing approaches.
JUMP eventually led to his discovery of Mirror.xyz and a third realization. Like Medium, Mirror allows writers to gather an audience by publishing written content. The transformative difference is that Mirror also allows writers to tokenize their work; essentially turning each article/entry into a digital collectible.
While art-based NFTs often have a speculative facet, writing-based NFTs aren't collected with the hope that the token will rise in value; they're used to signal support for the writer and the writer's work.
#1: What Mirror.xyz Does for Writers
Mirror provides writers with three valuable pieces of infrastructure.

1. Ethereum is a layer 1 (or base) blockchain that makes the tokenization of articles possible. It also allows you, the writer, to engage with your subscribers in a gated group on Telegram.
2. Optimism is a layer 2 network built on the Ethereum blockchain. Optimism reduces the gas fees required to record transactions on the Ethereum blockchain and allows writers to put a 'purchase' price on each article they write.
3. Arweave is the global, decentralized storage network on which Mirror's content is stored, and it's arguably the most valuable of the three pieces of infrastructure for two reasons.
First, if you post on WordPress, your content is hosted on a server and can be subject to censorship or outright removal by a third party. Because Arweave is decentralized, a version of your original article is always available.
Second, because your article is available as a token, any curator can display it on their website while you retain attribution and benefit from the resulting shares and collection by others.
#2: How Mirror Amplifies Trusted Content
As the online pool of knowledge about any given topic grows, a traditional search engine is needed to filter through the content and find what you're looking for.
The amount of online content published every day is overwhelming and it's become increasingly difficult to find trusted sources of information.
As the amount of online content continues to grow, people are turning to trusted curators to further rank search results: friends, family, or influential media personalities.
People are beginning to trust other people more than machines.
Of course, SEO and SEM will remain relevant but marketers need to understand that the way people communicate, source knowledge, and seek to understand concepts is migrating toward a trust-based system.
For example, you want to buy a bicycle so your first action is to google the best bike marketplace in your area. Google shows you results with the best SEO but there's no way for Google to substantiate which of those results is truly the best service provider.
So do you blindly trust Google or do you trust a friend who's a cyclist and tells you which of those businesses has been around for 50 years?
You likely trust your friend to further inform your decision-making beyond the search results.
Mirror makes it very easy to see which pieces of content your trusted sources support via the Collect feature because anyone can see who's collected every piece of content on Mirror.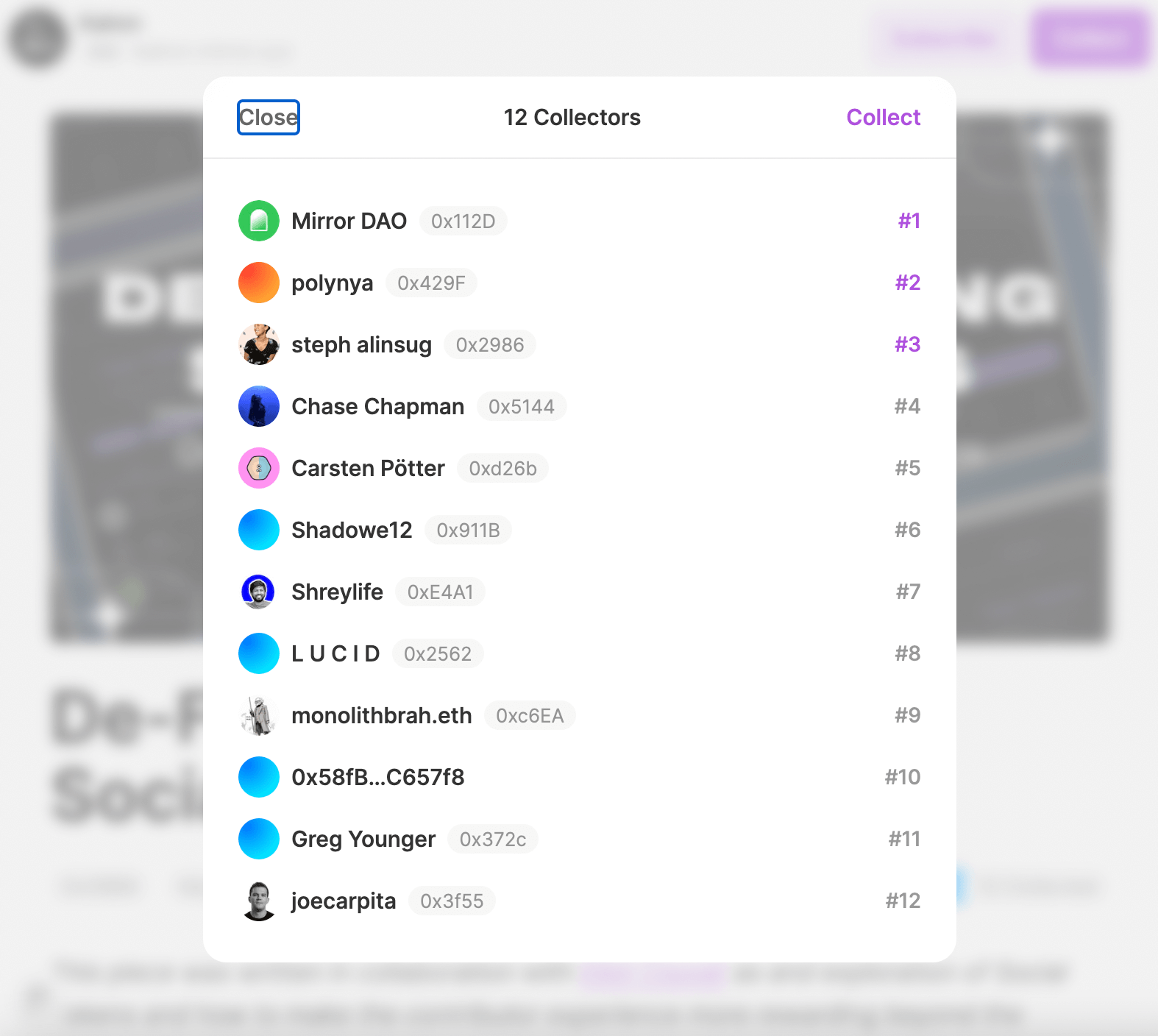 #3: How to Publish an Article on Mirror
Working in Mirror is very similar to working in WordPress.
You write your article in Napkin, Google Docs, or any other linkable writing platform, and then you upload it to Mirror. Alternatively, you can compose your content in Mirror.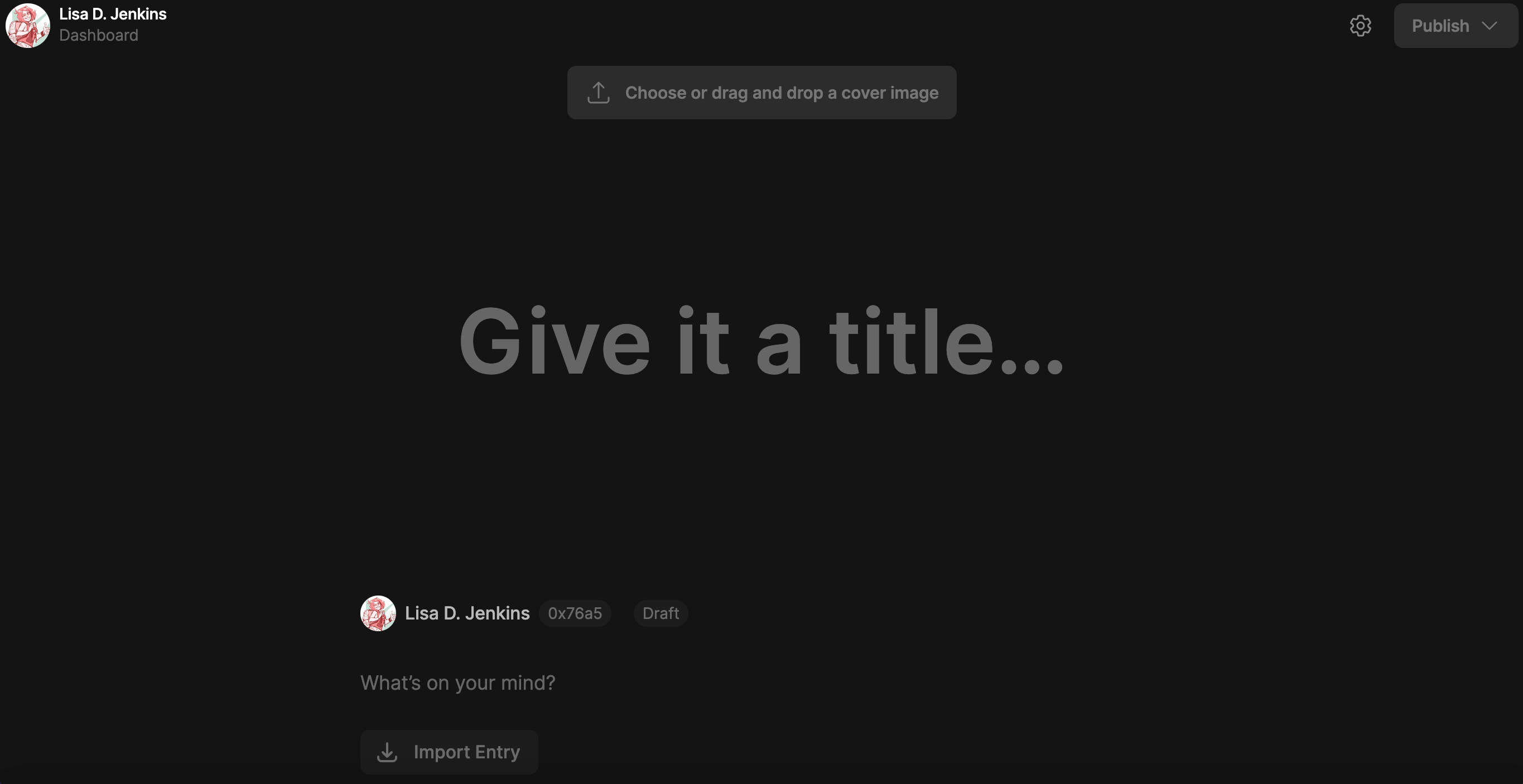 The content will require some formatting for headers, lists, and other elements (similar to the formatting required in WordPress), and then you add your images. You can also apply meta data, adjust your permalink, etc.
Unlike the mint fee and limit, typos can be corrected because the article exists on the Arweave block graph rather than a blockchain.
When you're happy with the look of your article, you set the fee for minting the article as an NFT. Mirror will default to free and a supply of 500 NFTs.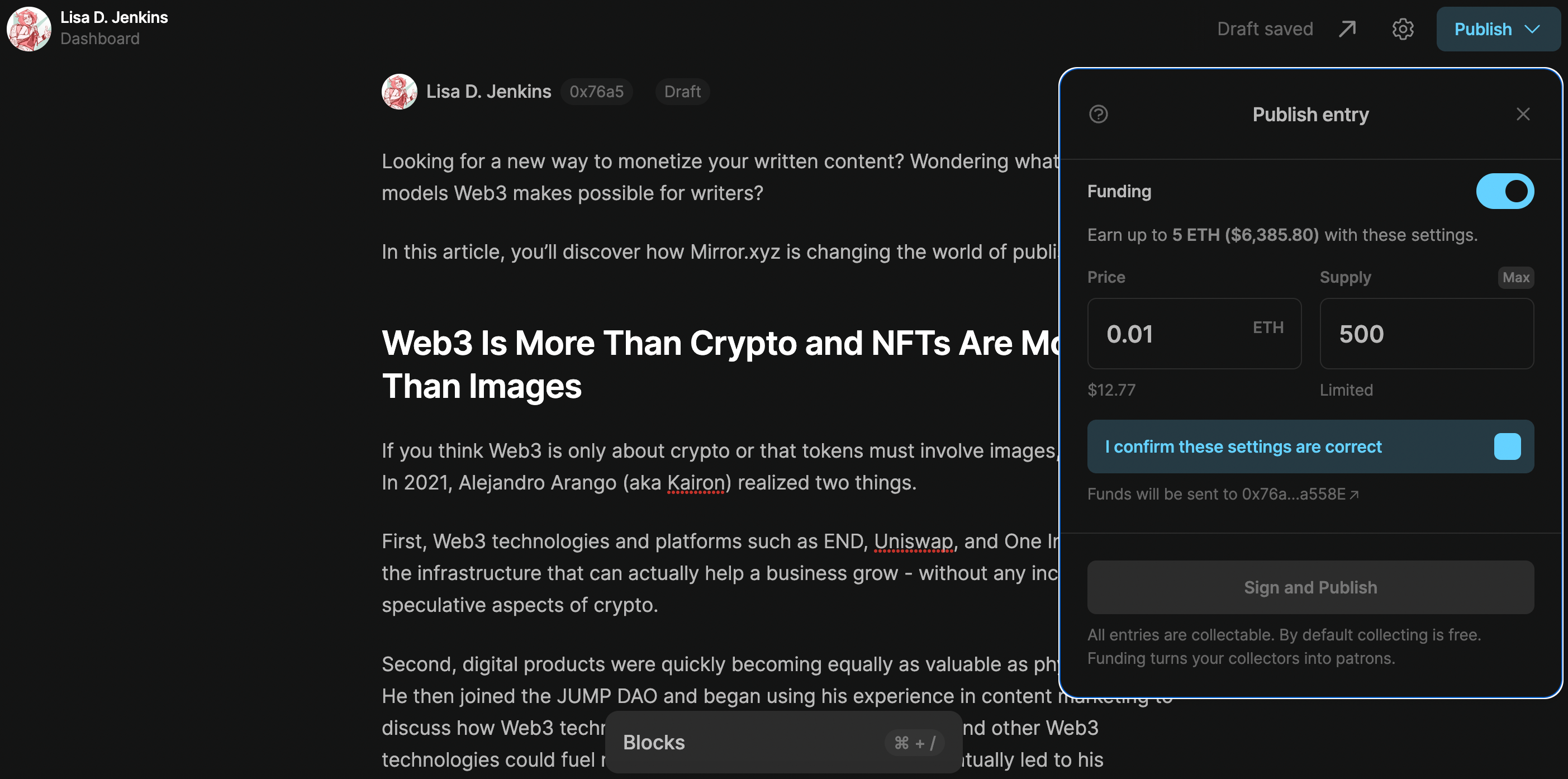 The articles you publish on Mirror aren't technically NFTs until someone mints them by pressing the Collect button.
While every article is free to access and read, the act of minting an article by collecting it not only gives the user easier access to that article, it sends a signal to others that they value the content. It's also a gesture to the author that says, "Hey, I like what you've done! Please do more."
Mirror also offers a Subscribe feature that delivers notifications when your favorite authors publish new content. When you create a Mirror account, you designate an email address for notifications. Authors you collect from can't see your email address; they can only see your public wallet address. When you hit the Subscribe button, Mirror delivers a notification to that designated email.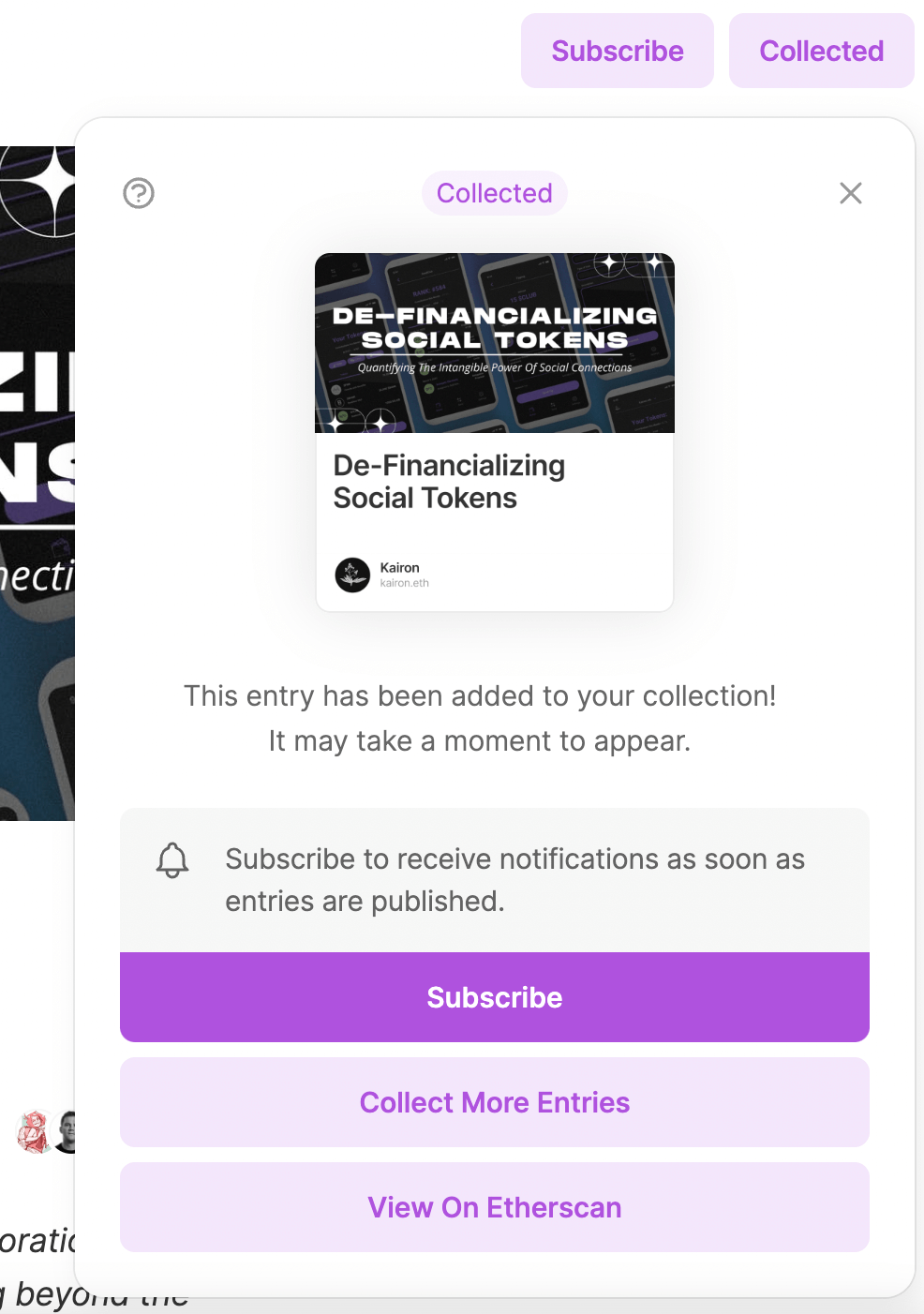 Setting the Price Point for Mint
Be mindful of the mint price you set, because that price can't be changed after it's recorded on the blockchain.
Most articles are priced at 0.01 ETH but the fee can range from free to hundreds of thousands of dollars if you've got the audience for that price point.
When Kairon publishes content for Rabbit Hole, he typically prices it at $1 per edition because Rabbit Hole reaches thousands of people.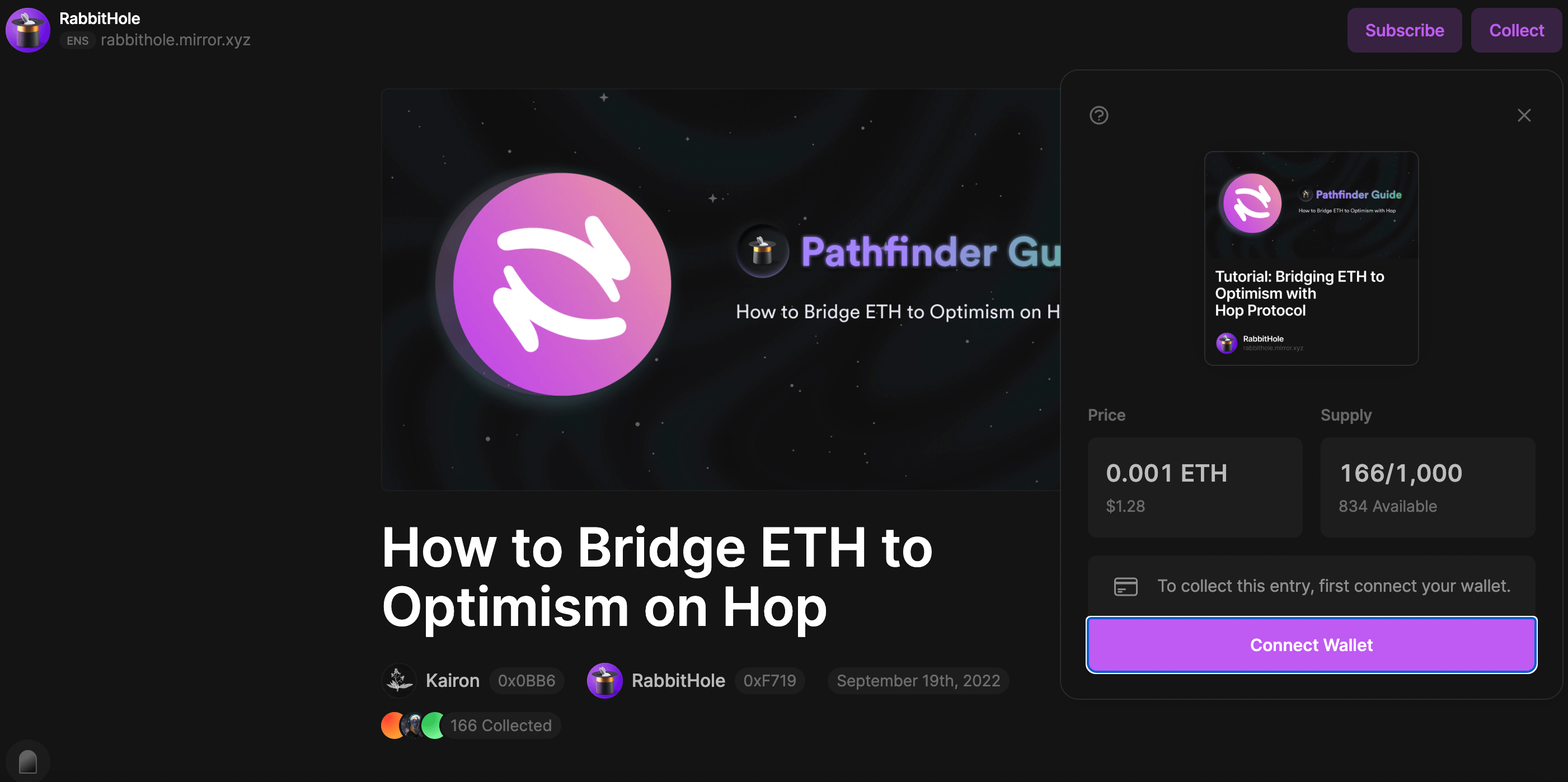 When he publishes on his own, he typically charges $15 per edition.
A writer named Anastasia published her entire master's thesis about data privacy and charged about $70 per edition.
Setting the Mint Limit
You can also choose to limit how many times the article can be minted as an NFT. Again, be mindful of the limit you set because it can't be changed.
Why would you want to limit the mint?
If you want to create a small, gated community you can control the number of people who'll be able to enter by limiting the mint of a given article.
You can then use Guild.xyz, Collab.land or Unlock Protocol to gate the entry point to a website, Discord server, or larger collection of work.
Other Notes From This Episode
Where to subscribe: Apple Podcast | Google Podcasts | Spotify | Amazon Music | RSS
✋🏽 If you enjoyed this episode of the Web3 Business podcast, please head over to Apple Podcasts, leave a rating, write a review, and subscribe.
Disclaimer: The information provided on this website is provided solely for educational purposes and does not constitute any advice, including but not limited to, investment advice, trading advice or financial advice, and you should not treat any of the website's content as such. Social Media Examiner recommends that you independently research any information contained on this Website and that you speak with an investment professional before making any decision to purchase, trade, hold or sell cryptocurrency. Nothing herein should be treated as a recommendation to buy, sell or hold cryptocurrency. Social Media Examiner cannot guarantee the accuracy of any information listed on the website and is not responsible for any missing or wrong information. All information is provided as is and should be used at your own risk. Social Media Examiner disclaims all responsibility and liability for your use of any information found on the website.