Are you thinking of using NFTs to make your business stand out? Interested in exploring examples of NFTs that help with your marketing?
In this article, you'll discover how NFTs can improve the way your business interacts with customers.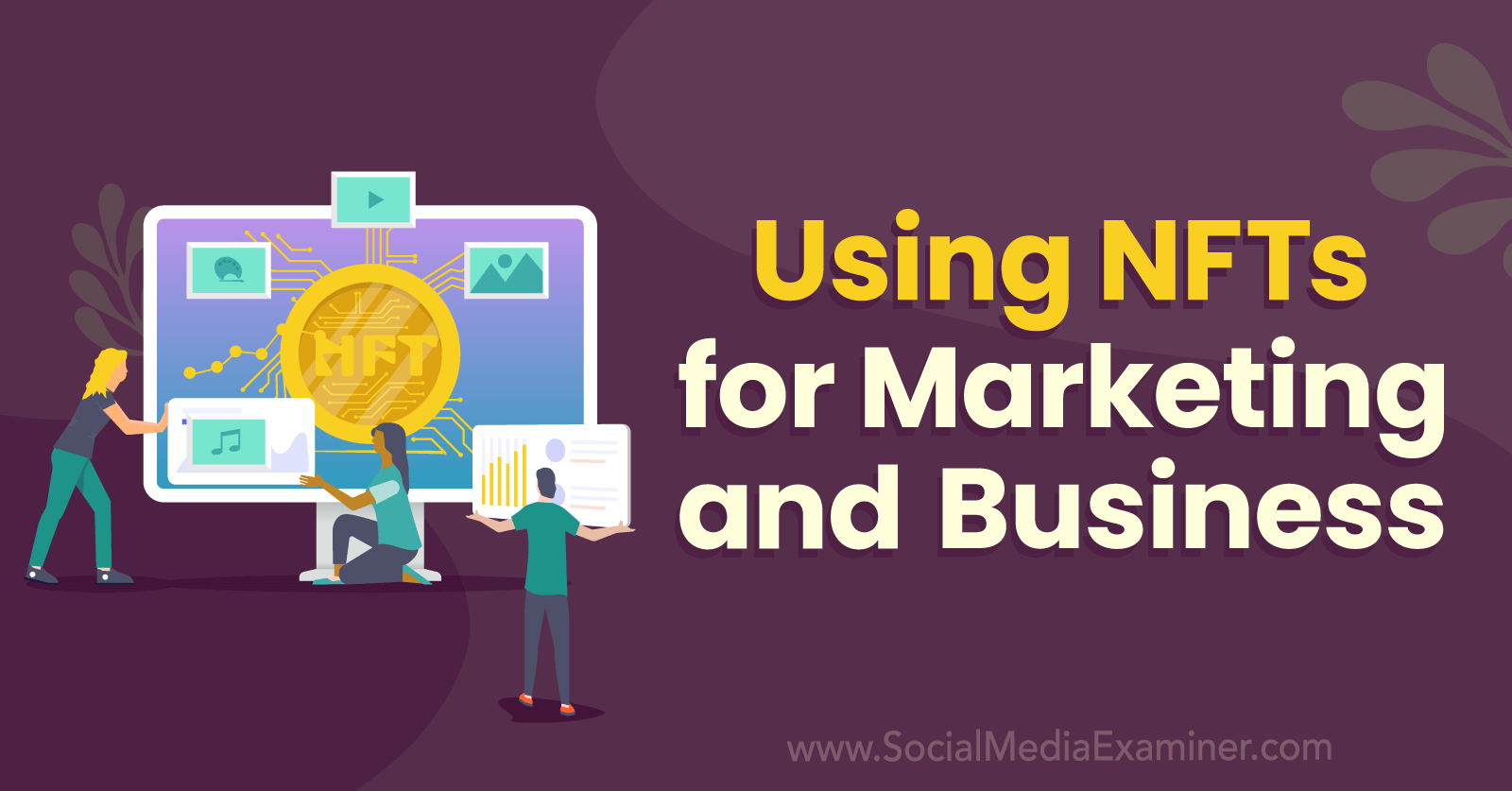 How NFTs Improve Consumer Relationships and Customer Loyalty
Over time, the conversation between businesses and consumers has evolved.
Until recently, marketing was a one-way model in which businesses were broadcasting to their audience over media like billboard and television ads. Now it uses a two-way model in which businesses and consumers alike use social media to open a dialog.
Digital assets such as a non-fungible token (NFT) offer a further evolution of that relationship by adding the capacity for consumers to express their opinions and vote for future brand-related events, new product lines, and potential future services. This allows a small business or a business of any size to leverage loyalty NFTs to fully align incentives with consumers' preferences at scale—something that wasn't easily possible until now.
It's all thanks to the transparency integrated into Web3 technology such as NFTs and the blockchain. Now businesses such as Ledger can use NFT technology to build their brands and communities around a deep core of consumer loyalty.
Ledger, a Web3 company and leader in NFT security, sells a hardware security device (a.k.a., a cold wallet), to securely store your NFTs and other tokens. The Ledger cold wallet is available in stores and online for anywhere from $50 to $150.
Recently, Ledger launched Ledger Market, an NFT marketplace, to sell a limited collection of Ledger Genesis NFTs.
These tokens were selling for between .3 ETH (or about 400 USD) to about .569 ETH (or about 800 USD) and anyone who purchased one will also receive a new black Ledger cold wallet.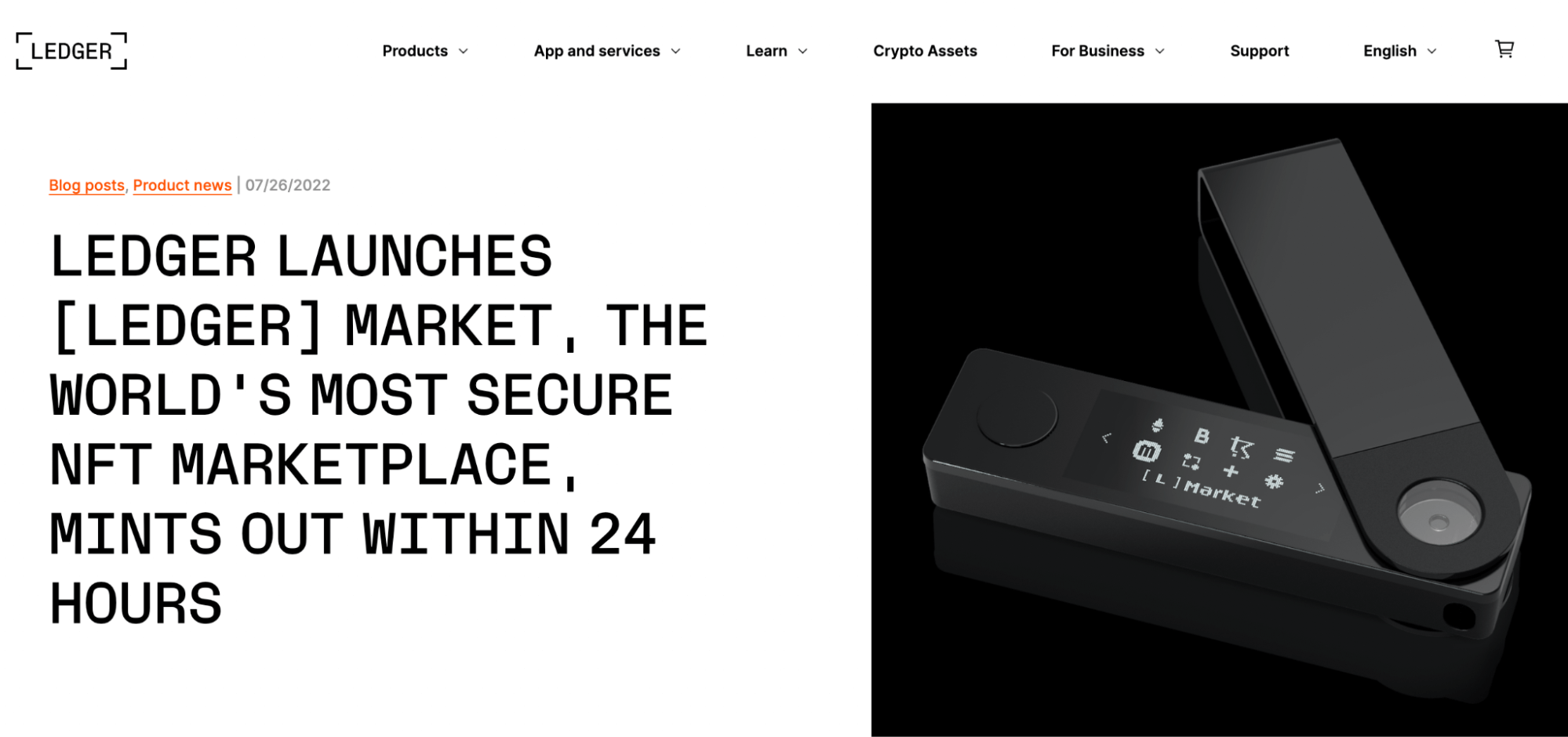 A mix of brand integrity and consumer advocacy helped people decide to purchase the Ledger Genesis NFTs for the hardware wallet, even knowing they could simply buy the device separately.
What's the benefit for consumers?
Not only did Ledger Genesis NFT holders receive a trusted brand's hardware wallet, but they'll also receive any future airdrops Ledger decides to deliver to Genesis NFT holders.
What's the benefit for Ledger?
If any Ledger Genesis NFT holder decides to leave the community at any point, they can do so by selling their NFT—essentially selling their seat in that community. The selling holder will want to sell for a price equal to or higher than their original investment. This means it's in their interest to support the Ledger community and ensure the ecosystem succeeds because the value of the community drives the value of the NFT.
The relationship is mutually beneficial to the business and its consumers.
3 Ways to Use NFTs for Business
We're still in the early stages of adoption of Web3-based technology. For that adoption to grow, businesses need to facilitate by introducing projects and experiences that are tied to their consumers' daily lives and that leverage this new technology.
The businesses that build into Web3 with experiences and marketing strategies now will establish early trust with their own community and the larger consumer base.
#1: Use NFTs to Raise Money for New Projects
NFTs are being used by many businesses in Kickstarter-style campaigns to raise funds for company endeavors.
MetaBrewSociety released NFTs to raise funds for the purchase of a beer brewery. Every NFT holder is rewarded for being an early adopter with benefits such as a claim to a certain amount of canned beer from the brewery each year.
Each holder also has a voice in determining how the brewery will operate, which brewing methods will be used, beer prices, and future land purchases.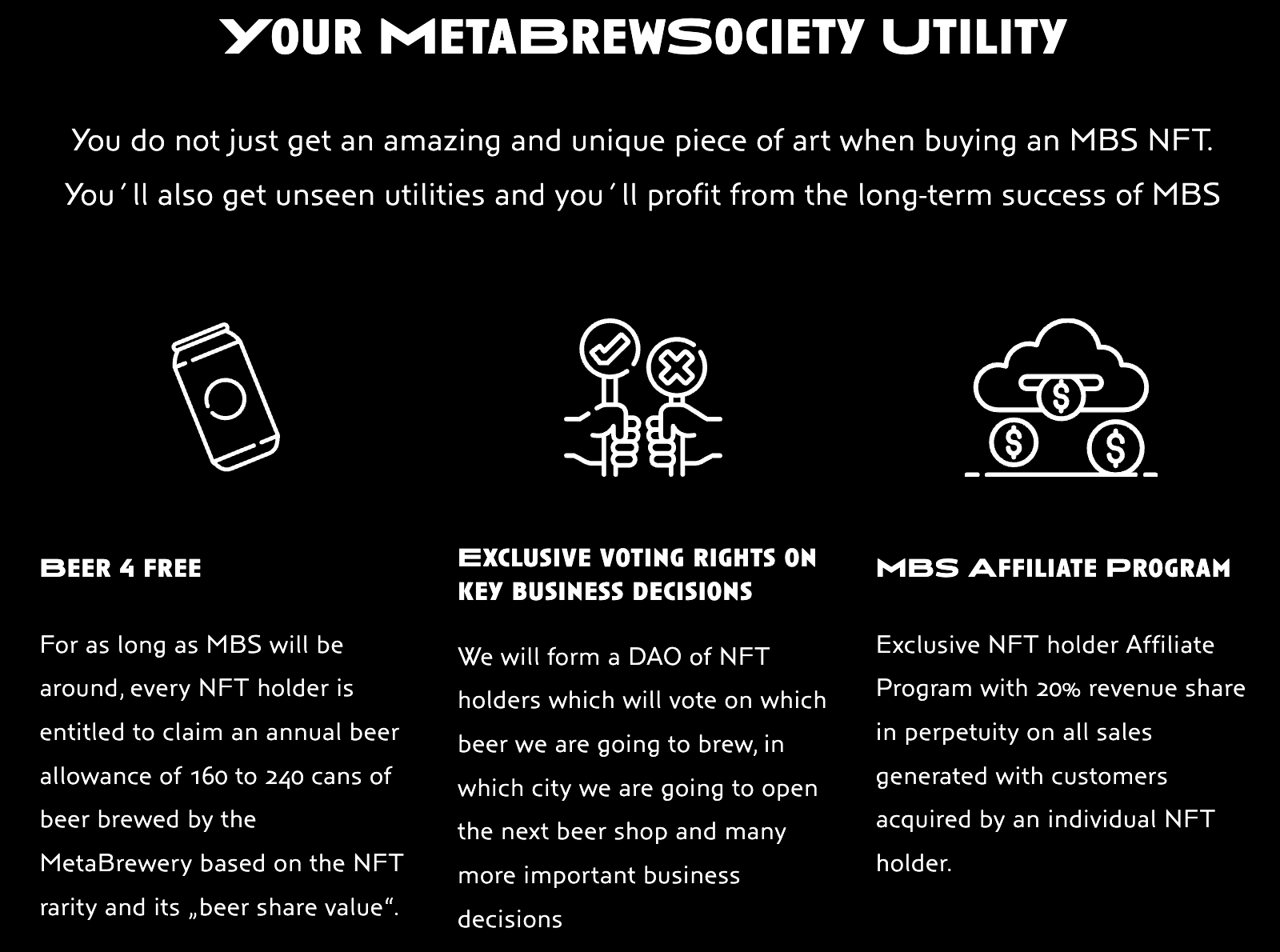 Additionally, as an avid NFT collector in other projects, the founder of MetaBrewSociety plans to offer limited edition artwork based on collaborations with some of the many communities he's part of, granting further utility and value to the growing community.
#2: Convert NFT Holders Into Brand Evangelists
As demonstrated in the Ledger example, it's typically in the NFT holders' interest to help maintain and grow the value of the community they've bought into.
One way holders can do this is to become an evangelist for the business and for the NFT project itself, helping drive further interest and brand awareness.
However, NFT holders aren't just going to start spreading the word on their own. Creating superfans who will publicly advocate for your company is something most businesses have struggled with for decades.
The best way to convert NFT holders into true evangelists is to give them something exciting to share about.
For example, online learning platform InPeak is preparing to launch an NFT collection that will grant holders access to its platform for 3 years.
During that time, NFT holders will have the chance to network with industry experts and speakers they wouldn't otherwise be able to access. Holders will also participate in exclusive giveaways for tickets to other experiences such as accompanying a speaker to an exclusive event.
#3: Use NFTs to Grow Brand Awareness
One of the key tenets of Web3 and NFTs in particular is the idea of communal ownership.
Often, when you purchase an NFT, you also purchase the IP of that token – that IP includes the digital art.
So while holding the NFT doesn't grant you the right to use the name of the founding brand, you do have the right to use the artwork of your NFT in your own business' marketing, spreading awareness of the NFT project even further.
Somi Arian, a member of the Moonbird NFT community, had the image of her token animated. You can often see it sitting on her shoulder in her social media posts and videos. Every time that animation makes an appearance, it draws attention to Web3 and NFTs in general, but also promotes the Moonbird NFT project specifically.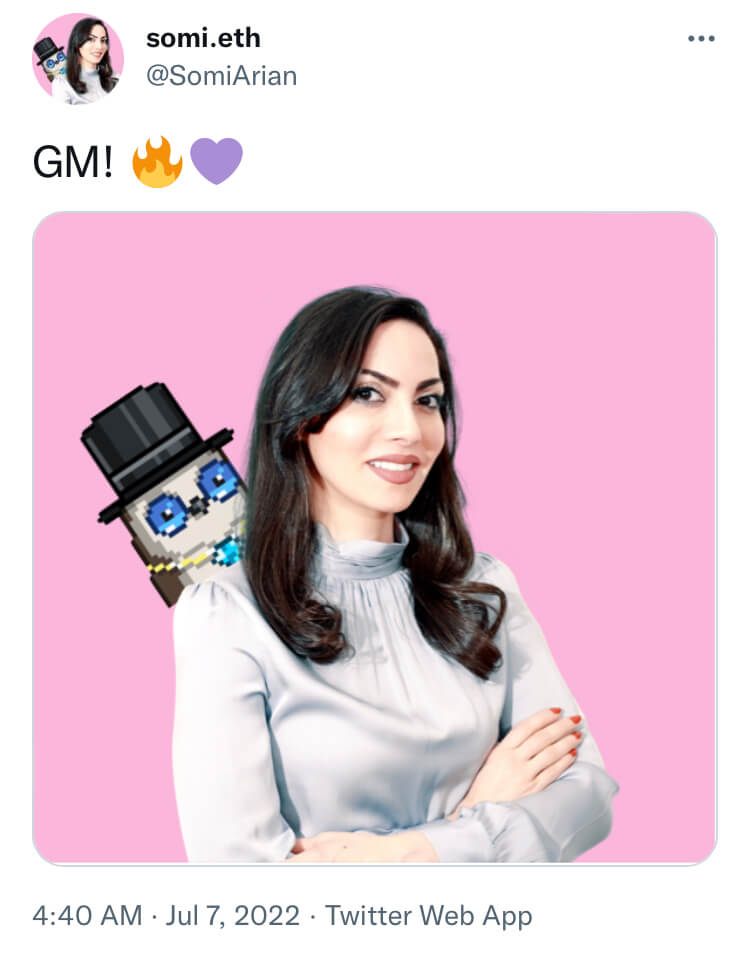 Before You Start Your First NFT Project
The best way to prepare your brand or business for launching an NFT is to immerse yourself in the world of Web3 and NFTs to learn, firsthand, how things work.
Start by joining some of the public community discussions or learning through videos on YouTube.
As with most things in business and marketing, reading or watching videos can only do so much for you. At some point, you have to take the leap and get active, hands-on experience.
Look for NFT projects that have a low cost of entry or are within your budget to start.
These projects usually have communities on Discord where you can go and meet the developers, the artists, and other innovative thinkers and early adopters. The networking value in these communities alone is worth the price of your NFT.
Other Notes From This Episode
Where to subscribe: Apple Podcast | Google Podcasts | Spotify | Amazon Music | RSS
✋🏽 If you enjoyed this episode of the Crypto Business podcast, please head over to Apple Podcasts, leave a rating, write a review, and subscribe.
Disclaimer: The information provided on this website is provided solely for educational purposes and does not constitute any advice, including but not limited to, investment advice, trading advice or financial advice, and you should not treat any of the website's content as such. Social Media Examiner recommends that you independently research any information contained on this Website and that you speak with an investment professional before making any decision to purchase, trade, hold or sell cryptocurrency. Nothing herein should be treated as a recommendation to buy, sell or hold cryptocurrency. Social Media Examiner cannot guarantee the accuracy of any information listed on the website and is not responsible for any missing or wrong information. All information is provided as is and should be used at your own risk. Social Media Examiner disclaims all responsibility and liability for your use of any information found on the website.