Want to discover emerging marketing trends that you can put to work right away? Wondering what top marketers think will matter in 2023?
In this article, 28 marketing experts share their predictions to help you remain relevant and gain a competitive edge.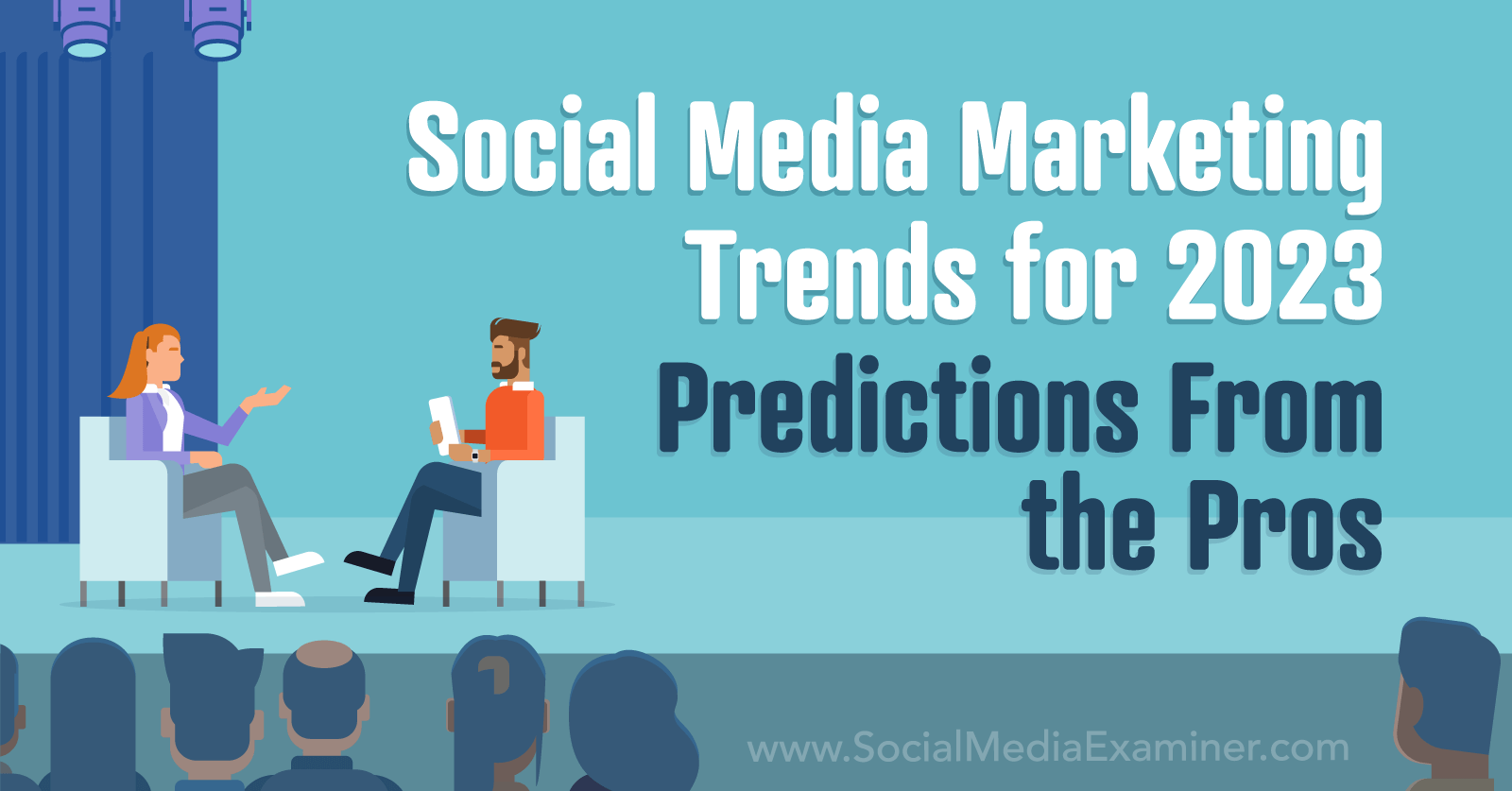 2023 Content and Marketing Strategy Trends
#1: Short-Form Video Leads Content Mix
Without question, the one major platform shift that'll quickly separate the brands that succeed and those that fail in 2023 is going to be short-form video.
Even LinkedIn is shifting to elevating video content and most platforms are bullish on live content as well. Consumers have simply fallen victim to their own attention spans. Short-form video, spurred on by the amazing appeal and success of TikTok, is now the content of choice.
To ensure that your business or brand is navigating that change, I recommend a few things:
Do what's right for you and don't follow the crowd. Not every person or brand has the personality to be goofy on TikTok. But everyone can probably be educational or informal. Instead of shooting for a style you don't find comfortable, find what you can provide via video that's useful to the audience you're trying to reach.
Create videos when you have something to say. Don't do it just to do it. Forget what the talking heads say about the frequency necessary to break through algorithms and such. If you produce one good video every month, your audience will get used to seeing that one good video every month. Forcing crap in between will hurt more than it helps.
Prioritize YouTube Shorts.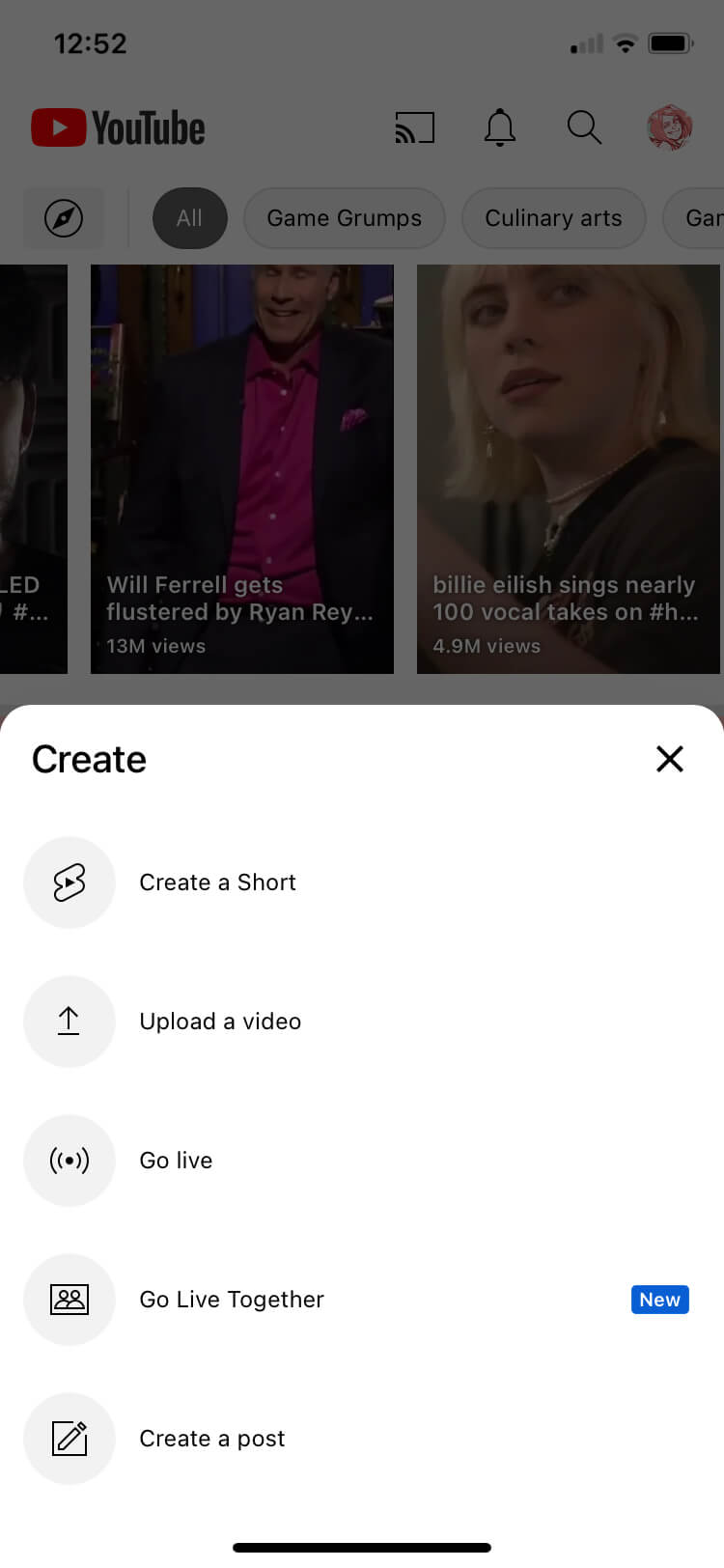 Yes, you should be looking into TikTok and Instagram Reels. But YouTube Shorts should be your priority. Why? It and its parent company are No. 2 and No. 1, respectively, in the search engine market. YouTube is already dropping Shorts videos in search engine results pages. If yours are there and tagged well, you'll see faster business results as people see them, click through to your website, and potentially convert.
Create a vertical video template in your video editing software of choice. Or try building one in Canva, which is cheap and user-friendly. Take a video on your phone, drop it into the template that has your branding, logo, URL, and so forth, and publish. Video doesn't have to be difficult to look professional.
Okay. Go do it. And tag me so I can see your magic!
Jason Falls is a leading digital strategist, author, speaker, and thinker in the digital and social media marketing industry. His newest book is Winfluence – Reframing Influencer Marketing to Ignite Your Brand.
#2: Proactive Audience Engagement Converts
As platforms grow more saturated with content, 2023 isn't going to be easy for a lot of businesses, but those who proactively and strategically engage with their audience will win.
Creating content and building a following on social media are vital for audience growth and brand-building but these things alone don't deliver leads and sales.
The Conference You've Been Waiting For
As a small business marketer, you can probably only pick one or two events to attend each year. Get an unbeatable conference experience and expert training at Social Media Marketing World in sunny San Diego, California—from your friends at Social Media Examiner.
🔥 As a valued reader, you can save $650 on an All-Access ticket if you act now! Sale Ends Tuesday! 🔥
CLICK HERE TO LEARN MORE
Businesses need to have a strategy in place for converting social media followers into paying customers. That means they have to get proactive. They must personally reach out to their audience and bring them back to their business and what they sell.
This is uncomfortable for a lot of businesses that wait and wait for the sale by endlessly producing content. Our own research shows that 56.4% of businesses struggle to sell on demand and only 4.2% know exactly how to sell on demand.
The few that push themselves and do it well will see huge rewards. It's not that difficult to put the processes in place and you don't need to have a huge audience to make a lot of money. All businesses need to do is:
Create content to attract the right potential customers.
Create 'hand-raiser' content to identify specific people in your audience who've (even subtly) shown interest in your offers or demonstrate that they have a problem your offers solve.
Reach out to those people and start a helpful, meaningful conversation.
Make the sale. This could be getting someone on a call or selling a lower-ticket product initially.
Social media should always be a means to identify and nurture sales prospects.
Yes, you should create standout content and meaningfully engage with your audience. But unless you want to be a 'creator,' don't forget why you're there. Don't waste hours every week pouring everything into a platform only for your audience to love your content but not know what you do or how you can help.
The strategy above may appear time-consuming and requires human input but it delivers many more results than the hamster wheel of content creation. Plus, it can be scaled.
Businesses that want more out of their content need to focus less on creating tons of it and more on how to convert those followers into customers. And there needs to be a strategy in place to get this done.
Ultimately, the number of followers or the amount of engagement on social media isn't going to pay the bills!
It's always about the sales.
Andrew Pickering and Pete Gartland, the founders of Atomic and keynote speakers, help small business owners and entrepreneurs grow their businesses with predictable, scalable revenue.
#3: Social Customer Care Leads to ROI
With our current economic climate, companies should be working overtime to retain the customers they have while showing potential customers how their brand experiences far outpace their competitors.
The brands engaging in a social media customer care program will win, even during these difficult times. That's because social media customer care is one of the only marketing initiatives that tackles both acquiring new customers and taking care of current ones.
Many marketers replaced "social networking" with "social media" and made it more about content and less about connecting. This is just another reason social media is in trouble; the whole premise of connecting and building relationships gave way to the broadcasting of information with no real aim at building trust and loyalty.
Instead of focusing on content, marketers should focus on conversations and customer experience. Take a moment and put yourself into your customer's shoes. Your customers are increasingly using social media to:
Discover new brands and products
Research product features and reviews
Make buying decisions
Ask support questions or lodge complaints
Because of this, they expect to be able to converse with the brands they're reaching out to. Simply put, they want to talk with your brand digitally with just as much ease as they would in a traditional brick-and-mortar store.
Studies show that brand conversation is extremely impactful early in the purchase journey. This subtle but key point suggests that people (your buyers!) may be more impressionable during the acquisition portion of their digital customer journey. So when someone reaches out on social media and asks, "Hey, [brand]! Is your [product] compatible with Alexa?" You better have a quick, friendly answer or they'll be heading to your competitor to ask that same question.
These same studies underscore that brand conversation—whether brand- or shopper-initiated—greatly impacts the buyer's purchase consideration during the customer journey. Even so, research shows that since the pandemic, brands have gotten worse at responding to mentions on social media.
It's never been easier for brands to communicate directly with their customer base. A social media customer care program provides the perfect opportunity for brands to both attract and keep customers. All they must do is listen and engage in brand conversation.
Brands spend enormous amounts of time and money on content marketing. But people aren't starved for content. There's plenty of that. What they really want is connection. Embrace this thinking by:
Examining your social media channels to see where most of your customer care conversations (acquisition/retention) are happening
Creating content that gets people talking (e.g., soliciting or eliciting opinions and feelings)
Responding to questions and complaints as quickly as possible on your social channels
Using social listening to find conversations where your brand or products are being mentioned but you aren't being tagged
Ultimately, the companies that use a social media customer care program to connect and converse in ways that make their brand more human and personalize their customer experience will win in 2023 and beyond.
Brooke Sellas is founder and CEO of B Squared Media, an agency that helps brands connect, converse, and convert on social media. Her new book is Conversations That Connect.
#4: AI Content Recasts Content Creation Models
I am a person who explores the edges. I experiment with every new technology so I can be a better consultant, teacher, and author. I recently plugged into something that gave me the same feeling as the electric moment I connected to the internet for the first time. It'll change everything in social media and content creation.
About 6 years ago, I attended a presentation at SXSW and saw an entire movie whose script was written by AI. It was both beautiful and stunning. When would this technology creep into our everyday social media experiences? Until now, this sophisticated AI has only existed in the complex world of coders and developers. But with the introduction of a new, user-friendly interface, anybody has access to this breathtaking technology. One million people signed up for OpenAI in the first week.
OpenAI is a research laboratory dedicated to creating artificial general intelligence (AGI) that can benefit humanity.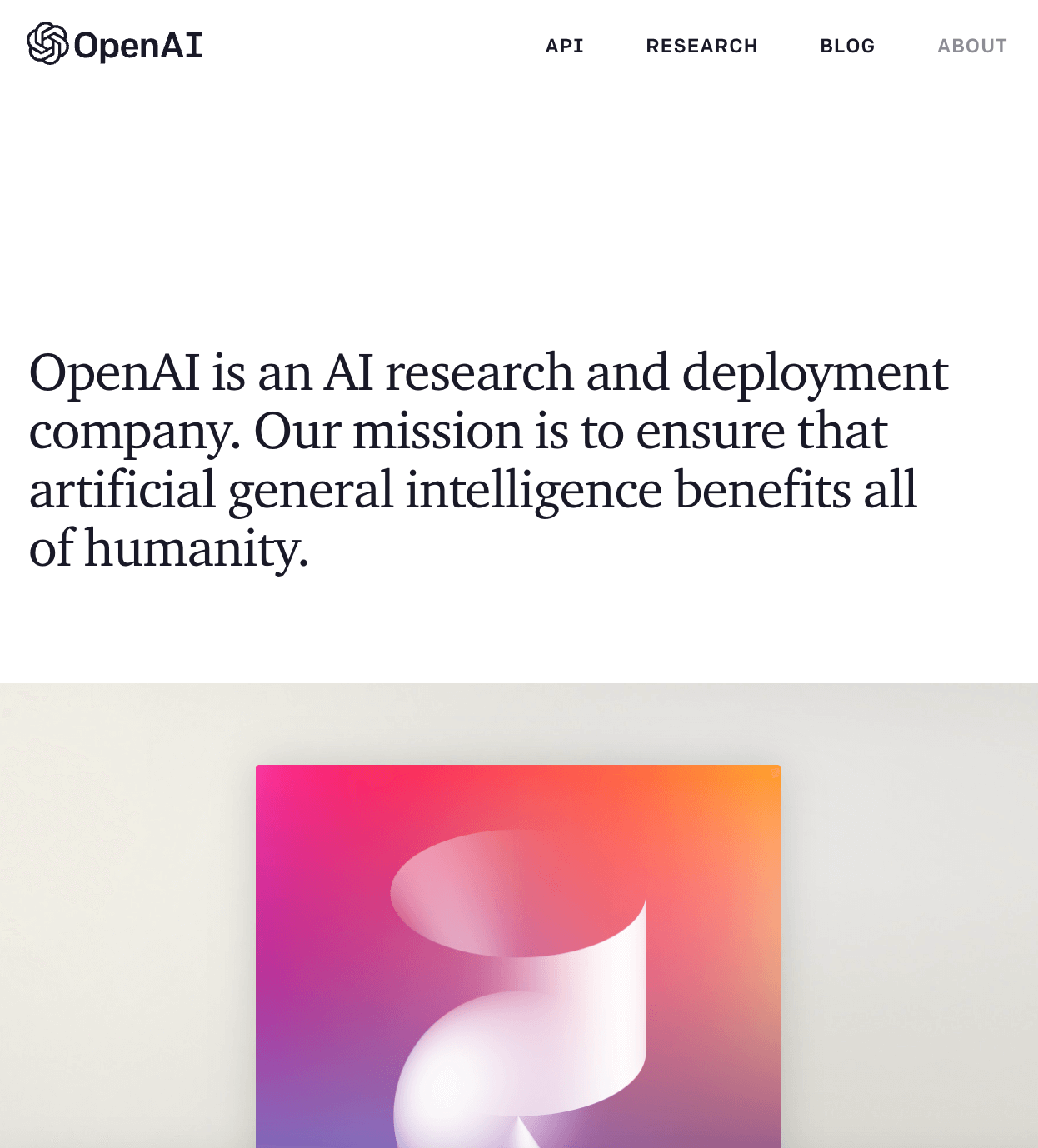 Their mission is to ensure that AGI is developed safely and responsibly, and that its benefits are as widely and evenly distributed as possible. OpenAI is one of the leading organizations in the field of AI research, and their work has the potential to revolutionize many areas of society, from healthcare and education to transportation and energy.
This will also revolutionize the way content is created, distributed, and consumed. AI could help creators develop better and more engaging content, in dramatically less time by using automation. AI-generated content could help creators reach more people by helping them efficiently create content tailored to their target audience.
By the way, the last two paragraphs were created by AI.
One of the common arguments is that AI can never replace the human voice. False. This technology will level the playing field and make everybody an excellent content creator. In many cases, it's better than a "human voice" if that human is a lousy communicator.
In 2023, social media marketing will be transformed.
OpenAI can do a lot more than just blogging and copywriting. It can generate images and ideas, answer questions, correct your copy, and provide sentiment analysis. I forecast that by the end of the year, it'll provide audio and video production capabilities.
There are obvious implications for you and your marketing career.
If you thought Content Shock was a problem before, you ain't seen nothing yet. Standing out amid the social media noise is about to become much more difficult.
You need to be involved with this technology. Don't fight it. Master it.
Many content production jobs will be lost.
The ONLY thing that'll help you stand out is an effective personal brand. In a world where everybody can create great content, you'll have to show up in a way where YOU matter.
You can choose to be scared or you can choose to be excited. I choose excited, and I hope you do, too.
Mark Schaefer is a keynote speaker, marketing strategy consultant, and educator at Rutgers University. He teaches personal branding classes and is the author of 10 books including Marketing Rebellion and Content Shock.
#5: Artificial Intelligence Revolutionizes Marketing
We are living through an age of massive AI innovation. MidJourney, a text-to-image AI tool, enables anyone to create stunning visual images with nothing but written prompts. And ChatGPT, a natural language processing tool, brings incredibly high-quality writing assistance to marketers.
These are simply the tip of the proverbial iceberg. Throughout 2023 we will see rapid adoption of AI tools. This will unlock creativity at a level and scale that has never been seen before. As creatives and marketers are able to allow AI to do the creative gruntwork, this will allow marketers time to explore ideas that were beyond their reach. Those marketers who employ AI solutions will have a strategic edge over those who do not.
Want to see how this works today? Below is a ChatGPT-enhanced version of this entry, with small edits.
Artificial intelligence (AI) is transforming the field of marketing, and this trend is only set to accelerate in the coming year. AI technologies such as natural language processing and machine learning are enabling businesses to automate and personalize their marketing efforts like never before, delivering personalized, relevant, and engaging experiences.
One of the key AI tools driving this transformation is MidJourney, a text-to-image AI platform that enables anyone to create stunning visual images with nothing but written prompts. This powerful tool allows businesses to quickly and easily generate high-quality images that are tailored to the specific needs and interests of their target audience, driving greater engagement and conversions.
Another game-changing AI tool is ChatGPT, a natural language processing tool that brings incredibly high-quality writing assistance to marketers. With ChatGPT, businesses can automate their customer interactions, delivering personalized and engaging conversations with their customers in real time. This not only improves the overall customer experience, but it also helps to drive sales and conversions.
As AI technologies continue to advance, we can expect to see rapid adoption of AI tools in the field of marketing throughout 2023. This will unlock creativity at a level and scale that has never been seen before, allowing marketers to explore ideas and strategies that were previously beyond their reach. Those marketers who embrace AI solutions will have a strategic edge over their competitors, positioning themselves for success in the rapidly-changing world of marketing.
Michael Stelzner is the founder of Social Media Examiner and the Social Media Marketing Society. He's host of the Social Media Marketing Podcast, the Web3 Business Podcast, and founder of the Social Media Marketing Society. He also authored the books Launch and Writing White Papers.
#6: Brands Prioritize LinkedIn and TikTok
While I'm personally bummed about what's happened to Twitter in the latter half of 2022—since it's where I've had my largest, most engaged audience—I think these changes will continue to bring about some much-needed reflection and recalibration for marketers in 2023, particularly those (like me) who might have relied a bit too heavily on Twitter.
For many brands, the changes at Twitter have created a clear conflict with their stated ideals, mission, and purpose. No doubt there'll be plenty of consumers who are watching to see how their favorite brands prove their commitment to those values… or don't. It'll be interesting to see which brands end up pulling their advertising budgets from Twitter in 2023, or leaving the platform entirely. I'm sure I won't be the only one keeping an eye out to see which ones stand strong in those decisions.
Let's face it: for those of us who were active on Twitter, it could easily become a pretty significant time-suck. Whether folks abandon the platform entirely, reduce ad spending, or even just cut back organic activity, that newfound time means there's bound to be some exciting new developments on the docket for social media marketers in 2023. I'm excited to see which marketers and brands discover previously neglected, overlooked, discounted, and ignored opportunities for brand- and audience-building on other platforms.

For many brands, this will mean increased investment in and attention on the platforms that previously got deprioritized in favor of Twitter and Facebook. I wouldn't be surprised to see many brands and marketers ramping up their existing efforts on LinkedIn and TikTok in the new year. Some brands, though, will take this opportunity to embrace "existing-but-new-to-them" platforms they weren't using at all when Twitter was at its best. I expect we'll see investment in and fresh effort on platforms like Reddit, Twitch, Mastodon, and Discord, for example.
Whether your brand is making the call to cut back spending and organic activity on Twitter or not, marketers should take the new year as an invitation to take a step back and re-evaluate how efforts and budgets are being allocated across platforms. For too long, many of us have prioritized the "big few" and missed out on opportunities on networks without a blue logo.
Melanie Deziel is author of The Content Fuel Framework and co-founder of The Convoy, a B2B marketplace that helps small businesses save money through aggregated buying power. Her latest book is called Prove It: Exactly How Modern Marketers Earn Trust.
2023 Facebook Marketing Trends
#7: Facebook Ads Reporting Improves
For Facebook marketing in 2023, look no further than video. Specifically, brands will need to lean further into 9:16 format and Reels.
If you're not doing it yet, get with it or you're going to get left behind.
When it comes to advertising on Facebook, there's a good sign that we're heading in the right direction with regard to tracking and reporting.
It's true that iOS 14, various privacy laws, and browser settings have made advertising on the platform more difficult and restrictive. But the fact that Facebook brought back 28-day click attribution, the Compare Attribution settings feature, and breakdowns for conversions tells me it's interested in improving the product.
Jon Loomer is an advanced Facebook marketing strategist and coach. His podcast is called The Pubcast with Jon Loomer.
#8: Trust Mitigates Buyer Hesitancy
A lot has been going on in the world, in our lives, and on social media, this past year. There have been some important shifts, trends, and truths that you need to know about so you can grow your business successfully (without so much effort) next year.
Facebook and Instagram are still big players in social media. Don't let anyone tell you that you have to be on TikTok to grow your business. Unless you have a super-young audience as your ideal client, people are still going on Instagram and Facebook all the time.
Reels/video will still be an important component of your business growth on these platforms, but videos with a trending voiceover (someone saying something while the influencer lip-reads it in the video) is a dying trend for business owners. Entrepreneurs are already starting to see that it doesn't build authority and may get views but not clients.
Playful and serious truisms will also grow your following in 2023. A truism is when you call out something that only your niche will understand. They can be funny or serious but they're like inside jokes with your ideal client. The people who are using this strategy are seeing massive growth right now because their content is getting shared to their ideal audience.
You'll see a continued upswing of marketing that tells you sales funnels are dead, even though the marketers all use funnels in their business. A simple sales funnel is a tried-and-true (and important) component of your business. You can't grow your business (without burning out) if you don't have a few simple sales systems to help lighten the burden and help you nurture your audience. The key here is that there's a way to nurture and sell with integrity.
In a time of buyer hesitancy (because of economic downturns), people are still spending money; they just want to spend it with people they trust. Don't let anyone tell you that your audience isn't spending money or won't buy next year. Some people might take longer to nurture but plenty of people will still buy from you quickly so don't be discouraged. There will be a lot of growth opportunity next year. The key is that you must have a nurturing system that lets your audience see who you are and what world you're working to create (through your business), not just what you sell.
Buyer hesitancy means they're thinking more about where they spend their money. We'll see that people wait for what they think are good deals. Evergreen flash sales and discounts will be important to your sales funnels in 2023. Having specific sales within your evergreen email nurture system will be very important next year. You still need to nurture your audience for these sales to work, which is why evergreen flash sales are going to be huge next year.
People want to see something real, not something perfect. This trend has been on the upswing for the last year or so and it's going into full effect in 2023. For all of us who don't live perfect lives, this is a great trend. This means that perfect video, looking perfect, and saying only positive things aren't required anymore… In fact, the more real and raw, the better.
Dana Malstaff is the author of the book Boss Mom and host of the Boss Mom podcast. She's also the founder of the Nurture to Convert Society, a group coaching program for mompreneurs who hate selling.
#9: Facebook Marketing Returns to Community Development Roots
One of the most important Facebook marketing trends is short-form vertical video, which will certainly continue to grow throughout 2023 and beyond. On Facebook, marketers should test publishing in the Reels format as well as short vertical videos as regular feed posts. In some cases, the latter might actually perform better!
But, more importantly, is the sea change I began to see throughout 2022, which will only grow stronger in 2023. Focus is shifting away from all of the public-facing proxy or vanity metrics of more followers, reach, engagement, and so on. Instead, focus is moving toward metrics that matter, quietly building relationships and growing our businesses without a lot of fuss and fanfare.
Social media will certainly continue to be a critical component of the marketing mix. But we must stop being at the mercy of big tech algorithms and take back control. Double down on what's important to you in your business versus just jumping on some temporary trend that everyone else is doing. (Like AI profile pictures, LOL. When everyone else is zagging, I like to zig).
Thankfully, we're going back to our social media roots, when connecting on the big social platforms was enjoyable and we could easily create meaningful and lasting connections. Community is everything. Relationships are everything.
People are craving more depth and having a place to belong where they feel they really matter. For some businesses, this could look like a Facebook group.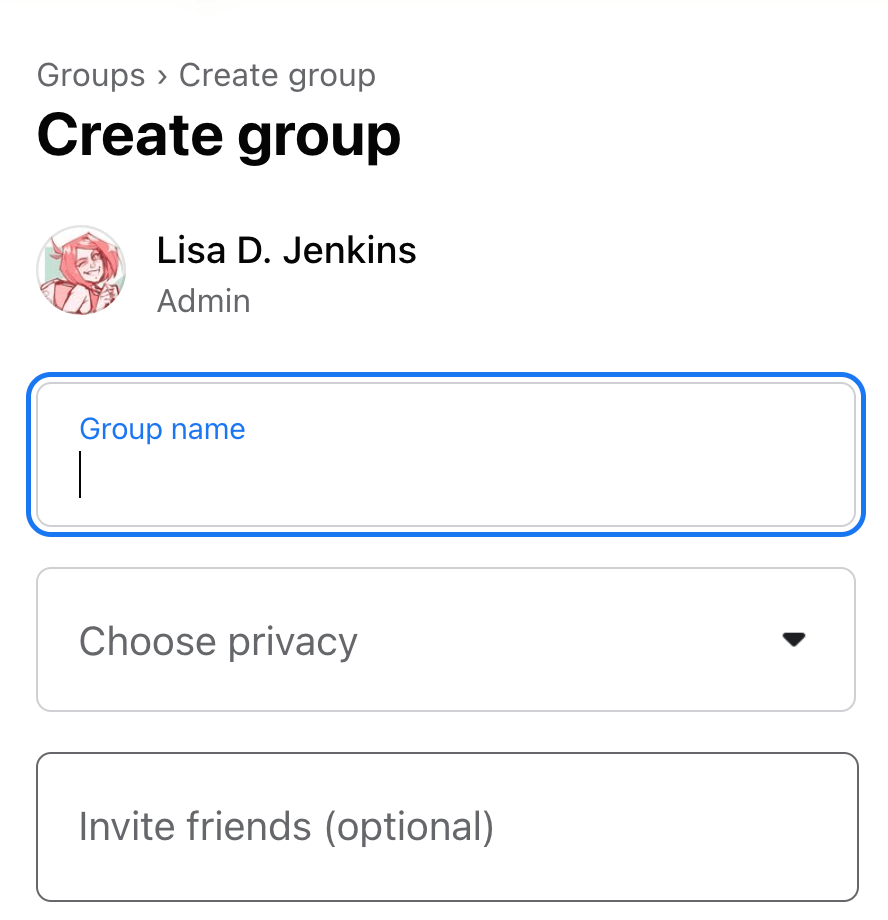 At the same time, 2023 could be a great time for you to deeply examine if a Facebook group is really the best container to house your valuable community.
You might check out non-Meta alternatives such as Mighty Networks (my favorite), Circle, possibly Slack, Discord, or Telegram, among others. Popular online business platform Kajabi recently acquired a community platform for integrating in their product, which is great news. Online course platform, Thinkific, recently launched a community product as well.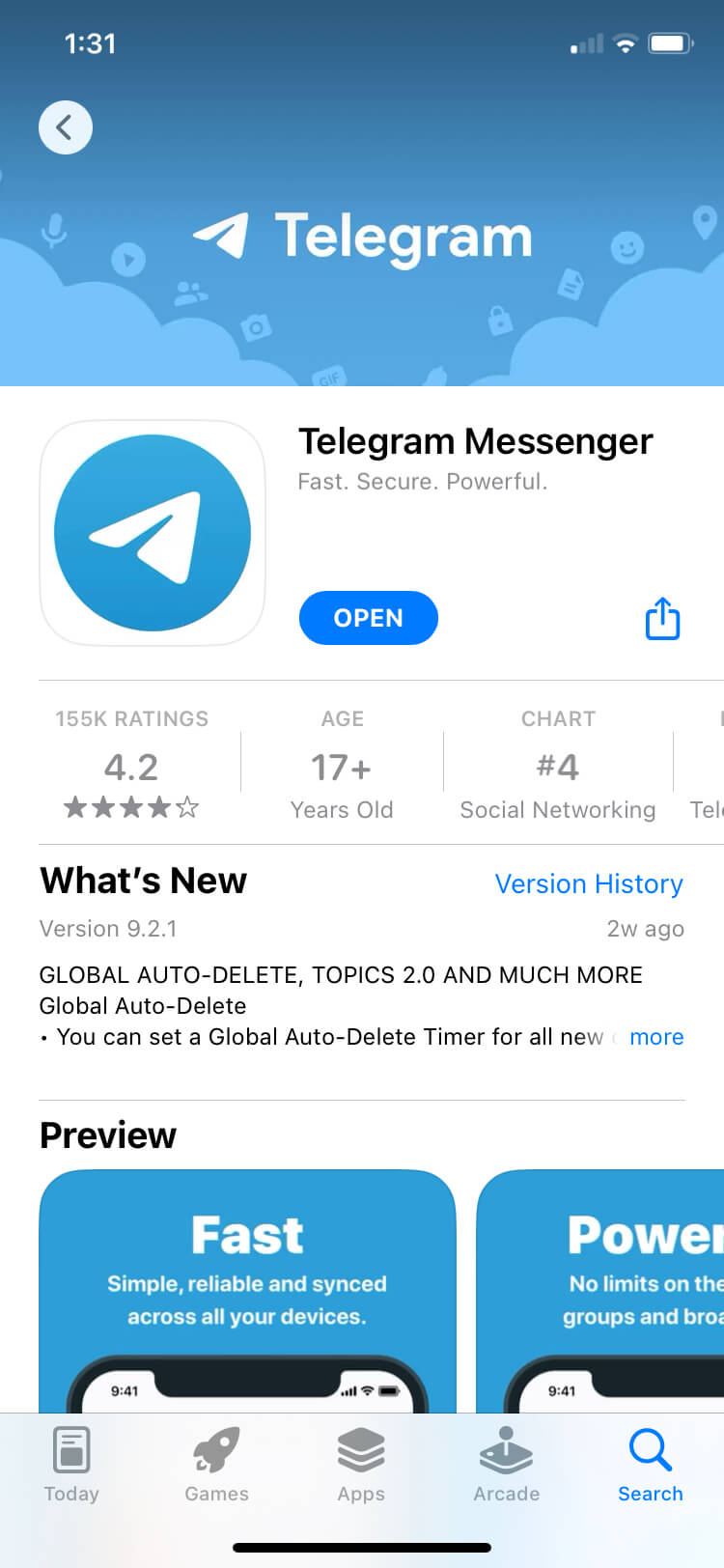 Hosting and running a community on a third-party platform is a very different experience from mainstream social networks because it's your own private tribe away from the constant firehose, noise, and hustle of public social media.
So, bottom line, if it's a fit for your business, lean into establishing your own rock-solid community of raving fans who love you and love to buy from you. You can still use your public social media channels to get the word out about your new community.
And to be clear, it's both/and. I run a very popular Facebook group (Mari Smith's Social Scoop) with more than 21K members. Then in March 2022, I also launched a new free community on Mighty Networks (Mari Smith's Superstars) for a different purpose.
Mari Smith is the leading Facebook marketing expert and author of the book, The New Relationship Marketing. Her course is called Facebook Organic Marketing Masterclass (FBOMM). She hosts two online communities: Mari Smith's Social Scoop and Mari Smith's Superstars.
#10: Machine Learning and AI Improve Facebook Ads
Facebook and Instagram Ads are going to get better results with AI and machine learning in 2023. We've already seen a big bounceback in 2022 from the challenges that came with the iOS 14 update in 2021. Facebook has gotten better at modeling results accurately and delivering lower-cost results.
I've seen better results with my clients' ongoing campaigns, especially in the last 6 months of the year, and we didn't see a huge increase in costs in the 4th quarter like we normally do. I think those low costs are going to continue as Facebook's machine learning improves and some advertisers jump ship for the "sexier" TikTok platform. Facebook ads will continue to deliver.
Wider campaign targeting is also becoming better as the algorithm improves, which will make it easier for advertisers to maximize their budget. We won't have to do as much audience testing. The creative hasn't quite caught up, in my opinion, and still requires more of a manual testing approach, but I think that will improve in 2023 as well. This means it will be even easier for advertisers to get better results as Facebook will do a lot of the optimization for them.
Facebook is bringing back some of the tools that they had taken away, like the longer 28-day attribution window and attribution comparison. This means they're getting better at the modeling process. These tools will also help advertisers see more of the results from their ads and allow a better connection to the true ROI of their campaigns.
AI will become more important in making the ad creation process faster in terms of writing ads and creating the right images. We'll be able to plug in what type of text we want and what type of image to create and then only have to add minor tweaks. I predict that Facebook will incorporate that into the platform in the future.
Facebook is already experimenting with Advantage+ ad optimization with minor changes to text and images but that service will improve in the future.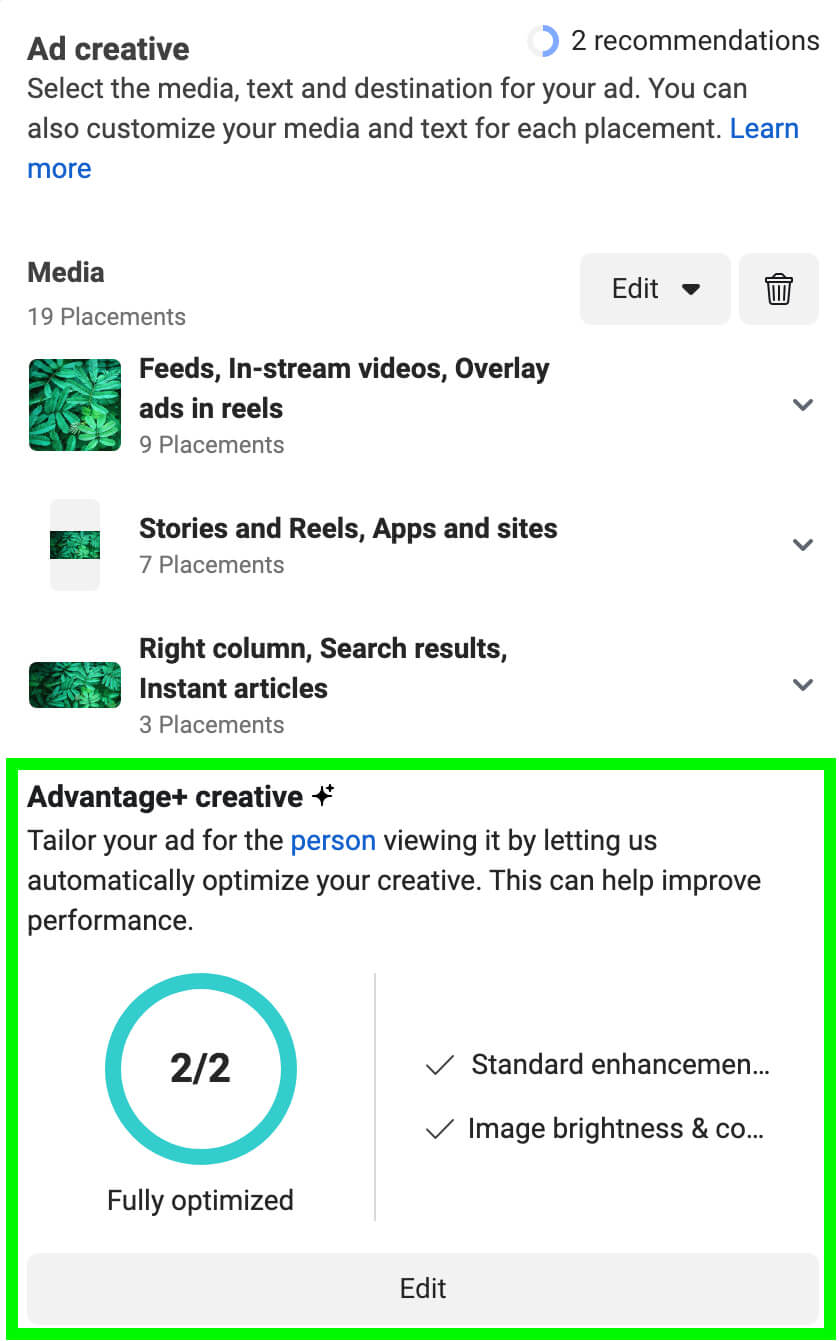 Facebook is also adding more placements, which in the past haven't performed as well as the straight news feed. As machine learning gets better, the alternate placements have also improved their results. Right now, the news feed is still the best performer but I've seen improvements in the different placements.
All of these changes will make it easier to have better results with less testing and less time. Advertisers still will need to make sure the pixel setup is correct on their sites and that they're optimizing the ads correctly at the start of the campaign.
I'm feeling very optimistic about the performance of Facebook and Instagram ad campaigns in 2023 with the combination of possibly less competition and better learning on Facebook's part. The audience continues to be there and I predict it'll stay strong through 2023.
Andrea Vahl is a Facebook Ads consultant and speaker and is the co-author of Facebook Marketing All-in-One for Dummies. Her newest book is Facebook Ads Made Simple and her podcast is called Late Starters Club.
#11: Facebook Messaging Becomes an Important Revenue Channel
Two years ago, many of us predicted that the advent of iOS 14 would result in Meta investing in creating and improving on-platform products. We have absolutely seen that evolution take place. For example, a follow-up process is now in place for lead generation forms and there are multiple ways for customers and prospects to message with business.
That increase in message volume can be deeply impactful on revenue growth. Businesses will need to embrace selling from DMs and instant messages— as well as SMS, to better align with the customer journey.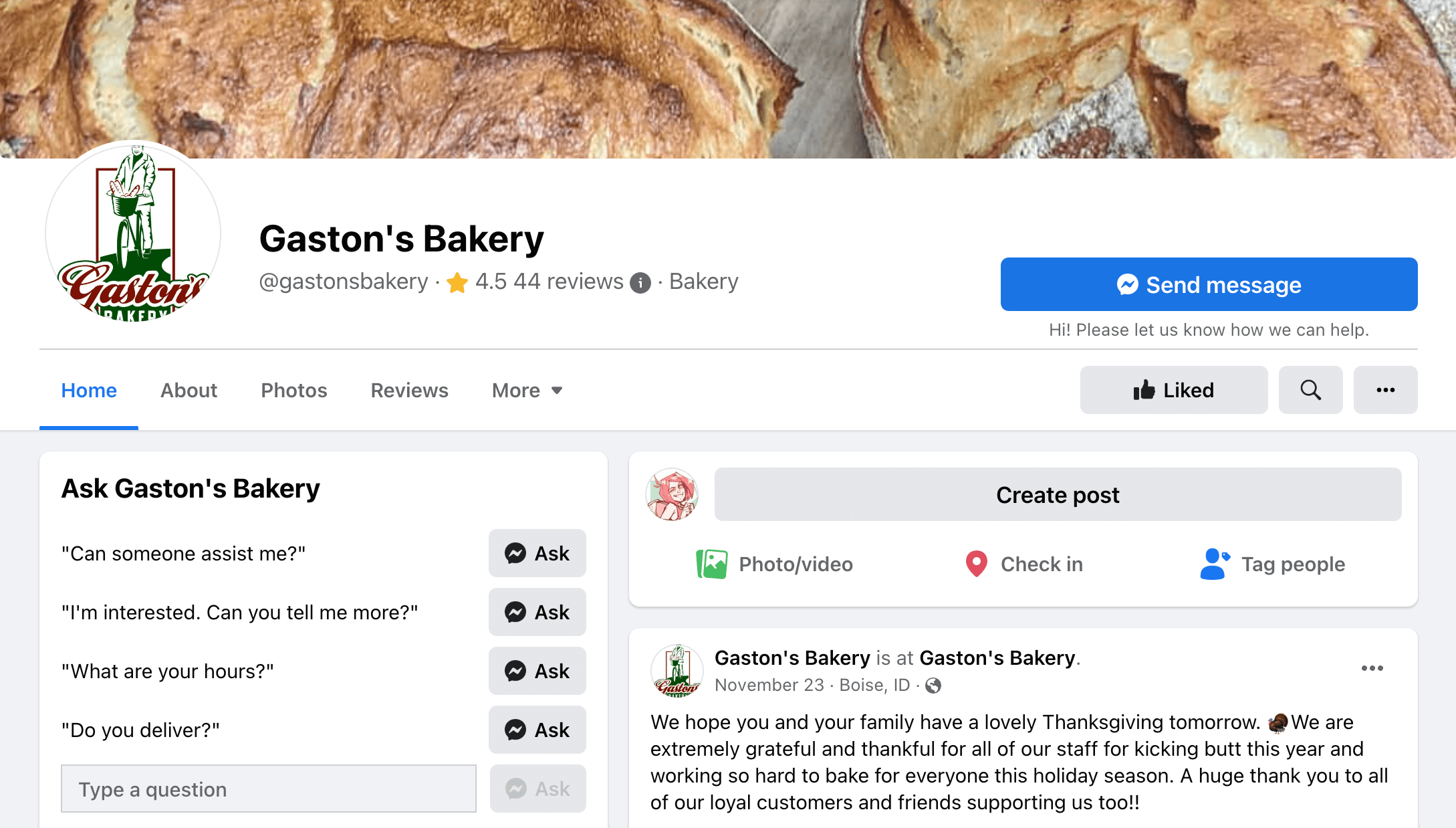 Brands will also need to embrace change when featuring User-Generated Content (UGC) in organic and paid Facebook content.
More consumers are becoming aware that creating UGC is a profession that pays well. Beginning in 2023, consumers will shift to judging whether the UGC they're viewing is from an authentic long-term user of the product or from a creator who has been compensated for promoting the product in the short term.
To adjust, brands will need to feature testimonials from genuine customers and true fans who have evidence of long-term product usage.
Tara Zirker is a Facebook ads expert and the founder of the Successful Ads Club, a membership site designed to help marketers improve their Facebook and Instagram ads results.
2023 Instagram Marketing Trends
#12: Authenticity Rules Over Curated Perfection in the Instagram Feed
The future of Instagram is up in the air as it continues to redefine who its target audience is. It appears that Instagram may be trying to target Gen Z creators (and businesses) since the entire Instagram Trend Report only surveyed Gen Z users. This is interesting because its original, most loyal users are Millennials, who started on Instagram when it originally gained its momentum.
This shift in target audience is either going to create "the ick" among users or finally stick, in which case we'll see a rise in Instagram content creators more than ever before. So what can we expect from Instagram moving into 2023? What trends are going to emerge?
Earlier this year (2022), Instagram was giving Gen Zs "the ick" with its reputation for overly edited, fake, and highly curated content. This is what made TikTok so appealing. The authenticity of the everyday person. Your coffee doesn't need to be aesthetic, you don't have to wear makeup or "look perfect," you can show up as you are and create.
I believe Instagram will start to value authenticity over "perfect content" to try to attract its Gen Z audience. Not only authenticity in content but also creators. People who show up as themselves, businesses that stand for a cause, and platforms that promote sustainability and well-being in life altogether.
For example, in Instagram's study, "more than 50% of those surveyed said they plan to DIY their clothes next year. In an attempt to help the environment and save money." I believe this will even lead to a lot of creators creating "staple looks" for their pages, maybe even re-wearing the same outfits so they become immediately recognizable when their content hits your page.
When it comes to new features (in addition to Reels always getting updates), I believe we'll see a lot of new features rolled out related to helping creators monetize. Maybe we'll even get audio-specific content, like podcasting.
From Instagram's Trend Report, we know two things for sure: social media users plan to monetize their platforms this year and Gen Z users hope to hear podcasts from their favorite social media creators in 2023.
With Instagram knowing that, it'll focus a lot of the platform updates and features on helping creators monetize. Maybe it even aims to compete with YouTube by launching a way for creators to have a podcast within Instagram specifically. We can already post almost every type of content on Instagram: stories, photos, videos, long-form "blogs" with guides, direct message, voice memo, go live, and call another user within the app. Is it that far-fetched to imagine Instagram will incorporate a podcast option, too?
In 2020, we saw just the beginning of side hustles turning into full-time jobs. More creators are looking for ways to monetize their content creation moving into 2023. If you're someone who's able to teach those tricks, you'll be a creator for the creators.
Millie Adrian is an online educator, coach, and founder of It's Modern Millie, a company that helps aspiring influencers and entrepreneurs grow their income. Her YouTube channel is Modern Millie and her course is called The Modern Influencer.
#13: UGC Gets Messy
I think one of the greatest skills you can tap into as an entrepreneur, is seeing patterns. Because when you start to see patterns over and over and over again and you're paying attention to that, you're able to predict a trend before it's so obvious everybody knows about it.
The first trend that I'm going to predict we're going to see a lot more of in 2023, is messy user-generated content.
In the past, most brands were looking for polished content created by a micro-influencer— an actual customer, who created a deeply curated video.
Enter the UGC in this TikTok ad from Power Pony. Messy user-generated content like this is almost accidental. You can't create it. You can't make it happen.
Finding this type of UGC requires that you as the brand are looking for this type of content.
This leads me to my number two trend: we're going to see a lot more small accounts getting big brand deals. And a lot of collaborations between micro-influencers— your average, everyday, believable, authentic person who's got an audience and is trusted by that audience.
These people aren't creating content, they're documenting their experiences.
The number three trend we're going to see in 2023 is a huge and sudden drop off of trending sounds and just trends in general on social media platforms.
What do I mean by trends? Am I talking about lip-syncs and dancing and pointing? Sure. I'm also talking about things where we see a lot of content creators copying each other. Remember when everyone was telling a story while putting on their makeup?
Generally speaking, the average person is no longer interested in watching 10 different takes on the same trend.
When you're just following trends, no one really knows who you are, what you stand for, or whether they can trust you. All that we can assess is that you're good at copying the trend and that doesn't tell us anything. We want to see original content that doesn't feel curated, it feels documented.
Let me know what you think. I mean, maybe you disagree, maybe some of them you agree with. I'd love to hear your feedback. So hit me up on IG because that's where I'm the busiest.
Chalene Johnson is an Instagram expert who specializes in helping easily distracted entrepreneurs grow their businesses. She's the host of the Build Your Tribe podcast and the founder of the InstaClubHub, a membership program that helps marketers grow their business with Instagram.
2023 LinkedIn Marketing Trends
#14: LinkedIn Creator and Influencer User Base Grows
LinkedIn has been using the localized Creator Accelerator Program to grow its creator user base, essentially encouraging people with personal profiles to build a following. When Creator Mode is turned on, your profile prompt switches from Connect to Follow; a personal profile can have up to 30,000 connections but limitless followers.
Attention Agency Owners, Brand Marketers, and Consultants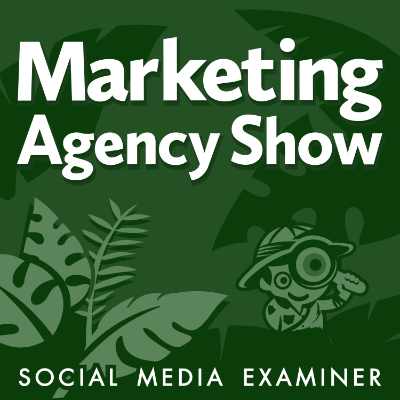 Introducing the Marketing Agency Show–our newest podcast designed to explore the struggles of agency marketers.

Join show host and agency owner, Brooke Sellas, as she interviews agency marketers and digs deep into their biggest challenges. Explore topics like navigating rough economic times, leveraging AI, service diversification, client acquisition, and much more.

Just pull up your favorite podcast app, search for Marketing Agency Show and start listening. Or click the button below for more information.
CLICK HERE FOR THE DETAILS
Could 2023 be the year LinkedIn joins YouTube and Facebook in paying creators and allowing them to monetize their presence and content?
The number of creators and influencers on LinkedIn will also be fueled by the exodus of brands of businesses from Twitter. LinkedIn seems poised to make this influx of users welcome with Twitter-like features such as the ability to decide who can comment on your posts (anyone, connections only, or no one).
There also appears to be a growing focus on SEO. LinkedIn already has a new tool to optimize your new and existing articles; time will tell if using these tools will help people find your older articles.
Next up, many small businesses and entrepreneurs are desperate to move their communities off of Facebook but they don't want to move to Slack or Discord. Thankfully, I see positive signs that LinkedIn will finally take groups seriously. Posts can be recommended, automatic welcome messages can be set up, and when you publish a post or article, LinkedIn now prompts you to share it with a group you belong to.
Finally, LinkedIn will become more prevalent in the new year and I predict more people will learn how to regularly create and share video content. Current restrictions on LinkedIn mean that video uploads should be under 10 minutes long. Look for short video content to become more visible on the platform.
Louise Brogan is an international speaker and LinkedIn coach with more than 10 years experience supporting small businesses. Her podcast is called LinkedIn with Louise.
#15: LinkedIn Video Is Seen Less
LinkedIn added almost 100 new features in 2022. Looking at how people use the platform and what is and isn't working, we can understand how to maximize the platform's effectiveness.
Shorter posts will continue to perform well. As a result of more content being created and our shortening attention spans, shorter-form content is clearly performing better on LinkedIn than longer form. Newsletters were rolled out to most users in 2021. Initially, these had a high engagement rate. However, toward the end of 2022, it's clear that newsletters are getting less engagement than before. My advice is to keep your posts short—anything from 150 to around 1,200 characters is ideal.
Videos will be seen less. Interestingly, video seems to be performing less well than it ever has! LinkedIn has recently added auto-captions to videos and introduced the capacity for the viewer to switch to high contrast for better visibility. Despite these new features, video is being seen by far fewer people. My advice: test and measure repeatedly so you can keep a close eye on what's working and what isn't doing so well. As with written content, keep your videos shorter too—30-90 seconds is ideal.
Still images will help a post get higher engagement. It seems that LinkedIn audiences do want pictures! Posts with images are performing better than those without. As always, what works will depend on your audience, but overall, it seems that people like to see pictures and particularly faces, on LinkedIn. I have seen a huge increase in the number of document posts with a combination of text and images. My advice: add between one and four pictures to your posts, use portraits when you can and use document posts for instructional purposes, testimonials, and, if you have them, displaying products.
Personal content will continue to succeed. Since 2019, we've noticed a significant increase in personal content on the platform. As business trends continue to change in favor of creating more personal relationships in the working environment, the same will inevitably happen on the largest online platform for B2B marketing. My advice: create personal content as a part of your marketing strategy but don't let it dominate. Try to relate any personal content back to the work environment.
Current thinking is that more personal content will lead to a reduction in the amount of 'salesy' content. People are increasingly aware of the need to build relationships to do business and convert leads. Unfortunately, there'll always be salesy and spammy messaging in our inboxes. But there are many conversations on the platform complaining about this and asking LinkedIn to step in to stop it from happening. Will LinkedIn listen? I hope so.
Sarah Clay is a LinkedIn coach and trainer. She teaches business owners how to increase reach and attract their ideal clients.
#16: LinkedIn Favors More External Content
Judi Fox's top 2023 predictions for marketing on LinkedIn is that the platform will roll out more business tools that support company pages generating leads and visibility growth tools for the creator economy.
LinkedIn announced they are rolling out the ability to boost individual personal profile content. Businesses that empower employees and leadership to create content on their profiles and then leverage the new company page boost features to amplify that content will succeed better than those who don't. The new scheduling features will make it easier for companies and their employees to publish and promote their content.
Marketers and business owners should also add audio events to their 2023 strategy. LinkedIn has launched beta access to company page audio events, and I predict we may soon be able to create and monetize private audio events.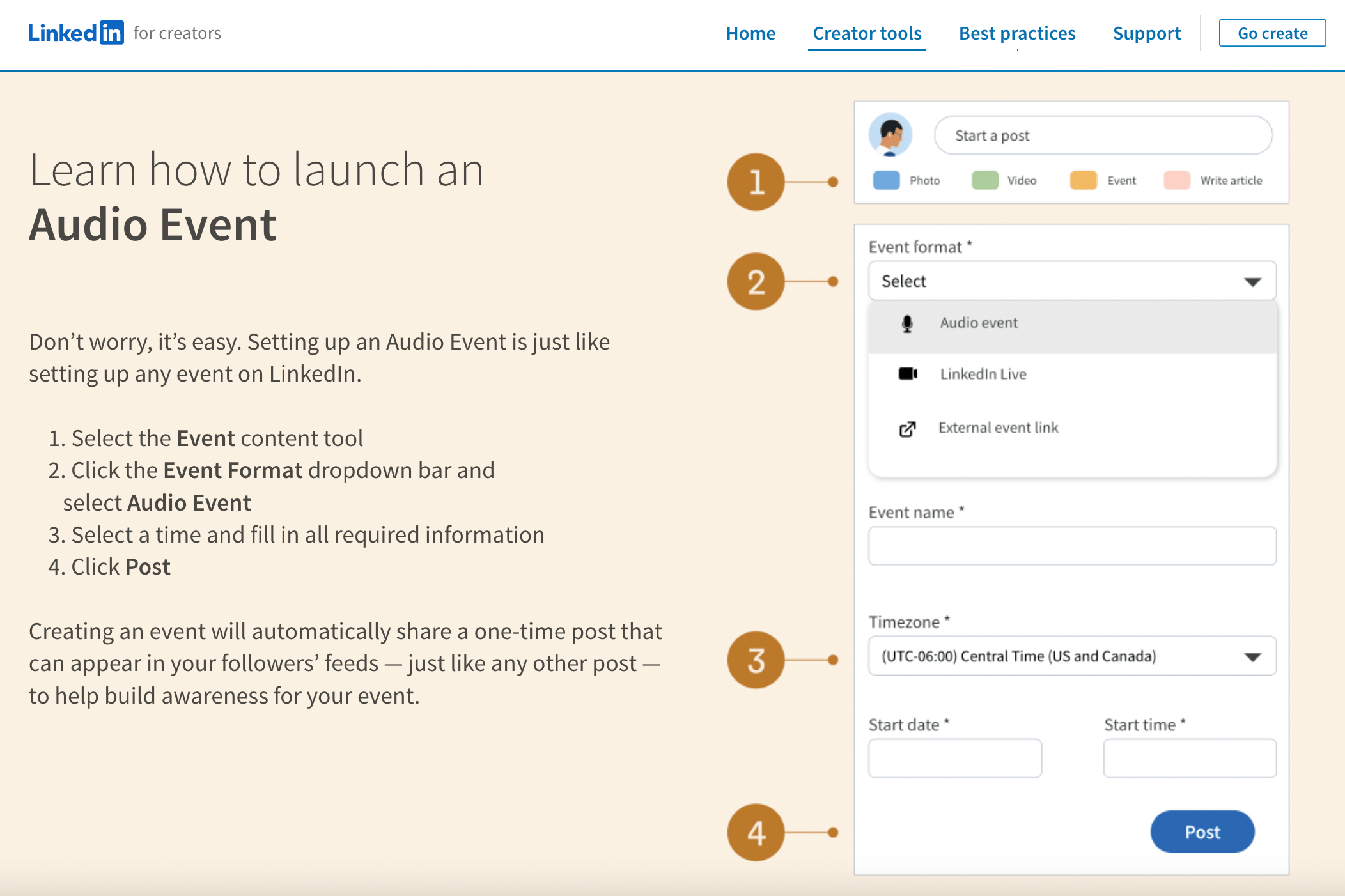 Finally, LinkedIn will add more ways to embed non-LinkedIn content into the platform's Newsletter product, effectively improving social selling and converting activities.
Judi Fox is a LinkedIn strategist who helps small business marketers generate more sales. She's also a regular correspondent on the Social Media Marketing Talk Show. Her course is called LinkedIn Business Accelerator.
#17: Personal Brands Will Support Company LinkedIn Marketing Goals
People don't want to be sold to, they want their problems solved by people who actually care. In 2023, this will resonate more than ever, especially on LinkedIn.
People are tired of canned LinkedIn messages and boring content. The most successful sales and marketing professionals on LinkedIn know this better than anyone.
Companies in 2023 will invest more in their team members' personal brands to connect with prospects on a deeper level and stand out from the competition.
Not only do B2B buyers expect personalized attention but they also expect brands to do better. Spend a bit more time posting valuable, engaging content and less fluff. LinkedIn Events and LinkedIn Live will be adopted by more brands that want to engage with their communities in real time.
LinkedIn will continue emphasizing engagement by rewarding accounts that actively participate in the conversation. Company pages and individual profiles that leave meaningful comments on relevant posts will continue to dominate the platform. Companies willing to push the creative envelope with LinkedIn content will come out on top.
Mandy McEwen is a LinkedIn expert and founder of Mod Girl Marketing, a consultancy that helps marketing teams increase their exposure on LinkedIn. She's the top B2B marketer according to LinkedIn.
#18: Businesses Double Down on LinkedIn for Business Audience Development
LinkedIn Ads continues to add new features at an increased rate, which is exciting. Costs also continue to rise, which is a challenge to advertisers on a platform that has always historically charged a high premium.
Positively, this means more marketers are finding value in the platform and continuing to increase budget and spend. I expect it's also a consequence of marketers simply accepting the default bidding method (maximum delivery), which allows the platform to bid extremely aggressively for impressions and bids competition up exponentially quickly.
LinkedIn has released some incredible retargeting methods for advertisers recently. We're now able to retarget anyone who has interacted with a single-image sponsored content ad, as well as those who watch at least 25% of a video ad, those who visit your company page, and several others.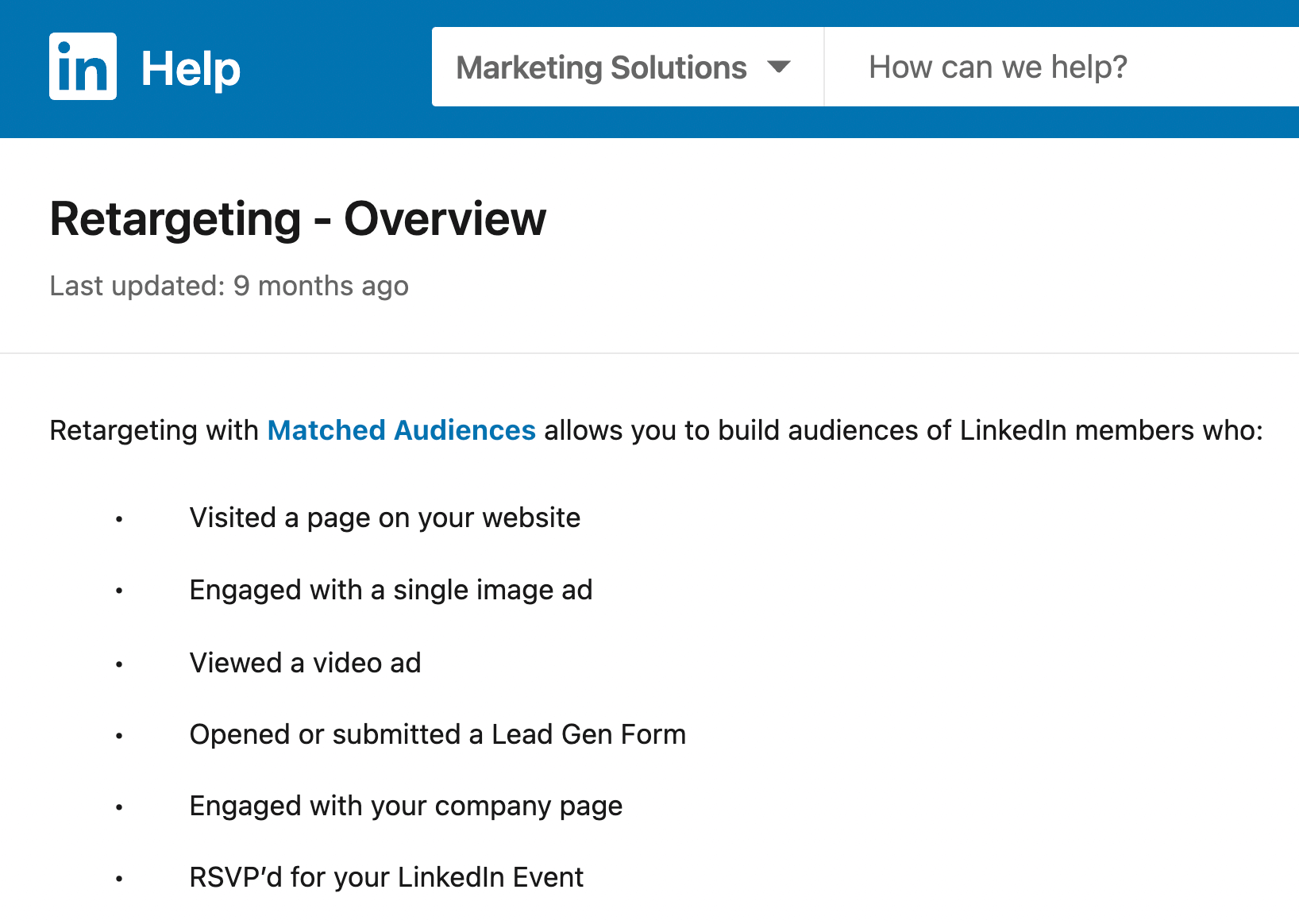 I expect this trajectory to continue since these audiences are very simple for LinkedIn to track because each member is known (logged in) and they're all actions that LinkedIn can see happening on its own platform. I hope to see the ability to retarget those who've interacted (or failed to interact) with sponsored messaging in 2023.
My wish list for new features includes the ability to target/bid by device type, as well as allowing accounts to report in our own time zone, rather than just UTC time. I'm also asking Santa to remove the defaulted behavior of a campaign to automatically tick the box to "Enable Audience Expansion." I don't expect we'll actually see these in 2023.
At LinkedIn's recent event in San Francisco called B2Believe, though, Gyanda Sachdeva, head of product at LinkedIn Marketing Solutions, presented many actual future releases on the roadmap for 2023. My most anticipated releases are:
Promoting profile posts. Up to this point, we've only been able to promote company page posts. We know that company posts don't get the same level of interaction as personal posts so I expect this to be a boon to those companies whose executives are actively sharing great content on the platform.
Click to message ads. We currently have conversation ads, which mimic conversation in a LinkedIn message by displaying pre-scripted messages and possible calls to action for the user to interact with. This has left companies wishing they could have a human able to respond to those messages to carry on an organic conversation. This ad type should allow much more unscripted and natural conversation and relationship-building.
Revenue attribution report. The single biggest challenge that LinkedIn advertisers face when deciding to dedicate additional budget is seeing the impact all the way into the sales cycle. LinkedIn has already released offline conversions where advertisers can load a list of closed deals into the platform and it can attempt to figure out the impact LinkedIn had on that closed deal by attributing the impressions/clicks/conversions that were shown to that prospect. The revenue attribution report should take this to the next level for B2B advertisers, who traditionally face challenges of visibility over long sales cycles, decided by committees rather than a single decision maker.
Despite a predicted recession in 2023, I still expect to see continued growth of the platform since there is no available substitute for the access to such specific business audiences available on LinkedIn Ads.
AJ Wilcox is the world's leading LinkedIn Ads expert. He's the founder and CEO of B2Linked and the host of the LinkedIn Ads Show podcast.
2023 TikTok Marketing Trends
#19: SEO Supports Expert Positioning and Discoverability on TikTok
First, business owners who want to prepare their marketing for 2023 need to understand that over 40% of people on the TikTok platform right now are over 30. They aren't posting content, they're consuming content.
If your target audience is over 30, they're likely on TikTok which means your business should be on TikTok.
As TikTok matures, its features are maturing for both creators and viewers. In late 2022, the character count for descriptions rose from 300 to 2,200 characters. This change points to SEO functionality and a need to adjust your content strategy.
Before you choose your video topic, use TikTok, Google, Reddit, and answerthepublic to discover what others in your industry or your target customer are searching for and how they're searching for it.
For each topic, you find, make note of the phrase being used, create your video, then use that phrasing in your TikTok title and description. Add three to four niche hashtags to target your target customer.
For example, if my video is about teaching TikTok to business owners, then my description would include how to market my business on TikTok or how to sell courses on TikTok. I would use hashtags to target the people who are my ideal customer: business coaches, marketing coaches, financial coaches, fitness coaches, etc. My SEO keywords would be TikTok marketing, how to market on TikTok, and how to sell products on TikTok.
As your video starts to rank on TikTok, you'll see the keyword or category you're ranking for in the search box at the top of your video… and so will others!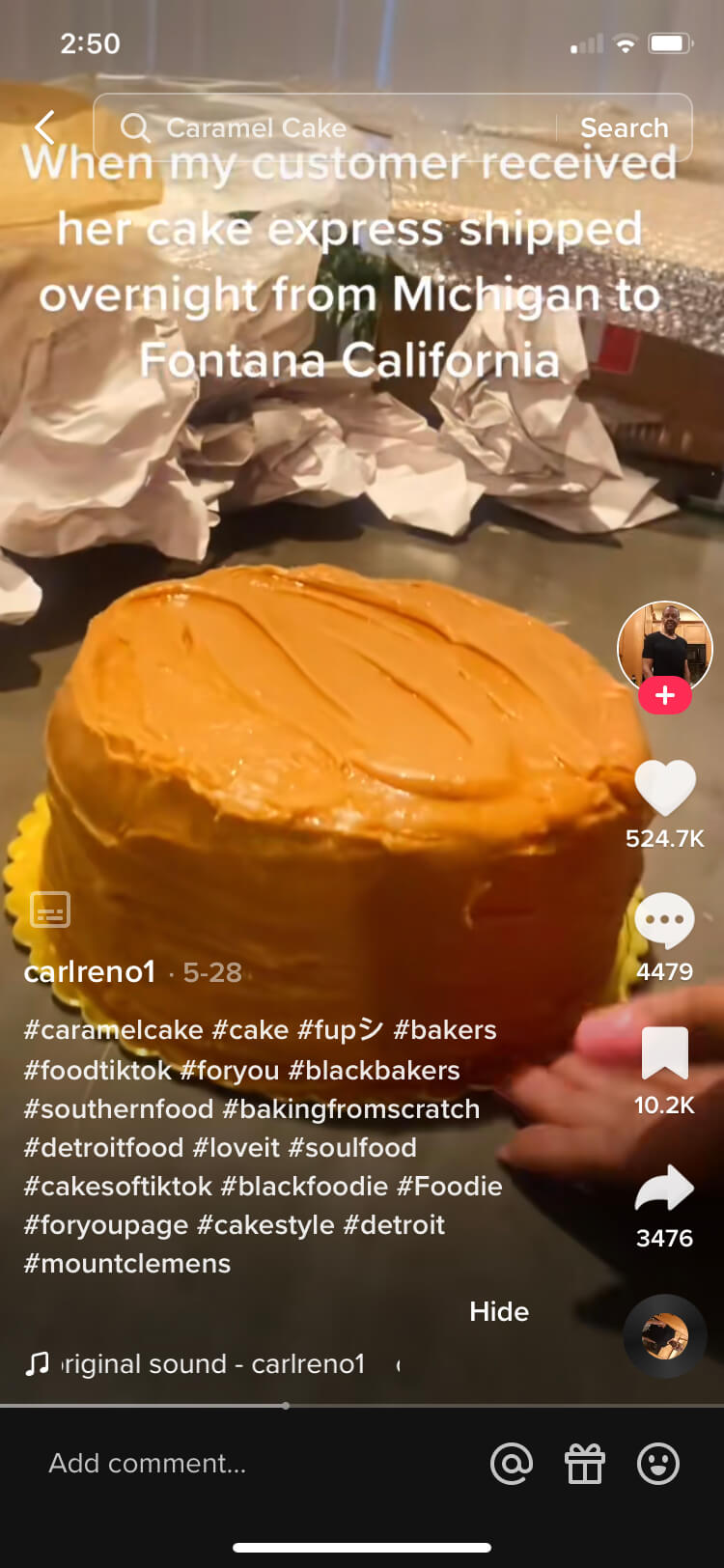 Next, TikTok is rolling out a feature update that will allow anyone to send you a DM on TikTok, very similar to Instagram. This opens up the opportunity to have private, one-to-one conversations with people who don't yet follow you.
I believe this is a signal that TikTok will soon partner with an established provider to offer DM automation, further developing the platform's position as a place where marketers and business owners can convert leads and sales.
Finally, TikTok Live Shopping is rolling out in other countries right now. The experience is less live stream and more QVC in that it lets customers click and buy and click and buy without ever leaving the TikTok app.
This is a huge opportunity for product-based businesses. My advice is to follow up and get familiar with new features like Live Shopping before they open up to the U.S., so you're ahead of the curve when you get access to them.
Keenya Kelly is a TikTok strategist and consultant who helps female coaches and course creators generate more leads and sales with TikTok. She hosts The Keenya Kelly Podcast and her course is called Monetize the Tok.
#20: TikTok Algorithm Favors Non-Promotional Content
Looking toward 2023, I feel that TikTok will continue to be a massive force in social media marketing. I have seen the algorithm continue to push authentic and creative content. As someone who has grown 95% of my business and following through organic social media content, I have noticed that it has become increasingly important to create content that not only provides value and entertainment but also has that unique flair to maximize performance and outreach. Content that has a healthy element of polarity also tends to create engagement; for example, showing one way to do something when there are two alternative options will typically start conversation.
Regarding promoting offerings organically through TikTok content, I have seen the algorithms be a bit pickier over the last few months, which is really an invitation for additional creativity! I typically will disguise my promotions as value-driven content that my following will still learn from and want to interact with. For example, I will post a viral Excel tip with my free webinar that I am promoting disguised inside of the Excel tip (which also prompts people to share the tip, and in turn, my webinar!).
An approach that I'll continue to use in 2023 when it comes to leveraging TikTok to its full potential is affiliate webinars. There are now many influencers in my industry on TikTok; however, I noticed most of them don't have their own products. Thus, I've been partnering with them on joint webinars with a profit share. The affiliate simply promotes the webinar to their following and then I take it from there to conduct the webinar and ultimately convert attendees into lifelong customers. This method has allowed me to dramatically increase my reach on TikTok and tap into a whole new set of leads.
From what I've seen around the industry, the ad space on TikTok is nowhere near as polished or effective as Instagram. However, this is something that I do see TikTok continuing to optimize as we enter 2023. The key for TikTok ads along with traditional content is to really maintain the authenticity of the creator.
If you're on the fence about TikTok, my advice is to get in the game! You never know where it can lead!
Kat Norton is a content strategist and coach who helps businesses effortlessly scale. She's also the founder of Miss Excel.
#21: TikTok Ad Spend Grows
As we look ahead to 2023, there are several key trends in TikTok marketing that business owners should be aware of. TikTok launched several livestreaming features, updates, and policies this year. From live subscriptions for creators to safety updates, most notable was the launch of TikTok Shop in the U.S., also available in the UK and several Southeast Asian countries. This feature allows users to shop directly within the TikTok app. Although still in testing with select users, it's expected to expand to more brands and businesses in 2023.
In October, it was announced that TikTok is planning to build its own product fulfillment centers in the U.S., creating an eCommerce supply chain system that would directly challenge Amazon, further showing that TikTok plans to lead in social commerce.
Another trend that we expect to see continue to grow in 2023 is the increase and improvement in TikTok SEO features. Just like with traditional SEO, TikTok SEO involves using keywords and other strategies to make sure that your content appears higher in the app's search results. November displayed additional search features in the app that were improved significantly from months earlier such as searchable words in comments and more interactive search display. It's expected that the expansion of location tagging and perhaps a feed for finding businesses in a certain area (similar to Google Maps) will become available in 2023. Something similar called the Nearby feature is already being tested in Asia.
More creators and business owners are expected to increase their ad spend to get more visibility as organic reach decreases.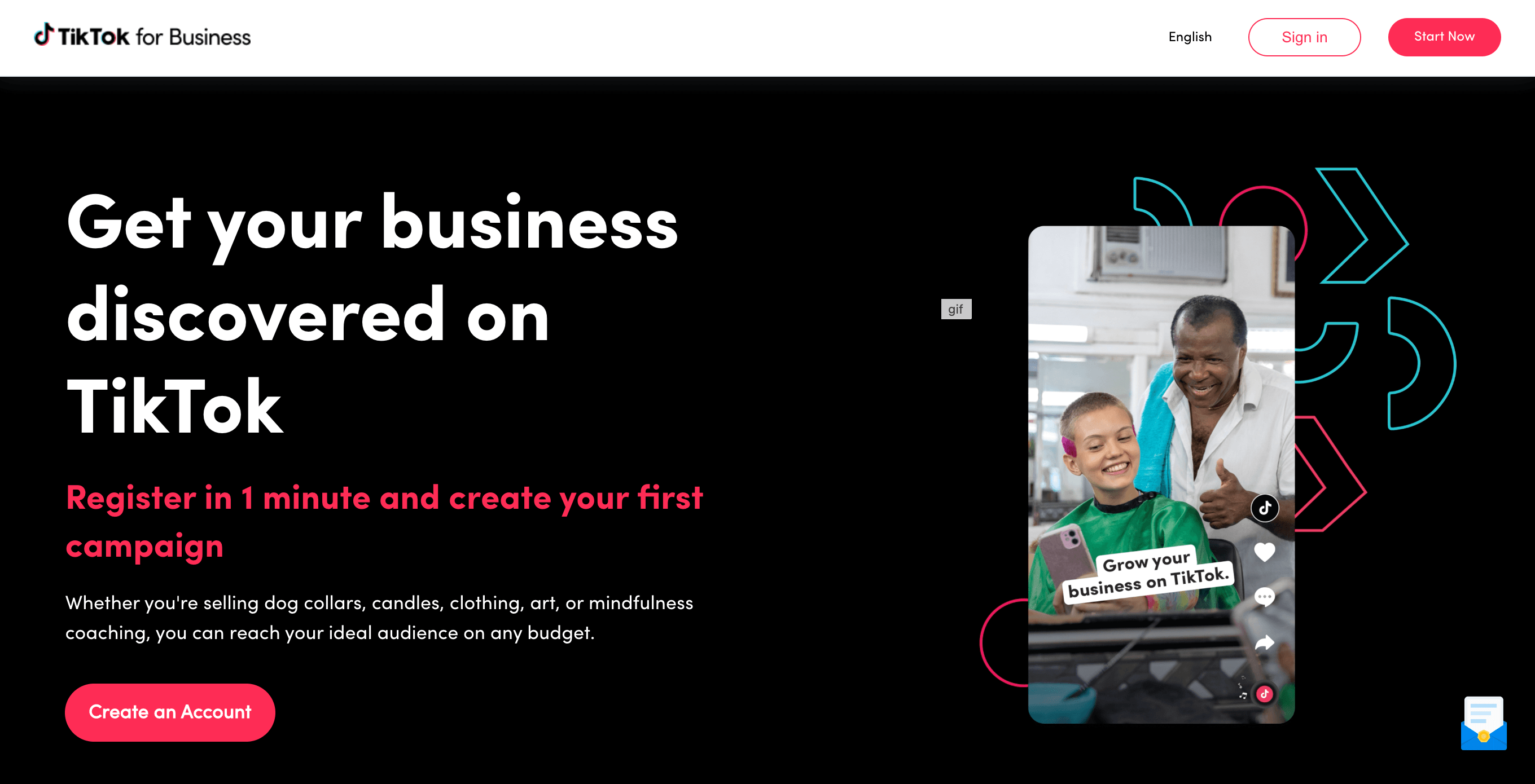 While TikTok will continue to be the app for virality, it has been harder for creators to reach a million followers. The top viral videos of 2022 all had lower views than previous years. Now is a good time to start experimenting and testing ads while the prices are still low; they're expected to rise in 2023.
Lastly, we'll continue to see a rise in influencer marketing and user-generated content on the platform in 2023. Brands can no longer ignore short-form video marketing and building trust with their audiences should be a major focus as we move into a technological shift. This can be done with the help of influencers and content creators along with other practices, as users on TikTok are looking for authenticity and connection. TikTok user engagement remains higher than any other social media platform. It's predicted that more brands will flock to the app, especially with programs like TikTok Pulse and spark ads being launched to make the process easier.
Overall, the increase in use of livestreaming and in-app shopping for business owners, TikTok SEO improvements, and influencer marketing with expanded programs for businesses are key trends to watch in 2023. As the platform continues to grow and evolve, businesses should stay on top of these trends and consider incorporating them into their TikTok marketing strategy.
Wave Wyld is a TikTok Marketing & Trends Expert who works with business owners to market their products and services using short-form video. Her membership is The Inside Scoop and her course is Social Video Marketing Mastery.
2023 Twitter Marketing Trends
#22: Twitter Spaces Takes Hold
Whether you're a fan of Elon Musk or not, there's no denying that his acquisition of Twitter has shaken things up for the platform. It's been reported that Twitter's daily user growth skyrocketed during Musk's first full week of ownership. That's because many who once abandoned Twitter are venturing back to the platform, while others are joining for the very first time. So now is the perfect time to prioritize Twitter as part of your 2023 marketing strategy.
When you consider the number of features Twitter has to offer, it can be hard to know where to direct your attention. Well, my advice is to focus your efforts on Twitter Spaces. The platform's answer to audio content has continued to grow in popularity over the past 2 years. More users are opting to host shows of their own and participate in conversations via Spaces.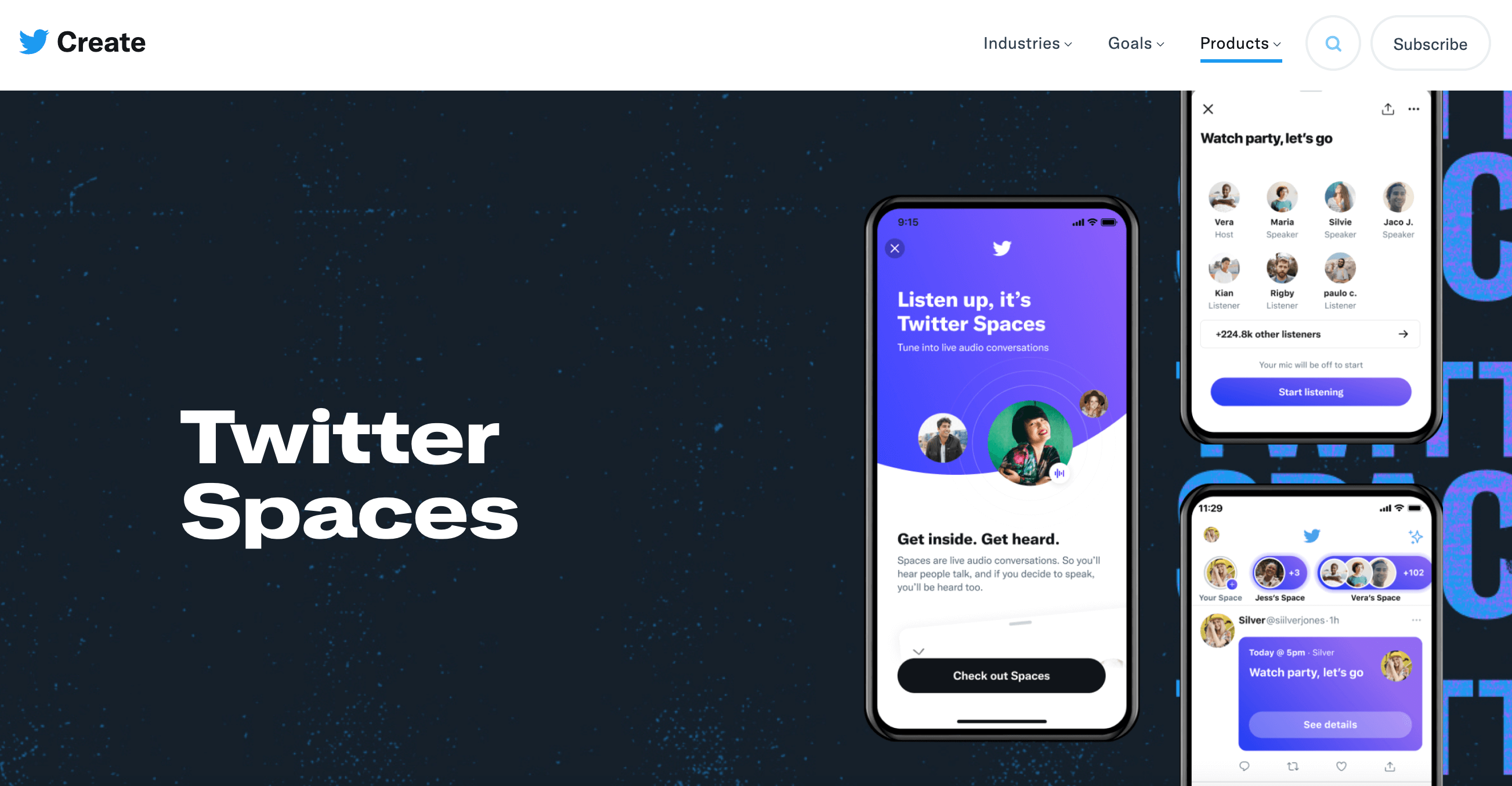 It's actually a great alternative to podcasting. After all, it's very accessible and easy for users to get started. All you need is your phone! You don't have to purchase an expensive microphone. Nor do you need editing software unless you're planning to download and repurpose the audio later. The best part? If you're camera shy, it gives you the ability to have real-time conversations with your audience without being seen. And those who've already built a following on Twitter don't have to start from scratch on another platform.
Personally, I host three weekly shows on Twitter Spaces and it's astounding to see the benefits it has provided. Not only has it allowed me to grow my audience on Twitter but I've also been able to build separate loyal communities around each of the shows. If you haven't yet ventured into Spaces, now is a great time to start.
Besides Spaces, another fantastic way to build and nurture your community is through Twitter Chats. You can choose to host one of your own or become a regular participant in chats hosted by other creators. Either is beneficial! Twitter Chats is a great way to share your knowledge, learn from like-minded individuals, and make new connections.
It seems like there's been a resurgence in the Twitter Chats world with more people showing an interest in them. And I'm predicting that will continue into 2023.
Finally, Twitter Threads is not to be overlooked. Although what makes Twitter unique is its 280-character limit, sometimes you have a bit more to say. With the help of Threads, you can link multiple tweets together to create one continuous stream. This makes it easy for readers to follow along with an entire thought. This is great for sharing value-packed tweets, creating long-form content, and for telling stories.
It's incredible that we're seeing this resurgence in Twitter and all of the amazing features it offers, such as Spaces. This is the perfect time to make Twitter a larger part of your overall marketing strategy so you can effectively build and connect with your community on additional platforms.
Madalyn Sklar is a serial entrepreneur, community builder, and leading Twitter marketing expert with 26 years of digital marketing experience and 17 years of social media marketing under her belt. She hosts the #TwitterSmarter chat.
2023 YouTube Trends
#23: YouTube Leans Further Into Shorts
First off, I think we're going to see a bigger push from YouTube for short-form video content (YouTube Shorts) on the platform, to compete with TikTok videos and Instagram Reels.
YouTube has already made some major changes to both the interface on desktop and the mobile app to showcase shorts in many more prominent places. Shorts are now even showing up in search results on both YouTube and Google. Plus they're linking back to YouTube channels and regular videos more than ever, giving creators even greater reason to be experimenting with this type of content.
In 2023, YouTube will be releasing its podcasting platform/section to a much wider audience to compete with Apple and Spotify. This will be a huge opportunity for anyone doing podcasts (both video and audio) and also for people creating multiple types of content. This is because the cross-linking of the different content types should make it much easier for your audience to find all of the different types of content being posted.
This new podcasting section really aligns with YouTube's overall direction, moving to become the one major content hub for all types of content (regular videos, short-form content, livestreams, community posts, stories, and podcasts).
Even with these new directions and developments, my suggestion for those looking to grow their audience on YouTube is still to focus primarily on consistently uploading regular YouTube videos. This is a proven way to grow on YouTube and regular videos are still what most people visit YouTube for. I'd recommend making that your priority and experimenting with these other types of content around that.
Justin Brown is a YouTube expert and video strategist who helps businesses grow an audience and scale their revenue with online video. His program is called Primal Video Accelerator. His Primal Video YouTube channel has more than 1M subscribers.
#24: YouTube Shorts Audience Grows Faster
One of the biggest opportunities for reaching new people and growing your brand in 2023 is YouTube Shorts.
YouTube Shorts launched in 2021 in response to the viral popularity of platforms like TikTok.
While long-form, traditional videos on YouTube are still a powerful content format for growth, smart marketers are creating short-form snackable videos to reach a new audience and grow their subscriber base.
Right now, YouTube Shorts has 1.5 billion monthly active users and sees more than 30 billion daily views. But I expect those numbers will rapidly grow in 2023, especially because YouTube recently announced that it'll begin to monetize Shorts in early 2023 and give the creator 45% of the earned revenue.
I predict that this will attract creators from other platforms like TikTok and Instagram because of the superior financial opportunity that YouTube provides.
My advice to marketers? Don't ignore YouTube Shorts.
Sean Cannell is the founder of Think Media, a company that helps marketers sell more with YouTube. He's also the co-author of the book, YouTube Secrets, and co-host of the Think Media Podcast.
#25: Brands Embrace YouTube Ads
I predict that in 2023, we'll see more brands shift a meaningful amount of their ad budget to YouTube ads. I think 2023 will be a year when the Google + YouTube ad spend for a lot of brands will exceed Facebook ad spend. At OMG, we manage close to $200 million in advertising spend each year across all channels so we see a lot of data.
For the first time in 2022, we started to see some of our large advertisers spend as much or more on YouTube ads than they were spending on Facebook ads. I'm still bullish on Facebook ads but the combination of Google + YouTube ads is very powerful, and it'll demand a larger percentage of ad budgets going forward.
Here are three reasons YouTube ads will have a breakout year:
YouTube is popular across every age group. Seventy-seven percent of 18- to 35-year-olds can be reached through YouTube. The age group with the lowest reach is 65+, yet it still boasts 67% reach. Basically, everyone is watching YouTube and 62% of users are on YouTube every day. There's no slowing down on YouTube's popularity for any age group. The same can't be said about other social platforms.
YouTube + Google has been less impacted by iOS 14.5 and other privacy updates. YouTube and especially Google ads seem to have experienced less of an impact from privacy changes compared to other platforms. The ability to still accurately track conversions is vital.
Performance MAX (PMAX) campaigns can drive YouTube views and conversions. I could write an entire guide on PMAX (and have, actually) but I mention it here because I think it'll make YouTube ads more approachable for some advertisers. PMAX is an ideal environment for machine learning. Basically, PMAX allows advertisers to harness seven ad channels in one campaign: Search, Shopping, Display, Discovery, Gmail, YouTube, and Maps. Google uses data from all channels to go out and find new customers for you. We've seen several campaigns with the right video creatives lean into YouTube traffic. In fact, one outdoor client of ours had a PMAX campaign scale to $10,000 per day in ad spend with an estimated 80% of its volume coming from YouTube. And it was hitting the client's cost per acquisition goals!
Is it time for your brand to consider YouTube ads?
Brett Curry is the CEO of OMG Commerce, an agency that specializes in Google Ads, Amazon Ads, and email marketing. He's also the host of the eCommerce Evolution and Spicy Curry podcasts.
#26: More Monetization Opportunities for Brands on YouTube
YouTube's "big news" for the start of 2023 is that it'll start running ads alongside Shorts but this isn't going to be news to most YouTubers. What people might not know about it is that Shorts creators will have another way to qualify for YouTube's Partner Program (YPP) besides the current requirements.
Channels have had to retain 4,000 valid public watch hours (in the last 12 months) and 1,000 subscribers to apply to the ad-revenue sharing YPP.
But starting February 1, 2023, creators can also qualify for YPP with 1,000 subscribers and 10 million valid public watch hours on Shorts (in the last 90 days).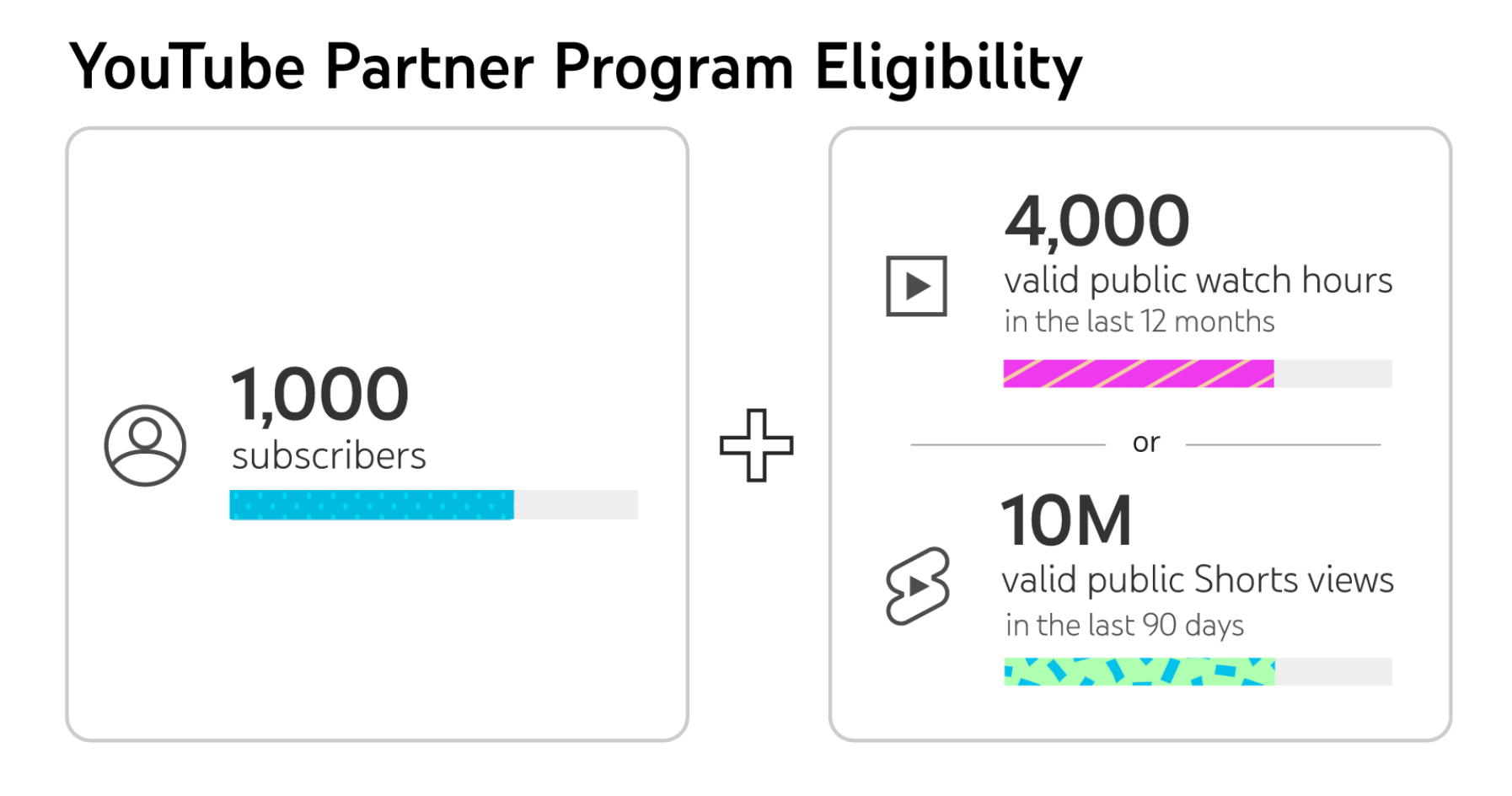 YouTube has gotten pretty good at trying new things that will help everyone in their ecosystem, not just advertising companies. The ecosystem thrives when advertisers, creators, and viewers are all happy, and that's been a tricky balance to find. YouTube has learned the hard way that if one segment of the ecosystem isn't happy about something, it brings down the whole ship. So this new route to compensating creators is getting ahead of the waves by making Shorts revenue-sharing beneficial for everyone.
YouTube is also very interested in encouraging creators to be multi-format creators. They want versatile creators who make content in different ways because they can pull in a larger and more diverse audience that way. This also means that YouTube is happy because viewers are watching more content in more places, and by default, stay on-platform longer. Everyone on the platform longer translates to more money for everyone: creators, advertisers, and YouTube themselves. From livestreams to memberships and merchandising to Shorts, there are many ways to reach more viewers and earn more money on YouTube.
There's good news in terms of music on YouTube, too: the new Creator Music program allows creators to purchase tracks to use on their own content without relinquishing all ad revenue rights. Not only will music creators be able to get their music out to more people (and make more money from it) but also creators in general will be able to use music in their videos and still be able to make money. Creator Music gives creators the option to purchase music for a one-time fee or share the ad revenue with the creator of the music they want to use. This is huge for a lot of creators because music rights have been a very tricky business in YouTube's past.
Any YouTube channel that doesn't capitalize on new ways to make money on-platform is like having a canoe in a speedboat race. YouTube now offers so many ways to make money that you'd be crazy not to take them up on their offer. So if a creator or brand is working on their marketing plan for 2023, I'd suggest diversifying the type of content you create (in terms of format, not genre). If you're not making Shorts, there's a good start.
Derral Eves is a video marketing strategist who's generated 90 billion views across YouTube and Facebook. His new book is The YouTube Formula: How Anyone Can Unlock the Algorithm to Drive Views, Build an Audience, and Grow Revenue.
#27: Podcasters Turn to Long-Form Video on YouTube
The future of YouTube is bright for marketers and content creators, and not just because it's the home for long-form video (which is here to stay), but because of the other content types that will be prominently featured on the platform. Namely, short-form video and podcasts.
Short-form videos already exist on the platform as YouTube Shorts, as you know. But in early 2023, we're going to see a big push for Shorts due to YouTube having already announced a MAJOR revenue share (at 45%) with Shorts creators. This program will mimic their proven YouTube Partnership Program for regular videos.
On top of that, YouTube is improving its discovery algorithm constantly, and there'll likely be a big focus on how Shorts can help recommend and cross-promote a channel's long-form videos, too. Additionally, the possibility of TikTok being banned in the United States may push even more people onto the platform.
Podcasts, which are actually extremely popular on YouTube already, will see a major flood of previously audio-first podcasters enter the platform with video in mind.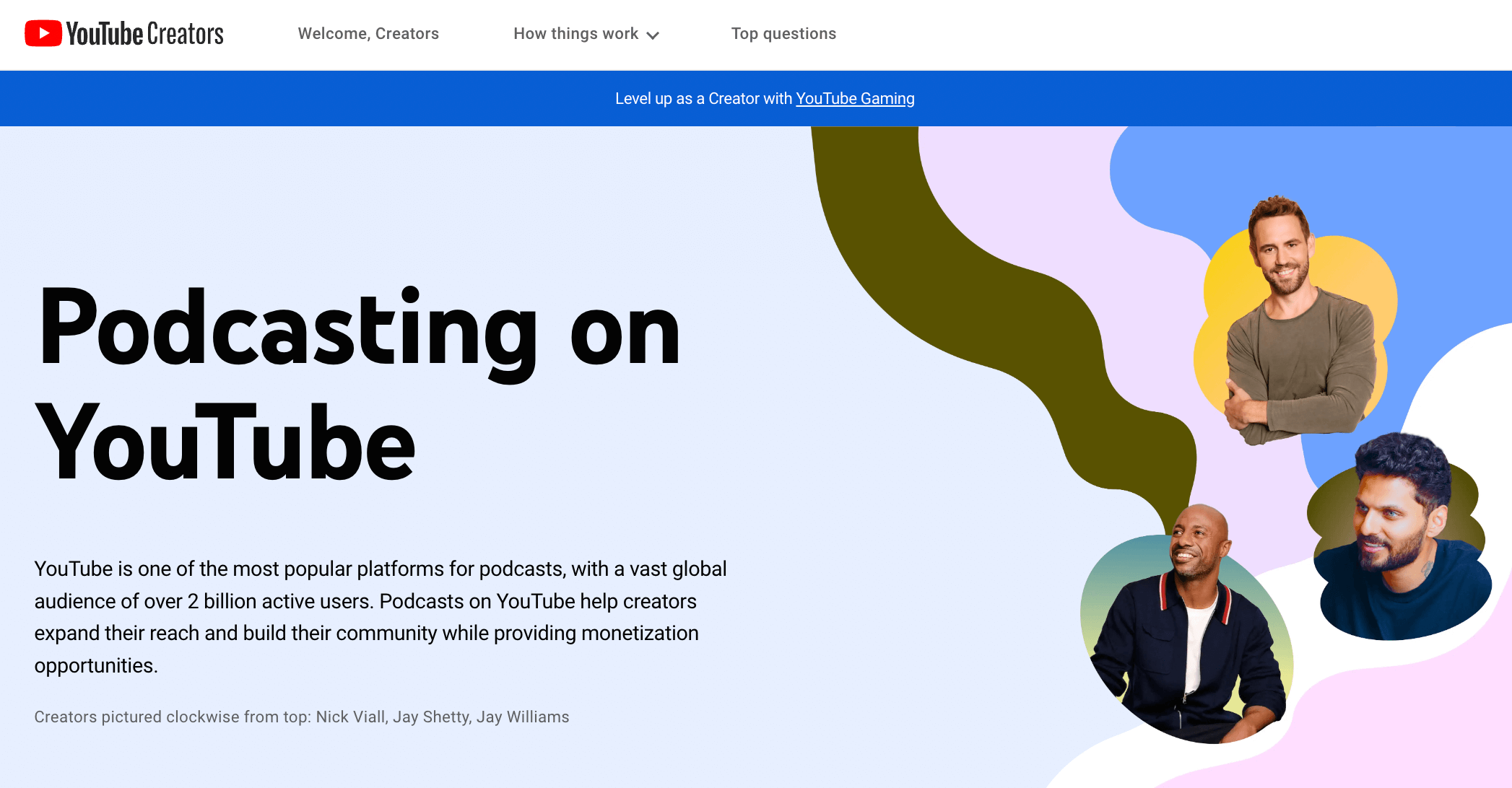 There'll be a rush of podcasters turning on their cameras and adding long-form podcast episodes onto their YouTube channels. A few, however, will go above and beyond to create video-first, high-quality production–style podcasts that'll surface on the platform and become the gold standard for how to do a video podcast.
Spotify had its chance to own this a couple of years ago, but YouTube is where it's at, and it's going to be huge. I also envision a new podcasts category to choose from within a person's channel.
What this means for podcasters is that podcast discovery through an algorithm will FINALLY arrive. This will solve one of the hardest parts about podcasting—how to get people to discover your show.
Pat Flynn is a keynote speaker and host of the Smart Passive Income podcast. He's the best-selling author of Will It Fly?, as well as his latest book, Super Fans.
#28: Real, Relevant Stories Win on YouTube
I predict that 2023 (and beyond) will be about the rise of micro-content and human connection. The brands that connect the best with their viewers and build strong communities online will be best positioned for success.
So how do you build a community in a noisy, distrustful, short-form world? By putting personality first and telling stories with meaning.
Since the days of hunter-gatherers sitting around campfires, humans have bonded through sharing stories. We look to our storytellers to enrich us with meaning. To bring us joy, laughter, sadness, shock, awe, empathy… and a story can be a 60-second YouTube short or TikTok video.
The focus isn't on 'hacking algorithms.' It's on having a message worth sharing, regardless of platform or medium.
In today's social media landscape, it's easier than ever to be everywhere all the time, but we have to stop and ask what we're saying to people that makes it worthwhile.
In a world of AI, VR, and the metaverse, being real and relevant is going to be more important than ever.
Why do Gen Zs love TikTok so much and why are platforms like YouTube successfully taking them on with Shorts?
Some say attention spans are getting shorter but that's not true. There's still plenty of traffic for long-form videos, blogs, and podcasts. It's more that content is now with us all the time. We watch short clips on public transport, in the bathroom, cooking and eating, and walking down the street… content is adapting to become the perpetual background of our lives.
YouTube will even start allowing creators to monetize their Shorts with a 45% revenue split beginning in 2023, which may cause creators to move from TikTok to YouTube in droves. This has the potential to be huge!
Let's cut to the chase. How do marketers and entrepreneurs make money using this knowledge?
If you have an offer and a funnel that sells it, the next step is building a community around a brand figurehead and telling stories that impact, entertain, and inform. Give your audience content worth consuming and invite them deeper into your world.
If people enjoy spending time with you online and value your personality and your opinion, then you have the vital element of trust. They'll follow your suggestions and enter your marketing funnel—not as cold traffic but warmed up and pre-sold.
In short, marketing fundamentals aren't changing but the method of connection is. Be relevant, real, and available on every platform that your viewers are on, and tell stories worth sharing.
Marley Jaxx is a YouTube marketing expert. Her agency helps entrepreneurs create great video content and generate leads with YouTube. She hosts The VIP Code podcast and co-founded the course YouTube Lead Machine.
---
Stay Up-to-Date: Get New Marketing Articles Delivered to You!
Don't miss out on upcoming social media marketing insights and strategies! Sign up to receive notifications when we publish new articles on Social Media Examiner. Our expertly crafted content will help you stay ahead of the curve and drive results for your business. Click the link below to sign up now and receive our annual report!
3 Days of World-Class Training—Zero Travel!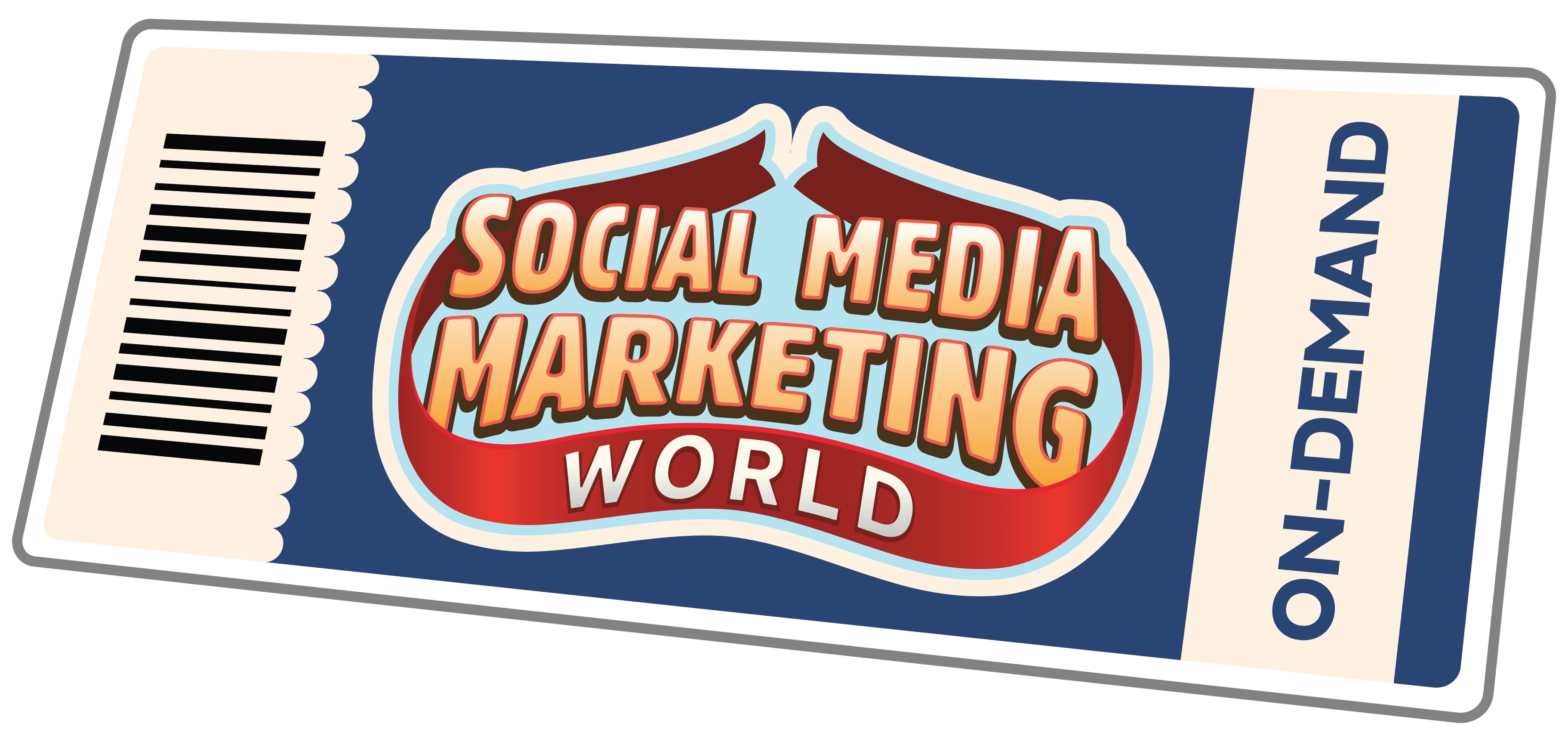 Travel to Social Media Marketing World off the table? Get all of the great content at a fraction of the price with an On-Demand ticket.

That's full access to recordings of every keynote, workshop, and session—the ones people travel thousands of miles to see. Don't wait. Get your On-Demand ticket and enjoy actionable content that you can watch anytime, anywhere.
GET YOUR ON-DEMAND TICKET NOW