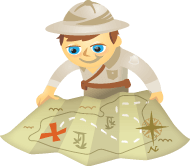 Have you run contests on Pinterest?
Are you aware of Pinterest contests rules and regulations?
After many businesses misused the relaxed format, Pinterest revised its contest rules. They now require contests be easy to enter, spam-free and in alignment with Pinterest branding guidelines.
In this article I'll explain what you need to know to run successful and compliant Pinterest contests.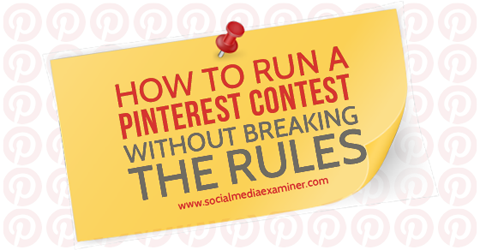 To make sure your Pinterest contest is successful, try these six tips.
#1: Ask for One Entry
Pinterest prefers quality over quantity. It asks businesses to encourage pinners to submit one quality entry, rather than multiple pins.
HuHot, a US-based grill restaurant, organized a crowdsourcing contest on Pinterest. They asked their fans to create their own Mongolian grill recipes and pin them on their respective pinboards.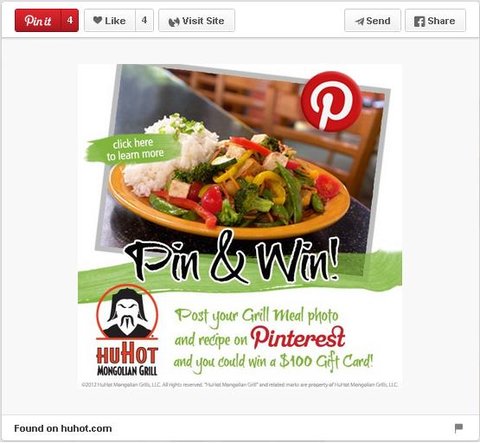 HuHot did everything right. They asked for the best content from pinners, they did not ask for a specific number of pins to enter and they collected all the pins on one dedicated pinboard for their audience. It's a great practice for future reference.
One quality entry per pinner will result in high-quality user-generated content that follows Pinterest contest rules.
#2: Create Suitable Hashtags
Unique hashtags are great identifiers for a Pinterest content. Have entrants use a special hashtag in pins to enter your contest.
Ergobaby's My Ideal Mother's Day contest centered on three hashtags: #ergobaby, #idealmothersday and #babywearing.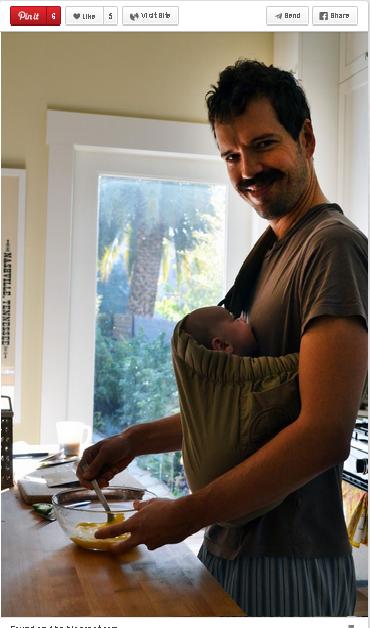 To enter the contest, pinners were asked to tag pictures of their ideal Mother's Day. The Ergobaby hashtags were meaningful, as they related to the brand, the product's purpose and the holiday.
The idea is to make it clear that the pins are a part of a Pinterest competition. The easiest way to do that is to assign a hashtag that's contest-specific. Having trouble finding just one suitable hashtag? Create more than one.
#3: Build a Landing Page
On Pinterest, when you ask for comments from pinners, it's considered spam. Since commenting is common practice to boost engagement on the platform, it's best to find an alternative.
The best way to avoid Pinterest spam is to take all the "spammy" activities off of the network and create a separate landing page for your contest. It's also the ideal place to cover the rules, terms, prizes and even a sample entry.
Boticca, a jewelry brand, created a landing page for their I Wish for a Gift With a Story contest on Pinterest. To enter, users needed to pin and create a story, and then submit their Pinterest profile link, along with their name and email address.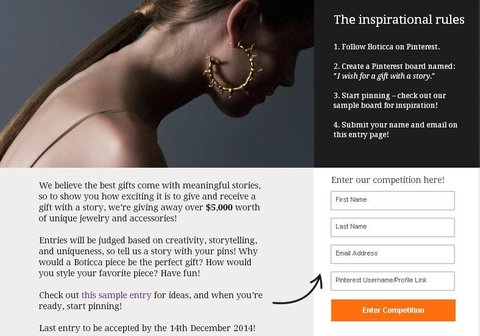 As a bonus, when you take the contest entry itself off of Pinterest, it boosts website traffic. Plus, you still have plenty of legit Pinterest engagement.
#4: Clearly Explain Rules and Prizes
Contests on Pinterest need to be easy to enter with understandable rules. Pinterest also encourages brands to announce prizes along with the contest.
HP's SpectreXT contest, which was designed to promote their SpectreXT laptops, was concise and clear.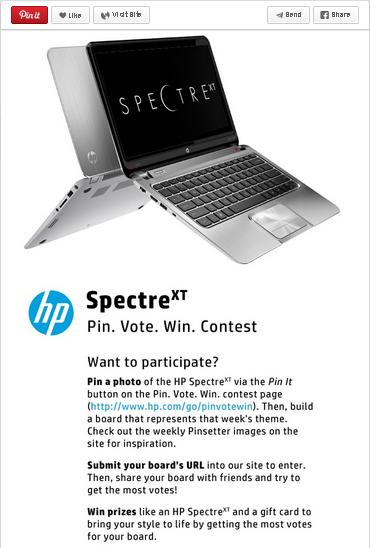 HP created weekly contests with a different theme each week. Entry was simple, the rules were laid out and the prizes were announced on the introductory pin.
Make your contests easy to enter and easy to understand. Your participants and Pinterest will be happy.
#5: Judge Sweepstakes Creatively
Pinterest discourages brands from running sweepstakes where every like, comment, pin and repin is considered an entry. This is a new rule. Brands also should not ask for votes in the form of pin, repin, like or board.
The better approach is to remove random actions altogether. The best content should win.
Country Living's Dream Bedroom Pinterest Contest asked pinners to create a new pinboard called, "My Country Living Dream Bedroom."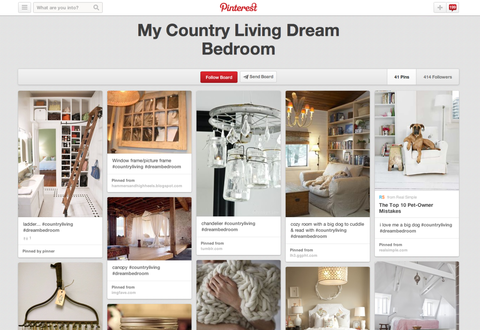 As the name suggests, the pinboard had to contain the contestant's idea of his or her dream bedroom. Participants just needed to create their board and then submit their entry. A panel of judges was also appointed to decide the winner. No votes were allowed.
Assign a small team to go over contest entries and determine the winner. When participants know they'll be judged by creativity, they'll give more thought and effort to their entries.
#6: Think Outside the Box
The best Pinterest contests are the most unique. When you're coming up with ideas for contests, see how you can make them different from the norm.
For example, Emailvision's Pin Your inbox contest was one of a kind. The target audience for this contest was email marketers, so the company designed a contest to create brand awareness.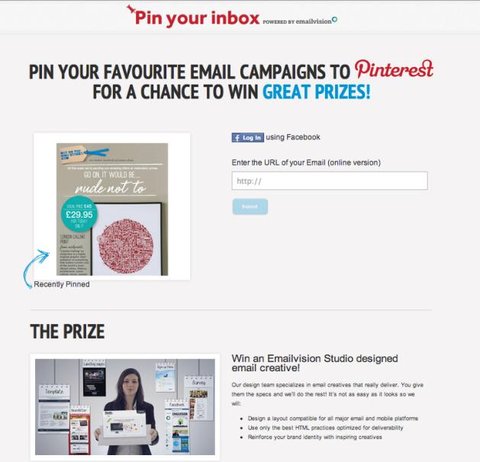 Entrants were asked to pin their favorite email campaign, and then submit a link to the online version of the email on a dedicated landing page for the contest. Emailvision took their niche (email campaigns) and integrated it into a social media contest.
Determine what your company does best and see what twists you can put on it to create a truly unique Pinterest contest.
Conclusion
Hosting a Pinterest contest is a great way to engage your community. You just need to do things right.
Pinterest's contest rules are designed to make the experience best for the brand and the customer. The result is, hopefully, an engaged audience and happy winners.
What do you think? Have you run Pinterest contests? Do you have additional recommendations for brands on following the rules? Please share your thoughts in the comment section below.