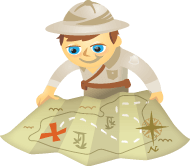 Wondering how Twitter's conversational ads and instant unlock cards work?
Want examples of brands using them well?
Twitter's conversational ads and instant unlock cards encourage your audience not only to engage with your ads, but also to share them with their own followers.
In this article, you'll discover how to use Twitter conversational ads and instant unlock cards for business.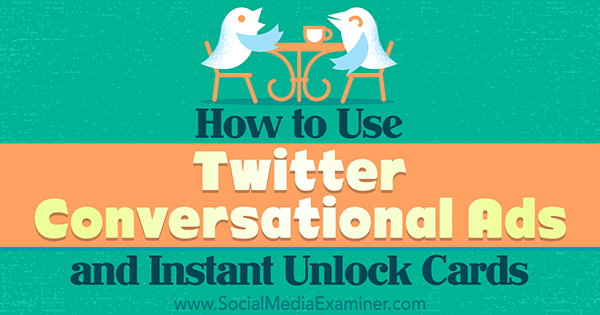 About Twitter Conversational Ads and Instant Unlock Cards
The main benefit of using Twitter instant unlock cards as part of your Twitter marketing is the viral nature of how the cards work. The tweets are shared with each user's audience. Thus, your conversational ads and instant unlock cards will be shared as regular tweets to the user's followers.
Take a look at this tweet from @Wendy's to promote the Frosty. Every time users choose Chocolate or Vanilla, they spread the tweet and opportunity for engagement with their followers. Within 15 minutes, there were at least 200 tweets cheering for a particular team, and thus simultaneously sharing the advertisement.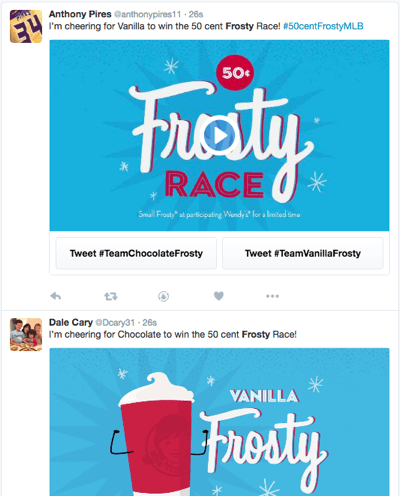 How Twitter Conversational Ads and Instant Unlock Cards Work
Twitter conversational ads and instant unlock cards allow you to get your audience to engage with your ad in two ways.
First, you have tweets that encourage your audience to choose a team or a side, like this one from @Marvel to promote the movie Captain America: Civil War.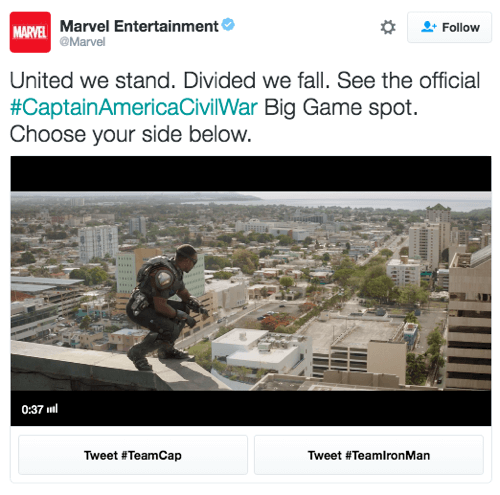 When Marvel's audience clicked the buttons below the video to choose their side, a pre-populated tweet with #TeamCap or #TeamIronMan opened for them to share with their followers, encouraging even more engagement with the advertiser.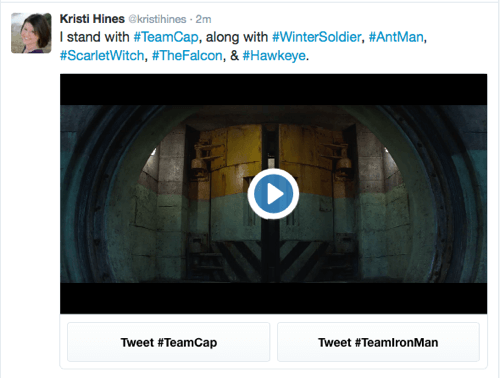 After users tweeted it, they received a custom message from the advertiser.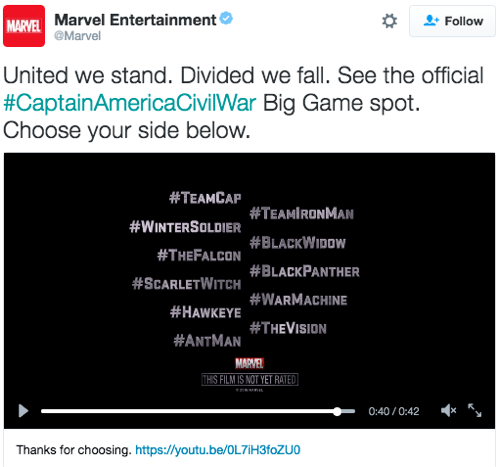 Second, you have tweets that allow your audience to unlock hidden content by tweeting a specific hashtag, like this one from @TheWalkingDead_AMC to promote an exclusive video for the upcoming season.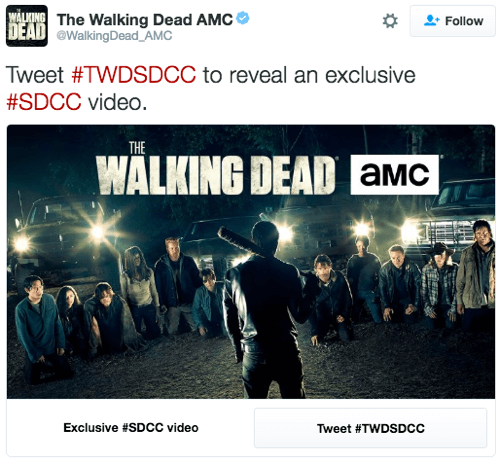 Again, the users who tweet the hashtag share it with their audience, which encourages even more engagement with the advertiser.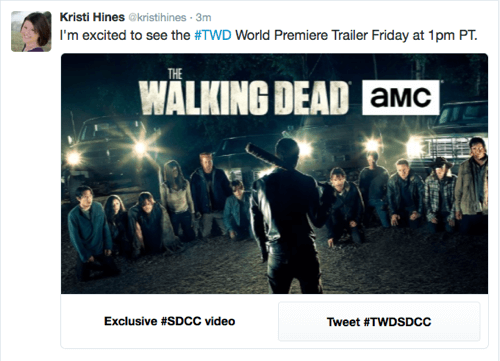 This is similar to the Marvel example above, with the exception that when users tweet, the hidden content is revealed, along with a custom message from the advertiser.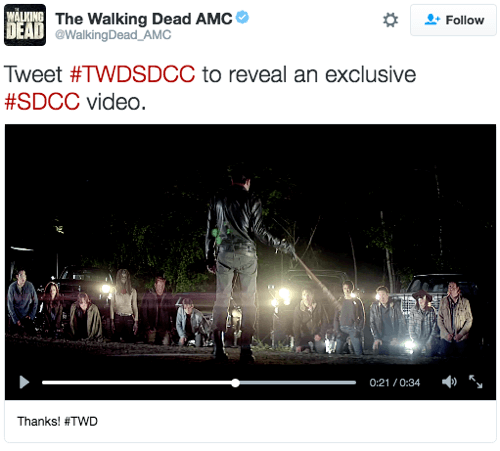 Find Out if You're Eligible for Conversational Ads and Instant Unlock Cards
Twitter has noted that these features are currently being rolled out to select medium- to large-sized businesses. You can review the instructions on how to set up a conversational ad unit to see if the feature is available to you using the directions in the Help Center.
The fastest way to see if you have the ability to create conversational ads and instant unlock cards is to create a new Tweet Engagement campaign in your Twitter Ad account. Scroll down to Step 4 where you set up your creative. When you click in the box to compose a new tweet, you should see the following.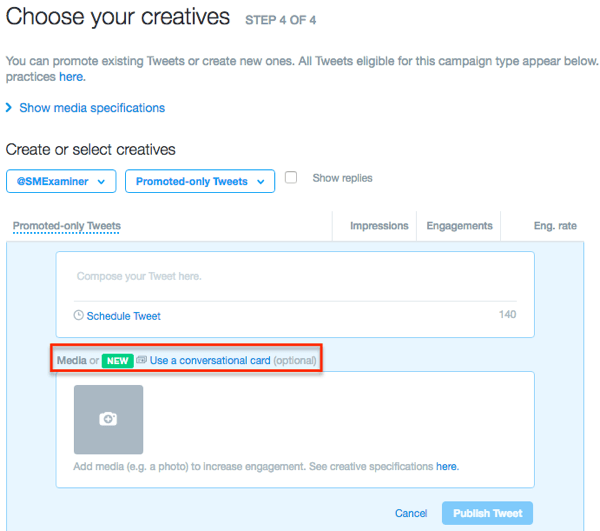 If you don't see the option needed, the bottom of this post mentions that you can contact your Twitter Ads account management team to learn more about your account's eligibility to receive these features. Alternatively, you can use the Help link at the top of your Twitter Ads dashboard and contact Twitter Ads support to discuss your eligibility for these features.
If you do have the option, click on the Use a Conversational Card link. You can create cards that will allow your audience to share your message or unlock exclusive content by clicking a button to send a tweet with a specific hashtag.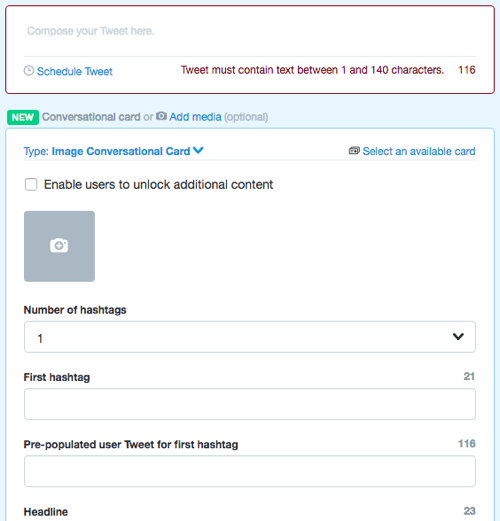 At the top, choose Image or Video from the Type drop-down, based on your preference. From there, you can add exclusive content for users to unlock with their tweet, enter up to four hashtags for them to select, and configure the rest of your ad as specified in each of the fields.
When you're finished, your setup should look something like this.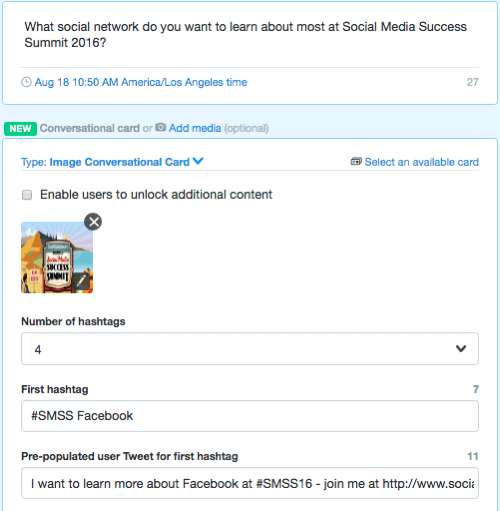 To the right of your setup, you can preview your ad as your audience would see it on desktop, iOS, and Android browsers.
Put Google Analytics to Work for Your Business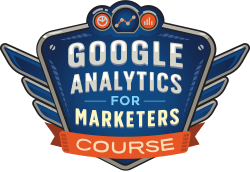 Ever thought, "there's got to be a better way" when it comes to tracking your marketing activities? Are you forced to make decisions based on limited data? With the right training, you can use Google Analytics to measure all of your marketing efforts with certainty. You'll stop the leaks in your ad spending, justify your marketing spend, gain the confidence you need to make better marketing decisions, and know what's working at every step of the customer journey. Let the world's leading analytics pro show you the way. Check out our new Google Analytics for Marketers course from your friends at Social Media Examiner.
LEARN MORE - SALE ENDS DECEMBER 1ST!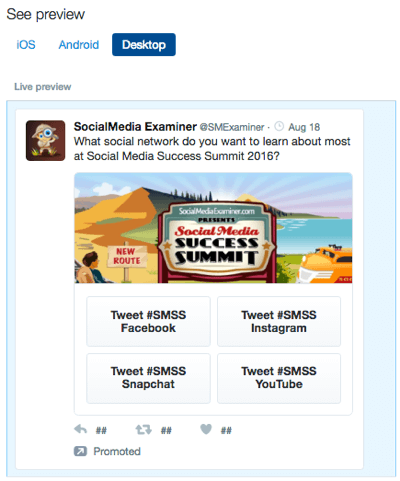 From here, set up your Twitter ad as usual by configuring your campaign name, scheduled runtime, and target audience if you haven't already.
Examples of Conversational Ads and Instant Unlock Cards
Now, let's look at how some businesses are using conversational ads and unlock cards. The reasons to review these are two-fold.
First, if Twitter does roll out these cards to all advertisers, you'll already have some great ideas in mind for ways to use them for your own business.
Second, if Twitter doesn't roll out these cards to all advertisers, you may be able to find creative ways to use images and video to get people to express their support of something and share it with their followers using a special hashtag. Or you could ask a question using a Twitter poll and encourage your followers to retweet it, and then promote that tweet for more visibility.
Share a Coke With a Friend
Not everyone's going to share a Coke with Selena Gomez as @CocaCola suggests in their tweet.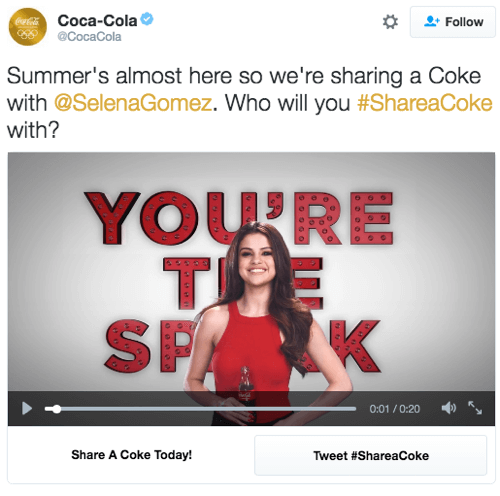 However, because users can edit the tweet, they can change the username of the person they'd share a Coke with to one or more friends and then send it out.

This is smart on Coca-Cola's part. Not only will the user's followers see it, but the other people tagged in the tweet are more likely to engage with it and share it with their audience too.
Pick Your Team
@UFC created a tweet to engage their audience to choose between #TeamDiaz and #TeamMcGregor. This example is particularly good because instead of just tweeting it directly, they retweeted it from @MonsterEnergy.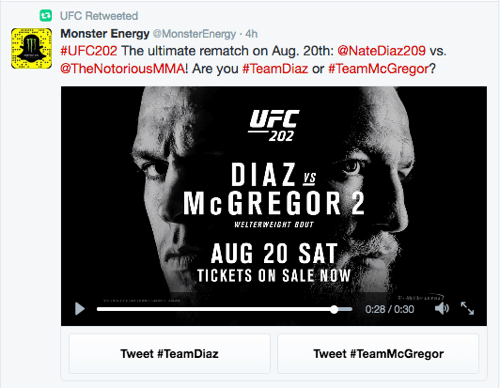 This demonstrates the virality of conversational ads. Here, two major brands are sharing the tweet, combining the total audience reach of the UFC's 4+ million followers with Monster Energy's 3+ million followers.
Get Your Presale Code
Winter may not be coming yet, but the live concert experience of Game of Thrones is. Hence, their official Twitter account retweeted @LiveNation's share of their unlock tweet that allowed fans to get a presale code for tickets to the live event. This is a great way to use an engaging tweet to boost the visibility of your business, as well as sales.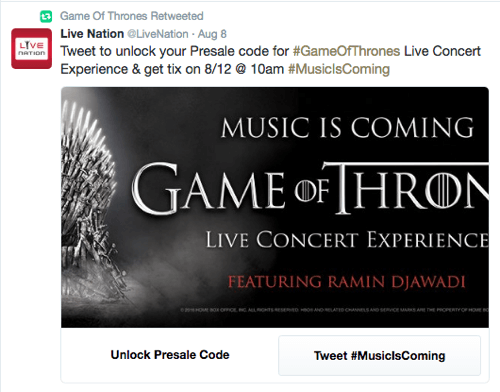 Encourage Followers to Make a Pledge
Dove India did a couple of great things with their conversational ad. For starters, they simply asked their followers to take a pledge and spread the message. In addition, they pinned the tweet to the top of their profile, making sure as many people as possible would see it.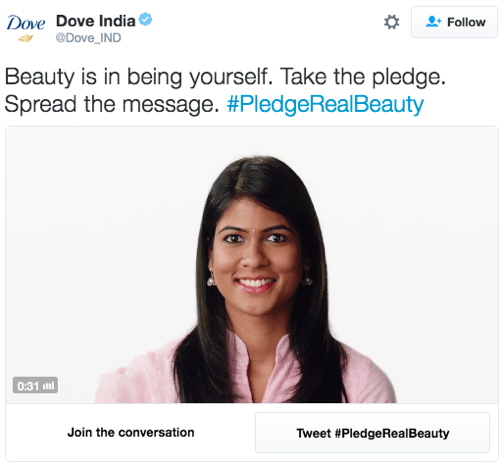 At the end of the video, they showed a link to dove.com, which seems simple at first. However, when visitors went to the homepage (from India or any country), they discovered that Dove's homepage focuses on the same campaign of real beauty. The matching message on Dove's homepage will keep the people who came from their tweet engaged to learn more about the brand.
Say Hello From Home
This campaign from @Hersheys has several great things going for it. For starters, it's sending a positive message for @TeamUSA at the Olympics in Rio, capitalizing on a trending event. When users click the button, the resulting tweet includes the brand's @username.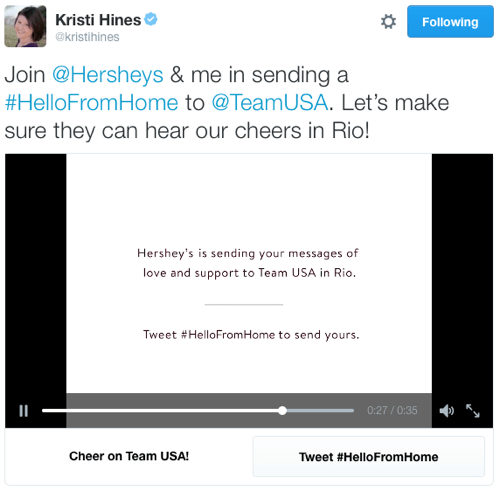 Note that after users tweet, they get an automated reply from the business with a thank-you message, as shown below. While some people may not agree with the idea of automation, in the case of a large business, it would be difficult to reply to everyone individually. So even though the reply is automated, it still captures the audience's attention, and that's the point!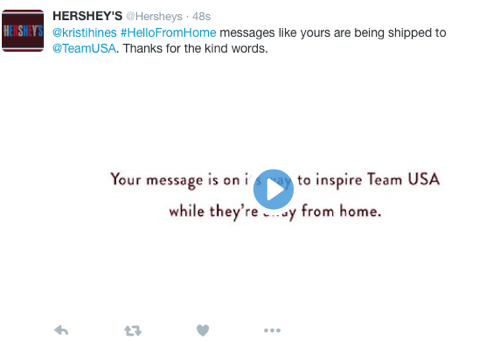 Tip: If you're creating a campaign using conversational ads and instant unlock cards, include your @username in the tweet that users will post when they click on the buttons for your campaign. While you can't control whether they will edit it out in the end, at least you know that most will likely end up tweeting it. That way, even if the user's followers don't participate in your campaign, they'll know where it came from and possibly click through to learn more about your brand.
In Conclusion
As you can see, there are a variety of ways to use conversational ads and instant unlock cards to get engagement from your audience, grow visibility for your business, and even make sales on Twitter. If you can get access to these features, take advantage of it! And if you can't, find some alternative ways to encourage the same kind of engagement from your audience.
What do you think? What conversational ads and instant unlock cards from brands have you seen? Let us know in the comments below.