Wondering how to effectively use hashtags to improve your visibility on Instagram? Looking for an easy-to-follow guide?
In this article, you'll discover a complete guide to using hashtags strategically across Instagram feed posts, story posts, and IGTV posts. You'll learn how to choose your hashtags, how many to use, and where to put them in your posts for best results.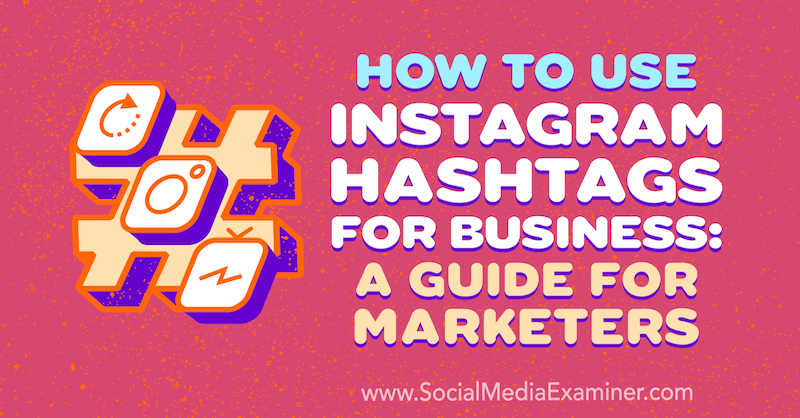 The Basics of Using Instagram Hashtags for Business
A lot of people struggle with Instagram hashtags. They either don't know how to use them for their business or they just think they don't work.
Why are hashtags so important on Instagram? The reality is they're the secret sauce to success. Instagram has very limited search capabilities as a platform, and one of the best ways to be discovered and get more eyeballs on your content is to use hashtags. They allow you to show up in various searches for your target audience and they help people find more of your content.
Using hashtags in Instagram feed posts and IGTV content can help that content show up in search results.
Using hashtags in Instagram Stories can help people find more of your content.
But there are some limitations on how many hashtags you can use:
In an Instagram feed post, you can use up to 30 hashtags in the caption or comment to have them rank for search. Any hashtags beyond the 30th won't show up in search.
For IGTV, you can use up to 30 hashtags in the description of your video.
For Instagram stories, you can use up to three hashtags. You can use one hashtag sticker or put three in a text box.
I'll talk much more about each of these areas and which hashtags to use later in this article.
What Shows Up in Instagram Hashtag Search Results
Now that you know you can use Instagram hashtags and want to put them in all of your content, it's worth noting that there's no guarantee that you'll actually show up in any specific hashtag search. The algorithm sorts all of the results for hashtags.
To view a hashtag search result, tap on the search icon (the magnifying glass) and type in the hashtag you want to look up in the search bar. Then tap on the Tags tab to view the hashtag content related to that word or phrase.
In the search results, you'll see two tabs: one for top-performing posts and one for recent posts.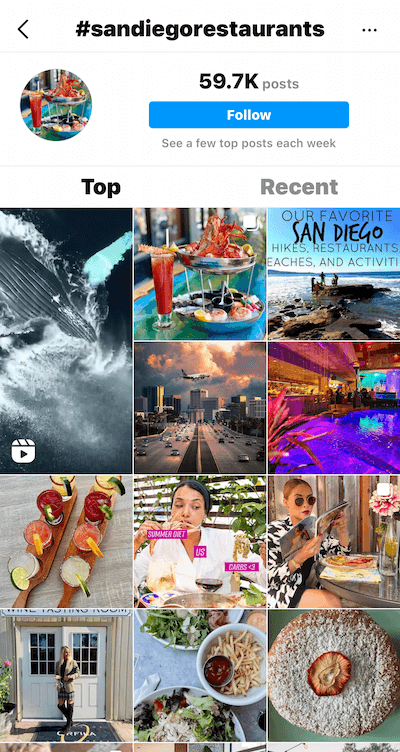 Everything on the Top tab is algorithmically sorted based on you as an individual and the type of content you interact with. If you really like puppies, you're more likely to see content with puppies in a search result. If you really like self-help–type content, you're more likely to see that in a search result, no matter what type of content you're looking for with a hashtag search.
The Instagram algorithm knows what you look for and will sort search results based on your behaviors. As a result, if you and a friend search for the same hashtag, you'll see different results because they're sorted for each of you individually.
The Conference You've Been Waiting For
As a small business marketer, you can probably only pick one or two events to attend each year. Get back into the game with an unbeatable conference experience and expert training at Social Media Marketing World in sunny San Diego, California—from your friends at Social Media Examiner.
🔥🔥 As a valued reader, you can save $300 if you act now! Sale Ends Friday!
CLICK HERE TO LEARN MORE
If you switch over to the Recent tab in your hashtag search results, that content is sorted chronologically, with the most recently shared post at the top of the results feed. There's still an algorithmic sort associated with this list of results and there's no guarantee that your content will show up with every hashtag, or even any of the hashtags that you specifically use.
But there's always a chance that your content will appear in the search results, and when it comes to hashtags, they're a "use it or lose it" thing. If you don't use them, there's no chance of showing up in search. If you do, there's a better chance of getting found by more people. So use them, take advantage of them, and take the opportunity for more people to see your content.
Now that you understand the basics of how hashtags work on Instagram, let's dive deeper into how to use them strategically in your content in different areas of Instagram.
#1: How to Use Hashtags on Instagram Feed Posts
Your Instagram feed posts are your best opportunity to appear in search results for various hashtags. But not every hashtag will work the same way. You need to be strategic about which ones you use and how you combine them.
Unfortunately, a lot of people do what I call the "throw spaghetti against the wall and hope it sticks" tactic. That's not what you want to do.
How many hashtags should you use in your feed posts? Where should you use them? Which ones should you use? Below, I'll share with you my super-secret recipe to not only get your content found more often but also get more followers and sales.
How Many Instagram Hashtags Should You Use in Feed Posts?
You can use up to 30 hashtags and anything beyond that won't show up in search. But your first 30 are free to use however you want. But should you use 30?
I recommend using at least 15–20. In general, more is better. Go for all 30 if you use them well. Include as many as you can use strategically while staying relevant to your business.
For some marketers, coming up with that many hashtags might sound like a tall order. Maybe you can think of three or four off the top of your head but how can you come up with 15–20 hashtags? That's where the super-secret recipe comes into play.
You'll want to combine a variety of hashtags from different categories of popularity. To see how popular a hashtag is, go to search on Instagram and type your hashtag in the search bar. Tap on the # tab to see how many posts are associated with the hashtags relevant to your search term.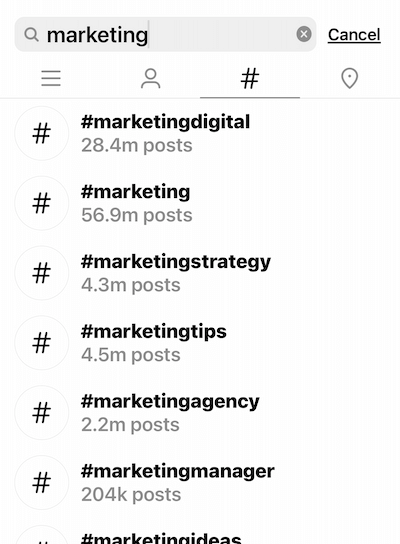 The super-secret hashtag recipe for maximum exposure is:
Choose three to five popular hashtags. Popular hashtags have around 300,000 to 1 million posts for a specific hashtag. Anything more than 1 million generally is irrelevant to you because it's so saturated with content that the only thing you'll attract are spambots. And you don't want that.
Select three to five moderately popular hashtags. These are the hashtags that fall in the 80,000–300,000 range.
Pick three to five niche-specific hashtags. These are super-targeted specifically to your industry, what you do, the solution you provide, and what your customer is looking for.
Include one or two of your branded hashtags.
If you follow this formula, you'll already be up to 12–15 hashtags without even trying so you can easily get to that 15–20 total hashtag number.
Which Hashtags Should You Use in Your Instagram Feed Posts?
Simply adding a long list of hashtags to your Instagram feed posts isn't enough. The key is to find relevant hashtags for your business.
Don't use popular hashtags like #love or #vacation, or something that's trending or hyper-popular because those hashtags aren't related specifically to your business and are too concentrated. Instead, pick hashtags that are very specific to your industry, the content you're posting, or what you offer as a solution.
The reality is most people don't pick the right hashtags for their audience. They only think about their business and what they want to be found for.
Let's look at the example of car insurance because no one is likely to go to Instagram to search for car insurance—that's what Google is for. The only ones looking at #carinsurance are competitors who are selling car insurance. Using this hashtag won't attract your target audience.
You need to think about where your audience is. What is your audience doing? Who is your audience?
For the car insurance example, the audience is people who have cars. And people who have cars are looking for things like #dreamcar, #lamborghini, or #newcar. And if someone is buying #myfirstcar, guess what they need? Car insurance! If you're using the hashtag where that audience is currently hanging out, you get to show up and give them quality content that's valuable to them.
Some industries can get away with using hashtags directly related to what they do, like #weddingphotographer. Yes, if someone is looking for a wedding photographer, they'll go to Instagram and look for that hashtag specifically. So those industries can use those industry hashtags.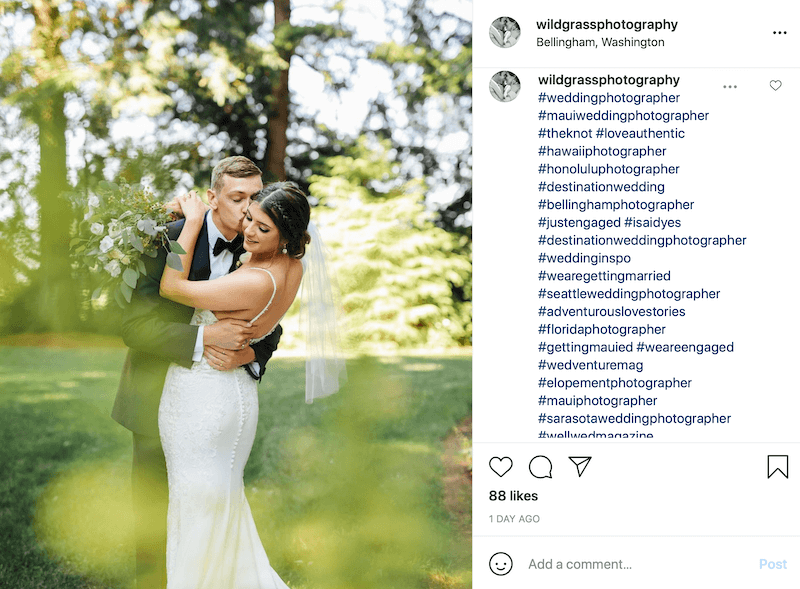 But you still want to think about people outside of just that realm. If all you do is wedding photography, that's great, but people are only going to be searching for you in a very limited time period. In addition to those wedding hashtags, you can also look at hashtags related to geographic locations where you work (#sarasotaweddingphotographer, for example) and other ways to serve your audience outside of that very specific time that they're looking for your services.
How Do Instagram Hashtags Drive Business Results?
Using both a variety of hashtags from different popularity categories and hashtags where your audience is actually spending time will drive results for your business. This may come in the form of new followers, an email or phone call, or engagement on your post.
How? Let's look at what happens:
The popular hashtags will give you an initial burst of activity from non-followers. Within a matter of seconds (maybe minutes), however, your content will be buried in the archives of those popular hashtags.
The moderately popular hashtags will keep your content active for hours into days with more non-followers.
Meanwhile, your existing audience of followers is engaging with your content as they log into Instagram.
The Instagram algorithm looks at your content and determines that your followers are consistently liking it and non-followers are seeing it and liking it. These are positive signals to Instagram. You're creating great content that people really like.
And then, in those niche-specific hashtags, you start ranking as a top-performing post.
Top-performing posts can stay in those top placements for months, which means if somebody is looking for that specific hashtag, when they go to that search result, you'll be one of the first ones—maybe the first one—they see in that top-performing hashtag tab.
And what happens when they see that? They tap on your content. They're now on your profile. They may follow you because they realize you're relevant to them. You have a product or service that's valuable to them. They may even email you or call you if you've enabled those action buttons on your Instagram profile. You can actually close sales with this tactic.
Where Should You Put Your Instagram Hashtags?
Now that you know what and how many Instagram hashtags you're going to use in your feed post, where do you put them? This is the age-old question since hashtags have been used for business on Instagram.
Caption or comment, does it matter? In reality, no. Some studies say it's slightly advantageous to put them in the caption. Some people prefer to put them in the comment to hide them so they don't look spammy.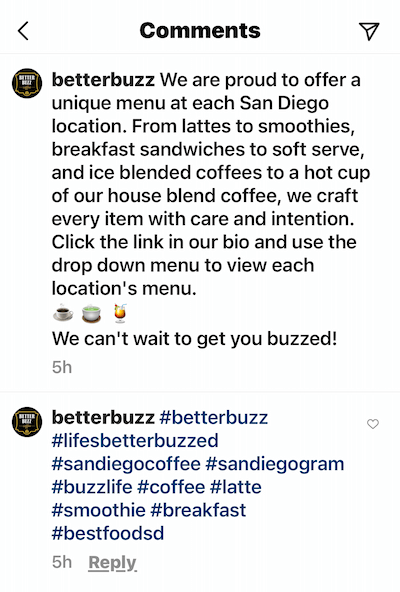 If you use the hashtag recipe above, whether you put your hashtags in the caption or the comment won't have a significant impact. The algorithm doesn't judge your content based on where you put the hashtags. Nor will the placement affect search results. Both tactics work. It's really more a matter of personal preference as to where you put your hashtags.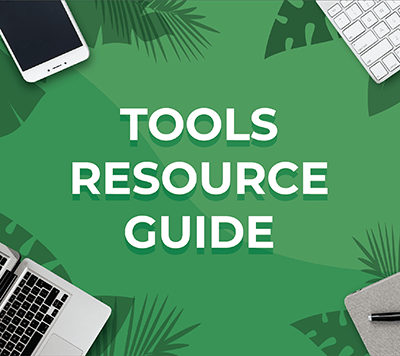 Looking for something to make your life easier?
Discover the tools we recommend to drive engagement, save you time, and boost sales across your entire marketing funnel or business.
Whether you need help planning content, organizing social posts, or developing your strategy, you'll find something for every situation.
FIND YOUR NEXT FAVORITE TOOL
The caveat is that it does matter where you place them if you're using incredibly popular hashtags. If you're using hashtags with 5 million or more post results (which isn't in line with the recipe covered above), those are the ones you do want to put in the caption.
The reason is that in the 10–30 seconds it takes you to put that hashtag list in a comment, you're losing valuable time in that hashtag hub and all of that potential engagement. In this scenario, leave the hashtags in the caption for best results.
Additionally, captions now get truncated with a "… more" after the second line of text, so people aren't seeing your hashtags in the caption anyway unless they tap to read the whole caption. You don't have to worry about "hiding" them in a comment.
Are Your Posts Showing Up in Instagram Hashtag Searches?
How do you know if your Instagram hashtags are working? Did you show up in search? Did people find your content?
The easiest way to find out is to review the insights for the post itself. Below your post and above the caption, you'll see the View Insights link.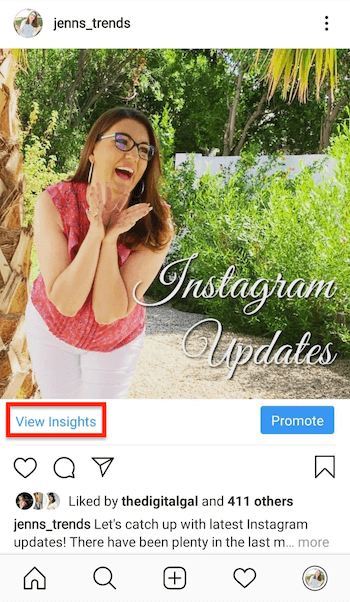 Tap on View Insights to open up a small screen of information. Swipe up on that little menu bar to see a full screen of information that tells you how that post performed. Keep scrolling and the bottom of the screen will tell you where your impressions came from, including how many impressions came from hashtags. You won't be able to tell which individual hashtags produced how many impressions but you'll see overall hashtag performance.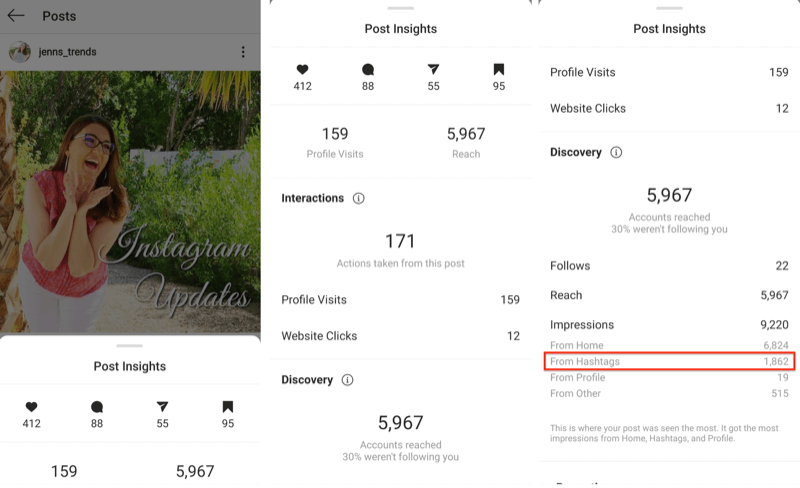 It's possible that you may not rank for hashtags or have very little exposure from them. Sometimes that's because your content just isn't that good. And if it's not performing well with your followers, Instagram is unlikely to show it to non-followers. It's also possible that your content is in a very saturated environment, where it's simply not a good time to show up in those specific hashtag results.
Not every post will perform well in hashtags. Review and look at multiple posts and see how your hashtags are performing for each of those posts. Consider questions like:
How many times did your content show up in hashtag searches and what was the consistency for those higher-performing posts?
Was the post timely and relevant, which may have generated higher search results?
Was there a consistent component? Perhaps every time you used the color blue in your content, you got better search results.
Take a look at your post details to help determine what content performs better for you.
Note: If you don't see the option to tap on View Insights, chances are you're still set up as a personal profile. Insights are only available to business and creator profiles. You'll need to upgrade your profile to access these features going forward. Read the linked article to switch to a business or creator profile.
#2: How to Use Hashtags on Instagram Stories
If you're putting a ton of effort into creating fun, engaging Instagram stories, you want more people to find that content. The good news is that in addition to your feed posts, Instagram hashtags are super-helpful for your Instagram stories.
If you're feeling comfortable with how to use hashtags on Instagram feed posts, I have a warning for you: Instagram stories are completely different.
In the sections below, we'll look at which hashtags to use for your business to show up in more searches, how many hashtags to use in your Instagram stories, and the difference between Instagram hashtag stickers and text boxes.
Which Hashtags Should You Use in Instagram Stories?
When it comes to your stories hashtags, you want to use your own branded hashtag. Why? Because when someone taps on that hashtag, it will take them to post results for that hashtag – and you want them to see more of your posts, not someone else's.
The exceptions to this rule are if you're at a live event or running an Instagram contest that has a very limited timeframe. Using a narrower hashtag specifically for that event, venue, or contest actually works in your favor because people are only looking for it in that specific time period.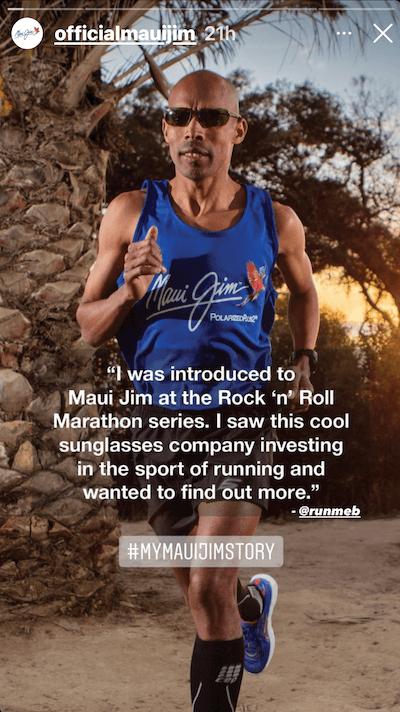 Where Should You Place Your Instagram Story Hashtags?
You have two options for creating Instagram story hashtags: the hashtag sticker or a text box.
To use the hashtag sticker, tap on the sticker icon (the square smiley face at the top of the screen) and select the hashtag sticker to add it to your story. Start typing and you've got yourself a hashtag sticker that's clickable.
For the text box, tap the Aa icon in your story and then type in a series of hashtags using the hashtag symbol, followed by the text for that hashtag. Make sure the hashtag is underlined when you post that text box. If it's not underlined, it's not clickable, meaning people can't tap on it to see more posts with that hashtag.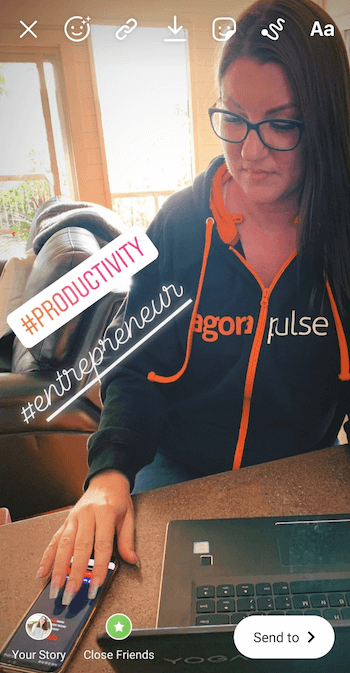 To make things complicated, Instagram has limits on how many hashtags you can use for each of these options.
With the hashtag sticker, you can only use one hashtag. And you can only use one hashtag sticker on each story post. Once you've added that sticker to your story, that's your hashtag. If you try to add another hashtag sticker, your existing one opens up, and you'll end up typing over it with the new hashtag.
For the text box, you can put as many hashtags in there as you want. I recommend one to three hashtags.
Remember, you want to keep your hashtags in plain view and legible—large enough that somebody can read them with the naked eye.
#3: How to Use Hashtags on IGTV
If you're creating high-quality IGTV content that's appealing to your audience, using hashtags on your IGTV video descriptions is a great way to get more people to find you and your content.
For IGTV, you're going to use a strategy similar to what you would use on your Instagram feed post. As described earlier, this will be a combination of three types of hashtags: popular, moderately popular, and niche-specific hashtags.
You can use up to 30 hashtags just as you would on a feed post. Again, this is a "use it or lose it" mentality. The more hashtags you use, the more chances you'll have for search.
Where to Put IGTV Hashtags?
The IGTV upload process is relatively simple. Tap the plus sign and select IGTV Video in the pop-up menu. Then select the video you want to upload from your camera roll.
Once you've done that and chosen your cover image, you get to the screen where you enter your video title and description. You do need to add a title for your video or it won't upload.
The description is optional, but this is where all of the goodies go. You can explain what's happening in the video, and regardless of your account size, you can add a clickable URL here. This is also where you put all of your hashtags. There aren't any subsequent comments so put all of those hashtags directly in the description of the IGTV video.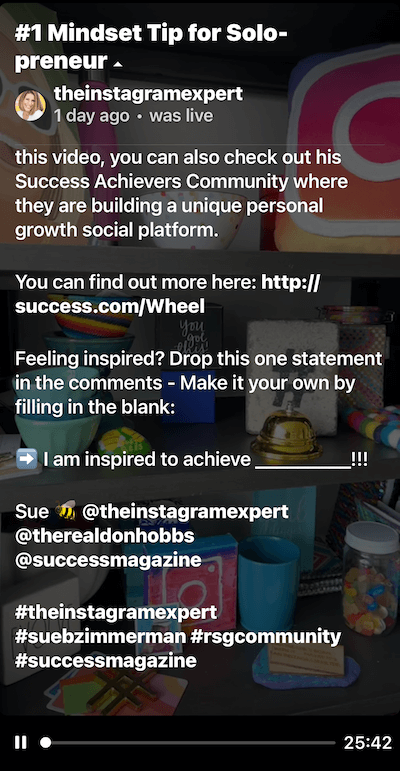 IGTV Videos in Hashtag Searches
Once your video is uploaded to IGTV, it will be scanned for hashtags in the caption and potentially appear in results of those hashtag searches.
Like all other content, there's no guarantee that your IGTV video will appear in any of those hashtag search results. However, if you have a high-performing post that's doing well with your audience and it's ideal content for your target audience, it's got a better chance of being algorithmically sorted for that target audience to view it in search results.
Additional IGTV Exposure
When you upload a video to IGTV, you have the option to share a 1-minute preview to your regular Instagram feed. By doing this, it shows up in your followers' feeds and stays on your profile as a regular post.
When anybody sees that video, they'll get a little prompt at the bottom to watch the full IGTV video. If they watch the full 1-minute preview, they get another prompt to keep watching, sending people to IGTV to get you more views, and hopefully, more conversions.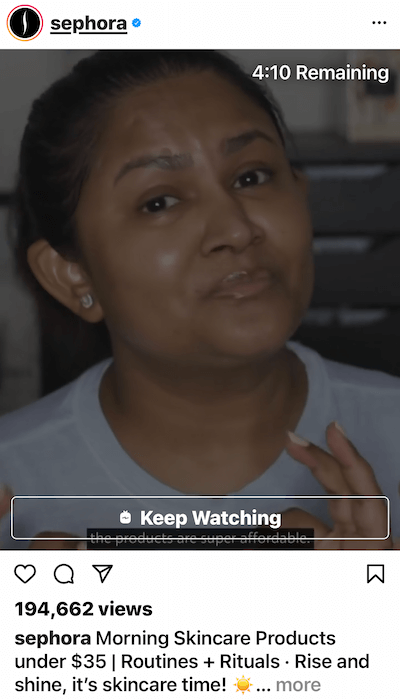 Tips for Choosing a Branded Hashtag for Your Business
A key thing to remember is that nobody owns a hashtag. You can't trademark hashtags, anybody can use them, and they can be any combination of words or phrases. So how do you pick the right one for your brand?
Sometimes, you'll see long run-on hashtags and others are super-short. Is one type better than the other? That depends on you, your business, your audience, and what you're using that hashtag for.
Instagram contest hashtags can usually be a little bit longer because they're a limited-use capacity. You want your contest hashtag to be descriptive. It can even be something related to the contest or giveaway so it's clear the hashtag is designated for that purpose.
If it's a typical branded hashtag for your business, keep these tips in mind:
Find the right length. Don't use a shortened acronym that's so common that other brands or people might be using it or yours won't be the only content on that hashtag, causing confusion around your brand. Ideally, you want something in the 10- to 20-character range.
Make sure it's clear.
Keep it simple so it's easy to remember. Don't choose something complicated or hard to spell; otherwise, people won't use it frequently.
To illustrate, I use #jennstrends, which is my business name. And Social Media Examiner uses #smexaminer. They abbreviate it a bit, keeping it short and sweet but recognizable and distinct to the brand.
Conclusion
Hashtags really are the key to success on Instagram. To reach more people, grow your audience, and get more engagement on your content—across all Instagram components—you need to use hashtags. They allow you to be found by the right people, getting your content to the people who most need (or want) to see it.
But you have to be strategic with your hashtags. You have to know which ones to use, how to use them, and how to capitalize on them for each aspect of Instagram so you'll see the success we talked about. Take a good look at the hashtags you're using now and try to find better ones. Find out what other brands are using for their hashtags. Look at the list of "similar" hashtags on Instagram when you review a hashtag search.
I recommend you compile all of these hashtags into lists on your phone or mobile device, separated by category or content type, so you can easily access them when you need them for any of your future Instagram posts.
Get More Advice on Instagram Marketing
Get Your FREE Course: Web3 for Beginners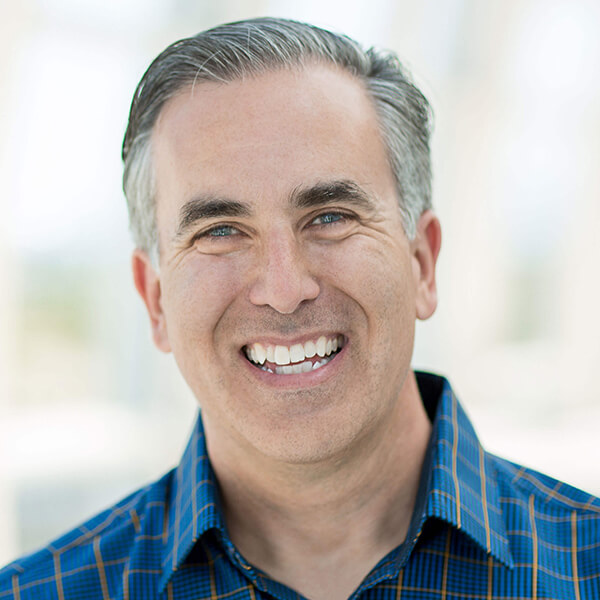 Curious about Web3, but don't know where to start or who to trust?

Introducing Web3 for Beginners, a course taught by Michael Stelzner, the founder of Social Media Examiner.

Learn the basics of Web3 and apply it to your business with this FREE comprehensive course.
CLICK HERE TO GET FREE ACCESS