Looking for a unique way to build excitement for your NFT project? Wondering how to activate your community to buy your NFTs?
In this article, you'll discover how to use challenges to sell out your NFT project.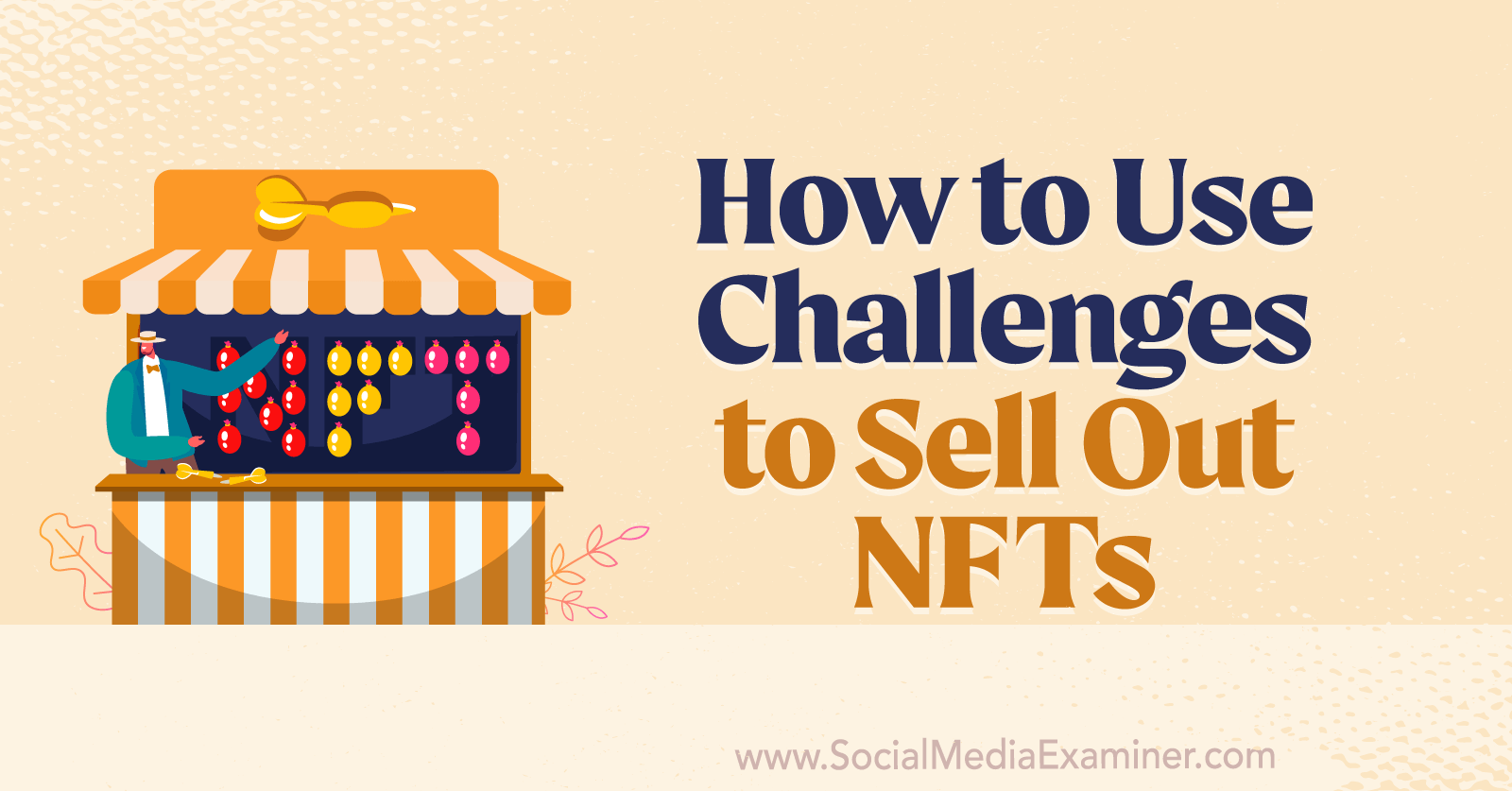 What Is a Facebook Challenge?
A challenge, in the context of marketing, is an event during which participants are invited to perform a specific series of tasks that ultimately help them think in a new way, develop a new perspective, or learn something.
Facebook Groups and Facebook Live as tools make it easy to engage with the challenge participants and deliver the value being promised, and use Facebook ads to invite people to participate in the challenge.
Whether challenges are offered for free or for a low fee, they're designed to help participants learn more about what it might be like to work with you as a business while also gaining a result they're after.
There are two major components of any challenge that make them powerful tools for marketing your NFT projects:
The value you're offering—Challenges offer people who might not otherwise be in your circle a chance to get to know you, learn from you, and ultimately gain a result directly from you, solidifying your brand and reputation in their mind.
The community of participants—Being inside a community of like-minded people after similar goals posting about their experience with the challenge is invigorating. As people complete their assignments, they start to get results, which they post about inside the challenge group. This helps inspire and motivate more people to complete the challenge and get those results you promised.
For any challenge to succeed, you need as many people as possible to complete the challenge: to learn that skill or perspective you're teaching, successfully implement it, and see the immediate result from that new growth.
It's when people see the results being duplicated across many participants that they are able to visualize their own success by joining your NFT community and working with you for a longer term.
How to Build an Effective Funnel to Introduce People to Your Facebook Challenge
#1: Create a Landing Page for Your Challenge
Start by identifying your audience and defining who you're talking to and what they're after. On your landing page, use that information to craft a good headline and good copy so they can see exactly why they want to join your Facebook challenge and what they'll learn if they participate.

You can also use graphics and videos to help convey your message. The call to action on this page should be to sign up for the challenge on Facebook.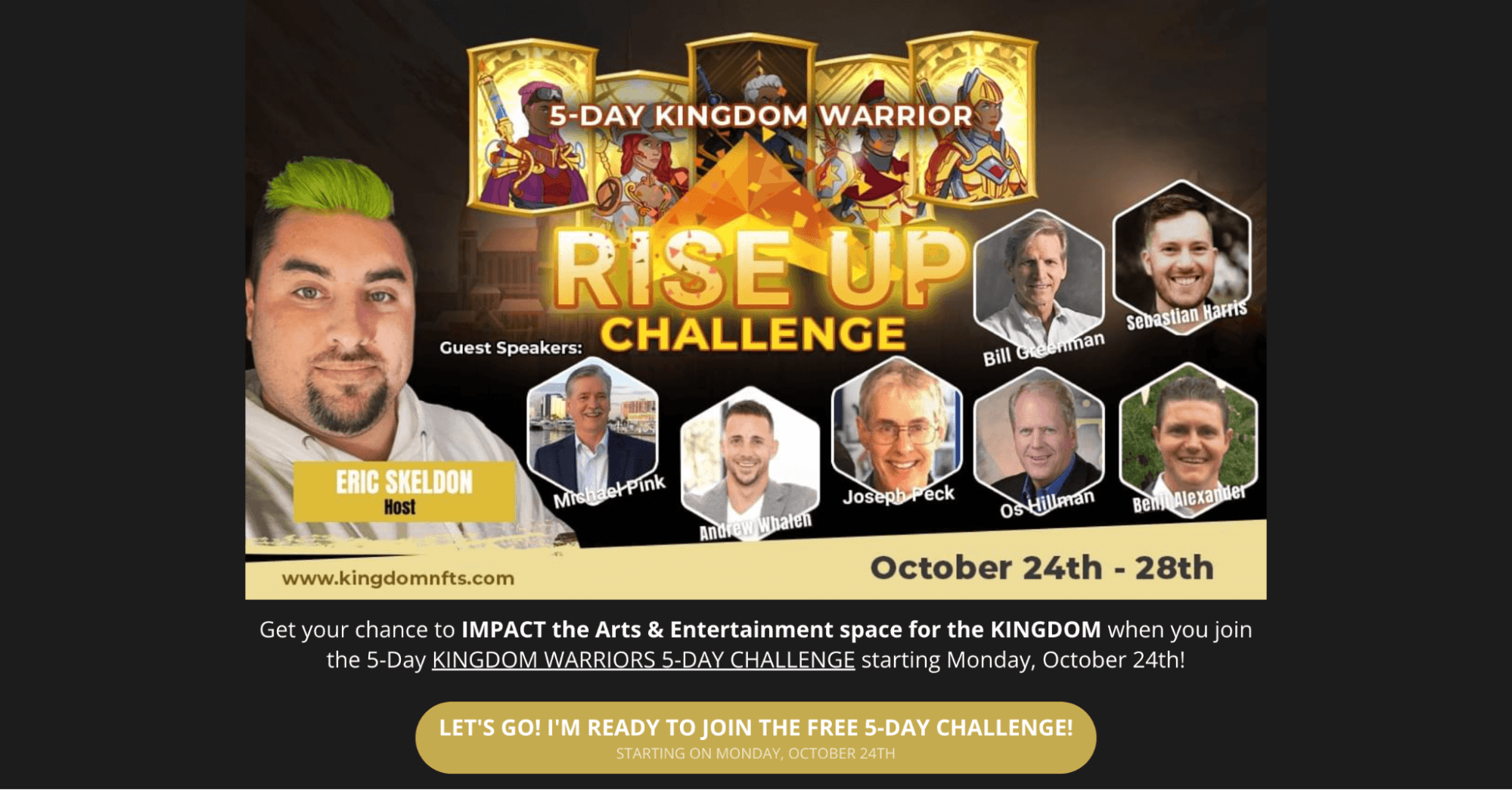 #2: Develop an Upsell
The next stage in your funnel will be an upsell to the challenge. This gives registrants the option to pay for additional experiences such as access to replays of the videos for an extended period of time, to another course, or to a virtual backstage area where they get additional Q&A time with the challenge hosts.
#3: Set Up a Facebook Group to Conduct Your Challenge
Whether participants choose to upgrade their experience, once they sign up to participate in the Facebook challenge, the next step is to send them to the private group on Facebook.
Inside the private group, set up a series of guides to hold the replays of your challenge videos.
Guides should feature a pinned video that introduces everyone to the group and explains how the challenge will work. You can build an entire course in those guides instead of using an expensive course-hosting platform.
#4: Promote Your Challenge
Now it's time to let your audience know the challenge is being offered and that they're invited to participate.
You can use organic marketing across social media to invite people to your landing page. Or you can use paid advertising and run ads on Facebook or other social media platforms to let people know about the challenge.
The 5-Day Kingdom NFT Challenge
The Kingdom Warriors NFT project leaned on the fact that most people don't understand what NFTs are yet. They built a curriculum to educate their audience about NFTs in their own way, which allowed them to lead their audience into the world of Web3 and over to their NFT project.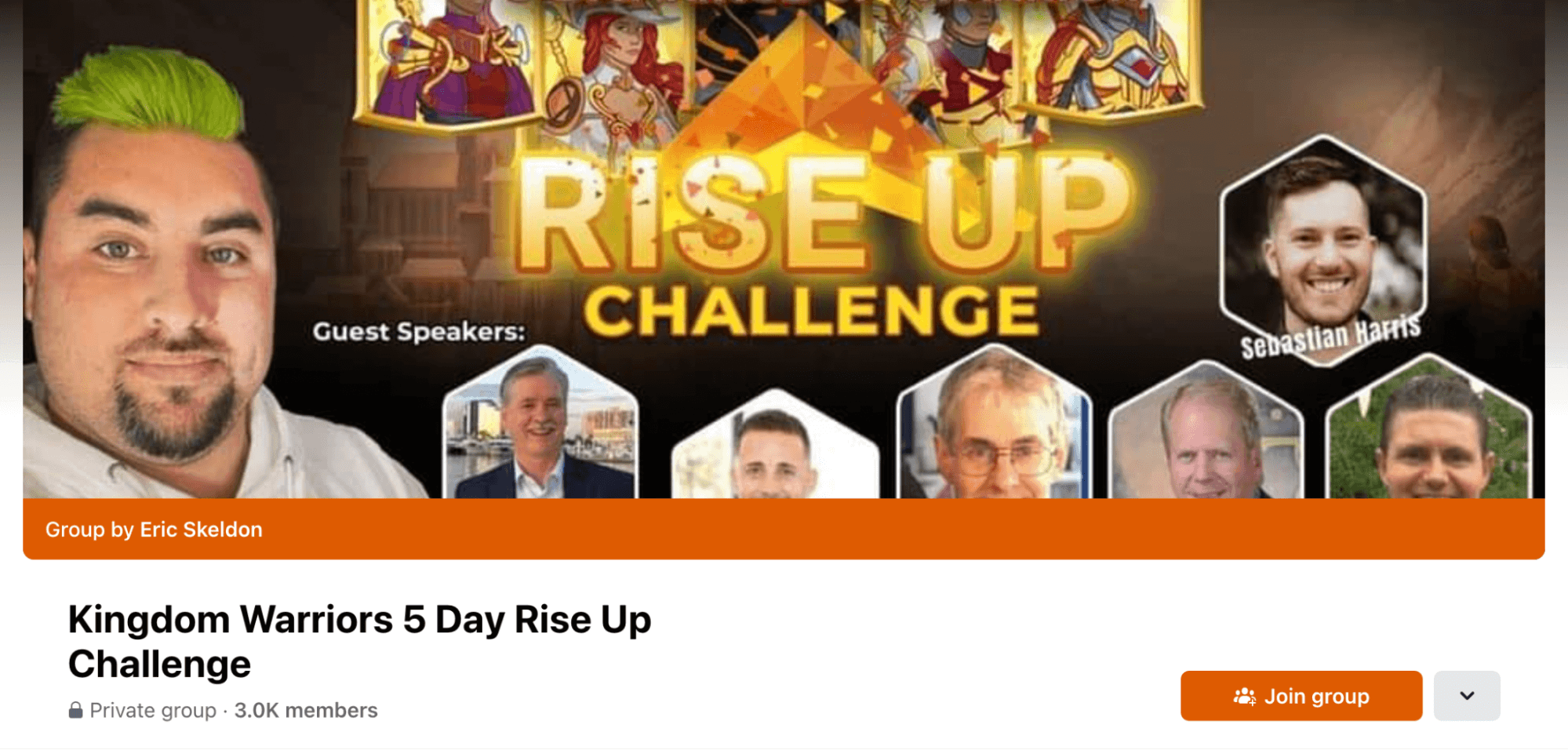 In the 5-Day Kingdom NFT Challenge, the first day explains the blockchain and Web3, showcasing the differences between Web3 and Web2. It also introduces their audience to Web3 in such a way that focuses on exciting possibilities rather than how new and overwhelming it seems.
On the second day, they dive a little bit deeper into blockchain and Web3 technology and NFTs, and share some use cases from other companies. This excites participants because NFTs can be seen in nearly every industry or use case so they can start pondering the possibilities.
Angel Studios, for example, used NFTs to raise close to $50 million for their show The Chosen. Other businesses have used NFTs for fundraising for business startups, charities, and even a bid to purchase the U.S. Constitution when it went up for auction.
On day three, they start talking about some of their own plans for Web3 and NFTs and some of their potential use cases. By the end of day three, their audience is so excited about blockchain and understanding the implications that they start to ask how they can be involved.
When Kingdom NFT invites them to jump into their NFT community by purchasing a token, many participants are so hyped up that they sell out. To date, the Kingdom Warriors NFT project attributes roughly 80% of their NFT owners to their monthly Facebook challenges.
#5: Build an Engaging Community Where Members Can Interact
Community has always been important to any NFT project; however, the earliest days of NFT projects were on Discord, a fast-moving platform that allowed anonymity. This was great for building large groups but made networking feel a little distant and difficult.
The Kingdom Warriors NFT project bridged this gap by implementing tools such as video chats to help the members of their community come together, network, and collaborate on new projects.
They also hold regular meetings on Zoom, where they discuss the future of the project and new events and experiences. These meetings allow their community to network with each other and build.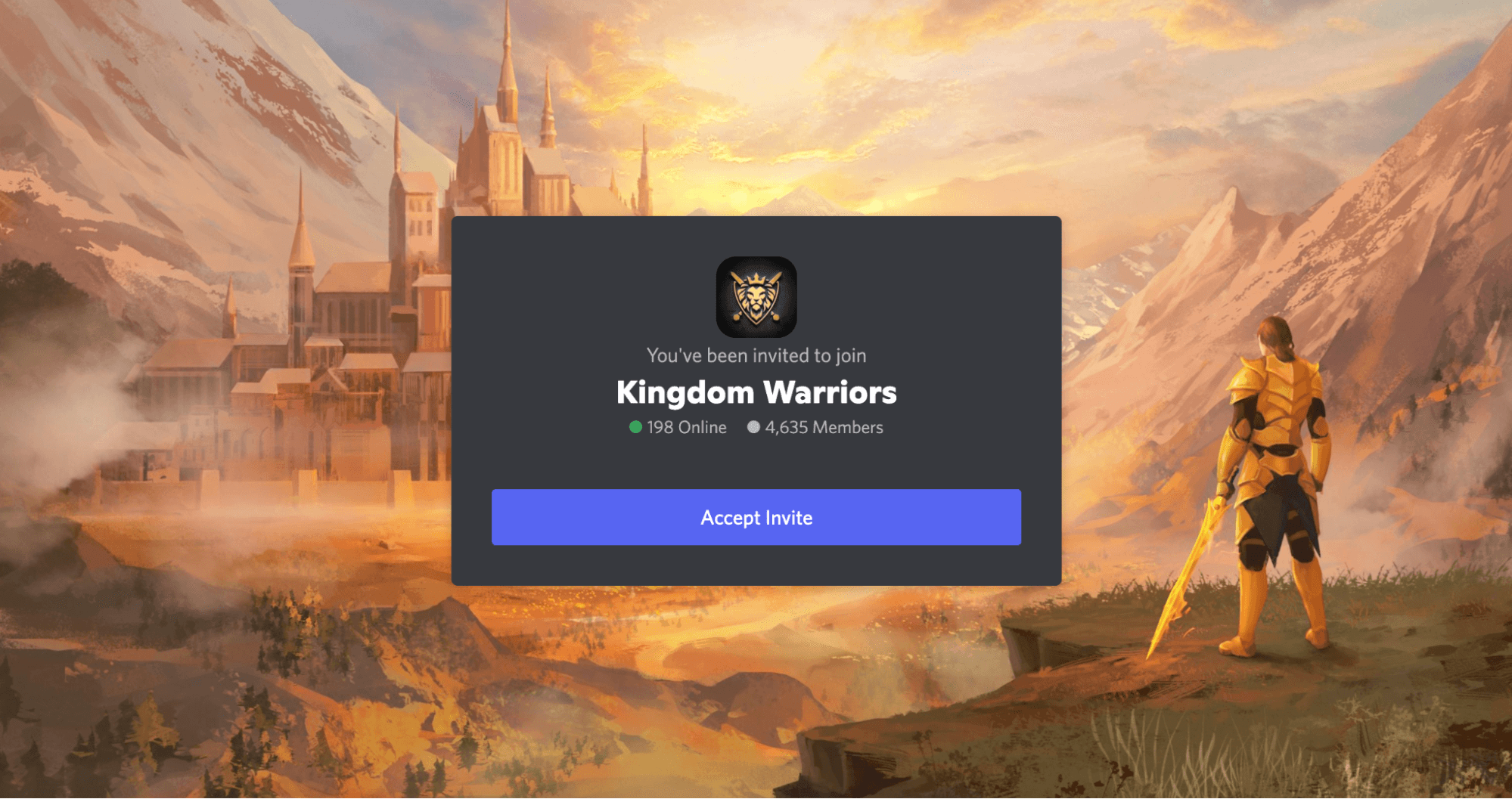 This culture of collaboration empowers business professionals, doctors, attorneys, and others in the group to help each other.
Other Notes From This Episode
Where to subscribe: Apple Podcast | Google Podcasts | Spotify | Amazon Music | RSS
✋🏽 If you enjoyed this episode of the Crypto Business podcast, please head over to Apple Podcasts, leave a rating, write a review, and subscribe.
Disclaimer: The information provided on this website is provided solely for educational purposes and does not constitute any advice, including but not limited to, investment advice, trading advice or financial advice, and you should not treat any of the website's content as such. Social Media Examiner recommends that you independently research any information contained on this Website and that you speak with an investment professional before making any decision to purchase, trade, hold or sell cryptocurrency. Nothing herein should be treated as a recommendation to buy, sell or hold cryptocurrency. Social Media Examiner cannot guarantee the accuracy of any information listed on the website and is not responsible for any missing or wrong information. All information is provided as is and should be used at your own risk. Social Media Examiner disclaims all responsibility and liability for your use of any information found on the website.