Want to build demand for an NFT project? Wondering what you can learn from other successful NFT projects?
In this article, you'll discover a three-step framework to create an engaged and active audience for your NFT project.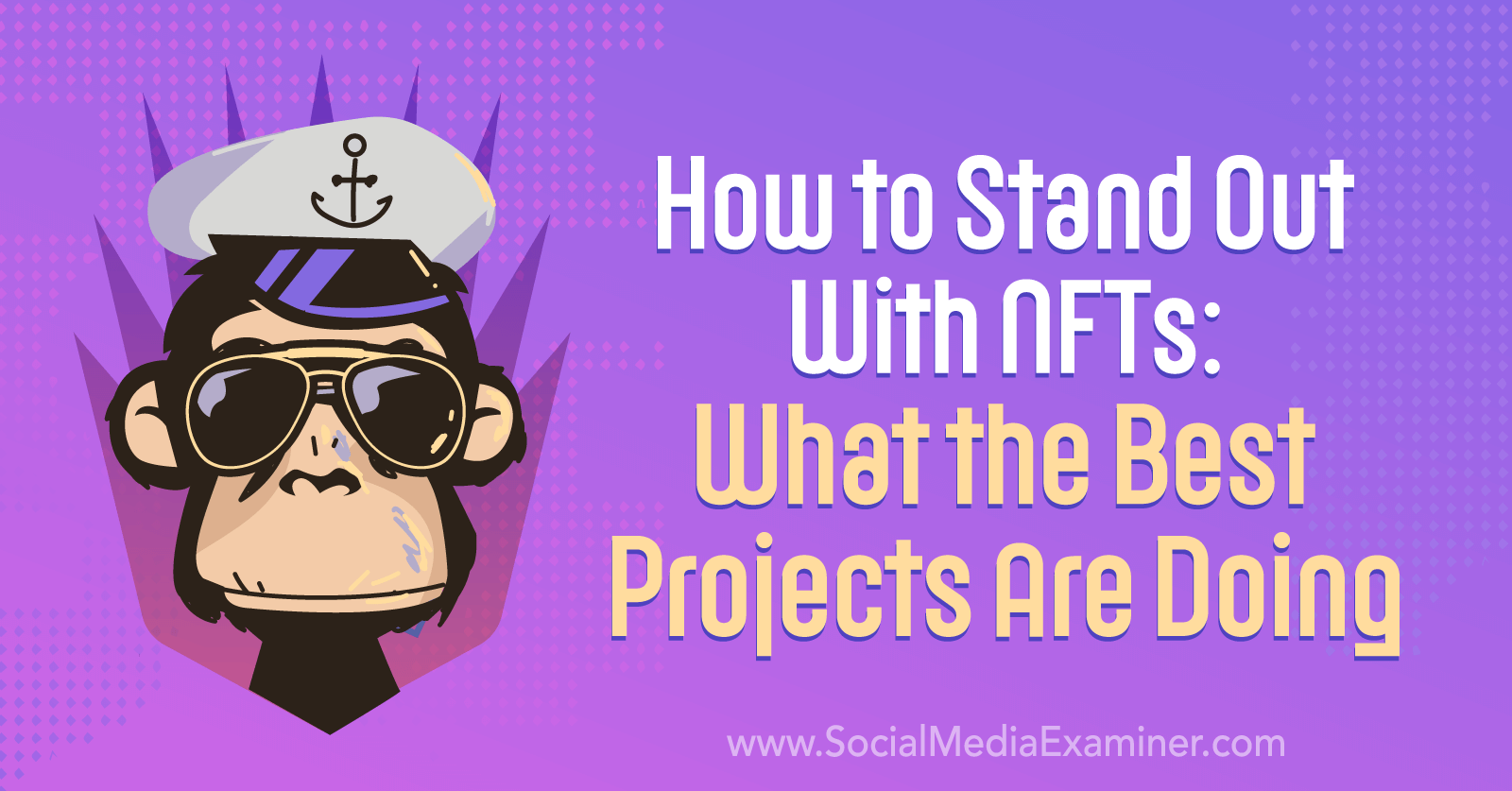 The Hallmarks of Successful NFT Projects
Right now, there are a lot of business owners watching the NFT space and Web3 but not actively participating. They're either curious, skeptical, or a mix of the two and they're observing before making a decision about moving into the Web3 space or launching their own NFT project.
NFTs are still new, and it's easy to feel overwhelmed as you try to educate yourself about what this emerging technology can mean for your business.
Before you begin to formulate a plan for your NFT collection, it's important to understand this space. Take the time you need to acclimate, explore, and engage. Consider the valid skepticism around Web3 and NFTs and use it to inform your own project.
Thomas Pan spent 15 months listening to NFT-centric conversations on Twitter, engaging on hundreds of Discord servers, and reverse-engineering multiple NFT projects. Over time, he recognized patterns shared by top NFT projects.
Deeply successful Web3 NFT communities leaned into The Pirate Funnel – so called because the first letter of each stage is AAARRR.
Awareness: raising community awareness about what's going on and who the members are
Acquisition: bringing in new and possibly notable members
Activation: calling on the community to come together and perform an action
Retention: creating a space that makes community members want to stay
Revenue: raising funds
Referral: creating a space that makes community members want to spread the word and bring more of their friends into the community
The stages of the Pirate Funnel are supported in Web3 by what Thomas calls the 3Cs framework. The 3Cs will be familiar to Web2 natives but their meanings become more nuanced in the context of Web3 ventures:
Community
Creators
Culture
Here's how you the three Cs framework is visible in NFT projects that are sustainable, scalable, and replicable.
#1: Community is More Than a Buzzword
You've likely heard the word community hundreds of times when discussing Web2 so you won't be surprised to learn that it's also an important aspect of Web3. Human beings are social beings. They want to be in a space where they're accepted and where their friends hang out.
In the same way Web2 communities gather in online meetup forums and social media apps, Web3 NFT communities gather online via social media apps and on platforms such as Discord.
However, community members of a deeply successful NFT project often adapt their online identity based on aspects of their community. This community element is very visible in the Lazy Lions community and the Pudgy Penguin community.

For example, members of the Pudgy Penguins and Lazy Lions communities change their profile photos to their NFT artwork.
In fact, early on, the Lazy Lions NFT project recognized how important community would be to the success of their project. The project leaders used Roar- Rewards to incentivize members to use their NFTs as their profile photos or to edit their profile to showcase Lazy Lion membership.
To further establish their tie to their NFT communities, members also adopt the use of community-centric phrases online such as, "I am my penguin. My penguin is me."
Finally, both the Pudgy Penguins and the Lazy Lions band together on platforms such as Twitter to welcome new NFT holders into their community en masse.
#2: Creators are Included Across the Economy
Web2 enabled artists, creative entrepreneurs, and brands to publish, promote, and sell their work directly to consumers. Unfortunately, the creator's revenue is confined to the primary sale of their products.
Anyone who currently owns a piece can sell it. Sometimes that seller makes vastly more money on the resale than the artist originally did in the primary sale. Secondary marketplaces such as eBay capitalize on these resale markets but the creators have been left out of the equation.
Web3 has turned the tides and the best NFT projects recognize and reward their creators and community.
Now, thanks to NFT art and blockchain technology, when a buyer wishes to resell art or a product for profit, the original creator can receive a percentage of the sale.
For example, the average college textbook is sold and resold seven times as college students try to save money on their materials and recoup money at the end of the term. Pearson, a textbook publishing company, is exploring how attaching NFTs to their textbooks can help them tap into those resales.
#3: Culture Defines a Community
The culture of an NFT community forms as its members unite around their preferred communal language, tone, and the digital art.
Having an established culture means members have more than a hobby or interest in common; they share a unique perspective on how they look at that hobby and the world around it.
The GoblinTown NFT project succeeded in building community by leaning into the notion of what it means to be a goblin. The community built a unique culture that centers on attitude, language, and the use of raspy voices on platforms like Twitter Spaces.

#4: How to Use the Three Cs Formula to Launch a New NFT Project
The first thing to consider when it comes to launching a new NFT project is where your strength is in relation to community, creators, or culture. There's no requirement that a project should try to focus on all three aspects at the same time. In fact, some of the most successful NFT projects focused on one, maybe two, of these aspects at a time.
The Bored Ape Yacht Club, for example, first concentrated on community by creating the #apefollowape hashtag to help all BAYC NFT holders connect on Web2 platforms.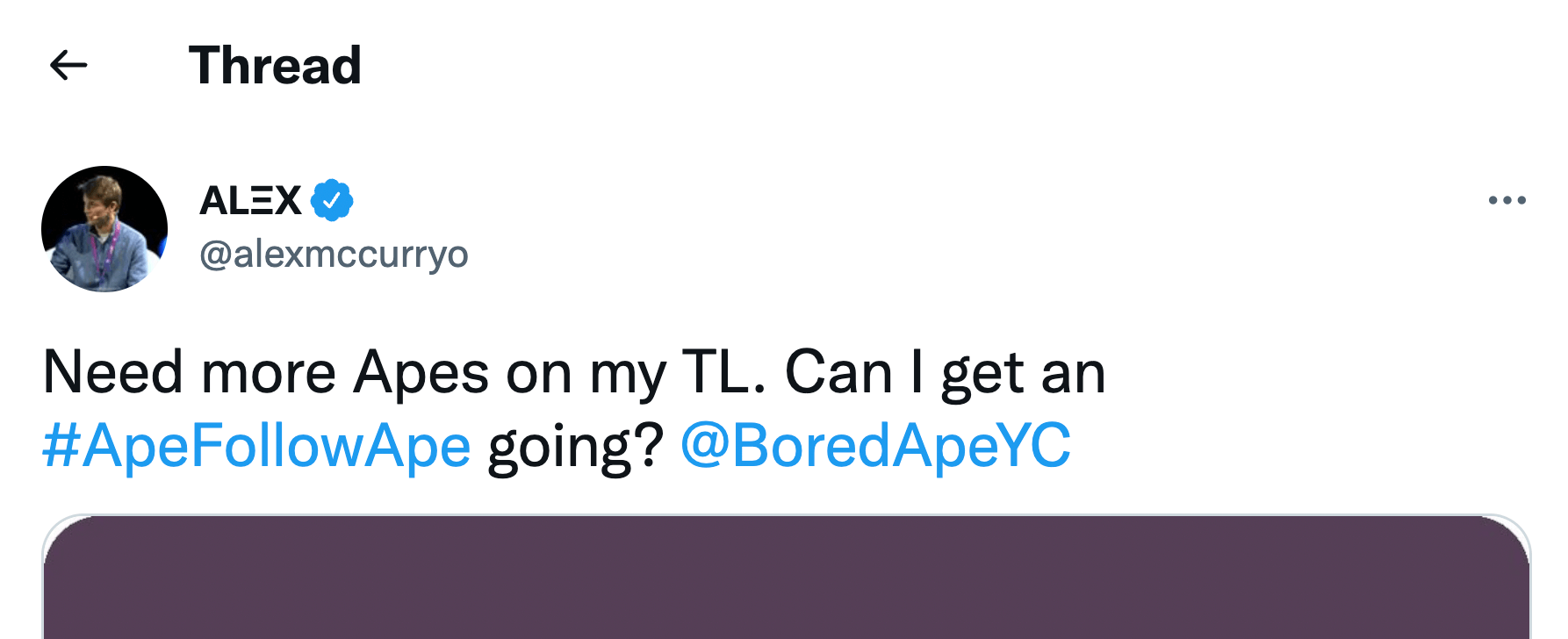 Once the community was solid, the BAYC focused on supporting a creator economy. By giving BAYC holders commercial licensing rights for their NFTs, members are able to financially benefit from displaying their Bored Apes on merchandise and products that range from t-shirt designs to Happy Dad hard seltzer.
Finally, comes the support of culture. A short while ago, Eminem and Snoop Dogg who also happen to be members of the BAYC, performed live in the Otherside metaverse — platform from BAYC developers, Yuga Labs.
The Bored Apes NFT project is one example of how a project can bring together all three aspects—community, creators, and culture—to build a strong and deeply loyal community around their NFTs. But they didn't do it all at once. They leaned into their biggest strengths first, and then brought in the other pieces once they had solid footing.
Other Notes From This Episode
Where to subscribe: Apple Podcast | Google Podcasts | Spotify | Amazon Music | RSS
✋🏽 If you enjoyed this episode of the Crypto Business podcast, please head over to Apple Podcasts, leave a rating, write a review, and subscribe.
Disclaimer: The information provided on this website is provided solely for educational purposes and does not constitute any advice, including but not limited to, investment advice, trading advice or financial advice, and you should not treat any of the website's content as such. Social Media Examiner recommends that you independently research any information contained on this Website and that you speak with an investment professional before making any decision to purchase, trade, hold or sell cryptocurrency. Nothing herein should be treated as a recommendation to buy, sell or hold cryptocurrency. Social Media Examiner cannot guarantee the accuracy of any information listed on the website and is not responsible for any missing or wrong information. All information is provided as is and should be used at your own risk. Social Media Examiner disclaims all responsibility and liability for your use of any information found on the website.