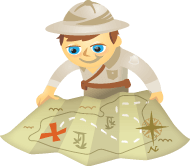 Want more visibility for your documents? Wondering how to better showcase your content in the LinkedIn feed?
In this article, you'll learn how to add clickable downloads, slideshows, and PDFs to your organic LinkedIn posts.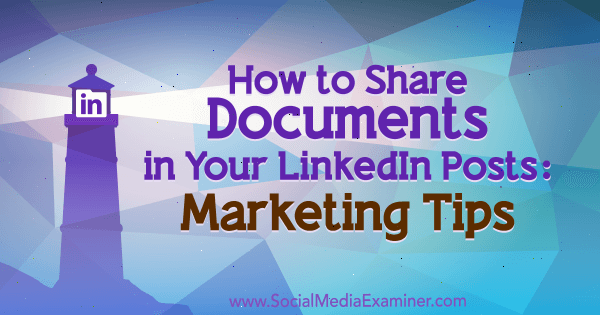 What Is LinkedIn's Document Sharing Feature for Organic Posts?
LinkedIn's document sharing feature lets you upload documents to organic LinkedIn posts from your home page, company page, or group. You have the option to share a PDF, Word document (DOC/DOCX), or PowerPoint presentation (PPT/PPTX).
When a post with a document appears in your feed, you see the document name, total number of pages, and first page.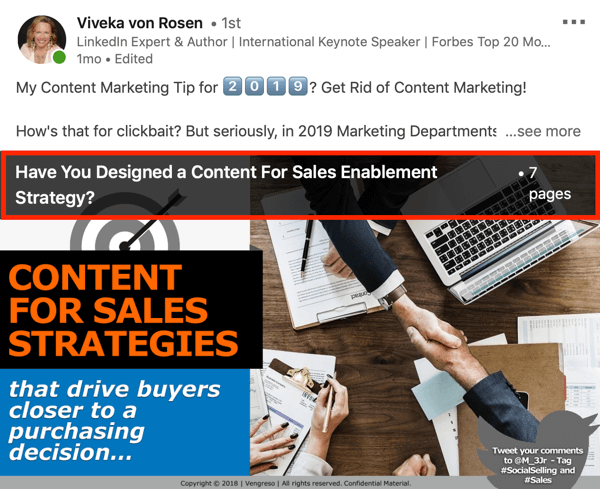 If you mouse over the image, a navigation bar appears that lets you scroll through the pages in the document.

If you click the full-screen icon at the right end of the navigation bar, the document fills the entire screen.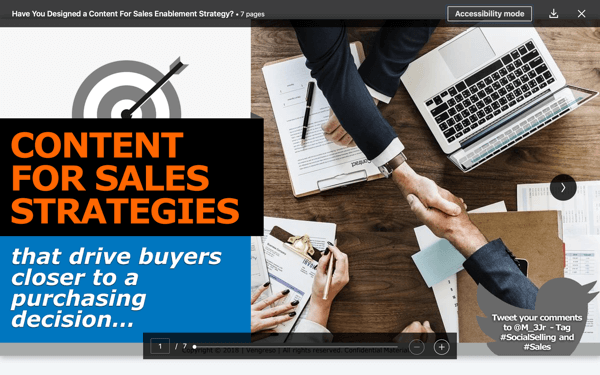 In this view, you can scroll through the document and download it. Just click the down-arrow icon in the top-right corner of the screen and then click Download in the pop-up box.

How to Upload a Document to an Organic LinkedIn Post
The document sharing feature is currently rolling out to LinkedIn members. To see if you have it, visit your feed and look in the update box. You should see options to add three types of media: a photo, video, or document (represented by the paper icon).

To attach a document to a new post, click on the paper icon and navigate to the PDF, Word document, or PowerPoint you want to upload.
Get Your FREE Course: Web3 for Beginners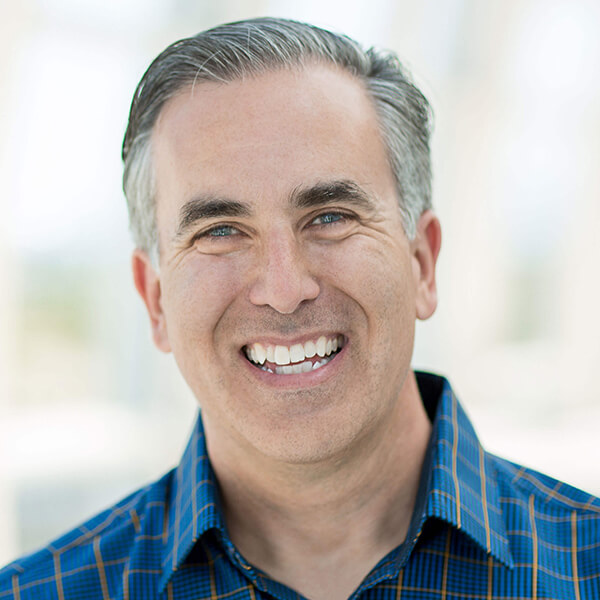 Curious about Web3, but don't know where to start or who to trust?

Introducing Web3 for Beginners, a course taught by Michael Stelzner, the founder of Social Media Examiner.

Learn the basics of Web3 and apply it to your business with this FREE comprehensive course.
CLICK HERE TO GET FREE ACCESS
After you select your document, LinkedIn will upload it and display the dialog box below. From here, add a document title, text, and hashtags to improve visibility in search results.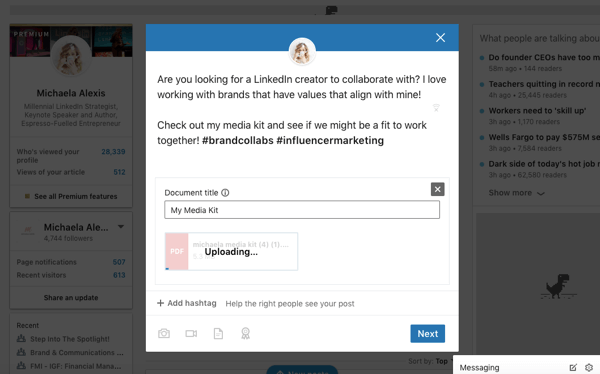 When you're done composing your post, click Next, and LinkedIn will format the document automatically, complete with side arrows and a full-screen option.
4 Ways to Enhance Organic LinkedIn Posts With Clickable Documents
Now that you know how to attach a document to a LinkedIn post, you might be wondering how best to use this feature for your business. Think about what kind of content will be valuable to your ideal audience on LinkedIn. Could you repurpose a white paper from your website or recycle your newsletters? Or would it be better to create something new and customized for LinkedIn?
Here are some of the successful tactics that other marketers are using to leverage the LinkedIn document sharing feature to generate leads and opportunities for their businesses.
Make Infographics Legible
As with nearly every content format on LinkedIn, your PDF, Word document, or PowerPoint presentation needs to be visually appealing and mentally stimulating so people will pay attention. Infographics are a great way to hook readers from an aesthetic perspective, but it's always been impossible to format them for LinkedIn without the text and images showing at an unreadable size in people's feeds.
With the LinkedIn document sharing feature, you can now easily repurpose your infographics for LinkedIn. Simply export the image (JPG, PNG, etc.) as a PDF using a tool like Preview (Mac) or Adobe Acrobat (Mac and Windows), and then upload that file using the document upload option on LinkedIn.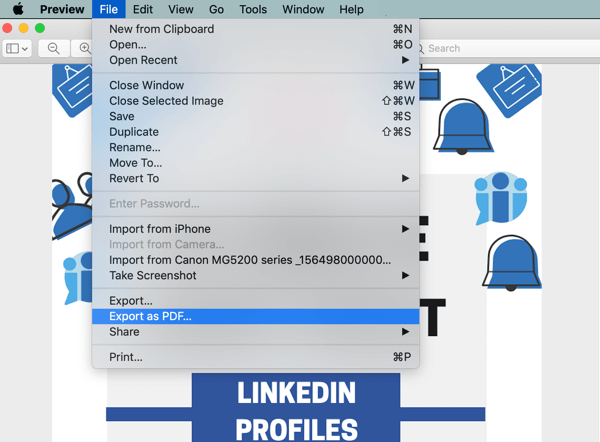 Brian Wallace, founder and owner of an infographic design agency, wanted to show off his agency's work to his LinkedIn connections, but needed a better way to share it. So he exported the Psychology of Color infographic as a three-page PDF, and then uploaded it as a document to a LinkedIn post.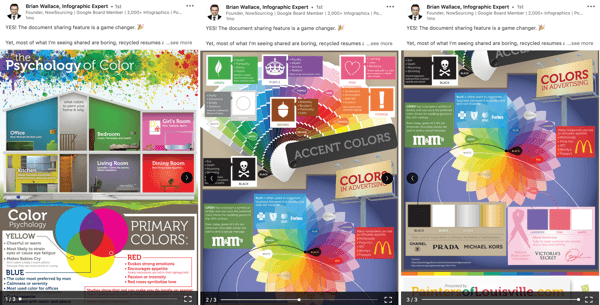 Give Users a No-Strings-Attached Template, Guide, or Worksheet Download
LinkedIn is a platform on which users want to learn, grow, and connect. What better way to serve busy, ambitious professionals than to offer them a template or worksheet to help them stay organized and focused?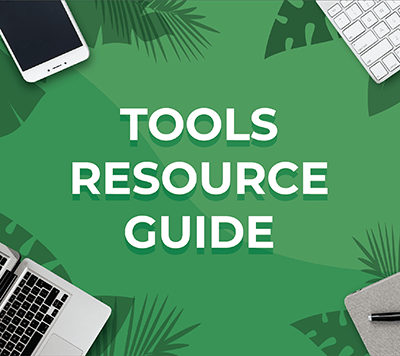 Looking for something to make your life easier?
Discover the tools we recommend to drive engagement, save you time, and boost sales across your entire marketing funnel or business.
Whether you need help planning content, organizing social posts, or developing your strategy, you'll find something for every situation.
FIND YOUR NEXT FAVORITE TOOL
Rachel Chang shared a goal-setting worksheet (Goal Guide 2019) with her audience in a November LinkedIn post. The content was perfectly timed for when people are reflecting on the past year and dreaming up new goals for the year ahead. The worksheet is colorful, topical, shareable, and useful—a fantastic combination.
PDF an eBook of Past Blog Posts
One of the easiest ways to get started sharing documents in your LinkedIn posts is to repurpose content that's already working well for you. You can take a popular blog post or guide that you've published and create a PDF version using an easy-to-use tool like Canva.
To do this, log into Canva and click on US Letter Document under the Documents section.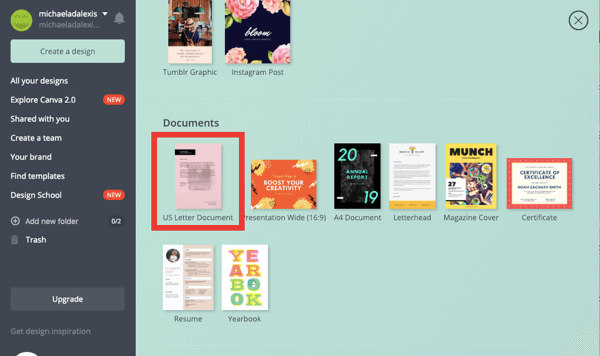 On the next page, scroll through the list of layouts. Once you find a template that will work well for your purposes, paste your blog post into it and design a vibrant and eye-catching cover page. Remember, your audience will only see the first page of your PDF initially, so you want to pique their interest enough that they'll hit the arrow button to explore the rest of the document.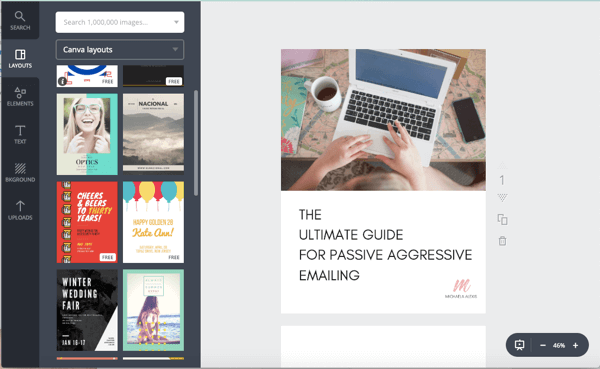 When you're satisfied with your design, click the Download button at the top of the page and select PDF as the file type. Make sure that All Pages is selected and then click Download. Once the document is downloaded as a PDF, you're free to upload it in a LinkedIn post.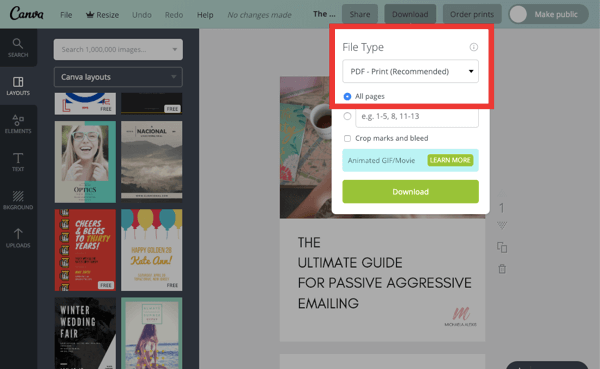 Yuval Rechter, head of digital at First Media US, shared a guide on How to Create Viral Content. The agency creates viral content for social media so the downloadable PDF is highly relevant. Note that Yuval added not only his name to the cover page, but his LinkedIn profile photo as well. This tactic is a great way to connect the document to your LinkedIn profile and tie the pieces together.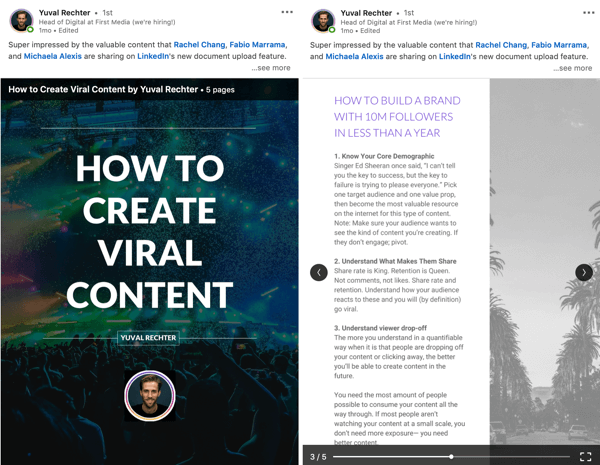 Marketing and brand strategist Fabio Marrama repurposed a popular blog post as a PDF called Top LinkedIn Headlines – More Than 10 Million Analyzed. The font size on the cover is huge with a ton of white space, so it stands out from a sea of identical font sizes in the LinkedIn feed. The large font is also easy on the eyes.
On the last page of the document, he included a call to action to comment on and share the post.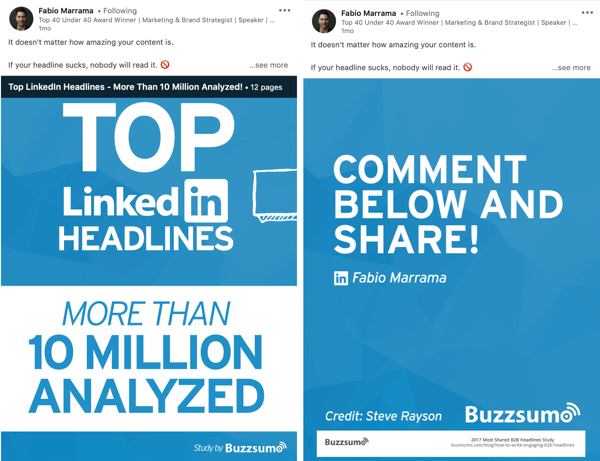 Deliver a PowerPoint Presentation
If you have a PowerPoint presentation from a webinar, keynote, or course that your audience loved, share it as a document via a LinkedIn post.
LinkedIn video and content strategist Judi Fox did that with her fun and colorful presentation titled 5 Ways Your LinkedIn Profile Cover Photo Can Sell For You. She repurposed content from a previous event, which includes real-life examples of LinkedIn cover images that work well for conversions.
She designed a bright teal cover page to hook the reader so they'll scroll through the document. She included her contact information right on the cover page, ensuring her audience knows how to get in touch right from the get-go.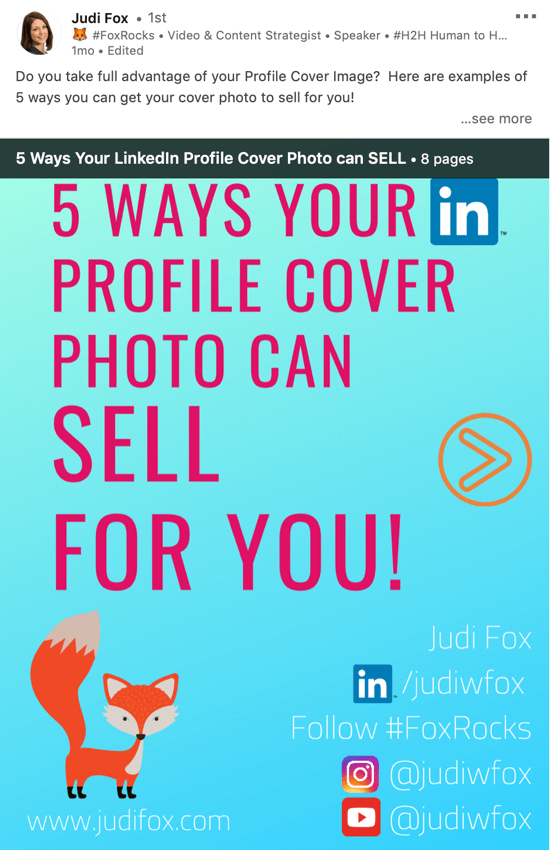 She tagged and featured other LinkedIn members in the text of the post, making it less about her and more about serving the community and giving a shout-out to others. This tactic is a great way to get your content shared and supported by people you included in the content and tag.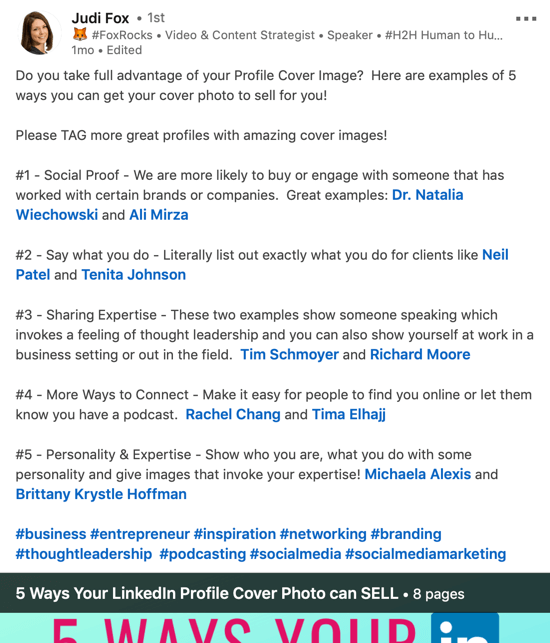 Conclusion
If you've been wondering how to get started creating content for LinkedIn, but aren't ready to make the leap to video, sharing your expertise via a simple document can help you generate new opportunities for your brand or business.
Whether you decide to share an infographic, worksheet, repurposed blog post, or PowerPoint presentation, it's a powerful way to show off what you know in a unique, creative way that serves your community.
What do you think? Have you tried LinkedIn's document sharing feature yet? What type of content do you plan to create and share as documents in LinkedIn posts? Please share your thoughts in the comments below.
More articles on LinkedIn marketing:
Get Your FREE Course: Web3 for Beginners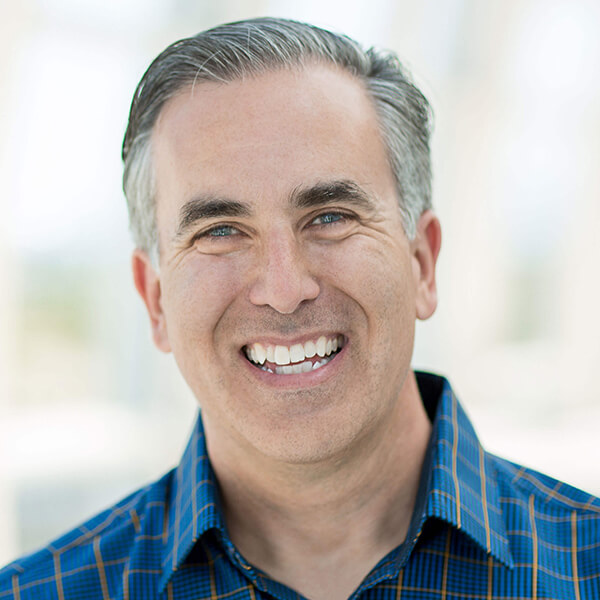 Curious about Web3, but don't know where to start or who to trust?

Introducing Web3 for Beginners, a course taught by Michael Stelzner, the founder of Social Media Examiner.

Learn the basics of Web3 and apply it to your business with this FREE comprehensive course.
CLICK HERE TO GET FREE ACCESS